EDITOR'S PICK
Clore Automotive SOLAR BA327 Electronic Battery and System Tester
6V and 12V battery tester
12V and 24V charging system tester
40 CCA to 2000 CCA testing capacity
Can also test DIN, IEC, EN, and JIS
1.5V to 30V working range
Integrated thermal printer
Backlit LCD
PREMIUM PICK
Schumacher SDT1 Wireless Digital Battery and System Tester
6V and 12V battery tester
12V and 24V charging system tester
7" high-resolution touchscreen
5200 mAh battery
4-5 hours of continuous use (8-10 hours medium use)
32 ft. wireless range
BUDGET PICK
OTC 3180 Battery Load Tester
Analog battery load tester
Steel ventilated casing
Volt range 1-16V
100 amp load capacity
Device weight: 3.45 lbs
As automotive technology gradually progresses over the years, electrical and electronic components have found extensive applications even in low-cost vehicles. Additionally, the ongoing electric revolution will only see further dependence on a car's electric infrastructure. So the last thing you would want is to compromise your battery when several critical systems depend on it to carry out basic activities such as locking or unlocking doors, trunk, or the hood. Not to mention the enormous repair bill the service center will hand you if such an ordeal ever happens.
To make sure you never find yourself stranded in the middle of nowhere with a dead battery, all you need is a car battery tester. A battery tester is a small electronic device that lets you measure the battery's state of charge and, in some cases, deduct it's overall health. Based on its reading, you can determine whether the battery needs replacement or is fit for use.
If you've been looking to buy a battery tester, you might have noticed that there are various car battery testers available on the market—so which one should you get? To help you decide the best device for your needs, we have curated and reviewed some of the 7 best battery testers out there.
Get the right battery tester and never get caught off guard with a dead battery again.
The 7 Best Car Battery Testers Review
One of the most basic and straightforward car battery testers (and also one of the most widely used in the industry) is the OTC 3180. It is an analog load testing device capable of working on both 6V and 12V batteries. OTC's model comes equipped with a 0-16 volt working range and a 100 amp load capacity making it suitable for a wide range of vehicles.
You get a sizeable analog display that quickly tells your battery's condition and whether it needs replacement or not. Upon making the appropriate connections using the attached copper-plated clamps, you'll get a reading of the battery's current voltage. To test the battery's capacity to hold its charge, simply switch on the load, and the tester will give you an accurate reading in merely 10 seconds.
You'll see that when applying load to a battery, the tester can become quite quick. Luckily, the integrated load safety switch prevents any electrical arching, and the ventilated steel casing maintains an appropriate temperature. And apart from making it a lot safer to use, the casing's chrome plating also makes it pretty attractive—enjoy it while it lasts. If you use it professionally, you'll see that these things tend to not stay clean for too long.
The OTC 3180 may not have as many features as some of the more advanced digital models on this list, but it is a great device. And fewer gadgets also mean fewer risks of failure. I've had one exactly like this, it's over 15 years old and still works like a charm. No to mention that it's also the cheapest on the list so it's really a no-brainer.
Highlighted features
Analog battery load tester
Steel ventilated casing
Volt range 1-16V
100 amp load capacity
Device weight: 3.45 lbs
Pros
Easy to use
Low cost
High value for money
Large and clear analog display
Performs load tests in a jiffy
Comes with copper-plated clamps
High-grade and durable construction
Cons
Analog display is prone to parallax error
Doesn't measure CCA
Cables are on the shorter side
The Clore Automotive Solar BA9 Digital battery and system tester is one of the best digital models for those on a budget. You get several essential capabilities and that too at a fairly reasonable price. The BA9 is a 12V battery tester that can measure 40-1200 CCA, making it suitable for a wide range of battery types such as Flooded Acid, AGM, Spiral Wound, and Gel Cell batteries. In addition to CCA, this battery tester also can test against other rating systems, including DIN, JIS, EN, and IEC.
Unlike some load testers, you can use the Solar Digital BA9 to get accurate measurements, even on discharged batteries up to 7 volts. On the other hand, its normal working range for charged batteries is from 7V to 15V. Accurate readings are presented on a bright LCD screen that is complimented by straightforward controls.
This model is the exact same thing they used to give every mechanic when I was working at Toyota to quickly test batteries during oil changes inspections. It's not the fanciest one out there but it sure did the job.
Simple to use, reliable, cheap on your budget—what more could you ask for?
Highlighted features
12V digital battery and system tester
7V – 15V working range
40 CCA to 1200 CCA testing capacity
LCD with simple controls
It can also test DIN, JIS, EN, and IEC
Pros
Wide CCA range
Reverse polarity and over-voltage protection
Safe operation
Interactive user interface
Rubber protective sleeve provides a firm grip
Compact and easy to use
Reasonably priced
Good quality clamps
Compatible with several battery types
1-year manufacturer warranty
Cons
Instruction manual could be better
If you are in the market for a high-quality professional mechanic's battery load tester, look towards the Ancel BST500. It is an electronic device designed to test 12V batteries used in cars, motorcycles, trucks, boats, etc., but it can also be used to test 24V batteries.
Coming to its technical capabilities, the Ancel BST500 boasts a versatile CCA range between 100 and 2000 CCA and can check other essential battery ratings such as BCI, CA, MCA, JIS, DIN, IEC, EN, SAE, and GB. But that's not all; this battery tester can also analyze your alternator's ability to recharge the battery (basically the alternator's voltage output, loaded or not). Additionally, Ancel's model is quite quick, providing accurate results in merely 2.5 seconds.
This model in dealerships for more advanced charging system inspections (the ones they charge you; not the inspection included with your oil change).
However, by far the best feature of the Ancel BST500 Battery Load Tester is the integrated printer. It allows you to print test results using thermal paper. You can use these printed receipts to keep detailed and efficient records and plan a maintenance program for the battery accordingly (hence why they use it in dealerships).
If you plan to use your battery tester professionally, this is what you should get. Printing the results on a piece of paper will always make it easier to explain the problem to your clients (and will also prevent clients from claiming you might have charged for a service you didn't perform).
"Words fly away, writings remain."
Highlighted features
12V and 24V battery load tester
100 CCA to 2000 CCA testing capacity
Can also test BCI, CA, MCA, JIS, DIN, IEC, EN, SAE, and GB
Large LCD with backlight functionality
Integrated thermal printer
Device weight: 1.55 lbs
Pros
Accurate results in 2.5 seconds
Built-in printer allows for easy reporting
Menu-driven user interface
Backlit display works excellent even in low-lit environments
Versatile battery load tester
Wide CCA testing capacity
Ergonomic design with high-grip housing
One thermal paper roll included
Cons
The thermal printer brings additional maintenance costs (of course, it can also be used without the printer function)
The Solar BA327 is similar to the previous model but one big notch up. I've seen it used in many dealers and independent repair shops. It can test 12V/24V charging systems and different types of 6V/12V batteries such as AGM, conventional flooded, Gel Cell, Spiral Wound, and Deep-Cycle. Other important testing parameters such as CCA (40-2000), DIN, IEC, EN, and JIS are also covered.
Clore Automotive's Solar sub-brand has an impeccable track record of developing high-quality and reliable battery testing and diagnostic equipment. The BA327 battery and system tester is another one of the brand's competent products. You simply can't go wrong with Solar.
This car battery tester ranks high on the usability scale thanks to essential yet straightforward features like 10′ long cables, backlit LCD screen, as well as reverse polarity & over-voltage protection. Of course, since it's first and foremost designed for professional use, it also comes with a built-in thermal printer to maintain detailed records for future reference.
If you are looking for a battery tester that 21st century mechanics use, this is the one!
Highlighted features
6V and 12V battery tester
12V and 24V charging system tester
40 CCA to 2000 CCA testing capacity
Can also test DIN, IEC, EN, and JIS
1.5V to 30V working range
Integrated thermal printer
Backlit LCD
Pros
Versatile
Wide CCA range
Extra-long cables
Thermal printer allows efficient record keeping
Comes with safety features such as reverse polarity and over-voltage protection
Suitable for several battery types
Best suited for professional mechanics
1-year limited warranty
Cons
Costs more than other models
The thermal printer brings additional maintenance costs
Another leading brand when it comes to automotive instrumentation equipment is AutoMeter Custom Shop. The brand's SB-3 car battery tester is a versatile and reliable device for use by small repair shops to check the state of your car's battery. It is compatible with different types of 6V and 12V batteries and has a CCA working range of 0-1000.
Yes, if you are a nineties' kid, you might have seen your dad using one of those. The design might seem a bit outdated but they did the job just fine for years. And given that standard 12V batteries haven't changed that much in the last 30 years, I don't see why these bulky analog battery tester (often called "toasters") wouldn't be just as good.
Just because it's an analog model, don't think it is less capable than the digital ones. Of course, it comes with fewer bells and whistles but what it does, it does it incredibly well. Namely, it lets you load test your battery with up to 500 amps of variable load. Besides, with a 0V to16V working range, the SB3 can tell you the state of charge and whether or not your battery needs replacement.
Even though this car battery tester may seem a little pricey, its high build quality and testing capability more than make up for it. Plus, since this is an analog model, there are fewer chances of things going wrong, and replacement parts are pretty cheap as well (hence why you see many repair shops still using one of those after 20-30 years).
If you are a mobile mechanic or need a battery tester more robust than most, this is the one for you.
Highlighted features
6V and 12V battery tester
0 CCA to 1000 CCA testing capacity
0-16V working range
Device weight: 31 lbs
Analog display
Pros
Vented cooling outer body
Strong and long-lasting construction
Old school cool factor
Two large analog displays
Safety un-loader knob to prevent mishaps
Good quality clamps
1-year manufacturer's limited warranty
Cons
Heavier than other models
On the expensive side
If you thought AutoMeter was only good at making old-timey analog testers, the BCT200J Intelligent Electrical System Analyzer is here to prove you wrong. It is a heavy-duty model designed to be used specifically to test batteries on trucks or tractors (of course, it still works on cars but you might be better with a cheaper one for that). You can use it to test 6V and 12V batteries, and 24V charging and starting systems. Apart from your vehicle's battery, this battery tester will also analyze the whole starting/charging system, including the alternator, starter, but also detect any abnormal activities.
For those interested in the technical details, AutoMeter's tester has a wide CCA range spanning 200-1600 and an equally versatile voltage range of 0-40V. And for those demanding tests on work machinery, the BCT200J can also apply electrical loads as high as 120 amp.
As said before, this piece of high-end equipment is meant for use on heavy-duty vehicles such as trucks and tractors. Hence, it is the perfect all-around electrical diagnostics tool for mechanics working in truck and semi repair shops. Besides, the BCT200J's ability to test up to 4 batteries at once will prove to be a godsend and help ease the workload at the shop.
Of course, if your line of work involves dealing with several vehicle types, AutoMeter has got you covered there too, with a wide range of electrical testing equipment, each designed for a specific purpose. The BCT200J, even though it's already pretty loaded, is still only the entry-level model in the lineup. If you need more features, it can be customized to add pretty much any test and gadgets you might need.
Highlighted features
6V and 12V battery tester
200 CCA to 1600 CCA testing capacity
0-40V working range
120 amps maximum load
Digital electrical system analyzer for trucks
Heavy-duty option
Pros
Can test up to 4 batteries at once
Specifically designed to test truck and tractor batteries
Wide CCA and voltage range
Can store data related to the last 120 tests for future reference
Complete charging/starting system test
Works on AGM and conventional flooded batteries
Cons
If the AutoMeter SB3 was the old-school model, the Schumacher SDT1 is the model of the future!
Certain battery tests and specific applications may require you to constantly run the car's engine at a preset RPM to obtain accurate results. That may not seem like a problem, but most car battery testers don't come with long enough test leads that allow you to sit in the driver's seat while performing the tests.
Fortunately, battery and charging system testing can be a one-person job using the Schumacher SDT1, since it uses Bluetooth technology and a hand-held tablet. Unlike most models, the SDT1 has no physical connection between the central tester unit and lead cables and uses a BlueTooth connection to transmit data to the receiver instead. the touchscreen tablet. Not only does that makes it much easier to move around, but it also allows you to store, send and receive the data via e-mail using a Wi-Fi connection (with a little ingenuity, you could even have the test results sent directly to your mobile).
Accurate measurements are displayed on a 7″ high-resolution touchscreen with an excellent user interface available in three languages. Meanwhile, the screen is powered by a 5200 mAh rechargeable battery good for 4-5 hours of continuous use.
You can use Schumacher's model to test 6V and 12V car batteries and 12V and 24V charging systems, like most other battery testers out there, but what makes it really unique is that it can also read OBD2 diagnostic codes related to the electrical system—pretty neat, right?
If you are looking for a sophisticated and premium car battery tester that does the most to make your life easier (and also makes most of your coworkers jealous), get your hands on this one.
And don't worry if you think you're not quite tech-savvy because the SDT1 comes with a detailed instruction manual.
Highlighted features
6V and 12V battery tester
12V and 24V charging system tester
7" high-resolution touchscreen
5200 mAh battery
4-5 hours of continuous use (8-10 hours medium use)
32 ft. wireless range
Pros
Sophisticated digital touchscreen battery tester
Bluetooth support
Can save and e-mail results over Wi-Fi
Excellent use interface
Supports English, French, and Spanish languages
Cons
Cannot measure several vital parameters such as CCA
Expensive compared to other models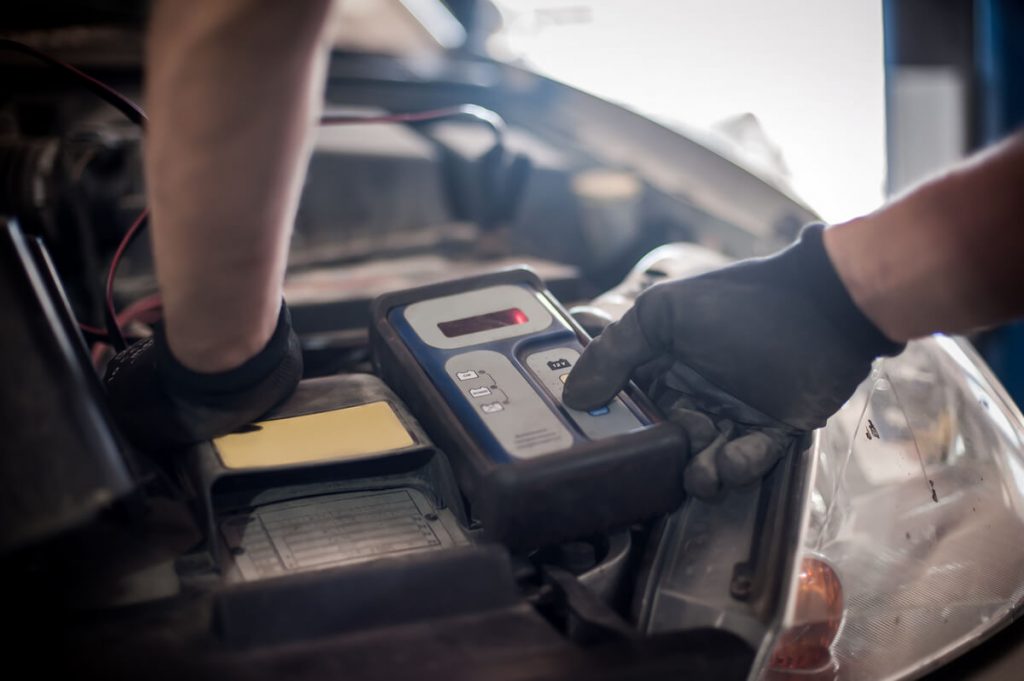 ​What to Look for in a Car Battery Tester
A car's battery and electrical systems are an integral part without which even the most straightforward functions wouldn't be possible. So when selecting a battery tester, it's crucial to do your due diligence and select the possible model for you. Always start by analyzing your needs. After all, there's no need to spend your hard-earned money on features you won't even need.
Here are a few things you should consider first:
Measurement capabilities
Probably the most crucial quality of a car battery tester is its capability. The tester will be of no use to you if it can't measure important parameters and battery ratings or simply doesn't fit the type of battery your car has. Most internal combustion cars out there (pretty much all of them) use very basic 12V batteries, ranging between 100 and 700 CCA—anything over that is overkill. Unless you work in a repair shop working on heavy-duty equipment, you will most probably never test a battery rated over 1000 CCA anyway.
However, if you own a hybrid or electric car, your battery may significantly differ. Always make sure to check your car's battery specifications in a good repair manual beforehand. While many battery testers have overload protection, you may damage your tool if it doesn't.
​Battery compatibility
Each car battery tester has a list of different battery types it can successfully test. Most models in our list can test various battery types like AGM, conventional flooded, spiral wound, gel cell, etc. The first step here would be to determine your car's battery type and then make sure that the battery tester you are looking to purchase is compatible with it.
Display type
Like many other instruments, car battery testers also come in analog and digital configurations. You'd be mistaken to think analog models are outdated these days; people are buying analog car battery testers to this day due to their reliability and simple construction. However, if you are looking for advanced models, you can choose from the plethora of digital car battery testers available.
I personally like to have one of each. Analog models displaying the readings with a needle, it much easier to notice and detect voltage fluctuations. For instance, an alternator that would work intermittently or produce voltage quick voltage spikes could be quite hard to see on a digital display while you'll see the needle jerk quite easily.
As they say, "always choose the right tool for the right job."
​Cable length
A seemingly small and unimportant detail that can significantly impact the battery tester's operability is the length of test lead cables. Beware of devices with extremely short cables as they are very restrictive to your movements. Search for testers with a 10' cable length on average or better yet, consider Schumacher's model, which also has a Bluetooth wireless range of 32'.
​Intended use
The choice of car battery testers also greatly depends on your intended use. Some models are built for light functioning, while others are heavy-duty options designed to test several batteries simultaneously or be used 40 hours in the shop.
If you buy a battery tester for personal use, you should consider products from OTC or Clore Automotive. On the other hand, mechanics looking for a battery tester are better off with heavy-duty models like the ones from AutoMeter, Schumacher, etc.
​The Verdict
When things come down to it, the final decision entirely depends on your specific requirements from a car battery tester.
However, it is tough to beat the Clore Automotive Solar BA327 Electronic Battery Tester as an all-around model. It has almost everything you might expect in a car battery tester and more. You can use it to test different types of 6V & 12V batteries, 12V & 24V charging systems, cold-cranking amps, etc.
Moreover, when you are done performing the tests, you can print the results using the built-in thermal printer and keep detailed records of each battery. If you just don't need the printer function, I strongly suggest you look towards the OTC or Autometer models—you simply can't go wrong with industry standards!