EDITOR'S PICK
Craftsman 9-19897 Medium Duty Impact Hammer
Reliable manufacturer
Impeccable quality-test
Lightweight
3,000 blows per minute
PREMIUM PICK
Ingersoll Rand 119MAX Long Barrel Air Hammer Kit
Pretty much the best model in the game
Built specifically for the automotive industry
Lightweight
15% more power than standard air hammers
BUDGET PICK
Powermate PX Heavy Duty Air Hammer
Reliable manufacturer
Includes 4 chisels
Shock absorption technology
Comfortable grip
Touch trigger
While not being an absolutely essential tool for auto mechanics, professional technicians will no doubt benefit from having a good air hammer in their tool chests. Air hammers, also called Zip guns, are mostly used to cut through metal or dislodge press-fitted components.
More importantly, being quite powerful, air hammers can quickly tire the user's arms. A high-quality air hammer should be designed to be used for long periods without causing too much fatigue. Since most air hammers are strong enough to cut through concrete, they also create a lot of vibration, which could end up harming the user's hand. If you've used one before, you know what I'm talking about here.
To help you find the right air hammer, we have tested and reviewed 7 of the best air hammers currently on the market. We have also included a couple of buying tips and some things you should keep in mind while shopping to choose the right model for your specific needs and make sure you get the most bang for your bucks.
Best Air Hammer Reviews
Craftsman was founded in 1927, and it didn't take long before it became known for the power and durability its tools provide. Fast forward to 2022, and Craftsman still tests each tool before it arrives in-store, assuring it exceeds customers' expectations.
The Craftsman Medium Duty Impact Hammer is no exception. It's lightweight enough that you won't experience unnecessary fatigue, even after prolonged use but is still durable under the toughest circumstances.
Furthermore, it has a polymer housing, which helps keep vibration to a minimum, meaning you'll be able to work with accuracy, power, and speed, something that Craftsman is famous for.
The Craftsman Medium Duty Impact Hammer is super versatile and can be used for chipping, riveting, piercing, trimming, cutting, and peening. It can basically tackle anything you throw at it.
Other features include a ¼ inch air inlet size, 3/8-Inch minimum hose size, and a whopping 3,000 blows per minute. It doesn't come with chisels, but that's an advantage in my book. Most models sold in a kit will usually come with a variety of cheap chisels that you probably won't use anyway. Luckily, the Craftsman Medium Duty Impact Hammer fits most standard chisels thanks to the .401 inch shank opening. Thus, you can just buy fewer chisels, the ones that you'll actually have a use for, and buy better ones while saving money in the end.
And, thanks to the cheap price tag, it's simply perfect for beginner auto mechanics and weekend DIYers. Never forget that, when starting in the field, having a cheaper model is still better than not having one at all. This model will allow you to start with a good air hammer in your tool chest, removing the need to ask another mechanic to borrow. Not to forget that beginners rarely start with heavy-duty work from day one anyway.
The same applies if you only plan to use your air hammer every other month. There's simply no need to buy the biggest Zip gun in the game unless you use it professionally. The Craftsman 9-19897 Medium Duty Impact Hammer will get the job done, and it will do so for super cheap.
Pros:
Reliable manufacturer
Impeccable quality-test

Lightweight

3,000 blows per minute
Cons:
Not suitable for heavy-duty use
Kinda outdated spring retainer design
If you use power tools often, then you've heard of Ingersoll Rand. Its journey began in 1872, and it hasn't shown any signs of slowing down yet.
The Ingersoll Rand 114GQC Air Hammer isn't too big, so it's better suited for smaller jobs such as cutting panels, fixing exhaust systems, replacing bearings and bushings – pretty much any light- to medium-duty jobs.
Don't be fooled, though; a small design doesn't equal little power. The 114GQC air hammer provides a ⅝ inch stroke and 3,500 blows per minute, allowing you to get the job done quickly and efficiently.
It also features a quick-change retainer, allowing you to swap chisels without wasting precious time. As you may have guessed, this guy is built for two things — speed and power. It's also super durable in terms of design and provides the user with outstanding accuracy.
Furthermore, the grip is contoured, so you won't have to worry about your hand slipping while using the Ingersoll Rand Air Hammer. It also helps reduce vibrations and provides extra comfort when being used for long periods.
The Ingersoll Rand 114GQC is only slightly more expensive than the previous Craftsman model. Consequently, it's perfect for beginner auto mechanics with a little more budget and professional technicians. If you'd prefer a longer throw and the size doesn't matter much to you, take a look at the Ingersoll Rand 119MAXK below instead.
Pros:
Reputable brand
Isn't too bulky
Quick-change retainer
Super durable
Contoured grip
Cons:
Unless you're new to the automotive and construction industry, you've probably heard of Dewalt. Not only do its tools stand above the rest in terms of quality, but they are also known as some of the toughest money can buy.
The Dewalt Chisel Hammer weighs only 0.5 pounds so that it won't put a strain on your arms after prolonged use. And thanks to the shock-reducing handle, it's a breeze to use.
It comes as a kit and includes five chisels. That being said, if you're not a fan of the chisel shanks provided by Dewalt, you can also use any .401″ chisels you have lying around the garage.
Furthermore, if power is a concern, you'll be glad to hear that the DeWalt DWMT70785 operates at a speed of 2,600 BPM, so you shouldn't have any issues hammering through most surfaces. While 2,600 BPM ain't bad at all, it's still a little lower than the 2 previous models. However, not all job requires incredibly powerful air hammers. Besides, more powerful tools are also tougher to handle. If you work on body repairs, you might be better with a smaller air hammer.
It's important to mention that the Dewalt Chisel Hammer's instruction manual might be hard to understand. However, it shouldn't be an issue for experienced users air. After all, air hammers are quite straightforward to use.
Overall, it's durable, lightweight, and allows you to work comfortably. It also includes a 3-year limited manufacturer's warranty should it malfunction. Oh, and it also features the older spring retainer design. If you hate those just like me, keep in mind that you can trash the spring and install any universal quick-connect adapter, and it will work just as well as the Ingersoll Rand 114GQC.
Pros:
Very durable
Reputable manufacturer
2,600 BPM
Touch control trigger
Includes 5 chisels
Cons:
User manual may be a bit hard to follow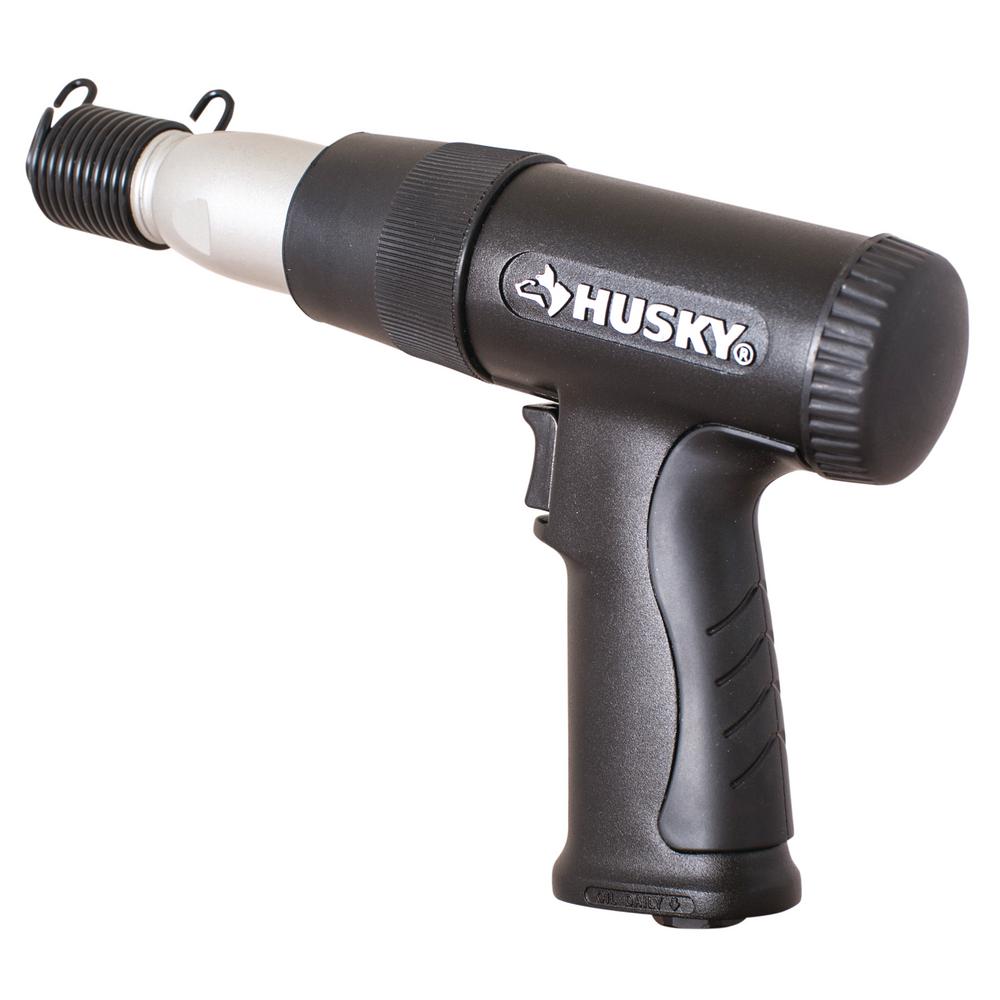 If you're looking for an air hammer built for industrial use, the Husky Medium Stroke Air Hammer is the one for you. The housing is super lightweight and comes with a really comfortable rubber grip.
Besides, the isolated cylinder design reduces vibration by up to 50%, preventing fatigue and sore hands from becoming tired after lengthy use, perfect for industrial use.
The cylinder is also longer than others, providing harder hitting power and helping you can tackle the toughest jobs without any issues. On the other hand, long-throw air hammers are often better suited for heavy-duty use. If you need better precision, look for the previous models instead.
Furthermore, you'll get a whopping 3,000 BPM, so it doesn't lack power and speed. As a result, it's a great option for cutting metals, shearing bolts and driving out press-fitted components.
Finally, if you experience any issues, no need to worry — you're fully covered by Husky's 2-year limited warranty, making this purchase risk-free. That being said, Husky tools are never a bad choice.
Pros:
Super lightweight
Rubberized comfort grip
Reduces vibration up to 50%
Harder hitting power
3,000 BPM
Cons:
Does not include a hard case
If you are a professional auto mechanic, look no further. The Ingersoll Rand 119MAX is the one you need. It's pretty much the better in the game, although significantly more expensive than the others on this list. However, it doesn't get any better than this. And if you are in this field for the long run, making a career out of it, you already know quite well that's it's no use to cheap out on tools.
If you are working all week in the garage, you need an air hammer combining a lightweight design with plenty of power. And without a doubt, the Ingersoll Rand 119MAXK hit the nail on the head here. It's 5% lighter than the 118MAX and produces up to 15% more power than standard air hammers.
Ingersoll Rand built the 119MAX specifically with auto mechanics in mind. As such, it can withstand the harshest conditions and is at its best when cutting bolts, pins, rusty exhaust pipes, stuck bearings, and pretty much whatever you throw at it.
Meanwhile, the anti-vibration mechanism helps reduce vibration up to 30%, preventing your arms from becoming fatigued after long use. The anti-slip grip also features a shock reduction design, further reducing fatigue while preventing your hands from slipping.
The Ingersoll Rand 119MAX can be bought individually or as a kit, including five chisels. I know I said buying chisels in a kit might not be the best idea earlier, but it simply doesn't apply here. Everything Ingersoll Rand makes is high-quality. There's simply no use to shop around for better chisels; these will do the job just fine.
Important to mention, if you don't intend to use it to repair a car, know that it will work just as well.
Pros:
Pretty much the best model in the game
Built specifically for the automotive industry

Lightweight

15% more power than standard air hammers
Anti-vibration mechanism
Anti-slip grip
Cons:
None… Simply the best one out there IMHO
Powermate was founded over 40 years ago and specializes in power equipment and portable generators. The company is widely known for its quality, as well as for making easy-to-use tools.
The PX Heavy Duty Air Hammer is no exception. However, it's important to mention that this air hammer is a little more on the cheaper side. Yes, it's powerful enough to tackle heavy-duty work, but it will never last as long as the Ingersoll Rand 119MAX.
Nonetheless, it comes with a range of accessories, including a cold chisel, ripping chisel, punch, and a panel cutter. A cold chisel is typically used to cut through hard metal, whereas a ripping chisel is designed to strip frames. The punch is used to cut fasteners, and the panel cutter, to cut panels indeed. Combined — these tools are enough to tackle most jobs you will encounter.
The soft-touch grip ensures your hands don't slip if you begin to sweat while also reducing some of the vibrations, so you can work longer.
Besides, the touch-trigger means you can use the PX Air Hammer easily and have better start/stop control — a great example of the ease of use Powermate provides.
To top it off, it comes with a two-year limited warranty, meaning if it malfunctions two years from the date of purchase, you can return it and get a new one.
Obviously, the Powermate PX is not the best heavy-duty air hammer on the market. The Ingersoll Rand 119MAX is. However, costing almost 1/4th of the Ingersoll Rand model, the Powermate PX is perfect for beginner big rig mechanics and heavy machinery apprentices.
Pros:
Reliable manufacturer

Includes 4 chisels

Shock absorption technology

Comfortable grip

Touch trigger
Cons:
Shorter lifespan as others on this list
Aircat was founded in 1998 and has been home to some of the best power tools on the market. The brand takes pride in designing quiet but extremely powerful tools.
The Aircat 5100-A-T Air Hammer produces a whopping 3,000 BPM, allowing you to get the job done as fast as possible. It's super lightweight, making it easy to transport while preventing strain after prolonged use.
Similar to the other options on this list, it has a shank opening of .401″, so you can fit most chisels with ease.
The Aircat Air Hammer is slightly smaller than other models mentioned above and, thus, fits perfectly in hard-to-reach areas. And worth mentioning, it features an eye-catching red and black design. However, if you already work as a mechanic, it will probably end up dirty anyway.
Pros:
Looks great
Reliable manufacturer

Quiet

Power
Lightweight
Cons:
Composite housing tends to be harder to keep clean than metal models
What Are The Different Types Of Air Hammers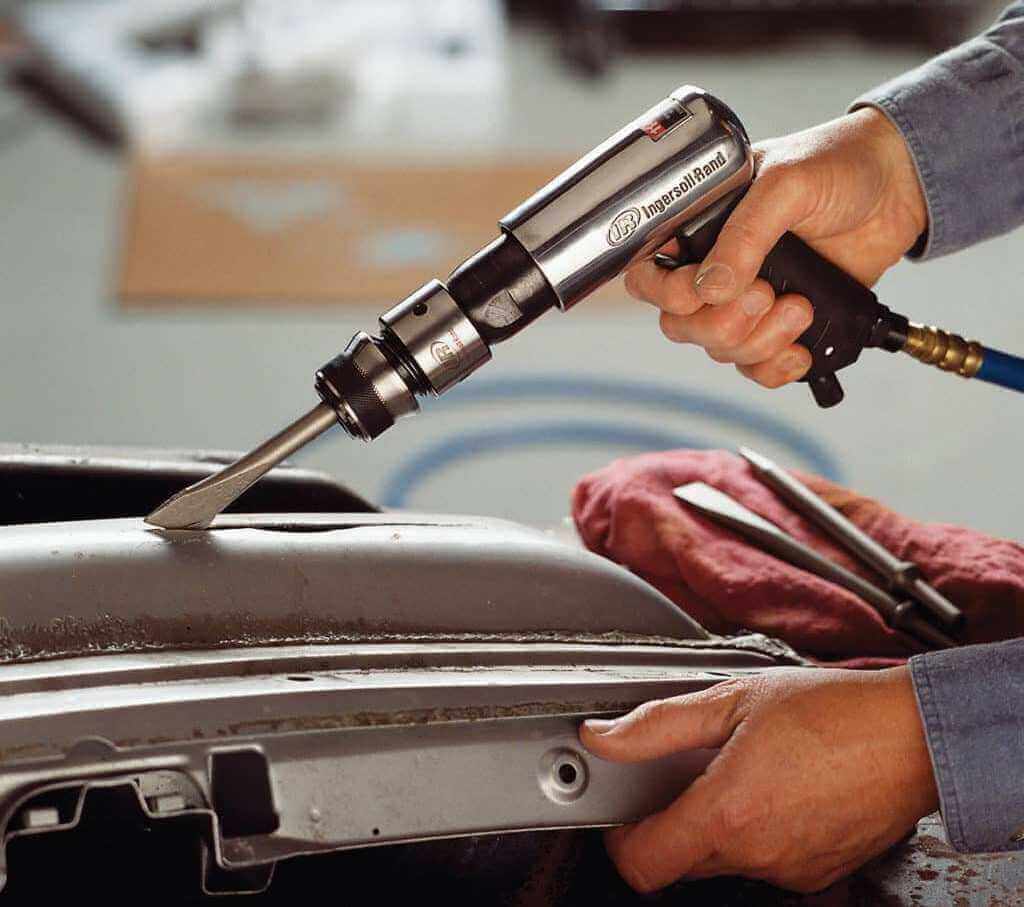 Unlike most other power tools, you'll be surprised to hear that there is really only one type of air hammer.
The main difference lies in the speed and power output, length of throw, weight, size, etc. Aside from that, all air hammers work pretty much the same and do the same job.
Factors To Consider Before Buying An Air Hammer
To make sure you get the most bang for your bucks, you need an air hammer that will fit your needs, intended use, budget, and skill level. Here are a couple of things to take into consideration.
Weight
The weight of the air hammer is critical in the buying process. If you choose an air hammer that is too heavy, you could put a strain on your arms and wrists, causing unnecessary fatigue. Lightweight air hammers are also easier to transport, which is great if you work as a mobile mechanic.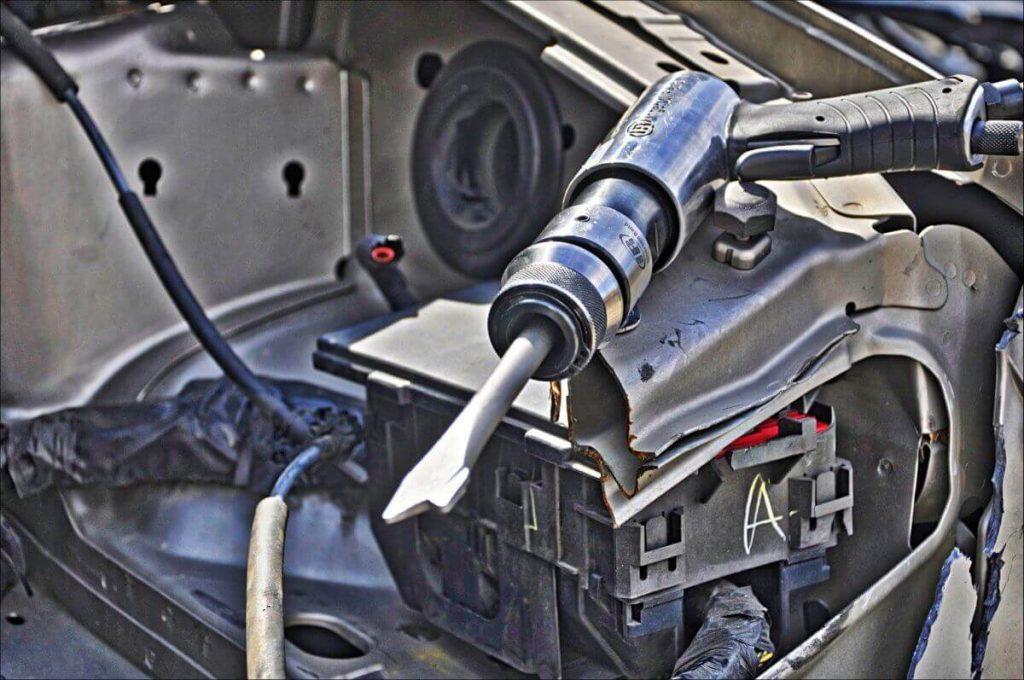 Attachments
If you want to use your new air hammer straight out of the box, then you're going to need some attachments.
If you regularly use an air hammer, you probably already have attachments lying around; however, if this is your first time, you may want to stick with one that includes attachments or buy a chisel kit separately.
The most common attachments you can find are a cold chisel, ripping chisel, punch, and panel cutters, each serving a different purpose.
Manufacturer
When buying power tools, it's a great idea to look at the manufacturer rather than the product itself. If the brand is well known and has great reviews, then there's a high probability that its products follow the same path.
One of the best power tools brands is Ingersoll Rand — when in doubt, stick with Ingersoll Rand, and you'll never be disappointed.
BPM (Blows Per Minute)
If you have experience with air hammers, then you've probably heard of the term 'BPM' before. BPM stands for 'blows per minute' and addresses how many times a piston goes back and forth within a minute.
The higher the BPM, the faster it goes. However, a fast air hammer can be both a blessing and a curse. Of course, you will get the job done faster. But, higher speed also means less precision. Faster-hitting air hammers are usually harder to control too. Just make sure to get one that fits your experience level and specific use.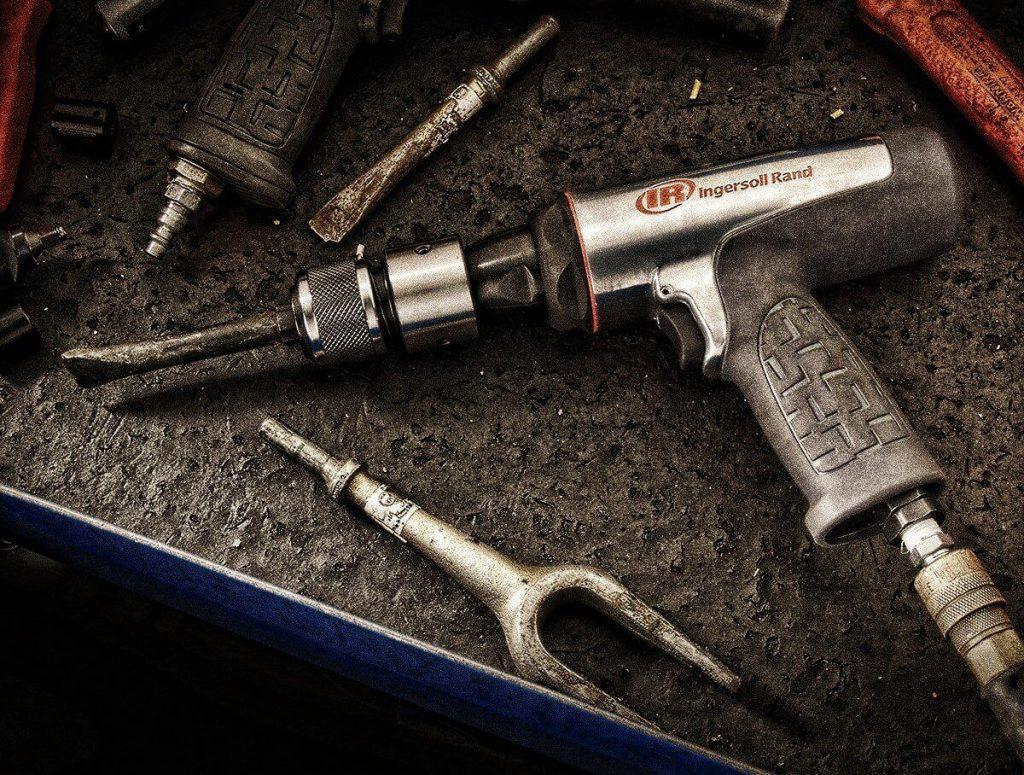 Comfort
If you're going to be using your air hammer regularly, you want to look for a model that allows you to work comfortably. In doing so, you'll be able to work faster and more effectively. And you'll also prevent going home with sore hands every night.
Alongside being lightweight, a good thing to look out for is how well the air hammer you choose can absorb shock. A well-designed grip featuring shock absorption technology will be much more comfortable and cause less fatigue in the long run.
Another thing to look out for is the grip. Ideally, you'd want an air hammer with a rubber grip. Not only will rubber better absorb vibrations, but metal grips also tend to become really slippery when covered in oil.
On the other hand, manufacturers producing air hammers with metal grips usually sell rubber covers you can slide over the handle.
Verdict
After reading this article, we hope you have a deeper understanding of what an air hammer does, what are the best ones, and how to choose one for yourself. If you're still unsure, we recommend sticking with either the Ingersoll Rand 119MAX or the Craftsman 9-19897. The Craftsman model is perfect for beginners and weekend DIYers, while the Ingersoll Rand one was specifically designed to handle professional auto mechanic work.
I personally own the Ingersoll Rand 119MAX, and even after six years, it still works just like new.
As always, we simply can't test every air hammer on the market, so if you use a different one, don't hesitate to leave a comment below and let us know what you are using. I'd be more than happy to review it and add it to the list too.
Happy wrenching!