Ensuring that whatever you're routing, sanding, painting, or hammering stays in place can be a frustrating chore. There are a few options like vices, clamps, router mats and, of course, the new X-Mat system we wrote about a few days ago. But when it comes to simply holding something still from underneath, perhaps while providing lift for a blade, Bench Cookies* are a great solution.
Measuring 3″ in diameter and 1″ thick, Bench Cookies are made of a hard plastic resin and have a thin, high-friction rubber-like top and bottom surface. That surface is where the magic happens, gripping just about anything you lay on top of it and holding on for the ride.
Currently, there are two Bench Cookie products on the market and they're almost identical: the Bench Dog Tools brand Bench Cookies and the Rockler brand Bench Cookies. While we were only able to try out the Bench Dog Tools brand, we absolutely loved them and can safely assume that both products work the same (and we'll work on getting some Rocklers and update this post if our assumptions are wrong). We do, however, believe that we would prefer the Rockler brand Bench Cookies due to the versatility of the entire system. More on that in a sec…
Bench Dog Tools Brand Bench Cookies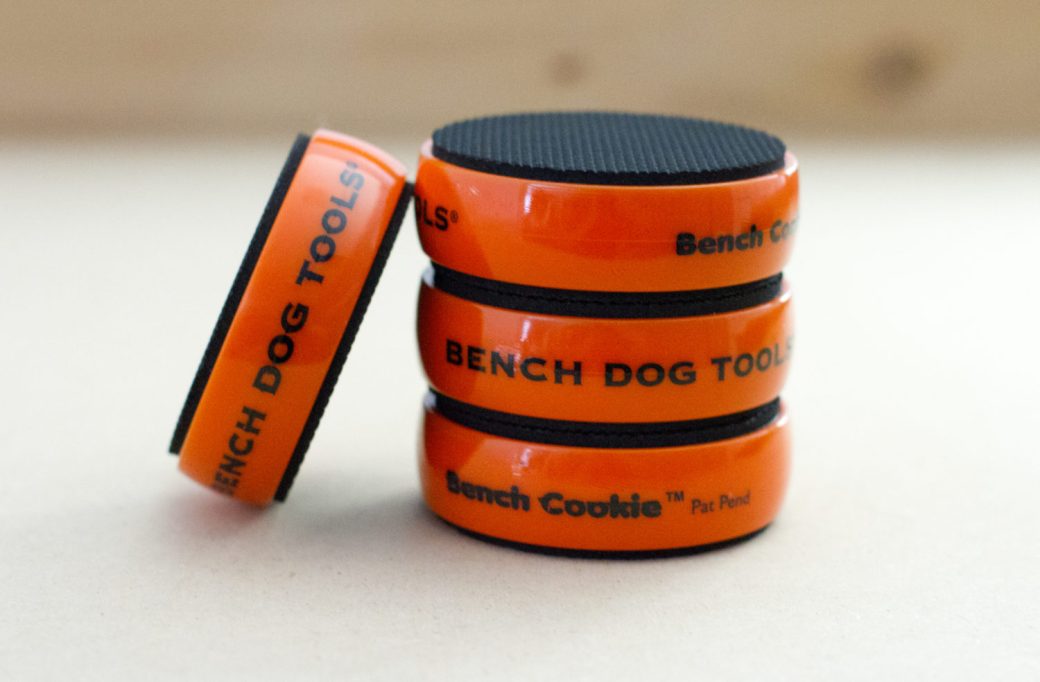 We scored a set of four Bench Dog Tools brand Bench Cookies and wanted to see just how well they really worked. We did what anybody else would do: put wood on top, tried to slide it off, etc. And that was all good—everything we put on top of the Bench Cookies held steady, from plywood and MDF to ceramic tile and plastic.
The more interesting test was the extreme angle test (it sounded cool, so we officially named the test). First, we leaned a piece of MDF up against the bottom of our lab workbench at a 30° angle. MDF is a very smooth and somewhat slippery wood, commonly used as a workbench topper. We then placed two Bench Cookies on the MDF and a 10lb weight on top of them (plus, a glass of water for effect). As you can see in the photo below, it held. We did have to shift the weight slightly upwards or it did start to slide, and when we started getting into steeper angles, the weight did slide. Again, MDF is very smooth, so the Bench Cookies would likely hold at steeper angles on rougher surfaces.
Either way, these little things do what they're supposed to very well. And most people won't be using them at these angles—we just wanted to prove a very non-scientific point: that they work.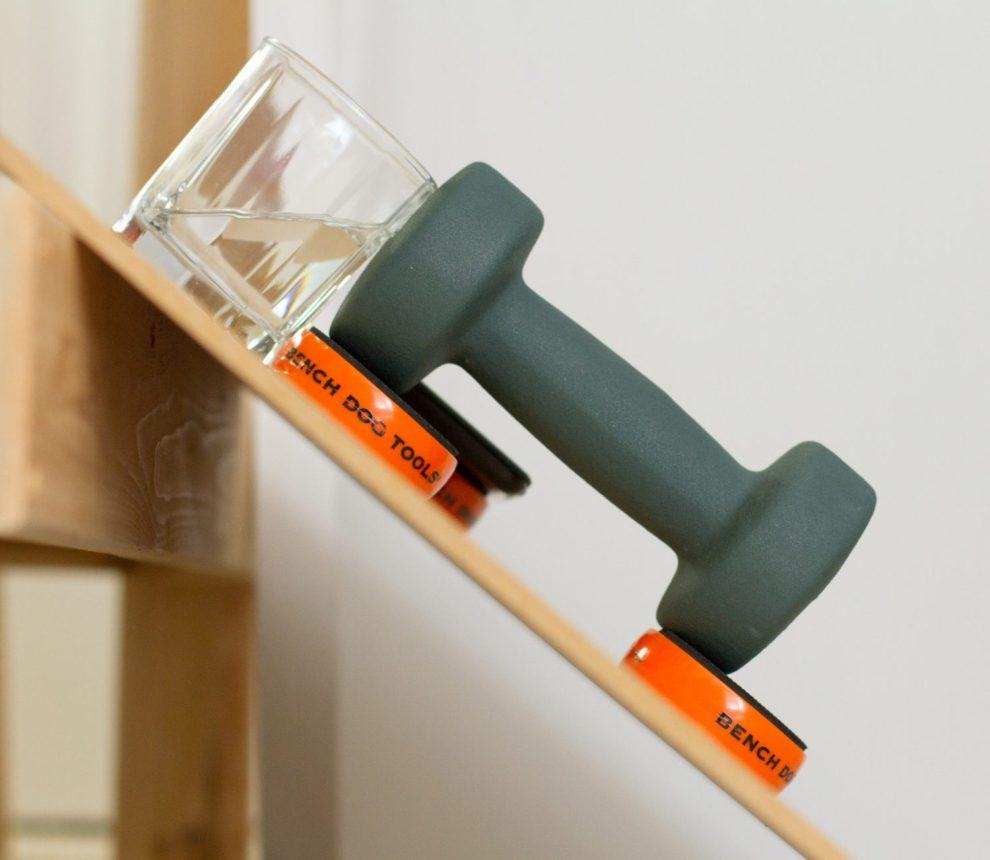 Rockler Brand Bench Cookies
Again, while we haven't acquired a set of Rockler brand Bench Cookies yet, the concept and build quality seem to be identical. But the Rockler's stand out in a big way because the company has created an entire modular system around their Bench Cookies, like those available with the Bench Cookie Plus Work Grippers with Bench Cookie Risers.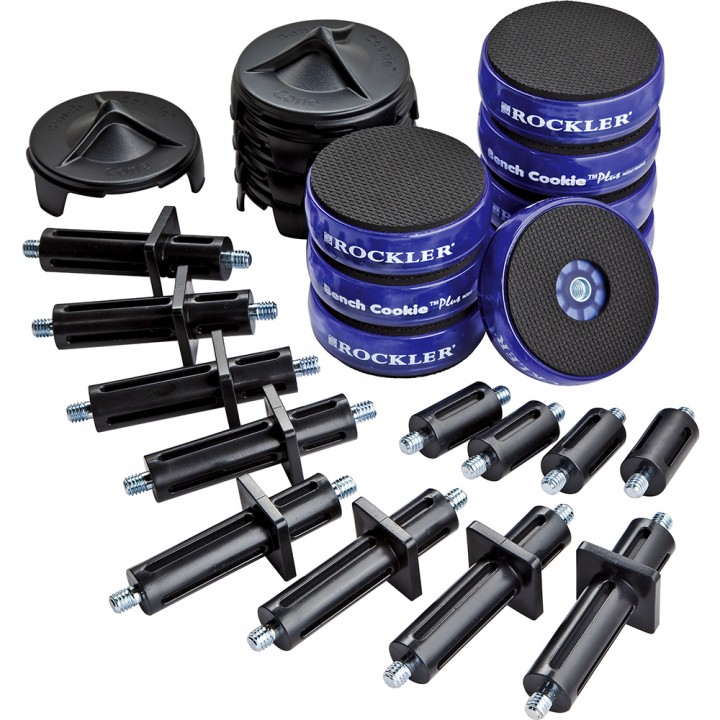 The "Plus" versions of the Rockler Bench Cookies feature a 5/16″ threaded insert under each one. That simple threaded insert allows you to use your own or Rocker's different sized risers—regular risers, XL risers and even T-track risers—to lift your work higher off the bench. The Rockler system also offers cone attachements for slight elevation, and saw horse clips, which would be very useful when you don't have another set of hands to steady a cut.
Depending on which brand and which kit you buy, prices vary. We have some links throughout the article and a few of them should provide a pop-up with updated product pricing.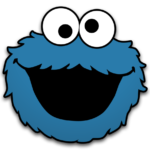 * It seems that both Rockler and Bench Dog are claiming rights to the name "Bench Cookie" through the use of the ® and ™ marks respectively. That's why we're capitalizing it throughout. The Trademark Office says Rockler owns it, from what we can tell. Does it matter? We dunno. We're not attorneys. Just sayin'.