According to the National Highway Traffic Safety Fatality Analysis Reporting System, hundreds of people each year are killed in towing-related vehicle accidents. Most of these accidents are specifically related to trailer sway—that terrifying fishtailing motion that can quickly result in total loss of trailer control.
When loading a trailer, most people assume they've distributed the weight properly, haven't over- or under-loaded the trailer, and have set the proper hitch height. Most people are wrong, even if things [luckily] go smoothly.
Even more dangerous is making assumptions on tongue weight—the weight that a fully-loaded trailer exerts downward on the hitch ball of the tow vehicle. The fact is, tongue weight should be no less than 10% and no more than 15% of gross trailer weight (GTW). Incorrectly calculating tongue weight is the most common contributor to trailer sway and, consequently, towing-related accidents.
A company called Leap Innovations set out to reduce towing-related accidents by addressing the most critical problem at its source with their new Weigh-Safe Trailer Hitch. The Weigh-Safe has a built-in tongue weight gauge that ensures users do not exceed their vehicle's tongue weight specifications either way—up or down—as both can contribute to the same potentially deadly consequences.
Beautifully machined from high-quality stainless steel and aircraft-grade aluminum, the USA made Weigh-Safe is available in 4″, 6″, 8″ and 10″ adjustable drops as well as 2″ and 2.5″ shafts.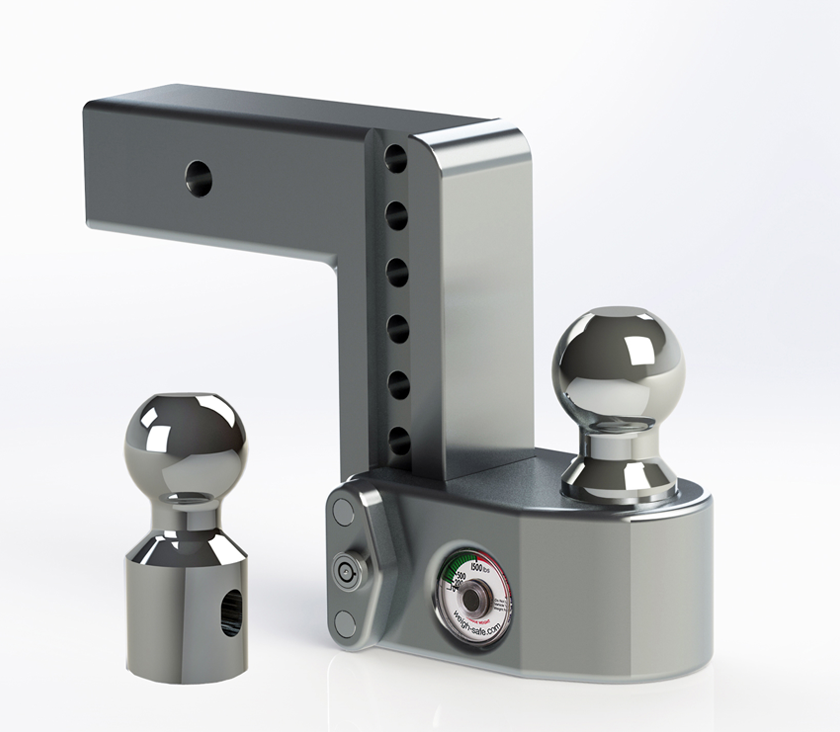 The stainless steel Weigh-Safe hitch balls (2″ and 2 5/16″ included) are quickly interchangeable, and the adjustable slider has an integrated lock to prevent theft (it can also be removed to store inside the vehicle). Similarly, the slider can be reversed so the hitch ball is under the vehicle's bumper when not in use, thereby saving your shins. 🙂
While we don't have one to test, it seems logical that the Weigh-Safe is a safer way to tow. In 2014, it won the SEMA New Products Award, which isn't an easy feat, so big congrats to the inventors.
Here's a video from co-founder Brandon Doman giving us a tour of the Weigh-Safe product:
The Weigh-Safe retails for between $289 and $309, depending on the drop length (4″, 6″, 8″ or 10″) and is available with 2″ or 2.5″ adjustable drop shafts. At the time of this post, prices on Amazon were slightly cheaper, excluding shipping.
Weigh-Safe Website | Weigh-Safe on Amazon