Back in January, we wrote about the new TRiLIGHT Motion Sensing LED Ceiling Light from STKR. At the time, we didn't have one on-hand so we only reported what we learned from our limited research. We also criticized its price but still liked the TRiLIGHT and wanted a few for our own garages.
The good folks at STKR saw our article and sent a TRiLIGHT to us for a closer look. And while we haven't necessarily changed our position on the price of the light, it's much easier to justify now that we've had a chance to play with one. The TRiLIGHT is super bright, well built, and very versatile.
Packaging
We're not really into the oddly satisfying unboxing craze here at GarageSpot, but the TRiLIGHT was packaged very well and shouldn't cause any wrap rage whatsoever. Inside the box, which had plenty of useful descriptive images on every side, the light was securely cradled in cardboard cutouts. There was no awful styrofoam or sharp vacuum-sealed clear plastic to fight with.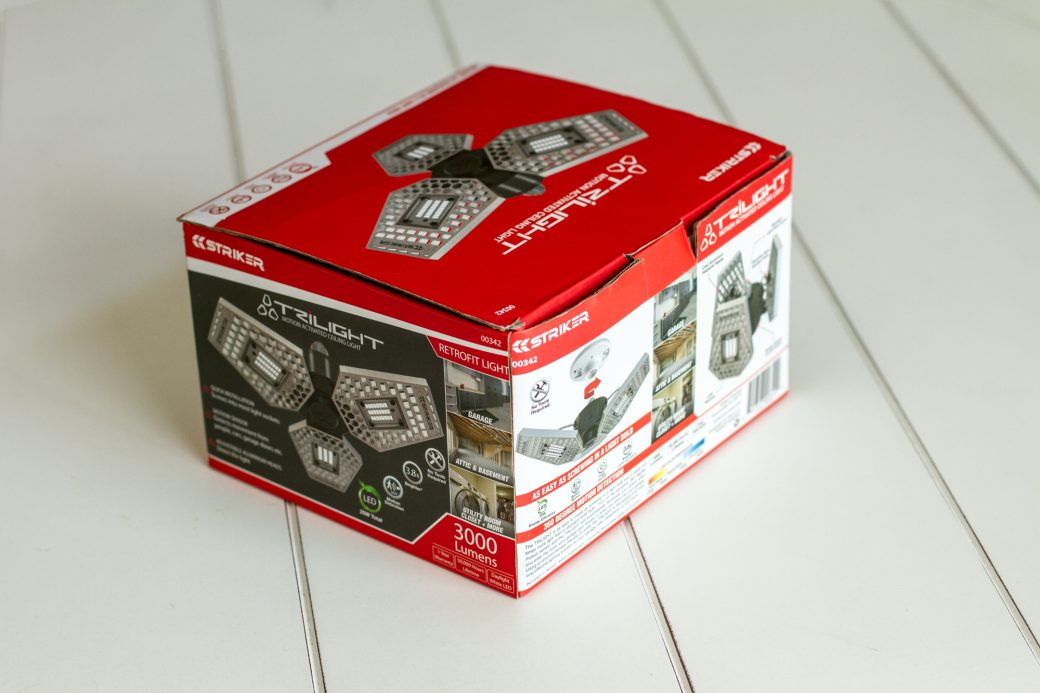 Appearance & Build Quality
The TRiLIGHT looks like something out of a Star Wars movie. There are three pivoting blades (for lack of a better word) that house a panel with an array of 24 individual LEDs each. Combined, the 72 LEDs produce 3000 lumens at 5400K (near-daylight), while consuming just 25-watts. For comparison, traditional bulbs produce about 800 lumens of light and burn 60 watts or more.
The blades are made of cast aluminum in a honeycomb pattern, designed for maximum heat dispersion. It works, too. We ran the light for hours and it never really even got warm.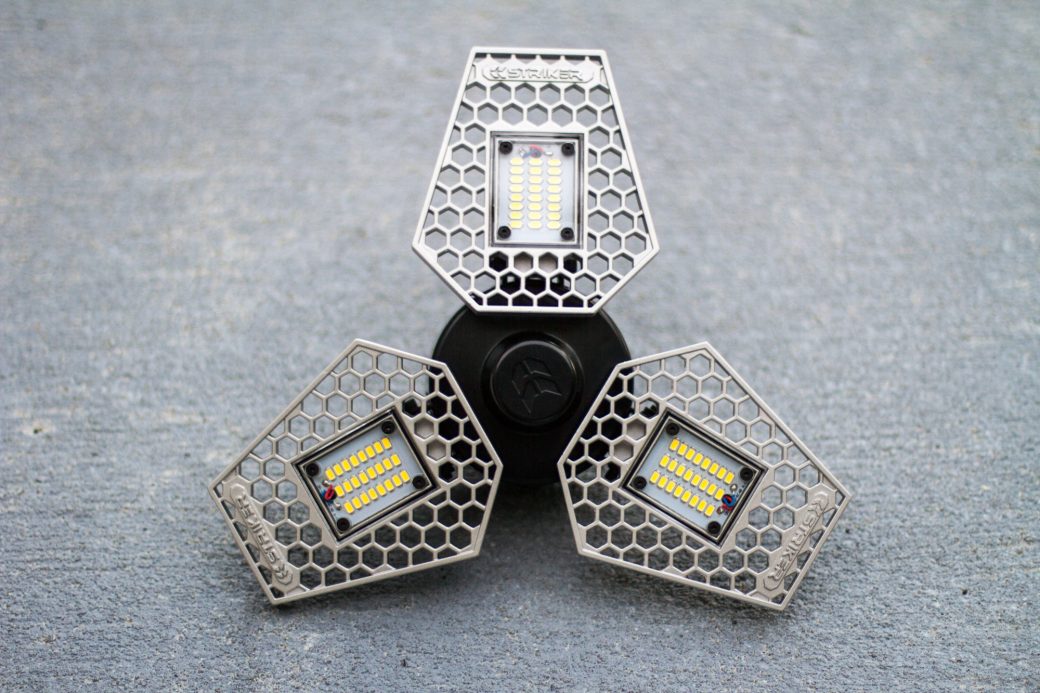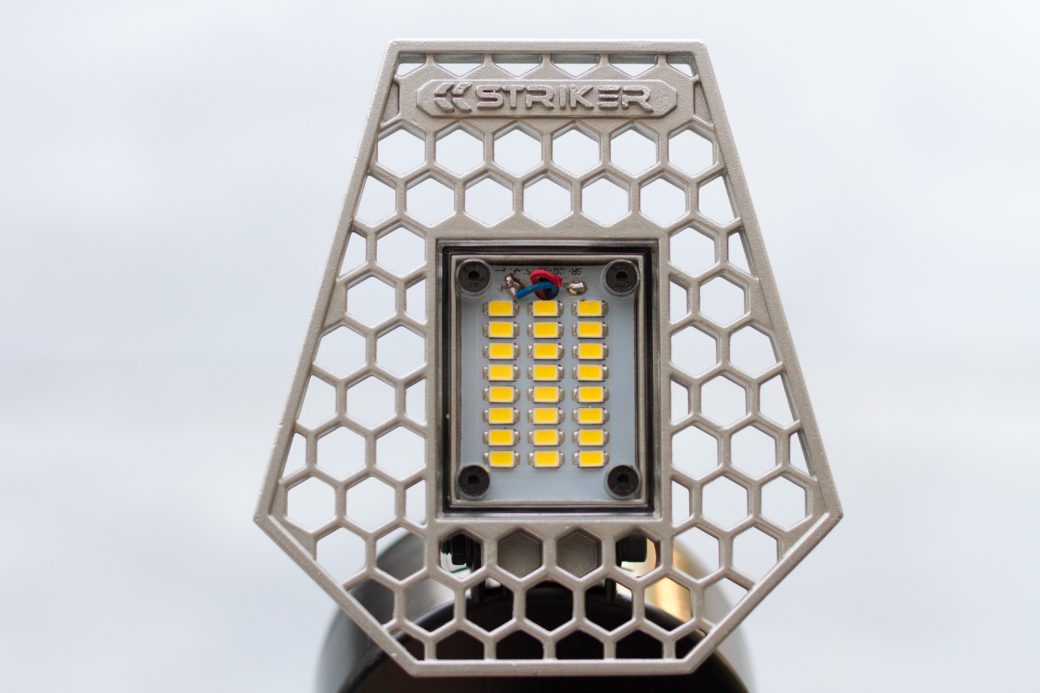 Each blade also has an integrated stainless steel braided cable on the back to power the LEDs, while allowing the blades to pivot freely. The cables seemed to be plenty secure with rubber grommets at each end for a solid seal.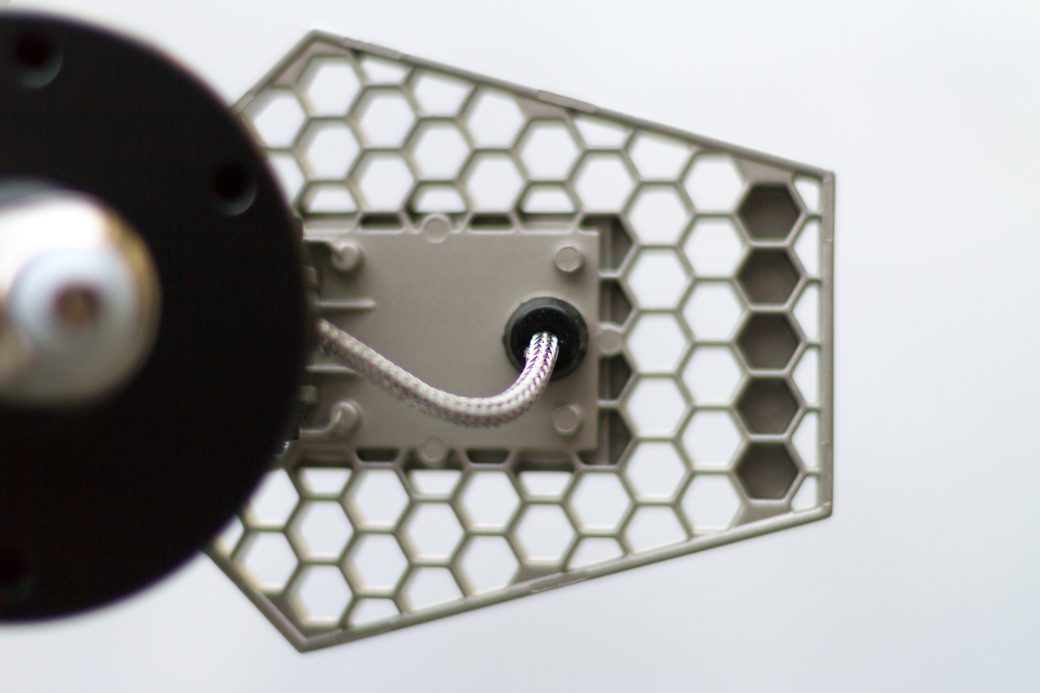 The electronics of the TRiLIGHT are also tightly sealed inside a smooth black plastic casing that feels very solid. The standard light bulb screw—or E26 connector—is molded into the casing so it's not going anywhere.
We wouldn't call this light waterproof, but the build quality is such that dust and moisture in high-humidity environments shouldn't be a problem.
Features
Beyond its appearance, what makes the TRiLIGHT so practical as a garage or workshop light is that the 1000 lumens of bright white light that each flat panel LED produces can be directed independently. The panels are only adjustable on a vertical axis but, for most applications, that should be acceptable. Of course, it would've been nice if each panel partially rotated, too, as we found ourselves unscrewing the light base a ¼ to a ½ turn to get the panels to face the direction we wanted.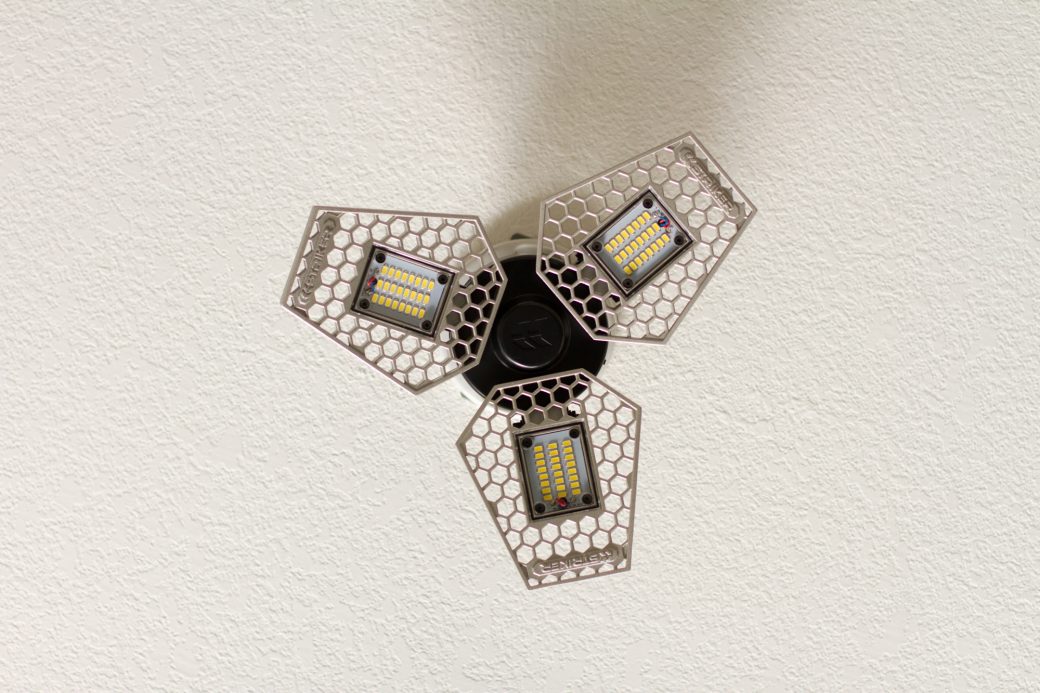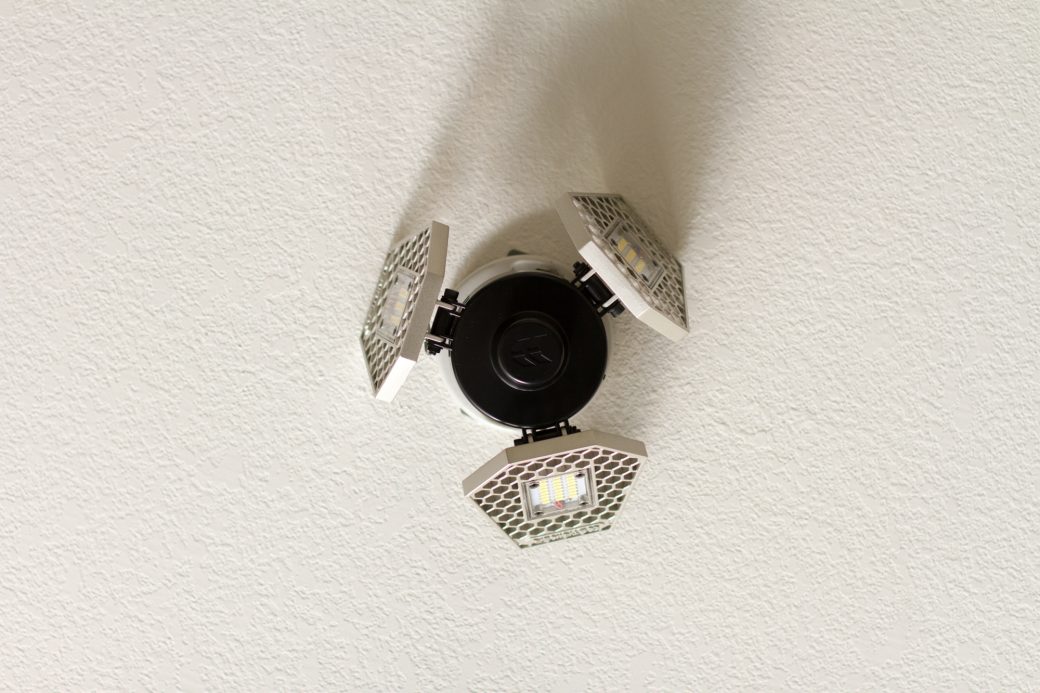 The TRiLIGHT also features an integrated motion sensor that can be turned on or off via a switch on the housing unit. For us, the sensitivity of the motion detection feature was perfect—people and the actual garage door opening and closing triggered the light on, but flying bugs near the light did not. After a few minutes of not detecting motion, the light turns off again. While motion detection certainly isn't new, this is a very practical feature to have in a shop light—just don't forget to leave the light switch in the 'on' position for motion sensing to work.
Performance & Location Considerations
Obviously, the TRiLIGHT is easy to install, as it simply screws into an existing standard light bulb socket. That said, the garage we really wanted to test the light in didn't have any standard light bulb sockets—only fluorescents ballasts. Like most residential garages, there was a 120v outlet located in the ceiling and next to the garage door opener. So, we tried using a plug-to-light-bulb adaptor that allowed us to use a lightbulb with an E26 or medium base connector with a 120v plug.
See Also: Best Garage Lighting for Your Home Workshop
But the TRiLIGHT is actually a tad heavier than the typical light bulb and it just felt like it might come unplugged and fall to the ground. Probably not, but it still wasn't ideal for us.
In another garage, where we did have access to a standard light bulb socket in the ceiling, the TRiLIGHT worked great and felt plenty secure when screwed-in. The only issue here was that the socket was directly behind the bulky garage door opener towards the front of the garage. So, while bright and with its three adjustable LED blades spreading maximum light, the TRiLIGHT was only able to fully light about ¾ of the garage because of the obstacle. Still, it was far brighter than the old 60W incandescent that was in there.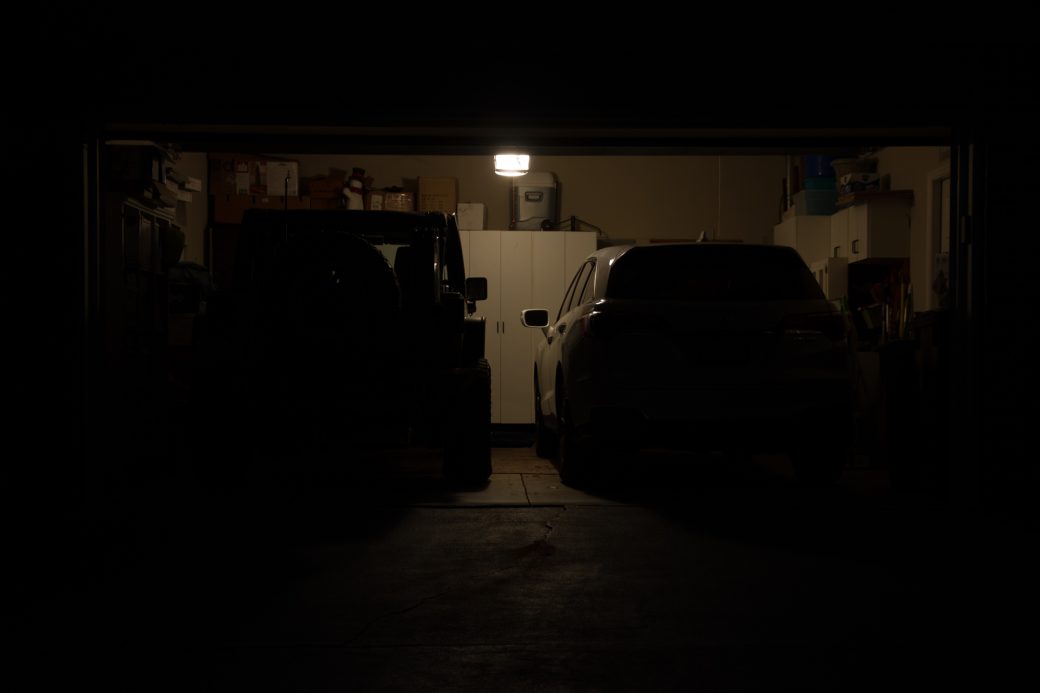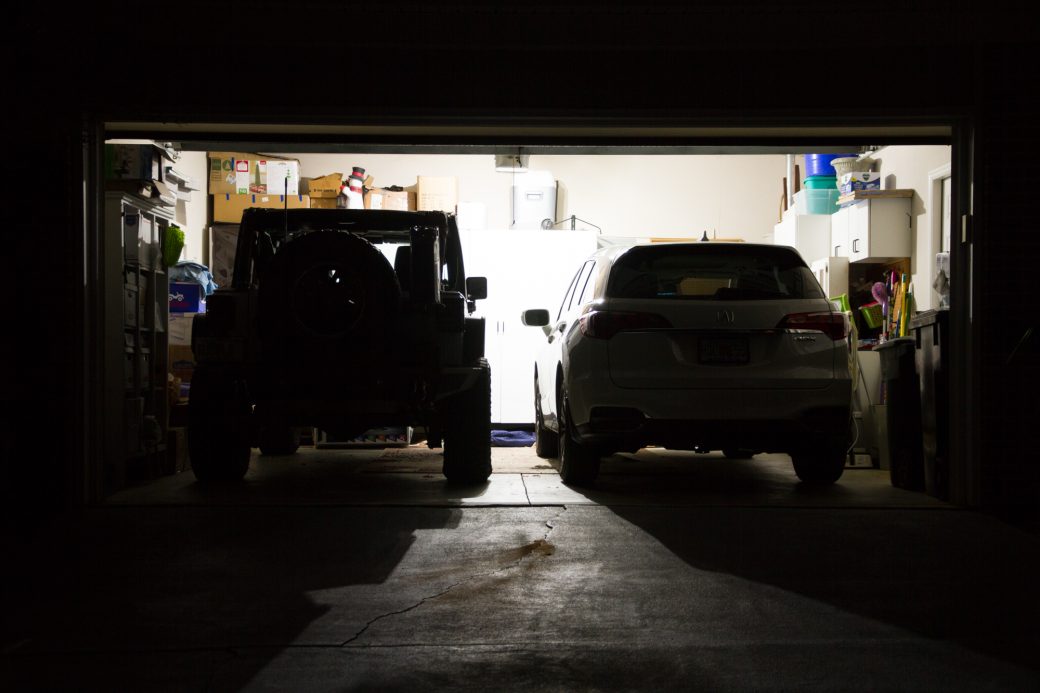 Despite the obstacle noted above, our conclusion is that, in a typical two-car garage, you really need two TRiLIGHTs—one at the front and one at the rear of the garage, or one on each side of the space. The latter is actually how STKR shows off the TRiLIGHT in its own product photos, as shown below.
In an area that's a bit more confined, like an attic, hallway or mechanical room, the TRiLIGHT really shined for us. We installed the light in a fairly large walk-in attic with two light sockets. We left one 60W incandescent in one socket and screwed the TRiLIGHT in the other.
What a difference! Plus, motion sensing lights in the attic… very useful.
Now, photographing multiple lights with different lumens and kelvin temperatures is a difficult endeavor in and of itself, but the TRiLIGHT was a clear winner in our otherwise dark attic. The color temperature alone—a tad brighter than daylight at about 5400k—made a world of difference. Granted, such a cool color temperature does tend to color-cast blue tones, but for most applications, that won't matter much at all.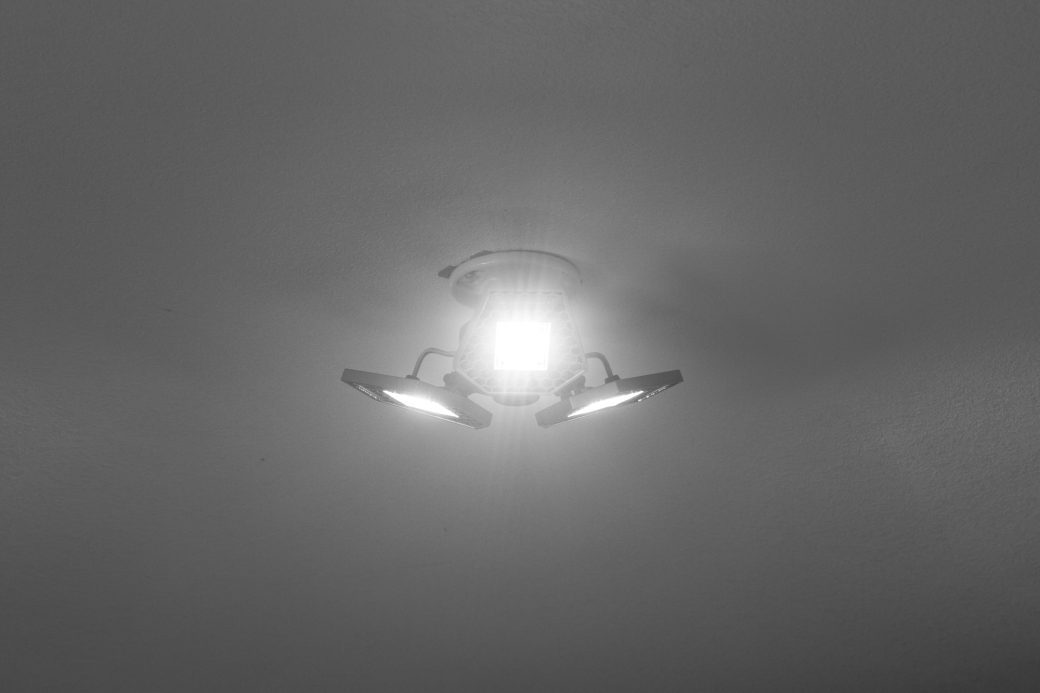 Final Thoughts
We love the TRiLIGHT and think it'd be a great addition to any garage or workshop. Being able to direct essentially three different bright lights where you need light most and having it turn on automatically when you walk into the room makes the TRiLIGHT very practical. It's bright, the color is great, and it runs cool.
We still think the TRiLIGHT is priced a bit too high and you may find that you need more than one.
Sale
Rating Criteria
We love this little LED light for any garage, workshop or attic. Although a bit pricey, each of the three 1000 lumen LEDs can be directed where light is needed most.