Okay, I should probably disclose that I have a slightly lifted Jeep, so when it's not on the rack, I actually want a creeper with decent wheels. But, if you're in the market for a zero clearance portable creeper, the Magic Creeper is worth a look.
Essentially a 60″x28″ [what we believe to be] polyurethane-coated nylon mat, the Magic Creeper rolls up to a mere 29″x5″, so you can throw it in the back of your car or truck, no problem. Obviously, it has no wheels and we're struggling just a bit to even call it a creeper, but that's the name of the product, so we'll go along with it.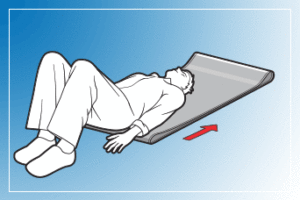 The Magic Creeper works by simply using itself as a pivot. It's kind of like a conveyor belt… without the conveyor. If you were to fold a polyethylene tarpaulin (or as we call them, tarps), it may have a similar effect.
The real selling point here is that the Magic Creeper is portable, zero clearance and works on just about any terrain. According to the company, it also repels water, oil, and is puncture resistant.
As demonstrated in the video below (warning: the music is awful), the Magic Creeper could also be helpful loading and unloading heavy items from the back of your rig or from underneath your vehicle.
We wanted to know what others thought about the Magic Creeper, so we scoured the web and found that the majority of reviews were pretty positive. Most of the negatives were around its price, although we saw some discounted offers. We found the Magic Creeper on Amazon. Considering most of us old guys have just used cardboard, carpet remnants or thick plastic to get the job done for decades, we still think the Magic Creeper is a cool idea.
Magic Creeper 51631 Black Patented Zero Ground Clearance Automotive and Household Creeper
With a stunning zero ground clearance, this wheel-less creeper takes the stress out of...
Unique tubular shape acts like a track moving along effortlessly for up to 5 feet without...
Inner layer acts like millions of tiny ball bearings for effortless maneuvering in all...
Water, oil and puncture resistant; won't scratch wood and expensive floor finishes
60 inches x 28 inches magic creeper rolls up to a mere 29 inches x 5 inches, and weighs in...