There are all sorts of electric pressure washers available on the market today with varying degrees of power. But for the homeowner/DIY-er who just needs to clean the patio, family car or fence once in a while, some of the larger, more expensive machines can be overkill. In fact, more power could equate to material damage if you're not careful.
That's where the Karcher Follow Me comes in. With just the right amount of power for common household chores and the best mobility on the market, the Follow Me is an exceptional little machine that's actually quite fun to use. And use it we did. In fact, we clocked about 20 hours of test time over the course of two weeks.
In case you aren't interested in reading through our full review below, we love the Karcher Follow Me. It's a light-to-medium-duty (1800 PSI @ 1.3 GPM for a total of 2340 CU), self-contained and maintenance-free electric pressure washer with superb mobility and plenty of power to clean most household dirt and grime away.
Packaging, Unboxing & Assembly
There are a couple different Follow Me kits available—one with some Karcher soap and an angled gutter wand, for example. The unit that Karcher sent to us for review included the basics, which was everything we needed to test the machine and you'd need to use it yourself.
In the box was the Follow Me machine itself with an integrated 35′ GFCI protected power cord and removable detergent canister, four snap-on wheels, a 15′ pressure hose, two different wands, and a quick-connect garden hose adapter kit. Oh, and of course an instructions booklet and lots of styrofoam for safe shipping.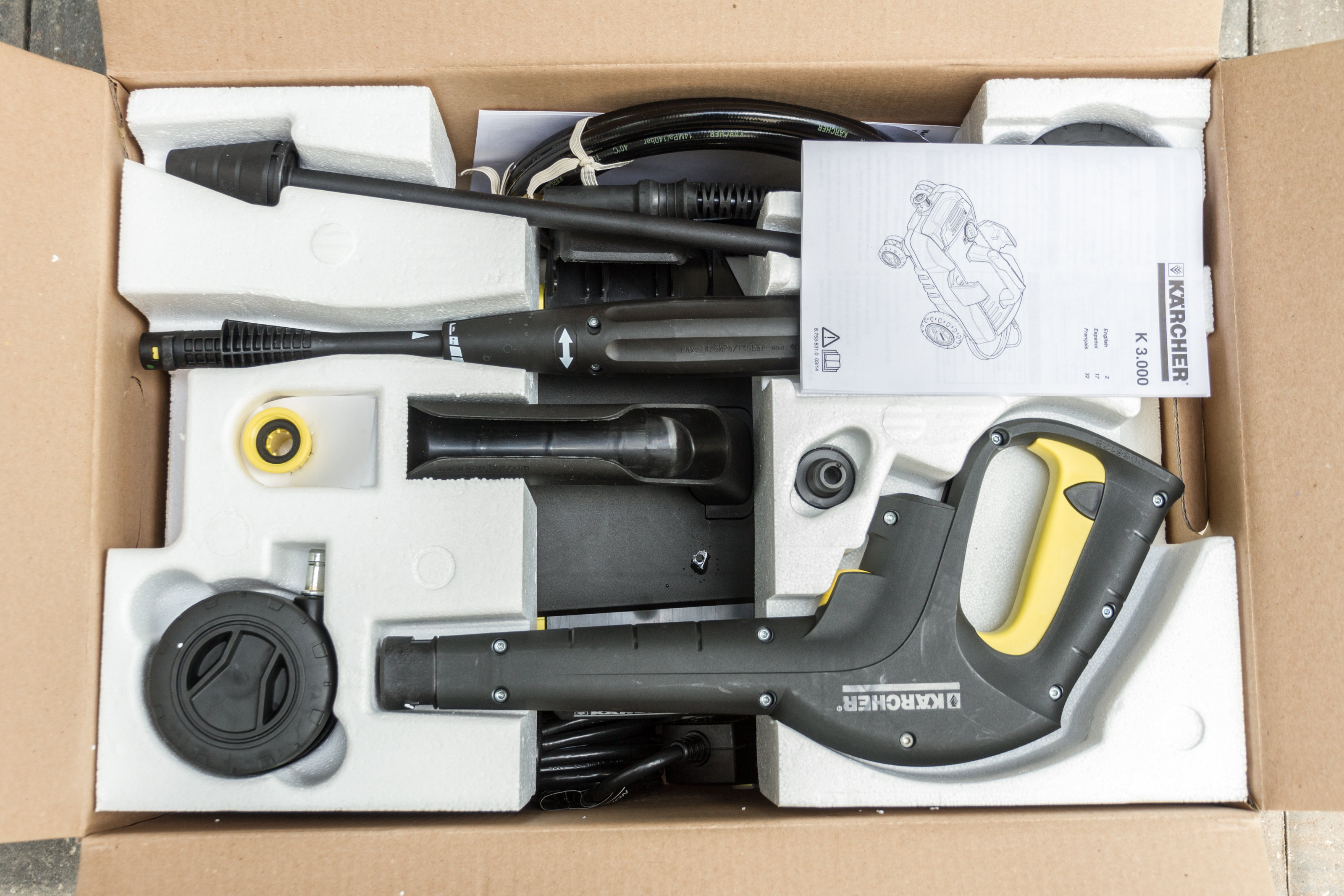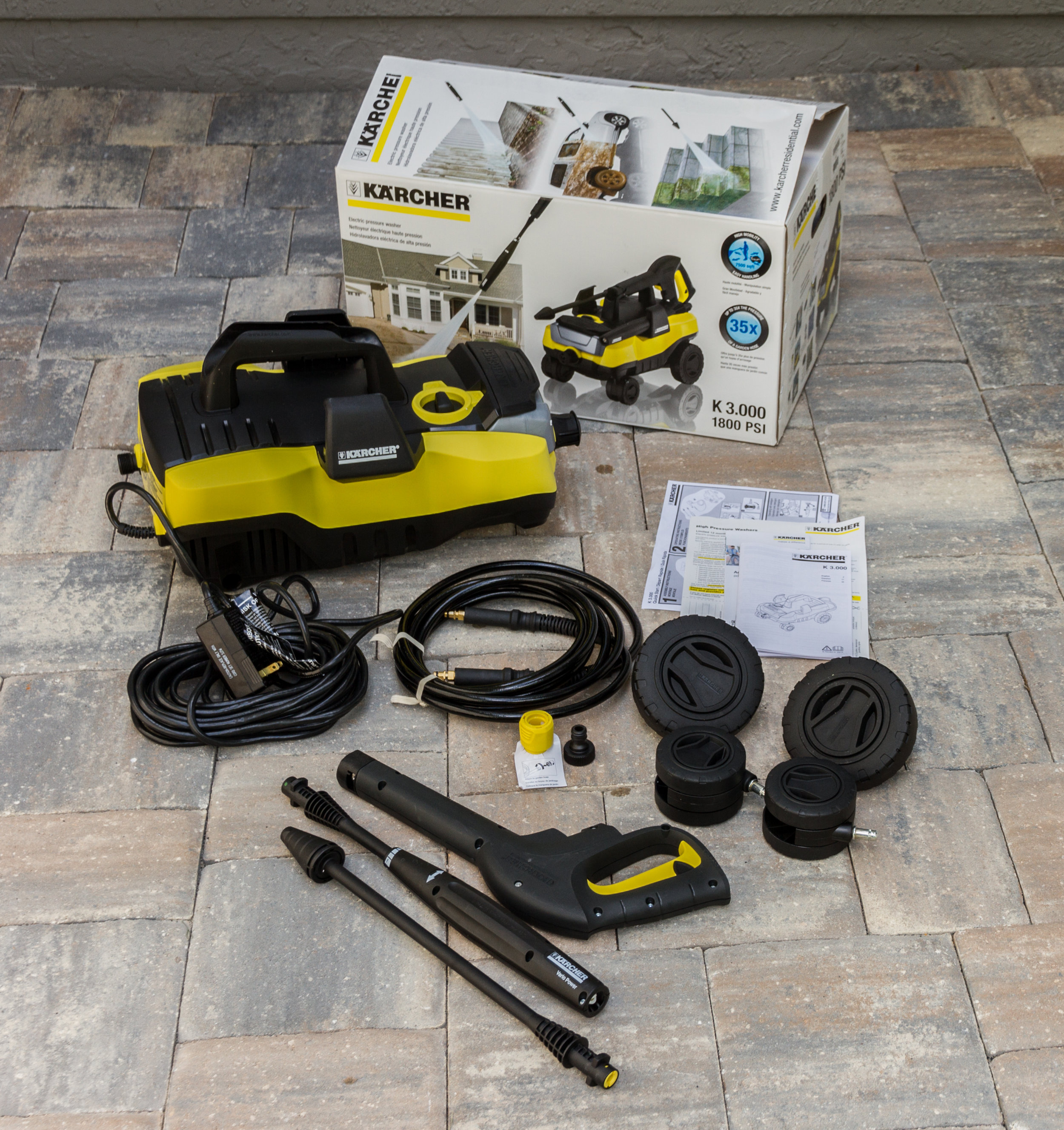 Once unboxed, we laid everything out, read the instructions (really, we actually read the instructions!) and put it all together. The Follow Me is a snap to put together—literally. The four wheels, the pressure hose, and the garden hose quick-connect all snapped onto the machine in a few seconds. This thing is ready-to-run within the first few minutes of unboxing. Sweet!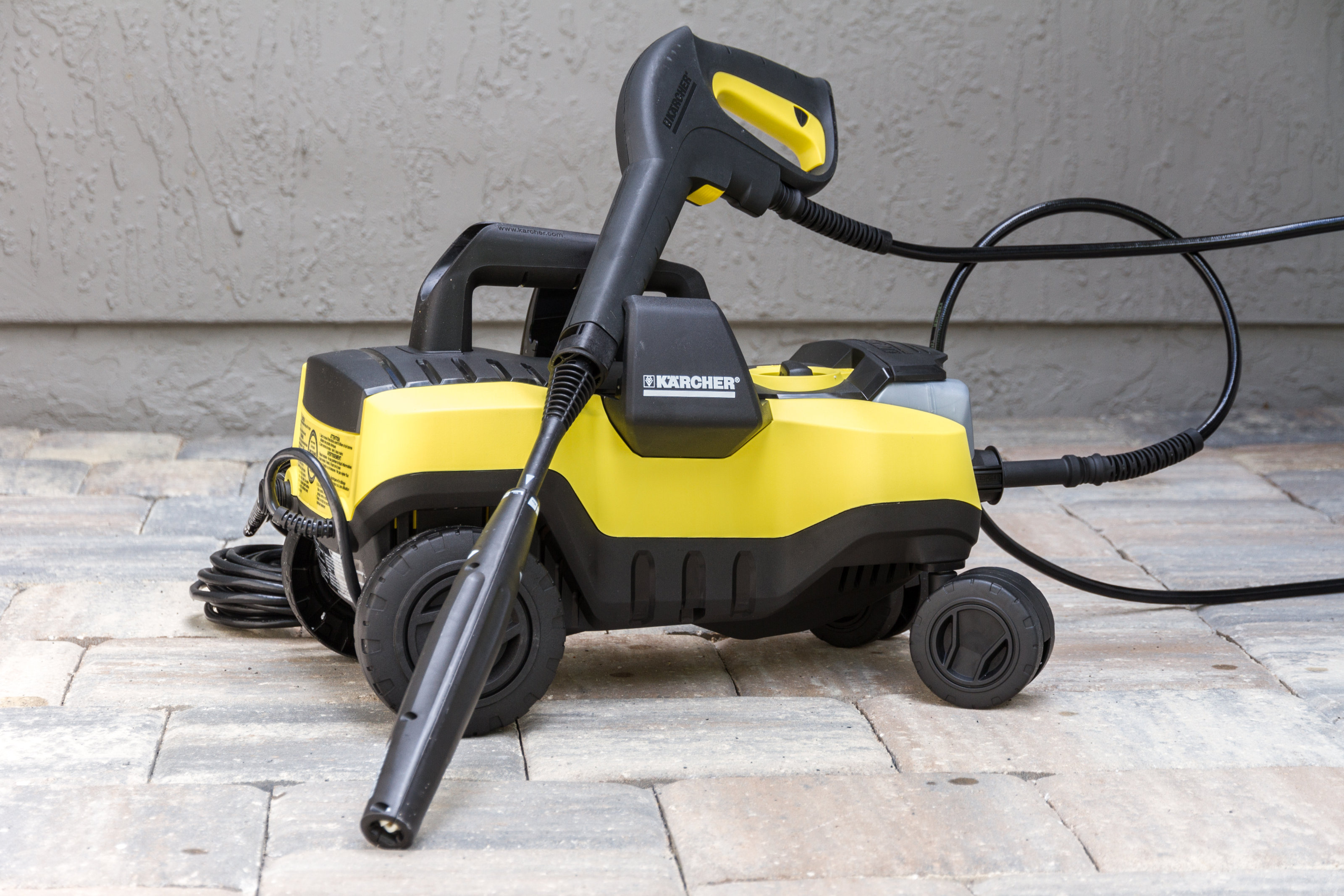 Durable & Lightweight
Before we cranked-up the Follow Me, we took a moment to inspect the machine closely. This thing just looks cool—almost like a little car from the side. Ahhh… German engineering. The Follow Me is made from durable plastics and the only [somewhat] flimsy pieces we noticed were the little tabs on the bottom of the integrated wand storage clamps (more on cord and accessories management below).
One thing we love about the Karcher Follow Me is just how compact and lightweight it really is for a light-to-medium-duty, self-contained pressure washer. At about 22″ and just over 15 lbs, it's super-easy to tote around via its integrated handle, which doubles as a place to park the spray gun when not in use.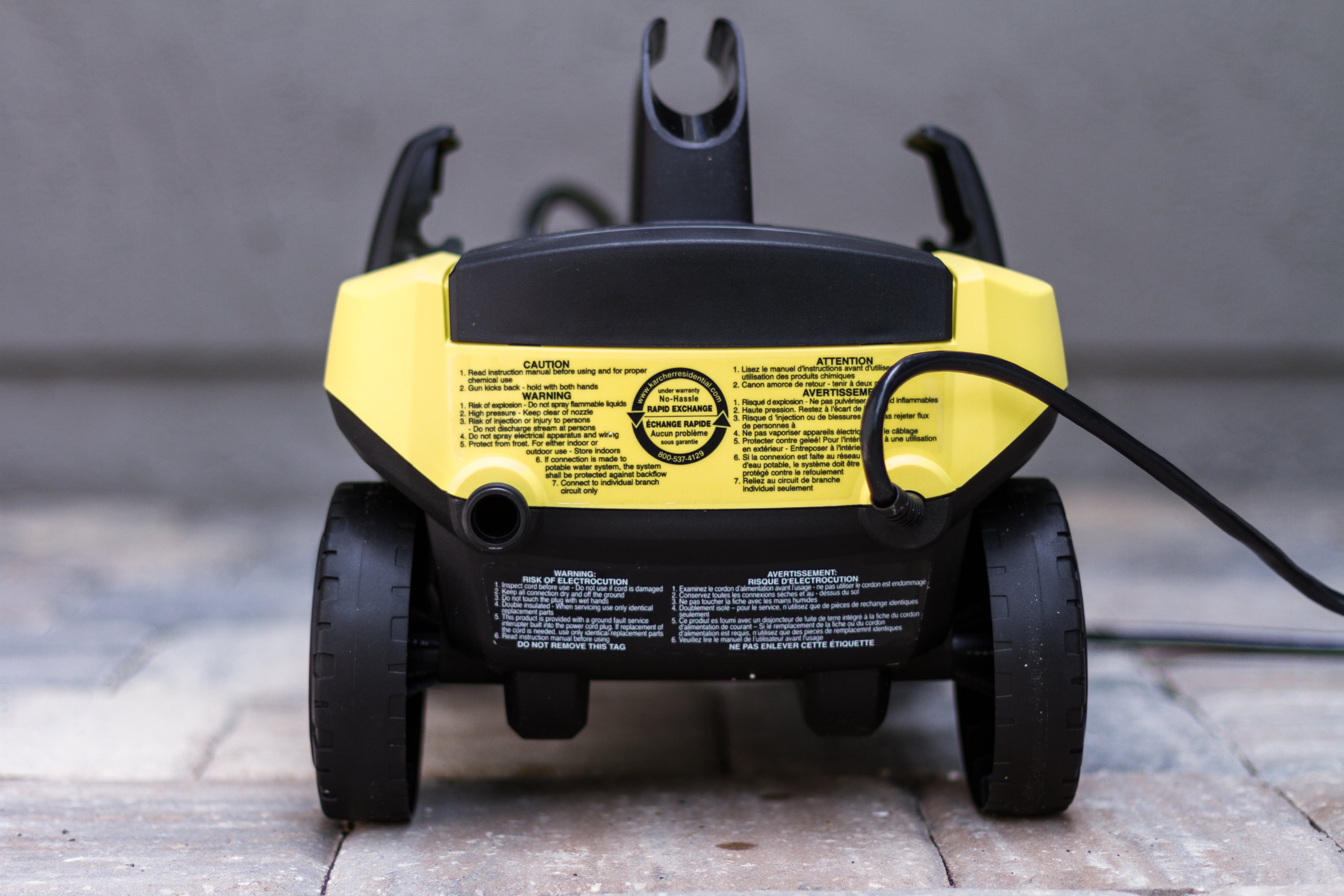 The Follow Me's four wheels—two large wheels in the rear and two smaller 360° rotating wheels in the front—are durable and all but impossible to remove once locked in place (that's a good thing). Same with the spray gun—once connected to the pressure hose, it's not coming off easily. More about the wheels in a sec. After all, the wheels are why this pressure washer is called the Follow Me.
See Also: Our Reviews of Top 7 Pressure Washers for Car Cleaning
Here's a breakdown of the machine and its various pieces/parts: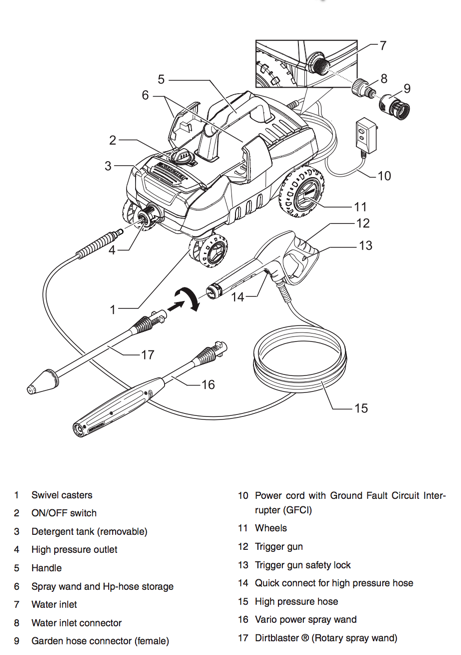 Cord & Accessory Management
On top of the Follow Me, there's a place for everything to stow away nicely in between the two wand storage clamps and around the handle/spray gun cradle. That said, the wands don't snap into their storage spots as tight as we'd hoped for—you won't hear the "click" you'll so desire. Instead, the wands just sort of sit in the curved tabs/cut-outs designed to hold them, but it seems like they need to be deeper or the little tabs underneath taller/stronger.
In fact, our first dry-run at pulling the Follow Me around on various surfaces had both wands falling off the machine. We triple-checked and did have the wands stored correctly, but they just didn't always want to stay in place when pulling the Follow Me over even the slightest of bumps. On the flat surface of a driveway, however, the two wands remained in place just fine.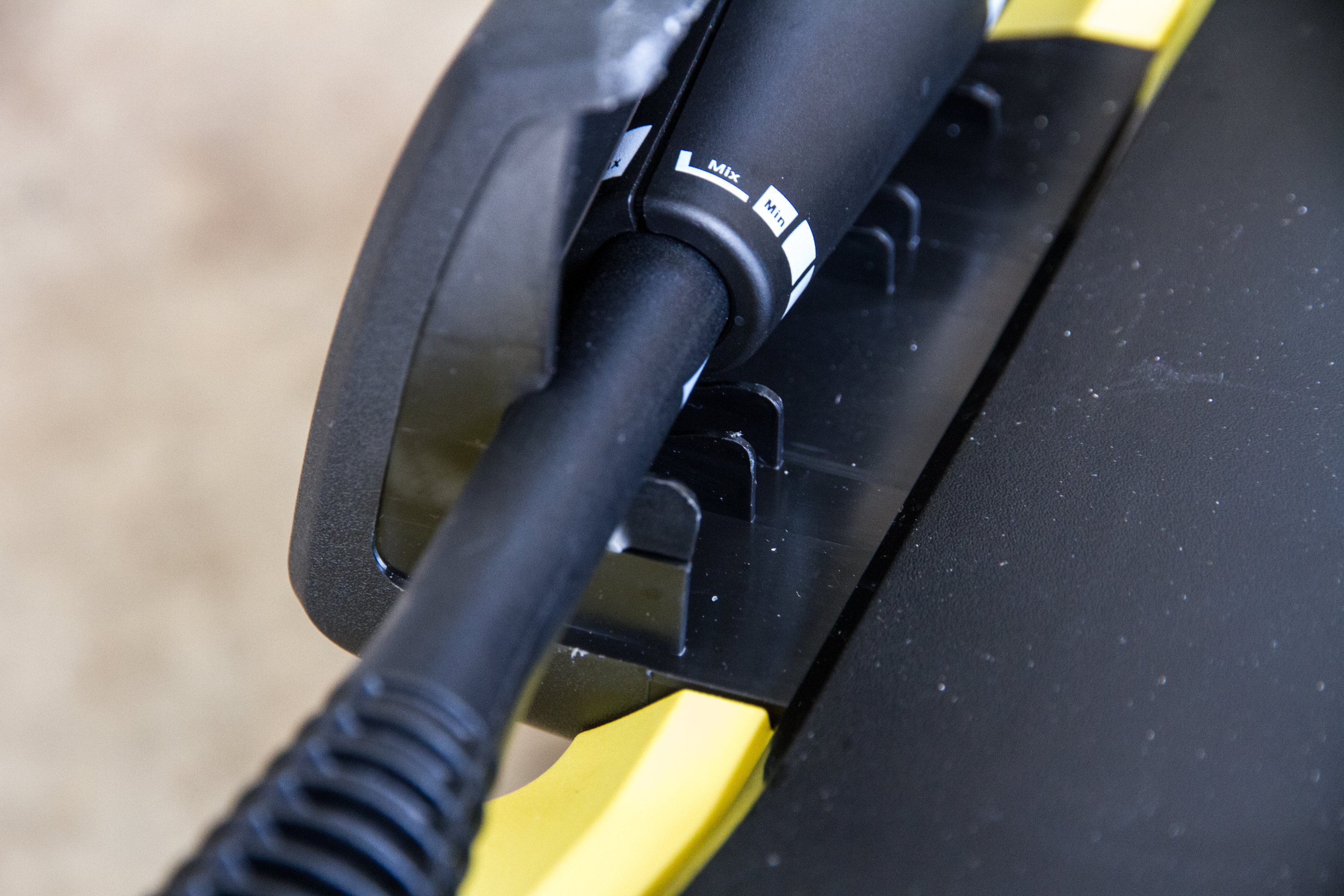 As for the pressure hose and power cord, if you manage to wind them up just right, they'll fit nicely in between the two wand storage clamps and around the handle. Like most cords and hoses, winding them up into a perfect circle isn't always as simple as it seems, but that's certainly not unique to the Follow Me.
Here's the best we could do (not too bad) vs. how it's supposed to look when you get everything stowed away just right: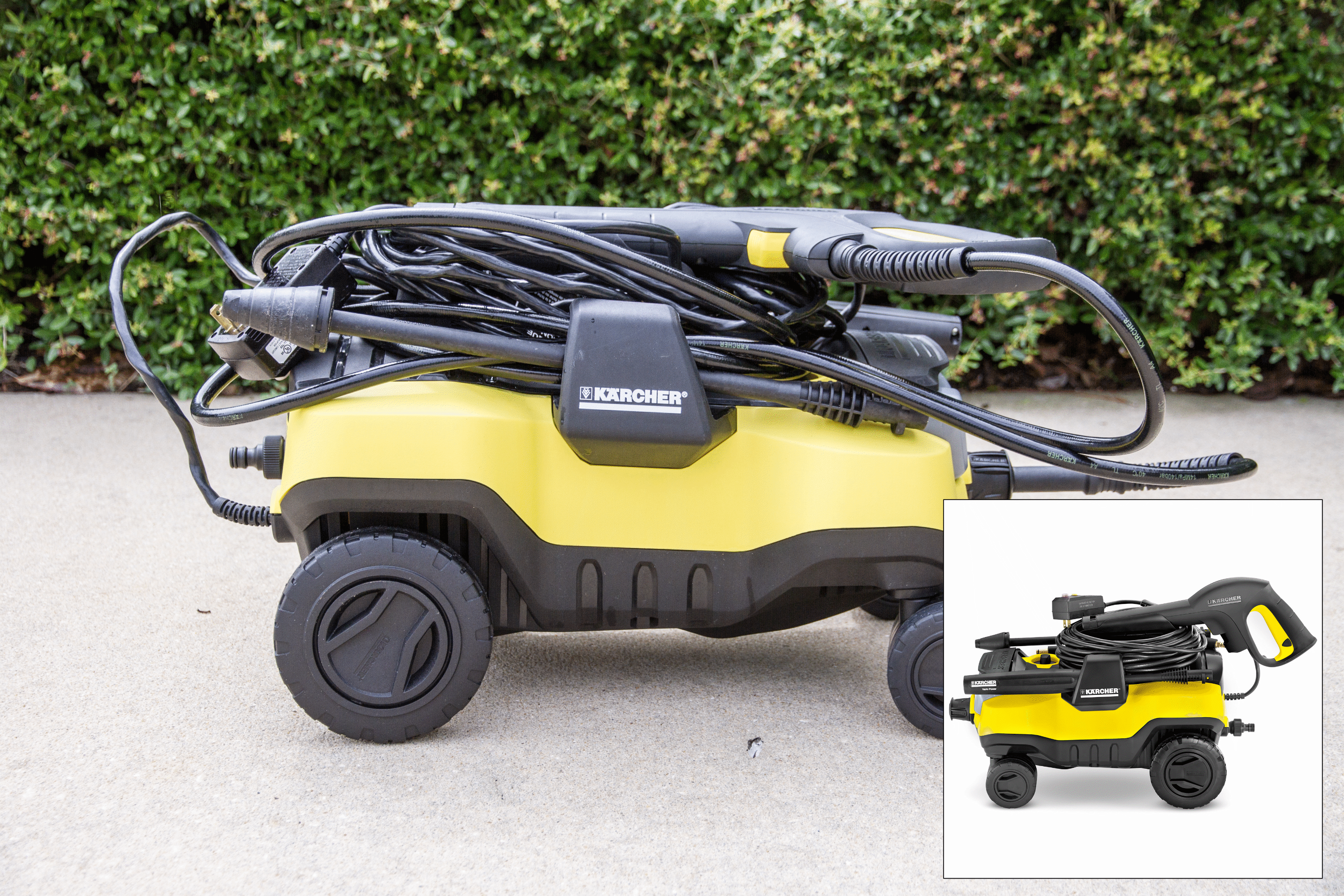 Category & Class Performance
At 1800 PSI and 1.3 GPM (which equates to 2340 CU), there's no doubt that the Karcher Follow Me is not a heavy-duty pressure washer designed for commercial use. It can't be compared to most gas-powered or even some higher-end electric pressure washers in the 3000+ PSI category. But it's not supposed to be. The market for this pressure washer is the average homeowner looking to clean stuff that garden hoses, brooms or blowers can't. And it does that perfectly, with accessibility and mobility in mind.
Again, for this review we toyed with and used the Follow Me for about 20 hours on various surfaces. We cleaned some weathered fence boards, a walkway, some pavers, a car, and even some shoes. Unfortunately, around our own houses, we struggled to find any large areas to show wide-angle before and after shots. Indeed, most of our stuff is quite clean already.
Just about any pressure washer should clean those surfaces with little effort, though, and the Follow Me was no exception. What's important is that the Follow Me did so without destroying anything because of its moderate power, and helped us to clean more efficiently simply because the device itself is so user-friendly.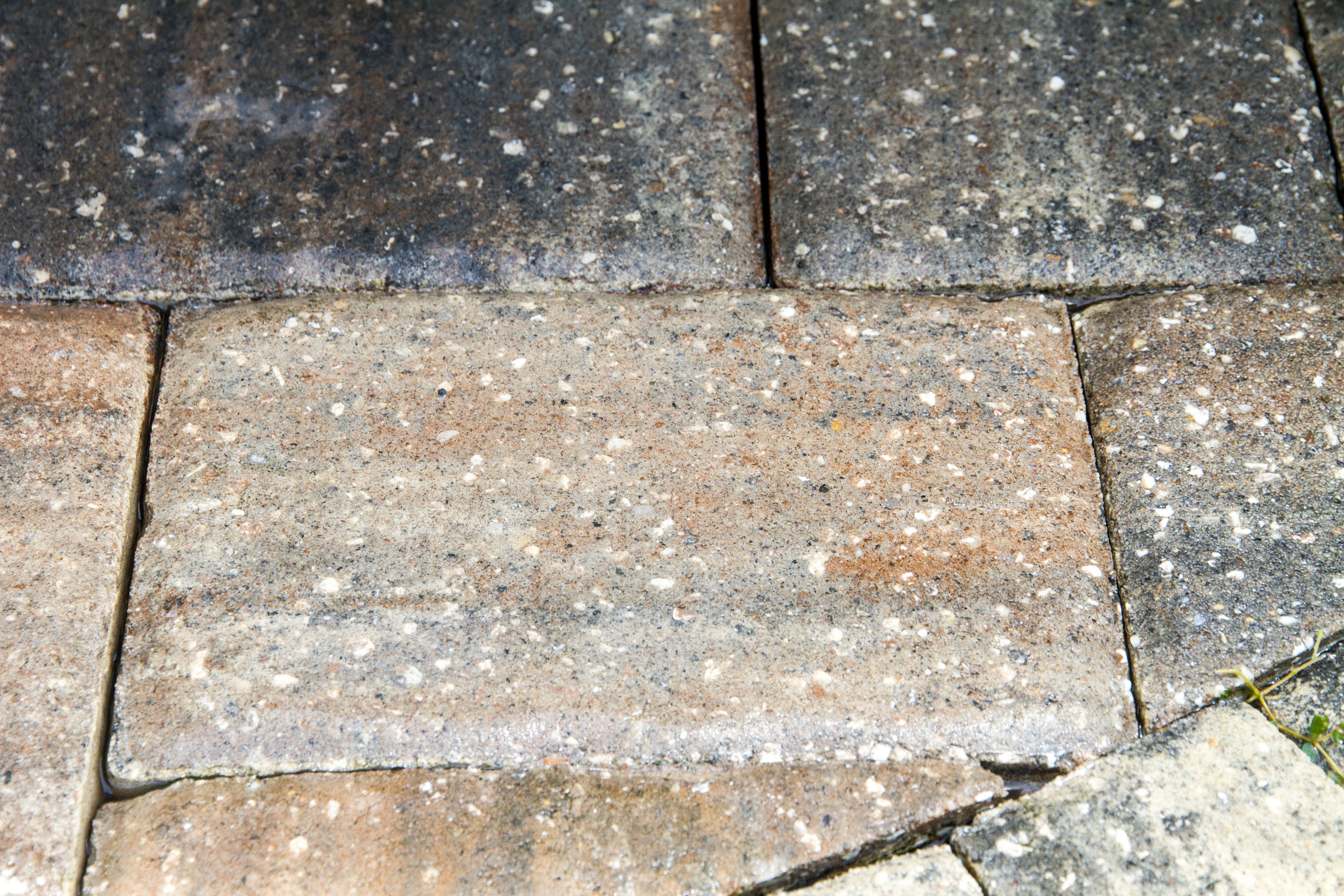 Wand Performance
There are two wands that come with the Follow Me: the Vario Power and the Dirtblaster. Both wands connect to the spray gun using the proprietary Karcher connectors, which are usually part of the mold with their accessories. And since 1800 PSI isn't child's play, the spray gun has a built-in safety lock, too.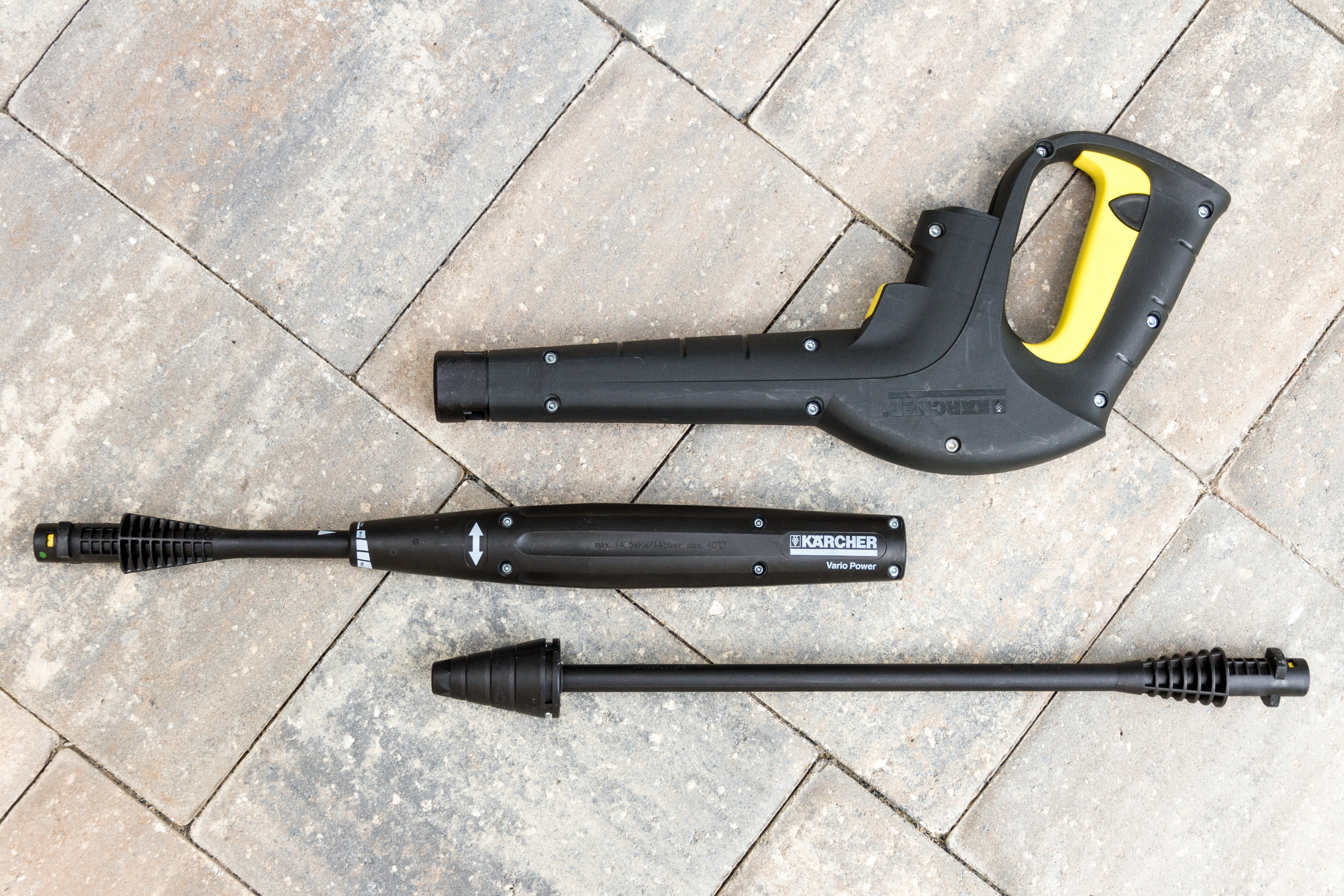 Vario Power Wand
The Vario wand is the one you'll likely use most. It delivers the typical fan-like spray pattern most pressure washers deliver but its power output, and therefore spray pattern, is adjustable.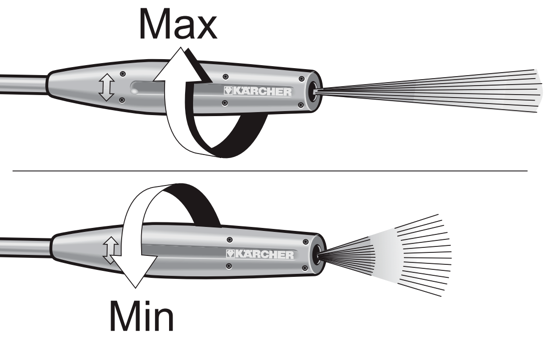 Dirtblaster Wand
The Dirtblaster wand is amazing but dangerous! This thing has a 0º pencil jet that rotates 360º, effectively increasing cleaning performance [according to Karcher] by up to 50%. You do not want to use the Dirtblaster nozzle on any sensitive or finished surfaces like soft wood or painted surfaces, including your car's finish.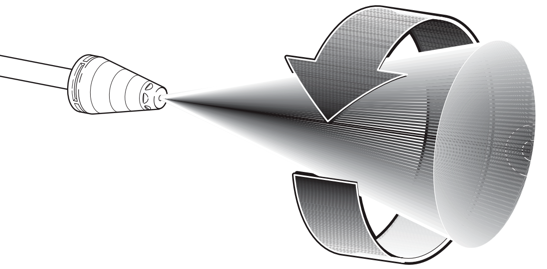 As you can see on the outside edges of the circular pattern, the Dirtblaster basically destroyed the soft, treated wood commonly used in backyard fencing. It actually made a crater. This nozzle is powerful and, at close range, can do some damage. Use it only on hard, unfinished surfaces like cement, brick or stone. It's also great for annihilating stubborn weeds that grow in between the cracks of walkways and driveways.
Soaps & Detergents
When using the Follow Me's built-in (yet removable for cleaning purposes) detergent tank, the Vario Power wand has a "mix" setting, which is the only wand and setting that draws from the detergent tank, providing low-pressure soap dispersion. To rinse and stop drawing soap, you simply rotate the Vario Power wand to one of its min/max settings.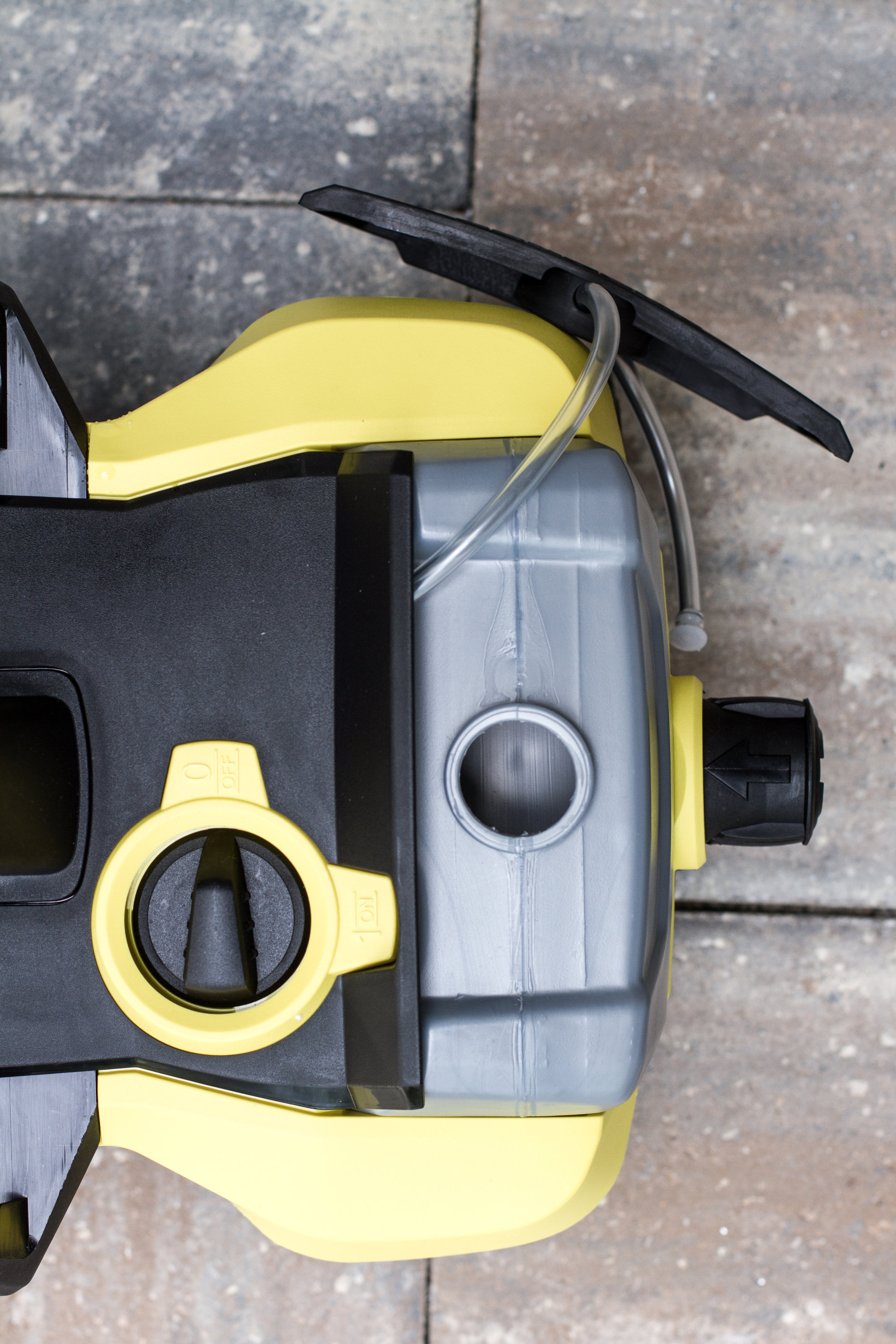 We tested the detergent tank with a soap that really belongs in a foam lance attachment. It was too thick. It worked, but it wasn't ideal. We also tried standard car wash soap and that seemed to work just fine. Although we didn't have any on-hand, Karcher highly recommends using their Karcher brand detergent, and we'd probably tend to agree. We would not recommend dish soap or similar—epecially not on your car, as it's just too harsh.
We do wish the rotating mix/min/max settings on the Vario Power wand had better feedback for the user—a "click" or something. As it is, it's just a smooth rotation and you have to look down to see what setting you're on. Not a big deal, but perhaps worth mentioning.
No Hose? No Problem (Kinda)
The Karcher Follow Me can actually operate without a garden hose. Using the same water inlet, the machine can draw water from a standing water source. While there is a separate suction hose accessory with integrated filter available from Karcher, we didn't have one. So, we improvised and used a 3′ garden hose and a bucket of clean water.
The siphoning process took several minutes before the machine was primed and ready-to-go. We almost shut the unit off for fear of dry-running the motor to death. Ultimately, though, it worked. But not great. We were only able to use the pressure washer with the Vario wand on max setting for about 15-20 seconds before it stopped working and needed to prime itself again. Perhaps the optional Karcher suction hose fixes that issue… we're not sure. If it does work, that could be quite cool for remote operations out at the barn and whatnot.
Superb Mobility
There are obviously other electric pressure washers with more power that we've not tried or tested. But a huge advantage here—given the target market—is the Follow Me's mobility. As its name implies and you've certainly figured out by now, this pressure washer follows you around… so-to-speak. The two larger rear wheels and two smaller front rotating caster-style wheels make you wonder why this wasn't invented long ago.
Despite the wands constantly falling off their intended storage spots, we pulled the Follow Me all over the place and over all types of terrain—cement, rocky pavement, dirt, sand, and grass. We even dragged the machine down some stairs. It never got stuck or flipped over. It's pretty cool and a very useful innovation.
When you do the math (which Karcher has kindly done in the image below) and assuming you've got a long enough garden hose, you'll see that you can cover a massive 7500 square feet when the power cord and pressure hose are at full length. That's a lot of uninterrupted work you can get done without having to unplug anything.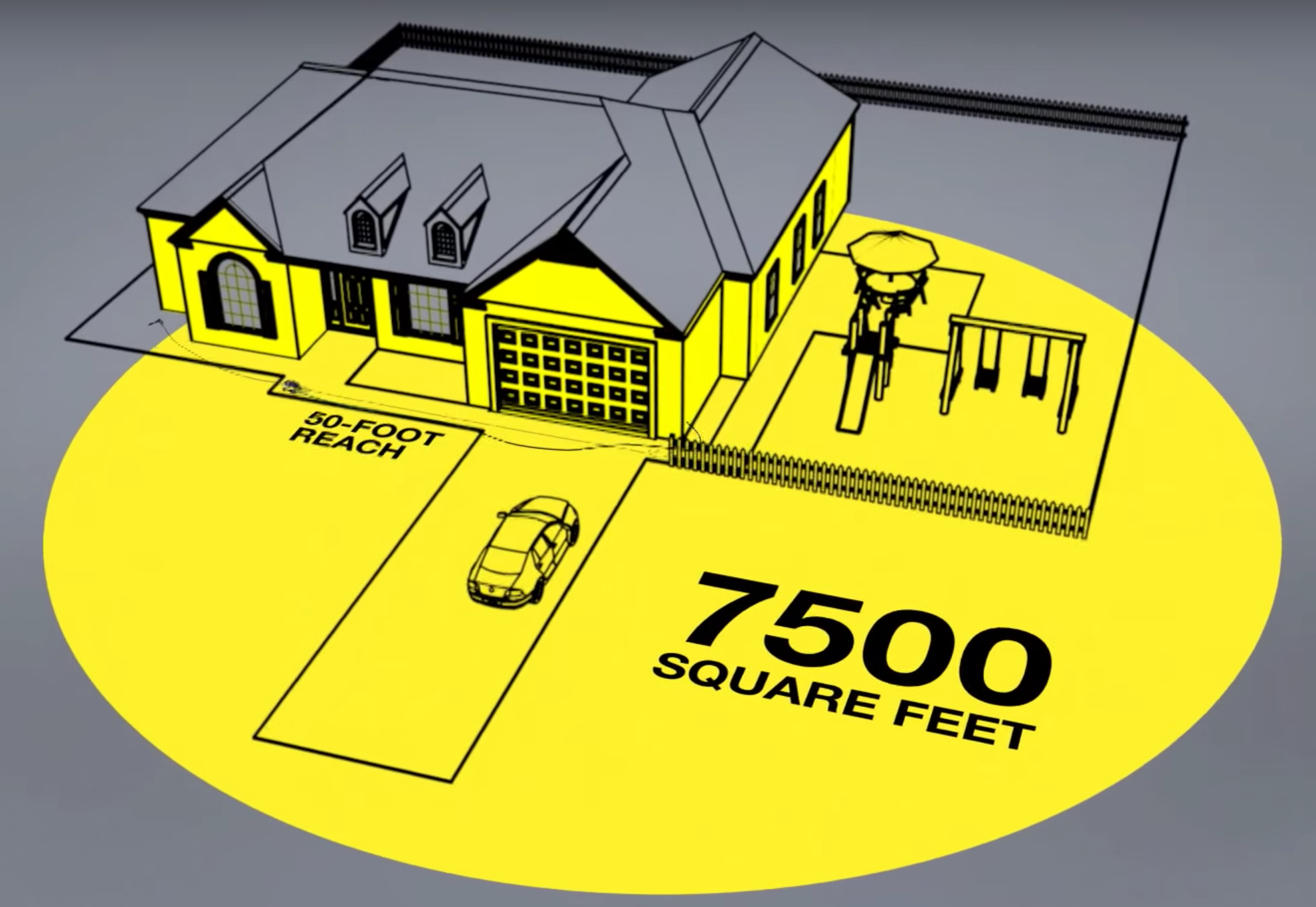 Proprietary Connections
One important thing to note: most, if not all, Karcher accessories utilize a proprietary connection. This is more of a pro than a con for Karcher owners, as it makes for very quick accessory swaps. The con is when you want to use third-party pressure washer accessories, like a foam lance for those who love a dreamy, thick foam when washing cars—the integrated detergent dispenser on the Follow Me will not produce the same results.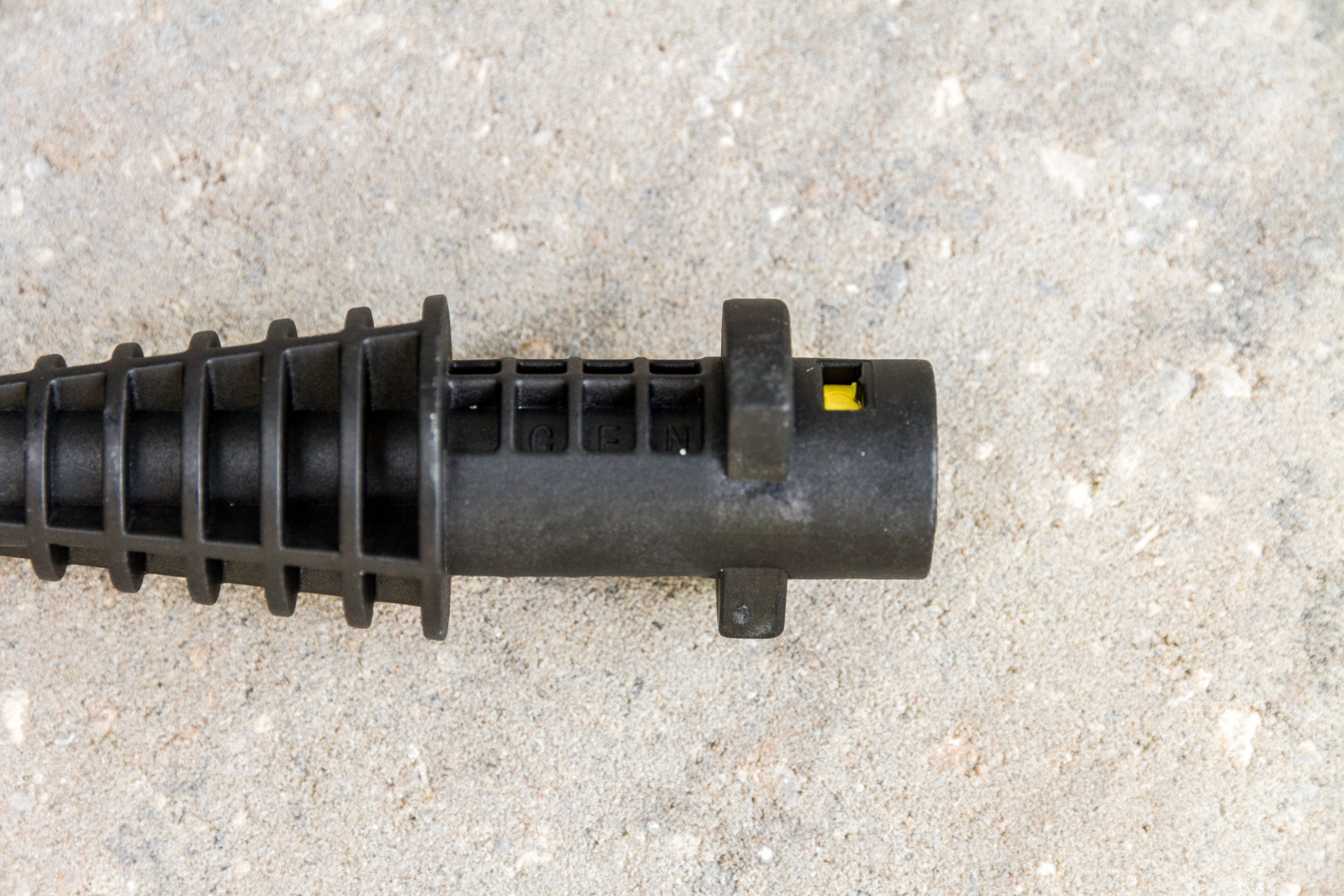 We actually purchased three different adapters to convert our various foam lances to the Karcher K-Series connections. All but one leaked really bad, rendering them useless (we believe this was an NTP vs. BSP thread standards issue for the nerds out there who understand that). The one that did work—the Karcher K Series Compatible High Dense Foam Cannon by MJJC Foam Lance —was perfect, but it was an entire kit (foam lance, and the K-Series connection adapter).
Karcher does offer a foam lance
, but it's tiny. Given the GarageSpot.com audience, we know lots of you passionate detailers use "high-end" foam lance/foam cannon pressure washer attachments, so this could be an issue. It wasn't for us once we found the cheaper (yet still high-quality) foam lance from MJJC, as you can see in the photo below… lots of foam!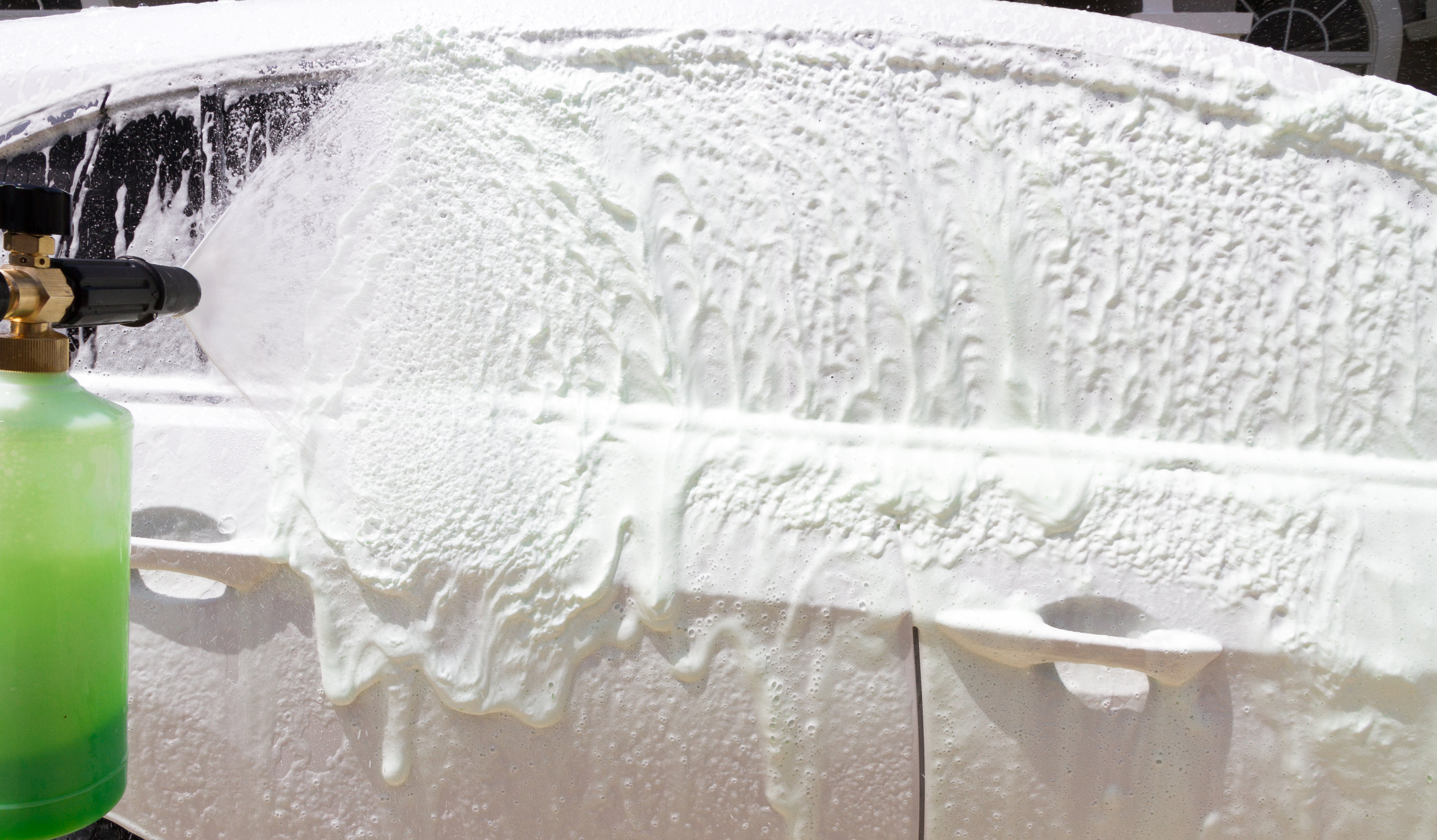 Optional Accessories
Karcher offers a wide selection of different accessories for its various gas and electric pressure washers. Since most of Karcher's accessories utilize their proprietary K-Series connectors, they're usually interchangeable.
While we didn't test one, the Karcher Hard Surface Attachment is a mini-version of the larger systems that pros use to clean driveways and large decks. About a foot wide with two adjustable spinning nozzles underneath, this attachment will make cleaning hard surfaces much easier, more uniform and less messy.
The Karcher Four-Piece Extension Spray Wand Kit is ideal if you want to pressure wash a two-story house without using a ladder.
There's also a 22″ Right Angle Wand attachment for cleaning gutters and other hard-to-reach surfaces.
Final Thoughts
As we summarized at the beginning: we love the Karcher Follow Me electric pressure washer. It's not the powerhouse pros need, but because it's so lightweight, so mobile, and so easy to use, we highly recommend this machine for the typical homeowner. If you're like us, it may actually change how you wash your car, or how often you clean your driveway, patios, porches, lawn furniture, bird baths, mailboxes, walkways…. we could go on.
You can also buy the Karcher Follow Me as a bundle with the Surface Cleaner:
Karcher K3 Follow-Me 1800 PSI Electric Pressure Washer with T300 Surface Cleaner
1800 PSI, 1.3 GPM electric pressure washer with T300 surface cleaner included
Only four-wheeled electric pressure washer on the market!
Karcher's T300 Surface Cleaner tackles large, surface cleaning tasks in no time....
With a large 11" diameter cleaning head, variable pressure dial and 32" wand...
Vario Power Spray wand – easily adjust spray right from the wand
Rating Criteria
After about 20 hours of testing, we love this pressure washer! Perfect for weekend warriors.