The garage at our new-to-us house isn't the big dream garage I've been craving for years, so I've got to make the best use the space I've got available. I've been making one corner of the garage my primary work area for smaller projects. I figure, if I need to rip an axle out and work on that, it'd be on a mobile workstation or some jack stands.
The wall I'm working with is about eight feet long. I've got a 44″ toolbox on half of it, which leaves me with about 52″ for a workbench. I don't want the toolbox and workbench slammed against one another, as I may need some space to work with the vise, more easily roll the 44″ box out of the way, and maybe store some taller stuff in between the two.
Since I've yet to unpack everything and fully set up my garage (since we only recently moved in) I really wasn't ready to build my own basic workbench, as I've done a few times before at other houses we've owned. Instead, I just decided to buy one this time around and get 'er done.
I wanted a workbench that was strong enough to handle a medium-sized vise, and possibly a 6″ bench grinder (although I'll likely use a steel stand for that), with a healthy amount of work area to spare. I also wanted a workbench with adjustable height and one that I could sit at on a barstool.
After deciding against those big-box and big brand rolling work tables with toolbox drawers and all that, I landed on the Ironman Adjustable 48in Bamboo Workbench. It's actually sold under several brand names, but I went with the one from a seller called, Goplus.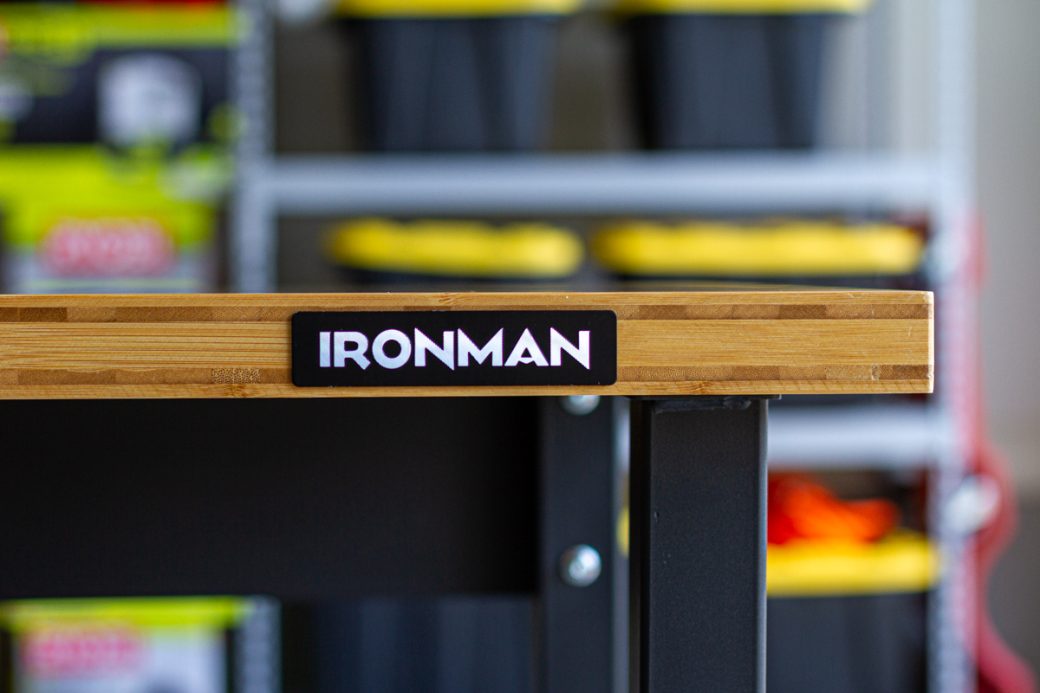 Although my workbench arrived with slight damage to the front of the otherwise beautiful 1½" thick bamboo top, it is very nice looking overall. I didn't want to deal with the return and all of that, plus, I'll be using the hell out of this workbench so functionality is more important to me than keeping it pretty. Sure, I was disappointed that it was damaged a little bit but I got over it pretty quickly.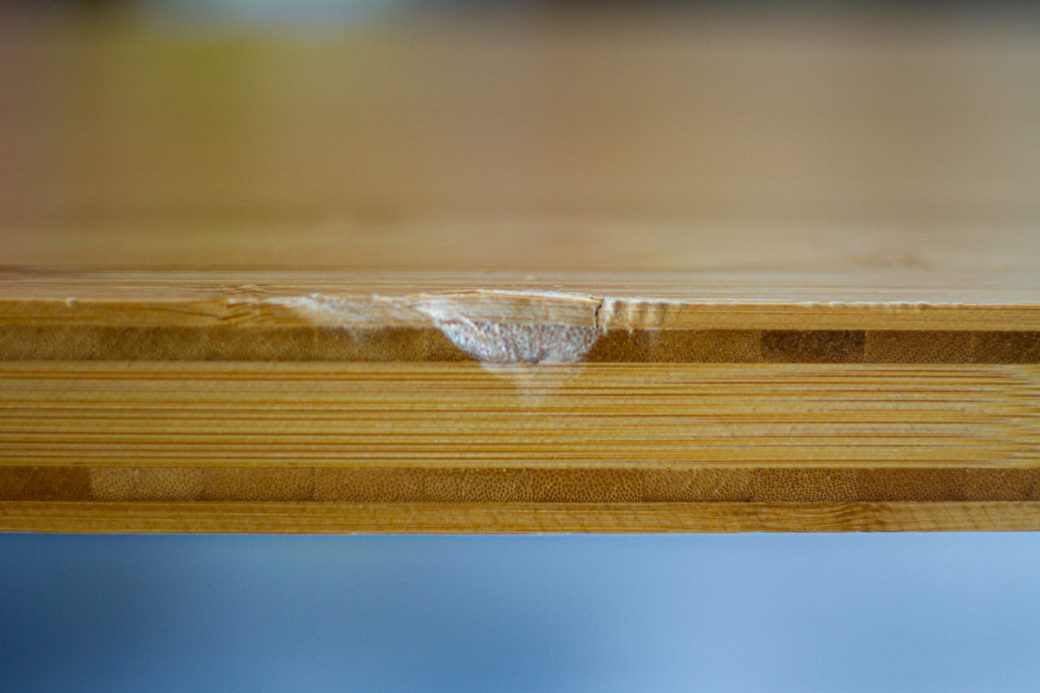 Speaking of damage, this top does scratch extremely easy. Just a tiny nudge of the vise I was positioning for mounting caused whatever UV coating is on the top to mar. No exaggeration: if you use this workbench, as intended, it will not go unscathed. Fortunately, you can sand it if you want and get rid of its weak coating. I'm just gonna let it earn its battle scars and maybe sand it later on down the road.
The vise I mounted to the corner of the workbench is the Yost 750D(picture below) and it's not going anywhere—the bamboo top on this workbench is quite dense and strong. I will say that you'll need to measure twice and drill once because, depending on the size of your vise base, you could drill into the legs of the workbench, which would kinda ruin your day. As you can see below, however, there is quite a bit of space in front of and beside where the leg mounts up to the workbench for the vise bolts to end up on either side.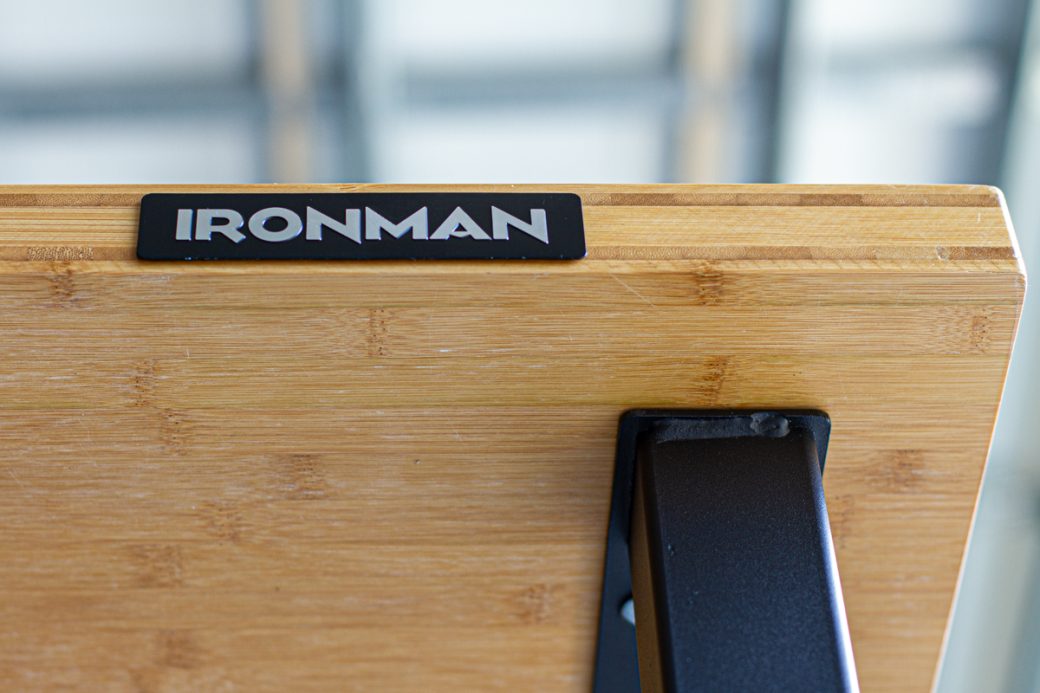 The steel, black powder-coated legs basically come pre-assembled and you only have to bolt them to the bottom of the workbench and then bolt a support beam to the backs of both legs to tie them together for added strength and stability. Putting this workbench together was super-easy and only required about 10 minutes.
See Also: 7 Best Garage Workbenches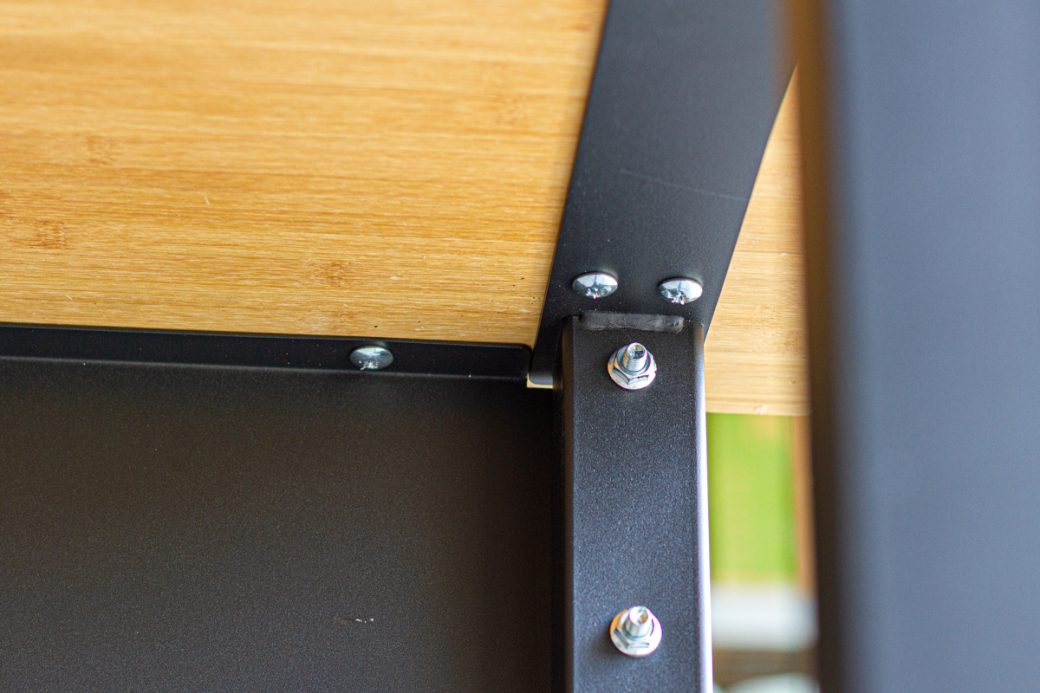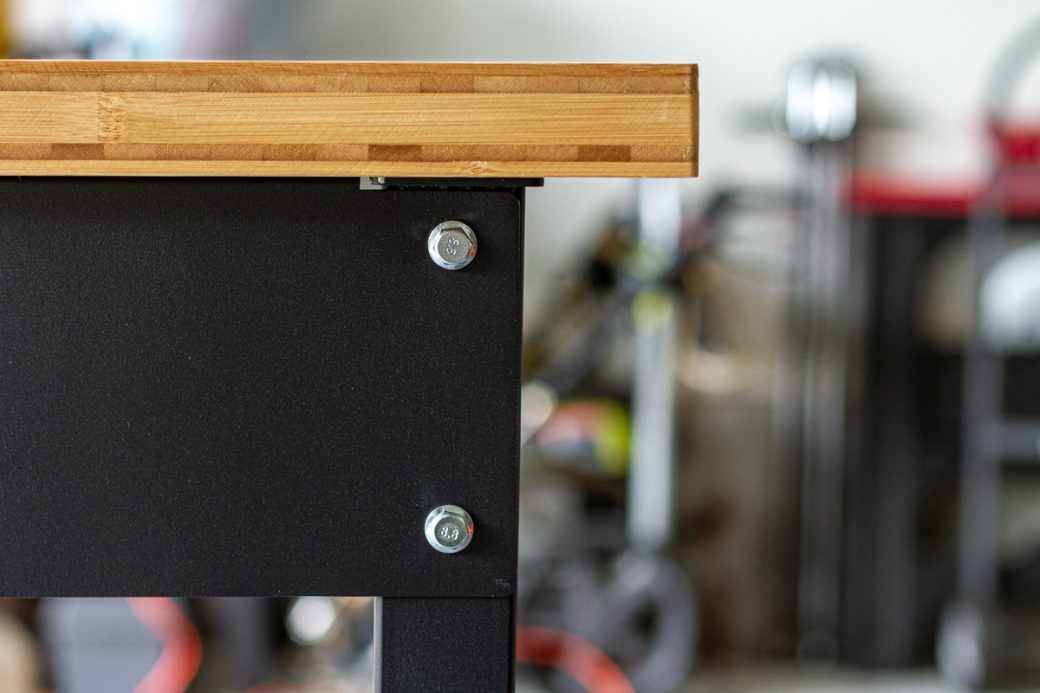 Once together and after fiddling with a level and the adjustable feet, my workbench is super-sturdy. The manufacturer claims it'll hold up to 1500 lbs, which is plenty for me. I'm also very pleased that this workbench included adjustable leveling feet (and the amount of adjustment is generous) because, without them, I'd be using shims of some kind to get this thing level in the corner of my garage. You could probably install casters to this workbench as well if you wanted, in place of the leveling feet.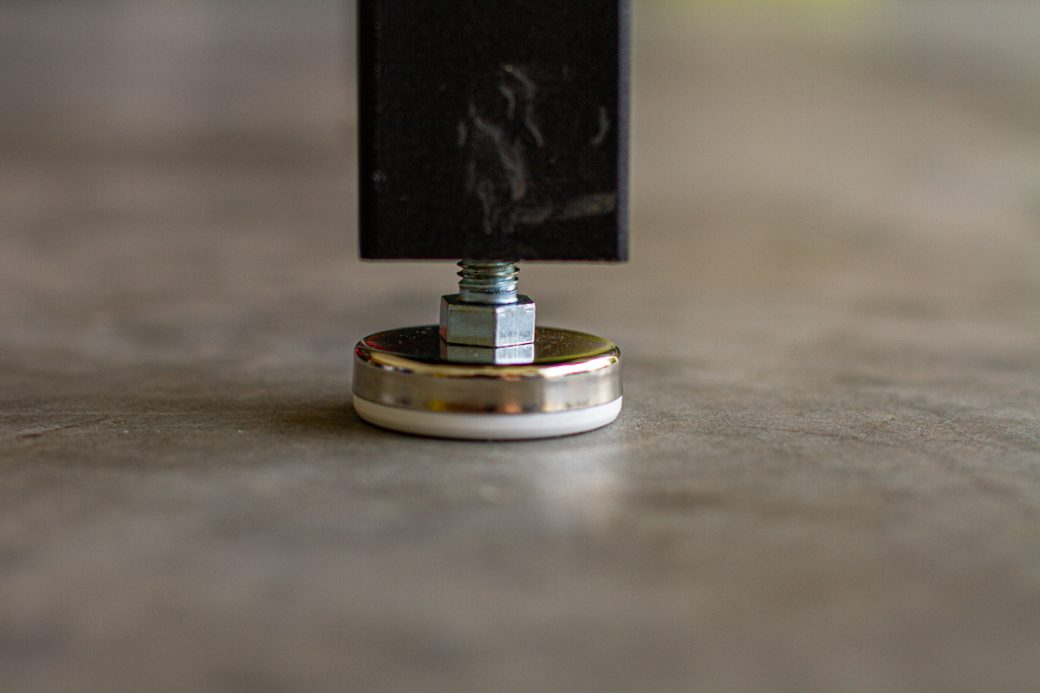 The fact that you can adjust the height of this workbench is great, too, but it's not very easy, once you have everything in place. There are nine or so holes that allow the workbench to be height-adjusted between around 28½"-42″. Instead of pins, which would be much easier, the adjustments are done with a total of eight bolts. That said, how often does one need to adjust a workbench? I like it for its initial setup options, sure, but once my vise is installed and the feet are all leveled, I don't intend to adjust my workbench again without a really good reason.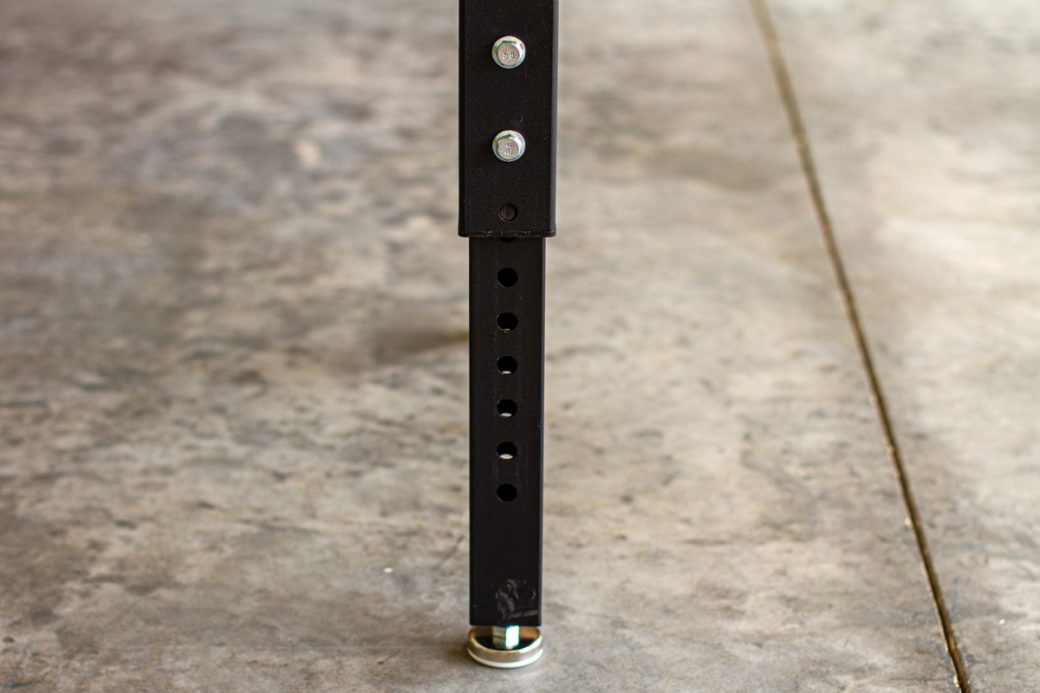 Aside from arriving slightly damaged and its beautiful bamboo top being extremely prone to scratches, this is a somewhat affordable, sturdy, and versatile workbench with a smaller footprint that we hope lasts for years to come. If you are looking for a workbench we totally recommend this Ironman.
Sale
Goplus Adjustable Workbench, 48" 1500 Lbs Bamboo Top Work Bench for Garage, Heavy-Duty Steel Work...
【Work Bench with Height Adjustment】With 15 different height settings, the workbench...
【Sturdy Structure】This work bench for garage is supported by solid steel legs, which...
【Eco-friendly & Thick Bamboo Top】The top of heavy-duty workbench is made of solid...
【Wide Application & Easy Assembly】With 48" x 24" spacious top, this work bench for...
【Safety Protection】The corners of our garage workbench are rounded to prevent...
Rating Criteria
Aside from arriving slightly damaged and its beautiful bamboo top being extremely prone to scratches, this is a somewhat affordable, sturdy, and versatile workbench with a smaller footprint that we hope lasts for years to come.