Here in North Florida, it gets friggin' HOT in the summertime. Not that dry Arizona hot that we've all heard about a bazillion times (which is a thing)—we're talking sticky, icky humid hot, where your body starts sweating before you actually walk outside because it knows what's coming. Yeah, yeah… it was a choice to be here… I'll stop with the whining already.
For those without a completely enclosed and air-conditioned workshop (e.g., the typical residential garage where we park and work on stuff), here are some solutions to cool things down a bit this summer. We'll also touch on how to cool down with the garage door shut.
Insulation is Key
First things first: if you're truly attempting to cool your garage—with or without the door open—insulation is key. Most residential garages will have insulated walls, but it's definitely worth a look, and possibly an insulation upgrade if you've got an older home. We won't get into insulation ratings and values in this article, but here is a great table to help you choose the right insulation based on where you live.
Most people fail to realize that you can actually insulate the overhead door, too. This will have a huge impact on how hot your garage gets with the overhead door shut—particularly if you have a non-insulated metal door.
DIY garage door insulation kits are widely available, but we really like the Owens Corning Garage Door Insulation Kit, which covers garage doors up to 9′ wide. Installation only takes an hour or two, and it's a very worthy investment.
Owens Corning Garage Door Insulation Kit
5 times better thermal performance, compared to an uninsulated door
As much as 20% reduction in perceived noise level
Installs in less than 1 hour (up to 9' door) - Only tools needed for installation are tape...
Flexible material resists denting
Cleanable vinyl surface (w/mild detergent)
Floor Fans + Overhead Door (No Windows)
The idea with just about any fan setup is to extract hot air out of the space, simultaneously replacing it with cooler air. With an open overhead door, controlled displacement of air is difficult given the giant gaping hole on one side of the garage.
Placing a single fan at the very back of a garage and aiming the airflow towards the open garage door, as so many of us do, is almost pointless because there's no cooler air being drawn back in. In fact, you could be making your garage even hotter. If the open overhead door is all you've got in terms of ventilation, a better idea would be to use two or more strategically placed fans—ideally strong, adjustable pedestal fans.
Lasko Oscillating Pedestal Fan, Adjustable Height, 3 Speeds, for Bedroom, Living Room, Home Office...
✅【3 SPEEDS】With 3 energy-efficient speeds, this pedestal fan is well suited around...
✅【CUSTOMIZED COMFORT】The height on this stand fan adjusts from 38"- 54.5" so you can...
✅【OPTIMAL OSCILLATION】This pedestal fan features 60 degree oscillation to ensure you...
✅【SAFETY FIRST】This fan is ETL listed and is equipped with the Lasko trusted safety...
✅【EASY TO USE】Simple no-tools assembly is required for this floor fan, Weighing only...
One fan should be positioned lower than the other on one side of the open garage door, blowing inward and slightly angled towards the center of the garage. On the other side of the garage door, position the second fan a couple of feet higher, blowing outward. As hot air rises, the second fan will pull that hot air out of the garage while the lower fan on the other side of the door will bring cooler air in.
See Also: 7 Best Garage Fans
The idea is to create a wind tunnel of sorts, where the air is being circulated in a specific pattern, not just moved around wildly. Multiple fans can also be used to increase effective cooling, but balance them out evenly between inward air and hot air output. If you've got an odd number of fans, it's okay to add an extra fan to the cool air inward-blowing side. A ceiling fan could also be added to the array so hot air doesn't get trapped up top. Just make sure the ceiling fan doesn't over-power the lower cool air fans or those fans will become useless.
Obviously, if it's 110° outside, you're gonna be hot regardless, as it'll be difficult to pull cooler air in.
Floor Fans + Overhead Door + Window
If you've got a window in your garage, you'll be in a much better position to cool things off than with the first configuration. The same principles apply here: we want to bring cooler air in, pushing hotter air out.

Don't automatically assume the biggest opening is where the cooler air should come from. You'll want to position your cool air inward-blowing fans on the shadiest side of the house and the hot air outward-blowing fans on the sunny side of the house. If the sun is just pounding on the big garage door opening, adjusting the door height may help—especially if it's insulated on on the inside of the door. This will make the hot air extracting fan have to work a little less.
An ideal situation is to have a window or another overhead door in the rear of the garage so you're creating what could become—with multiple fans—a pretty powerful garage cooling solution using just fans. Of course, since warm air rises, the higher the heat-extracting fan, the better. Likewise, the lower the cool air intake fan is—generally speaking—the better as well.


---
Crazy Box Fan Hack
Let's pause for a moment to see how this guy hacks box fans to really cool things off!
---
Air Exchange Systems
If you work with the garage door partially or completely shut, air exchange systems can cool a garage by 10°-20°.
Conceptually similar to home HVAC systems, air exchange systems typically mount to the ceiling of your garage and extract hot air from the space, pushing it into the attic where it will ultimately be forced outside through a vent, fan or gable. A vent or two installed in a wall or in the garage door itself allows cooler air to replace the hot air that the exchanger has removed from the garage.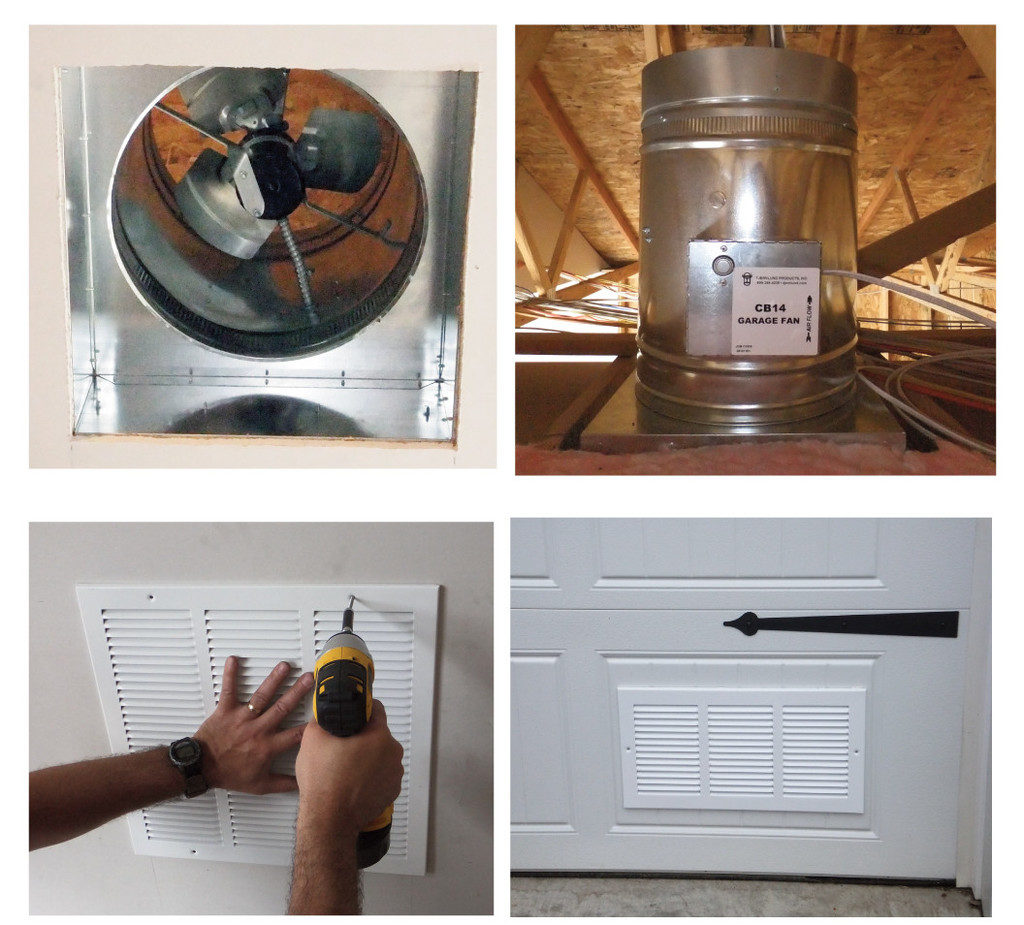 Garage air exchange systems run around $200-400 and are certainly DIY installs, but will usually require some level of mounting and wiring knowledge. And if you have an existing window or vent elsewhere, you won't have to cut one into a wall of the garage door itself, which could put some folks off.
One popular garage air exchange system is the:
Air Conditioning Units
Unless you're working in a well-insulated closed garage, an AC unit will be a total waste of energy and money. If you do, though, there are several portable air conditioning options available that will certainly get the job done. You will want to calculate the proper BTUs for your garage—a higher BTU rating means the unit will be able to remove more hot air from a larger garage in a shorter period of time.
See Also: 5 Best Air Conditioners for Garage
Window Air Conditioning Units
Obviously, you'll need a window or hole in the wall to plant one of these units, but they work really well in a nicely sealed and insulated space. Simply crack the window, mount the unit, plug it in and you're golden.
Some window-mounted air conditioners, like the popular Frigidaire Energy Star 12,000 BTU, have built-in thermostats, while other units simply use a HI/MED/LOW dial. Assuming a typically-sized two-car garage between 450-600 sq. ft., a 12k-13k BTU window-mounted air conditioning unit will run you around $400-$500.
Frigidaire FFRE123WAE Window Air Conditioner, 12,000 BTU, White
ENERGY STAR Certified: Use less energy than standard air conditioners reducing your energy...
Multi-Speed Fan: Features three different fan speeds, for more cooling flexibility
Sleep Mode: Maximum comfort throughout the evening hours with the added benefit of energy...
Programmable 24-Hour On/Off Timer: Customize times to fit your schedule for immediate...
Effortless Temperature Control: Our air conditioners maintain the preset room temperature,...
Mini-Split Air Conditioners
Much like standard home HVAC systems, mini-split air conditioning systems, which are becoming much more popular, consist of an indoor and outdoor component, but much smaller than your home HVAC system—and with no ductwork.
The beauty of the mini-split is that it can be placed pretty much anywhere AC is needed. So if you've got an outside wall and you have a spot for the outside condenser on the other side of that wall (which is about a quarter of the size of a typical 1-1.5 ton condenser), you might find the mini-split AC to be the perfect garage-cooling solution. You may need an HVAC pro to come install the system, though.There are a wide range of mini-spilt units available and some, like the popular PIONEER WYS012AMFI22RL Mini Split Heat Pump.
PIONEER WYS012AMFI22RL Mini Split Heat Pump, 12000 BTU-110/120 V, White
Ultra high efficiency inverter++ ductless mini split heat pump system
Product size – 13.2" D x 31.5" W x 21.7" H | Weight – 88 lb. | Cover area –...
Both left and right sides of the indoor unit are possible for outstretch of connective...
Intelligent on-off technology enables Pioneer products automatically  enter...
Indoor fan speed is regulated automatically from the lowest grade to the setting grade...
This unit, also have integrated heat pumps and offer four modes of operation: cooling, heating, dehumidification and ventilation.
Evaporative Coolers
Used primarily in drier, less humid climates, evaporative coolers (also known as swamp or desert coolers) are energy efficient machines that cool by changing water to vapor. In this process, the energy in the air does not change and warm dry air is changed to cool moist air. Evaporative coolers do require a continuous supply of water to maintain moisture within the system.
Oftentimes bulky, but not all that difficult to install, larger evaporative coolers designed to cool entire houses can run anywhere from $500-$3,000. But, there are also portable evaporative coolers like the Portacool PACJS2201A1.
Sale
Portacool PACJS2201A1 Jetstream 220 Portable Evaporative Cooler, Black
STAY COOL AND COMFORTABLE: The efficiently designed Portacool Jetstream 220 boasts...
PROVIDES COOLING THROUGH EVAPORATION: Portacool's state-of-the-art evaporative cooler is...
LEADING EVAPORATIVE COOLER: Portacool is the leading manufacturer of portable evaporative...
KUUL EVAPORATIVE TECHNOLOGIES: Kuul Comfort evaporative media is designed exclusively for...
MADE IN THE USA: Manufactured in Center, Texas with domestic and global parts. Our...
This could be a very solid cooling solution for a standard residential garage.
So there you have it. Lots of focus on fan configurations because that's how most folks are going to cool their garages, including us. But, as we work to secure and move into our new official GarageSpot garage, all of the other options are certainly on the table. Stay tuned. In the meantime, let us know how you keep cool in the garage.