EDITOR'S PICK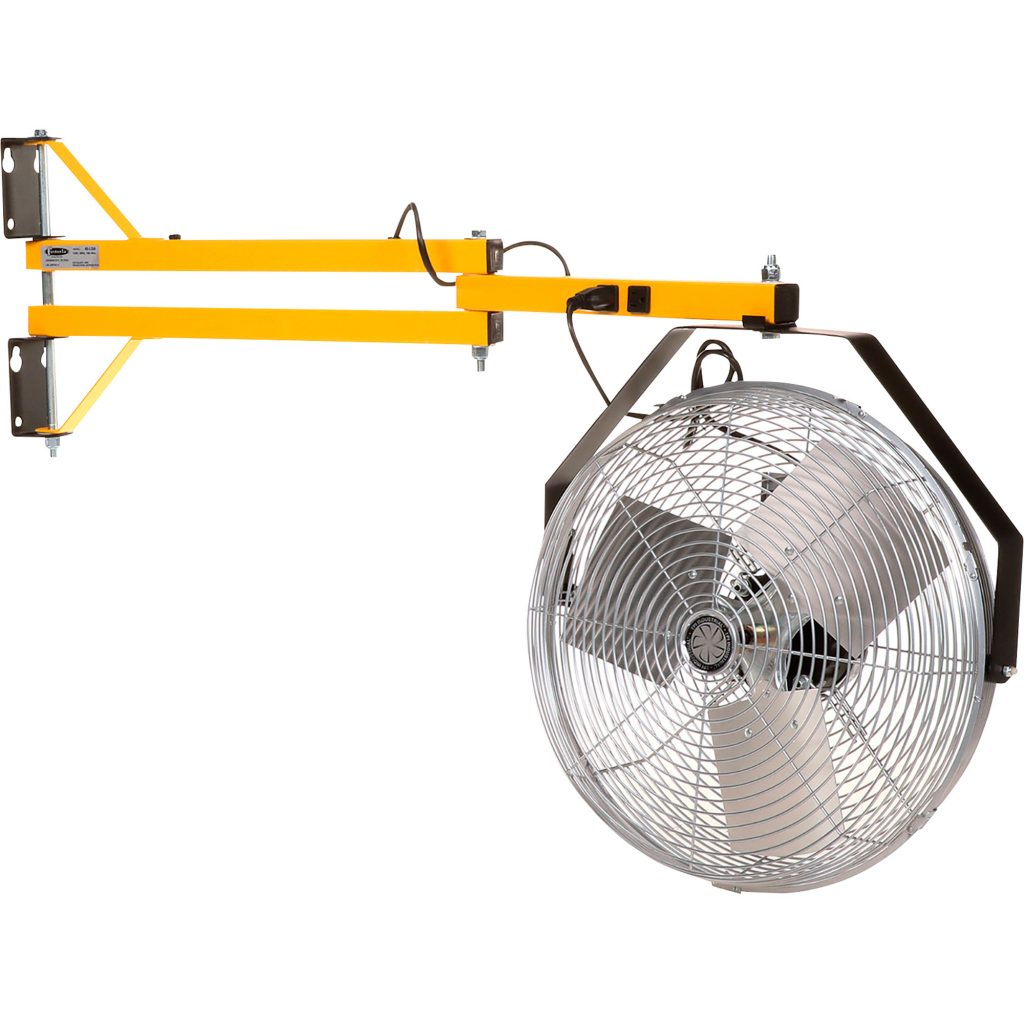 TPI High-Velocity Wall-Mount Fan
18-inch modular fan
All-metal construction
Three aluminum blades
Extending and folding arm offers up to 40-inches of reach
1/8 HP electric motor
2,900 CFM
PREMIUM PICK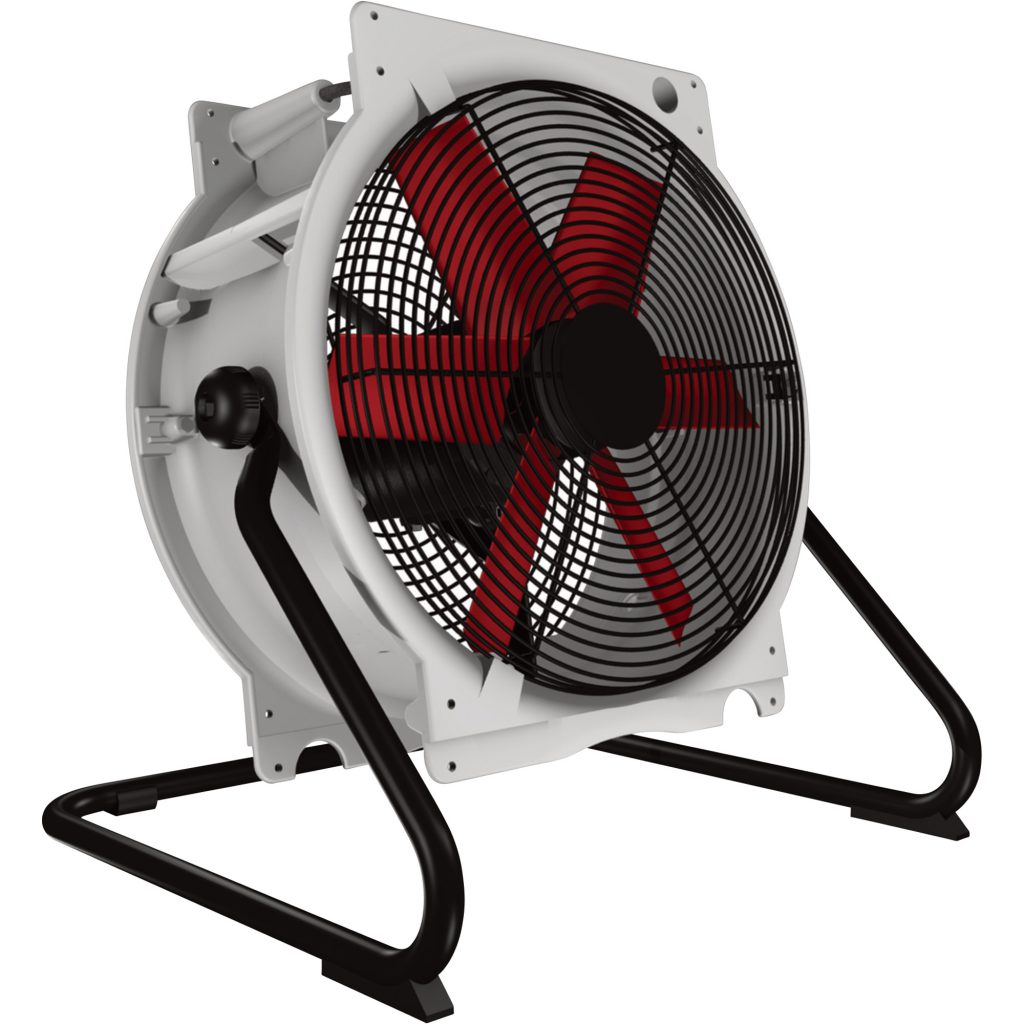 Vostermans Floor Fan
20-inch floor fan
IP55 and UL5507 rated for use in dust, wet, and high temperatures
4,750 CFM
Unique housing design promotes airflow
Six polypropylene blades
55db noise level
BUDGET PICK
Lasko 20-Inch Floor Fan
20-inch floor fan
Three-speed switch
Metal frame and housing
Metal blades
3,460 CFM
Rubber feet
Working in your garage during the summer can be a nasty experience. Sweat is the first issue that comes to mind, but fumes from various chemicals can be even more troublesome. They not only stink but can be damaging to your health. Fortunately, you can purchase some pretty awesome garage fans and solve your issues once and for all.
A garage fan can help cool off your favorite spot on hot days, making temperatures bearable so you can get your project done but also help dry out paint and expel fumes if you do a little bodywork. Moving stale air simply makes your garage safer and much more comfortable.
There are two types of fans to consider: floor-standing and wall-mounted. A wall-mount fan takes up no floor space and can be directed to provide airflow where you need it. However, floor fans are more convenient for portability b ut can sometimes be in the way. Of course, the right fan for your garage will depend on a wide range of factors. To help you make the best possible choice, we have selected some of the best garage fans currently on the market and reviewed them thoroughly.
Hope it helps! ✌
Best Garage Fan Reviews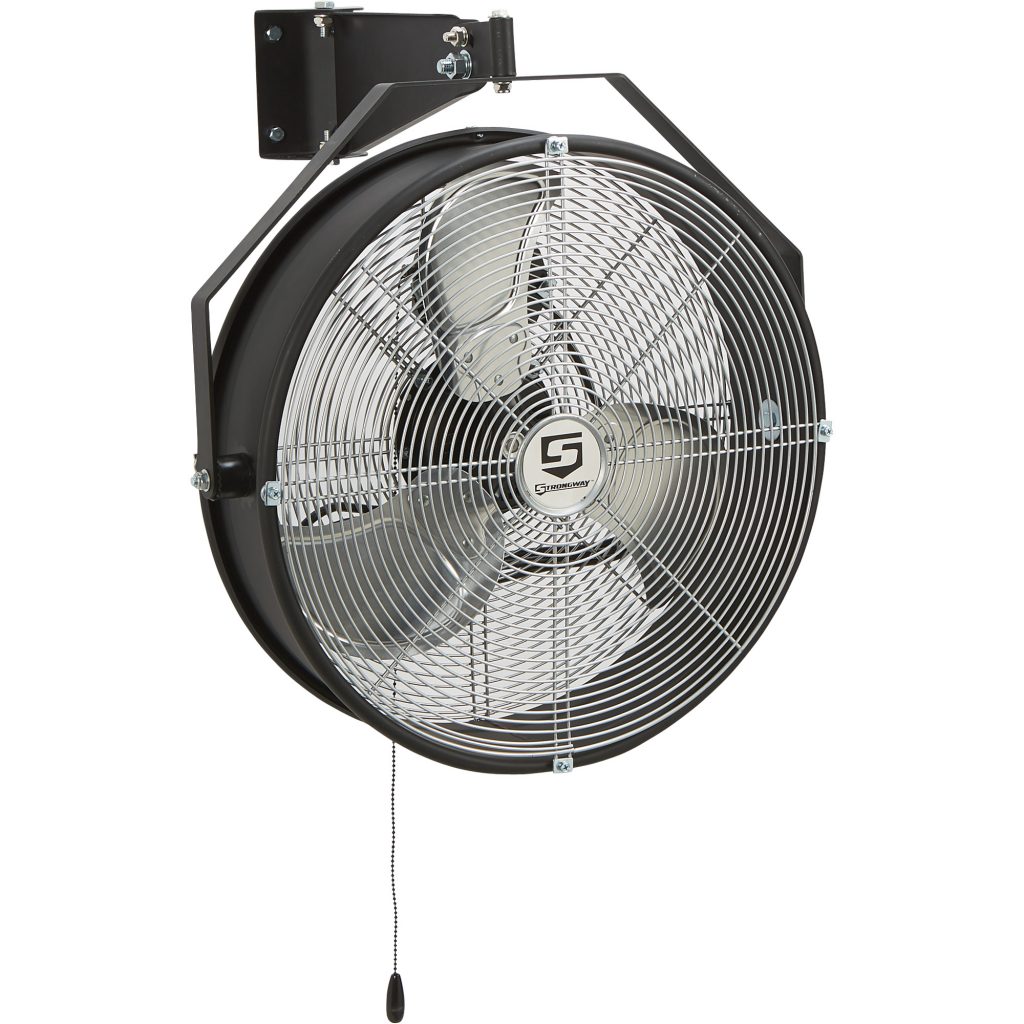 The Strongway Garage Bay Fan is a standard in the industry and can be seen in numerous dealerships. Nothing really crazy here but it's an 18-inch wall-mount garage fan you can really depend on. It has an all-metal construction, including three aluminum blades, and features a three-speed fan control operated by a pull cord and a 1/12th HP direct-drive fan motor. It is efficient and uses less power than other designs while keeping the weight down.
This is a very versatile design perfect for mounting to a rafter beam in taller garages, barns, and workshops. The fan's head can tilt up and down, and the housing can rotate around so you can direct air where you need it. Of course, it's not the most advanced model out there but it gets the job done and it's pretty cheap.
No-brainer, here!
Key Features
18-inch all-metal fan
Three aluminum blades
1/12 HP electric motor
3,300 CFM airflow
Mounts to rafters
Pros
Works well for moving air in tall spaces
Adjustable design
Cons
Noisy for its size
Not powerful enough for larger spaces (a multi-bay repair shop would need one per bay ideally)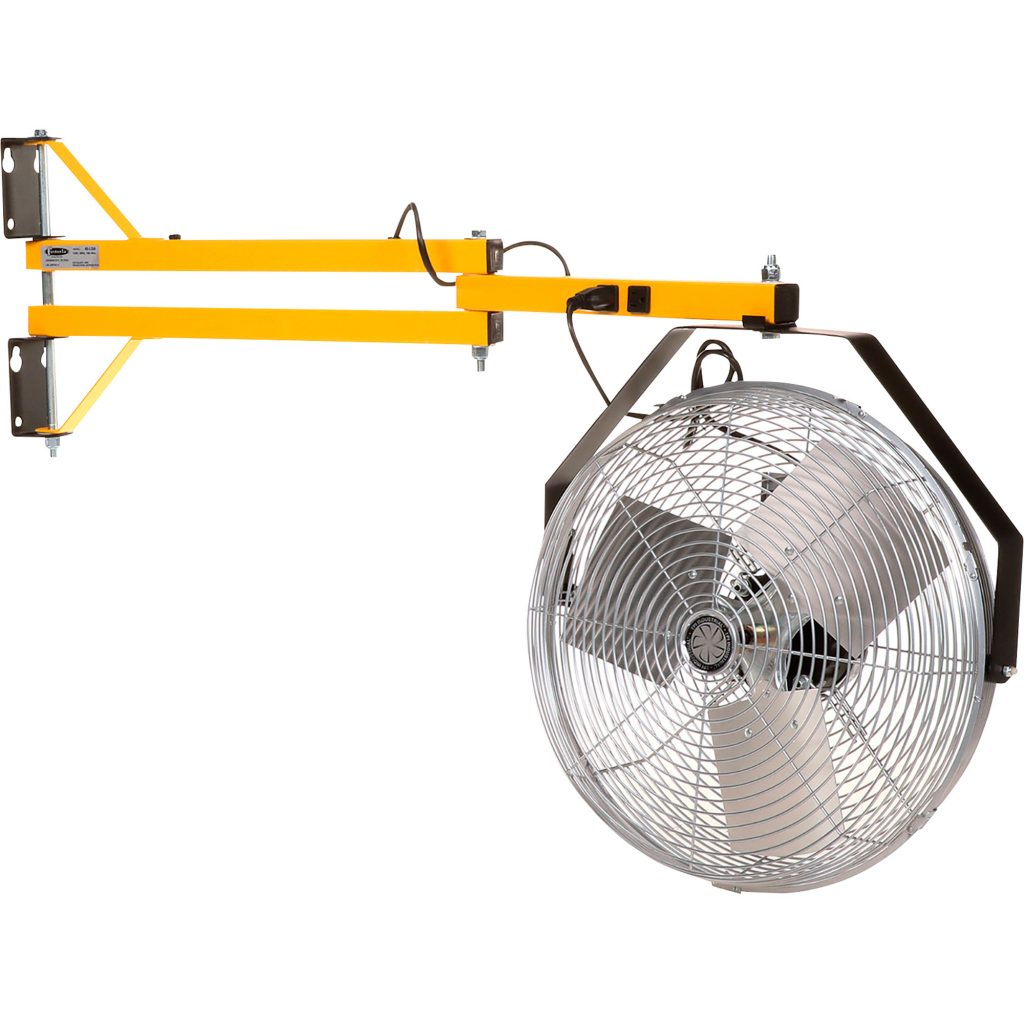 TPI's garage fan also mounts to the wall but uses a folding and extending arm that allows for a tremendously wide adjustment range. Meanwhile, the all-metal construction houses a powerful 1/8 HP direct-drive motor, fully housed for safety and longevity.
Worth mentioning, there is a neat trick with this particular fan that might add interest for many. Namely, the three-speed fan is a modular design that plugs into one of two electrical outlets on the boom of the arm. It allows you to add a light or another fan or whatever you happen to need to plug in.
It's on the pricier side, but the pivot arm and the increased versatility absolutely makes up for the higher price tag.
Key Features
18-inch modular fan
All-metal construction
Three aluminum blades
Extending and folding arm offers up to 40-inches of reach
1/8 HP electric motor
2,900 CFM
Pros
Articulated arm provide excellent positioning
Powerful and reliable motor
Modular design makes fan replacement easy
Cons
Expensive option
Additional plug on the boom isn't practical for most tasks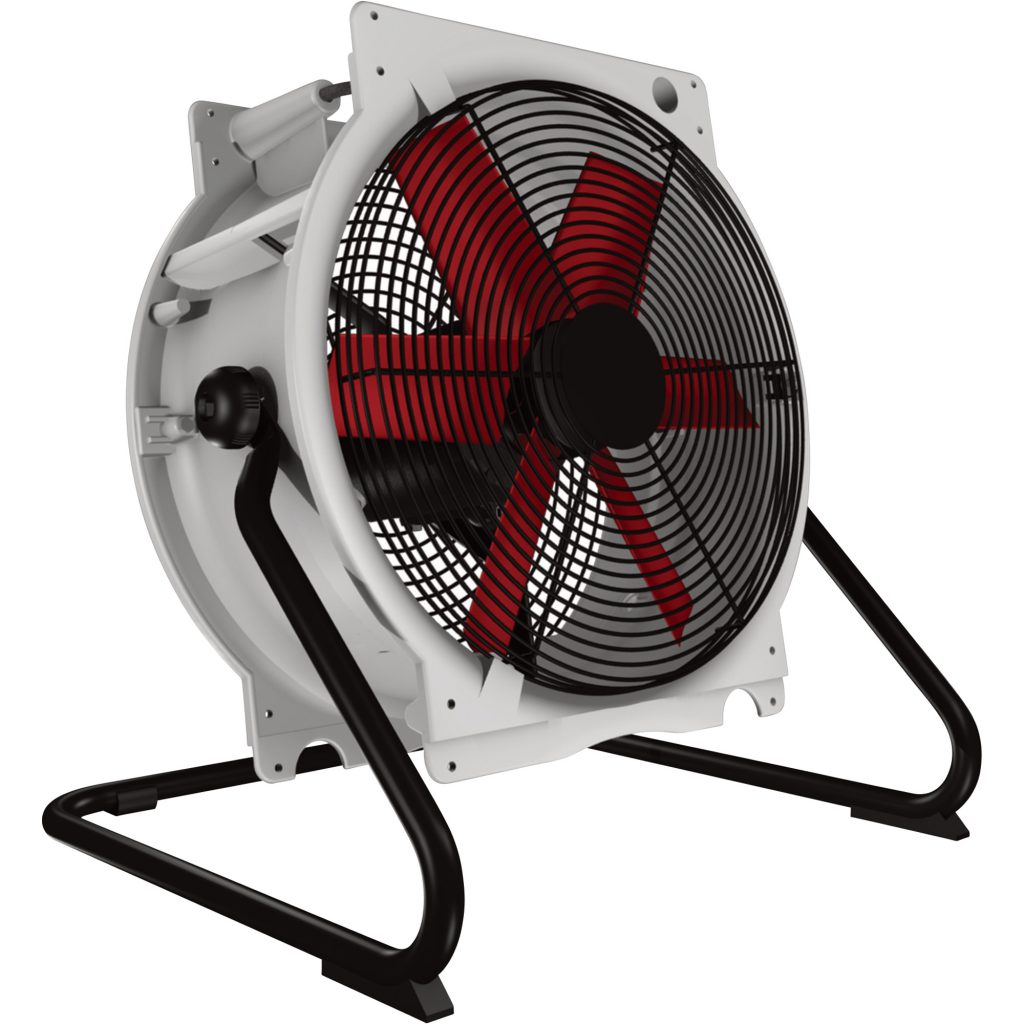 This one is a serious floor fan for serious work. It carries an IP55-rating and is ready for temperatures up to 140 °F (60 °C) and high humidity. You can use it in wet locations, wash-down rooms, and it even works in corrosive environments. The unique design of the housing generates tremendous airflow from the relatively quiet fan.
It's quite simple; this model is ideal for almost any garage. It puts out up to 4,750 CFM of air to really push out fumes, exhaust gases and help dry your garage down quickly. Moreover, the motor is entirely housed in aluminum to aid in quick heat dissipation and the polypropylene blades are ultra-lightweight, increasing the motor's longevity and contributing to this fan's reputation.
Obviously, it doesn't come cheap. But if you need what's best on the market, this is the one! It doesn't get any better than this.
Key Features
20-inch floor fan
IP55 and UL5507 rated for use in dust, wet, and high temperatures
4,750 CFM
Unique housing design promotes airflow
Six polypropylene blades
55db noise level
Pros
Can work in very hot areas, up to 140 °F (60 °C)
The IP55 rating also makes it suitable for humid environments
Powerful yet quiet fan
Strong and reliable construction
Cons
More expensive than other equally-powerful options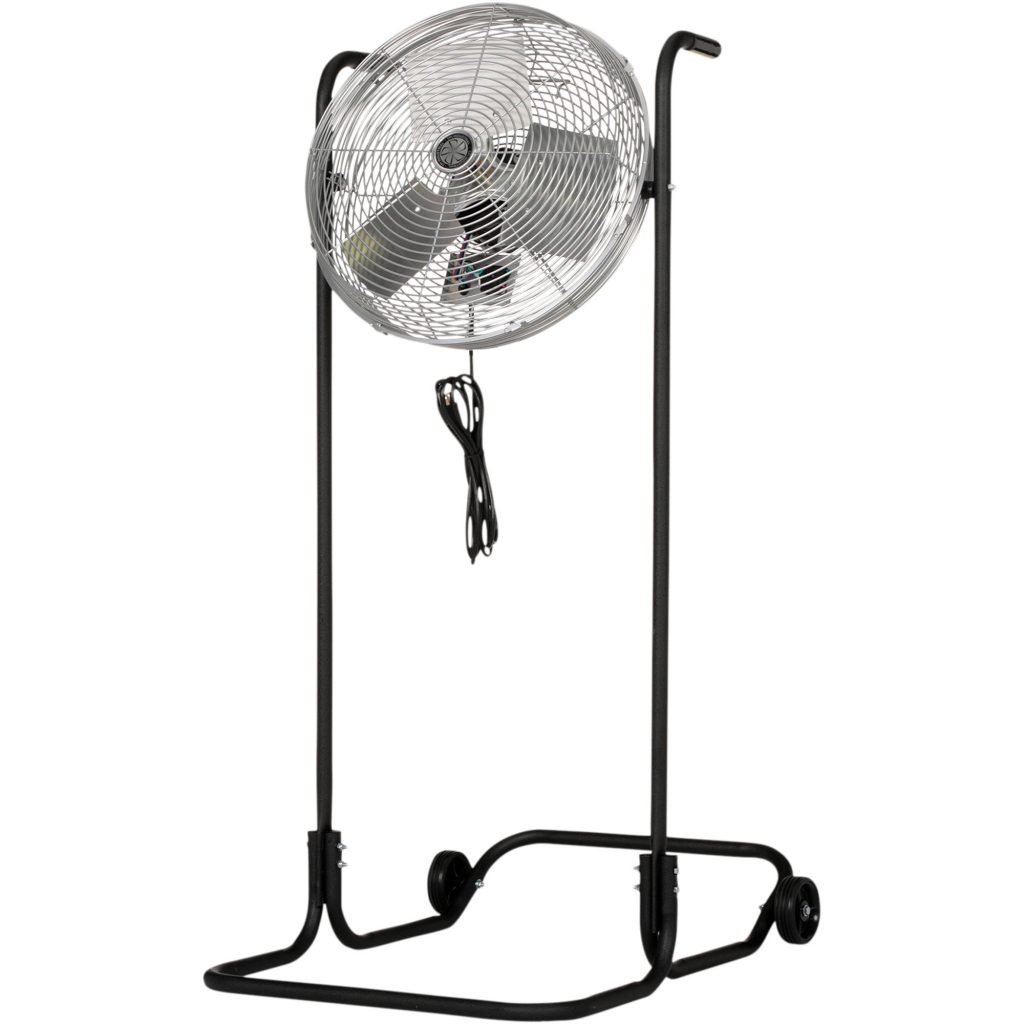 TPI's second model on this list features a high stand height that makes this an ideal garage fan. Putting the fan up high creates better airflow to cool hot areas and push out chemical and exhaust fumes. Besides, the stand has rollers so you can easily move it where you need it.
The 1/8th HP motor has a large 5/16-inch shaft for long-term durability, while the metal housing and cage prevent wobble. Furthermore, the 18-inch fan produces up to 4,600 CFM of airflow, and there is a three-speed switch and 360-degrees tilt.
It's important to mention that while it's a perfect fan for home garages, it might be a bit cumbersome for repair shops with multiple working bays.
Key Features
18-inch all-metal fan
1/8 HP electric motor
40-inch high
Tilting head
Roller wheels for mobility
4,600 CFM
Pros
High stand lets you move air efficiently
Extra-long 10-foot cord
Roller wheels make it easy to move around the shop
Cons
Height is not adjustable
Having the fan up high makes it sound louder than it is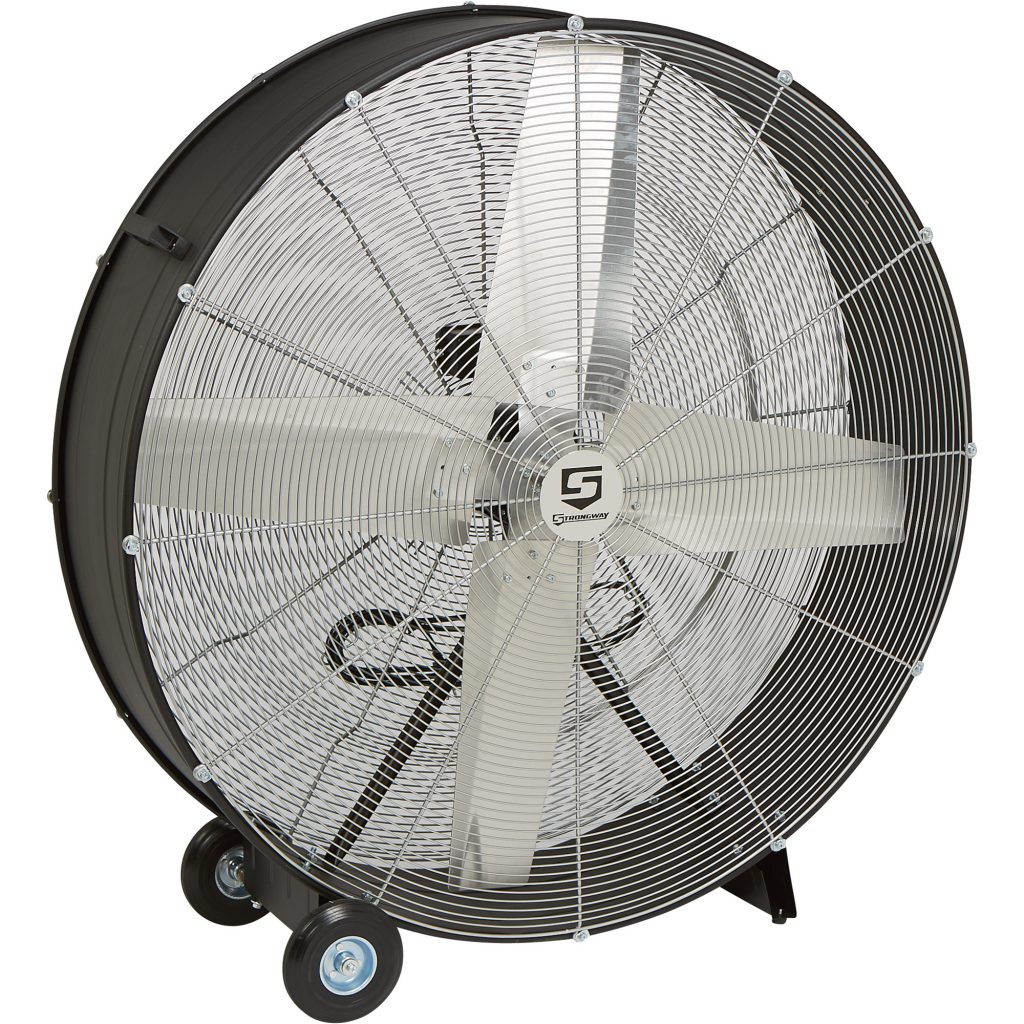 If you need the maximum air output possible, nothing beats this beast of a fan. At 42-inches, the Strongway drum fan's four blades can move massive amounts of air—up to 16,800 CFM of hurricane-like wind, in fact. This is the fan you need for really hot environments, like keeping a car engine cool when on a dyno or in a really large garage.
Moreover, the steel drum shape features a sturdy base and roller wheels to make it easy to move around. The fan also comes with a two-speed switch for high and low airflow and a mighty 3/5 HP motor. Meanwhile, precision bearings and seals provide a low-vibration operation.
The Strongway drum fan's size is obviously not for everyone. If you have small garage and need to move a lot of air, you'd still be better buying 2 smaller Strongway garage bay fan so you can position them in different directions—not to mention that it would also be cheaper. However, if a huge drum fan is what you need, get this one. It won't disappoint.
Key Features
42-inch drum fan
Steel drum with balanced aluminum blades
3/5HP electric motor
16,800 CFM
Roller wheels
Precision bearings reduce vibration
Pros
Ideal for large spaces in need of lots of airflow
Powerful and durable motor
Easy to move despite the size
Cons
Too much airflow for a standard 1-spot garage
Takes up a lot of room
Here is a budget option that makes for a great floor fan in most home garages. It features a tubular steel frame for added durability and metal blades pushing up to a pretty decent 3,460 CFM. Nonetheless, what makes it very interesting is the ability to easily convert to a wall fan using the included bracket, giving you more versatility than most.
Moreover, controls are intuitive and simple to use—a single rotary switch provides three-speed settings. This is a great option for use in your home as well as to cool your garage. It is fairly loud but moves a lot of air. Besides, it is lightweight and easy to move around, and the inclusion of the wall bracket gives this bargain a big bonus.
Of course, it's not as sturdy as other more professional models, but not everyone needs an industrial fan, right?
Key Features
20-inch floor fan
Three-speed switch
Metal frame and housing
Metal blades
3,460 CFM
Rubber feet
Pros
Ideal for small spaces
Quickly converts from floor to wall mount
Cons
Loud for the size
Blades can bend if the fan is dropped (so don't drop it!)
Milwaukee's reputation when it comes to cordless tool is already well established and its portable fans are just the same. This fan uses the M18 lithium-ion battery common to the Milwaukee tool line—the same interchangeable batteries used on Milwaukee M18 impact wrenches. It works great for keeping you cool and ideal for drying wet areas in your garage. Now, this little portable fan isn't going to cool down a hot garage by itself, but it can be a lifesaver when you are under the car.
Specifically, the fan produces up to 284 CFM at airspeeds of 18MPH to produce a stream of cooling airflow. The frame has four keyhole hangers, so you can easily mount it on a wall, ceiling or hang it from a hook.
While not as powerful as other models, a cordless fan is the perfect solution when you don't have space for a floor or wall fan. If you already have Milwaukee power tools in your tool chest, this portable fan is the way to go!
Key Features
Uses Milwaukee M18 battery packs
Produces 284 CFM
Weighs 5.2 lbs
Hanging holes provide multiple mounting options
9-position adjustable and swivel head
Three speeds
Pros
Portable
Works perfectly in confined spaces
Cons
Won't cool a whole garage by itself
Batteries are slightly expensive
See Also: 5 Best Air Conditioners for Garage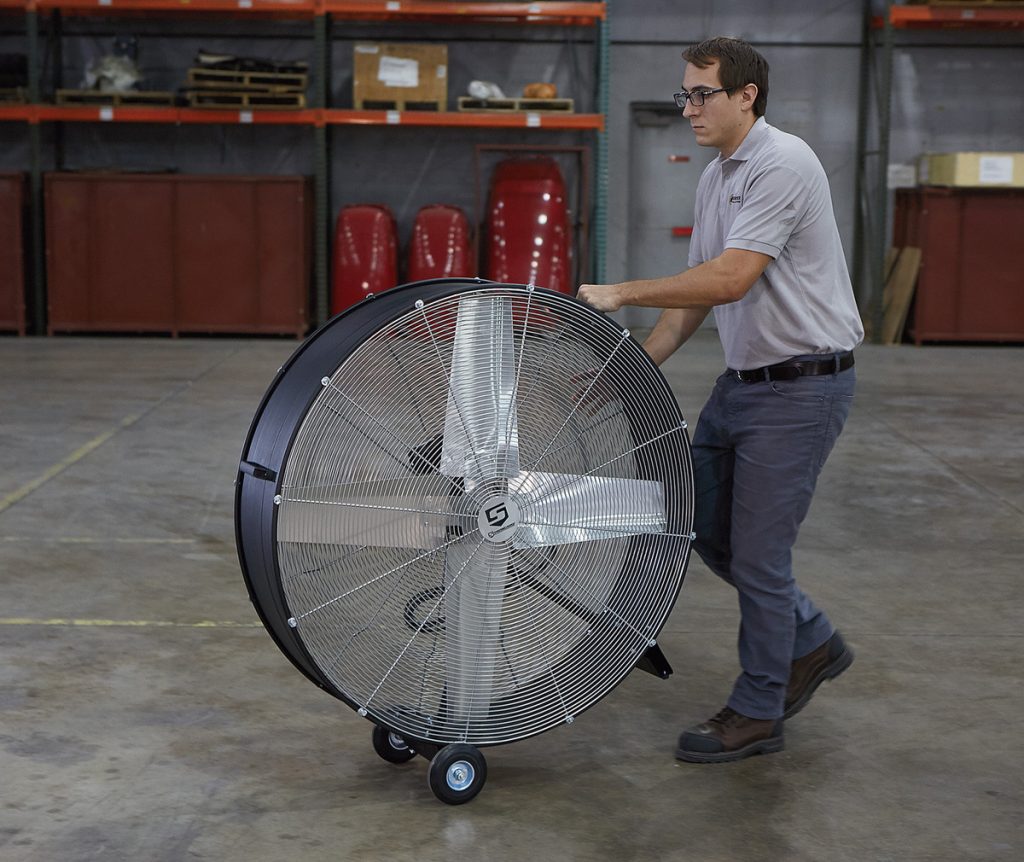 How to Choose a Garage Fan
Picking the perfect fan for your garage is more complicated than just buying the most powerful one you can afford. You should first consider how you intend to use it, where it will be placed when in use, and how you will store it. You will also need to consider where to plug your new garage fan and how much power you really need.
Fan Strength
Commonly advertised in CFM, or Cubic Feet per Minute, this number gives you an idea of how much air a fan can move. A fan's CFM is dictated by the size of the fan blades, the housing's design, and how powerful the motor is. The higher the CFMs, the larger volume of air the fan is capable of pushing.
The downside to using CFM to determine the best fan for you is that it is dependent on several factors that you might not have control over. Air temperature and humidity play a significant role in how much air can be moved. Elevation will also impact a fan's CFM rating. Notably, hot, humid, high-elevation air will result in lower CFM from your fan, so keep that in mind when shopping.
Power
All but one device on this list are powered by a standard 110/120V three-prong plug. Most garage fans will have a cord between six and ten feet in length. You will want to consider where to plug in your fan before selecting the type you want. This is more than just a convenience issue—the number one cause of garage fires in the U.S. is faulty electrical wiring.
Most garage fans are going to draw less than five amps. This makes them "low draw" devices. Ideally, you would plug your fan directly into a wall plug, provided the garage has correctly installed wiring. Since this isn't always the case, you will probably need to use an extension cord.
However, keep in mind that the longer the extension cord, the more electrical resistance there is, which equals heat and the likelihood of fire. Besides, plugging several devices into one long extension cord is a recipe for disaster. You should always use a medium- or heavy-duty extension cord of appropriate length to power your garage fan.
Storage
When not in use, that fan has to go somewhere. Many designs are difficult to store. For instance, floor fans that stand on bases are among the most challenging to store. These fans are typically oddly shaped and don't stack well. You should consider where to keep your fan when you don't need it to ensure that it doesn't become an obstacle that ends up being damaged.
Wall, Floor, or Stand
In the ideal garage, you would use a combination of fan designs to create the best environment. Since most garages don't have enough space to combine different designs, you'll have to make a compromise when selecting the type of fan you can use.
For example, wall fans are often the most efficient at moving air in a garage; however, they take up space on a wall and require that you install them in such a way so that the fan isn't in the way of other tasks. Frequently, a wall fan will become more of a nuisance than a benefit as it tends to blow air right at you, causing metal, wood, and plastic shavings to fly around and making many tasks difficult.
A floor fan is easier to direct and place so that it is in the ideal position for the task at hand but also creates a significant tripping hazard in your garage. You'll need to decide how and where you want to place a floor fan so that you don't fall over the cord or the fan. As these fans tend to push air up, they can significantly increase the amount of dust that settles on your workbench, toolbox, and projects.
That said, a floor fan on a stand will help give you the benefits of a wall fan and a floor fan while reducing some of the negatives of both designs. These fans also tend to be the most expensive.
Verdict
A garage fan can make the difference between a fun day tinkering on your hot rod and boiling yourself alive in that sweatbox you call a garage. Picking the right fan for your application is more complex than simply selecting the size of fan you want. When you identify the right type of fan for your garage, you'll find lots of options on the market to meet your needs. The list of fans we include here today represents some of the best fans you'll find on the market.
The most important thing about buying a garage fan for your workshop is to remember safety first since fans can create new hazards you may not consider. Namely, a powerful fan will stir up dust and debris that can damage paint and cause tools and other items to get really dirty. Moreover, the particles can be a significant health hazard because you'll end up breathing dust and dirt more frequently with a garage fan.
You also want to make sure you are not overloading the electrical circuit in your garage. The last thing you want is to start an electrical fire by plugging your work light, garage fan, and air compressor into the same plug and overloading the circuit. Electrical fires often start unnoticed, and when in a garage, there are often numerous flammable objects that make extinguishing the fire much more challenging.
A good garage fan is a great tool to have. The fans on this list have been tried and tested in the field and have shown they can stand up to the abuse of daily use. You can count on these fans to keep your garage cool and free of fumes.