Looking to make your garage a little more bearable this winter? Try a propane garage heater!
EDITOR'S PICK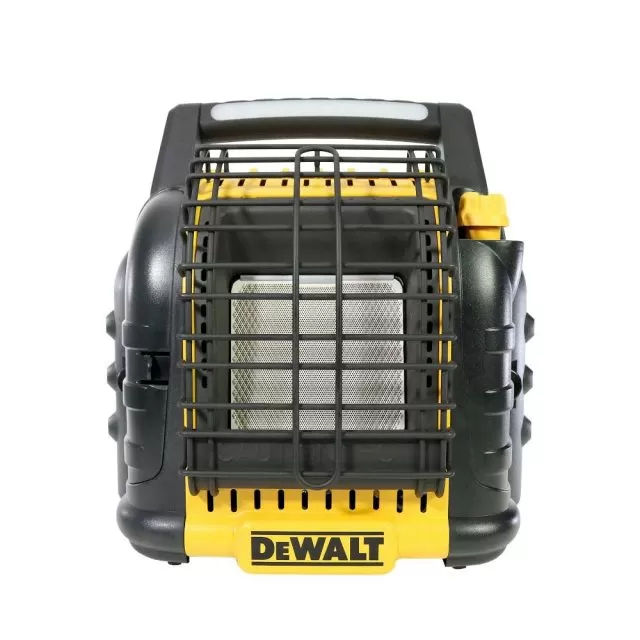 DeWalt DXH12B Cordless Propane Radiant Heater
Radiant heater
Maximum output: 12,000 BTU
Suitable for indoor and outdoor use
Weighs 15 lb
Connects to 20 lb propane cylinders
Integrated LED light and USB charging points
PREMIUM PICK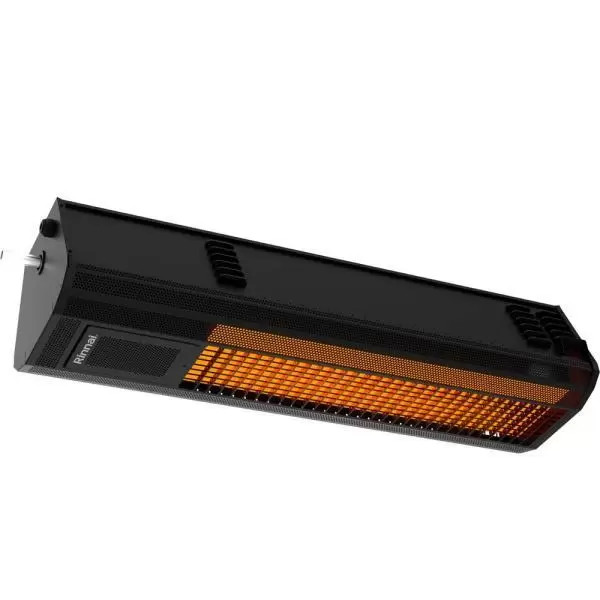 Rinnai 2150 SE Plus Propane Infrared Heater
Infrared space heater
Maximum output: 35,000 BTU
Suitable for indoor and outdoor use
Far more efficient than traditional propane space heaters
Built-in gas and electrical lines
Several control options, including a panelboard and wireless remote control
BUDGET PICK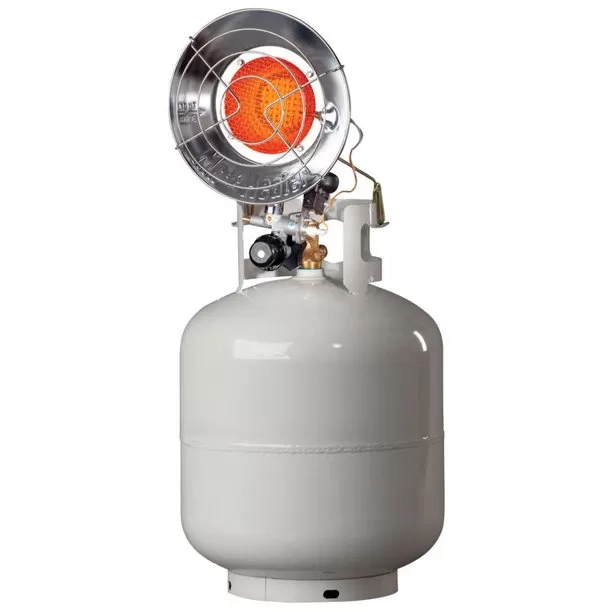 Mr. Heater MH15T Original Propane Tank Heater
Radiant heater
Maximum output: 15,000 BTU
Outdoor use only
Weighs only 3 lb
Easy installation; no tools required
Works with both 5 lb and 20 lb propane tanks
Tip-over safety shut-off
With outside temperatures going way below freezing, you are probably looking for a way to warm up your workshop; and if you are spending a lot of time there, a propane garage heater might be the best solution. These gas-burning devices have several upsides, with the ability to quickly warm up even the coldest places in a jiffy being the most obvious one. However, since these versatile appliances have many potential applications, there is a wide range of products to choose from.
As a result, selecting the right one for your specific setup might be challenging. You could easily end up with something that is not strong enough or simply too powerful for your needs. Of course, a heater that is too powerful for nothing is not really a problem in itself, but why pay more than the right price? To help you select a heater that is just right for your workshop, we've handpicked a selection of some of the best propane garage heaters out there and reviewed each of them, highlighting what they have to offer in the process.
I hope it helps!
Best Propane Garage Heater Reviews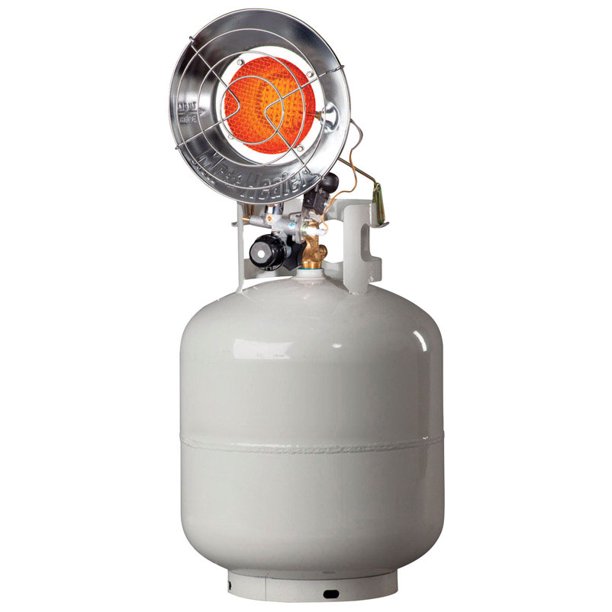 As its name suggests, Mr. Heater is specialized in manufacturing all sorts of devices that aim at keeping its customers warm. Initially established under the Van Dorn Ironworks name in 1872, this Ohio-based company introduced many innovations into the segment over the years, including infrared technology. Today, Mr. Heater's product lineup covers everything from heavy-duty industrial heaters to models more suited for domestic applications or camping.
Of course, this Original Tank Top heater is an entry-level product but it still covers all the bases. Despite its simple construction and relatively small size, this radiant device will deliver up to 15,000 BTU of heat and is super easy to use. Simply screw it on top of any propane tank and that's it!
As you might have guessed, this heater is far from being a premium option but may still be enough for smaller garages and you'll also be able to bring it with you the next time you go camping, or need to work on a car that you can't bring inside for any reason. Just keep in mind that since propane creates toxic fumes when burned and since this model doesn't have any kind of ventilation system, you will need to keep your garage very well ventilated. In fact, it's advertised as an "outdoor-only" heater, but you know, it's still better than nothing in specific situations and works quite well in spring and fall when you can still leave the garage door slightly open.
So no need to mention that we have better alternatives below but we simply couldn't leave this one out. It's cheap, reliable, and will work just fine in a wide range of situations. Still, if you are serious about heating your garage, we've got better ones next!
Features
Radiant heater
Maximum output: 15,000 BTU
Outdoor use only
Weighs only 3 lb
Easy installation; no tools required
Works with both 5 lb and 20 lb propane tanks
Tip-over safety shut-off
Pros
Easy installation
Light and compact
Very portable
Simple to use
Cons
Not suitable for enclosed spaces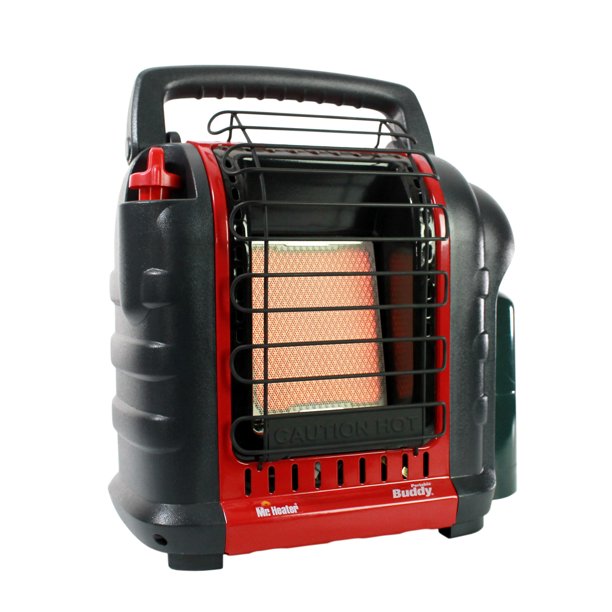 Picking just one product from Mr. Heaters' comprehensive and versatile product lineup is anything but a simple job. This is just why this list has two of them, with the Buddy being the second model here.
However, unlike its simple Tank Top counterpart, this is a more sophisticated and complex device. Among the differences between the two, the shape is the most obvious one. The boxy housing with a convenient top handle makes this heater practical and easy to move around. Still, what really sets it apart is the ability to run off a small 1 lb cartridge (in addition to regular propane tanks), eliminating the need for any additional hoses and turning the Buddy into a truly portable device.
There are, however, some potential downsides; for instance, the Buddy has a relatively low heating capacity. With a maximum thermal output of 9000 BTUs, this device is only suitable for heating up to 225 square feet of space. Nonetheless, it should be powerful enough for smaller garages, especially if you aim it directly towards you.
Of course, this one isn't really suitable for larger workshops or to keep your garage at a constant temperature all winter long but if you only work in your garage every once in a while and leave the heating system turned off the rest of the time, this one will do just fine.
Features
Radiant heater
Maximum output: 4,000-9,000 BTU
Suitable for indoor and outdoor use
Heats up to 225 sq ft of space
Weighs only 10 lb
Runs of a 1 lb cartridge or regular propane tanks
Pros
Sleek housing with a convenient handle
Uses a small 1 lb cartridge that goes inside its housing
Easy to use and move around
Cons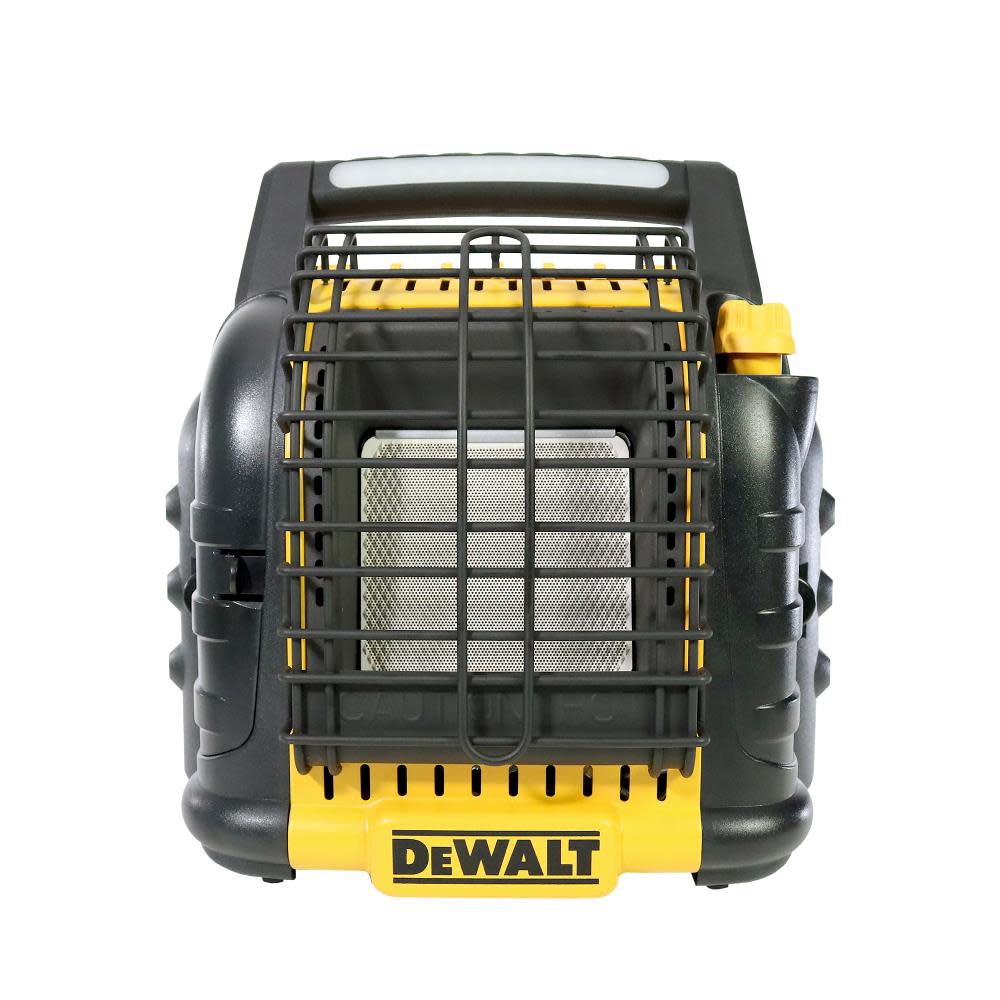 Unless you've never used tools before, there's no way you've never heard of DeWalt. This Maryland-based company was established in 1926 by Raymond DeWalt and started developing electric woodworking machines, rapidly expanding during World War II. Today, the brand offers a range of professional products, including construction and automotive-oriented hand tools, power tools, workbenches, storage solutions — the brand makes literally everything!
Among similar items from DeWalt's product range, their Cordless Portable Heater is the most popular of the lot. This radiant propane garage heater offers an ample 12,000 BTUs, which sets it in about the middle of the pack. Like Mr. Heater's Buddy, it has a well-shaped and enclosed housing, although with some extras; features such as integrated LED light and USB charging points will prove their value on remote worksites or camping. Mind you, this is something that requires additional batteries, but all DeWalt batteries are interchangeable so you probably already have some at home. However, at 14 lb, this heater is a bit heavy, which can be a downside.
Still, it's well-designed, super sturdy, and will last you for years — what's not to like?
Features
Radiant heater
Maximum output: 12,000 BTU
Suitable for indoor and outdoor use
Weighs 15 lb
Connects to 20 lb propane cylinders
Integrated LED light and USB charging points
Pros
Higher heat capacity (for a radiant heater)
Very practical and functional
Cons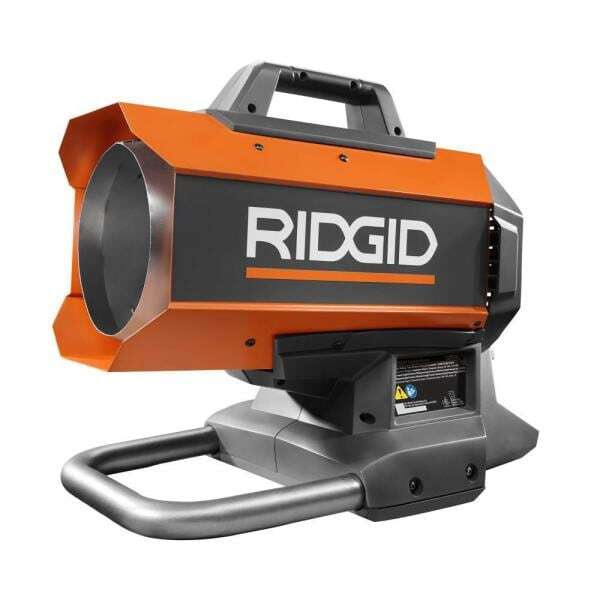 In its own words, RIDGID "invents products for those building the world." One such product was the modern pipe wrench, which this Ohio-based company patented back in 1923. Since then, it developed all sorts of tools and equipment aimed at professional builders and contractors. And what do all construction sites have in common? A hidden spot, notorious for being almost impossible to warm up — RIDGID just had to find a solution.
Of course, it did. RIDGID's 18V Hybrid Heater is more than capable of living up to those expectations. Unlike the previous units using radiant technology, this model is a forced-air version with a fan inside pushing hot air into the surroundings. No need to mention that forced-air heaters are significantly more efficient, even outside.
With a thermal output ranging from 30,000 to 60,000 BTU, this device can heat even the largest workshops. Although it needs an electric power source, users can choose between two convenient alternatives; one is a battery from RIDGID cordless range, while the other is to hook it up to an electrical grid.
If you want something that heats up your huge garage fast, this is what you need. Just keep in mind that it might be a bit overkill for smaller ones — you could basically keep your garage warm, even with the door open, in the middle of winter.
Features
Forced-air heater
Maximum output: 30,000 to 60,000 BTU
Weighs 13 lb
Suitable for indoor and outdoor use
Connects to all sorts of propane tanks
Hybrid system – uses an 18V battery or plugs into a standard power outlet
Pros
Corded and cordless operation
Capable of heating up large spaces really quickly
Cons
Batteries not included
Might be a bit much for small garage
Read more: 8 Best Electric Garage Heaters to Keep You Warm While You Work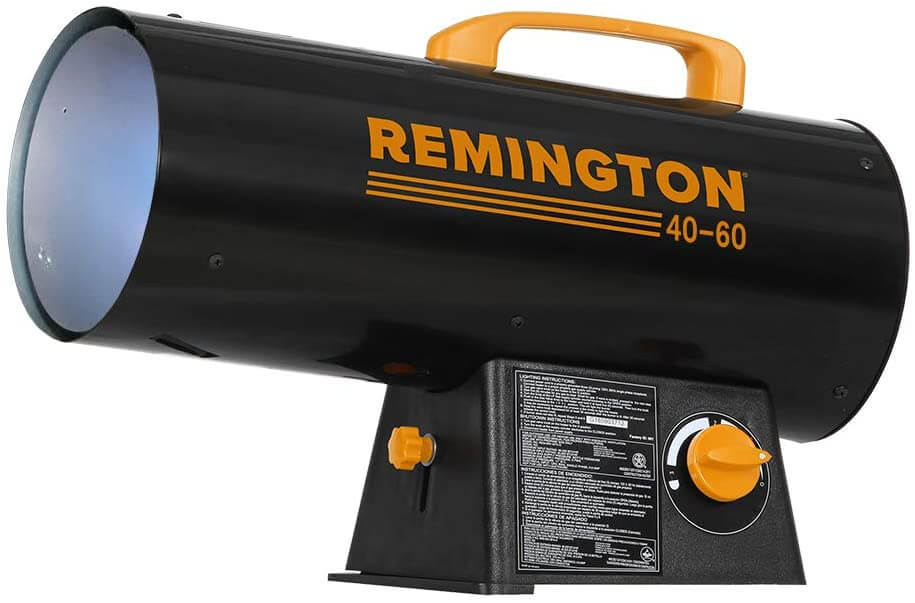 Although many would associate the name with a renowned manufacturer of hair care products, this particular Remington is a totally different company. This brand is a part of Pineapple Climate Technologies, a corporation from Minnesota offering heating and cooling solutions for various applications. Remington itself claims it makes heaters "that put comfort first while staying within customers' budget," which is another way of saying they offer cost-effective devices for every pocket.
Luckily, Remington does not achieve this feat by cutting on performance, as this variable forced air heater demonstrates. With a thermal output of 60,000 BTU and strong airflow, it heats up large spaces with ease. The build quality is impressive and the robust and durable construction can take a lot of beating. However, unlike many other products mentioned here, Remingtons' heater has no extra options and additional features. Instead, buyers get a simple device that does its job, without trying to be anything more — and we think it's a good thing.
Features
Forced-air heater
Maximum output: 60,000 BTU
Maximum airflow: 300 CFM
Weighs 14 lb
Heats up to 1,500 sq ft
Pros
Excellent heat capacity
Robust and durable construction
No non-sense product
Cons
Much like the previous entry on this list, Sun Star is a part of a larger corporation, namely Gas Fired Products. Established in 1949, this North-Carolina-based company specializes in industrial heating solutions, while Sun Star takes care of creating products for domestic use.
When looking at one of its most popular products, an infrared tube heater, the most notable difference is the portability, or the lack of it, as this is a stationary model. However, there is more to it than what meets the eye.
Indeed, as opposed to all the previous models, this one uses a far more efficient infrared technology. By their nature, infrared heaters can warm up a larger space while using less propane, making them especially useful in bigger workshops and even full-fledged repair shops.
However, infrared heaters will only warm objects directly in front and this particular model requires external ventilation, which usually involves drilling holes in the walls. Nonetheless, a propane heater like this is a wise choice for users who need to heat a large area, while keeping operating costs low.
Features
Infrared tube heater
Maximum output: 25,000 BTU
Stationary type, wall or ceiling mounted
Indoor use only
Vacuum system extracts all exhaust fumes
Heats up to 1,500 sq ft
Pros
Energy-efficient infrared technology
An excellent option for stationary applications
5-year warranty
Cons
Only heats up objects in front
May require professional installation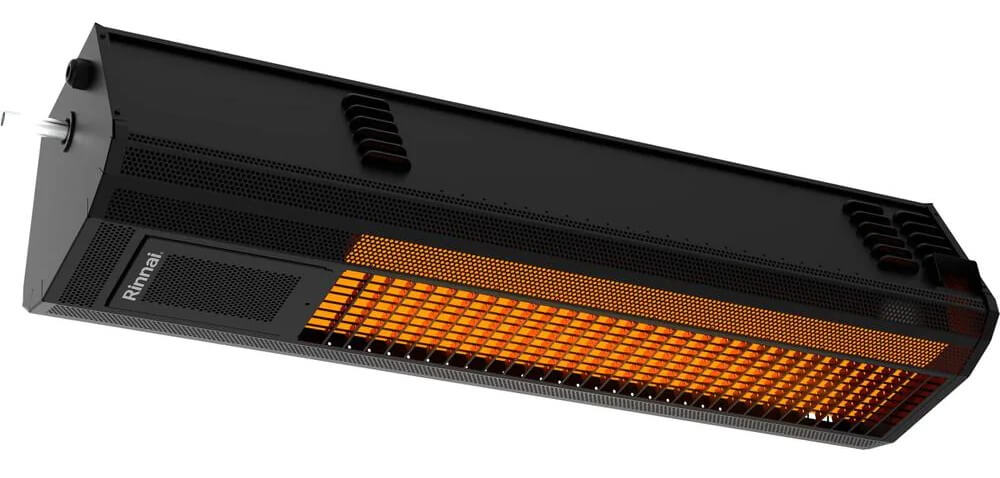 Those of you not so familiar with the heating industry may have never heard of Rinnai, but those who know that this Japanese manufacturer is one of the biggest names out there.
Established in 1920 by two very enthusiastic friends, this company eventually became the largest manufacturer of gas kitchen appliances in Japan. By now, Rinnai is a worldwide distributor, with offices dispersed throughout Asia to the USA and Europe. In addition to the kitchen equipment, their current product lineup holds a variety of highly-efficient water and space heaters.
Unlike most products here, which are practical devices placing function over form, Rianni has it the other way around. With a sleek design and finish, this propane garage heater is even suitable for luxurious applications. Still, there is more to it than its high-end appearance, as this heater also offers 35,000 BTUs of heating capacity — not bad for such a pretty thing.
And thanks to the manufacturer's innovative technology, it can spread out all that heat quite evenly, over a large area. As a result, these heaters are especially efficient at warming up patios, portable carports, and large areas.
As you might expect, a heater like this is not cheap, but the energy-efficient operation kinda helps make up for it. It's also important to keep in mind that it's designed to be installed outside, as most propane heaters are, due to the production of toxic gas when burned. Still, look at that thing — if I had to have a heater right beside my garage for those chilly fall nights wrenching until late, this is the one!
Features
Infrared space heater
Maximum output: 35,000 BTU
Suitable for indoor and outdoor use
Far more efficient than traditional propane space heaters
Built-in gas and electrical lines
Several control options, including a panelboard and wireless remote control
Pros
Renowned manufacturer
Sleek design
Warms up large open spaces with ease
Highly efficient device
Cons
Higher price
Installation can be demanding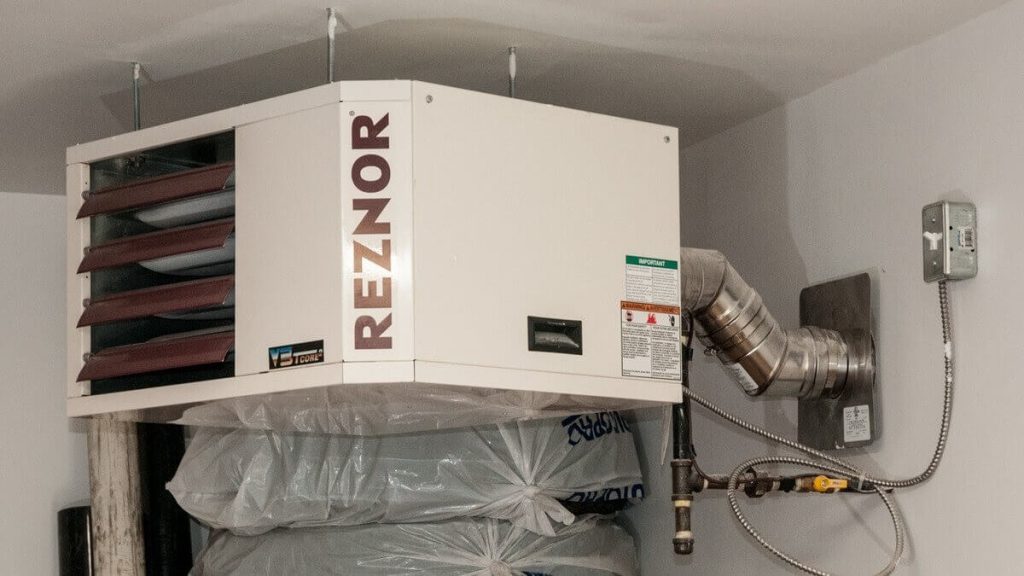 What to Consider When Choosing the Best Propane Garage Heater
Heating capacity
There are several factors to consider when looking for a propane garage heater. Among all of them, the British Thermal Unit (BTU) output, the number describing the amount of heat generated by a device, is the most important one.
Of course, how powerful your heater needs to be will obviously depend on the size of your garage and how well it's insulated. Still, determining an exact number is an elaborate process but as a general rule, 35 BTUs per square foot is usually enough.
However, this is under the assumption that the insulation is sufficient, which is not something most garages can brag about. If this is your case, you might be better getting something a little more powerful than that. Alternatively, you could also prevent the heat from escaping in the first place by sealing your garage a bit more. A simple way of doing this is by fitting rubber strips on window frames and installing a garage door insulation kit.
Read more: Garage Heater Sizing Guide to Heat Your Garage Efficiently
Portable or stationary
Almost all propane garage heaters on the market fall into two main categories — portable and stationary. Obviously, each comes with its own set of upsides and drawbacks, which may ultimately help determine its application.
Being a self-contained unit that offers a simple installation, portable heaters are easy to use and practical. But they also take away some of the floor space, which can be an issue in tight garages. A stationary device may be a better solution in such situations, as these are usually mounted on the wall or ceiling. However, installing most of them is not an easy job and might even require professional assistance.
Infrared or radiant heaters
Another feature to consider when choosing between different devices is how it distributes the heat it generates. There are several types, with radiant models being the most conventional ones. Like a wood-burning stove, it warms up the air around it and the surrounding objects. They are an excellent choice for smaller garages and enclosed spaces.
Still, for drafty and large workshops, forced-type heaters may be a far better option. These have a powerful fan integrated into the housing, generating a stream of hot air. As the stream can be focused on a particular area, these heaters are ideal for large spaces.
Another alternative is infrared. Similar to the microwave oven, these heaters will only warm up nearby objects, making them more efficient but only good to warm up specific areas.
Outdoor or indoor heaters
Versatile as they may be, some propane garage heaters may not be suitable for every application. Some models don't have a proper ventilation system and may not be ideal for indoor use, as the exhaust gasses they generate could quickly fill up the room. Moreover, places like Canada or Massachusetts have specific regulations regarding propane heaters. Luckily, most manufacturers offer unique versions for these markets.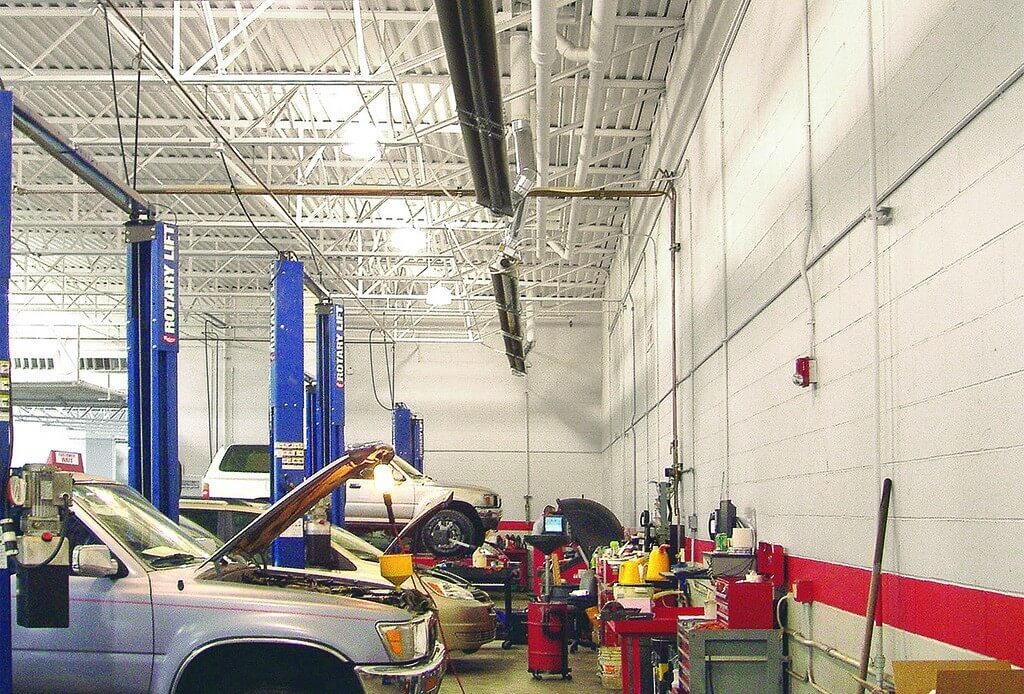 Frequently Asked Questions (FAQs)
Is it cheaper to heat with electricity or propane?
There is no doubt that propane heaters are the most cost-effective solution for warming up garages or workshops of average sizes. For a start, this gas is affordable and comes in tanks that are easy to transport. As a result, installing and setting them up is usually a simple job. Most modern propane heaters are also efficient devices, meaning they offer optimum thermal efficiency. Still, electric heaters can be a suitable alternative if you have a smaller garage or one that is only used every once in a while.
How many BTU do I need to heat a 2-car garage?
To answer this question, we will use a typical 22′ X 20′ garage for a total of 440 square feet of floor space. As long as the garage ceiling is not unusually high, we can base our calculations using the general "35 BTUs per square foot". In this example, you would need a propane garage heater producing a thermal output of 15,400 BTUs, assuming the garage is adequately insulated and the doors seal properly.
Is it safe to heat a garage with propane?
Some homeowners have a prejudice towards propane gas and its usage inside houses garages. Most of them believe it is too dangerous and potentially poisonous for such applications, which is an opinion shaped by urban myths. As long as you use it properly, a propane garage heater is a safe as it gets.
For a start, make sure you have connected all the hoses and other hardware correctly when installing a heater. Next, move any flammable objects away from the heater while it is on, such as cardboard boxes or towels. Lastly, ensure that the ventilation inside your garage is sufficient to meet the manufacturer's specifications.
Verdict
As explained above, there are several types of propane heaters and each is designed for a specific use. A traditional radiant heater will be more than enough for smaller garages. Still, when warming up large spaces or workshops, a forced-air heater may be a better option. Lastly, there are infrared propane garage heaters, offering an energy-efficient operation. They usually come at a higher price, but the savings on fuel costs are well-worth the investment.