EDITOR'S PICK
Powerful motor with two speeds
Big collection bag
Easy to switch between blowing and vacuuming
PREMIUM PICK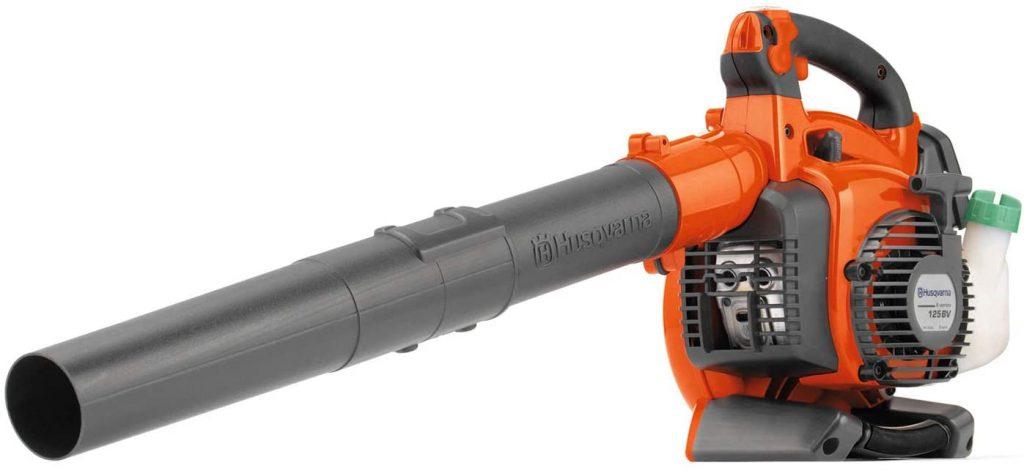 Gasoline-powered engine
A reasonably big collection bag
16:1 mulching ratio
BUDGET PICK
Powerful motor
Two-speeds available
Easy switch from blower to vacuum
A well-equipped household has all kinds of tools and machinery needed to keep a yard clean. However, once every year, as fall comes around, you know you'll have to add a tedious task to your to-do list – especially if you have lots of trees around. Racking leaves in a pile and then putting them in a bag is an excellent way to do it, but there is a much faster and easier method – leaf vacuums.
Out of all the machinery and hardware you may have, this could be the most important one. Apart from the vacuuming feature, these products offer several more that can make them very versatile and usable in many other areas of your household.
If you are looking to buy your first leaf vacuum or to replace your old model, we have compiled a list of the best ones on the market.
Let's have a look!
Best Leaf Vacuum Reviews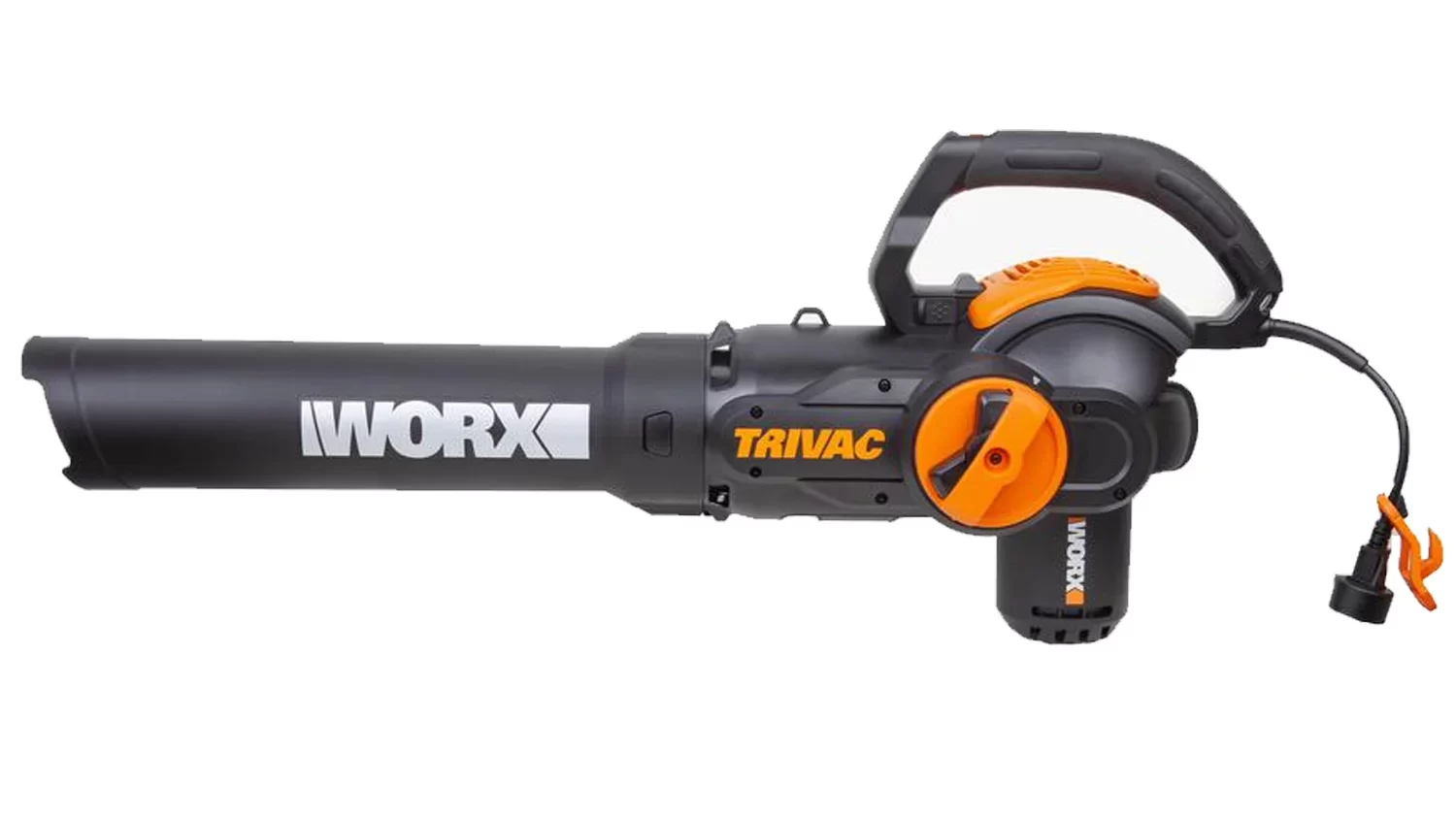 WORX WG512 Trivac 2.0 is one of the most powerful leaf blowers on the market with a few other features that you'll find useful. The powerful motor manages to suck up to 600 cubic feet of air per minute through the wide nozzle and can reach blowing speeds of up to 70 mph. Moreover, since it's a two-speed motor, you have a reduced speed for the tighter spaces where you don't need too much airspeed.
WORX WG512 Trivac 2.0 is a 3-in-1 device, so apart from blowing, you also get a vacuum with a mulcher. With a flip of a switch, the motor's power is reversed, and you get a mighty vacuum that will pick up any leaf.
At the end of the nozzle are the mulcher's metal blades that can chop down the leaves with a 16:1 ratio, which then go down the collection bag with a capacity of 1.4 bushels. The bag can be easily detached, and considering how compact the chopped leaves will be, you won't have tons of bags to throw out.
Weighing around 9 pounds, this is not the lightest machine on the market, but it is still manageable.
Pros
Powerful motor with two speeds
Big collection bag
Easy to switch between blowing and vacuuming
Cons
The cord is short
To be used with dry leaves only
If WORX is not powerful enough and you need something that can deliver higher airspeeds, you should look into Black and Decker BV6600. While it only manages to suck a maximum of around 400 cubic feet of air per minute, the blower speeds are much higher. It also has a two-speed option, and you get 140 mph on the lower speed and 250 on the higher, providing you with the flexibility to blow leaves on open space and tight corners at the same time. Besides, switching from the blower to the vacuum is easy, making it a very versatile machine for your household.
The motor's power that blows the leaves is the same for the vacuum, so you don't sacrifice the sucking power. Moreover, the metal blades in the housing will ensure that each leaf is chopped into one-sixteenth of its original size and sent down the collection bag that can store 1.5 bushels. The reusable bag is easy to attach and detach, and thanks to the 16:1 chopping rate, it will turn all leaves into tiny confetti.
The most significant advantage to the BV6600 is that you are getting a powerful 3-in-1 blower and vacuum in a reasonably light package. Also, considering its purpose, it is decently quiet.
Pros
Fairly light
Air speeds of up to 250 mph
Big 1.5 bushels collection bag
Cons
Some limitation from the length of the cord
Sharp twigs may puncture the bag
The biggest disadvantage of the previous two models is the advantage of the Greenworks leaf blower/vacuum – the cord. The combination of a 40-volt battery and a decently powerful motor makes this a beneficial combination. You can use it for up to 60 minutes on battery power, which reduces to 21 minutes on the highest power setting.
Moreover, the motor is decently powerful, providing you with 340 cubic feet of suction per minute and a top speed of 185 mph for blowing. The motor can run at six speeds and has an additional turbo mode when you need slightly more power.
Even though there are a powerful motor and a big battery, the machine is relatively light, coming in at a little over 9 pounds. Additionally, Greenworks' brushless motor design should be more durable than its competitors while keeping things quieter.
The battery is rated for up to 4.5 collection bags before it needs a recharge. Considering the bag's 1.2 bushels capacity, you will get a decent amount of vacuum and mulch time. Furthermore, leaves will be sucked in and sent through the shredder blades that can chop them down to only one-tenth.
Pros
Cordless
Brushless motor with six speeds and turbo option
Ability to fill 4.5 bags on a single charge
Cons
Not the most powerful
Mulch ratio is only 10:1
A 3-in-1 blower/vacuum/mulcher is an excellent solution, but there is a product with a 4th function, and that is Sun Joe's SBJ606E-GA-SJG. This product has a powerful motor capable of blowing air at speeds of up to 250 mph and suction power of 440 cubic feet per minute.
The motor is not the quietest one on the market, but it is durable, and you have 6-speed settings for the blowing option. Switching from one to the other is relatively simple, and after a quick tube change, you are good to go.
Meanwhile, the huge nozzle on the front will suck up any leaves and send them down' the mulcher's blades, which chops them in a 16:1 ratio. You also have an 18-gallon collection bag for the shredded leaves, which is almost double the previous products on our list.
The additional feature Sun Joe's product has is the gutter cleaner. Included in the package are extra hoses, and when you add them to the blower's tube, you get an extended reach of up to 15 feet, more than enough for the gutters in your house.
Weight-wise, it is not the lightest in this category, but considering everything it can do, it is not overly heavy.
Pros
4-in-1 – blower, vacuum, mulcher, and gutter cleaner
Powerful 14-amp motor
18-gallon collection bag
Cons
Can get loud on the highest setting
Not the lightest option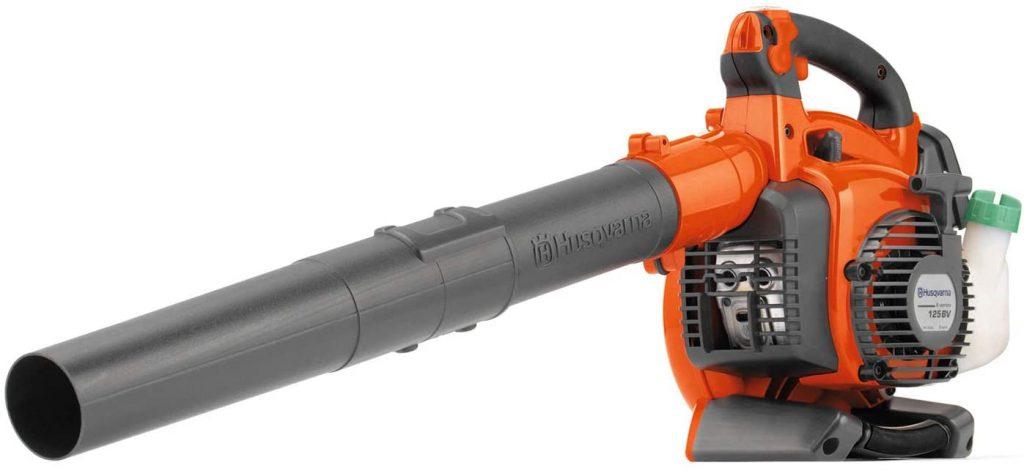 People nostalgic for the old-fashioned gas-engine blowers will love the Husqvarna 125BVx. This model has a two-stroke 28cc engine producing 1.1 horsepower, producing air speeds of up to 170 mph and 425 cubic feet of air volume. It's not breaking any records, but it is no slouch.
Meanwhile, on the back of the unit is a 16.91 oz gas tank that should keep the engine running long enough to get your yard clean. The 125BVx has a smart starter, and the switch will automatically set itself to "ON." In combination, both of these will ensure a quick and easy start, unlike the older models.
The handle has an integrated throttle with variable speeds and cruise control that makes the unit's handling even more effortless. Furthermore, there is a 17-gallon collection bag where the 16:1 ratio mulcher throws the leaves.
The product's weight is decent, but the engine is loud, especially if you run it at full speed. To aid with carrying, there is an included strap that you can use either on the machine or the collection bag.
Pros
Gasoline-powered engine
A reasonably big collection bag
16:1 mulching ratio
Cons
Engine gets loud
Not the most powerful product on the market
Going back to an electrically-powered product, we have Craftsman's leaf blower and vacuum. The unit has a 12-amp motor that provides excellent performance. Furthermore, the blowing option can push the air at speeds of up to 260 mph, while the vacuum has a capacity of 450 cubic feet per minute. You can get to those speeds through the integrated speed changer, providing you with an option for high and low speeds.
Besides, switching from blowing to the vacuum is effortless, and the collection bag in the form of a backpack makes things easier. The unit is also connected to the backpack with a hose used to carry the mulched leaves through.
However, a slight downside is that the mulching ratio is only 12:1, and the blades are plastic. The good news is that the bag can collect 55 liters of leaves, so you won't need to empty it too often.
As for the downsides, this is the heaviest product out of all on our list weighing over 11 pounds.
Pros
Powerful motor
Two-speeds available
Easy switch from blower to vacuum
Cons
Heaviest in our list
The mulching ratio is 12:1
What is A Leaf Vacuum Mulcher?
Leaf vacuums can be the best friend of people with many leaves in their yards. These products act like regular vacuums that you use in your household but are designed to suck up leaves.
Moreover, the motors are developed to provide the most air sucking power to ensure that all the leaves get sucked up in the nozzle and down the collection bag. Before ending up in the bag, the leaves go through blades, usually made out of metal, that shred them to take up less space.
Types of Leaf Vacuums
Leaf vacuums vary in features, shapes, and sizes. The first distinction is the type of motor they have: gasoline and electric. The latter can either be corded or with a battery that you can charge and used wirelessly. The engines or motors vary in power, so each vacuum will have a different rating.
Next up is the set of features and options. Apart from the apparent vacuum and mulching properties, many modern products also have a blower function. Since the motor is running, it is just a matter of choosing which way you want the air to flow – inward or outward. Some might even have an additional feature, like a gutter cleaner. Essentially, that utilizes the blowing function, but the product comes with the required nozzles to help with the task.
How to Choose the Best Leaf Vacuum Mulcher
Choosing the right leaf vacuum mulcher will depend on your requirements. The spec list is different on all of them, so there are several factors that you should take into consideration.
The first one is the engine or motor. While all are powerful and should have no problem with blowing or sucking the leaves, going for the one with a higher airspeed and cubic feet per minute rating is always a better option.
Furthermore, the next thing to watch out for is the size of the collection bag. Many popular choices have bags bigger than 1 bushel. However, if you have a bigger yard with more leaves to collect, having a larger collection bag means that you won't be emptying it too often.
While the bag collects the leaves, the unit's blades are responsible for compacting them. Try to aim for the products that have a higher mulching ratio. A lot of them will be 16:1, but there are some with less, as you can see from our list.
If you want an electric vacuum, check the length of the cable. They are not too long, so you need to plan and purchase an extensions cord. Going cordless means that you can either get a battery-electric one or a gas-powered.
Electric cordless vacuums have different sized batteries, and the runtime will depend on how big they are. If you need a longer running vacuum, you will need to get one with a bigger battery, but that will mean a more massive machine. Thus, gas-powered leaf vacuums can be a better choice than electric ones. Although they have a limited runtime, you are good to go once you refuel. You will need to charge electric models, which takes longer.
Weight is also an essential consideration for products like these. They might not be weighty at first, but longer use will prove to be uncomfortable. Because of that, check how much the machine weights before purchasing.
Leaf vacuums often come with additional features and options. The most common one is the blower function that can help you get all the leaves in one place for easier vacuuming. When looking at the blower function, the product can be set to provide that function at various airspeeds. As a result, it would be more flexible, such as slower speeds for corners and tight spots and a higher speed for the open. A lot of them will come with more speeds, so make sure to check that.
Meanwhile, some manufacturers utilize the blowing function for other areas, such as the gutters. Attaching a few hoses and nozzles can help you clean them with ease.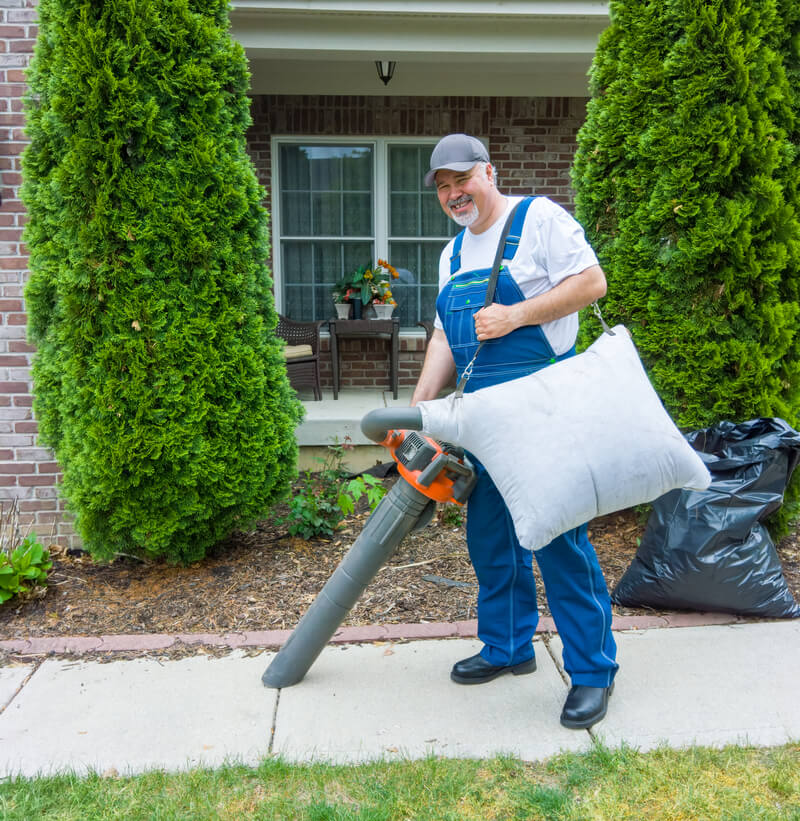 FAQs
Can I use the vacuum for things that are not leaves?
No. These machines are designed to be used only for leaves. Using the vacuum for other types of garbage or debris can break it. The mulcher blades can either bend or break if harder items are sucked in. Also, dust and other small particulates can clog up the machine, which can reduce the airflow.
Can I use the machine for wet leaves?
Most of the leaf vacuums are not designed for wet leaves. Some have that capability, so make sure to check the user manual for that.
Do the battery-powered vacuums offer replacement batteries?
Yes. Some of them can have their batteries replaced. If you are concerned that you won't get the job done on a single charge, you can get a second battery and swap it whenever you need to.
How to choose the correct extension cord?
The most important thing to look for when choosing an extensions cord is the amp rating. Each vacuum has its rating and when you select the cable, make sure to get one with a higher rating. The other thing to consider is the length.
Will the vacuum be able to pick up ash or dust?
The vacuum will be able to do that, but you shouldn't. The bags don't have HEPA filters meaning that the dust will shoot right through it. The second problem, a more serious one, is that fine particles can clog or damage the unit.
Can the gutter cleaner suck up dirt?
No. The gutter cleaner accessories should only be used with the blower function.
Why does my vacuum feel like it has less power than before?
The most likely cause is that it's clogged. Check the nozzles and hoses if they are clean. Empty the collection bag and try again. If you still feel that it doesn't have enough power, bring it to a service.
Can I attach a bigger collection bag to my leaf vacuum?
Some companies may offer bigger collection bags for their leaf vacuums, or there could be aftermarket solutions. If you manage to find one, make sure that the bag's locking system is the same as the original.
Is the mulcher capable of processing twigs and branches?
No. While it may be able to deal with smaller twigs, most manufacturers recommend avoiding doing that. Larger pieces can either break the mulcher mechanism or get jammed.
Will I be able to install a bigger battery on the electrical leaf vacuum?
Some manufacturers may sell an additional battery bigger than the original one. If your leaf vacuum has that option, make sure you purchase an original battery or a compatible alternative with your model. Incompatible batteries can cause electrical problems with the motor. Also, keep in mind that a bigger battery will add weight.
How long does it take to recharge the battery?
The charge duration depends on the size of the battery and how powerful the charger is.
Can I use the vacuum without the mulcher?
Out of the box, you cannot use the vacuum without the mulcher. To do that, you would need to remove the blades, which will void your warranty.
Are there products that only offer vacuum and mulcher option without the blower?
Even though most of the products on the market today are combined 3-in-1, you may be able to find some that are vacuum-only.
Which fuel octane should I use?
Manufacturers what fuel you should use. You can find that information in the user manual. Overall, 87 octane fuel should work just fine.
How much oil should I put in the blower?
Not all engines are designed identically, so each one will have a unique oil ratio. To find the correct one for your leaf vacuum, check the user manual.
Are gas-powered leaf vacuums more powerful than electric ones?
Not necessarily. Some manufacturers can get more power from their electrical motors than gas-powered competitors.
Can I replace the gas tank with a bigger one?
No. the gas tanks are not replaceable on most models, and you probably won't need a larger one. Refueling takes less than a minute.
In Brief…
There are tons of leaf vacuum options available on the market today. With that many options, making the right choice can be difficult, especially if you purchase your first leaf vacuum.
To aid you in your search, we have compiled a list of what we believe are the best leaf vacuum/mulcher machines on the market today. We also included a section that will help you make the right choice and an FAQ section to answer any questions you may have.
But of course, we are open to your suggestions. If you used some vacuum/mulcher that you liked or disliked, share your experience in the comment section below!