EDITOR'S PICK
OTC 2004 Folding Engine Crane
Foldable hydraulic engine crane
1,000 to 4,000 lbs. load capacity
289 lbs. engine crane weight
Overall dimensions: 24" X 61" X 14"
Heavy-duty thick steel construction
24" to 46" load boom reach
Best Electric Hoist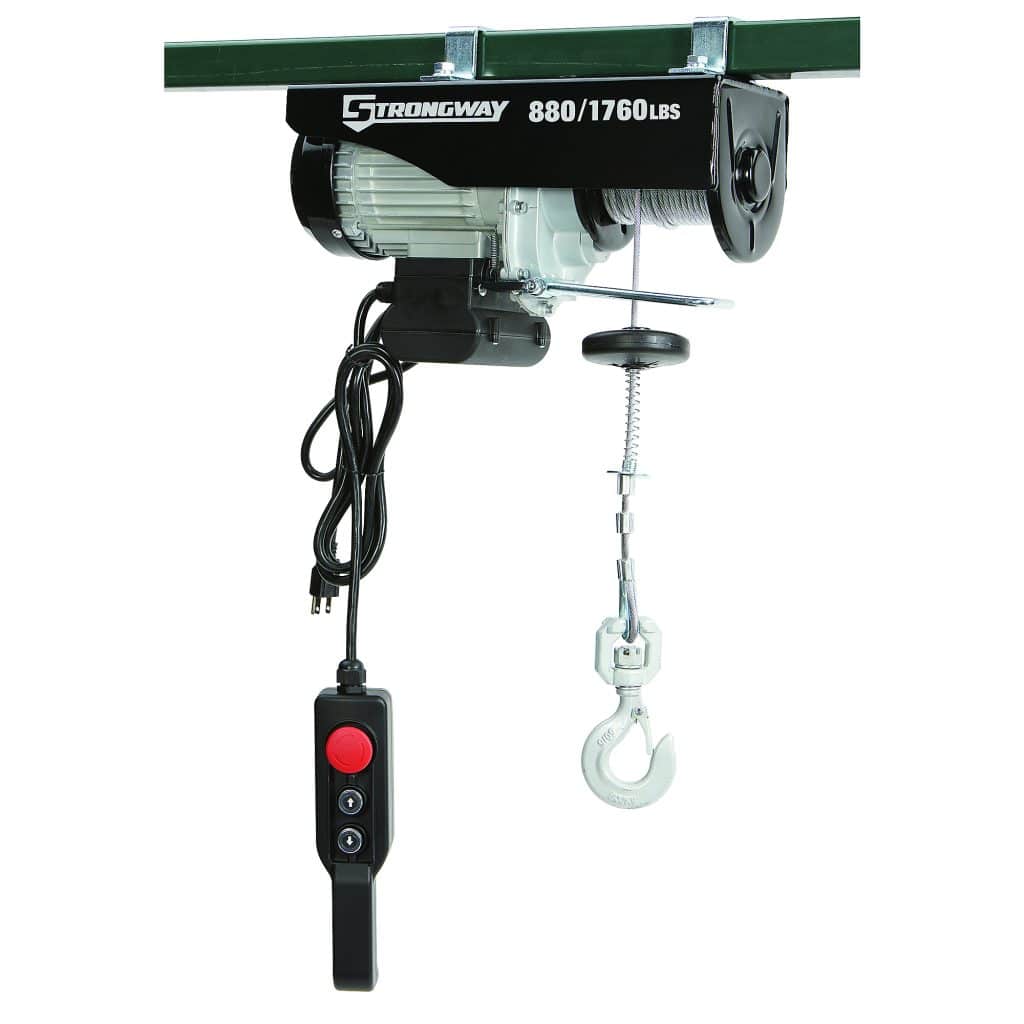 Strongway 880/1760 Lbs Electric Cable Hoist
Electric engine hoist
1.9 hp electric motor — 20% duty cycle
880 lbs (single-line) / 1,500 lbs (double-line) load capacity
Engine hoist weight: 42 lbs.
Overall dimensions: 16.14″ x 9.45″ x 6.1″
Max lifting height: 38'/19′
BUDGET PICK
Strongway NT32002 Hydraulic Engine Crane
Foldable hydraulic engine crane with a load leveler
1,000 to 4,000 lbs. load capacity
184 lbs. engine crane weight
Overall dimensions: 65" X 40" X 51.56"
Steel construction
1" to 82 5/8" lifting range
As modern-day engines keep increasing in complexity and since the available space inside an engine bay doesn't really change, it becomes quite challenging to perform any significant repair work without removing the heavy block first. And if you work on classics or buy older cars that you can fix and resell, there's no denying the fact that, at some point, you'll need to take an engine or a transmission out of a car.
And yes, of course, there are tons of redneck ways to remove an engine but these "hacks" will only take a lot more time but are also a lot riskier (you really don't want to drop an engine while it's halfway out). Luckily, that's where an engine hoist/crane will come in handy—not to mention that some are so cheap, there's really no good reason not to get one.
However, there are several types of engine hoist available out there, making it challenging to select the right one for your needs. That's where we come in! To help you with the process, we have curated a comprehensive review of some of the best engine hoists and cranes we could find. This article contains everything you need to know, including the fundamental differences between a hoist and a crane, the pros and cons of each type, and a couple of important things to consider before making your final decision.
Engine Hoist vs. Engine Crane
Before we get to the heart of the matter, let's take some time to understand some basic concepts. If this is not the first post you read on this topic, you might have noticed that other websites and even some manufacturers use "engine hoist" and "engine crane" interchangeably.
However, this practice is kinda incorrect as both are two very different things. By definition, the word "hoist" means something that is used to raise or lower an object. So, an engine hoist can do just that, raise or lower your engine. Meanwhile, an engine crane can also move the engine around, in addition to raising or lowering it.
Engine hoists are usually mounted on your garage ceiling, equipped with large metal hooks to attach the engine securely. Some can also be mounted on rails, which would then allow you to move the engine around. Still, it would only allow you to go left and right unless you install a really intricate rail system. Of course, a significant factor to consider when purchasing an engine hoist is your garage ceiling's strength. Since the roof will ultimately bear the engine's weight, it needs to be strong enough not to buckle or fail under load.
Rail hoists were widely used back in the day when cranes were not as popular or convenient as they are today (not to mention that engines were a lot heavier back then). I can still remember my grandpa having one in his garage back when I was still a kid. It's important to keep in mind that garages were often built over metal structures in those days and they already had steel railings above—a chain block system that big is very unlikely to fit inside your house garage.
For that reason, engine cranes are a lot more commonly used to remove and install engines nowadays. They come in various shapes and sizes and are a lot easier to use than chain blocks but the concept remains the same. The structure consists of different metal tubing and a manual hydraulic cylinder assembly to help with the heavy lifting. The only disadvantage of this tool is its large size, making it difficult to store when not in use.
To cater to a larger audience and make sure we have a little something for everyone, we have included both types below. If you are still ambivalent between an engine crane and hoist, go through the rest of the article to get a clearer picture of the pros and cons of each. But as a general rule, 90% of the readers should probably go for an engine crane instead of a full-fledge hoist system.
Best Engine Hoists
Let's start with a chain block that has already been extensively time-tested: the Torin Big Red TR9020. At first glance, you may think of it as a glorified pulley system with a few extra chains added into the mix, but the way it works is quite impressive and it will last you for years.
For a start, it employs a set of high-quality ¼" diameter chains constructed from 20Mn2 alloy steel, the same material used to make gas turbine engine components, and the chains are finished with a durable black oxide coating imparting anti-corrosion properties for an extra-long lifespan.
The chains are driven by a triple spur gear arrangement designed to make your life easier by minimizing the human effort required to lift and lower the engine. The system offers an 8' lifting range and 4,000 lbs. of maximum load capacity, enough for engines fitted to any road car. If you need a higher load capacity, Torin also offers 6,000 & 10,000 lbs. models.
The Big Red TR9020 is the perfect engine hoist for those looking for an inexpensive or portable solution. It is strong, lightweight, and compact enough to be stored or transported easily. Still, you'll have to keep in mind that it will need to be hooked to something strong enough to support the engine once it's out of the car, which may be a significant drawback.
Highlighted features
Manual engine hoist
4,000 lbs. load capacity
27 lbs. engine hoist weight
Overall dimensions: 8.27" X 8.27" X 7"
Spur gear drive with ¼" diameter 20Mn2 alloy steel chains
8' lifting range
Pros
Black oxide finish on chains for longevity
Available in different load capacity options
Inexpensive engine hoist
Comes with two heavy-duty steel hooks to provide secure mounting
One-year limited warranty
Cons
Requires a robust attachment point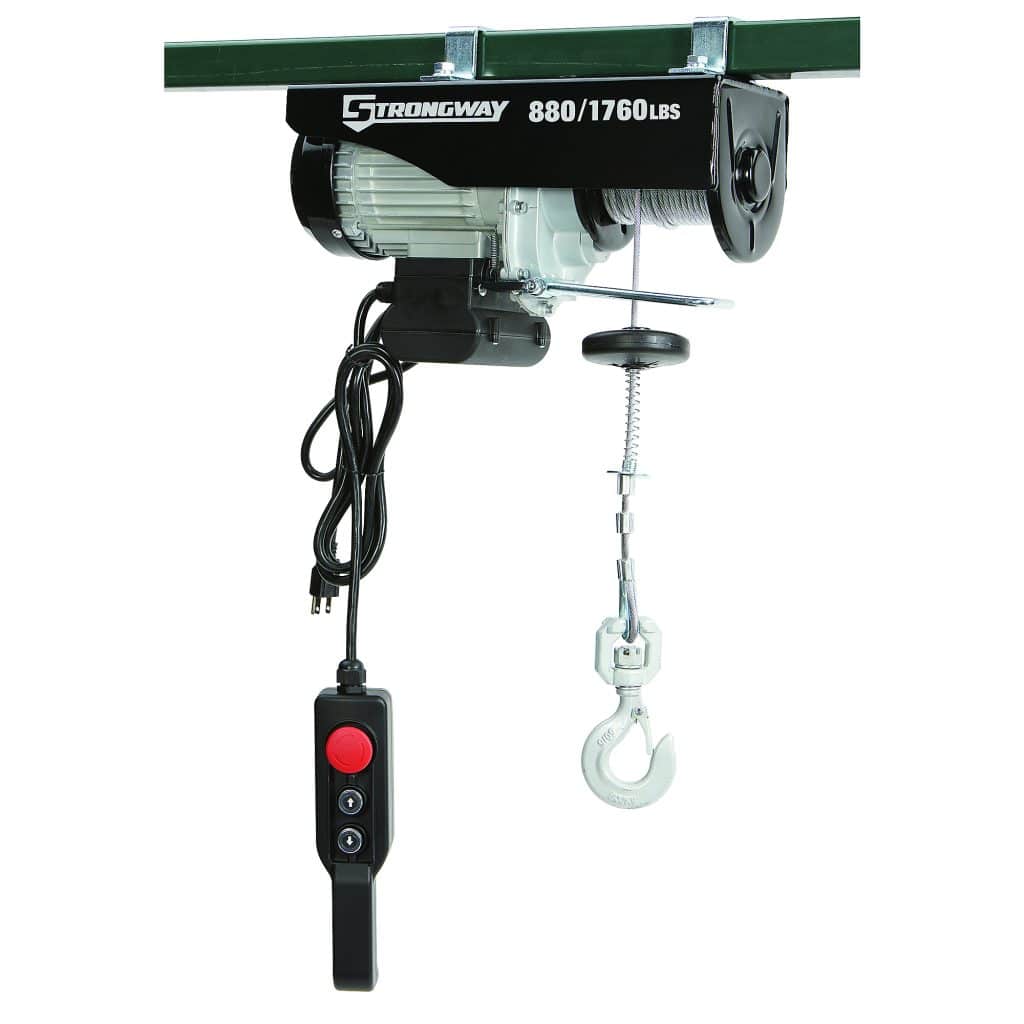 If the idea of manually lifting or lowering an engine doesn't sit right with you, Strongway has a solution. Meet the Strongway Electric Cable Hoist, a powered engine hoist you can operate with the push of a button. Think of it as a vertical, ceiling-mounted winch basically.
It's powered by a small yet sufficient 1.9 hp electric motor capable of lifting 880 lbs in a single-line configuration and up to 1760 lbs if you choose to go for a bigger with a double-line setup. Strongway's engine hoist allows for a maximum lifting range of 38′, meaning you can easily use it in high-ceiling garages. Of course, you'll need to take into account that the maximum lifting height is effectively halved when using the hoist in a double line configuration. Nonetheless, that's still 19 ft. high, which should still be more than enough for pretty much any residential garage and most professional repair shop.
You also get a convenient wired remote allowing for precise control over the hoist's movements. The potent motor will move loads at 33 feet per minute (FPM) when using the single line configuration and at 16 ½ FPM in a double line — you'll probably never need to take out an engine that fast unless you are in some kind of competition, but hey, too fast is always better than too slow, right?
In short, if your garage has a strong enough structure to hook the hoist to and you're running on a relatively tight budget, Strongway's electric cable hoist might very well be what you need. The powerful motor, wide lifting range, straightforward controls, and decent load capacity make for a great package. and the tested and true design will make sure it lasts you for years.
Highlighted features
Electric engine hoist
1.9 hp electric motor — 20% duty cycle
880 lbs (single-line) / 1,500 lbs (double-line) load capacity
Engine hoist weight: 42 lbs.
Overall dimensions: 16.14″ x 9.45″ x 6.1″
Max lifting height: 38'/19′
Pros
Small yet potent electric motor
Easy-to-use wired remote control with emergency stop button
Comes with all necessary mounting hardware
Suitable for use in high ceiling garages and workshops
Can reach speeds up to 33 FPM
One-year manufacturer's limited warranty
Cons
Forces you to compromise load capacity for extra lift height and vice-versa
Best Engine Cranes
The Strongway NT32002 is the first real engine crane on our list. It is a hydraulically operated unit featuring a convenient load leveler to make your life even easier. As the name suggests, the leveler attachment makes the engine sit flat even if the weight is not distributed evenly, so you don't have to waste time and energy finding the right mounting points.
In addition, since the NT32002 is an engine crane and not only a chain block, you can also use it to move the engine around or easily lower it to the floor to grab a replacement one. And when you are done using the crane, it can be folded and stored away in a jiffy.
Strongway's engine hoist can lift loads from 1,000 to 4,000 lbs. depending on how you set up the adjustable load arm. Once the load is hoisted mid-air, adjust the leveler to make it sit evenly, and use the six heavy-duty solid steel casters for easy maneuverability.
The Strongway NT32002 is the perfect budget engine crane; it offers a versatile lifting range (1" to 82 5/8"), decent load capacity, and a convenient foldable design. Moreover, the lead-free red paint finish will keep the crane looking new for a long time.
Highlighted features
Foldable hydraulic engine crane with a load leveler
1,000 to 4,000 lbs. load capacity
184 lbs. engine crane weight
Overall dimensions: 65" X 40" X 51.56"
Steel construction
1" to 82 5/8" lifting range
Pros
Easy to store foldable design
Adjustable load arm for different load capacities
Versatile lifting range
Comes with six steel casters for optimum maneuverability
Oil, dirt, and grease-resistant paint finish
Capable of operating at extreme temperatures
Cons
Some buyers have reported isolated minor fabrication issues
Torin's Big Red sub-brand has made a name for itself by consistently developing high-quality and reliable lifting equipment. Big Red makes anything from a simple floor jack to heavy-duty service and transmission jacks meant for various applications.
The T32001 engine crane is another example of the brand's fine craftsmanship and attention to detail. At first glance, it may seem somewhat similar to the previous model, but several subtle changes make a world of difference, making it worth the extra cost.
This model's advantage is by far the general build quality and superior manufacturing practices employed by Torin. Any product sold under the Big Red brand is sure to be exceptionally well put together and with minimal manufacturing defects. As a result, the steel frame can lift loads to 4,000 lbs. within a versatile range spanning 1″ to 78.5″.
If you are looking for an engine crane to lift engines and don't mind spending a few extra bucks on a truly reliable model, the Big Red T32001 is a very good option. You get the usual convenience features like steel casters, a durable hydraulic cylinder setup, and a corrosion-resistant finish—and all that for a fairly reasonable price. What's not to like?
Highlighted features
Foldable hydraulic engine crane
1,000 to 4,000 lbs. load capacity
186 lbs. engine crane weight
Overall dimensions: 56.25" X 21.25" X 7"
Heavy-duty steel construction
1" to 78.5" lifting range
Pros
Reasonably priced
Strong and durable steel frame
High-visibility and attractive bright red finish
Foldable design for easy storage
One-year limited warranty
Cons
The Owatonna Tool Company (OTC) 2004 engine crane is a true heavy-duty model. It features an all-steel frame made from thick sheet metal resulting in a high load capacity of 4,000 lbs. Of course, if you choose to fully extend the loading boom to its maximum position of 46″, load capacity drops to 1,000 lbs., like all previous engine cranes.
That is not to say the OTC 2004 is anything like the others, though—absolutely not. It may use the same foldable design, but it does everything better. For instance, the large front wheels and rear casters improve maneuverability and facilitate precise movement even over rough terrain (if your garage floor ain't exactly pristine, this is the one you want).
True to its impeccable reputation, OTC has only used quality materials combined with superior engineering practices to develop an engine crane capable of surviving continuous rough use. Therefore, the 2004 folding engine crane is the best choice for professional mechanics and technicians swapping engines on the daily. It may seem expensive at first, but it will probably be the last engine crane you will buy.
Highlighted features
Foldable hydraulic engine crane
1,000 to 4,000 lbs. load capacity
289 lbs. engine crane weight
Overall dimensions: 24" X 61" X 14"
Heavy-duty thick steel construction
24" to 46" load boom reach
Pros
Thick steel frame for added strength and durability
Large front wheels for precise positioning
Foldable design allows for easy storage
Decent load capacity
Four-position adjustable load boom
Cons
On the expensive side
Heavier than most
Alternatives
If for some reason, you aren't convinced by the idea of a traditional engine crane, you can easily make one on your own using a gantry crane, a manual trolley, and an engine hoist. There are numerous combinations possible, but we have used the Titan Attachments telescopic gantry crane, Vestil's QIT-1 steel trolley, and Big Red's manual steel chain block (in fact, this is what I would use if I had to build a gantry crane but of course, you can combine other products too).
The Titan gantry crane is quite versatile as it offers a variable height and base width according to your requirement. The height can be adjusted between 94″ and 144″ while the internal base width ranges from 94" to 123". Once set, use the locking casters to position and lock the gantry in place to easily lift and move your engine around (or even other loads, for that matter). The Vestil QIT-1 manual trolley will latch on to the crane's I-beam portion, and the chain block will provide controlled and precise motion of the engine when hoisted.
Admittedly, this isn't the easiest way to lift and transport an engine, but it does prove to be a more dependable method and will also allow to remove engines on much bigger trucks than a regular engine crane could (most cranes won't go high enough for a tow truck for instance). Most people won't need such a complicated setup, but if you do, this is what you need.
Highlighted features
Assembled engine crane
1,000 lbs. load capacity
426 lbs. engine crane weight
Overall dimensions: 88" X 22" X 15"
Heavy-duty thick steel construction
Pros
Adjustable height and width
Reliable setup will work when all else fails
Offers an extensive height range unmatched by traditional engine cranes
Also suitable for other loads
Easy to use
Cons
On the expensive side
Low load capacity of one component can limit the entire setup
Bulky assembly
Accessories
The Torin Big Red engine hoist accessory is an excellent addition to any engine hoist or crane you might have. Experienced mechanics will know that when removing a transversal engine, the gearbox often has to be removed with it.
However, since you can't always find decent, equally-distanced attachment points, this can create imbalance as the load's center of gravity will be off. Put simply, the engine won't lift straight. And unfortunately, keeping it as level as possible is imperative to prevent it from swaying from one side to another and align the mounting points during the re-installation process. Put even simpler, an engine level will make sure the engine stays level, making your life much easier, in all cases.
While you would usually need to lift the engine, lower it back, move the chain, try again, still crooked, go back down, move the chain one link to the left, try again, etc., a load leveler will do all the hard work for you. The clever threaded shaft allows you to re-align the center of gravity, keeping the load level at all times. All you have to do is use the hand crank lever to find the best position.
The leveler is rated to carry loads up to 1,500 lbs. safely and comes with 14″ chains with an L-bracket on one end to securely hold the load. You also get three different positions for mounting the chain assembly based on the balancing requirements of each task.
If you decide to purchase a new engine hoist or engine crane from the options in this list, we highly recommend adding the T32100 load leveler to your shopping cart as well. It is fairly inexpensive and since it will save you tons of time in the shop, it will pay for itself in no time.
Highlighted features
Load leveler engine crane accessory
1,500 lbs. load capacity
3 lbs. engine crane weight
Overall dimensions: 18.9" X 9.8" X 8.5"
Steel construction
Comes with 14" chains
Pros
Inexpensive engine crane accessory
Ergonomic design
Hand crank lever for precise movements
Three-position chain adjustment for optimum flexibility
High value for money
Cons
Threaded shaft needs frequent lubrication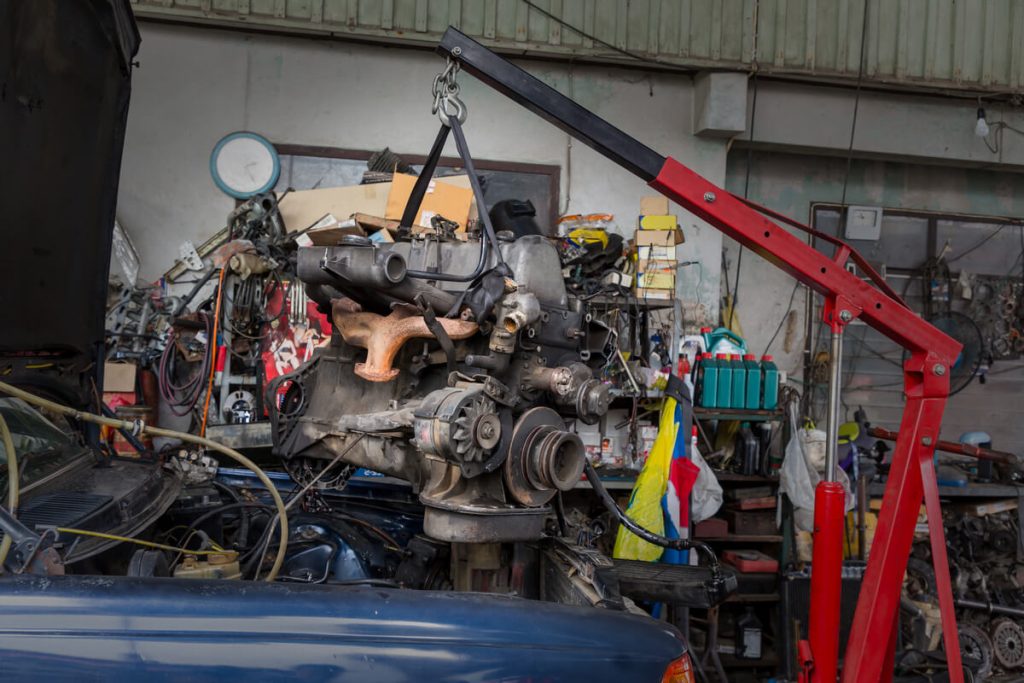 Types of Engine Hoist
Based on the mode of operation, type of construction, and capabilities, engine hoists can be divided into several categories:
Manual hoists
As the name suggests, manual engine hoists are operated by hand using either a cable or chain mechanism. The mechanism is designed in such a way as to provide a significant mechanical advantage, so you don't have to bear the engine's entire weight.
They work well but require some elbow grease.—they are quite cheap, though.
Electric hoists
Electric engine hoists use a small electric motor to do the heavy lifting for you. Simply operate the motor using the remote control and raise or lower the engine at will. These engine hoists can be especially suitable for repair shops and garages where mechanics work on several vehicles on any given day.
They work well, no elbow grease required and still somewhat affordable.
Read more: Best Floor Jacks Made In The USA (2021) – Don't Buy Before Reading This!
Engine cranes
An engine crane allows you to raise, lower, and transport the engine from one place to another. It features a robust design combined with sturdy steel construction and casters to facilitate movement on the garage floor.
They are the most widely used model nowadays, mostly due to how convenient they are without breaking the bank.
Gantry crane setup
If an ordinary engine crane doesn't tickle your fancy or is simply not enough for the kind of work you do, you can customize your setup by combining several components that fit your needs. A gantry crane setup gives you unmatched flexibility thanks to wide height and width ranges.
Unfortunately, they are significantly bulkier and pricier than any other method mentioned above. But sometimes when you need to go big, smaller cranes just won't be enough.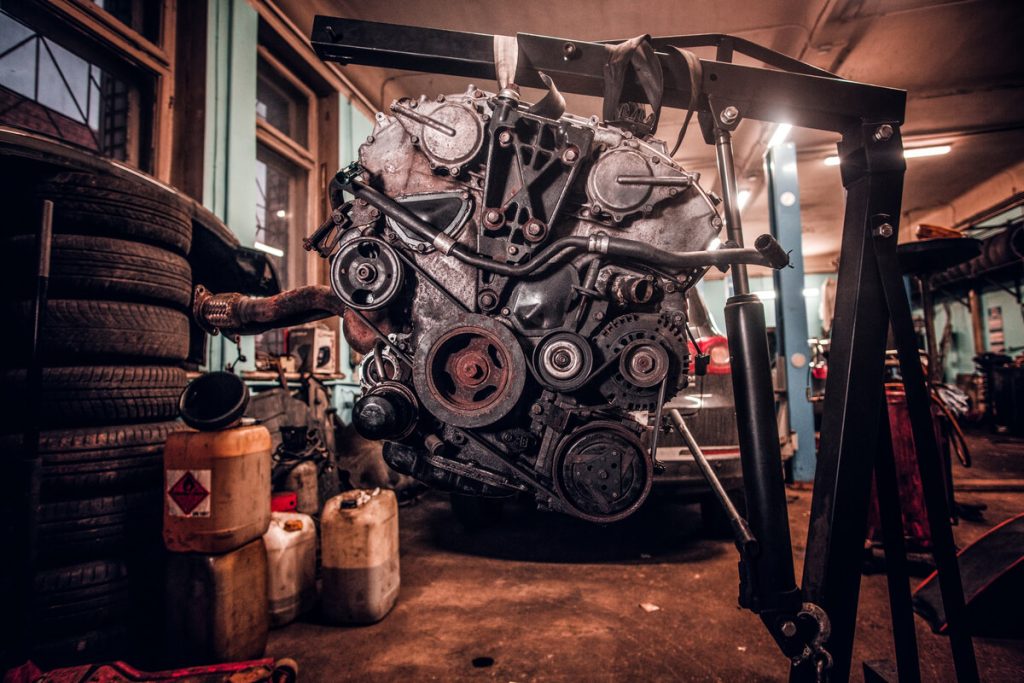 What to Look for When Buying An Engine Hoist or Crane
Load capacity
One of the first questions that come to mind when shopping for engine hoists is the model's load capacity. If the hoist cannot support your engine's weight, it becomes virtually useless. Luckily, engines in regular cars are not that heavy, tipping the scale anywhere between 350 and 500 lbs., excluding the transmission and other related components.
However, if you are looking to buy an engine hoist for use in a repair shop, you need to prepare for much heavier engine. We recommend getting an engine hoist with a minimum of 2,000 lbs. load capacity for such situations. A high load capacity also allows you to use the hoist for other applications around the shop, like lifting heavy machinery or a body off a chassis (of course, you can also do that using an automotive lift but if you don't have one, a pair of chain blocks can also do just fine).
Type of engine hoist
To decide the best type of engine hoist for your needs, it is essential to analyze your usual work environment and make a decision based on the findings. For example, if you are a weekend DIYer who rarely needs an engine hoist, there is no point in getting an expensive electric model; a manual hoist will do just fine. However, that's only true if you can hook it up to something strong enough above.
As a general rule, if it's meant to be used in your home garage or in a repair shop, you're probably better with an engine crane anyway.
Boom range
Boom range on an engine crane refers to how far the loading boom can extend away from the body. A high boom range lets you access mounting points deeper into an engine bay without any issue. However, load capacity will be compromised when the boom is at its maximum outward position due to its cantilevered nature.
Maneuverability
When going for an engine crane, the ability to move the engine around is the most significant advantage over chain blocks. To ensure it's utilized to its full potential, get an engine crane with high-quality casters for better rolling resistance. Moreover, if you frequently operate on rough ground, buy a model with large front wheels for better maneuverability and the ability to tackle minor obstacles with ease.
Storage space
There's no denying the fact that engine cranes are sizeable tools that can take up a lot of your garage floor when not in use. Luckily, most models feature a folding design allowing for easy storage to counter this problem—but not all of them—so look out for that.
Flexibility
Although an engine hoist is designed to lift engines, you can also haul other heavy objects around the shop. Go for a crane with a higher load capacity and lifting range so you can also use it for a wide range of applications, as, when and if necessary.
Verdict
We hope this article helped in your quest for the perfect engine hoist or crane, depending on your specific needs and budget. An engine hoist is an excellent addition to your tool arsenal as it gives you the ability to lift engines and other heavy loads effortlessly.
Of course, our list includes several models, and each is best for different applications, so there is no clear winner here. Instead, we recommend analyzing your requirements and choose a model that suits you best. Different mechanics have different needs and personal preferences after all, right?
Just make sure to get one that is right for you.