Just before we moved into our new home a couple of years ago, I sold a bunch of stuff locally, including my 24′ extension ladder and two smaller A-frame ladders. I kept one smaller A-frame, thinking I'd be fine given that this new house isn't two-story.
Whoops.
Turns out, I needed an extension ladder a few weekends ago to hang our RING Floodlight Cameras. Needless to say, my wife was super-happy that I had to replace a ladder that I'd just sold for much cheaper than a new one costs. ????
I did a quick online search to see which extension ladder I wanted to go get but got distracted by the Little Giant Ladder Systems.
Little Giant offers quite a few models of their multi-position ladders and, as I discovered while conducting research for this article, it can get a bit confusing. Because I hadn't done any research before buying, I landed on the 22′ Little Giant Leveler M22.
Okay, let's dive-in and take a closer look at the Little Giant Leveler M22 multi-position ladder…
Build Quality, Design & Features
The ladder is packaged (for lack of a better term) in its most compact configuration—all closed-up and ready for storage. In this configuration, the ladder measures about 5-1/2 feet tall and about 26″ wide at its widest point at the bottom. The top end is about 18″ at its widest point. From front to rear, the ladder is about 8-1/2″ deep, while folded for storage.
This ladder is all-aluminum with some plastic and steel parts here and there. It is a Type 1A ladder, supporting up to 300lbs. It is somewhat heavy, weighing in at about 45lbs., but still not too far off from a typical 33lb-38lb 8′ aluminum A-frame or 24′ aluminum extension ladder. Obviously, ladder weights vary by type and brand.
One nice thing about the M22, given its weight, is that it has wheels on one side at the bottom. This really helps to move the ladder around on various surfaces. Little Giant calls the wheels-on-a-ladder feature "Tip & Glide," which makes a lot of sense—you tip the ladder and glide it on its wheels. The plastic wheels are static, so they don't rotate and you can't reposition them. You just pull the ladder along as you would a wagon. We hauled the ladder across both cement and grass and it glided along just fine on both surfaces.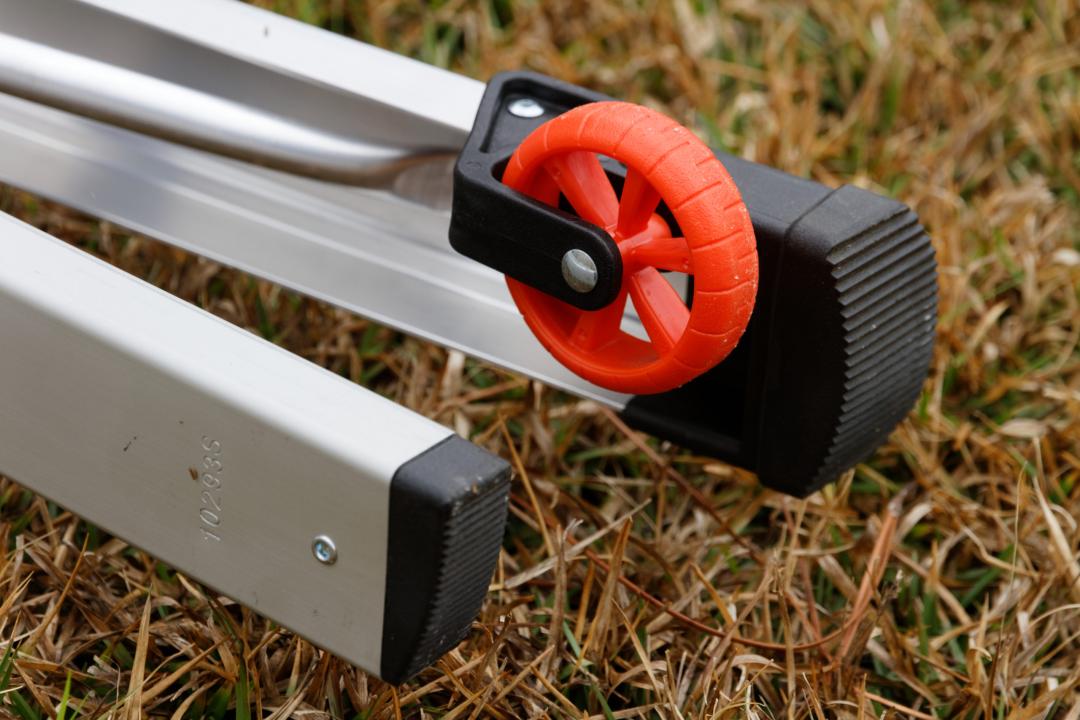 The outer rungs on the M22 ladder are slightly smaller than the inner rungs—1″ vs. about 1-3/8″. We're not quite sure why but it does add more of a footprint when standing on the ladder in its most compact stepladder configuration. It also provides just a little more confidence the higher you climb on the ladder since the inner ladder is the portion that extends upwards. The rung grooves make for a solid gripping surface for your feet, as well. Always wear shoes on a ladder, kids!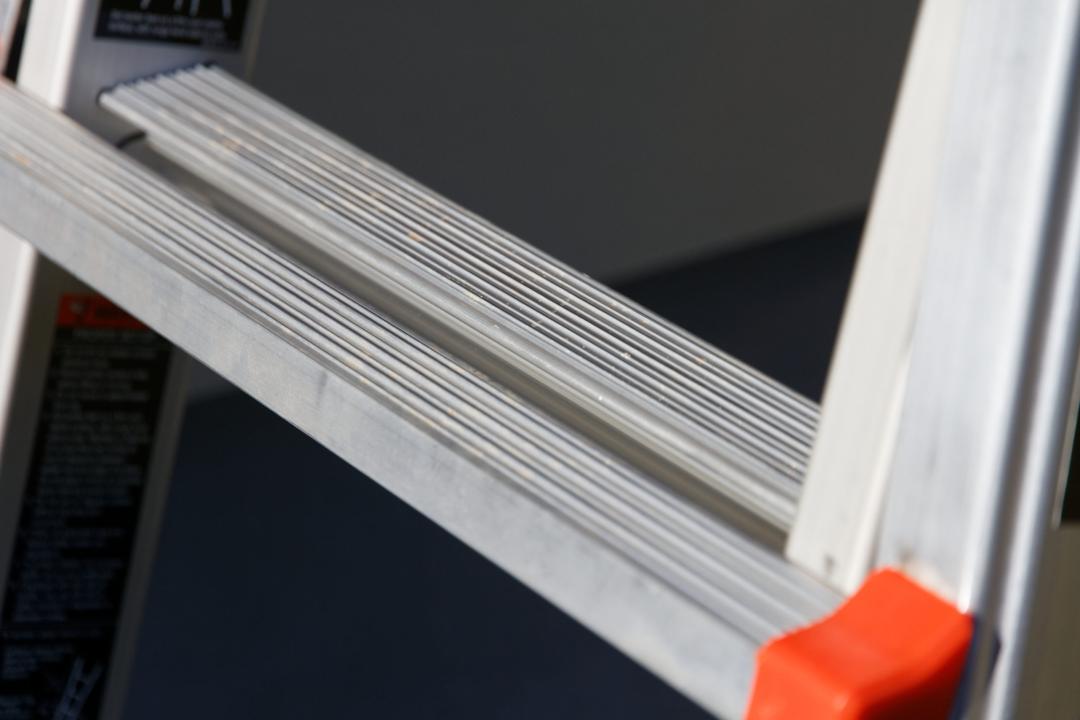 It's also great that, unlike most A-frame ladders, this is a two-person ladder—you can climb on both sides of the Little Giant ladder. That's something we wished we had when renovating our previous home, where it took two people and two awkwardly positioned ladders to hang a huge ceiling fan.
Multiple Positions
At the top outer assemblies of the ladder, when folded for storage or in its stepladder configuration, there are two hinges with orange and black plastic knobs on the outside of each. These two "Palm Buttons," coupled with the black "Rapid Lock" fasteners under them, are where the magic happens with these multi-position ladders.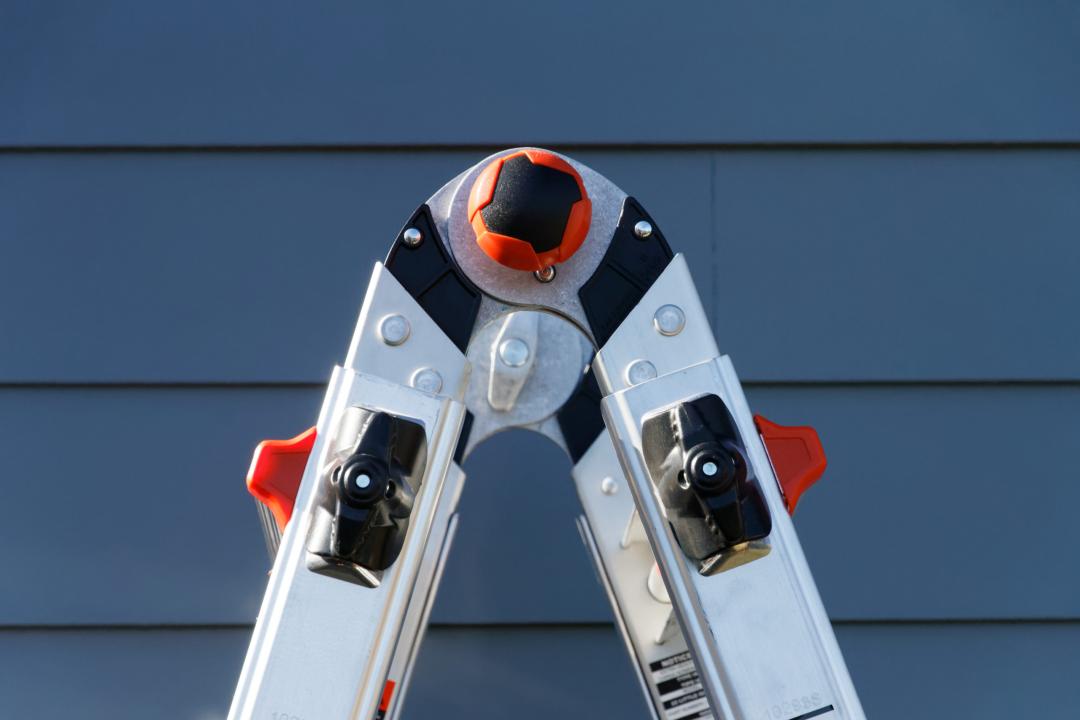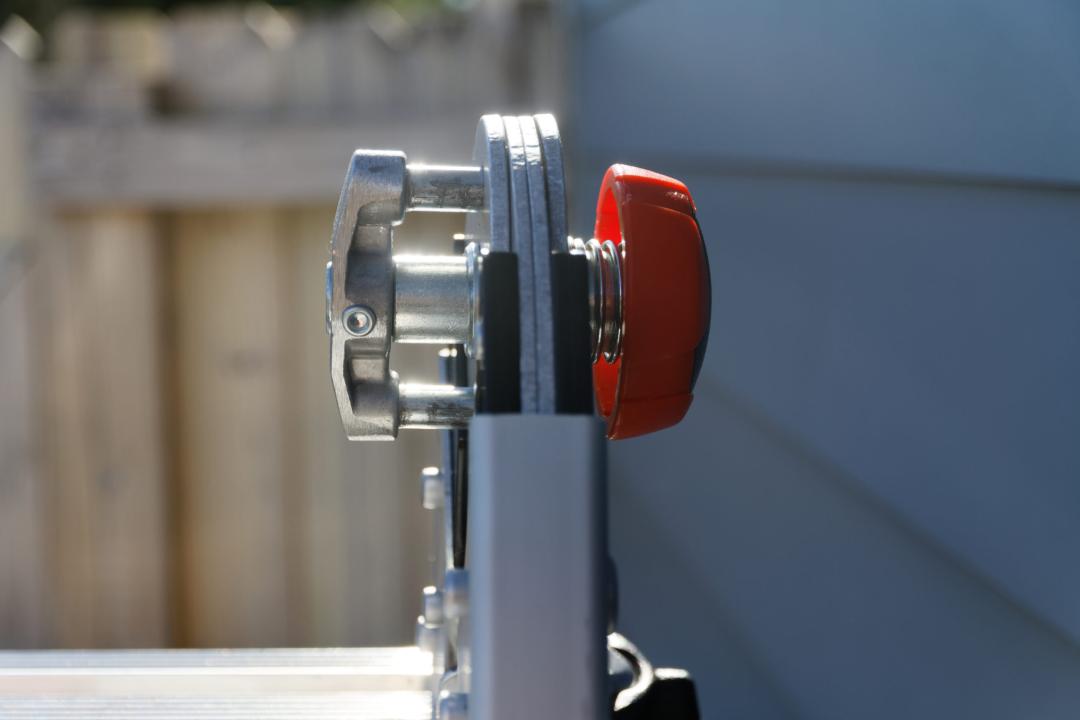 Stepladder Mode
Pushing each palm button in will disengage the hinge locks, allowing each side of the ladder to swing in and out. For example, the most common configuration for me personally will likely be the A-frame or stepladder mode To get there from storage mode, we'll press the palm buttons in until they disengage the hinges. Then, we'll pull both sides of the ladder out just a little bit until those palm buttons lock back into position, thereby locking the ladder into its stepladder configuration.
While still in stepladder mode, you can then twist and pull the black "Rapid Lock" fasteners, located under the hinges/palm buttons, 90-degrees, thereby disengaging their locks in order to raise or lower that side of the ladder. If you raise both sides (which you should do one side at a time, locking that side before moving on to the other), you'll simply raise the height of the entire ladder—it will still be in stepladder or A-frame mode.
Warning: Whenever raising or lowering the Litle Giant M22 ladder, make certain that all four "Rapid Lock" fasteners are locked before climbing. When locked, they will be oriented in-line with the ladder rail. When unlocked, they will be turned 90-degrees. When raising or lowering the inner ladder, use the palm button, not the ladder rungs or you may seriously hurt your hands or fingers.
See Also: Ladder Lockdown: A Ladder Stabilizer from Mike Holmes
Staircase Mode
Raising the ladder on just one side and then locking it back into one of the many holes along each side rail of the ladder will put the ladder into staircase mode. In this mode, you can place the shorter end of the ladder at the top-end of the staircase and the longer end at the bottom. The shorter side should have a slight cant—the ladder should be at a 70-degree angle, not positioned at 90-degrees. Not that anyone pays attention to them but there are lots of stickers on this ladder explaining proper use and safety precautions. You should probably read them, at least once.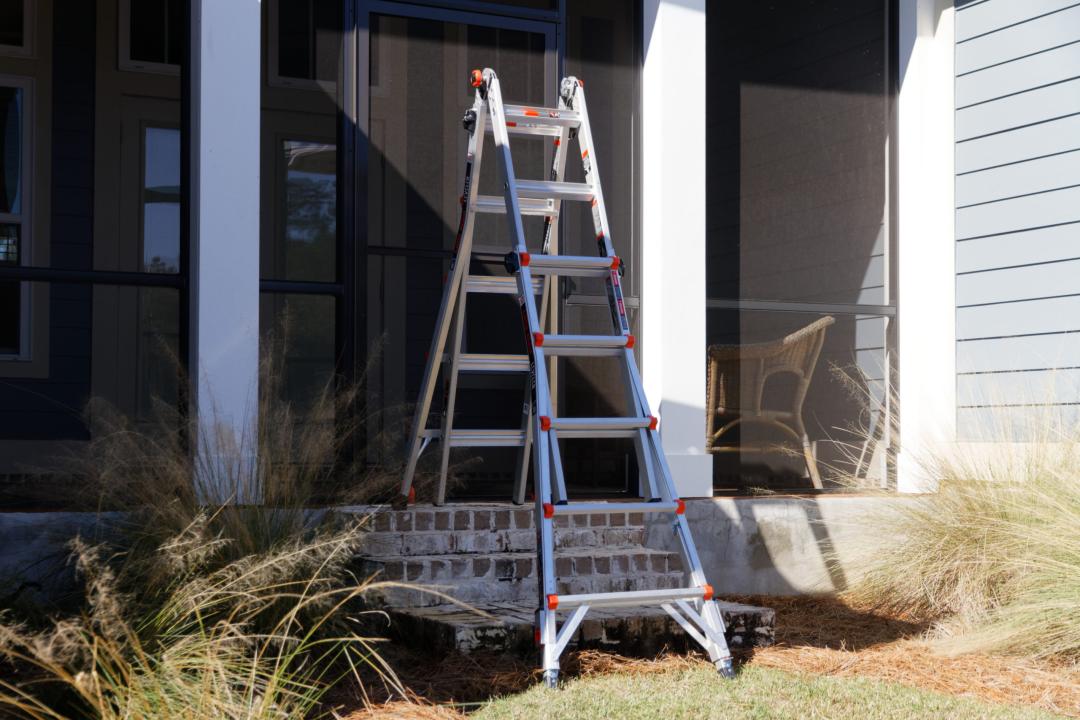 90-Degree Mode
Similar to staircase mode, the M22 can be positioned with one side at a 90-degree angle. This allows the top of the ladder to be closer to whatever it is you're trying to reach or for situations where you don't have enough room for an A-frame ladder. Note that you should not climb the vertical side of the ladder and it should be on a solid, stable surface. Warnings, warnings, everywhere! Ladders can be dangerous, friends.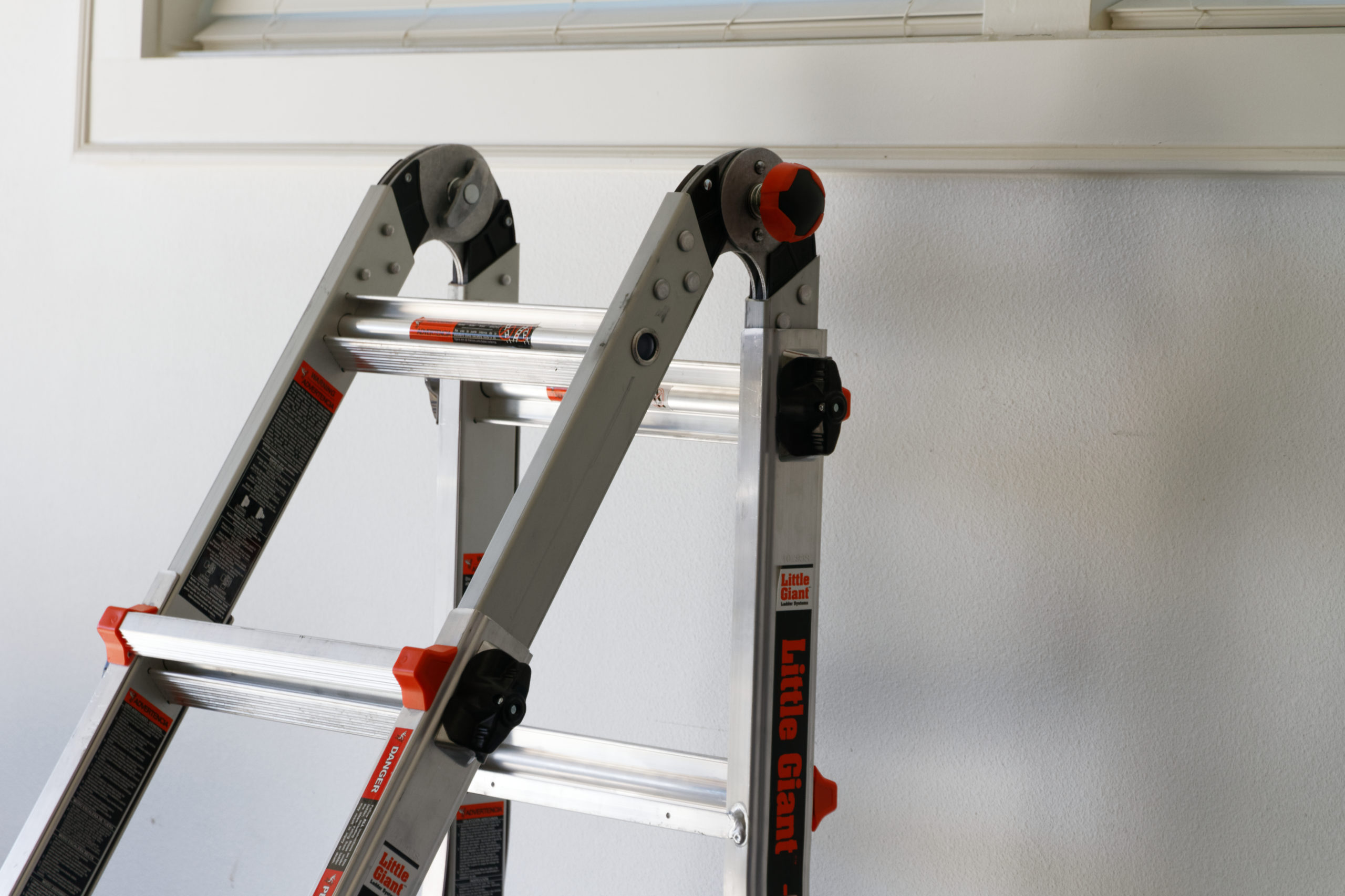 Trestle/Scaffolding Mode
The M22 actually consists of three separate ladder pieces There is an inside ladder, where both sides are held together by a locking pivot point or hinge, that slides into two outer pieces. It's a bit tough to explain but if you take the inner ladder out from the top, the two outer pieces will fall away. You could also lay the ladder flat and pull each outer piece off on either end of the ladder.
Little Giant includes with the M22 the trestle bracket accessory kit with two brackets that connect at the tops of the two outer pieces, creating a second trestle when all three pieces have been disconnected from one another. This two-trestle configuration gives you the option of placing a plank in between them for a scaffolding setup of sorts.
The company also sells a few different sized telescoping aluminum planks for this purpose but they cost about as much as the ladder itself. They also suggest you not place any scaffolding plank above the third rung on each trestle. That's quite low to the ground, so I'm not sure just how useful all of this would be. It would've been nice if they would include the trestle brackets with the ladder, though, and you could use a strong wooden plank instead of their expensive aluminum one.
I didn't get to set up the ladder in trestle mode before I pushed this review to show you what it looks like, but here's a photo from Little Giant's website with the trestle brackets installed on the right trestle and using the optional Little Giant aluminum plank, which does look nice and sturdy. Also, why is he painting with a dry brush and why isn't she helping him?? ????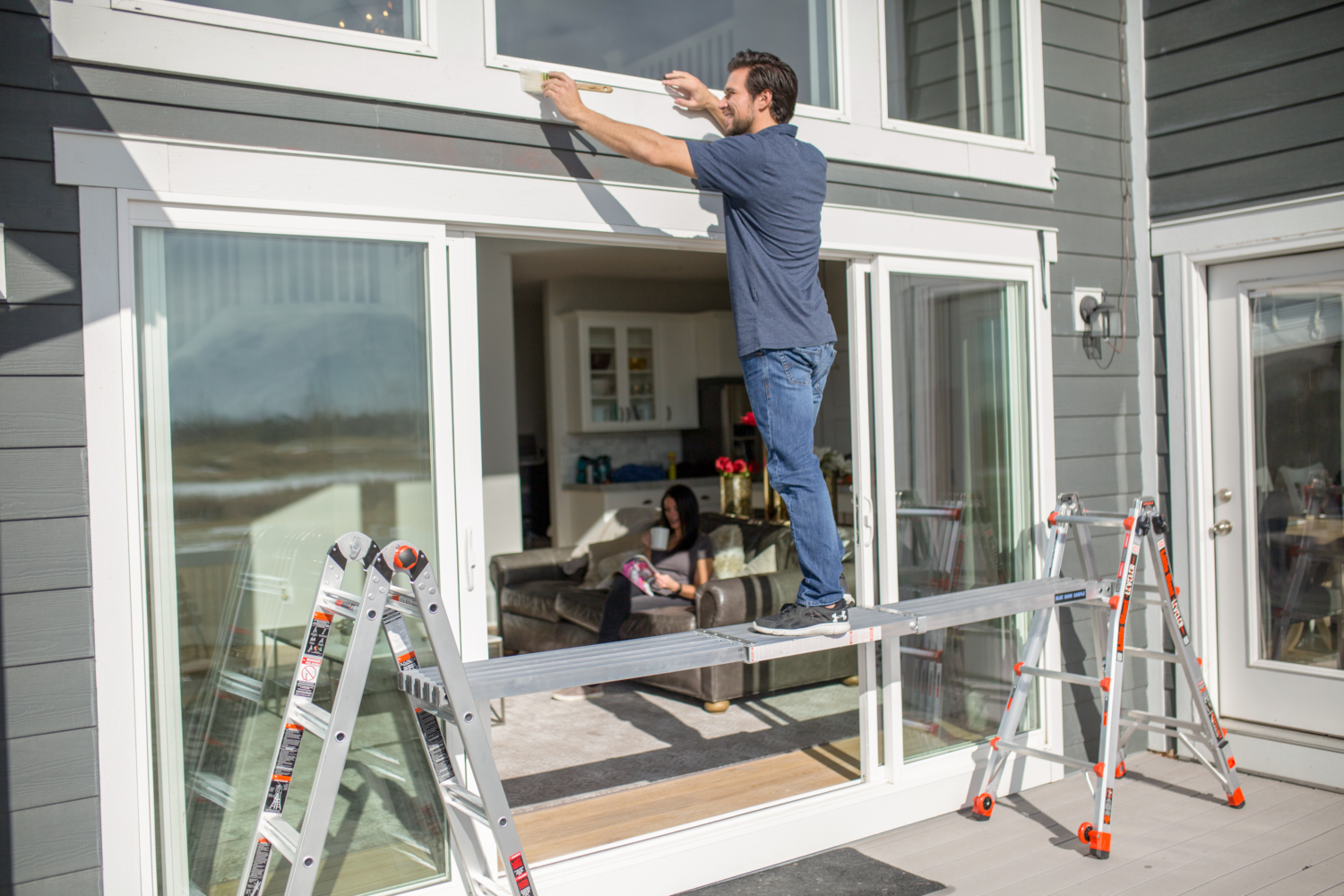 And here is a video from Little Giant showing how to convert the ladder into two trestles:
Extension (Straight) Ladder Mode
When going from stepladder to straight ladder mode, you'll lay the ladder flat and unlock the two top Rapid Locks first. You should always extend the top of the ladder before the bottom because the bottom is where the weight of both the ladder and the person climbing it will be concentrated.
After you've extended the top half as far as you'd like, you'll then extend the bottom half, until you reach the desired height. Remember: for every 4′ up the ladder will be, it needs to go back one foot at the bottom. Keep that in mind while adjusting the ladder on the ground.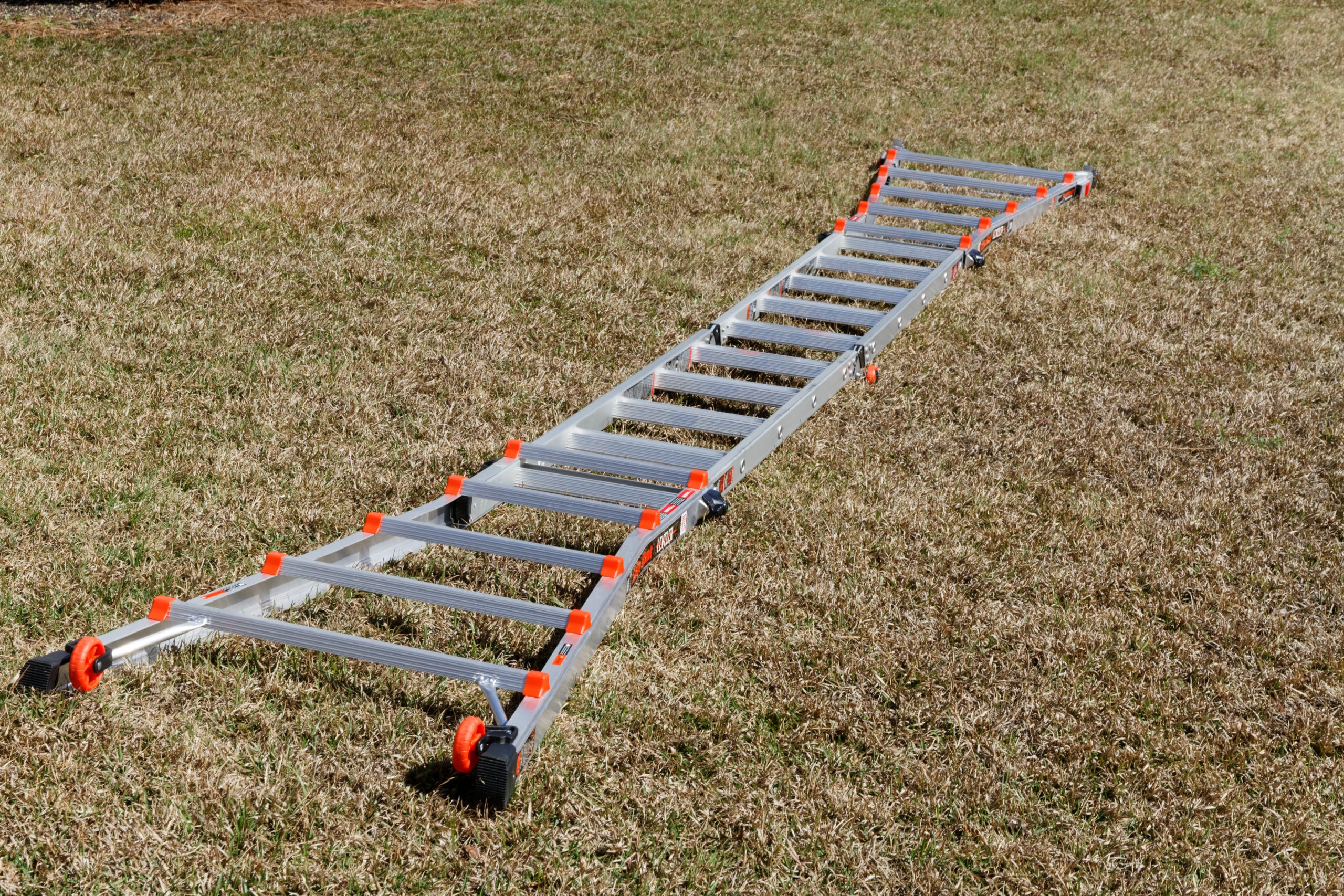 Once the ladder is as long as you want, you'll flip it over so the rungs are facing down, the wheels are at the top facing out, and walk the ladder up the wall, from the top, hand-over-hand until it is securely in place. You'll reverse these steps to bring it down.
For me, this was a challenge in some cases and impossible on the backside of our house because we live on a fairly steep incline. "Walking" a 22′ or even 15′ ladder up from the bottom of that incline isn't possible unless I learn how to turn into Stretch Armstrong. A standard extension ladder, with its pully system, would work because I would lean the ladder against the house first and then raise it. You can't do that with this Little Giant ladder.
Ultimately, I did man-handle the ladder into place, as you can see below. Once I did, the ladder was plenty secure. I probably should've taken a selfie on it (I didn't have another person with me).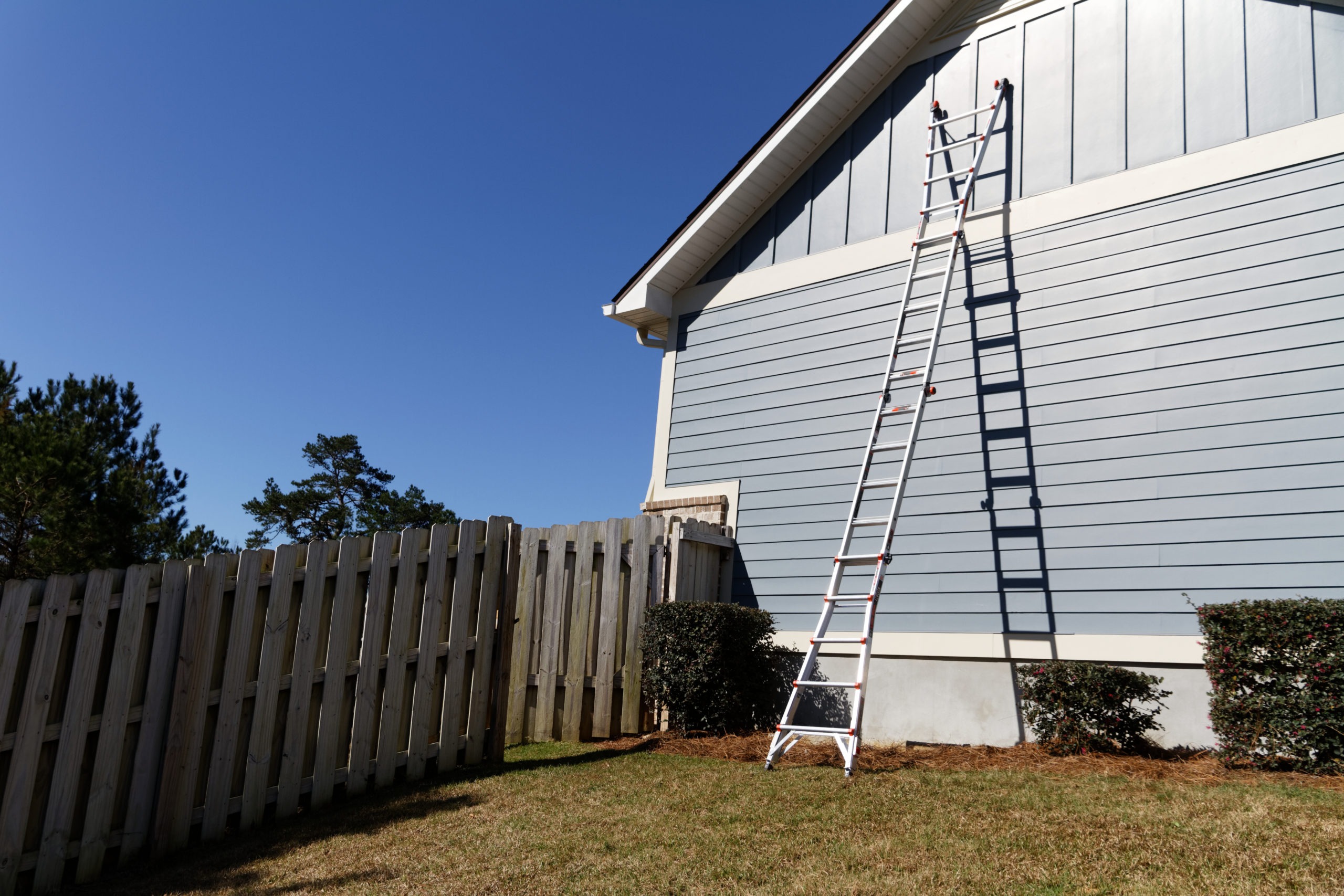 Note: We should point out that this ladder, fully extended, is not 22' but rather about 19'. Little Giant identifies the M22 as a ladder with a 22' maximum reach. ANSI (American National Standards Institute) dictates that maximum reach is calculated by the highest safe vertical standing level—not on or above the top three rungs of an extension or the top two rungs of a stepladder—plus 6'6". You really shouldn't ever stand on the top rung of a ladder.
Leveling Feet
The Little Giant Leveler is named as such because a key feature of the ladder is its two leveling legs. Built into each front leg is a ratcheting aluminum extension that can be operated by using your foot to push down on a small metal tab or kick-plate. These spring-loaded extensions are adjustable up to about 7″ and are used solely to level the ladder on uneven surfaces, not for gaining additional height.
On an uneven surface, you can extend one side but not the other or extend both sides to different heights. The goal is to ensure the ladder is completely level before climbing it.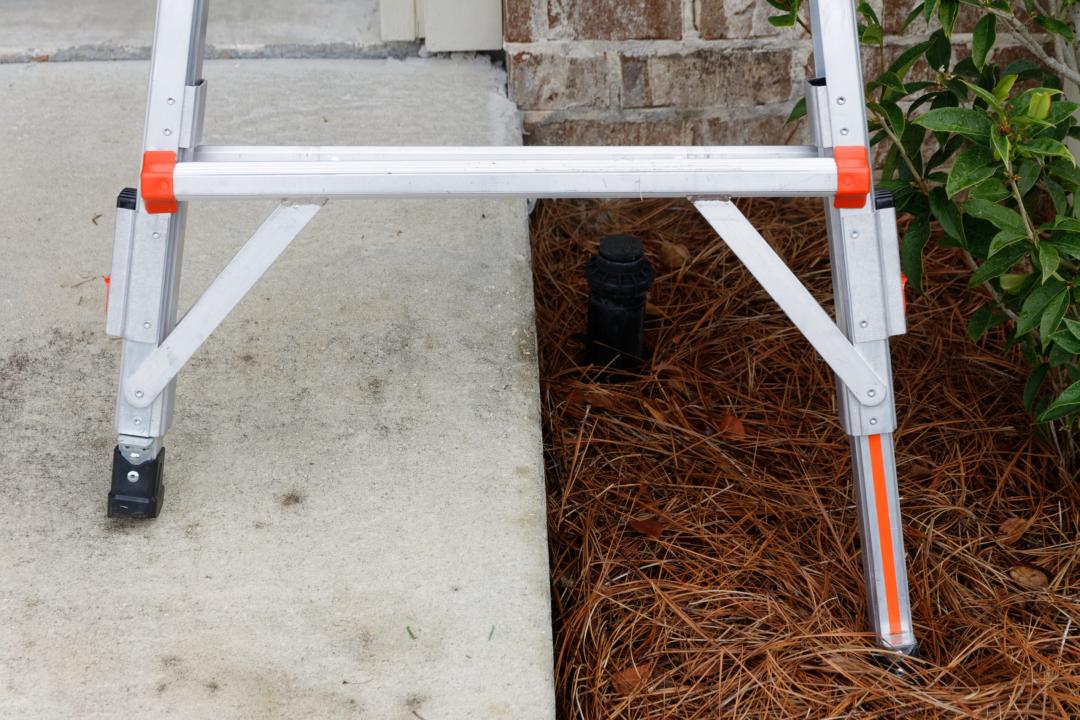 To retract the leveling feet, you'll simply pull up on the orange switch just above and to the side of the feet—one on either on the side—and they will automatically spring-snap back into their retracted positions.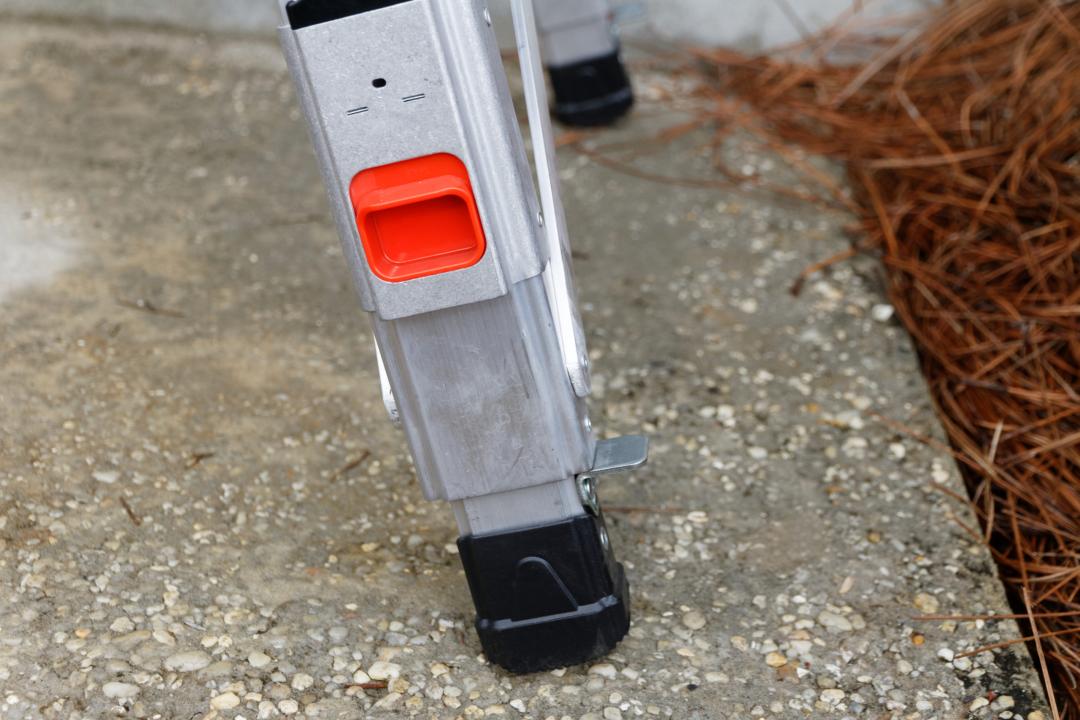 Because these levelers are only on the front legs, using them in stepladder mode (the A-frame configuration) can be dangerous, as the other side of the ladder might become be uneven, as shown below. You can see that the right rear leg is not touching the ground and could cause the ladder to tip over. That would be bad. Bottom line: If you need to level your ladder, just make certain that all four legs are firmly planted on the ground.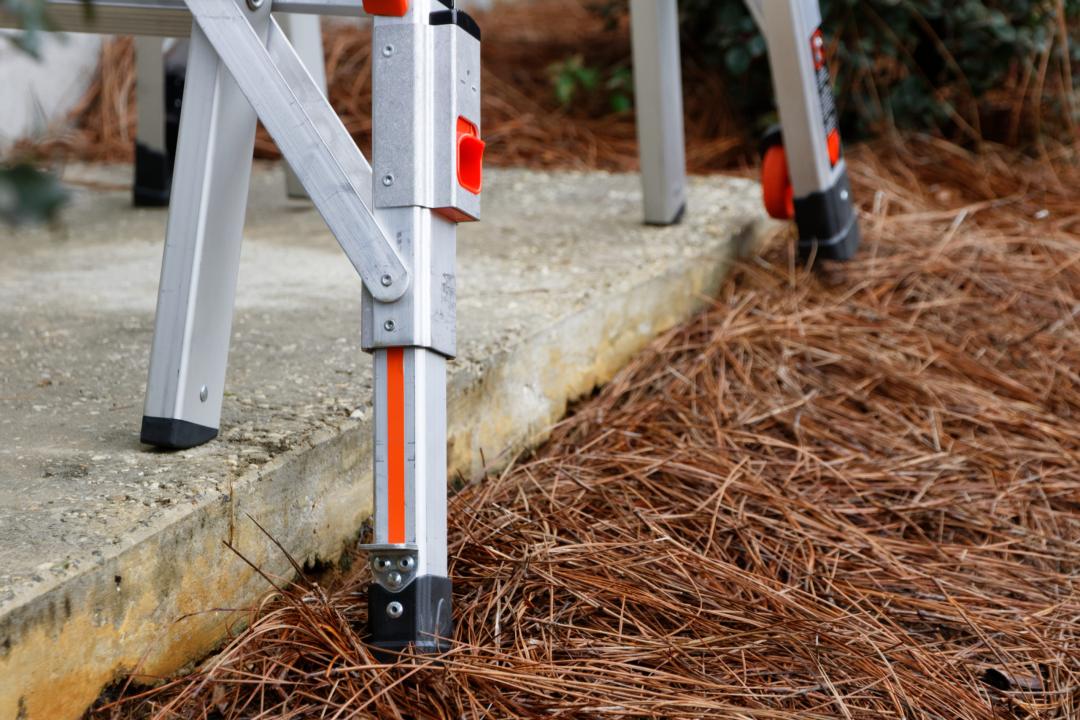 All the Things
We thought it would be helpful to include the official Little Giant Ladder Systems excellent video explaining how to quickly configure their multi-position ladders, including using the leveling feet.
Performance
We configured this ladder in as many different positions as we could and it worked great. After some practice, getting in and out of the various modes became quick and easy. You may need to dry-lube the ratchet levelers from time-to-time and there is a small hole above them for this purpose.
Climbing up the ladder while extended to about 15′, there was some flex at the hinges. I wasn't concerned that the ladder would collapse nor did I ever feel unsafe but it was a little unnerving at first. Lots of ladders flex, but I don't think my 24′ standard extension ladder did so quite this much. I did flip the ladder, as per the instructions, and the wheels were correctly facing out at the top.
The skinnier 1″ inner rungs, once the ladder is extended past the outer rungs, can begin to fatigue the feet and legs a bit if you're up there a while. I had to take a few breaks during one project that had me on the ladder for about 15 minutes at a time. There is an aluminum work platform that doubles as a much larger standing surface rated for 375lbs that I may look into getting to help with this issue.
Final Thoughts
The Little Giant Leveler M22 is a strong, stable ladder that will likely replace the one A-frame I kept when we moved, and probably one or two of our larger step-stools we use for painting indoors. Unfortunately, it doesn't come with any accessories but, as noted above, they are available.
Really, the only major downside for us is, again, walking the ladder up a wall, in extension mode, from the bottom of an incline. For us, it wasn't possible. Not quite sure how we'll address that yet but it's not a deal-killer… we still really like this ladder and would recommend it to almost anyone who needs either an extension or A-frame ladder or is looking to replace their existing ladders.
Little Giant Ladders, Revolution, M22, 22 ft, Multi-Position Ladder, Aluminum, Type 1A, 300, 300 lbs...
Multi-position ladder converts to stepladder, extension, trestle-and-plank, 90-degree and...
Metal Rock Lock adjusters instantly alter your ladder into different configurations.
Type IA ladder is rated to hold 300 lbs.
Meets or exceeds all OSHA and ANSI standards.
B0046LVG1Q (Revolution 22') doesn't include Ratcheting Levelers. View B00OS7P1VE for...
Rating Criteria
Heavier and more expensive but also more flexible and useful than a standard A-frame ladder. The ability to quickly reconfigure, climb on both sides, wheel it around, and adjust the legs for uneven surfaces make this ladder a great choice.