Trying to get older bump-feed grass trimmers to actually spit out new line sometimes ends in a fit of rage, bashing the thing on the driveway, only to realize it's fresh out of line and you've got to go spend 10 minutes winding-up a new spool. Maybe that's just me.
Most trimmer line depletion occurs when trimming or edging around hard surfaces, like concrete or fences. The line ends up shredding and you've got to stop to bump, pound or slam the trimmer on a hard surface to advance new line. Well, now you won't have to.
The new [easyazon_link identifier="B018S68U40″ locale="US" tag="garagespot05-20″]WORX 20V GT 3.0 Trimmer/Edger with Command Feed™ ($99.99)[/easyazon_link] delivers ¼" of line at the push of a button. There's no down time trying to get new line to advance.
Ahhhh… sweet relief!
The GT 3.0 is made of lightweight aluminum, incorporates an adjustable telescoping shaft that extends to match the user's height and posture when trimming, and an adjustable handle for control and maneuverability. The rear handle is also pitched approximately 70° to fit naturally and comfortably in your hand.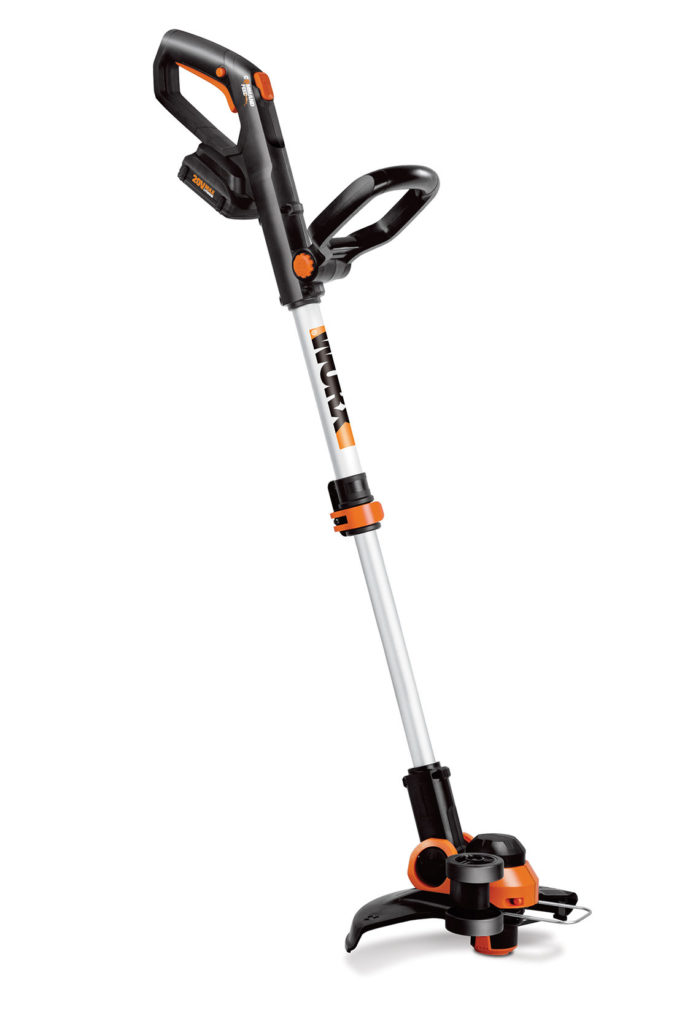 The GT 3.0 has a 12″ cutting swath and an adjustable metal spacer/guard to help keep the trimmer's line from cutting into flower beds, tree trunks, lawn ornaments and other sensitive areas. Unlike other trimmers, the GT's shaft tilts from 0 to 90° to allow for trimming underneath decks, shrubs and other obstructed, hard-to-reach areas.
The trimmer operates at a no-load speed of 8500 rpm, driving the single, durable line (0.065 in, diameter) through grass, weeds and light brush. There's no fumbling with spool changes, either. WORX incorporates a quick-change, snap-in spool system and includes 10′ of trimming line.
Oh, and you can get free spools for life! The company's "Spools for Life" program begins once the GT trimmer is registered—you'll receive free spools for the life of the tool, paying only for postage. Nice!
And let's not forget that the GT 3.0 is also an edger. Its twist-and-edge feature easily converts the trimmer into a wheeled, walk-behind edger for edging driveways, sidewalks, walkways and patios. The GT's wheels help guide it without having to eyeball a steady line.
The [easyazon_link identifier="B018S68U40″ locale="US" tag="garagespot05-20″]WORX 20V GT 3.0 Trimmer/Edger (WG163, $99.99)[/easyazon_link] includes two, 20V 2.0 Ah MaxLithium batteries (~20 minutes run-time each under normal conditions), 5-hour charger, and spool of line. The trimmer is covered by the WORX 3-year warranty.
[button color="orange" size="medium" link="http://amzn.to/2atNlkU" icon="" target="true"]Buy Now[/button]