There are a TON of birds that congregate off and on almost all day on our back/side yard deck. We spend a good fortune on bird food (which the squirrels, raccoons, opossums, and probably other critters enjoy, too) every month.
Surprisingly, there is very little "poo" around the area, but the bird food itself and just good 'ole time have weathered and mildewed the deck to the point where it was time to tackle it last weekend.
I broke out the RYOBI 2300 PSI electric pressure washer, added a little soap, and got to work.
After about 15 minutes, I realized that the wand alone just wasn't gonna cut it. I tried various tips, ranging from 15° to 40° but it was too slow and too tedious.
I already knew there were surface attachments available for pressure washers, but I didn't have one nor had I ever used one. Today was the day.
I searched online a found the RYOBI 12in Surface Cleaner.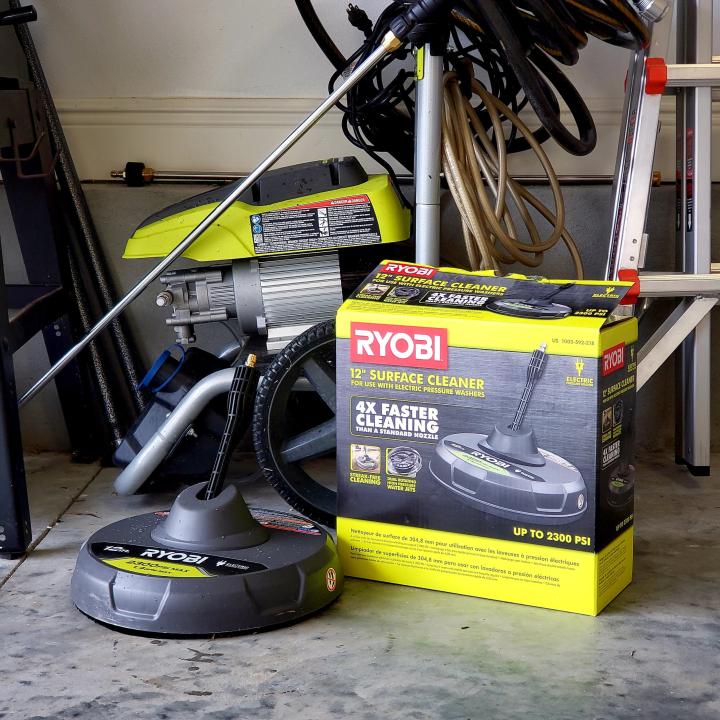 They also sell a 15in RYOBI Surface Cleaner(picture below), but that was designed for gas-powered pressure washers with higher PSI output. It was also a lot more expensive. We have a few pressure washers around here, but the RYOBI 2300 electric is the machine I already had set up and ready to go.
Right out of the box, the attachment is ready to go. It simply clicks onto the pressure washer wand, just like any other attachment, extension or nozzle.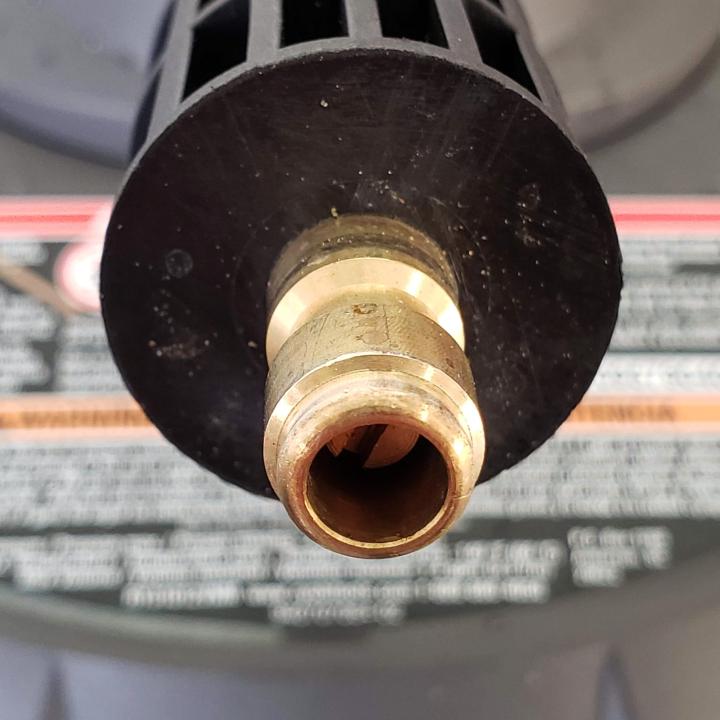 The product itself is "just okay," in terms of quality. It's made of somewhat sturdy black plastic but not the same plastic that surrounds most RYOBI tools. In fact, I believe the 15″ version of this attachment, designed for 2500-3300 PSI gas pressure washers, is made of stronger plastic and is adorned in the recognizable RYOBI green color. It's fine, but it is a little flimsy.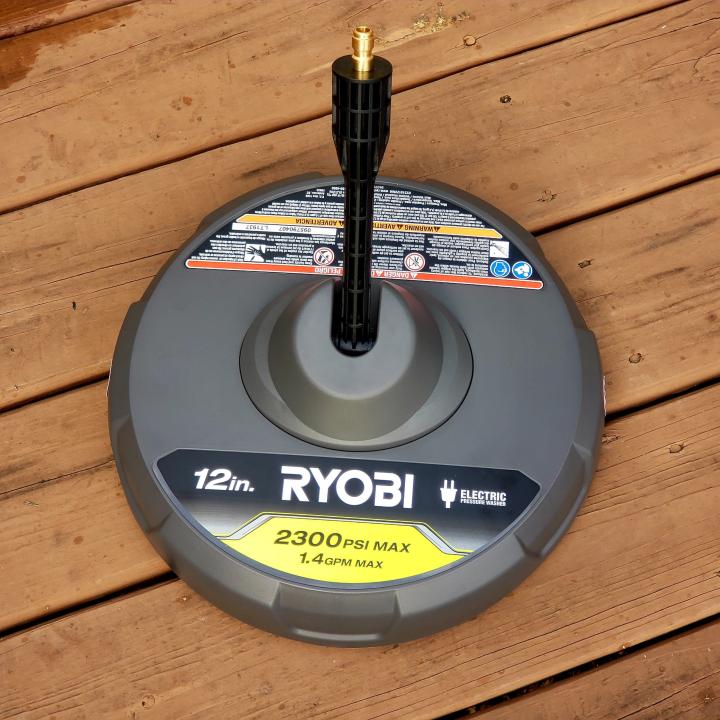 The way this thing works is super-simple. There's an arm, on a shaft, with a single nozzle on either end, which can be replaced. Each nozzle has a slight cant to create rotation as water jets out of them via the pressure washer.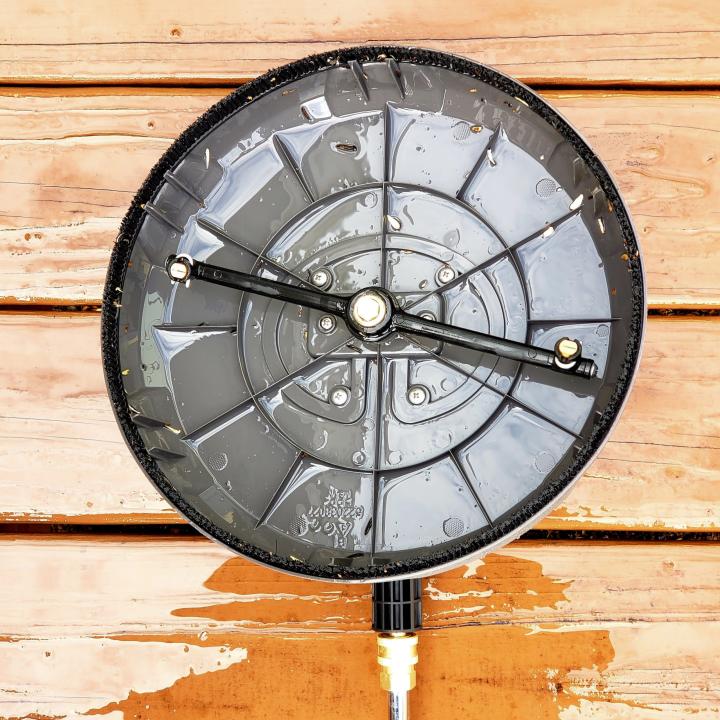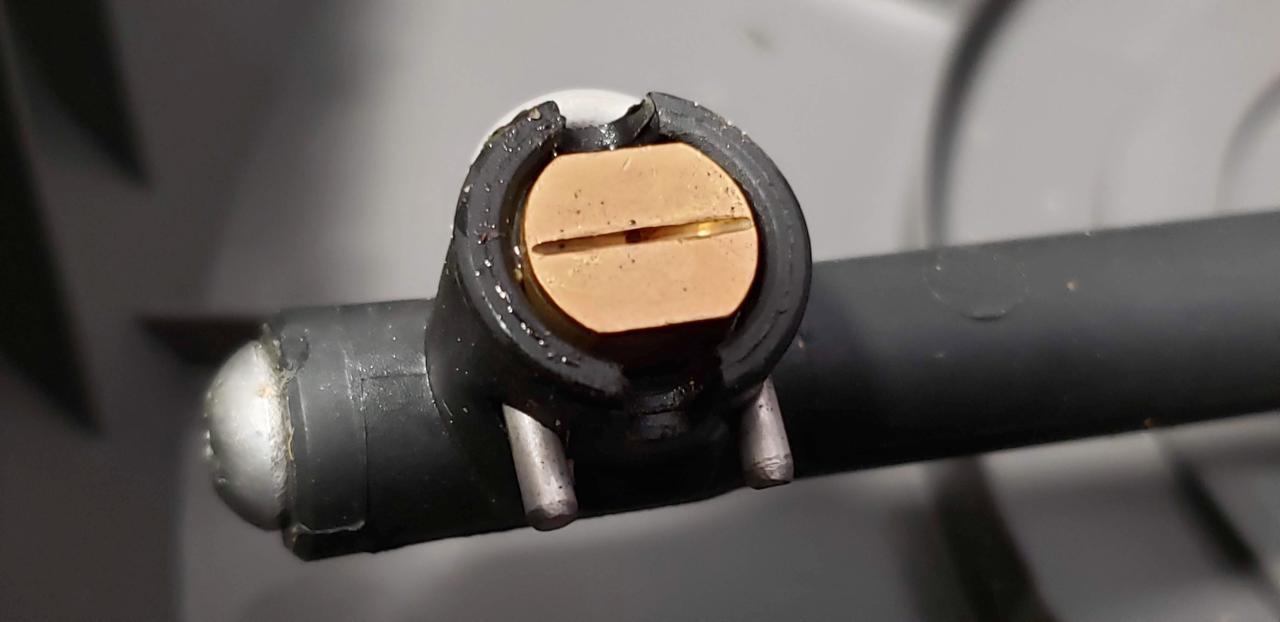 On the outer rim of the Surface Cleaner are nylon bristles that allow the attachment to "breath," while not creating too much splash. And while these brushes can create a bit of a scrubbing action if you've loaded the pressure washer with soap, you do not want to apply a bunch of pressure and use it as you would a scrubbing broom or you will almost certainly damage the rotating arm/nozzle contraption underneath.
We've seen some videos of people using the product incorrectly by pushing down too hard or, the opposite, letting the device hover. The correct way is to keep it flat on the surface while moving it back and forth just like a vacuum cleaner.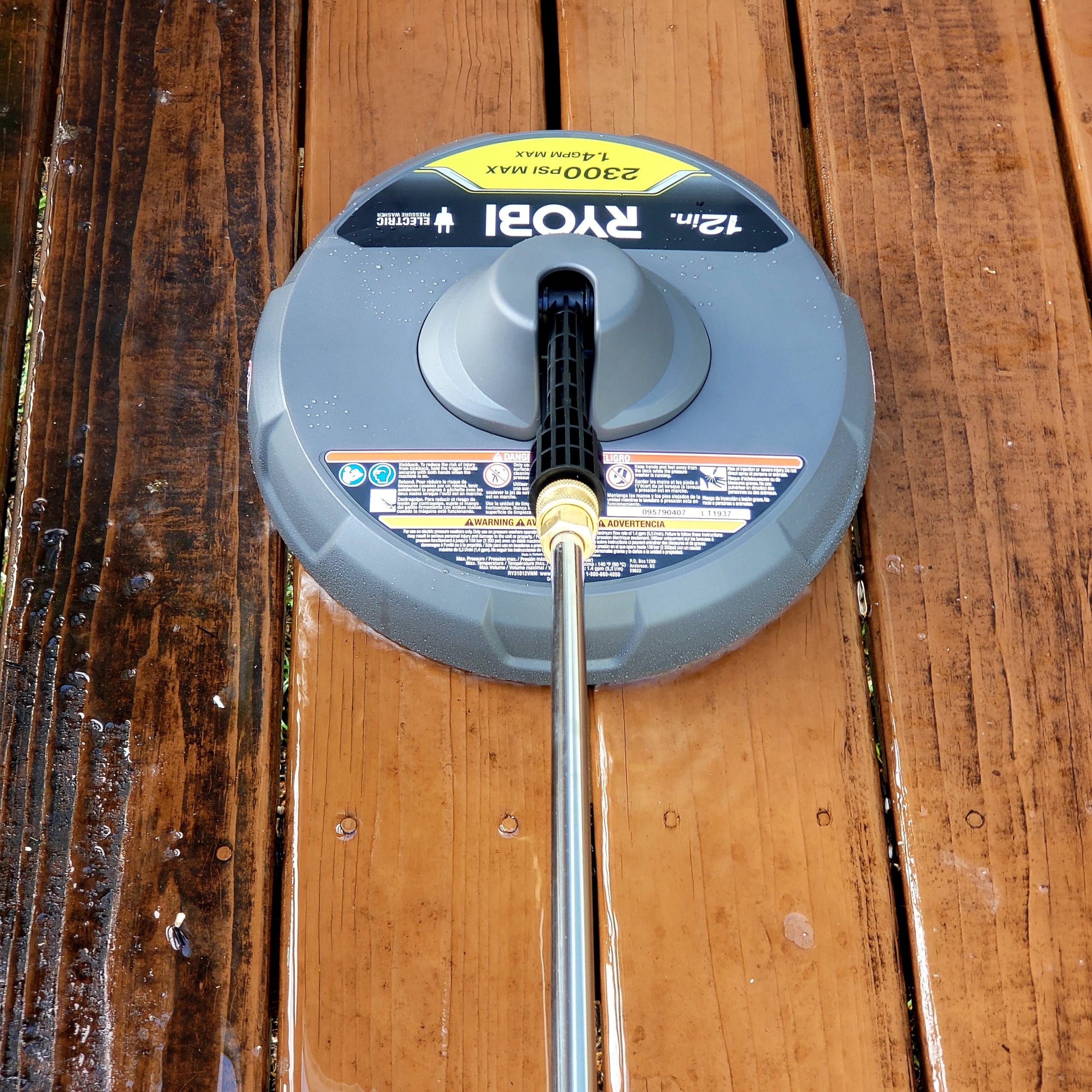 As you can see in the image above, after just a single pass on some fairly heavy mildew, the RYOBI 12″ Surface Cleaner did a solid job. There were some areas where I had to manually scrub with some chemical but, overall, it certainly made the task of cleaning our deck much, much faster.
Of course, this thing is round, so all of the rails and corners had to be cleaned using the normal pressure washer nozzles.
For the price we paid for this attachment, it was worth it to us. It's good, not great but does the job much faster than using the wand alone.
Next-up is our driveway and walkways. For that, we may move up to the gas-powered pressure washer and the larger surface cleaner but we'll see. More on that another day.
Sale
Rating Criteria
A somewhat flimsy but very helpful pressure washer accessory to make cleaning flat surfaces much faster (and kinda fun). It's not going to magically remove anything a normal pressure washer wand wouldn't but it is faster, more consistent, and less messy.