Here in our quaint yet not-so-sleepy North Florida town, there are trees everywhere. After just about every storm (and we've had our share of hurricanes recently), trees come tumbling down all over the place. Chainsaws are almost mandatory here.
Most of us have been using gas-powered chainsaws for ages. Even with the advent of cordless tools, lots of people don't even realize that cordless chainsaws are a thing now. Indeed, they are a thing… a very good thing!
Arguably, gas-powered chainsaws are more powerful and last longer than their cordless counterparts. But we recently got our hands on the RYOBI 14″ 40V Brushless Cordless Chainsaw and there are definitely more pros than cons for us when it comes to the gas vs. cordless debate.
First, let's take a closer look at the RYOBI 14″ 40V Brushless Cordless Chainsaw.
Build Quality & Features
Adorned in the well-known "RYOBI green" strong plastic body, the chainsaw is light but still feels quite solid in the hands. Of course, once it's filled with oil—and if running a larger battery—the tool becomes a bit heavier. Still, it's plenty light enough and very well-balanced that any homeowner-type should be able to manage it just fine. We read one online review that included photos of a 70-something-year-old woman using this chainsaw. Granted, she was on a ladder too close to the tree, cutting above chest height, and not using safety glasses or gloves… but you get the point.
[box type="warning" align="" class="" width=""]You should always wear the proper eye, ear, head, and hand protection when operating a chainsaw. This chainsaw shouldn't be used in the rain, as the battery could become a hazard and/or fail. You should also understand what causes kickback, the dangers it presents, and how to avoid it. There are four pages of safety warnings in the manual and even more warnings throughout.
Read them
. There, we said it.[/box]
As you've probably gathered by now, the guide bar on this chainsaw is 14″, which should be plenty of length for most light-duty jobs. And this is a light-duty chainsaw. It is designed for limbing, pruning, and cutting small trees or logs—not clearing forests.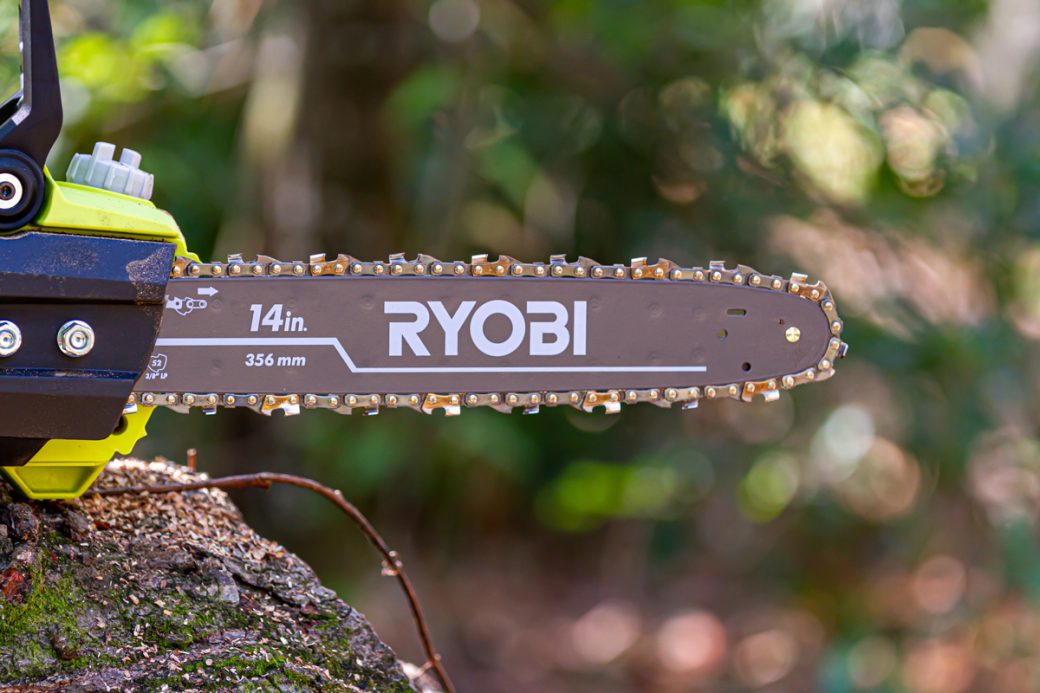 The bar and chain oil tank is in the front of the unit, which helps with balance (we think, anyway) since the battery lives in the rear. The oil tank also peeks through the body of the chainsaw so you can quickly see how much oil you have left.
Moving back, there is a handguard just in front of the front handle. This is not a chain brake lever, although it does resemble one. It is there to protect your knuckles. That said and in the event of kickback, this handguard will likely act as a physical restraint (for lack of a better term), allowing your hand/knuckle and arm to pushback against the force of a kickback.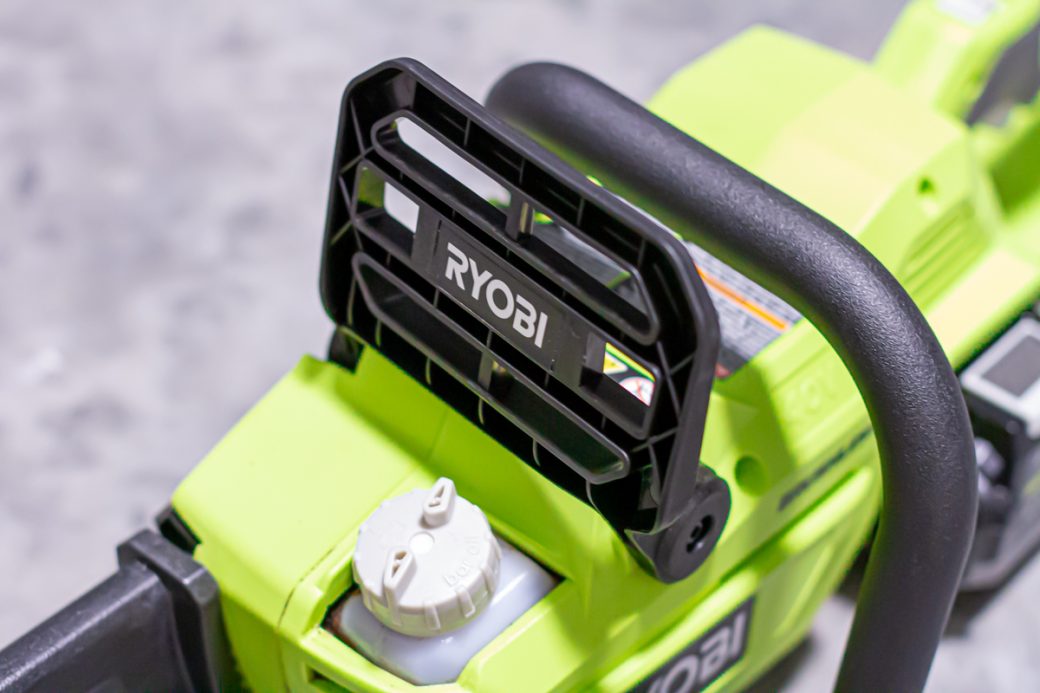 Some online reviewers and commenters have said the lack of a chain brake is a deal killer for them. Sure, we'd prefer to have one on our chainsaw but not having one on this particular chainsaw—which does use a low kickback chain per ANSI B175.1—is not a deal killer for us. It does, however, make us that much more cautious when using it.
We're not chainsaw experts, but this unit is powered by a brushless DC motor that stops almost instantly upon releasing its trigger. In the event of kickback, it is extremely unlikely that your finger would still be pulling the trigger upwards at the same time. Therefore, by the time the guide bar reached any part of your body, the chain would've stopped. It stops very, very quickly and almost as quickly as a chain brake on a gas unit. Again, RYOBI does include lots of warnings in the manual around kickback and how to prevent it from occurring in the first place.
OK, back to normal programming.
The front and rear handles are comfy enough but, again, you absolutely should be wearing gloves when operating this or any other chainsaw. Inside the rear handle is the switch trigger and on top, the lock-out or safety switch. The lock-out switch must be engaged before the trigger will pull to power the chainsaw. Once running, the lock-out switch can be released. Once the chainsaw is stopped, the lock-out switch resets, so the unit will not run until it is re-engaged along with the trigger.
The battery port is just below the rear handle and accepts any RYOBI 40V system battery. We used a 4Ah, but 2Ah and 5Ah options are also available. Battery size has nothing to do with power output and everything to do with runtime. There are also a whole bunch of variables that will impact runtime, beyond battery size—the diameter and toughness of the material being cut being the biggest factors. We didn't conduct any runtime tests, as we weren't testing batteries, but rather the chainsaw itself.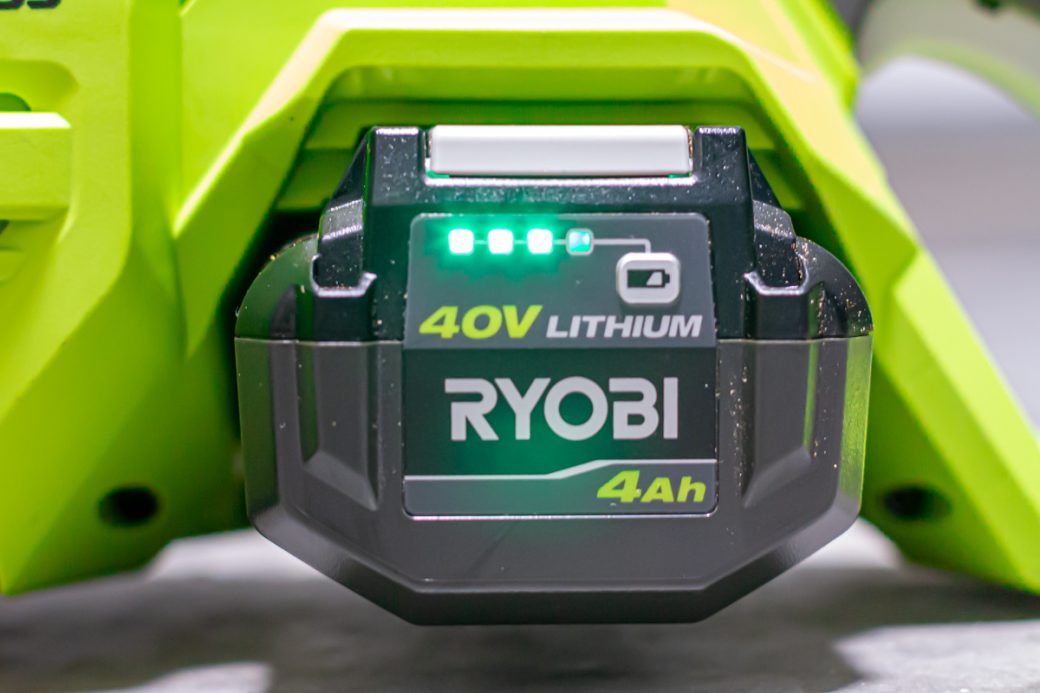 Finally, integrated into the bottom of the rear handle is a nice little place for the chain tension and bar removal (for replacing the chain) tool to live. Chain adjustments are super-easy, as the chain-tensioning screw is on the side of the chainsaw body itself.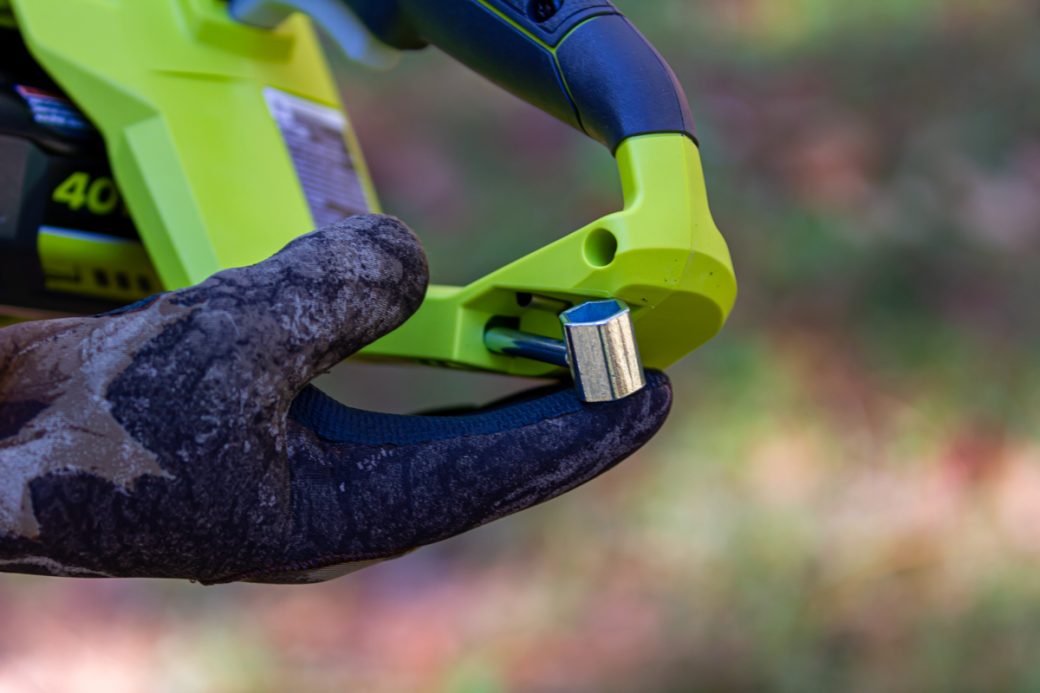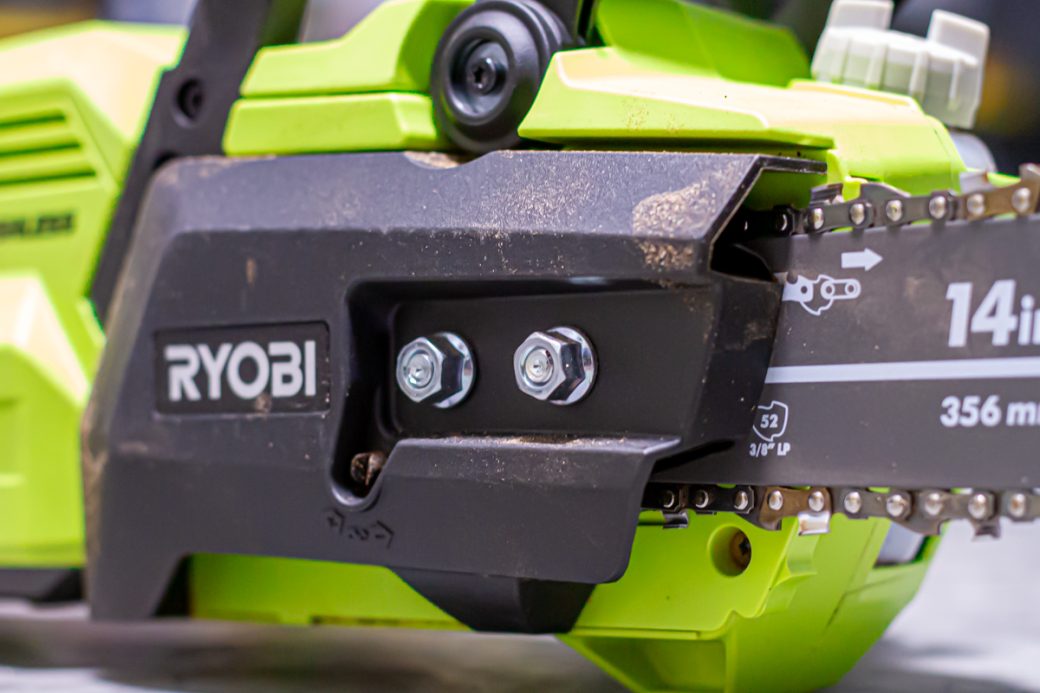 Performance
We used the RYOBI 14″ 40V Brushless Cordless Chainsaw to cut various sized felled trees into logs around a buddy's house and it worked perfectly. Once running at full-speed, this thing just dug right in and, with very little effort on our part beyond a firm grip, cut our 8″-10″ diameter logs in no time. Here's a video of one such cut. Note that we did not undercut the log first—shame on us. ????
We didn't have an opportunity to test the chainsaw on different types of even very different diameters of wood. The logs we cut had deteriorated a little bit, which made them somewhat softer. Along the way, we never experience any lag or kickback—the brushless motor with its load-sensing power just ate through the logs, almost effortlessly.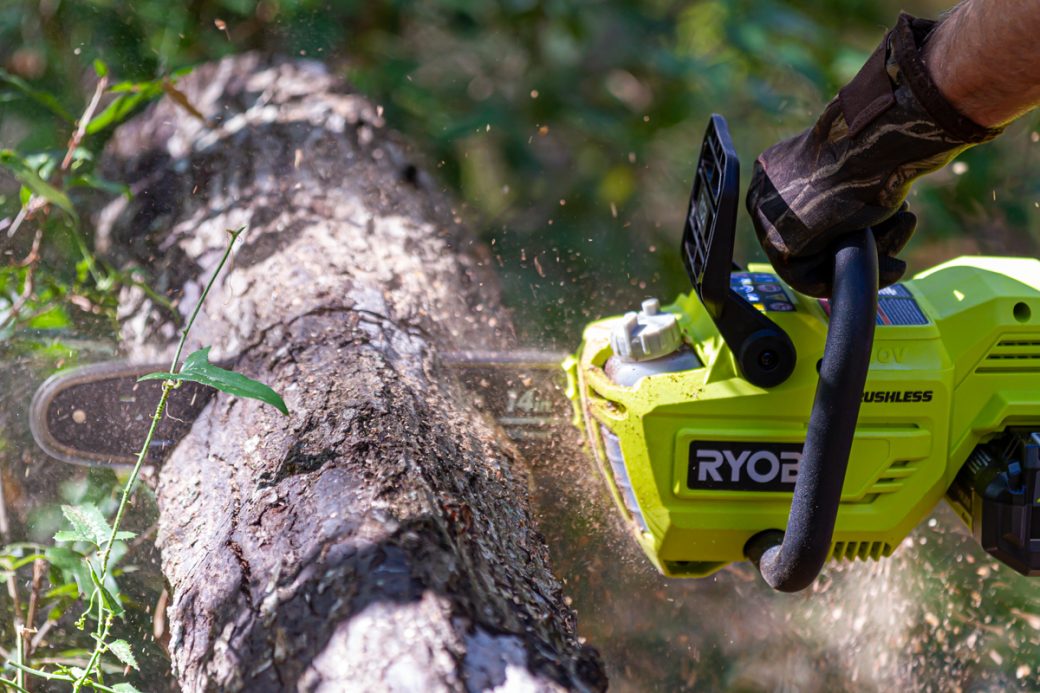 As RYOBI states, this is a light-duty chainsaw and it's great for cutting smaller trees, limbs, and for pruning. It will be a great gas replacement for those who occasionally cut firewood. It's also a really good option for those intimidated by gas-powered chain saws. Anyone can use this thing, provided they take time to read the manual, which does a great job of explaining what this chainsaw can cut and exactly how to use it.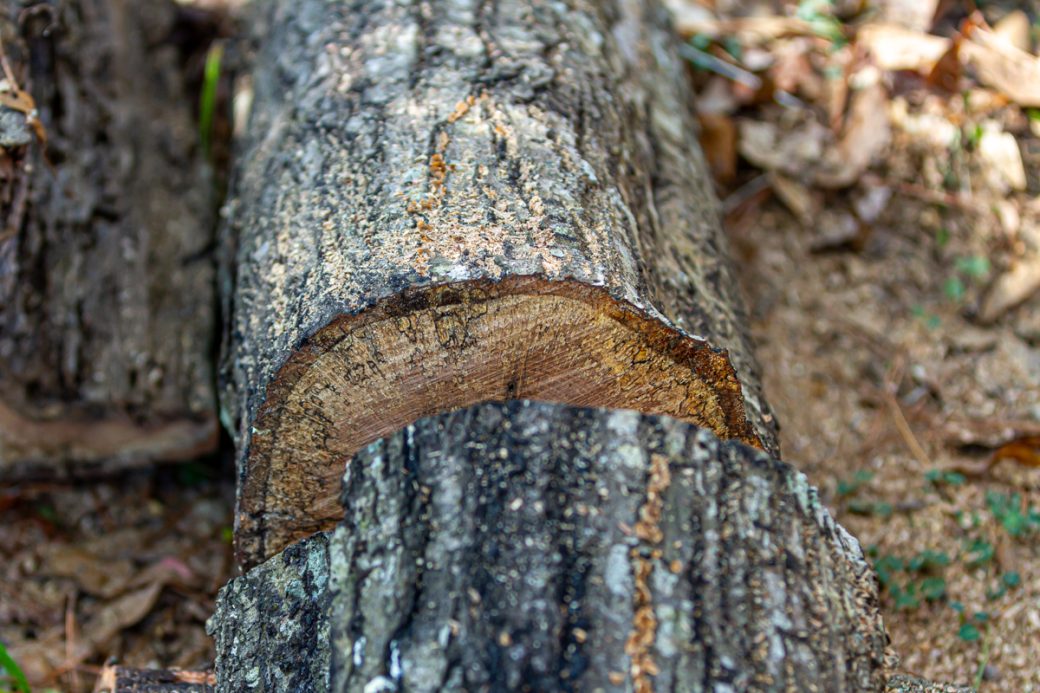 Conclusion
Like we do with most test units, we donated this chainsaw. But we will indeed be purchasing one of these for ourselves. The RYOBI 14″ 40V Brushless Cordless Chainsaw is something we intend to carry around in our Jeep all the time, as we come across felled trees almost every time we're out on the trails for either fun or volunteer work. We were very impressed with its performance and you just can't beat the fact that it's cleaner, quieter, and just about as powerful as a nasty, stinky gas chainsaw.
While on sale several times throughout the year, the RYOBI 14″ 40V Brushless Cordless Chainsaw is available exclusively at Home Depot for a dollar short of $200. That kit includes the chainsaw, one 4AH battery and a compact charger with a built-in USB port to boot.
If you're already into the RYOBI 40V line, you can just buy the tool, too.
Do it, you won't regret it.