If you've ever run your car through a gas station car wash (cringe), you're probably familiar with the drive in—the machine attempts to wash your car's undercarriage and we drive in really slow, hoping it's working but we never really check… unless you have a truck, of course.
A tip from an anonymous source (anonymous for whatever reason) came in the other day about a patented device that attaches to a standard garden hose, rolls under the vehicle and sprays the undercarriage using "powerful jets." It looks like the product is in its early stages, although the patents are from 2001 and 2010.
The product is called Carbidet, (yes, like the butt cleaning toilet), and seems like a good idea, but we're not sure where the product stands right now in terms of bringing it to market and, to be honest, didn't ask the inventor. I don't think the tip was from him for various reasons.
Another very similar product I found, called The Underwasher, was developed in Connecticut and is currently available online and in a few stores around Connecticut for about $18, or $23 for the "deluxe" kit.
These products reminded me of the last time I went trail riding in the Jeep, hit some serious mud (yeah, c'mon) and spent four hours cleaning it all up. I actually started by setting up an old-fashioned oscillating sprinkler head under the Jeep, but that just didn't work. Since it's lifted a bit, I ended up blindly sweeping my pressure washer wand underneath and hoped for the best. It's still quite dirty under there, though.
There has to be a better way for the DIY driveway washup. And there is.
While the CarBidet and Underwasher products are neat, I could probably make something similar out of PVC, but the lack of pressure from a standard garden hose just isn't enough when washing really nasty bottoms, no matter the attachment. So I set out to find something similar that would attach to a consumer/prosumer pressure washer.
There are professional-grade undercarriage pressure washer attachments, but they run $1,000 or more. Like the
, which is really sweet but likely overkill for the driveway washup.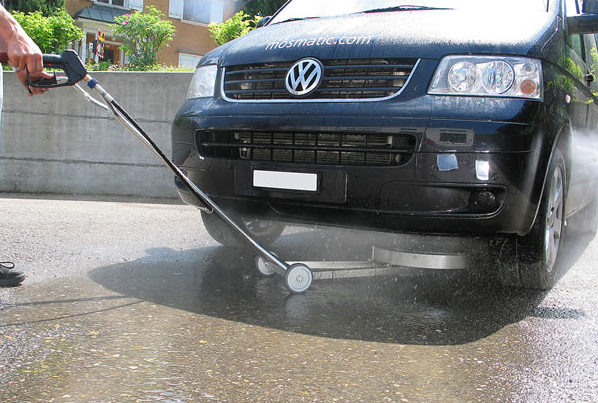 I wanted to find a more affordable solution and found a few options:
Erie Tools Undercarriage Pressure Washer
The ETD is most like the more expensive Mosmatic washer, with a max operating pressure of 4000 PSI, 21″ one-pass coverage and dual 25° nozzles. The unit needs at least 7″ of clearance to get under the vehicle, so keep that in mind.
BE Pressure Supply – 16″ Undercarriage Pressure Washer
The BEPS washer is a bit different and more like a water broom, except with upward-facing nozzles. This is a more compact option and definitely more affordable, and still operates at 4000 PSI max. And while the head doesn't spin, there are four nozzles positioned at 65° for ample coverage.
Sale
BE PRESSURE 85.400.062 Under-Car Cleaner 4 Nozzle
Leading Manufacturer Of High-Quality Products
International Renown For Our Diverse Range Of Award-Winning Products
Fully Equipped With State-Of-The-Art Technology
All Products Have Been Designed With The Professional In Mind
Constantly Modernizing Our Powerful Devices To Meet The Demands Of The Modern User
Hyde Pivot Nozzle Universal Pressure Washer Wand
An even more affordable and compact option is a pivoting and/or right-angle pressure washer wand. Not quite as back-friendly, but if you're willing to get down and dirty, this could work. It's also more versatile and could be used for other pressure washing chores.
BE Pressure Supply Gutter Cleaner
If you're really looking for a cheap undercarriage washing solution, you could try a simple gutter cleaning attachment for your pressure washer, also from BE Pressure Supply. It's certainly not going to be as easy as the other options, but could work with some patience.
Sale
BE Pressure 85.400.007 Gutter Cleaner Pressure Washer Attachment
Designed to use with an extension wand with your pressure washer
Clean gutters from the safety of the ground
1/4" Male plug quick connect inlet. Quick couples to most telescoping wand
1/4" QC socket outlet to attach the nozzle of your choice no nozzles included
Warning: Be aware that some pressure washer attachments (none listed in this article) are made to work with specific brand machines and utilize proprietary connectors with no available adaptors to work with other brands.
See Also: 7 Best Pressure Washer for Cars
So not an in-depth review or anything but, for the Jeep, I'm actually leaning towards the BE Pressure Supply 16in undercarriage pressure washer. It's affordable, seems like it would do the job and should keep me from having to break my back. Plus, it's got solid reviews.
Sure, I'd love to have the more expensive unit, but it just seems like overkill, even for post-muddy adventures. More to come once I've tested it out.