Pallets have a long history of helping man to move stuff from ship to shore and warehouse to door. Pallets go back as far as the ancient Egyptian times to the more common World War II wooden pallets we know today, which are still lifted via forklifts and similar machines. Pallets are a critical cog in the global economy wheel, and within various shipping and transport industries, but they're also really useful when reclaimed as project fuel.
If you're just getting into woodworking, DIY crafting or 'upcycling' old stuff, reclaimed wood pallets offer a simple platform to get started. There are a gazillion websites out there with various pallet projects—some for inspiration, some with detailed instructions—and we'll use this post to share some of our favorites with you, from simple to complex. Hopefully, these will inspire you to build something cool. But first…
Where to Find Wood Pallets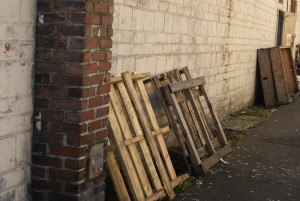 If you've ever wandered behind a large business or shopping center, it's likely that you've seen stacks of wooden pallets. But just because they're back there, doesn't mean they're free! Big-box stores will usually have agreements with shipping companies and may be charged a fee if pallets go missing. So this isn't the best bet, albeit tempting.
The same goes with dumpster-diving. It's actually illegal to take items out of a dumpster in some states. But if you do see pallets in or near trash bins, simply asking the business owner will usually be the best way forward. When scouting for pallets, focus on smaller business that may be more willing to part with them: paint stores, tile showrooms, nurseries, etc. Again, asking is your best bet.
Of course, you can buy pallets online—Craigslist, Ebay, etc. Or check to see if there are pallet recycle or manufacturing facilities in your area. New pallets are not cheap, costing around $150-$200 for a 48×40″ pallet. Yikes! Plus, new pallets aren't as cool as used and distressed pallets, depending on what you're making, of course.
Lastly, while this article focuses on pallets, there are places to score free or affordable scrap wood with similar characteristics. So do keep that in mind. But being able to say you built something almost exclusively from reclaimed pallets is part of the fun here.
Our Favorites
Here are a handful of our favorite reclaimed wood pallet projects we've seen floating around the web to date. We'll link to each project source too, where applicable.
Note: The flag in our featured image was floating around all over the web, so we're not sure where the project originated. We found it at this link.