You read that headline right: a semi-automatic screwdriver. It's the WORX WX254L SD Semi-Automatic Power Screw Driver and it's pretty cool.
Given its name and that it sort of resembles a handgun, it's only fitting that the WORX WX254L SD uses a slide-action lever to quickly advance one of six bits, stored in an interchangeable cartridge within the tool itself. The SD works with any 1/4-inch insert bit, too, so you're not limited to those that come with the unit.
Build Quality and Form Factor
The WX254L SD might feel a little small in some folks' hands. Even though plastic, for us, the unit seems durable and certainly strong enough to tackle most basic household jobs. And again, this isn't a drill—it's a driver, meant to drive screws or bolts (mostly) into things. It does require two hands to operate the slider, which is what allows you to change bits without fumbling around with them. The LED light is handy too, for areas where… you know… it's hard to see.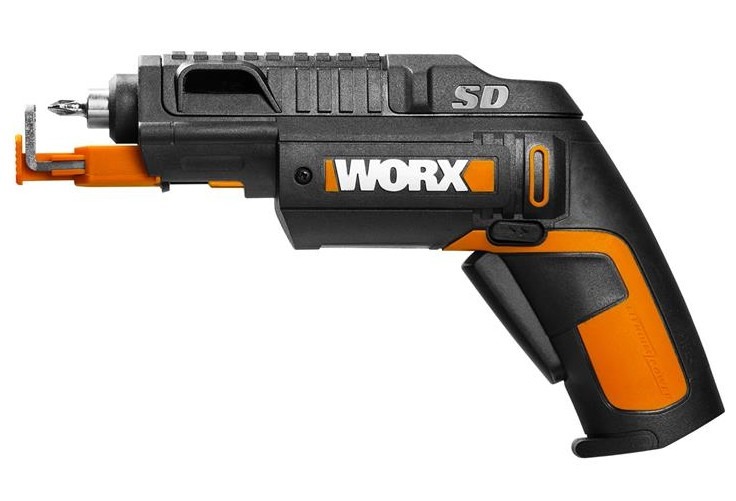 Battery Life
The WX254L SD is powered by a sealed 4v Lithium-ion battery and claims to hold a charge for 18 months (we've not had it long enough to validate that claim). As for battery life during normal use, we screwed a lot. We didn't tape the trigger, as some do during testing—that's not normal use. Over the course of a few days of driving different sized screws into various types of wood, we got what we expected: a few days of 2-3 hour usage before needing a charge. And remember: it's not advisable to let Lithium-ion batteries drain completely—charge them when you start noticing lag.
Accessories
Depending on which version you buy, the unit comes with either six or twelve bits. Each cartridge holds six. The latest version of the WORX SD (WX255L) includes a detachable screw holder, too, which—you guessed it—holds the screw as you drive it in or back it out, allowing you to do so one-handed and within close quarters. This was super-helpful when we tried to drive into slippery paneling without a pilot hole.