There are a bunch of random orbit sanders out there that are, for the most part, pretty much the same. Oftentimes referred to as palm sanders because their design allows them to be operated single-handedly using the palm of one's hand to control the machine, random orbit sanders and woodworkers are very close friends, indeed.
One popular model is/was the Rockwell RK4247K 5″ random orbit sander, which Rockwell recently updated. Like it's predecessor, the new Rockwell 5″ random orbit sander (model RK4248K) is built on what Rockwell calls Vibrafree technology. According to Rockwell and its independent lab tests, Vibrafree produces 50% less vibration than other leading brands.
How's Rockwell do it?
Unlike conventional random orbit sanders with a single sanding disc, Rockwell's Vibrafree has two discs: an inner and outer disc that move in opposite directions of one another to reduce vibration. Rockwell says this design forces any vibration to be redirected into sanding, not the operator's hand. As a result, they say, the sander achieves twice the removal rate with half the vibration.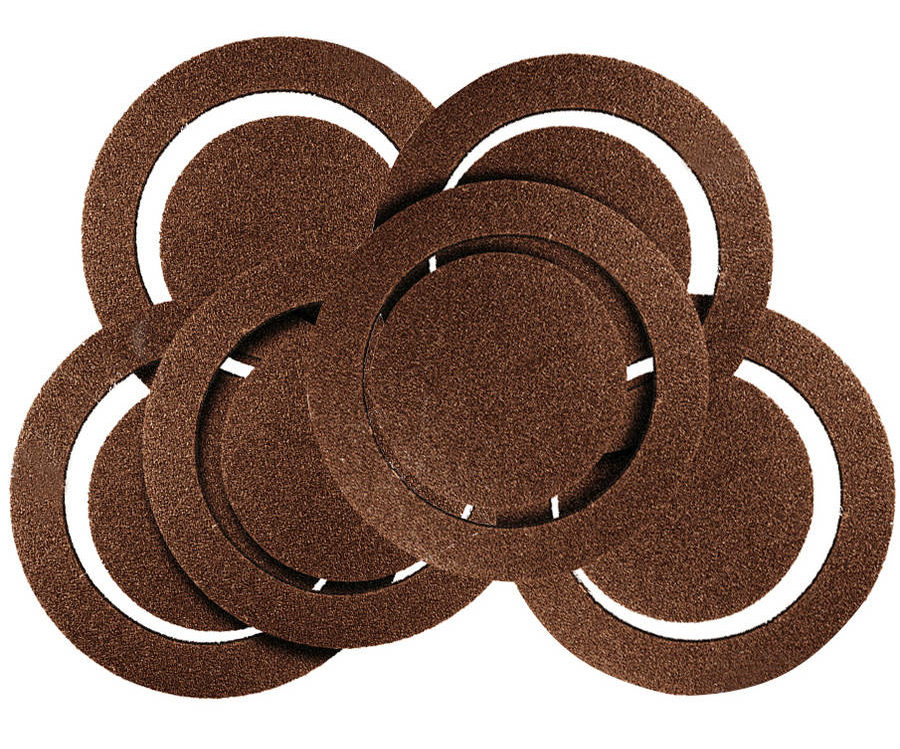 While Vibrafree tech is great, it does require proprietary 5″ hook-and-loop sanding discs (pictured above) that aren't as readily available and are more expensive than standard 5″ sanding discs. In fact, this was chief among complaints from people reviewing the older model online at various locations. Still, for those who use orbit sanders often and for long periods of time, vibration can become a fairly significant problem, so the proprietary discs may be of little concern.
Rockwell's latest sander features a bagless, filterless "cyclonic" dust/air separator system they call CDS. According to Rockwell, this cyclonic action separates dust from the air while maintaining constant suction. It also eliminates clogging during collection, while capturing up to 50% more dust than other sanders in the same class. A push-button releases the dust box for easy emptying.
Powered by a new 3.3 amp motor (up from 2.7 amps in the previous model), the RK4248K delivers 13,500 orbits-per-minute (no load speed) with 1/8″ orbital action for what should certainly result in fast, smooth, and swirl-free material removal.
Weighing in at just 3.3 lb., the sander is ergonomically designed with an elongated palm grip handle, rubber overmold grip, and an on/off rocker switch that's conveniently located and sealed to keep things clean for longer life. The integrated power cord is 7′ long.
Included with the sander and dust box is a 15-piece accessory kit, including five each of 60, 120, and 180 sanding discs. Also included is a carrying case to keep it all together.
Rockwell RK4247K 5-Inch Random Orbit Sander Vibrate Free
Vibration cancelling technology to reduce vibration up to 50%
Cyclonic dust/air separation box removes up to 50% more dust than standard cloth bags
Pad brake reduces swirl marks or scoring to work piece
Dust-sealed switch prevents premature wear
3.3 Amps and weighs only 3.3 lbs