Ahhh the plier drawer. Many of us organize our sockets, drill bits, and screwdrivers but that awful plier drawer is usually a wreck. I try to keep my pliers all flat so I don't have to dig through the drawer, but try is the key word there—I always end up just throwing more pliers on top of the so-called organized ones.
Searching for a solution, I ultimately narrowed it down to two options—buy it or build it:
Buy It ????
During my search, I came across what looks to be a cool toolbox drawer insert that, when combined with others, would allow me to fit considerably more pliers and cutters into a single drawer, while also keeping them all totally organized and accessible.
The product is from MLTools, who I'd never heard of until now, and is basically a chemical-resistant plastic rack with 10 7/8″ wide slots to accommodate a variety of different sized pliers and cutters, even those with over-sized insulated or spring/lock mechanisms.
The rack itself is about 10″ long, so I could fit 4-6 of them in one drawer, depending on which drawer I'd use them in. There's also a rubber base on the bottom of the racks to keep it from sliding. They call it, simply, the Pliers/Cutters Organizer Pro and it is Made in the USA.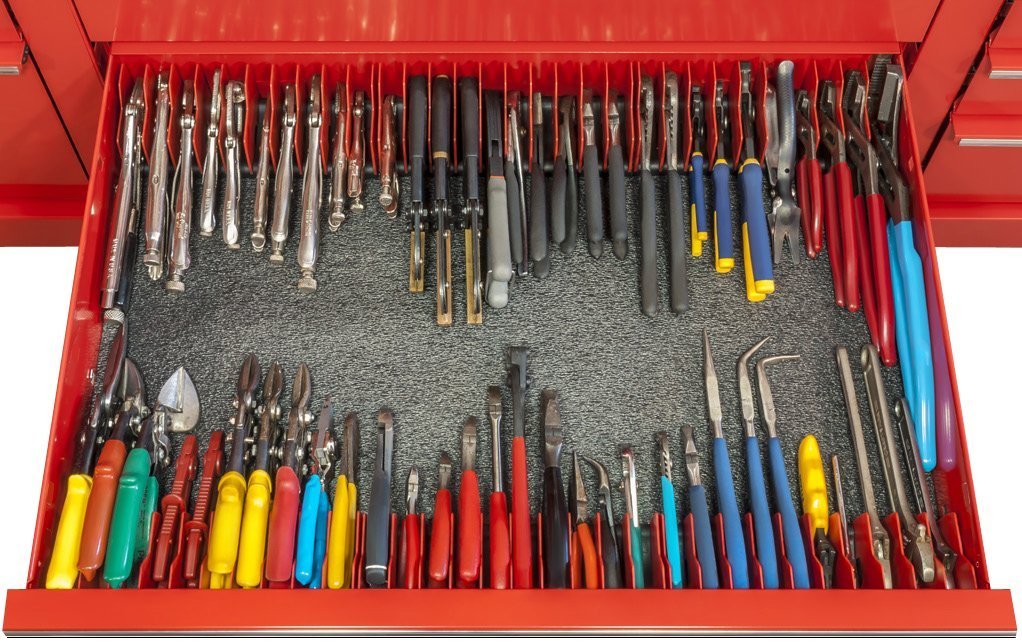 Build It ????
The other option—and the one I really like—is to build something custom. This 3-1/2 minute video from Making it Matters is great and pretty much shows us just how it's done.
To keep things a bit more flexible, I would probably consider building a system like this on a smaller scale as separate modules so it's not so custom that I can't move things around. I'd also paint and seal it to help keep the wood clean of oil stains and whatnot. I do love the look of this, though!
If you've got a different idea or have thoughts on either of these, please share, because I'm still not sure which route I'm going to go.????
Sale
MLTOOLS Pliers Cutters Organizer Pro – Non-Slip Rubber Base – Fuel & Solvent Resistant –...
CONVENIENT PLIER ORGANIZER – Organize your pliers/cutters in an orderly fashion, prevent...
SUPERIOR PLIERS ORGANIZER RACK – With a non-slip rubber base, our pliers organizer for...
JUST THE RIGHT SIZE – Plier organizer for toolbox Measures 10" x 3.5" x 2.75" to...
SAFE PLIER DRAWER ORGANIZER – Made with premium quality materials in the USA, our pliers...
PERFECT GIFT – Plier storage organizer makes a great gift to all DIY enthusiasts who...