While most modern vehicles include integrated garage door openers that are fairly simple to link-up, many of us still need the 'ol handheld remote—myself included. Believe it or not, reliable universal remote garage door openers are hard to find. I'd been through three different brands before we recently replaced our entire garage door system. Perhaps I'm remotely cursed.
For the 70% of folks like me who use the garage as the primary entry point into our homes and need a remote door opener, LiftMaster is introducing its new Mini Universal Remote Control. The 1.6-ounce compact keychain remote features two independent buttons to allow for the operation of two different garage doors, and is compatible with more than 90% of major brands' garage door openers, including:
LiftMaster
Chamberlain
Craftsman
Genie
Linear
Stanley
Wayne-Dalton
310/315/318/372/390 MHz compatible*
* Not compatible with garage door openers manufactured by Marantec or Hormann.
* Not compatible with garage door openers or gate operators with DIP switch technology.
** Does not support pre- 1993 garage door openers without photo eyes.
The new Mini Universal Remote Control incorporates LiftMaster's built-in Security+ 2.0® for increased radio range and interference-free operation. This system also sends a different code to the opener each time, ensuring it only opens for that specific remote.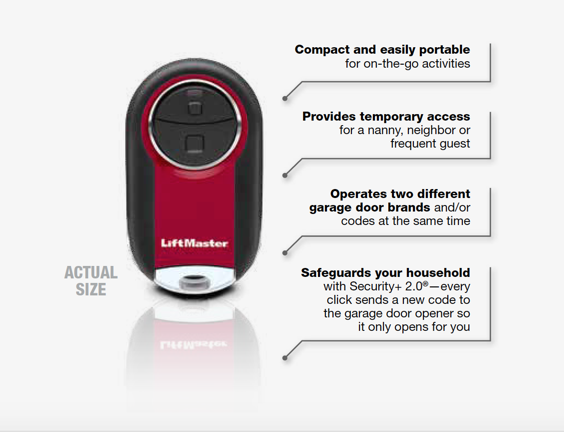 The Mini Universal Remote Control is available from LiftMaster directly, through certified dealers or on Amazon, which at the time of this post was $30—that's $10 cheaper than buying direct (although, on Amazon it's still being sold through LiftMaster).
As part of LiftMaster's Universal product line, the company also offers a Universal Keyless Entry pad and a 2-Button Universal Remote Control with visor-clip, for a complete garage access system.