Okay, perhaps the title of this post is a bit misleading. With my allergies here in the extreme Florida sun, mowing the lawn just sucks. But, many see mowing as a chance to reflect on life's complexities… or maybe as a chance to daydream about that new Jeep or big screen TV. Either way, John Deere's new app, MowerPlus for iOS and Android, attempts to make mowing more fun and productive by helping you keep track of and optimize your lawn care responsibilities—just in case your spouse reminding you every day isn't enough. 🙂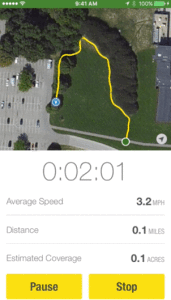 The iOS version of MowerPlus for Apple devices offers a "Mow Now" feature so you can track mowing metrics. Yep, analytics for lawn care (I come from the digital marketing world, so I love data and analytics). With MowerPlus, you can view a summary of the current mowing session with average speed, area covered and other real-time statistics. An aerial view of the mowing path for each session can help you diversify the pattern to protect turf health, too.
While the MowerPlus app can be used just fine with non-John Deere equipment, there is a section of the app specifically for John Deere equipment owners where they can identify and store the make, model and serial number of their equipment, and view maintenance and service recommendations based on that model. Similarly, the app can also be used to track usage hours and maintenance intervals, and provides service tips for proper care of your equipment.
MowerPlus also offers a region-specific seasonal timeline that provides timely, climate-relevant tips and reminders year-round, although we felt the tips were lacking in content (many were single sentences). Mowing history is also stored in the app, and you can manually add missed mows, maintenance and other tasks such as fertilizing, seeding or aerating so you can keep track of when you're supposed to do what to maintain a healthier lawn overall.
The MowerPlus app integrates seamlessly with the Apple Watch, which you can use to easily identify the number of days since you last mowed and the sunset time to quickly decide if you have time to mow before it gets too dark. You can also start and stop the recording of a mowing session from the watch and automatically sync statistics with the app.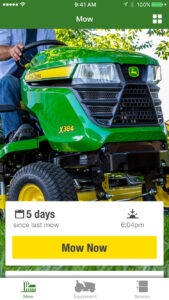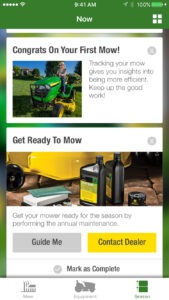 While we've only tried the iOS version, John Deere says the Android version of MowerPlus includes model-specific information on setup, maintenance, and operation of your mower. It also provides areas to store important information such as serial number and dealer contact information. Since we haven't tried it, we're not quite sure if all of the same iOS features are available with the Android app. Feel free to comment below if you've tried it out.
Overall, the app is well designed and will be useful for those who are serious about lawn care. We could also see John Deere launching a more commercial version for the gazillions of lawn care pros out there to track some of this data for their clients. Of course, with the Internet of Things around every corner now, it's just a matter of time before this stuff is built directly into your equipment with web-enabled updatable software. Technology rocks.
Now, go mow!