I recently bought a 48″ bamboo workbench to balance out the wall in my garage where a new 44″ toolbox is located. While I certainly expect a wood workbench top of almost any kind to develop battle scars during normal use, I didn't expect this one to scratch so easily. It's something to do with the finish on this new bamboo topper.
Now, I use-and-abuse my tools and equipment, so I'm not all that concerned with keeping things looking new—just clean and functional. But I also don't want the top of my new workbench to end up all dented and pitted within its first few months of use. So, I set out to find a bench mat for a little added protection.
I tried an old Glock brand gun cleaning mat I had, but it was too slippery. I also tried an old rear car floor mat but the prickly things on the bottom were both slippery and pointy enough to scratch the bamboo finish even more. Finally, I found this thing: the JEGS Workbench Utility Mat. Apparently, it's been around for over a decade, I just never noticed. But it's neat, so I'm gonna write about it.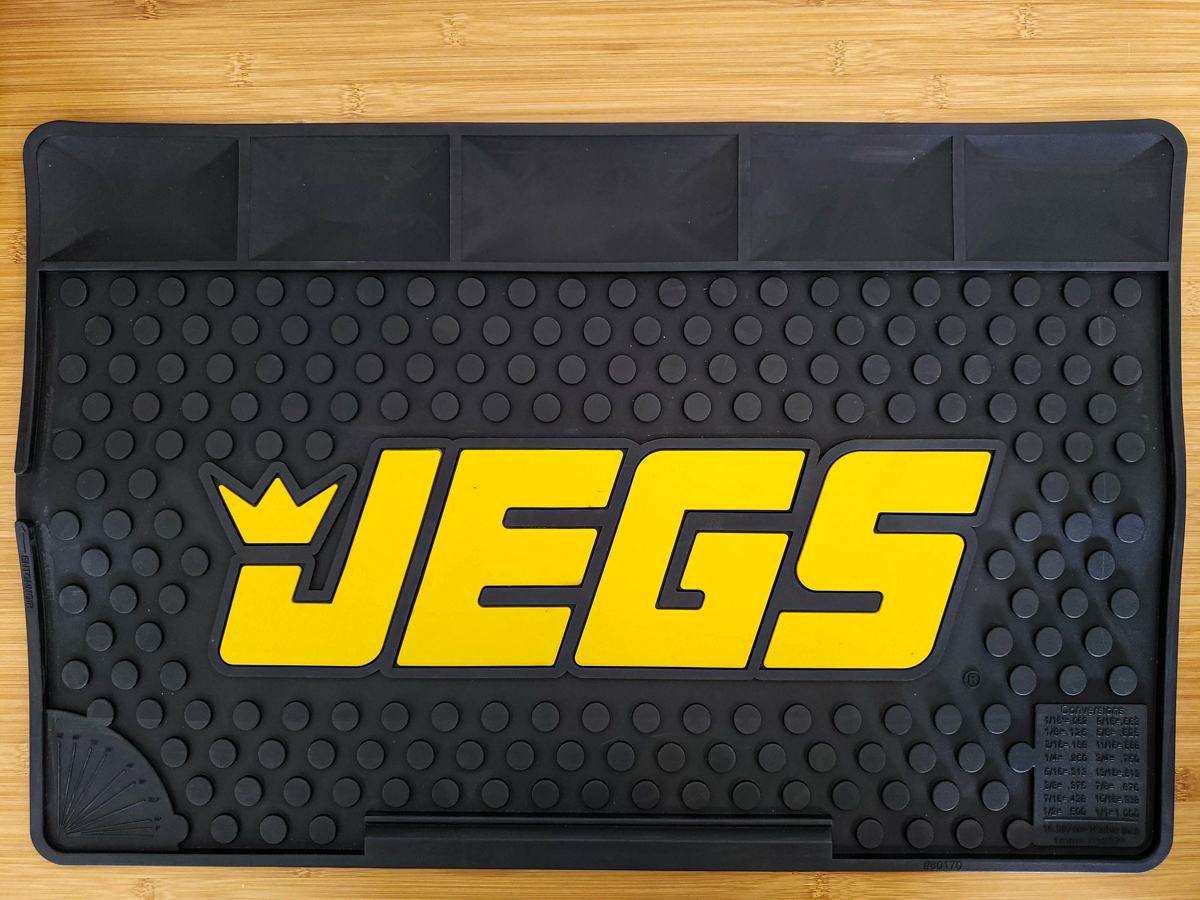 Quality
The JEGS Workbench Utility Mat measures 24″ x 16″ and is made out of somewhat flimsy rubber. It's not so thin that it's going to rip under reasonable use, but it would've been nice for it to be just a tad thicker. And while I didn't measure its thickness, the top "parts trays" you see in the photos are the thinnest points of the whole mat—and they're very thin. That's an odd design choice, given that sharp screws and whatnot will likely be placed and grabbed from those areas.
The dotted grip pattern within the main work area of the mat is useful but, as you can see in the photo of its underside, are almost just as thin as the rest of the work area. These grippy dots are hollow underneath and would've made the mat stronger had they been made of solid, raised rubber.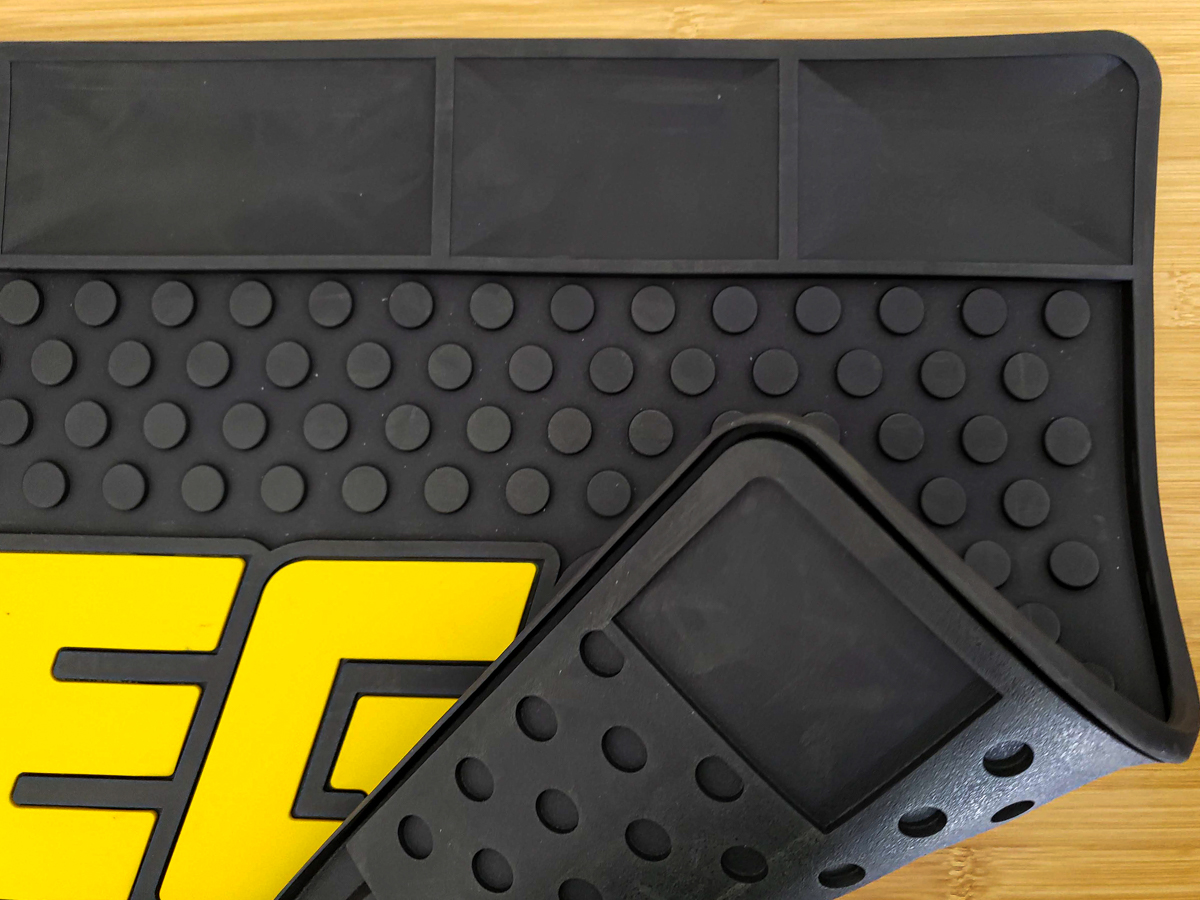 I do want to add that this mat shipped very tightly wound, like a poster in a box. I've let it set in the 100° Florida heat, used a heat gun, set heavy objects on the thing, but it still has not quite relaxed enough to sit completely flat. This is disappointing and I actually added "Packaging" to the review ratings because it impacts the overall use of the product (at least at first). You pay a good amount for this crappy packaging, too… more on that later.
Design
Despite a few shortcomings, the JEGS Workbench Utility Mat is fairly well thought out. As mentioned, the top section of the mat includes five shallow yet ever-so-slightly contoured "parts trays" to hold small parts—the middle tray being a bit longer. These trays are not magnetic, which would've been cool, but they've already proven useful for me to hold a few screws, o-rings, and small springs while working on a small project. Sure, you could glue some magnets underneath, but I probably won't. I've got dedicated magnetized metal parts trays for that.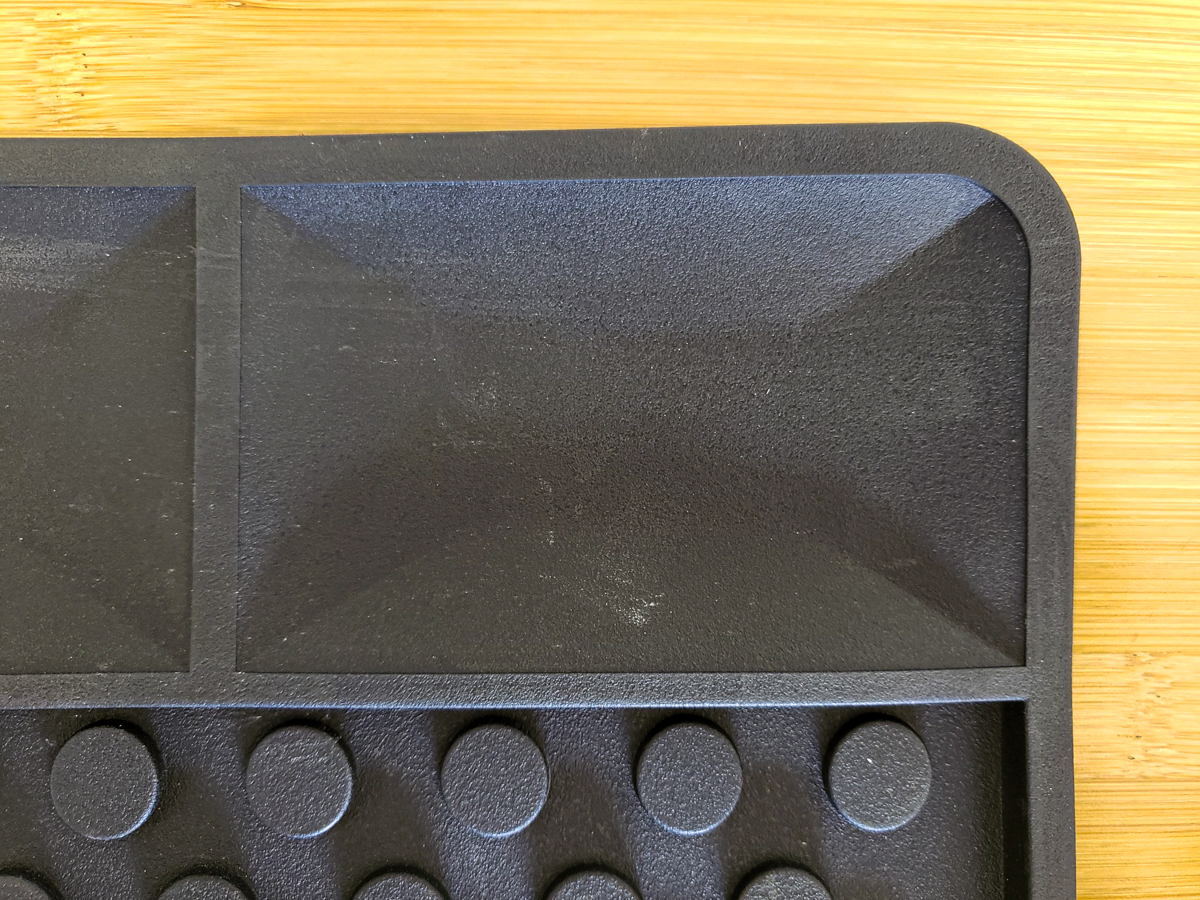 Below the parts holders is the main work area. I already addressed the thickness of the dots (or lack thereof). The JEGS logo is pretty sweet looking for those who like to showcase their favorite brands*, and it's solid rubber with none of the grip dots.
* As an aside and for those who aren't aware, JEGS has a rich history in racing and high-performance car parts.
On the very bottom edge of the mat is a pencil tray, made of the same rubber (the whole mat is one piece). This is pretty handy, too, as I've used it several times for its intended purpose. So far, a super-handy mat!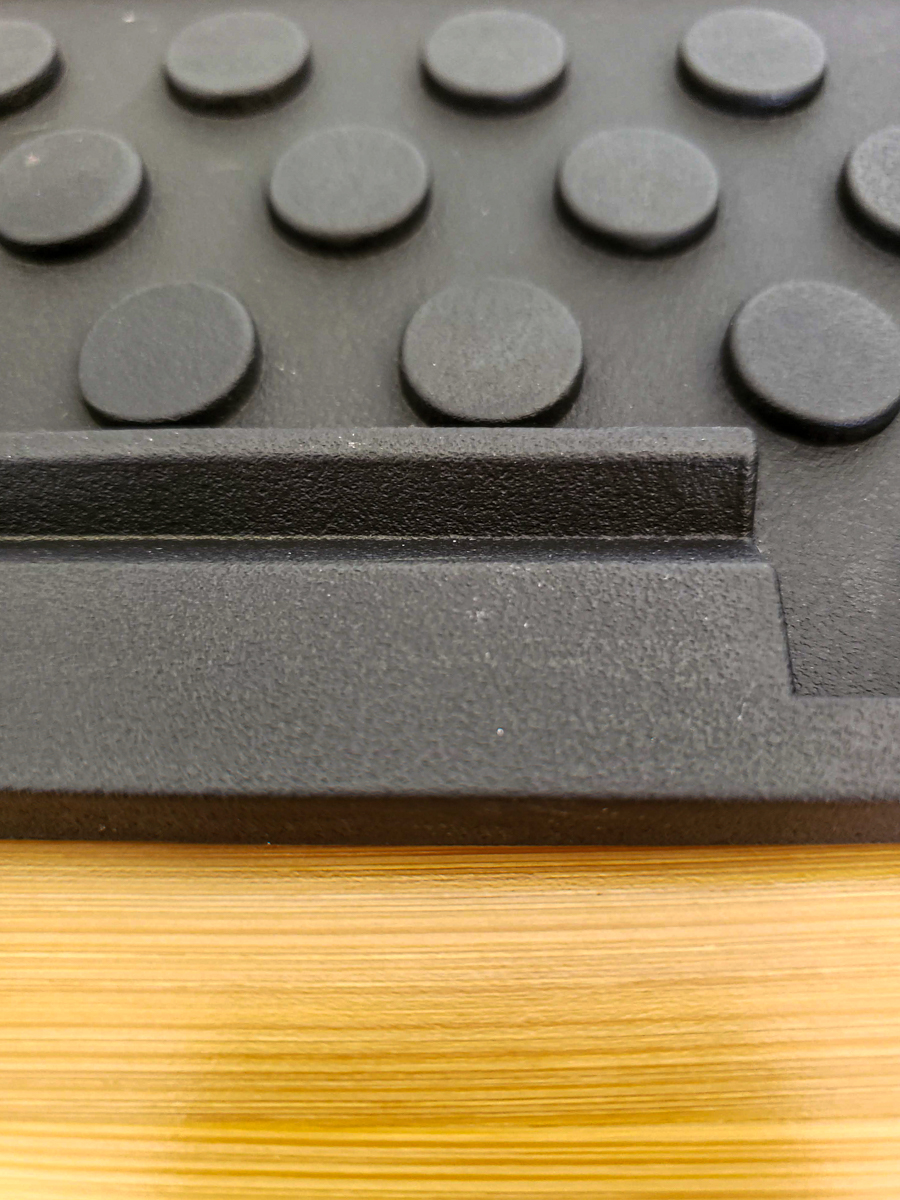 The lower-right corner of the JEGS Workbench Utility Mat has a small conversion chart to help out those who stink at math. And in the lower-left corner is a protractor chart to measure angles. It's pretty unlikely I'll use either of these, but they look kinda cool, I suppose.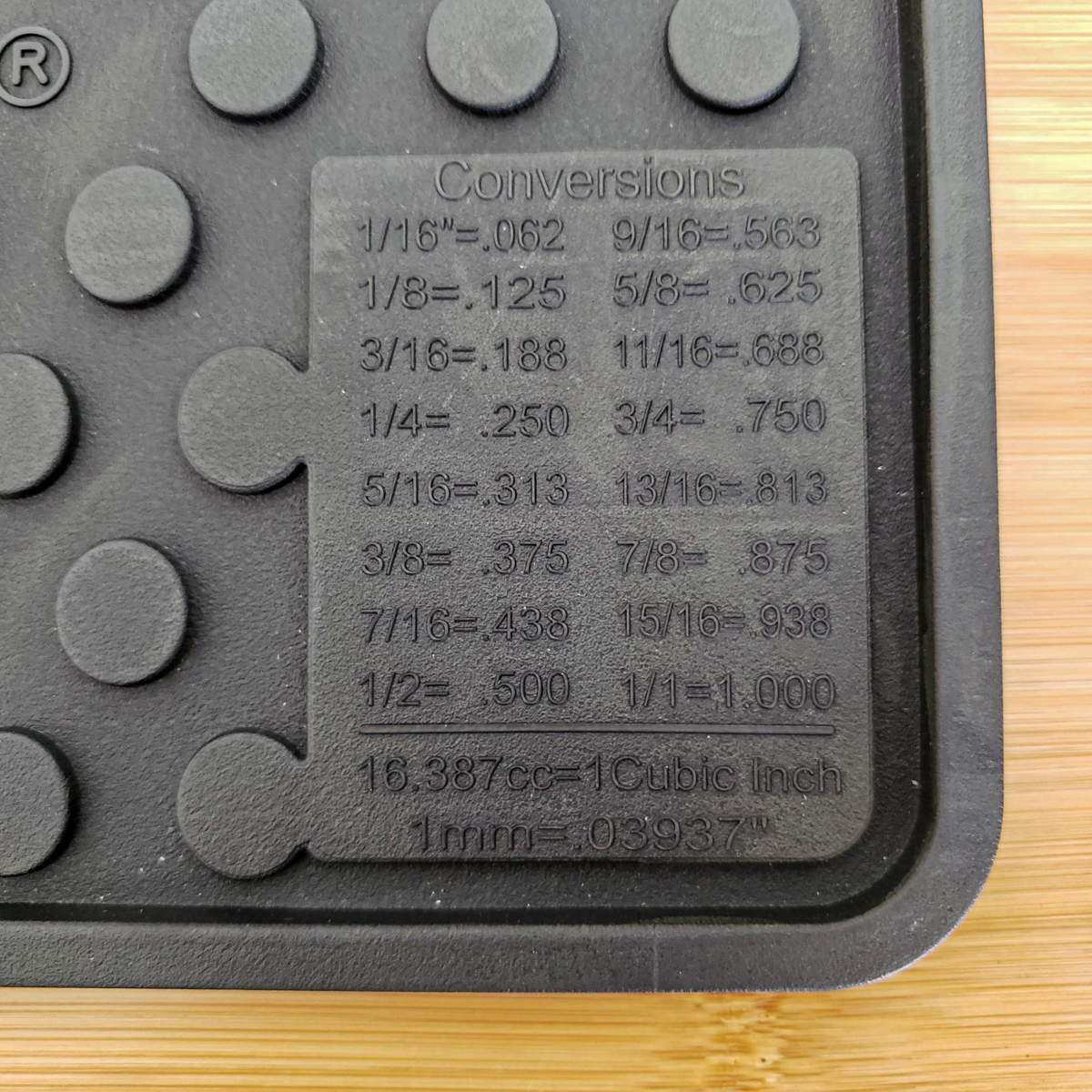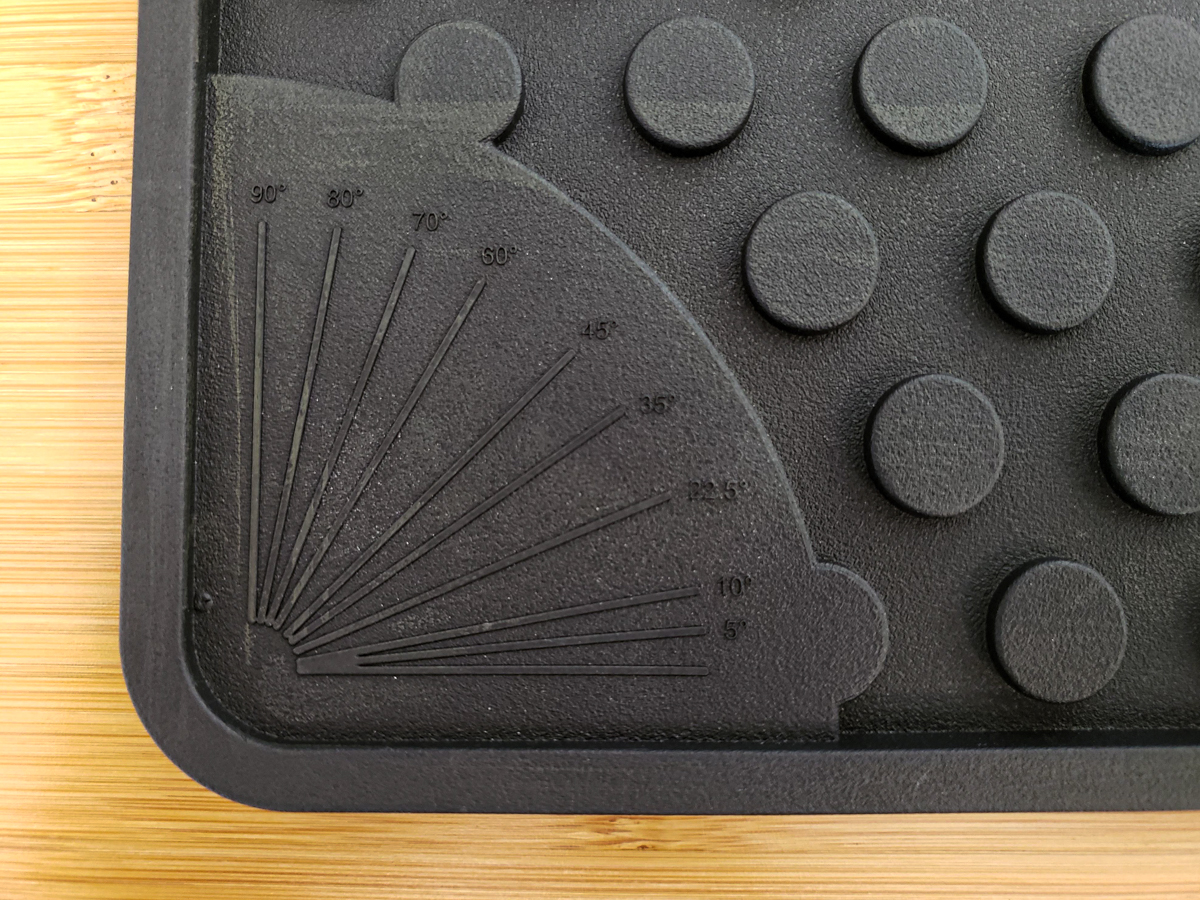 Along the left edge of the mat, in the middle is something I actually didn't notice until later—a "funnel." If you spill something on this mat, it is deep enough to retain a good amount of liquid. Then, you would presumably fold both sides inward and use the designated funnel area to [slowly] drain the spilled liquid into a container, sink or whatever. Again, thoughtful design.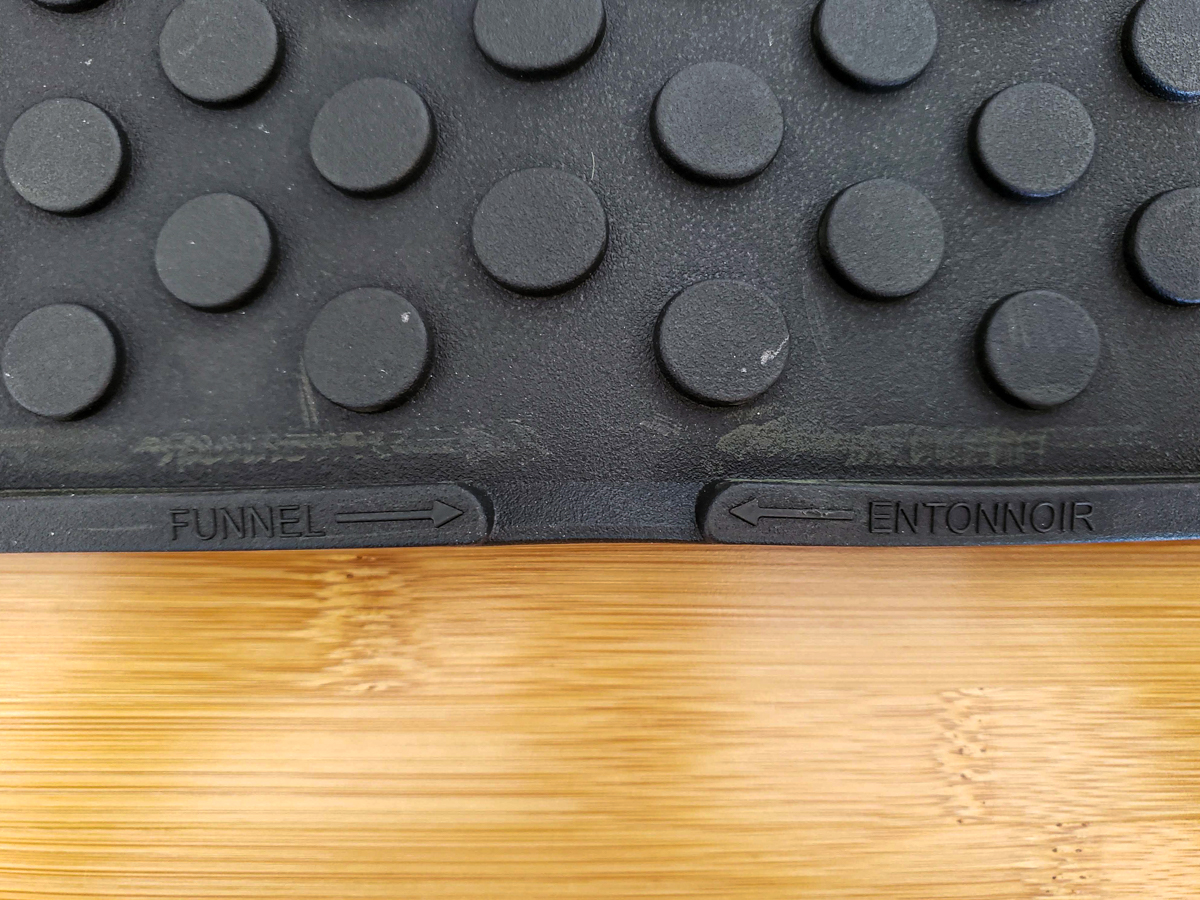 Overall, this is a great little mat and there are few options like it. I will say that we did see two others that are identical to the JEGS mat but were not available. One has the Busted Knuckle Garage logo and the other a USA flag in the center of it—everything else is identical to this one and clearly made by the same manufacturer.
If you're in need of an affordable workbench mat to add a bit of protection and grippy-ness to your work area, the JEGS Workbench Utility Mat might be a good fit and solid value at just under $10. There is, however, a caveat to that price: shipping.
The shipping cost of this mat is almost as much as the mat itself at about $9. Given the way this thing ships—all rolled-up tight like a burito—it's a bit ridiculous. JEGS should ship this mat flat. I'd be totally open to paying $15 for the mat and a far more reasonable shipping cost of say, $5. So, this isn't really a $10 mat. It's a $20 mat. Still, I like and will use it a lot so, for me, it's worth it.
Buy Directly from JEGs (but that doesn't help our site :-()