I recently decided to replace all of my old combination wrenches with new ones because I have a shiny new toolbox in my garage that… well… simply must have shiny new tools inside.????
As I was going through my old combo wrenches, I discovered that I had about 24 different brands, yet not a single complete set. Some were really old that I'd inherited from my father, grandfather, and acquired through my own purchases back when I was going through diesel mechanics school as a teenager. I'm actually going to mount one of each brand to an old board for some cool garage decor.
For me, I wanted a complete set of combination wrenches of solid quality with a strong reputation and a lifetime warranty. Due to forces somewhat beyond my control (e.g., a wife), I wasn't interested in excessively expensive wrenches based on quality, brand recognition or both. Plus, tool trucks don't really cruise my neighborhood all that much.
After lots of research, I landed on the  TEKTON 30-Piece SAE & Metric Combination Wrench Set. I wanted a wrench set that didn't skip sizes, as so many other brands do, and I wanted quality and affordability. Absolutely, zero regrets thus far. For the quality and price, you just can't beat TEKTON, in my opinion. In fact, I bought a bunch of TEKTON tools and we'll be covering those soon here on GarageSpot.com.
Here's what came in the set—there are 15 SAE and 15 metric:
1/4, 9/32, 5/16, 11/32, 3/8, 7/16, 1/2, 9/16, 5/8, 11/16, 3/4, 13/16, 7/8, 15/16, 1 in.
8, 9, 10, 11, 12, 13, 14, 15, 16, 17, 18, 19, 20, 21, 22 mm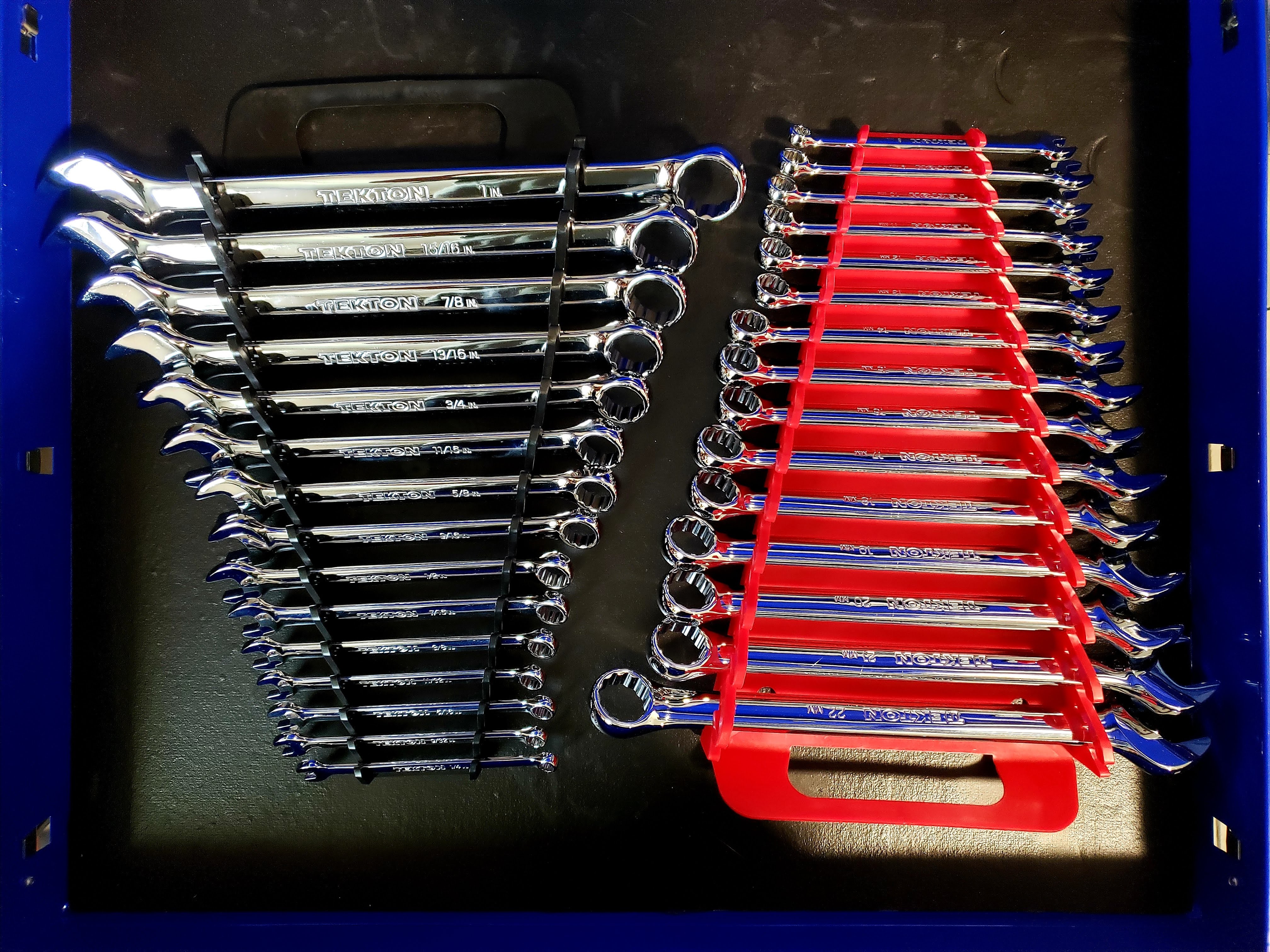 I didn't capture any pics of the box/unbox stuff but the wrenches arrived in a simple cardboard box with TEKTON branding. Each wrench was in its own clear plastic wrapper, although most of the smaller wrenches slid out of their wrappers during shipping. It's fine. They're doing this to protect what truly is a beautiful, mirror-like chrome finish—these TEKTON wrenches look fantastic! More on that in a sec.
The wrenches also came with rubber(y) storage trays, which I really like. Some people call them wrench racks, wrench organizers… I'm gonna call them, "trays." The SAE set of wrenches comes with a black tray; the metric tray is red. You could switch the trays out if you wanted, as they are identical other than their color. The trays are also low-profile, so they should fit in most shallow toolbox drawers. I have mine comfortably in a US General 44″ toolbox, which I believe is a 3″ drawer.
The TEKTON wrench trays have a carrying handle that folds back, underneath the tray itself, for more compact storage in the toolbox. When I did this, it did push the rear of the tray upwards ever-so-slightly but not enough that I couldn't close the drawer. There are also two holes on the back for easy hanging, should you so desire.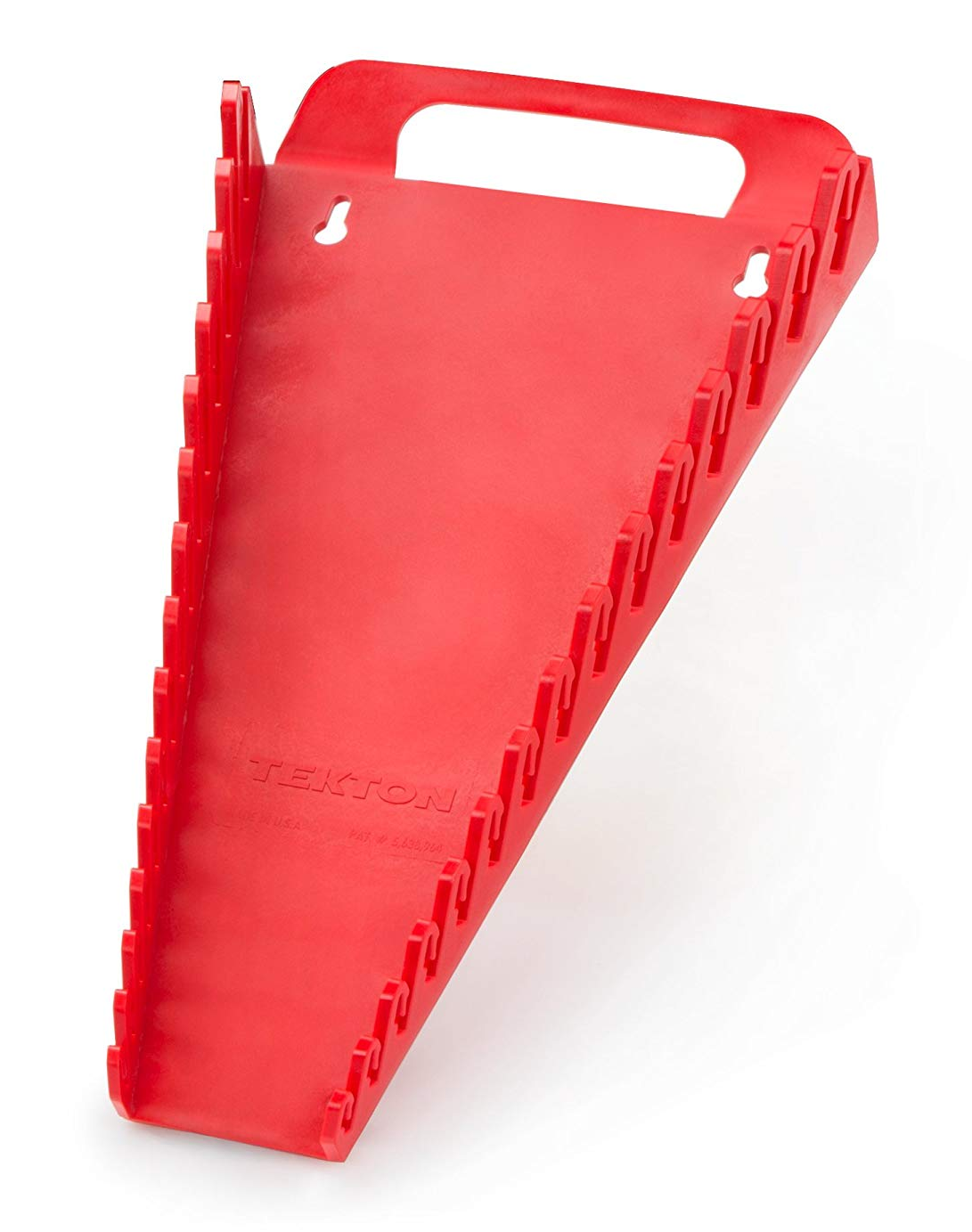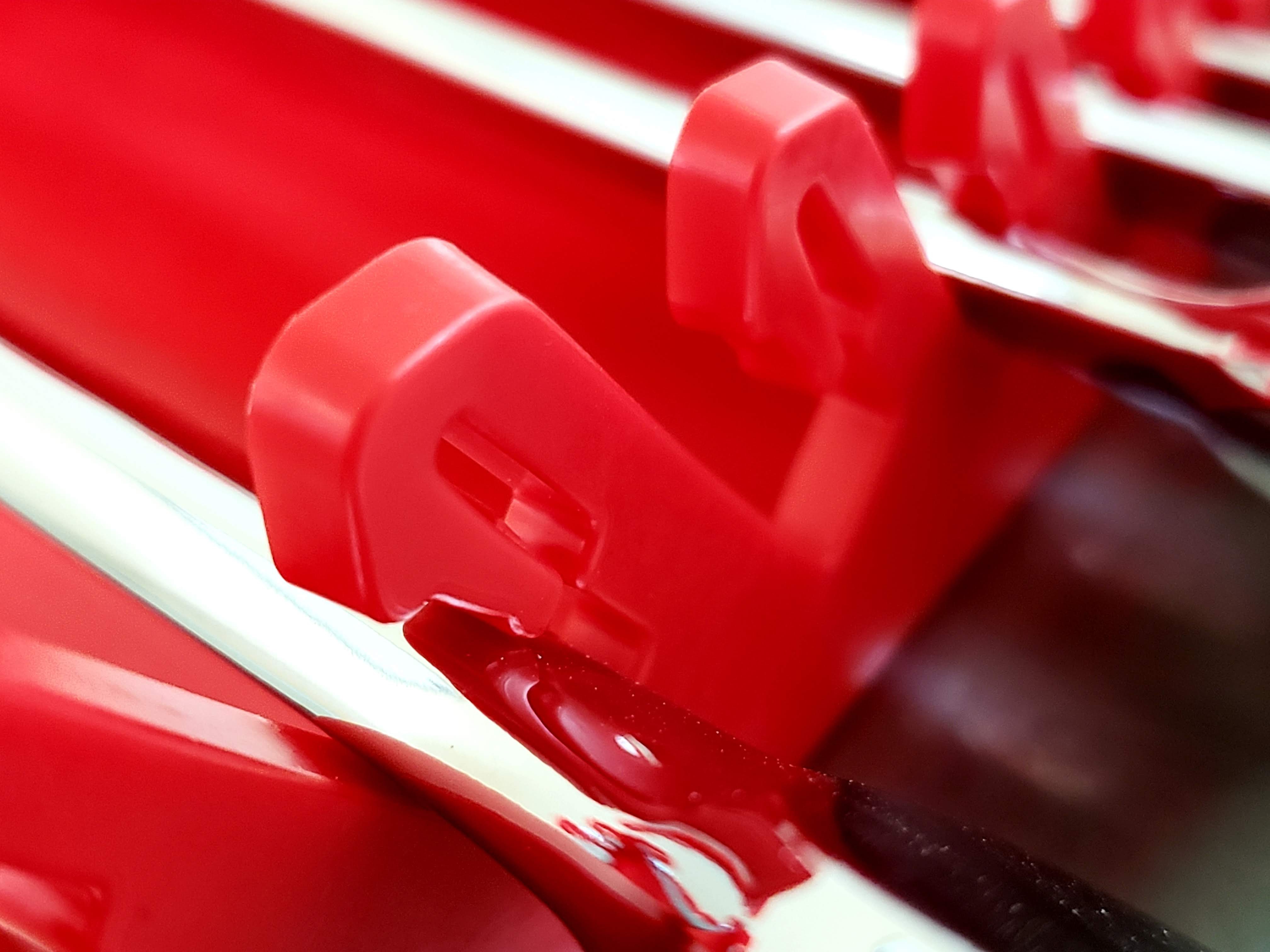 Some folks don't really like wrench or socket trays that are either too tight or not magnetic because the entire tray tends to come out of the toolbox when trying to pull just one tool out. I get that, but I really dig these rubberized wrench organizers. The wrenches are in there nice-n-tight and I can carry all of them around should I need to. The smaller wrenches *might* fall out if you shook the tray like a crazy person.
One quirky thing I noticed once I had all of the wrenches in their respective storage slots is that the wrenches are oddly sized lengthwise. The TEKTON combo wrenches are in fact longer than many other wrenches; however, wrenches in most sets I've seen get longer as they get larger—primarily for leverage on bigger bolts. The TEKTON set, however, gets larger up until about halfway, then they go from slightly shorter back to the longer size (you can see this in the top photos). It's odd and I have no idea why they do it other than maybe compact storage but doesn't bother me… just worth noting.
TEKTON told us that the sizing issues are due to some non-standard sizes sharing blanks. So, they're not shorter, just the same size as the wrench next to them.
The finish on the TEKTON combo wrenches is beautiful. The chrome is super-shiny, there is no pitting, flaking or other imperfections—they just look great. That also means they'll clean-up well. At least that's my hope. Honestly, I've only used these for a few months, working under the Jeep. I've put a few of them through their paces and they wiped clean with no chemicals at all—just a dry microfiber cloth. Time will tell, of course.
Each wrench is marked very clearly with the TEKTON brand and wrench size in the center on one side, and the size again and the TEKTON item number on the other side, should you need a replacement wrench. These wrenches do have a lifetime, no-hassle warranty.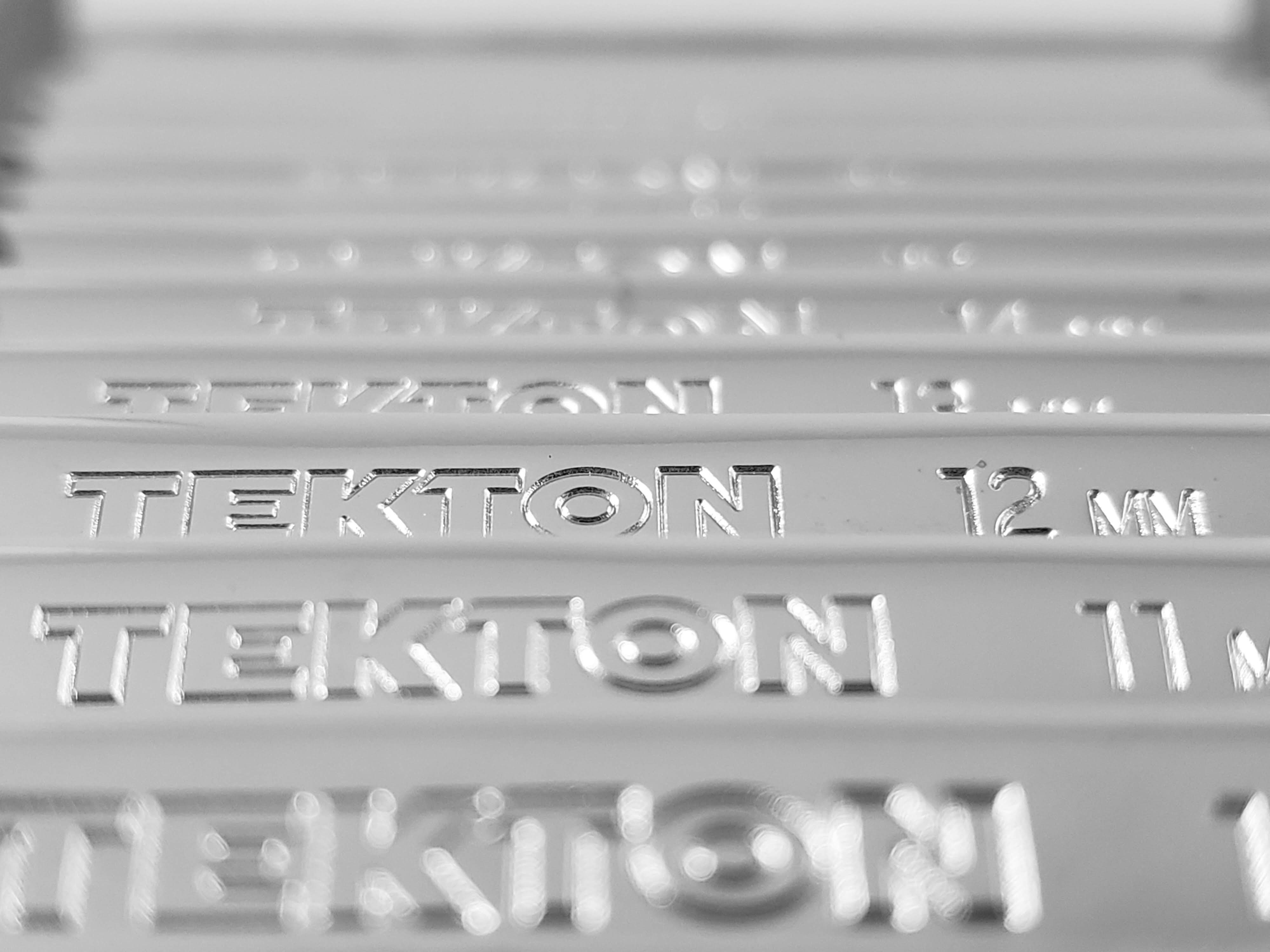 The box end of each TEKTON combo wrench has a 12-point opening and is offset by 15° to provide better clearance for your fingers and to clear various obstacles where flat wrenches would be a problem. The walls of the box end are thin but when compared to my older and other brand wrenches, it actually makes it much easier to get the wrench onto nuts and bolts in tight spaces. No doubt, these wrenches will go where most ratcheting wrenches won't.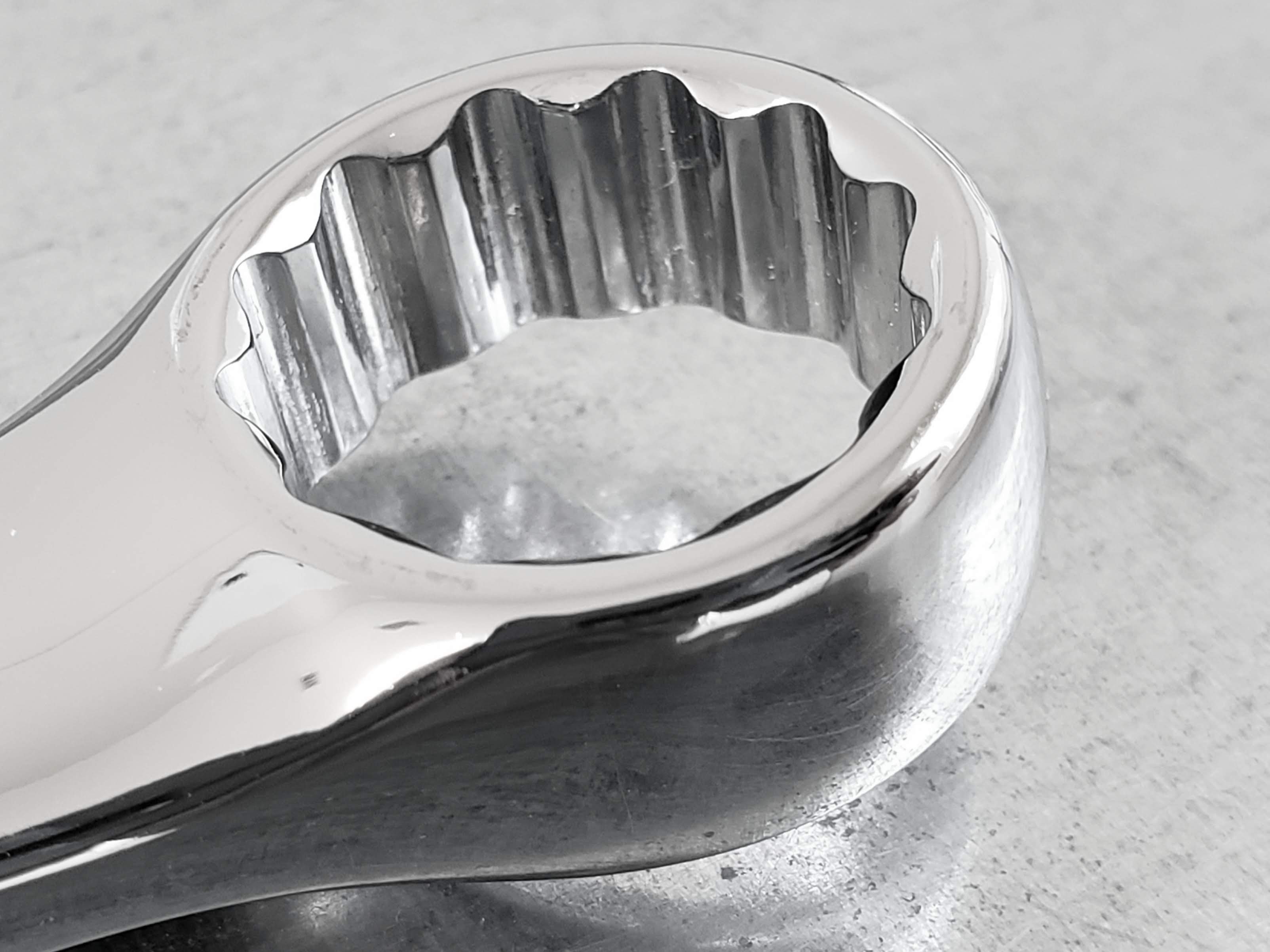 The open end of each wrench is angled (vs. offset) at 15° so the wrench can be flipped with each rotation to engage the fastener twice as often. In practice and in tight spaces, flipping the wrench doesn't always work out, but the angle of the wrench does give you the option and does reduce swing.
Unlike some of the more professional combination wrenches, the open end of the TEKTON wrenches don't have teeth or some other mechanism to deal with slippage or stripping. That also means the TEKTON wrenches won't mar your fasteners, so that could be a positive feature (or lack thereof).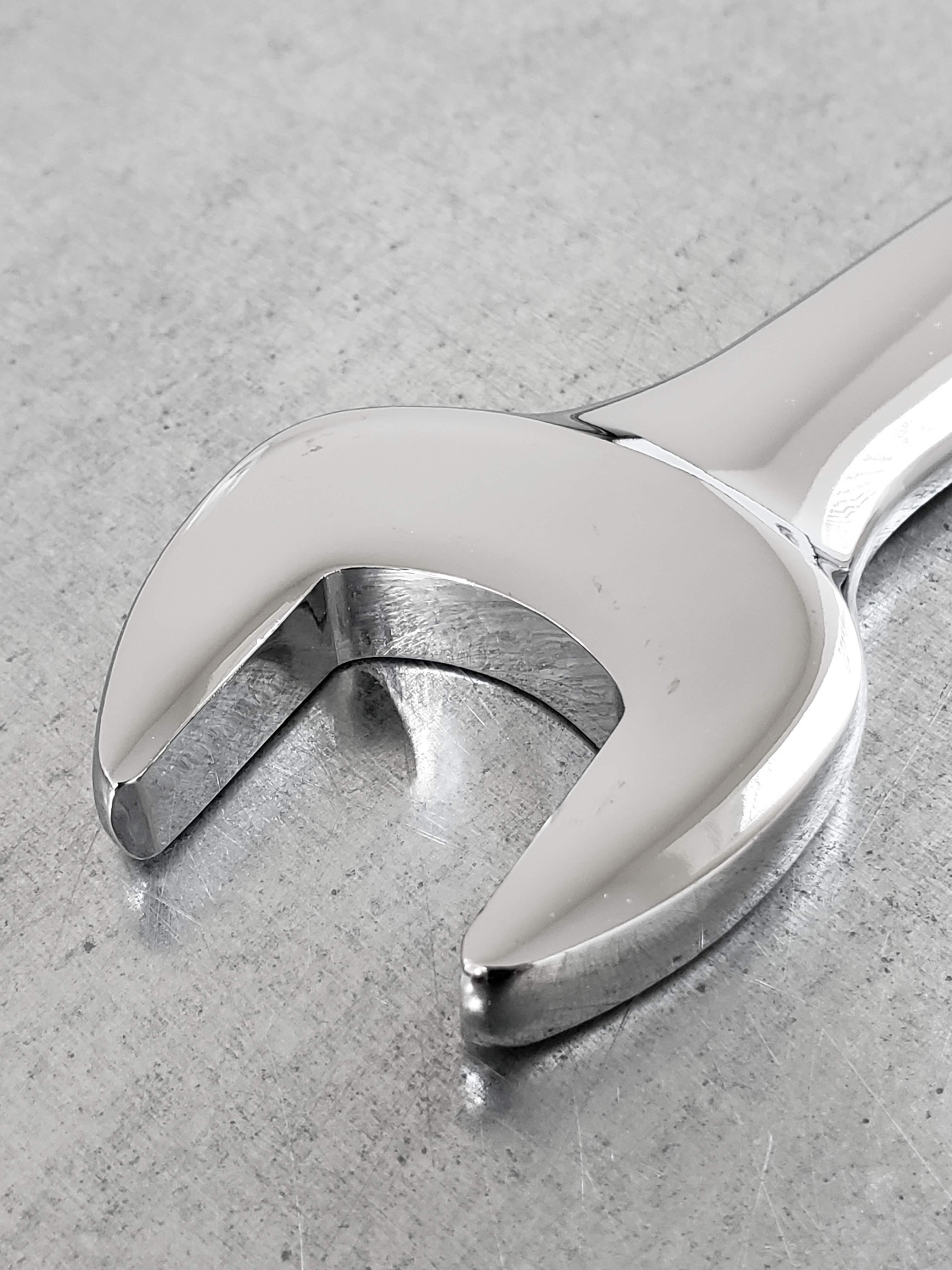 I will say that the TEKTON combination wrenches are a bit thin and slippery in the center—there is no texture, like some of my older, USA made Craftsman combination wrenches. When I was torquing a few of the skid plate bolts under the Jeep, I felt the wrench rather sharply in the center of my palm. Yeah, I could've slipped a leverage bar on it, but it's just something to consider. Certainly not enough to worry about failure or overall quality—it's just an ergonomics thing for me.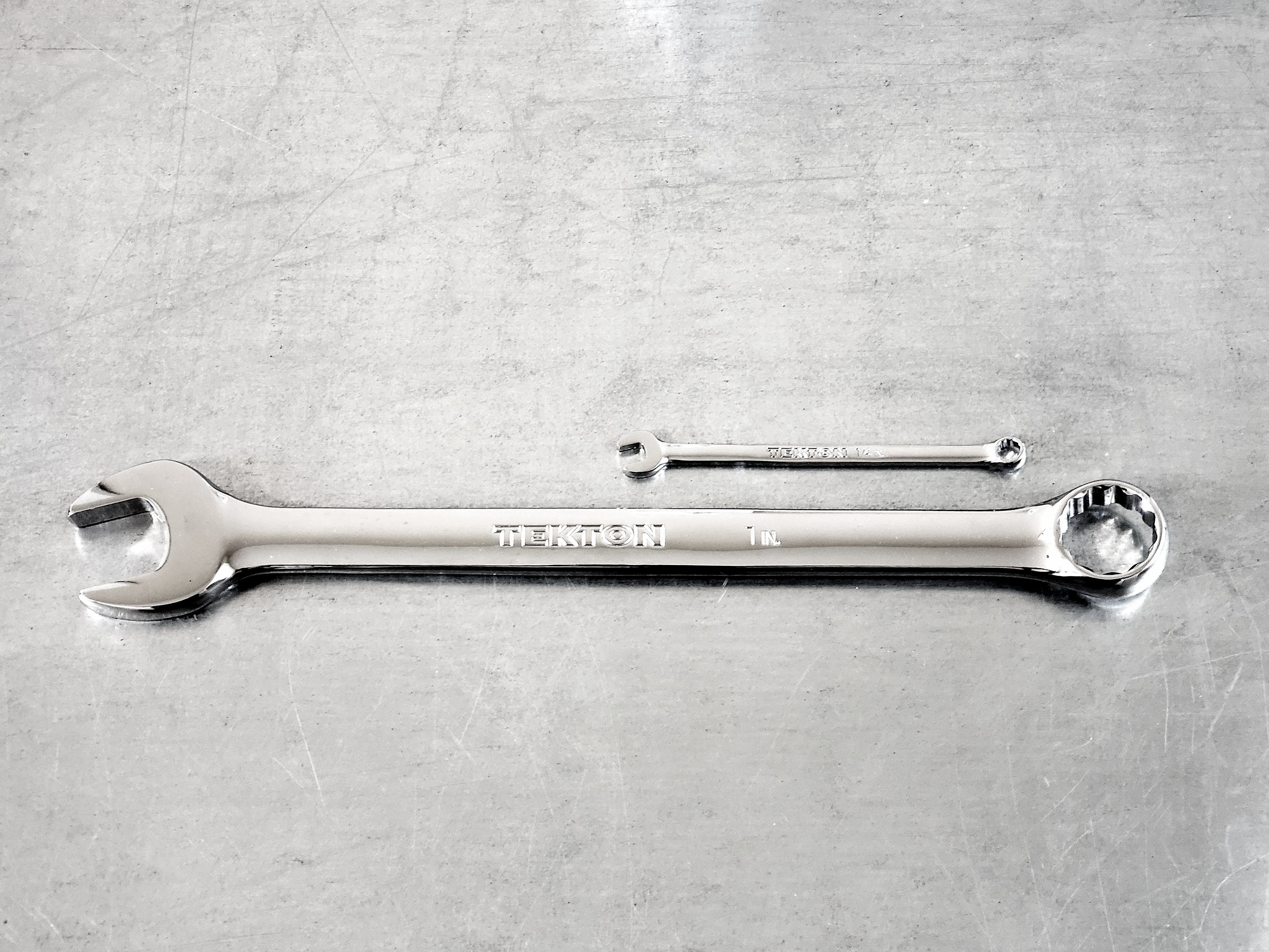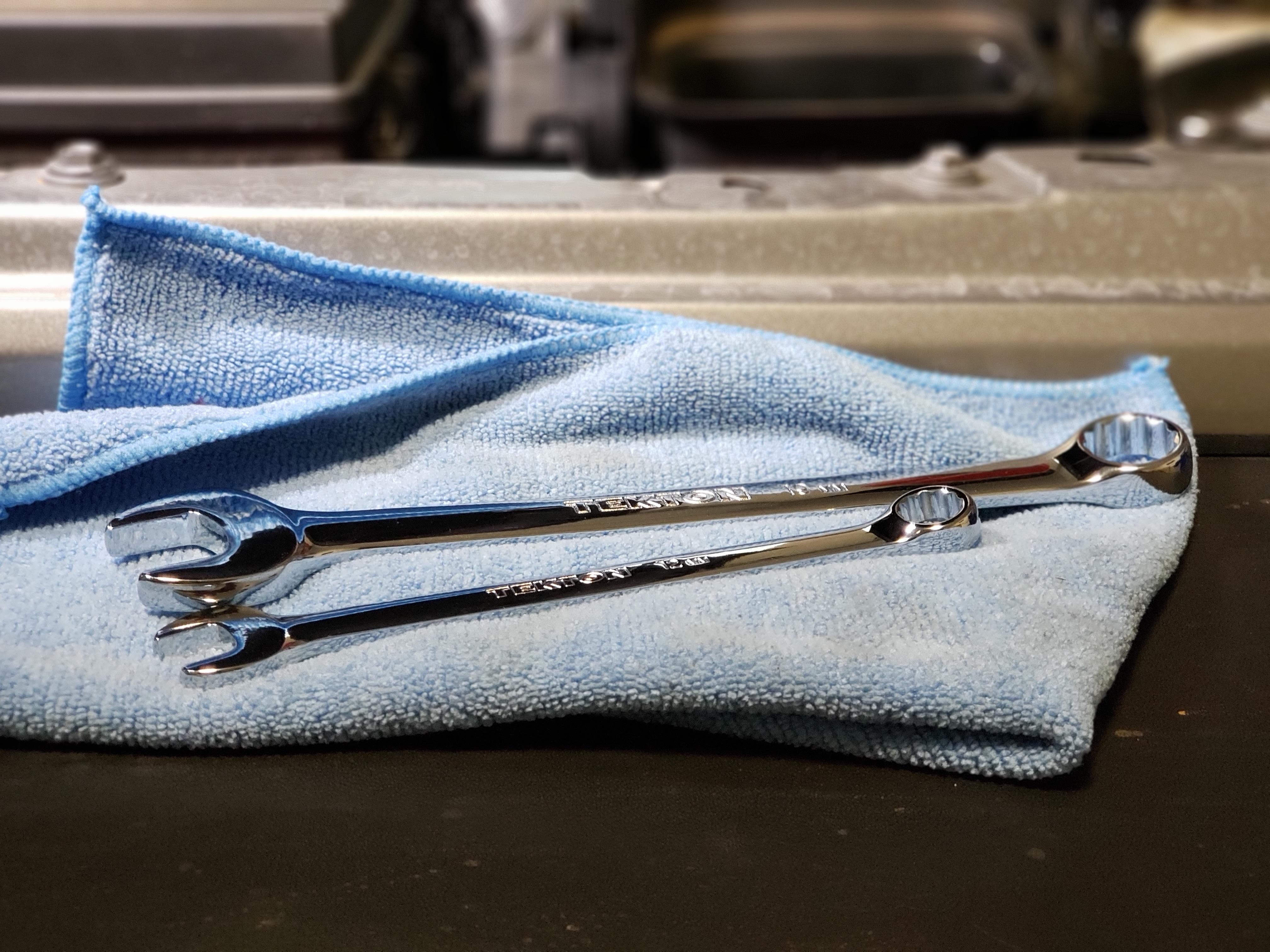 Oh, and maybe I've got some kind of magnetic hand superpower thing going on, but I swear the smaller wrenches have magnetic open ends. I can't find anything about it on their site but mine were stickin' together. That's cool for not losing little nuts-n-bolts.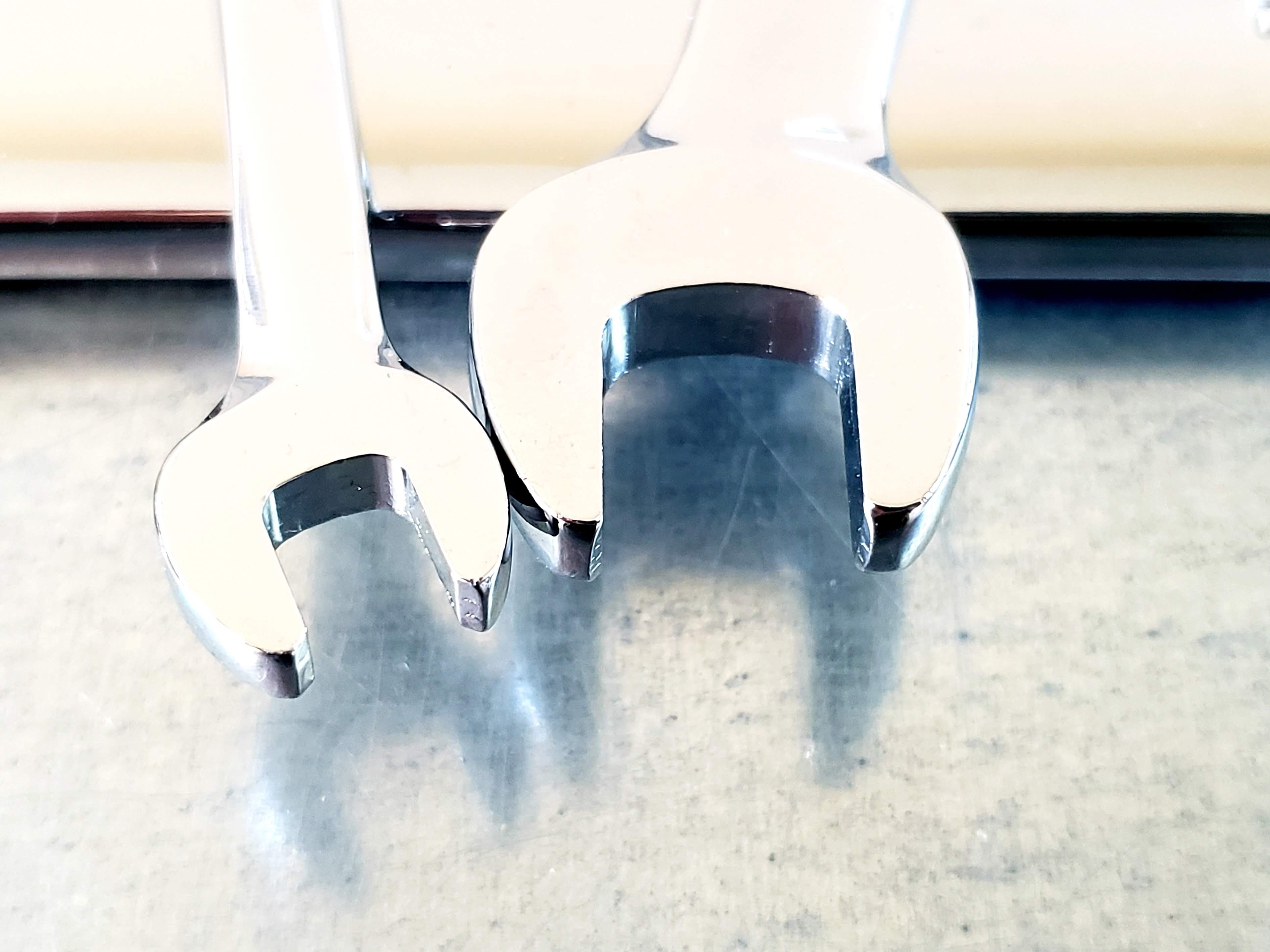 Again, these are not "tool truck," professional quality tools. And, like almost every other tool, they're made overseas—Taiwan, in this case (although I've seen that the organizer trays are made in the US). I'm not a professional mechanic but I do work on my Jeep and other projects quite often in my own garage or over at my brother in-law's professional shop. I also have friends and family who are professional mechanics and do use various TEKTON tools daily. These are really great wrenches—they look and feel great, they perform great, and they're exceptionally priced, in my and the GS team's opinion.
If you're looking for a great set of wrenches or other hand tools for that matter, consider TEKTON.
TEKTON Combination Wrench Set, 30-Piece (1/4-1 in., 8-22 mm) - Holder | 90191
Includes 15-pc. inch combination wrenches: 1/4, 9/32, 5/16, 11/32, 3/8, 7/16, 1/2, 9/16,...
Open end is angled 15 degrees so the wrench can be flipped over to engage fasteners twice...
12-point box end doubles the access angles of a 6-point and is offset 15 degrees to create...
Box end opening is designed to grip flat sides of fastener heads, not corners, to prevent...
Made of premium chrome vanadium steel with a mirror chrome finish
Rating Criteria
For the DIYer, enthusiast, and even many professional mechanics, TEKTON tools are fantastic. You don't need the big box trucks to get quality tools that are great looking and come with lifetime warranties.