Days before Hurricane Irma arrived here in North Florida, I decided I needed to get myself a good cordless radio since electricity goes out around here when someone sneezes.
I'm fairly invested in the Milwaukee M18 line of tools and have plenty of M18 batteries. So, I thought I'd give the Milwaukee M18 Jobsite Radio a shot. I'd never read anything about it but trusted the Milwaukee brand and wanted to get a radio quickly, before the storm.
Fortunately, Irma had little impact here in North Florida, so I honestly didn't get much time with the radio until recently (hence, the delayed review). I should also mention that this particular jobsite radio has been available for several years now but doesn't really look dated compared to newer models from other brands.
Uh-Oh
A few weeks after the hurricane, I was using my iPhone with the radio's Bluetooth feature in my garage. The phone was also plugged into the radio's integrated USB port to keep it charged. After a couple of hours, I started to notice odd electrical noises coming from the speakers. The noise didn't really affect the music but was just enough to be annoying—and somewhat troubling that it was going to ruin the radio, my phone or both.
At first, I thought the noise was some kind of interference, but if I unplugged the USB cable, the noise completely disappeared. I tried several other USB cables, to no avail. After another couple hours of trying different, longer cables and whatnot, I ended up returning the radio to Home Depot for a replacement unit.
Round Two
Okay, let's try this again with a new radio.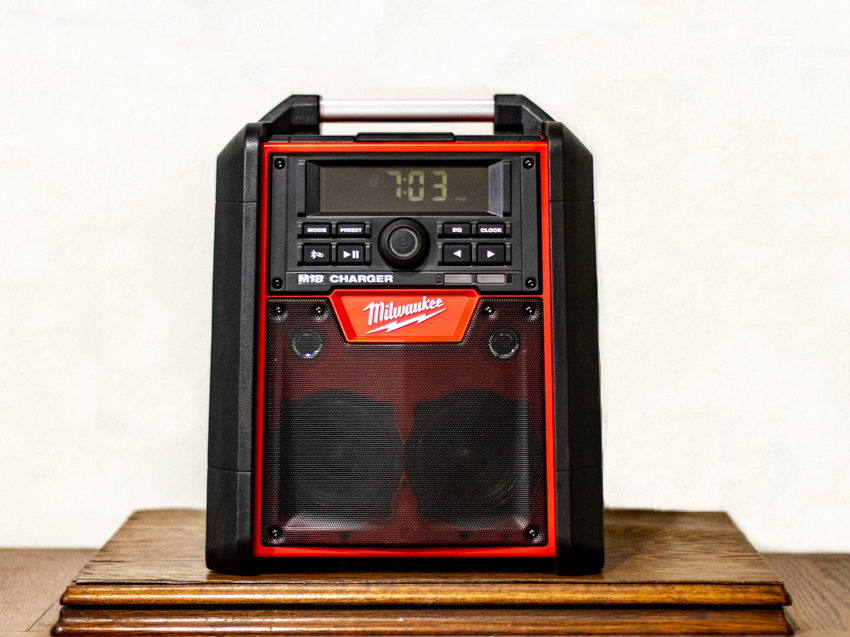 Well… same setup, and same noise. But… much, much quieter. In fact, I can barely hear it now. After some Interwebz searching, I just chalked it up to just what it sounds like: some kind of electrical noise whenever the USB cable is plugged into the radio and [at least mine or my wife's] phone.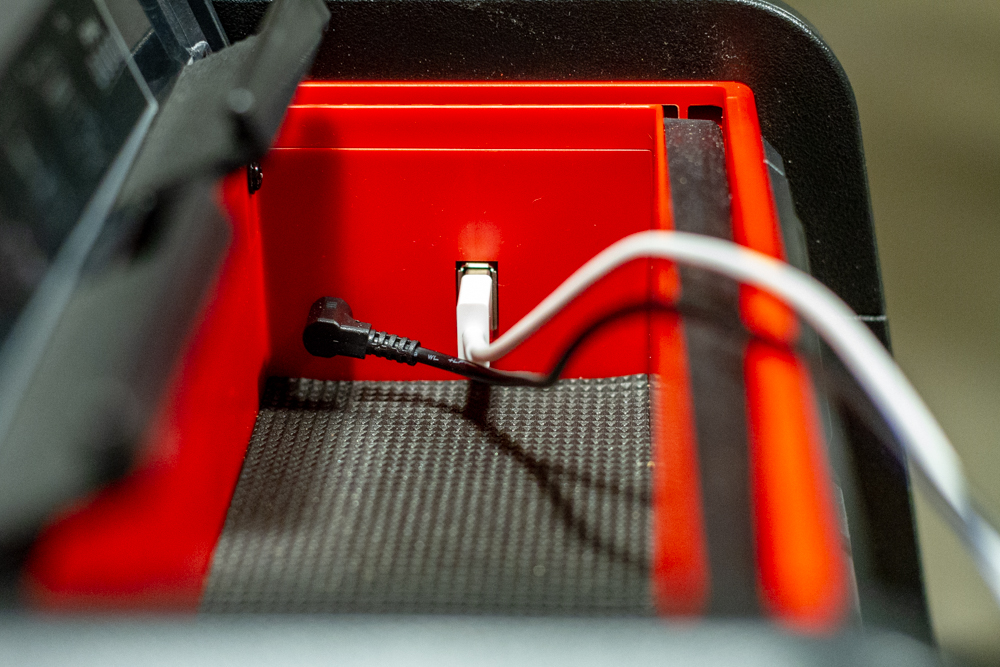 Now, normally, we wouldn't even mention anything about a defective product in a review *IF* the replacement product showed no signs of the same defect—as they say, s**t happens. But the new radio did have the same issue, just to a much lesser degree.
With that, and since the noise was and still is almost negligible this time around, I decided to keep the radio because I like it… a lot. In fact, since all of this went down, I've found myself using the Milwaukee M18 Jobsite Radio almost exclusively when tinkering around with the Jeep in the garage, working with my buddies in their garages, and out on the trail or campsite. It sounds great, despite a few minor things I would like to see Milwaukee address, even beyond the weird electrical noise.
Let's take a closer look.
Build Quality
The Milwaukee M18 Jobsite Radio is rugged and tough—and feels like it, too. At 17lbs, it's not all that light but its weight is comparable to its size—about 15″ high x 12″ wide—given the quality of the radio. The red outer shell is a strong plastic protected by what Milwaukee call a "shock-absorbing roll cage."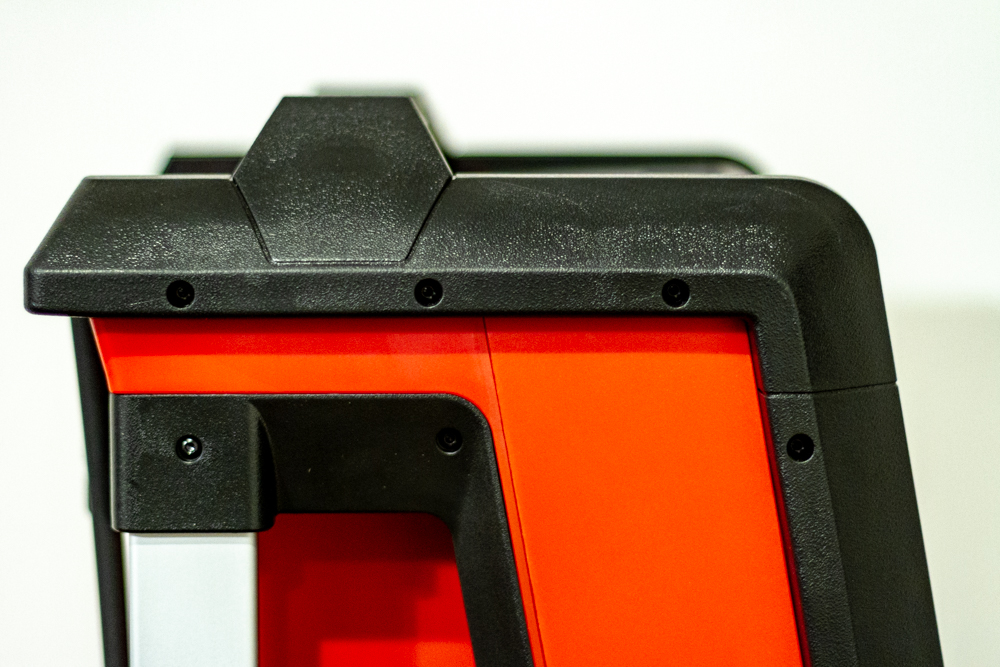 Integrated into the roll cage are three aluminum handles— one on the top and one on either side of the radio. The handles are squared, not rounded, but we didn't consider this to be an issue at all in terms of toting the radio around.
Since I paid good money for this radio, I wasn't going to toss the thing down a flight of stairs to test its durability. But I did actually drop it accidentally from about 4′ (it fell out of the back of the Jeep). As expected from Milwaukee—and with a roll cage like this thing's got—it didn't affect the radio at all or this review would be a lot different.
That said, we're not 100% sure just how much abuse this thing could actually take. I suppose a real reviewer would drag it behind a truck or something, so we fail on that account. But, really, the "roll cage" is a hard plastic and doesn't appear to give all that much. We'd be interested to hear if others have actually put the radio through some real-world abuse and how well (or not) it's been holding up since.
Functionality & Design
The eight rubberized buttons (actually nine, if we include the combo power button/volume dial) on the front-facing control panel seem to be well sealed and all have a good tactile response. The buttons are also easy to read and don't seem like the lettering on them will wear off too quickly. That power button, however, is an issue for us.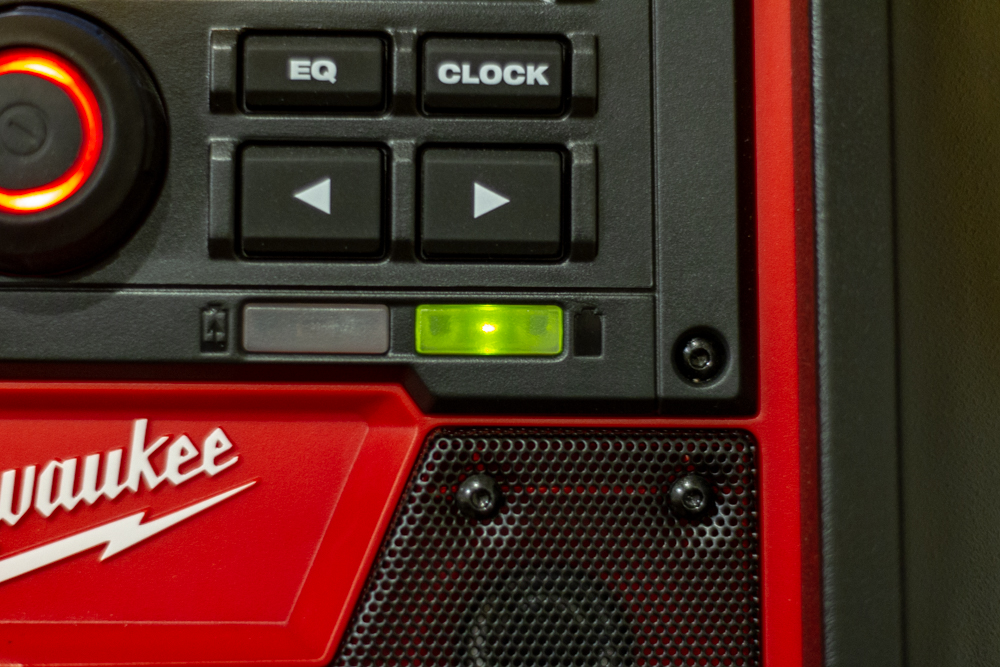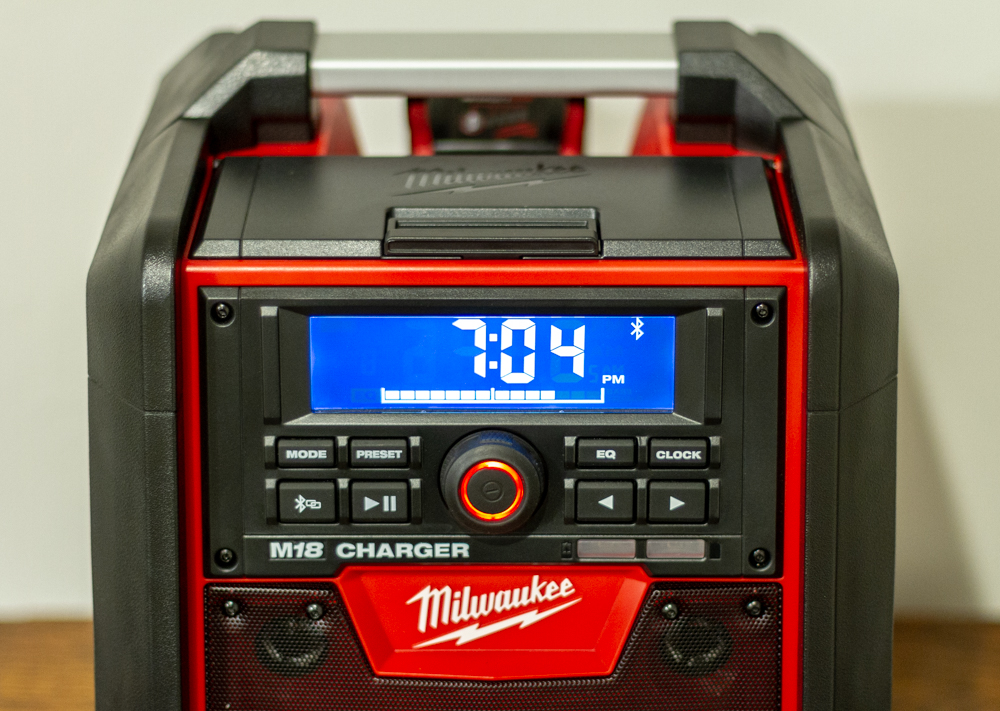 The biggest problem with the power button—and one that we think costs this radio an entire star in the design category—is that it sticks out like a sore thumb. As a volume dial (since they are one and the same), that's fine. But having the power button so far out means this radio constantly seems to get turned on or off accidentally—especially when loading it onto a truck or something where other gear surrounding the radio presses up against the power button. Even slight bumps against our legs while carrying the radio around kept causing it to power up.
Of course, this issue only applies when there is a power source. So, if you remove the battery while transporting the radio, it's a non-issue. But we almost always have a battery in ours.
Whatever the case, this was just a poor design decision by the folks at Milwaukee.????
The bluish backlit display illuminates radio channels, presets, and various status icons just fine in any light, while the old-school white digital digits are easy to read, even at a pretty good distance.
The four speakers—two drivers and two tweeters—are covered by the standard metal mesh screen you'd see on most radios and have for years. This grill doesn't flex much and is at least partially secured using screws, which is a plus for a jobsite radio since cheap speaker screens are some of the first things to break.
On top of the radio, there's a small weather-sealed compartment with a door that pops-up. This compartment won't hold much—our smartphone wouldn't fit inside with the door shut. The back of this compartment cover is a foam-padded cradle, where you can set your smartphone or other mobile devices so you can see their screens.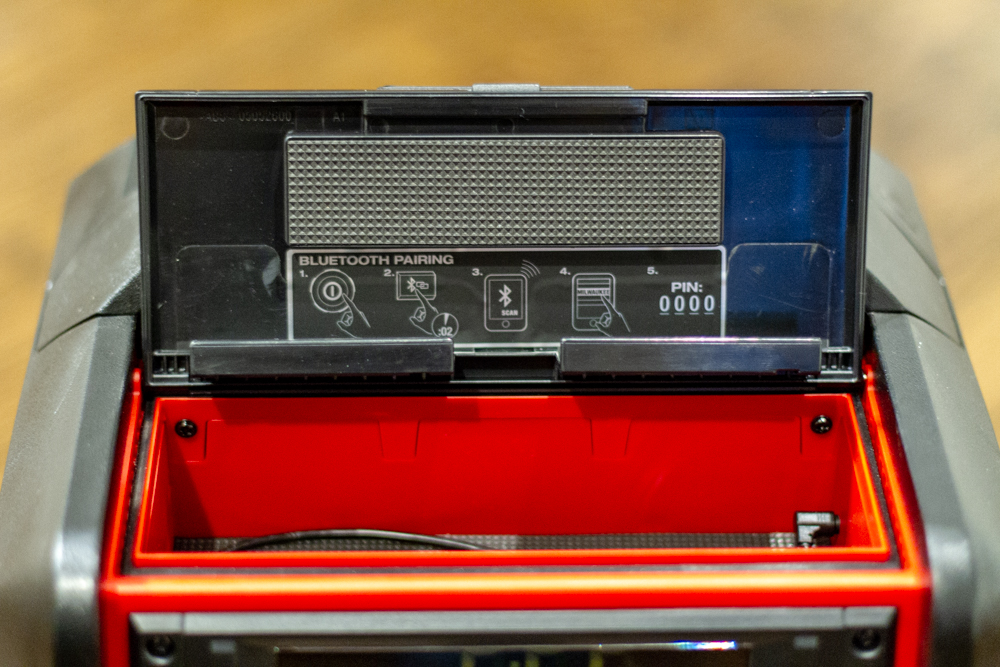 Theoretically, you can place a standard-sized tablet in the cradle but ours fell backward with the slightest bump because it was a tad top-heavy. Still, it's a good place to park a mobile device when it's charging via the USB cable, hooked up to the included 16″ auxiliary audio input cable or just being used to stream music via Bluetooth.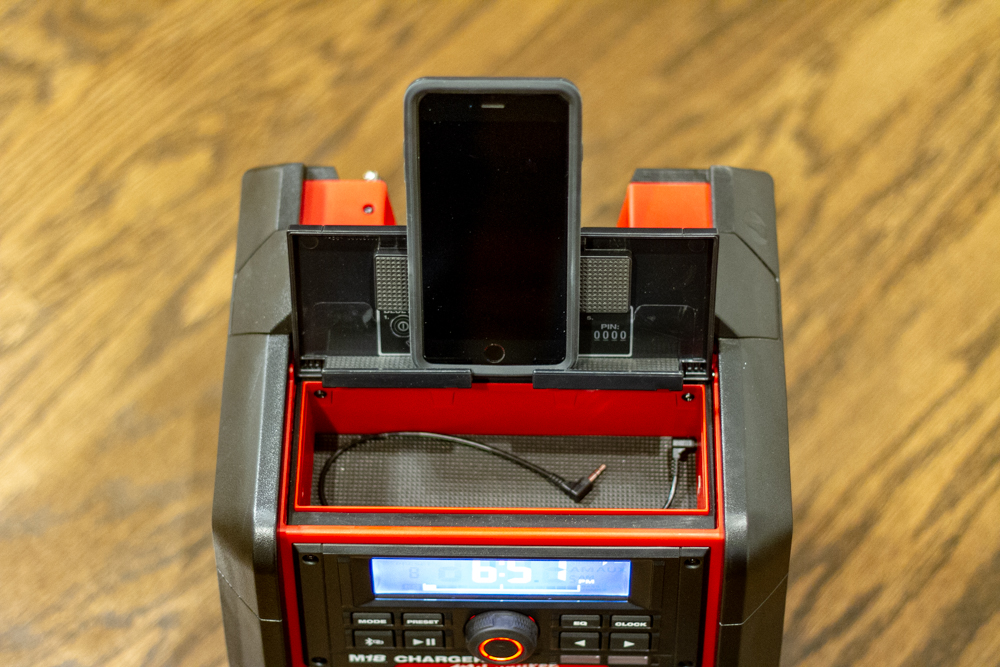 Oh, and there's a nice all-metal bottle opener built into the side of the radio for when the day is done and you just want to kick back and relax.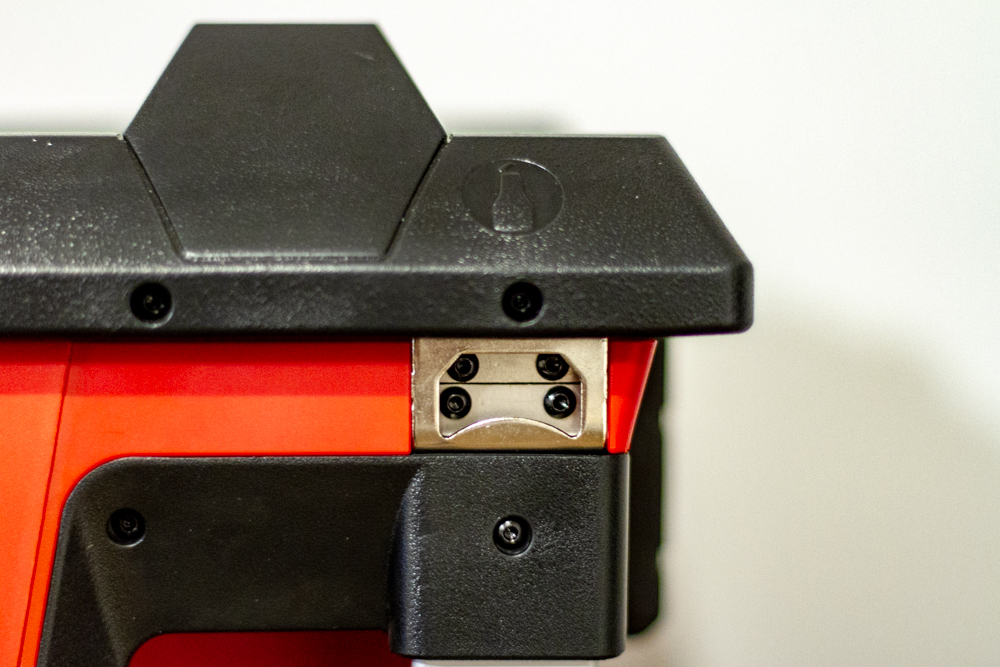 Features, Power & Charging Options
The Milwaukee M18 Jobsite Radio/Charger has pretty much everything you'd expect from a jobsite radio—an AM/FM tuner with 10 presets, Bluetooth and auxiliary audio input, a digital clock, and, of course, the bottle opener. The biggest feature, however, is how the radio integrates with the M18 REDLITHIUM battery platform.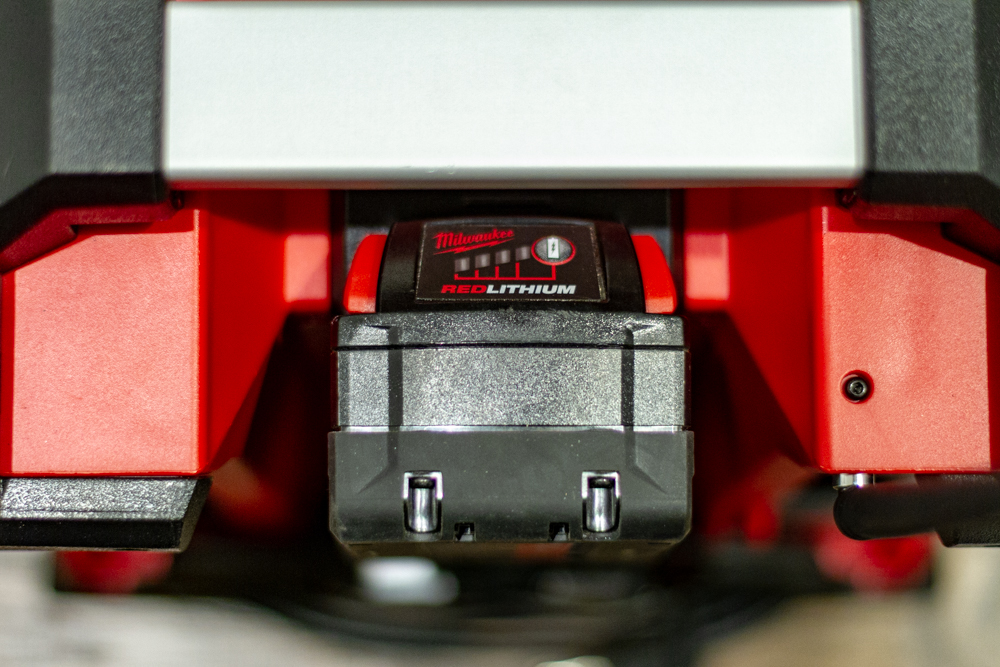 With an M18 battery attached (a cover on the rear is flipped down and the battery slides in from the top), the radio's power adaptor plugged into a standard 120V AC outlet, and the unit switched on, the Milwaukee M18 Jobsite Radio will power the radio, charge the battery and, optionally, quick-charge a mobile device via the radio's integrated USB interface. The radio can also run on an M18 battery alone and still charge mobile devices.
While run times will vary depending on battery size and how you're using the radio, we were able to get at least a solid 8-10 hours out of an M18 5.0 battery. Obviously, the newer 9.0 batteries will last much longer and the 2.0s much shorter.
Solid Sound
As mentioned earlier, the Milwaukee M18 Jobsite Radio sounds great for a jobsite radio—and that's why one wants in a jobsite radio, right? The 40-Watt amplifier powers two drivers on the lower-end and two tweeters on the high-end for a solid sounding stereo rig. The customizable equalizer allows for minor tweaks, as well.
This radio can get quite loud for its size and the volume detents aren't all that close. For us, we kind of wanted an in-between at certain levels—it was either too loud or too soft for our taste. In most situations—louder worksites or wrenching in the garage—the volume adjustments will be just fine.
Value
At the time of this review, the Milwaukee M18 Jobsite Radio/Charger is listed on Amazon for around $190 and Home Depot for around $200. It's a bit pricey but it's pretty much in-line with other big-brand jobsite radios with integrated chargers.
If you've bought into the Milwaukee M18 product line, this radio is a great choice for the jobsite, garage or campsite. It sounds great, lasts long, and can charge your mobile devices.
Sale
Milwaukee Electric Tool 2792-20 Electric Jobsite Radio/Charger
Built-in charger quickly and conveniently powers up all Milwaukee M18 Lithium-Ion...
Weather-sealed compartment offers onboard protection for small belongings and smart phone
Premium speakers and 40 Watt amplifier produce a rich, full sounds for clear audio
Customizable equalizer and 10 station presets deliver personalized and enhanced sound
Exclusive Digital Bluetooth receiver streams audio wirelessly from over 100 ft.
We should note that Milwaukee does offer a similar jobsite radio in a smaller package, without charging or Bluetooth capabilities, and for about half the cost.
Sale
Milwaukee 2890-20 18V Dual Chemistry M18 Jobsite Radio with Shock Absorbing End Caps, USB 2.1A...
CHARGE YOUR DEVICES: Keep your phone tucked into the back of the radio and out of harm's...
SHOCK ABSORBING END CAPS: This radio is built to last, with the rubberized end pieces able...
DIGITAL AM / FM TUNER: You can have up to 10 presets stored on this radio at once, letting...
STACKABLE DESIGN: The rectangular shape of the radio is designed to sit flush in cars,...
M18 COMPATIBLE: This Milwaukee power tool works with M18 18v lithium ion Milwaukee...
Rating Criteria
Despite an initial speed-bump and a power button placement issue, we really do enjoy using this rugged, great sounding corded or cordless jobsite radio with integrated M18 battery charger, USB charger, Bluetooth and AUX audio, and even a bottle opener.