Here's something a little different, but a topic some buddies and I were actually discussing while hanging out in the garage a few weeks ago: tactical flashlights.
As some of you may or may not know from previous posts here or on social media, I'm a fairly confident self-defender. I don't have a bunch of guns or wear "tacticool" gear to the grocery store, but I do legally carry almost everywhere I go, and I like to think I'm significantly well-trained to do so in order to protect myself, my family, and those around me.
While I really don't lug around much gear at all, my everyday carry (EDC) does oftentimes include a small flashlight, despite my firearm having a rail-mounted light. For a long time, I carried a small tactical-ish flashlight from a big box hardware store because it just worked, was comfy to carry, and it was affordable.
More recently, however, I've been testing a few "tactical" flashlights because, to be honest, I needed one to check a terrible noise under my Jeep one night on the trails and the little light I'd been carrying wasn't doing it for me. So, I started searching for something with more lumens—a common measurement of brightness. My previous EDC light was only 300 lumens and when I started comparing that to some of the 1000+ lumen lights in a similarly-sized package, I was convinced—I needed to upgrade my go-to flashlight.
The Fenix PD36R Rechargeable 1600-Lumen Tactical Flashlight met my criteria.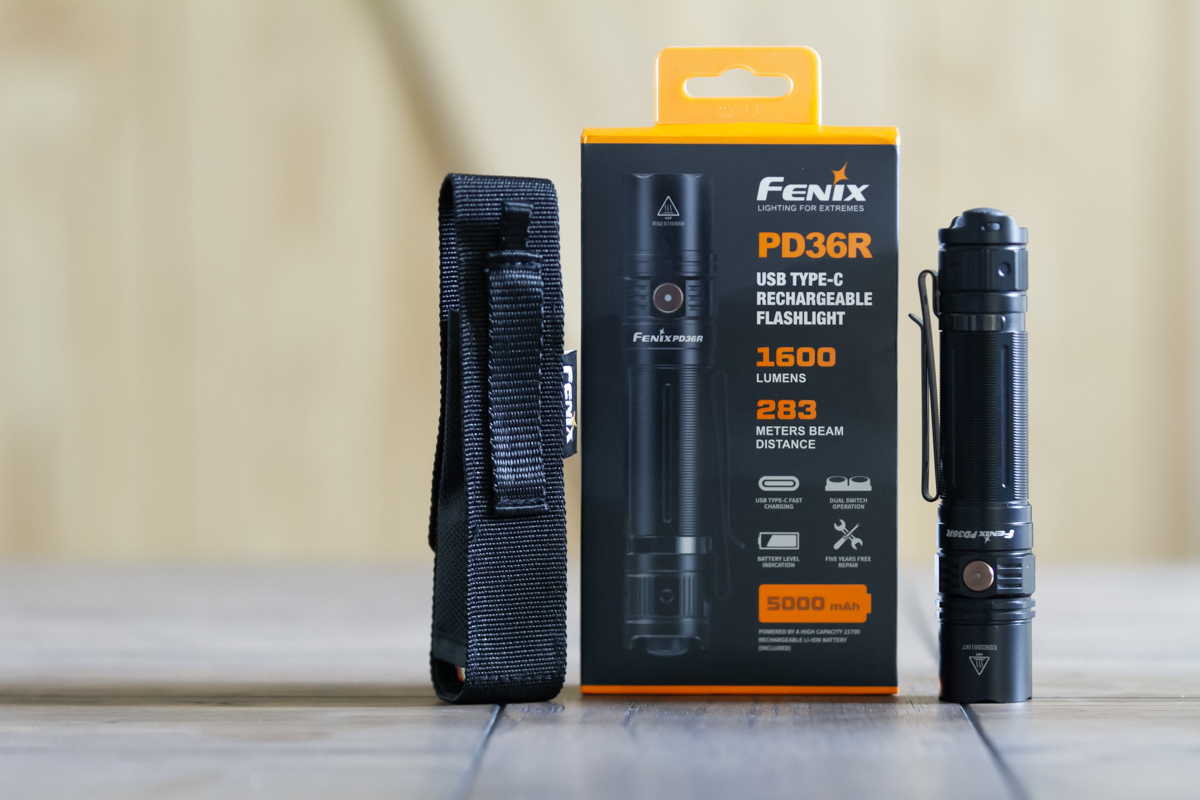 Build & Quality
At just over 5¼" in length, the Fenix PD36R is a slightly longer but still very portable tactical flashlight. It's definitely longer than those I've carried before but there's a reason and it's well worth it: the Fenix has a new 5000 mAh rechargeable battery inside, which makes the runtime of this light—even on its highest "turbo" setting—last a very impressive amount of time. More on that in a few.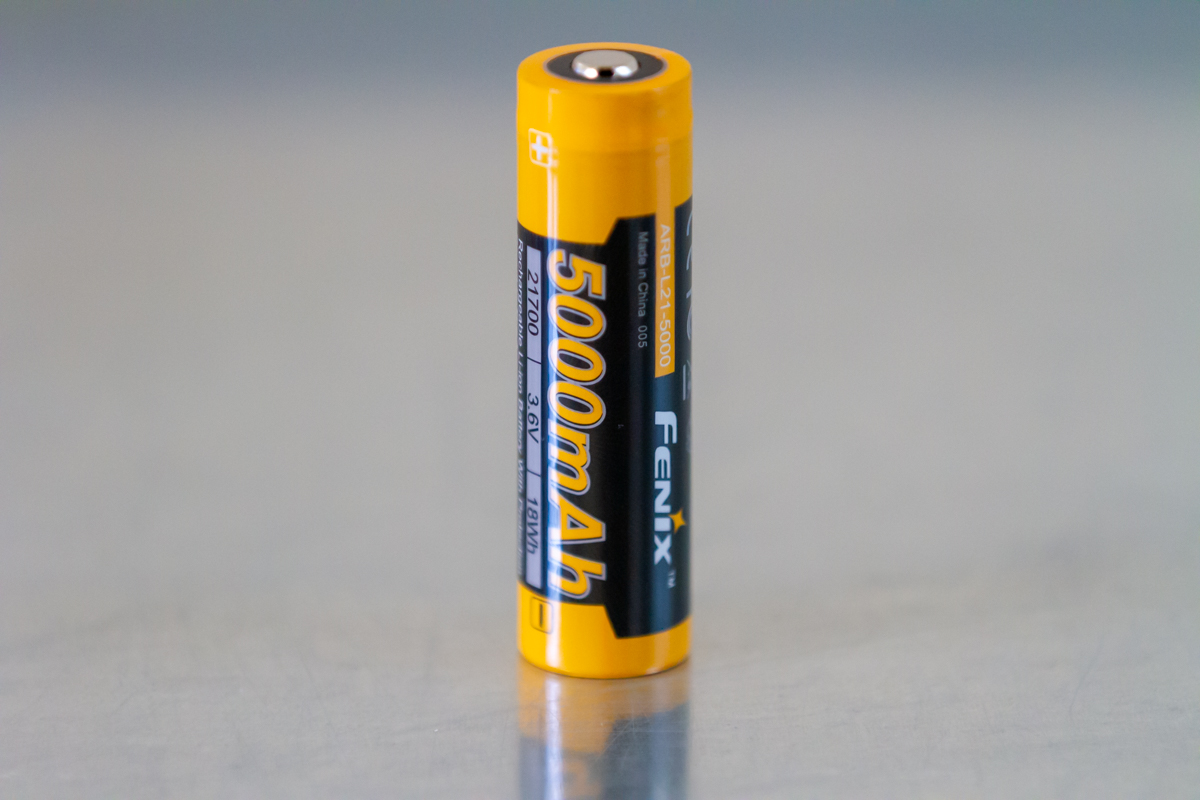 Fenix does offer a smaller version of this light—the E30R—but it also has a smaller battery and, therefore, less runtime. Personally, for the extra $10 bucks or so at the time of this review, I'd recommend going with the PD36R, unless it's just a longer than you'd like. After training with the PD36R, I now prefer the longer flashlights and will probably never go back to the smaller ones. I get a better grip, more control, I can use the light itself as a weapon if needed, and larger batteries equate to longer runtimes.
Like many tactical flashlights, the PD36R has a 1″ diameter, black, type III anodized aluminum body, which is very strong and non-abrasive. While we didn't throw the thing around, it's seemingly very strong using the ol' "can I flex it with my thumb and forefinger" test—a highly scientific test, indeed. Without the battery in and with the flashlight housing disassembled, we couldn't get the empty shell to budge.
Also like other tactical flashlights, this one also has a slightly serrated or toothed bezel. While it probably won't break windows as well as others, because the serrations aren't very deep or pointy, it would certainly do some damage on an attacker's face, arm or top of the hand if someone is grabbing hold of you. Again, one reason I now prefer a slightly longer flashlight.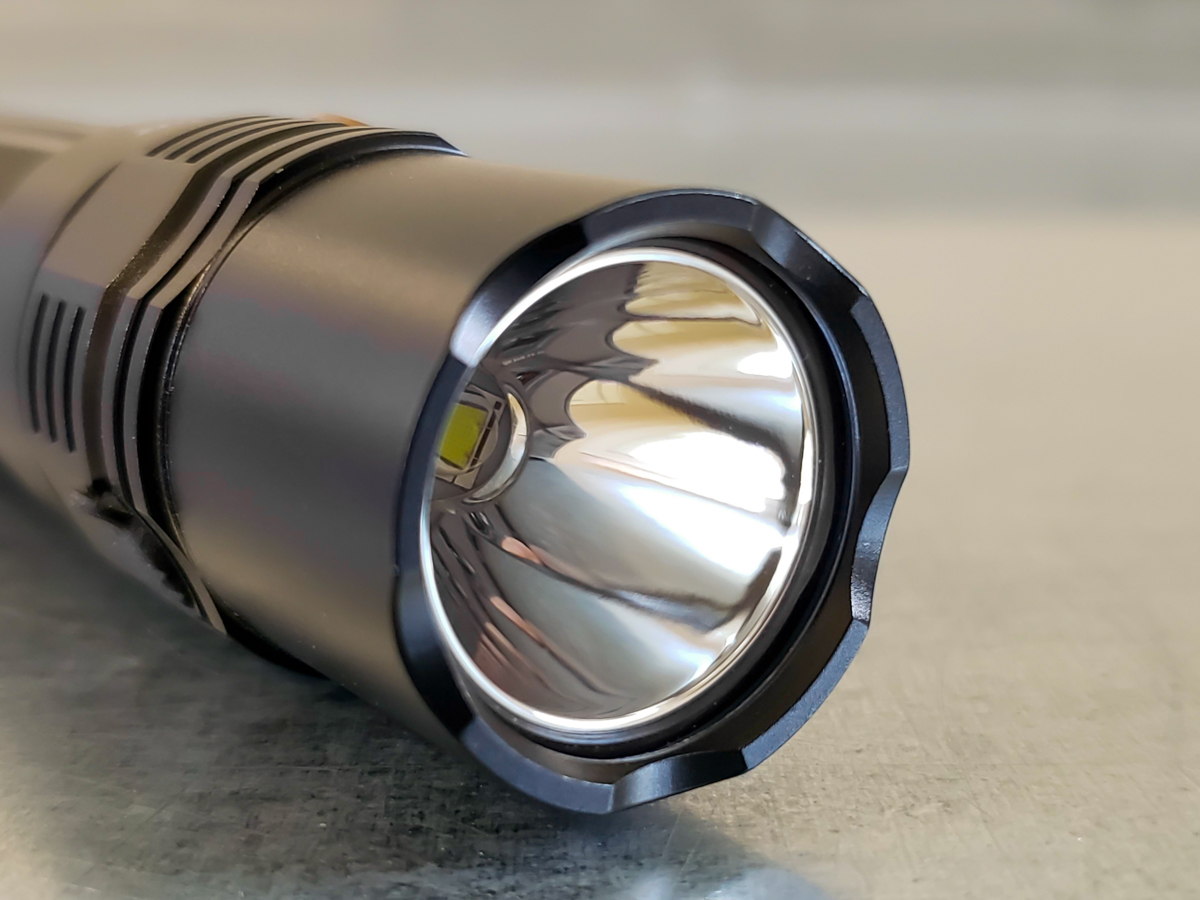 Fenix also claims this flashlight can withstand a five-foot drop on all sides and, while tempting, we didn't want to ruin ours verifying that claim. Oh, and this flashlight is also IP68 rated, which means it is guaranteed to keep dust out and operate in up to 6½" feet of water for up to 30 minutes. I doubt I'll be diving with it, but it's nice to know that the PD36R will work in the rain, out on the muddy trails in the Jeep, and even underwater should I ever need it to.
Usability & Features
This flashlight feels good in the hand. In fact, and as I mentioned earlier, I prefer its longer size than the "stubby" tactical flashlights. In a critical self-defense situation, I want to know that I'm not going to drop the light.
The grip on the PD36R is solid. It's not quite as "grippy" as my dream tac light, but it's good. The grooves you see in some of the photos around the main part of the housing aren't all that deep—they're actually pretty smooth. When wet, they do make for a stronger grip, however.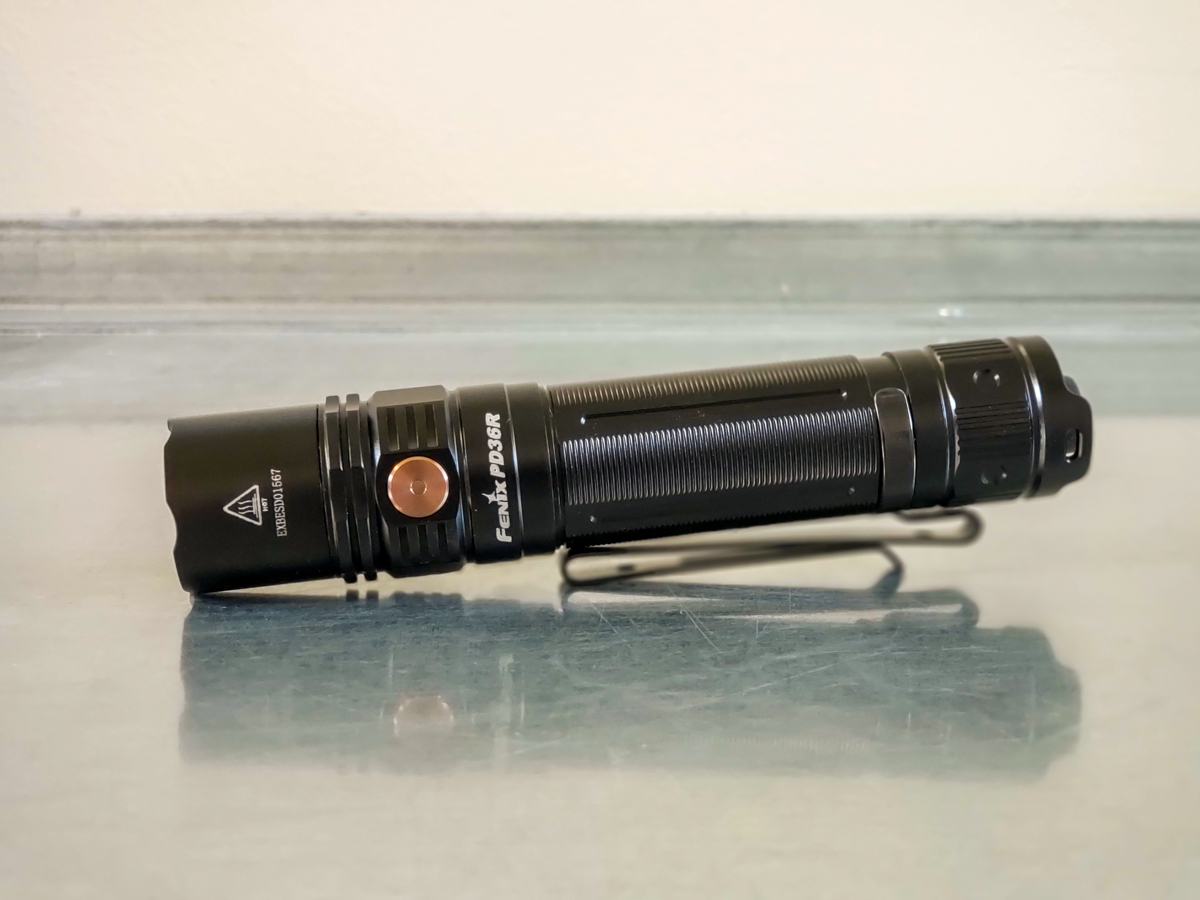 Like most tac lights these days, you turn this one on and off at the rear of the unit with a rubbery and satisfyingly tactile button. A great feature that you should always look for in a good tactical flashlight is a momentary switch. That means you can tap the on/off switch without fully engaging it (clicking it into its full-on position) and the light will stay on as long as you're holding the button in. This kind of functionality is almost necessary for scenarios such as clearing a building or home, where you don't want to be tracked by a dude with his own weapon. Again, clicking the on/off button fully will turn the light on or off again.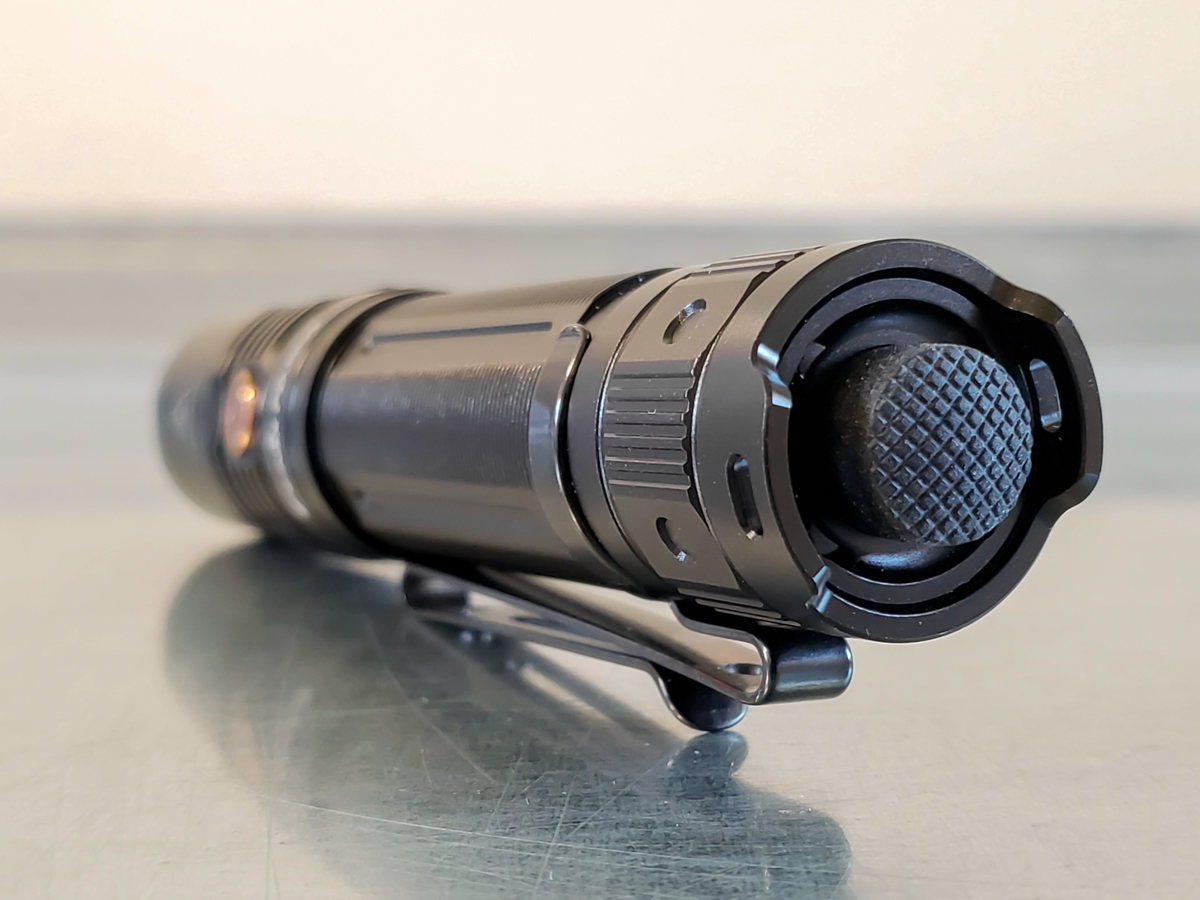 Back to the function button: this little brass button, located near the front of the light, is fairly well indexed (meaning you can find it in the dark) and perfectly tactile. This button changes the brightness settings of the light or, if held down for ½ second, turns on the strobe feature. It also doubles as a battery indicator when the flashlight is first turned on—green for good, red for dead, and a few different flashing variations in between, as outlined in the user manual.
To be honest, it's a little clunky to turn the light on at the back of the unit and then move your fingers to find the function button. If you train with this light and have large enough hands, you could eventually learn to grip it just right so that your thumb indexes the on/off button, while your pinky is on the function button.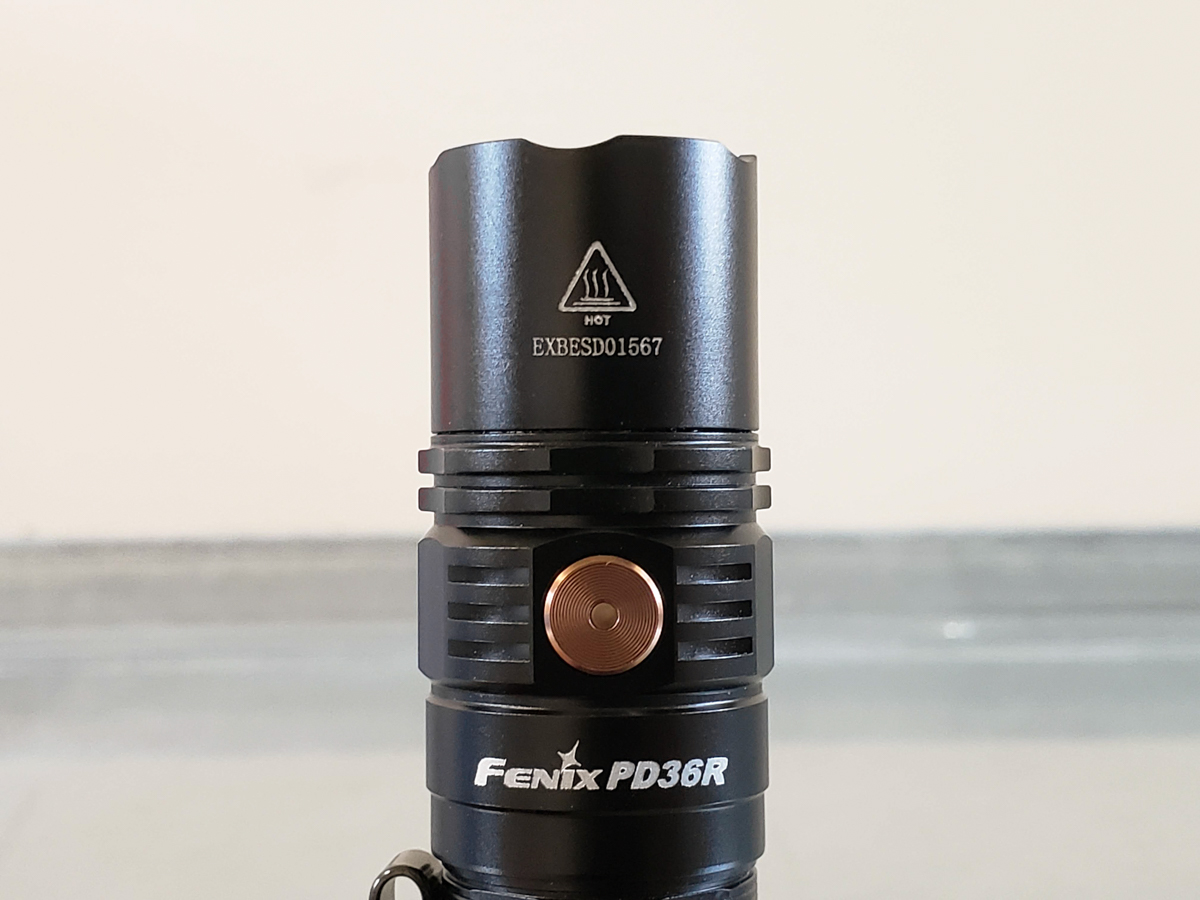 Once the light is turned off and back on again, it will return to whichever mode it was on when turned off, with the exception of the strobe effect. If the light was in strobe mode and then turned off, it will be in turbo (its highest brightness) when you turn it back on. Perfectly acceptable and preferred.
The primary purpose of the strobe effect on a tactical flashlight is disorientation. It is very difficult to focus on someone pointing a strobe light at you and can actually trigger seizures in some people. Oh, and disco dancing is another reason you may want a strobe light on your flashlight.
The two-way metal clip can be rotated around the flashlight and allows you to securely attach the PD36R to your belt, backpack, pocket, or just about anything else you can think of. The clip is strong and can be used in either vertical direction.
To charge the included 5000 mAh battery, there's a USB Type-C port opposite the function button. The charging port itself is waterproof to ensure IP68 rating, even with the USB cover open. More on charging and battery life up next.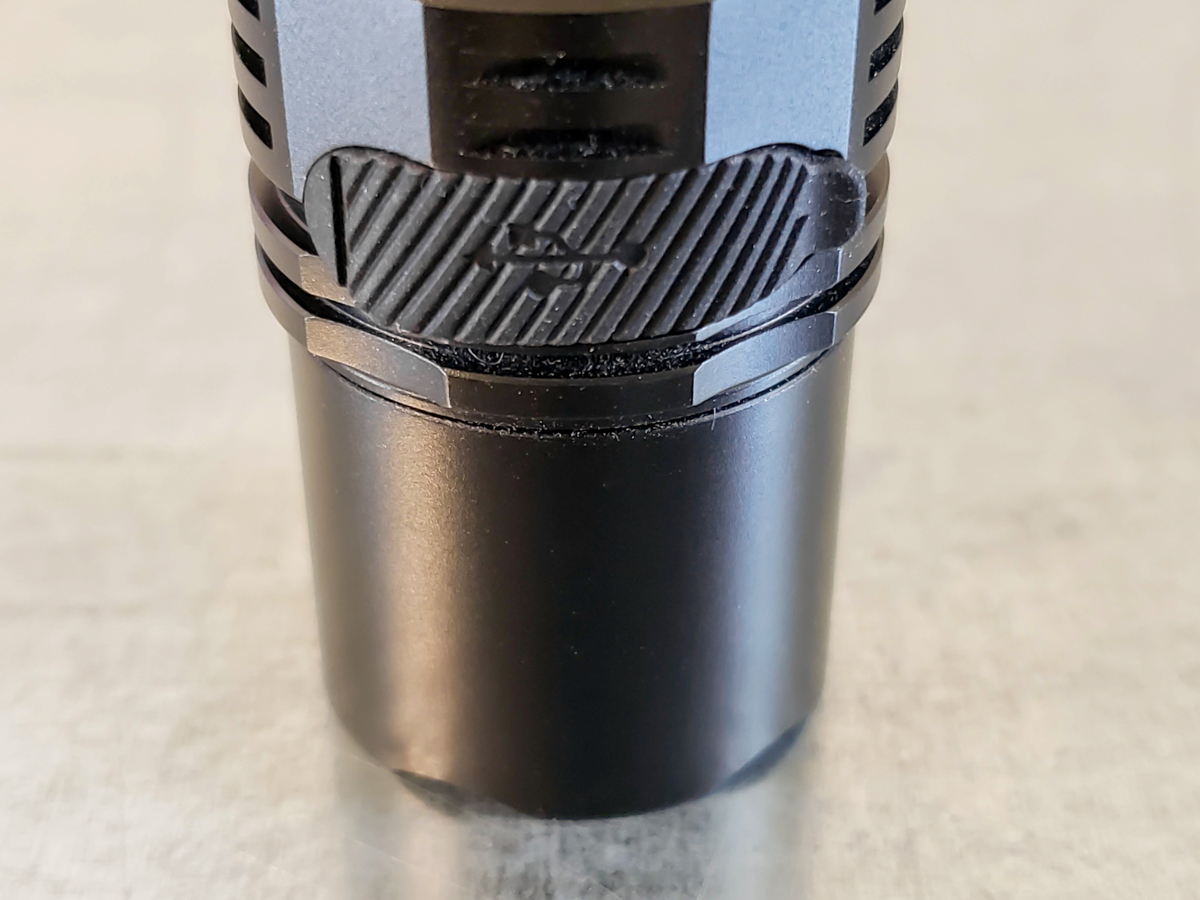 Performance
Let's talk about the light output because that's why we all have flashlights, right? The Fenix PD36R uses a Luminus SST-40 LED, which is a high-powered, white LED on the cooler side of the Kelvin scale. It's actually closer to true daylight than what you read all over the Interwebs. This light runs at 6500k vs. typical "daylight" bulbs running at 5000k. And it gets bright!
Here's a breakdown of all of six output modes, controlled via the brass function button:
| | | | | |
| --- | --- | --- | --- | --- |
| Mode | Lumens | Runtime (Hours) | Distance (Feet) | Candela |
| Turbo | 1600 | 2.9 | 928 | 19977 |
| High | 800 | 5.9 | 646 | 9639 |
| Med | 350 | 8.5 | 419 | 4101 |
| Low | 150 | 26 | 269 | 1681 |
| Eco | 30 | 115 | 114 | 309 |
| Strobe | 1600 | | | |
The chart above explains the runtime and, of course, this is based on the included 5000 mAh battery. It is very impressive that this flashlight can be fully charged in about four hours and then last up to 115 hours. As their packaging states, that's about the equivalent of running the light for five hours a day, for 23 days. Truly impressive.
One thing to note is that when the PD36R is in turbo mode for about 15 minutes, the front bezel does get quite hot and the light will lower its lumens to about half or more depending on its heat level. That, too, is OK by me. I'm not sure I can think of a scenario where I would need 1600 lumens for more than 15 minutes.
What's in the Box?
Fenix PD36R flashlight
21700 Rechargeable Battery (5000 mAh)
Two-way pocket clip
USB Type C charging cable
Lanyard
Holster
Spare O-ring
User manual
Conclusion
The Fenix PD36R is a fantastic tactical flashlight with a strong build and, more importantly, a super-bright, 1600 lumen max output. Yes, it's a tad longer than the stubby lights that some folks prefer but the runtimes for each mode make up for that in a big way, in our opinion.
Fenix PD36R Rechargeable Flashlight, 1600 Lumen USB-C Tactical Duty Light with Battery and LumenTac...
POWERFUL TACTICAL LIGHT - Fenix PD36R is the ultimate tactical flashlight with a brighter...
USB TYPE-C FAST CHARGING - Up to 115 hours of runtime. The included type-C USB charging...
EASY TO USE - The dual switch design is easy to use and tactile so you can even operate...
DESIGNED FOR EVERYDAY CARRY - Take the PD36R anywhere with the two-way body clip that can...
PACKAGE CONTENTS: Fenix PD36R, Pocket Clip, Holster, Charging cable and a LumenTac...