EDITOR'S PICK
Schumacher SC-1000A SpeedCharge Battery Charger
Dimensions: 10.5" X 4" X 8"
Output: 6V & 12V @ 10 Amp/6 Amp/2 Amp
2.68 lbs total weight
Compatible with AGM, gel cell, and deep-cycle batteries
6' power cord
PREMIUM PICK
Optima Digital 1200 Performance Charger and Battery Maintainer
Dimensions: 7.5" X 6.5" X 10"
Output: 12V @ 12 Amp
7.75 lbs total weight
Compatible with AGM, flooded, and high-performance Optima batteries
5' output cord
BUDGET PICK
NOCO GENIUS1 1-Amp Fully-Automatic Smart Charger
Dimensions: 3.5" X 1.3" X 2.3"
Output: 6V & 12V @ 1 Amp
0.77 lbs total weight
Compatible with lead-acid, AGM, gel, lithium-ion, flooded, & maintenance-free batteries
8.8' output cord
Over the past eighteen months, the ongoing Coronavirus pandemic has taken a devastating toll on humanity. Entire economies were destroyed when countries went into weeks of lockdown to curb the spread of the deadly virus. Amidst all this, your car probably spent the better part of the last year and a half just sitting in a dark corner of your garage.
Whether it is a 10-year-old Toyota Prius or a multi-million dollar hypercar, all cars are meant to be driven. And when cars are stationary and unmaintained for too long, they start to develop problems that can only worsen with time. The first major issue that arises once a car is stored for an extended period is a drained battery. For that reason, if you know you will store your car away for a long time, it is crucial to hook it up to a trickle charger to keep it ready to start at all times.
However, since most trickle chargers look nearly the same, it can be quite challenging to find the right one for you, especially if you don't really know what you are looking for. To assist you in picking the best trickle charger possible and make sure you get the most bang for your buck, we have curated a list of the eight best models we could find.
And of course, as usual, we made sure to select a little something for every budget. So no matter whether you need a basic trickle charger to keep your car battery full while you are on summer vacation or a more professional model to maintain multiple cars every week, we've got you covered!
Trickle Chargers Reviews
We start with the Battery Tender Junior 0210123 charger and maintainer; it is an intelligent trickle charger that comes with clever technology to prevent damage to your battery due to overcharging. The onboard computer will fully charge your battery before switching to "float mode," where it ensures the optimum level is maintained. Thanks to this feature, you can use the Battery Tender Junior for extended periods without worrying about overcharging.
The Battery Tender Junior is compatible with all 12V lead-acid, flooded, or sealed batteries and uses a 4-step charging process technology to provide the best possible power level at all times. Moreover, you can use the two-color LED light to monitor your battery's charging condition in real-time. You also get several safety features to protect the operator and your car's electrical system, including reverse polarity protection and spark-proof connections.
The affordable price tag and 5-year warranty with lifetime customer support make the Battery Tender Junior an incredibly attractive package. However, due to the lack of mode advanced features like fast charging and a higher charge rate, it is only suitable for light use. In short, it's perfect to charge your car once in a while but we've got better options for professionals below.
Highlighted features
Dimensions: 3.3" X 1.3" X 2.4"
Output: 12V @ 0.75 Amp
1.8 lbs total weight
Compatible with lead-acid, AGM, and gel batteries
12' output cord
Pros
4-step comprehensive charging process
Safe from overcharging
Reverse polarity protection and spark-proof connections
Quick connect/disconnect cables
Affordable

5 years manufacturer warranty with lifetime customer support
Cons
Limited compatibility
Low charging rate
The Noco Genius1 smart charger is a battery charger, maintainer, and desulfator all-in-one package, a perfect option for those on a budget. And compared to the previous model, the Genius1 is 35% smaller while being 35% more powerful so you can even keep it in your trunk or glovebox.
You can use this smart trickle charger for 6V & 12V lead-acid, flooded, AGM, lithium-ion, and maintenance-free batteries. All you need to do is select the appropriate mode setting using the central button, and the trickle charger will charge your battery at a comparatively high charging rate of 1 Amp.
Worth mentioning, Noco's Genius1 also comes with a built-in thermal sensor to detect your battery's ambient temperature. The microprocessor will then make charging adjustments to prevent overcharging and under-charging based on inputs from the sensor and external climatic conditions.
It's also perfect for beginners and everyone who's not an expert at mechanics. While charging a car is kinda straightforward, if you really want to be sure you won't mess anything up, get this one. It's loaded with safety features, including protection against short-circuit, open-circuit, overheating, overcharging, sparks, and reverse polarity so even a child could use it (of course, not literally but you know what I mean).
There's a good reason why Noco's Genius1 is one of the best & top-selling budget trickle chargers out there. Not only does it overcome limitations found in the previous model, but it also adds several features such as desulfator functionality, force mode to charge dead batteries below 1V, and a host of safety features.
Highlighted features
Dimensions: 3.5" X 1.3" X 2.3"
Output: 6V & 12V @ 1 Amp
0.77 lbs total weight
Compatible with lead-acid, AGM, gel, lithium-ion, flooded, & maintenance-free batteries
8.8' output cord
Pros
Compatible with nearly all battery types
High value for money
Comes with several safety features
Force mode can charge dead batteries
Integrated thermal sensor for added protection
3 years limited warranty
Cons
None – when it works, it works
The Energizer ENC4A is a powerful trickle charger capable of charging your car battery at an even higher charging rate of 4 Amps. However, to protect your battery cells, this trickle charger uses the 4 Amps setting only in case of rapid charging. There is also a 2 Amp setting for when the optimum battery level needs to be maintained in case of long-term storage.
The most interesting feature is the onboard computer automatically deciding the most appropriate charging rate based on a pre-programmed 9-step guide designed to improve battery performance and longevity. You can also use the large LCD to monitor battery status, voltage, and other important parameters in real-time.
The ENC4A works flawlessly with all 6V and 12V batteries. Just make sure you are in the correct mode while the device is connected. And for those living in cold climates, there is a unique winter mode for use in freezing conditions.
The Energizer ENC4A is perfect for those looking for a higher charging rate on a tight budget. It comes with all the usual safety features and then some, plus you also get a 5-year warranty, Energizer's impressive expertise and pristine track record along with specialized customer service.
When it comes to batteries, you simply can't go wrong with Energizer.
Highlighted features
Dimensions: 6.1" X 1.8" X 3.1"
Output: 6V & 12V @ 4 Amp/2 Amp
1.2 lbs total weight
Compatible with all 6V & 12V batteries
6.91' power cord
Pros
Special modes for winter charging
Rapid charging and maintaining functionality
9-step charging to increase longevity
Comes with a host of safety features
Large LCD backlit display for continuous monitoring
Automatic mode selection
5 years manufacturer warranty
Cons
Charging cords could be longer
While Energizer is probably the most famous manufacturer in the battery game, only a few can compare to Schumacher Electric when it comes to high-quality automotive-specific electrical equipment. It is a 74-year-old brand known for consistently developing superior products in the field, and the SC1359 trickle charger is a fine example. It is a fully automatic unit capable of providing a 15 Amp charging rate in fast charging mode (equivalent to regular battery chargers). But when the battery is fully charged, the microprocessor will maintain the optimum battery level by decreasing the charging rate down to 3 Amp.
Upon connection, the onboard computer will automatically detect the type of battery it connects to and get to work. However, you can also manually control the settings using the built-in buttons and it features a 7-segment LED display and indicator lights to monitor all critical parameters while it does its thing.
The Schumacher SC1359 can be used to charge & maintain 6V & 12V standard, AGM, Gel, and deep-cycle batteries. There are also several safety features like over-voltage and reverse polarity protection. Of course, since this model is more oriented towards professionals, you may think you don't actually need reverse polarity protection, right? However, no matter how many years in the field you've got under your belt, we all make mistakes.
I'm a mechanic too and I've been charging batteries for years. But that actually only increases the risk of connecting a charger the wrong way. Indeed when charging batteries day-in/day-out, we all tend to go on autopilot at some point, doing it without really thinking about it and blowing up a main fuse just because a client replaced his battery and used one with inverted posts instead of the right one. Anyway, long story short, that won't happen with this one!
Schumacher's trickle charger may cost more than other models on this list, but once you use it, you'll quickly realize you are getting more than what you pay for. If you are serious about your tools and need a trickle charger offering more than most, this one is a no-brainer.
Highlighted features
Dimensions: 4" X 11" X 8"
Output: 6V & 12V @ 15 Amp/3 Amp
3.29 lbs total weight
Compatible with lead-acid, AGM, gel, deep-cycle, and standard batteries
6' power cord
Pros
Truly rapid charging rate
LED display with simple button controls
Versatile trickle charger
Retractable handle for easy transportation and storage
Protects against reverse polarity, short-circuit, and shocks
High-quality and durable construction
2 years manufacturer warranty
Cons
Bulkier than previous models
Costs slightly more
The Battery Minder 128CEC1 is a heavy-duty trickle charger capable of an 8 Amp maximum charging rate. You also get 2 Amp & 4 Amp charging options for battery maintenance and other applications. The integrated thermal sensor will automatically adjust critical parameters, such as battery voltage, to make the charging process smooth and increase your battery's lifespan.
The 128CEC1 is compatible with all 12V sealed, wet, maintenance-free, AGM, Gel, deep-cycle, and Odyssey lead-acid batteries. It's also incredibly user-friendly, thanks to the soft-touch push buttons allowing you to select the appropriate setting based on battery type.
Like most quality trickle chargers, Battery Minder's model also comes with a host of safety features such as reverse polarity protection, short-circuit & spark-proof clamps, thermal runaway protection, automatic restart after a power failure, etc.
However, the most impressive feature about the 128CEC1 is that you can use it to maintain up to 8 batteries at any given time. All you need to do is purchase additional adapters and connect the batteries in parallel for a seamless charging experience. Of course, this feature might not be useful for most people but if you need to charge multiple batteries at once, you won't find many other trickle chargers as efficient as this one.
Highlighted features
Dimensions: 10.3" X 8.6" X 2.5"
Output: 12V @ 8 Amp/4 Amp/2 Amp
3.2 lbs total weight
Compatible with Odyssey lead-acid, sealed, wet, maintenance-free, AGM, Gel, and deep-cycle batteries
6' output cord
Pros
Integrated thermal protection sensor
Automatic desulfator functionality
Different charging rates for various applications
Versatile trickle charger
Comes with several safety features
Can maintain up to 8 batteries at a time
5 years manufacturer warranty
Cons
The SC1000A is another high-quality trickle charger from Schumacher. It comes with a 10 Amp fast charging rate, 6 Amp for a medium charge, and 2 Amp, perfect for charging or maintaining smaller batteries like those found on ATVs, motorcycles, tractors, etc. Of course, it works with cars too but this model comes really handy if you know you'll have to charge a wide range of different batteries.
The Schumacher SC1000A can be used to charge 6V & 12V AGM, gel cell, and deep-cycle batteries. You also can monitor and manually feed all the relevant data, such as battery type and charging rate, using the button controls.
Once your battery is fully charged, the SC1000A will switch to maintenance mode to prevent cell damage caused due to over-charging. Also, the onboard computer will automatically detect the battery type and select an optimum charging rate accordingly. It's probably the most user-friendly model on this list. Simply plug it, connect it to the battery and let it do its thing.
If you are looking for a high-quality trickle charger that you can always count on to work the way it is supposed to, there is probably nothing better than the Schumacher SC1000A. It ticks all the boxes, which is why it is awarded our "Editor's Pick" title.
Highlighted features
Dimensions: 10.5" X 4" X 8"
Output: 6V & 12V @ 10 Amp/6 Amp/2 Amp
2.68 lbs total weight
Compatible with AGM, gel cell, and deep-cycle batteries
6' power cord
Pros
Fast, medium, and slow charging functionality
Versatile trickle charger suitable for automotive, marine, motorcycle, and RV applications
Clever computer prevents damage caused due to over-charging
Fully automatic operation
Retractable carrying handle for easy transportation
Simple electronic push-button controls
Cons
Looking to utilize renewable energy to charge your car battery? Want to make sure your car starts at the end of your camping week off the grid? Meet Sunway's Solar Car Battery Trickle Charger; it is a unique model that uses sunlight to maintain your car battery.
Interestingly, the main solar panel will gather energy and can supply it to your car's battery using the 12V accessory socket plug, which means that you can use this trickle charger anywhere without worrying about someone stealing it. Just drop it on your dash, connect it to the 12V socket and lock the doors. Once you come back from your trick, your battery will be ready to go!
The solar panel uses ABS plastic and highly efficient solar glass to provide the perfect balance between durability and charging power. You can use this eco-friendly trickle charge on any 12V wet, Gel cell, SLA, AGM, and deep-cycle batteries, meaning that it will also work for RVs and boat batteries.
Of course, like any other solar-powered device, Sunway's trickle charger also gets some inherent disadvantages that you need to live with. The main flaw is that this trickle charger is entirely dependent on weather conditions. Notably, you might experience a severe efficiency drop in cloudy and rainy conditions. Luckily, since this is not really a solar-power pack per say, it's not actually powering anything but instead maintaining your battery. Unless you get a whole week of bad weather or your battery is really due for replacement, the few sun rays it will pick up over a week should be more than enough to make sure your car starts when needed.
The Sunway Solar trickle charger is the cleanest and greenest way of charging your batteries. Plus, unlike other solar equipment, it doesn't cost a fortune to buy or maintain. However, keep in mind that it's a trickle charger and not a conventional one. If your battery is dead, you are much better to go with a full-fledge fast charger.
Highlighted features
Dimensions: 13.9" X 5" X 0.5"
Output: 12V
1.43 lbs total weight
ABS plastic and solar glass construction
Compatible with wet, Gel cell, SLA, AGM, and deep-cycle batteries
Plugs into your car's 12V accessory socket
Pros
Environmentally-friendly charger provides renewable energy
Easy to set up and use
Compatible with all 12V batteries
Durable and weatherproof solar panel
High value for money
Mounts securely inside your car
1 year manufacturer warranty
Cons
Performance and efficiency is dependent on weather conditions
Not as powerful as other models but perfect as a trickle charger
Last but not least, we present the Optima Digital 1200, a premium battery charger and maintainer specifically designed to recover deeply discharged batteries. Although you can use this trickle charger on all AGM batteries, it works best with Optima-branded AGM batteries.
The Optima Digital 1200 is a microprocessor-controlled trickle charger that automatically sets the charging rate, voltage, and pretty much everything, based on inputs received from the temperature sensor. The rapid recharge mode charges your battery at a 12 Amp maximum charging rate, while the normal charging rate varies depending on several factors. Once the battery is fully charged, the trickle charger enters float mode, where a constant low current is maintained to prevent over-charging.
Furthermore, you can monitor and control all vital parameters using the large central LCD gauge, featuring backlighting functionality for easy readability in low-lit environments. You even get several quick-set selection buttons to quickly select the appropriate charging mode. This feature comes in really handy if you work in a dealer and repeatedly need to charge similar vehicles.
If you ask me, the Optima Digital 1200 is the best trickle charger for use by repair shops and mobile mechanics. It is portable, versatile, and loaded with convenience-enhancing features like a USB port to charge phones, tablets, or other electronic devices. Of course, it's significantly more expensive than the previous models on this list but it will probably be the last trickle charger you buy.
Highlighted features
Dimensions: 7.5" X 6.5" X 10"
Output: 12V @ 12 Amp
7.75 lbs total weight
Compatible with AGM, flooded, and high-performance Optima batteries
5' output cord
Pros
Backlit LCD display for easy readability
USB charging port
Comes with an integrated LED work light
Quick-set selection buttons for easy mode selection
High maximum charging rate
Non-slip rubber base
3 years replacement warranty
Cons
Bulkier than other models
On the expensive side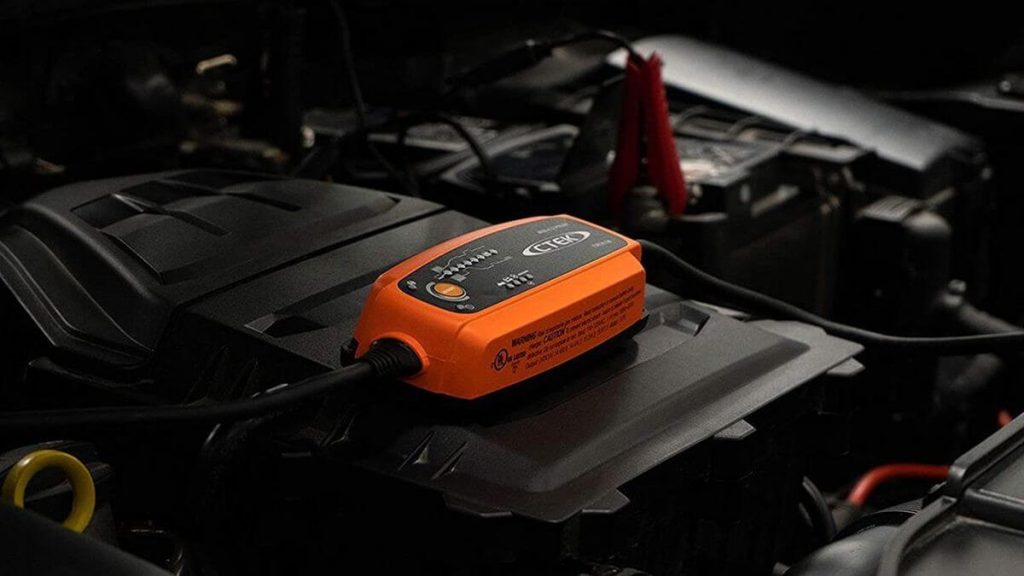 What to Look for in a Trickle Charger
Compatibility
An essential thing to look for in any trickle charger is the type of batteries it is compatible with. A brand new trickle charger is of no use to you if it doesn't even fit your battery type. If you buy a basic model just to charge your car once in a while, a single-type charger could work fine.
But if you plan to use it professionally, it's well worth it to pay a little more and pick a versatile model that works with all kinds of batteries. That way, you can hook it up to any AGM, gel cell, maintenance-free, flooded battery, or any other you might encounter in the shop—better safe than sorry!
Power cord length
Often ignored, any trickle charger's power cord length is a critical factor to consider when picking a suitable model. Unless you park in a garage, chances are there isn't a power outlet anywhere near where you park. And most manufacturers advise against using an extension cord. Not sure why, though. I used trickle chargers hooked to extension cords all my life (in a repair shop, cars are never parked near a power outlet) without any problem. But just in case, make sure the trickle charger you are looking to buy comes with a power cord long enough to reach your nearest power outlet comfortably.
Charging rate
A trickle charger's charging rate refers to the amount of charge added to your battery per unit of time. The charging rate is stated in Ampere, where a high value means the battery charges more quickly. It's important to mention that while a high charging rate may seem desirable at first, it will also significantly increase the damage caused to the cells. Batteries that are continuously subjected to high charging rates may overheat, which will cause multiple adverse effects, including speeding up the deterioration of battery cells, increase water evaporation, etc.
A high charging rate is really only useful when you need a battery to start right now but should be avoided at all cost. Of course, if you need to go to work on a Monday morning and your car just won't start because you left the headlights on all night, a slow charging rate won't do. In that case, of course, you can use a portable jump-starter to boost your car. But jump-starting a car should really be kept as a last resort.
If you want to extend your battery's lifespan, always select the lowest charging rate possible. And that's where trickle chargers come in. Thanks to the variable charging rate, they are the only charger type suitable for continuous or regular use.
Simplicity of controls
Even though most trickle chargers feature fully automatic operation, some allow you to take charge using buttons and display screens. A good trickle charger should come with easy-to-understand and straightforward controls along with good user interface characteristics.
If you don't really know much about charging rates and battery types, just get your hands on a "one-button" model so you can just plug it and let it do its thing.
Safety features
Look for a trickle charger with the most safety features so that you have complete peace of mind. Protection against short-circuit, over-voltage, over-charging, reverse polarity, open-circuit, overheating, and sparks are desirable in any high-quality trickle charger and will prevent anyone from causing more harm then good.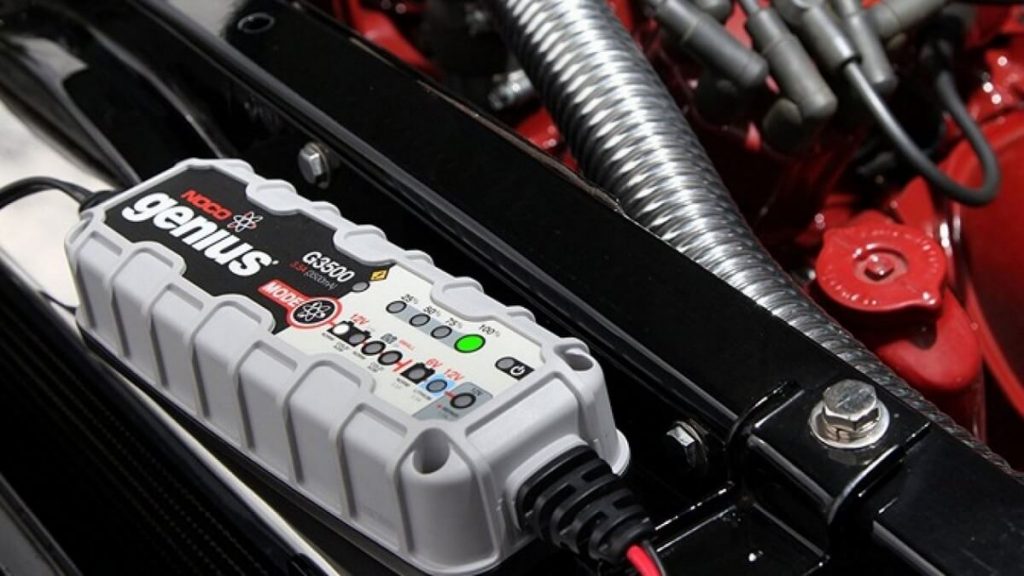 How to Use a Trickle Charger
Using a trickle charger is quite easy as long as you take certain safety precautions. A car's battery is a critical component that you must handle with utmost care. If you don't set it up correctly, your battery could be vulnerable to internal damage caused by overheating (although most trickle chargers come with overheating protections these days). Of course, you should always refer to your specific trickle charger's instruction manual—just read it once to make sure it doesn't have some model-specific features. Nonetheless, most trickle chargers work the same so, just in case, here is a step by step procedure to make sure you bring your battery back to life without a hassle.
1. Park your car in an appropriate spot
Since most trickle chargers come with a rather short power cord, make sure your car is parked in such a way that the nearest power outlet is as close as possible to the battery.
2. Check your battery
Before connecting the trickle charger, you need to know your battery's current condition. Knowing about vital information such as charge status, and voltage may come in handy later on, especially if charging it doesn't do anything. Your battery might need to be replaced if it's been left sitting dead for too long.
A battery that is completely dead, i.e. reading zero volts might not even trigger the charge on since it won't even detect it's actually connected to something. To test that out, simply take out a multimeter and test the battery's voltage. If you aren't sure how it's done, take a look here. On the other hand, if you don't even have a multimeter, I would encourage you to have a look at our review of some of the best automotive multimeters here (and we've got some pretty good ones that won't break the bank too).
3. Disconnect the battery
Before getting anywhere near your car's battery, always make sure the ignition is in the OFF position and the key is in your pocket. Only then should you go ahead and pop the hood. Carefully disconnect the terminals (you usually only need a 10mm wrench for that), remove the negative cable first. The car's body is actually connected to the battery's negative and touching it with the positive cable while the negative is still connected will create impressive sparks.
Once the negative cable is put aside, disconnect the positive cable.
4. Connect the trickle charger cables
Once your car's battery terminals are disconnected and securely placed at a safe distance, you can start connecting the trickle charger. A large majority of trickle chargers come with clamps that attach to the battery posts. Now, the most important thing to take care of is polarity. Although most trickle charges come with reverse polarity protection, a safety feature that protects the battery and fuses if the clamps are reversed, reversing polarity is never a good idea.
Just keep in mind that red is always positive and black is always negative.
5. Turn ON the trickle charger
After you make sure all the required connections are made, it is safe to plug the trickle charger and turn it on. If your car's battery is almost dead, your charger should automatically detect that and go into desulfation or rapid charging mode, where it will attempt to bring the battery back to life.
However, please make sure the trickle charger doesn't keep up the high charging rate for too long as it can cause damage to battery cells. The charger should decrease the rate as the battery gets somewhat charged, and finally, when the optimum level is reached, the charging rate should be just enough to maintain that level over time.
6. Starting the car
The next time you feel like taking your car out for a spin, you will have a problem-free fully-charged battery waiting to greet you. All you need to do is turn OFF the trickle charger, disconnect it, install the battery terminals again (once again, connect the negative cable first!), and you are good to go.
Verdict
In times like these, where frequent nationwide lockdowns are gradually becoming the new normal, it becomes imperative for every car owner to get a trickle charger. And even if the situation was to go back to the old normal, we will all be able to go back on vacation and start traveling again, meaning that we might have to store our cars for undetermined periods anyway.
No matter the reason, everytime you leave your car parked for some time, you should definitely hook it up to a quality trickle charger. Not only will it ensure that your car's battery will be just as charged up as you are after a relaxing holiday but it will also significantly extend its overall lifespan.
That being said, you would be hard-pressed to find a better all-around trickle charger than the Schumacher SC-1000A for the price. It comes with a host of safety features designed to keep you and your battery safe at all times. Plus, you also get computer-controlled charging rates for different conditions. But of course, quality comes at a price so it's not super cheap.
However, if you just need a basic model that will do the job just fine, go for the NOCO GENIUS1. It's pretty inexpensive and will still do everything you expect a trickle charger to do. Simply no reason to go without one here!