If you're looking for a high-quality tent, the Napier Sportz SUV Tent is at the top of the overlanding game. Not only is it designed to last, but it can also be attached to the back of your SUV, making it one of the most polyvalent tents on the market.
Once attached to your SUV, you can access the back of your vehicle and use it as an extra sleeping compartment or storage space.
If you are shopping for an overlanding tent, the Napier Sportz SUV Tent might very well be what you are looking for. In this article, we'll cover its main features and pros and cons, as well as answer the most common questions you might have if you are looking to buy an SUV tent and want to get the most bang for your bucks.
Features of the Napier Sportz SUV Tent
Versatility
If you're a veteran camper, you might already know that turning the back of your SUV into a sleeping area is a great alternative to a tent. However, what if you could keep the sleeping area in the back of your SUV and expand it to have even more storage space?
That's exactly what this tent does.
Once set up, it allows you to access the back of your SUV from within, meaning it can be used as either a storage or sleeping area.
Size And Space
The Napier Sportz SUV Tent can hold up to 6 people, depending on which size you choose – either 9'x9'x7.25′, or 10'x10'x7.25′. The smaller model can comfortably hold five people, whereas the bigger size can hold up to 6.
Once deployed, the top reaches a whopping 7 feet, meaning you'll be able to stand up straight, preventing backaches from being hunched over. This feature comes in especially handy on rainy days, when you might have to stay inside the tent for longer.
However, if you're taller than 7 feet, then a different tent may be a more suitable alternative. That being said, we really doubt you are, considering that it would make you one of the tallest people in the world.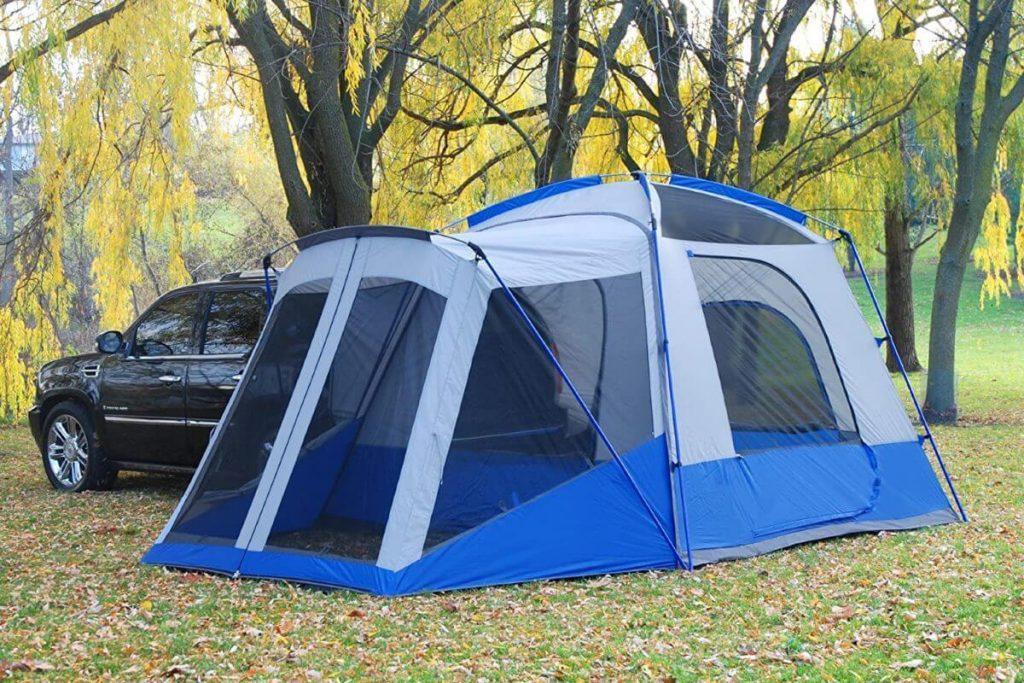 Screen Room
The Napier Sportz SUV Tent comes with an attached screen room, a separate portion of the tent where you can store personal belongings. It looks similar to a standard porch you would find outside a house.
The screen room does have a rainfly to protect it from the elements. However, the side panels aren't protected and may let rain enter when it's raining sideways. Nonetheless, it isn't a real issue as the screen room has no flooring, so the rain won't flood your tent with water.
If you're going to use this area to store equipment, your best bet would be to use the privacy flaps, which will prevent rain from wetting up all your stuff. The privacy flaps basically act like windows, allowing you to seal your tent so nobody can see in from the outside.
Durable And Waterproof
The Napier Sportz Tent really hits the nail in terms of durability. It's made of polyester taffeta, so it's waterproof and able to withstand the elements.
If you really want to bulletproof your SUV tent, you might want to seal the seams before use. The seams are where fabric is connected together along the floor and walls and are usually the weakest links when it comes to leaks. So just to make sure, applying a sealer compound to the seams will only extend the durability of your tent even further.
If you're looking for a good tent sealer, then the Gear Aid Seam Grip is one of the best on the market. It's designed to seal seams, as well as repairs holes that may form in tents. If you plan on using your tent in harsh weather conditions, selling the seams might be a good idea. Otherwise, if you'll only use it to go camping with the kids during summer vacations, the Napier Sportz SUV Tent will do just fine as-is.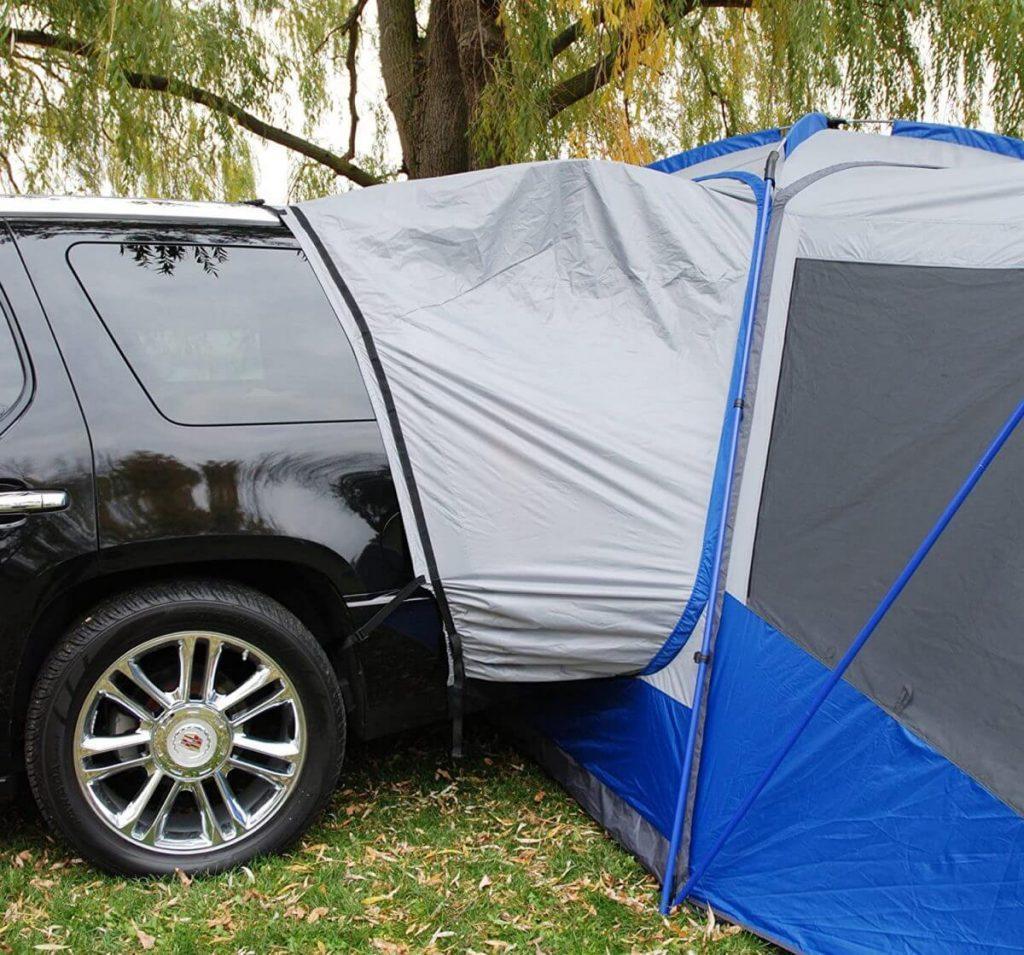 Carry Bag And Awning
When camping, it's important to make sure your equipment is lightweight, portable, and easy to store.
Luckily, the Napier Sportz SUV Tent includes a carry bag allowing it to be easily stored and transported.
It also includes an awning, which is great if you're going to be camping in hot weather. An awning (also called a tent extension) is an extra overhead roof that attaches to your tent, perfect for sitting in the sun while providing you with some shade. You can also store your muddy gear under them if you don't want to take it into the tent.
I personally like to pull the picnic table under it so you can eat or chill without having the sun in your eyes all day. When raining, it's also perfect if you want to cook on a portable stove outside of the tent without getting wet.
Pros
Can be attached to every SUV
Waterproof
Has a screen room
Includes an awning
Lots of space inside
Durable construction
Easy to setup and take down
Cons
Designed for longer stays rather than shorter ones

Can be noisy in windy conditions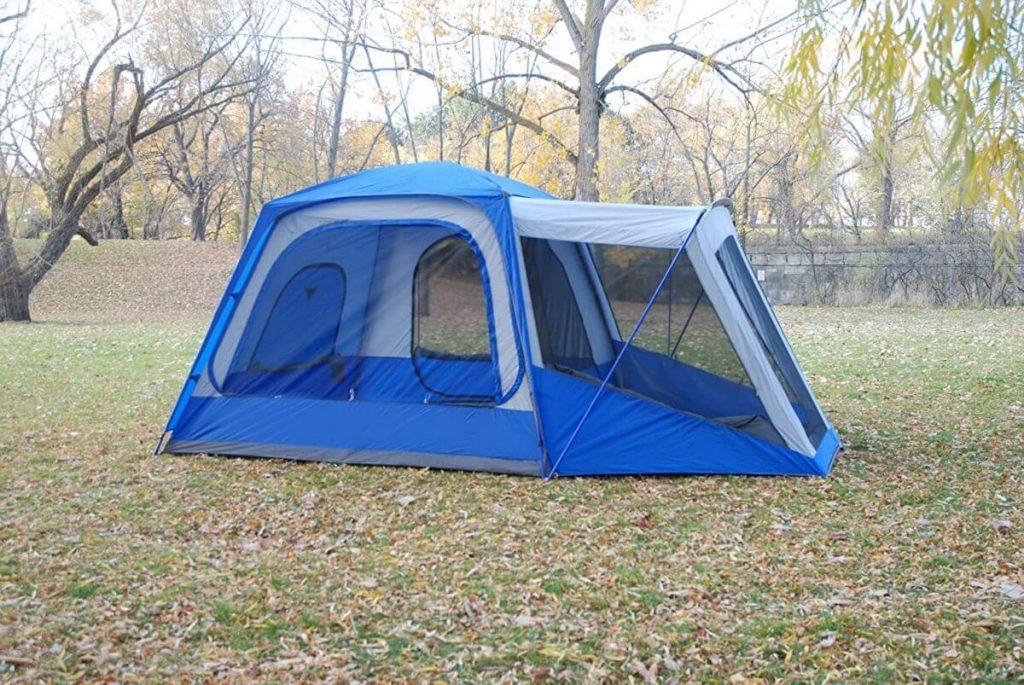 Highlighted Features
Adjustable vehicle sleeve for a custom fit with every model
Sleeps 4-6 people
Steel and fiberglass pole structure
Bathtub style floor
Weighs only 30 pounds
FAQs
How Easy Is This Tent To Set Up?
As with any tent, the quicker you can set it up, the better. The Napier Sportz SUV Tent ensures a simple setup that should take no longer than 15 minutes. While it can be set up with only one person, an extra pair of hands will make the process a lot easier and faster.
Is It Difficult To Take Down?
No. Taking this tent apart is easy and only requires one person. Once the tent has been taken down, it's also easy to place in the carry bag provided.
How Big Is The Storage Bag?
The storage bag measures 30" X 12" X 12", meaning it can be easily stored in your SUV when moving from place to place.
Final Verdict
If you're looking for a spacious tent that's great for family camping, then the Napier Sportz SUV tent is the one you need. It gives you enough space for up to 6 people and reaches 7 feet in height, allowing for plenty of headroom.
Although the name suggests it's an 'SUV tent,' it can be used with a standard car as well. And if the whole idea of attaching it to your vehicle doesn't appeal to you, you can use it as a standalone tent, making it a great all-arounder for all types of camping.
Sale
Napier Sportz SUV Tent 10'x10' Waterproof Camping Tent with 6'x7' Screen Room and Awning 6 Person...
Easy 15 Minute Setup: The simple pole hub design allows for a quick and hassle-free car...
1200mm PU Waterproof Material Coating: Full rainfly with taped seams and zippered storm...
Comfortable and Spacious 5 Person Vehicle Camping Tent: The Sportz SUV Tent is a large 6...
Secure and Sturdy Tent: The sturdy frame and strapping system ensure security even in the...
High Quality and Versatile Purchase: Easily transform the tent into a traditional ground...