SUV tents are a unique take on the conventional tent format. Those who have never used them might not understand their functional appeal initially, but one use will make you get it right away.
These extensions are used to convert your SUV into an extended camper and make for a cozy, sheltered camping experience.
Rightline Gear has been an established brand in the outdoor gear industry for quite a while now, and its tents have become a staple for road-trippers and overlanding enthusiasts alike.
If you are looking to buy a Rightline Gear SUV Tent, but still aren't sure if it's right for you, we're here to help! We have reviewed it thoroughly and will break down the pros and cons so that you can make a well-informed decision on your new investment.
Spoiler alert: It's awesome.
Features of the Rightline Gear SUV Tent
Make your SUV an extended camping space
This Rightline Gear SUV tent offers much more versatility than a simple standalone model. It allows you to effortlessly mount your tent to your SUV's trunk, significantly increasing the space available.
If you want the camping experience with the mobility of your car, this should be your next investment.
And let's suppose you feel cold at night; all you have to do is fold down your backseat and set your blanket for a makeshift bed.
Or, if you're one to indulge in the full camping experience, you can either shift all your equipment into the SUV and sleep on a mattress inside the tent or install an overlanding inflatable mattress in the vehicle and use the tent as dressing/games/storage area.
You'll have quick access to all your supplies, and you won't need to move in and out of the tent every time you need something from your car. And words to the wise, the fact that it's connected to your SUV comes especially handy when it's raining. Everybody knows how long a whole rainy day spent in a tent might be. Being able to basically double the space available inside your tent and having access to 12V power and radio will sure sound interesting.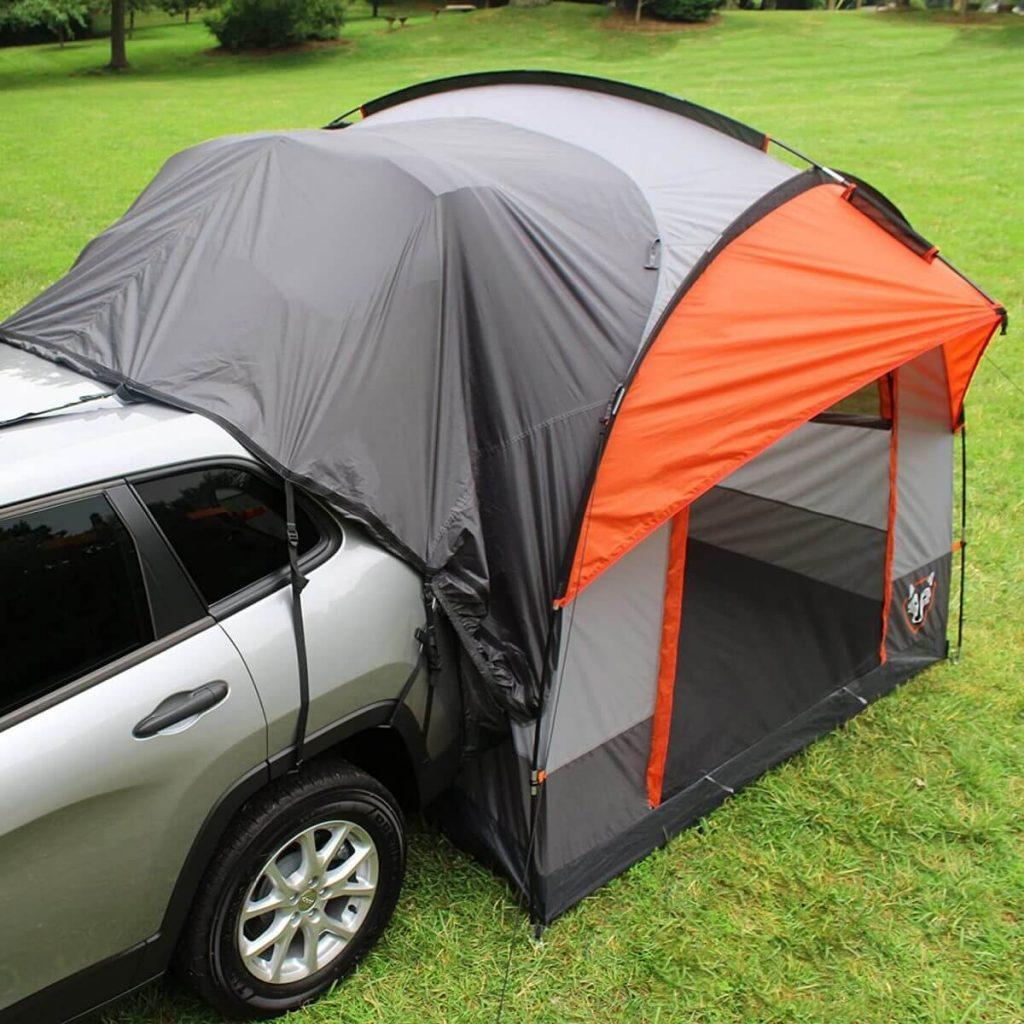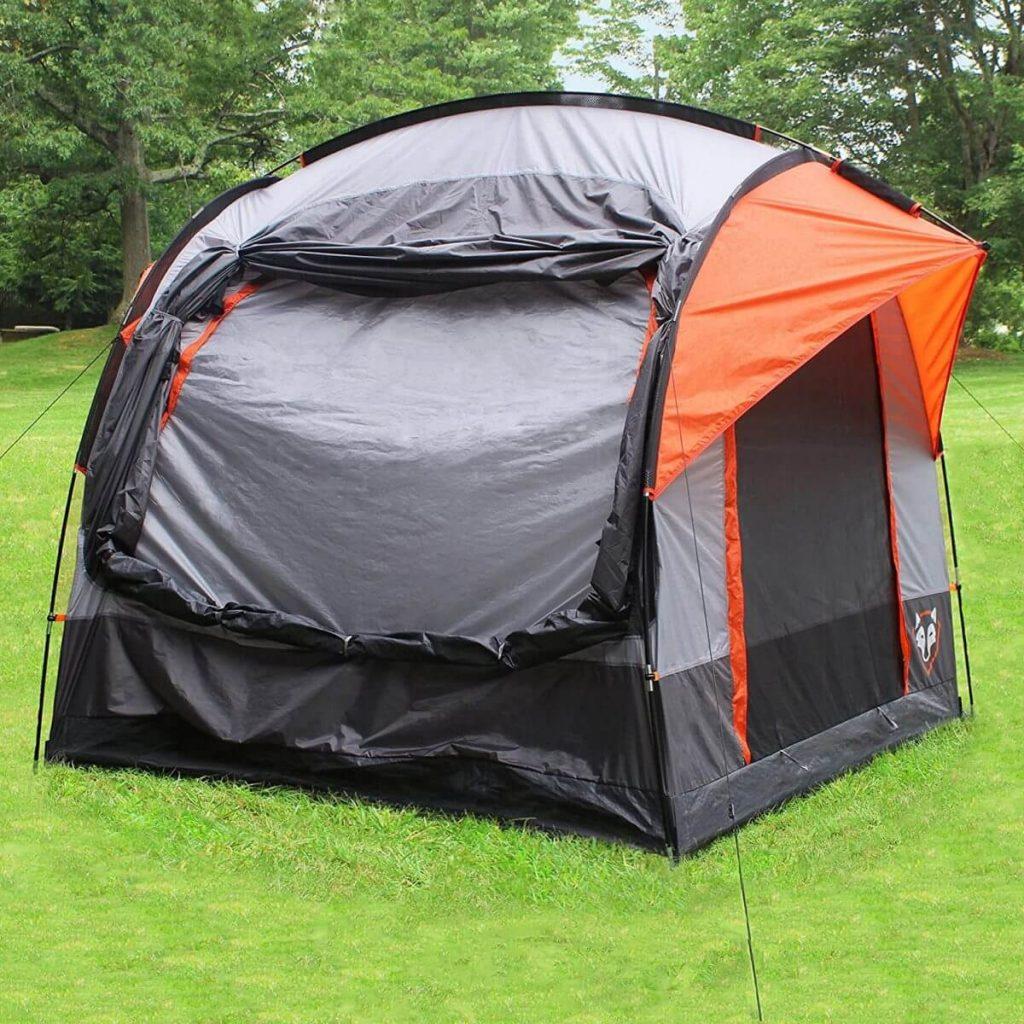 Keeps The Water Out
Rightline Gear takes waterproofing seriously, and its tents will keep you dry and sheltered at all times. It also comes with a rainfly that covers the tent's roof and provides maximum protection during heavy showers.
Also, the windows and doors are waterproof when zipped up, while the sealed seams prevent leakages. The tent's floor is also constructed from high-grade, water-resistant polythene to prevent moisture from seeping in. And even if it rains hard enough to completely soak the terrain, the tent's unique bathtub design is purposed to keep water, dirt, and dust out.
Fitted With All The Necessary Accessories
Many SUV tents on the market don't provide vital accessories needed to set up the structure, and buying them separately can be expensive.
Luckily, all required accessories and support parts, such as straps, buckles, and tie-downs, come right out of the box with the Rightline Gear SUV Tent. It also includes a carry bag that can hold the stakes, guidelines, and other equipment, for easy storage and movement.
And of course, it's fitted with storage pockets where you can keep small items like your phone and snacks, and the ceiling features a hook where you can hang a portable light – pretty much like every other tent on the market, though.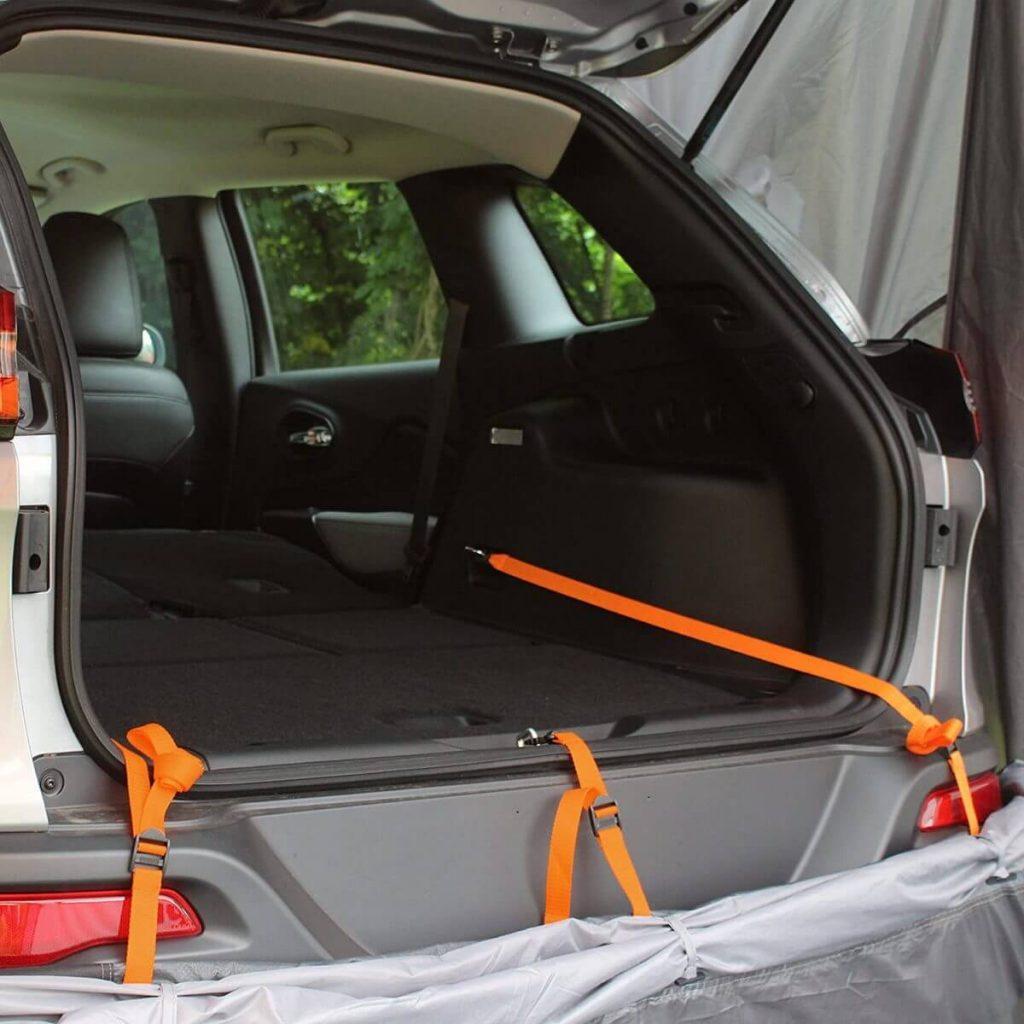 Designed For Multi-Vehicle Attachment
While the name might suggest that this tent is for SUVs only, it can also connect to trucks, minivans, and jeeps.
The connecting sleeve, the portion of material between the tent and the vehicle, is meant to fit tightly around the vehicles to prevent bugs and water from entering through the gaps.
The connecting sleeve attaches the tent to the vehicle, and as long as you have a similarly sized car, the tent should fit comfortably around the back.
While the Rightline Gear SUV Tent will fit well enough for larger vehicles, you might need to do some tweaking if you intend to attach it to a compact hatchback. However, it can be done, that's for sure.
For instance, some campers prefer to use bungee cords, tape, and magnets to secure the tent's sleeve to their car. And if you are like me, you'll probably start thinking about better ways to attach it, and after a year or two, you'll have a whole new setup of bungee and ratchet straps, making it able to withstand a hurricane anyway.
Can Function As A Standalone Tent
At this point, you might be thinking that this is all good but what if you'd like to use your car? Doesn't attaching the tent to your vehicle defeat the purpose of moving around with your car while camping?
Well then, you'll be happy to hear that the Rightline Gear SUV Tent can very well function as a conventional standalone tent as well.
Simply remove the connecting sleeve, and you can go on a drive and re-attach it later. I know for a fact that this feature is especially appreciated when needing to head out for food or supplies.
In case you're wondering, the disconnected sleeve does not leave one side of the tent open. It zips up shut nicely, keeping your tent watertight and sealed off from the elements.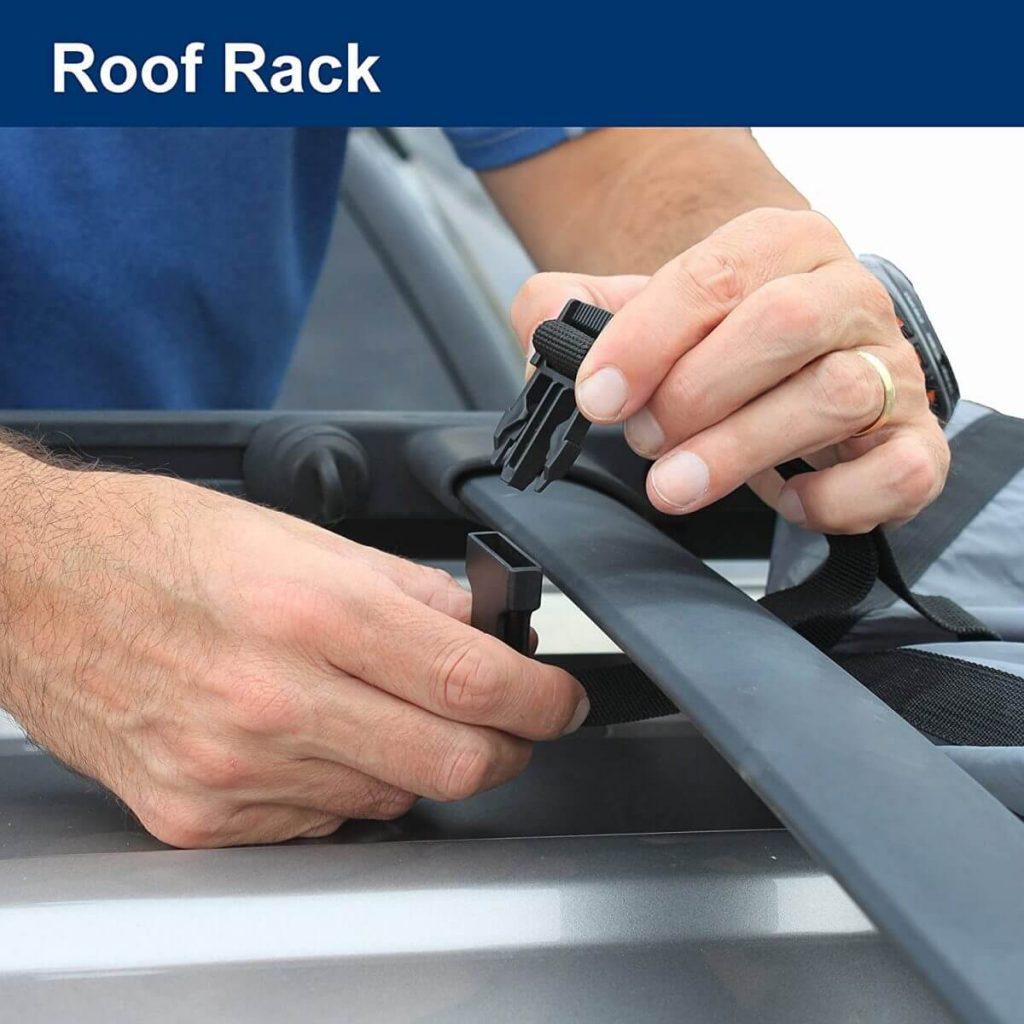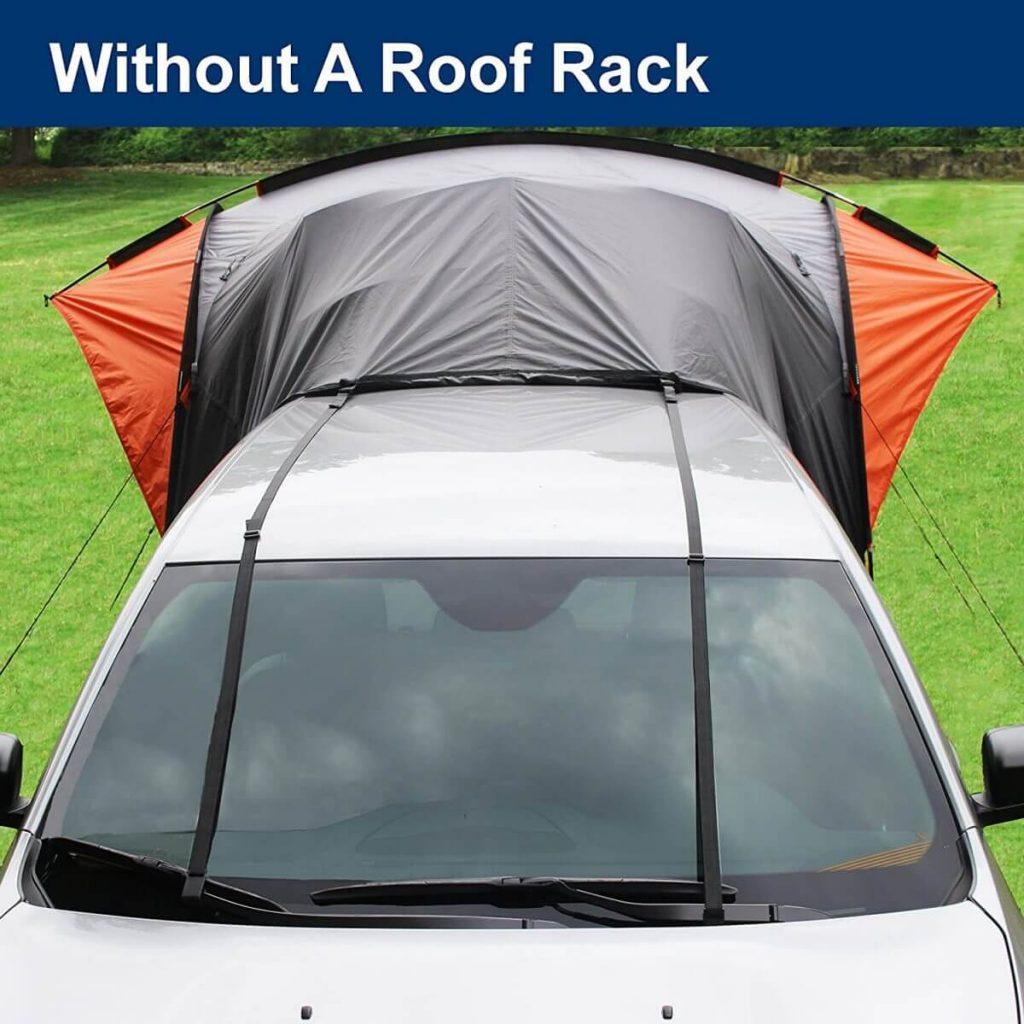 Pros
Accommodates up to 6 people
Can attach to different sized-vehicles
Can also be used as a standalone tent
Easy on the wheel arches
Durable and long-lasting
Waterproof
Easy to set up and take down
Cons
Fitting it into the provided carry case is a bit tedious
It won't fit smaller cars unless you tweak it a little
Highlighted Features
2000mm water rating
Sealed seams
Extended rainfly
Comes with a carry bag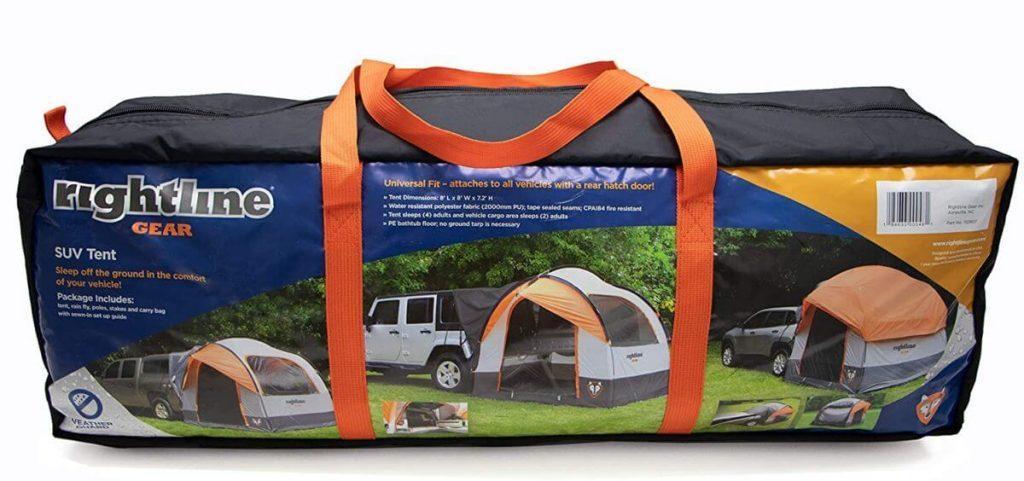 FAQs
Why Should I Choose This Over A Traditional Tent?
An SUV tent grants you a few benefits that a conventional tent does not. It allows you to sleep off the ground and rest in your SUV instead.
It also gives you more storage space and allows you to access all supplies without leaving the tent.
And like, even if you don't think you'll need the SUV-extender feature, it still doesn't really cost more than any other tent of a similar size. Just get one with the feature anyway – you never know what might happen in the future. And since the Rightline Gear SUV Tent might last you well over five years, who knows if you'll be driving an SUV or have become a true overlanding fanatic by then?
Is This Tent Compatible With A Hatchback Vehicle?
It is compatible. But you will need to make a few tweaks and be a little crafty about the way you set it up.
It won't be as perfect of a seal as on SUVs, but you can use bungee cords and magnets to make sure the sleeve fits nice and tight to your hatchback vehicle.
Will The Sleeve Keep My Car Dry If It Rains?
Follow the instructions on how to tie the sleeve to the vehicle properly. Once done, ensure that it is correctly fastened by tugging on either end.
If you follow the instructions to the T, the chances of water seeping in are next to none.
Final Verdict
This SUV tent by Rightline Gear is the perfect solution to your camping and overlanding needs. It ensures a tight fit, keeps the elements out, and provides adequate space for your family or friends to bunk out like true campers.
Furthermore, setting up this tent is a breeze, and you can configure it in different ways. Be sure to handle with care when dismantling and store it in a safe place. If cared for and used properly, this tent shall last you for years down the lane.
Happy overlanding!
Sale
Rightline Gear 6-Person SUV Tent Attachment for Camping, 8 by 8 by 7.2 Feet, Water-Resistant,...
Universal-Fit Car Tent: Camp without leaving all the luxuries of home behind; This...
Intuitive Features: This outdoor tent comes equipped with 2 gear pockets for small...
Family Size: This large tent comfortably sleeps 4 adults, while the vehicle cargo area...
Quality Construction: Our water-resistant hatchback tent features tape-sealed seams and...
Simple Setup: This lightweight tent works with rear hatch and rear barn doors; Simply tie...