EDITOR'S PICK
Remington REM-80T-KFA-O 80,000 BTU Kerosene/Diesel Forced Air Heater
Max. runtime: 10 hours
Power output: 80,000 BTU
5-point safety system, including high-temp shutoff, flameout protection, circuit breaker, heat sensor safety label indicator, and robust safety guards
Built-in handles for portability
Built-in thermostat, air pressure gauge, and fuel gauge
PREMIUM PICK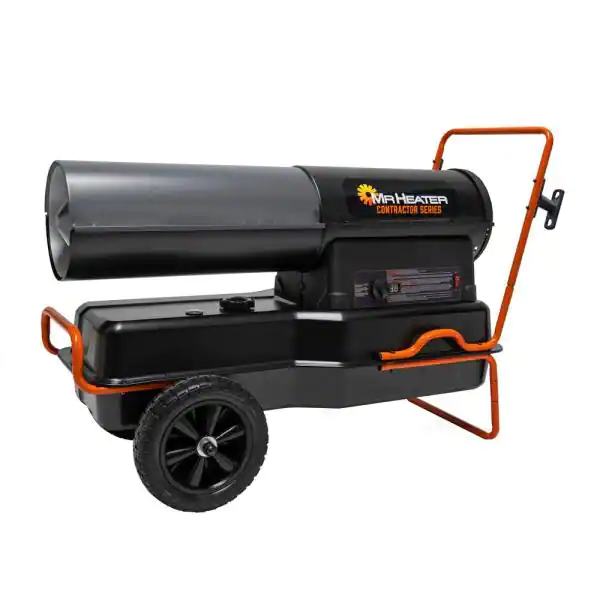 Mr. Heater MHC210KT 210,000 BTU Portable Contractor Kerosene Heater
Power output: 210,000 BTU
Max. runtime: 9 hours
Fuel type: Kerosene, diesel, JP-8, and home heating oil
Fitted with a safety shutdown
Onboard thermostat with LED readout
Flat-free rubber tires
BUDGET PICK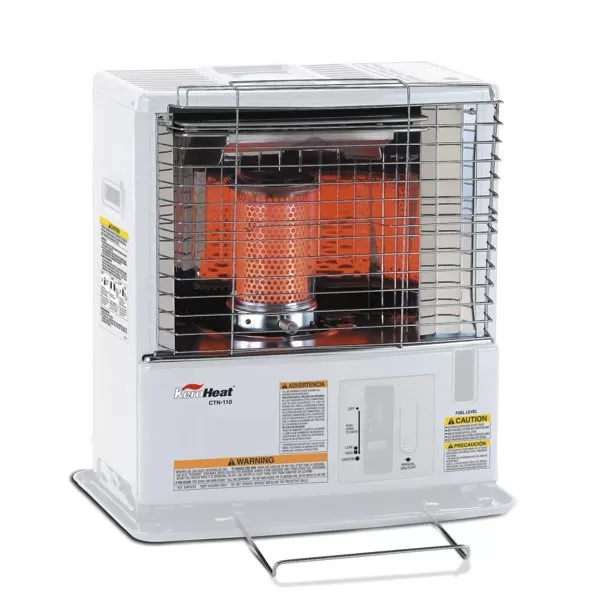 Sengoku KeroHeat 10,000-BTU Portable Radiant Kerosene Heater
Max. runtime: 14 hours
Power output: 10000 BTU
Fuel capacity: 1.2 gallon
Operates without external electrical power
Siphon pump and four C batteries included
UI approved
Kerosene heaters are a useful and dependable heating option for your garage when the winter season arrives. Not only are they efficient in heating large spaces, but they can also be used to provide heat to an individual room only, allowing you to keep your power bill on the lower side.
Of course, as the name suggests, kerosene heaters rely on kerosene to do their thing but also depend on an electrical source for ignition. However, while some models may require an electrical outlet, which is perfect for stationary units, many are equipped with a battery, making them ideal in case of power outages during the colder months. Additionally, most kerosene heaters are quite compact and portable, allowing you to move them around in the garage, a feature especially useful if you've got more than one workstation in there.
Still, while kerosene heaters are rather straightforward to use, there are a few key features to consider when shopping for one. Not all kerosene heaters are created equal and some might be better options than others for your specific setup. To help you find the perfect model for you, we've carefully hand-picked some of the best kerosene heaters we could find, thoroughly reviewed them, and laid it all out in an organized manner, covering some more "budget-friendly" models to more "high-end" ones.
No matter the kind of kerosene heater you are looking for or the budget you have to deal with, we've got something for you below!
Enjoy!
Best Kerosene Heaters For Garage – Review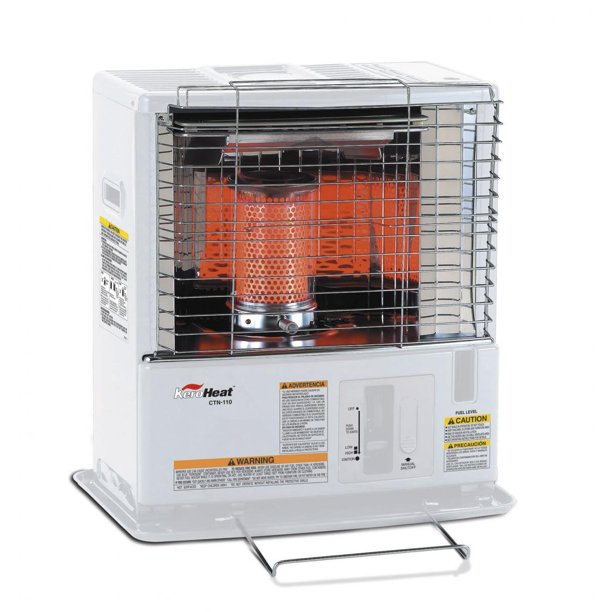 Of course, this kerosene heater is far from being the most powerful model in the industry but not everyone needs to heat up something as big as a warehouse, right? And despite being an entry-level model, the Sengoku KeroHeat beats other competitors when it comes to total heat duration, boasting a heating time of up to 14 hours on the rather small 1.2-gallon tank, while still producing a very decent 10,000 BTUs.
Moreover, the manufacturer also designed the KeroHeat to be as safe as possible, thanks to an automatic shutoff switch and an anti-tip over switch. As a result, it's perfectly safe to use in a residential garage, even if it was to be tipped over while you work, or left on after leaving for the night.
Also, the siphon pump preventing you from making a mess when transferring kerosene is a nice touch, while the fact that the ignition system is battery-powered makes it perfect to bring with you when you are going camping and it's a bit chilly outside, or during power outages. If you work as a mobile mechanic, it could also be used as a secondary heating source when you don't want to keep your truck running while you work in the back.
Overall, it's an economical solution to all your heating woes, and its portability allows you to lug it along wherever you want! However, there's no need to mention that, if you are looking to heat up a large garage or workshop for days on end, it might be a bit underpowered. But nothing to worry about, we've got much bigger models below!
Highlighted Features
Max. runtime: 14 hours
Power output: 10000 BTU
Fuel capacity: 1.2 gallon
Operates without external electrical power
Siphon pump and four C batteries included
UI approved
Pros
Portable
Economical
Heats for up to 14 hours on a full tank
Cons
Wicks need to be replaced regularly
No products found.
Sikye's Portable Kerosene Space Heater is also an entry-level model but a slight step-up from the previous one. Yes, it also delivers 10,000 BTU of heat, more than enough for heating a room measuring 215 to 320 sq ft (20 to 30 m2), but this one also comes with an innovative metal chimney, making it incredibly efficient and reliable.
But the really interesting point with this one is that it can also be used to cook. Yep, the flat surface on top is perfect to heat up a small pan or metal cans so if you don't have a proper stove in the garage, you can even cook basic meals there (not to mention that it's also perfect to keep your morning coffee hot).
And if you go camping, you can easily bring it with you. Indeed, it's super compact, and comes with a carrying handle — you can just pick it up and take it anywhere!
Of course, this one is also on the smaller side and won't do for bigger garages and workshops used on a daily basis. Still, if you only work in your garage every once in a while, why spend big bucks on a larger model you won't even use to its full extent anyway?
Highlighted Features
Power output: 10,000 BTU
Heating capability: 20 to 30 sq. ft.
Automatic ignition
One-touch shut-off
High-temperature resistive glass fiber and cotton yarn core
Pros
Economical
User-friendly
Durable and long-lasting
Multi-purpose
Portable
Cons
Heat output is on the lower side
Only suitable for small spaces
Ok, now we are getting serious! This forced air heater by Remington produces a solid 80,000 BTUs, enough to heat up to 2000 sq ft (185 m2), finally providing a solution to all your workshop and residential garage heating needs.
And since it's quite powerful, this heater features a 5-point safety system, including a high-temperature limit shut off, flame-out protection, a heat sensor safety label, safety guards, and a circuit breaker. As a result, it can easily bring up your garage temperatures from sub-zero to a warm, toasty room temperature in no time, and all that without having to keep an eye on it!
On the other hand, the main drawback with these bigger kerosene heaters is the limited fuel supply. Still, the Remington REM-80T-KFA-O can last up to 10 hours straight on a full tank, making it excellent for emergencies, blizzards, and power outages. Of course, if you intend to use it as a primary heating source in your garage, for 8 hours every day, you might need to keep some kerosene handy. However, in some cases, a portable kerosene heater is the only option and this one is a pretty good one.
Highlighted Features
Max. runtime: 10 hours
Power output: 80,000 BTU
5-point safety system, including high-temp shutoff, flameout protection, circuit breaker, heat sensor safety label indicator, and robust safety guards
Built-in handles for portability
Built-in thermostat, air pressure gauge, and fuel gauge
Pros
Very safe
Reliable
Extremely fast heating time
Sturdy construction
Cons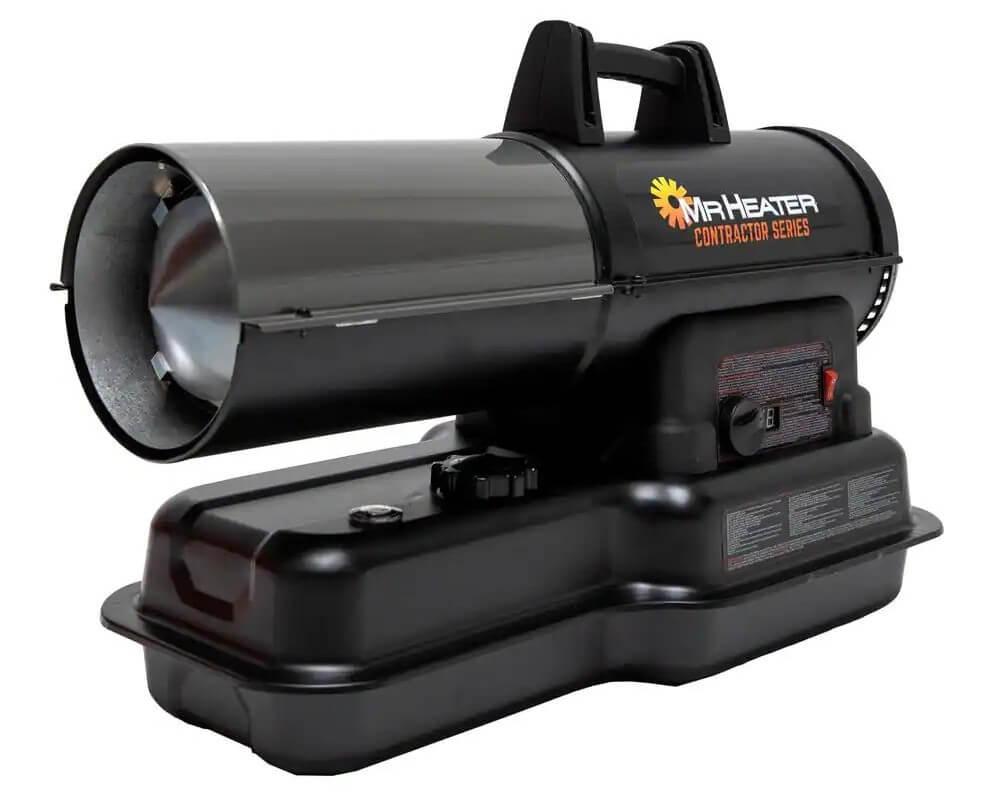 Much like the previous model, Mr. Heater's Forced Air Kerosene/Diesel Heater is powerful enough to provide instant heat in arctic-level temperatures and possesses remarkable cold-weather starting capabilities — and the MHC80KT model is one of the brand's best examples.
This kerosene/diesel heater is nothing short of a beast, thanks to its built-to-last steel construction, six-gallon fuel tank, and 11-hours run time. Moreover, it can run on #1 and #2 kerosene, #1 and #2 diesel, as well as JP-8 fuel, which can come in handy if you have run out of kerosene at the worst possible moment, and all that while delivering a whopping 80,000 BTU of heat per hour, quickly warming up spaces up to 2,000 sq ft (182 m2).
So, if you're shivering in your repair shop or at a construction site, Mr. Heater can really turn up the heat, allowing you to focus on the work at hand.
Furthermore, the convenient top-mounted carry handle makes it quite portable and allows directing the heat without touching the hot surface. The heater also comes with an on/off switch, an error alert light, and quick-fix servicing access for convenient maintenance.
Meanwhile, the built-in photo cad cell flame sensor eliminates the need to worry about potential hazards, and the factory-installed thermostat with LED readout allows you to heat your garage to your exact needs.
Overall, this unit can efficiently heat a large area in a short amount of time and offers all the adaptability and safety features a larger repair shop needs.
Highlighted Features
Max. runtime: 11 hours
Heavy steel construction
Heating capability: 2,000 sq. ft.
Fuel type: Kerosene, diesel, and JP-8
High-temperature safety shut-off switch
Thermostat included
Pros
Versatile
Easy maintenance
High power output
Overheat safety shutdown
Cons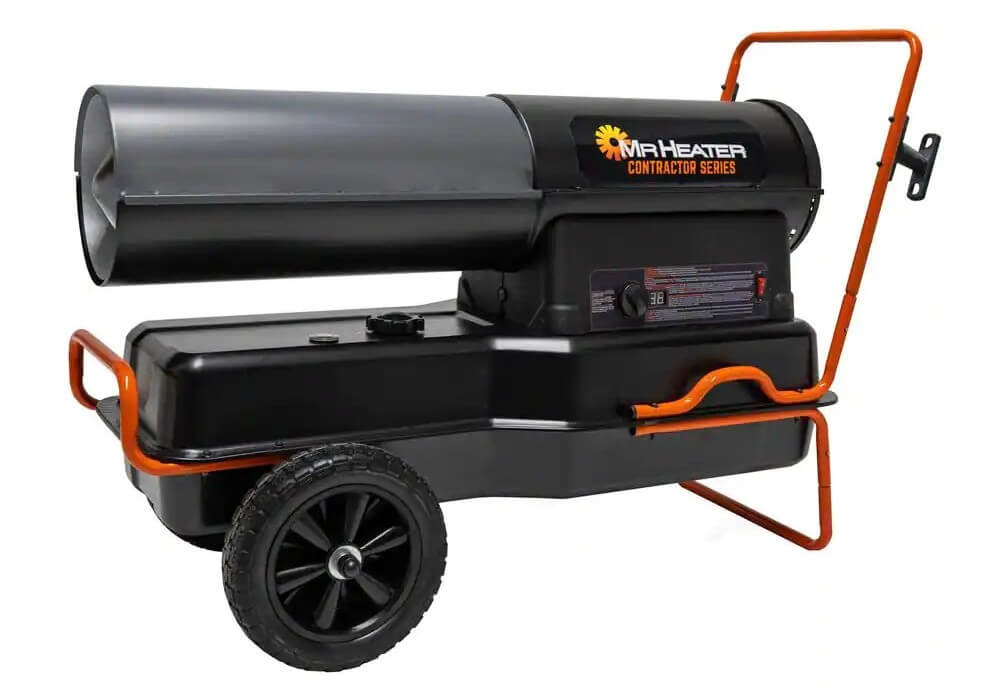 If you need something even more powerful, Mr. Heater's MHC210KT kerosene heater is what you need! With its 14-gallon fuel tank, heavy steel construction, and 9-hour of continuous runtime while producing 210,000 BTU, enough to heat up to 5,250 sq ft (490 m2), we can safely say that this one is a true monster of a heater!
Moreover, thanks to the fast cold climate start, the MHC210KT can reliably heat your garage, even in freezing temperatures, (which is what a proper shop heater is supposed to do, right?). Just adjust the temperature on the digital thermostat, and feel the heat building up right away!
Of course, while this thing is more than big enough to be used in the largest workshop out there (if you've got a residential garage that big, I'm straight-up jealous), it can also be of tremendous help during emergencies. Just make sure you have enough fuel on hand — kerosene, JP-8, home heating oil, or #1 or #2 diesel.
As expected from such a premium model, it also comes with all the bells and whistles you can dream of, including a safety shutdown system, a photo CAD cell, and a high-limit safety switch.
But all that aside, it's really the fact that this 70 lbs. mammoth is still quite portable that makes it even more impressive. Thanks to the powder-coated tubular steel handle offering a solid grip and rubber tires, you can drag this unit anywhere — that's not something that can be said for most larger kerosene heaters on the market.
Put simply, if you need serious heat in the shop, this is the model you want!
Highlighted Features
Power output: 210,000 BTU
Max. runtime: 9 hours
Fuel type: Kerosene, diesel, JP-8, and home heating oil
Fitted with a safety shutdown
Onboard thermostat with LED readout
Flat-free rubber tires
Pros
Really powerful
Incredibly sturdy construction
Suitable for large spaces
Big fuel tank
Portable
Cons
On the pricier side — but worth every penny!
Things to Consider When Buying a Kerosene Heater for a Garage
If you want to find the best kerosene heater for your garage, you must consider the following factors:
Area and Type
There are two types of kerosene heaters available in the market: convection heaters and radiation heaters.
Convection heaters offer 360° heat coverage and are designed to warm several rooms at once. Find a central location in your house to station this unit and let it circulate heat outwards in every direction.
Just one large BTU convection heater is enough for most medium-sized homes.
On the other hand, radiant kerosene heaters are for smaller areas and do not offer 360° heat coverage. They provide heat in one direction and work on the same principle as infrared heaters.
These are generally considered safer when it comes to garage heating. Although most radiation heaters are meant for smaller spaces, larger-area units incorporate a fan to increase their heating radius.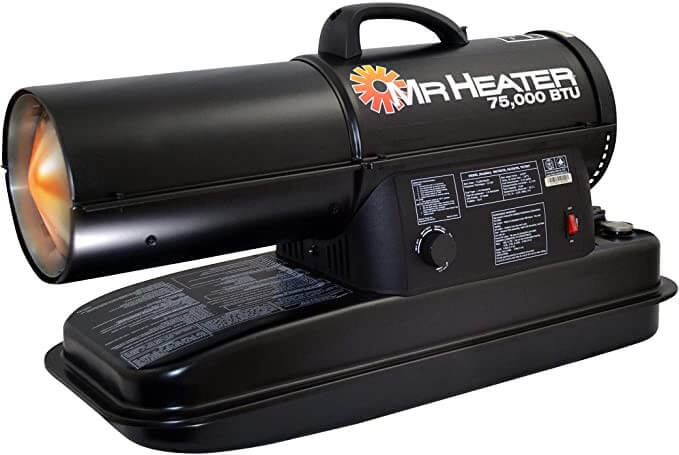 Safety
Although most manufacturers prioritize user safety when making kerosene heaters, it doesn't hurt to do your homework and be extra careful!
Conventional kerosene heaters usually feature an overheat protection, which allows them to shut off instantly if they detect too much heat. It's a great safeguard against fire and also prolongs the life of the heater.
Anti-tip over switches add additional security by preventing accidents if the heater is knocked over. These are particularly useful if you have small kids or pets in your house as the switch turns the heater off the moment it tips over.
It would be beneficial to do your best to ensure maximum safety. One of the things you can do is install a carbon monoxide detector in your home to prevent poisoning after excessive indoor use. If your heater has a removable fuel tank, try to store it outside the house when not in use.
Heating Capacity
It's imperative to know your preferred heating capacity before choosing a kerosene heater for yourself. The rating is expressed in British Thermal Units, abbreviated as BTU, which shows how much thermal energy can be released in an hour.
Generally, most units deliver around 25,000 BTU and work for up to 1000 square feet of space. Industrial heating units routinely exceed 75,000 BTU, allowing these heaters to heat up to 2000 square feet.
Although it may seem that choosing a larger BTU rating is a better option; keep in mind that higher BTU heaters produce more carbon monoxide!
You should consider the efficiency of the heater as well. Units with low-efficiency waste more fuel, so you will be incurring much higher fuel costs, even with a large BTU rating heater.
Propane Vs. Kerosene Heater
The first question the salesman will ask you when you enquire about heaters is whether you would want a kerosene heater or a propane one.
Neither option has a blatant advantage over the other; both work best in different conditions, and each has its advantages and disadvantages.
Generally speaking, propane is a clean-burning fuel, which is the biggest reason people choose it over kerosene. It is usually compressed in tanks and easy to find at gas stations or hardware stores.
However, propane is very combustible. It can also be dangerous if inhaled, so precautions must be maintained.
On the other hand, kerosene is a liquid – it can be clear or slightly colored. Unlike propane, there's no risk of it leaking or emitting noxious fumes. Moreover, it is more cost-efficient because it generates more heat in a lesser time.
A single gallon of kerosene is around half a dollar to a dollar cheaper than a gallon of propane. However, it is less environmentally friendly.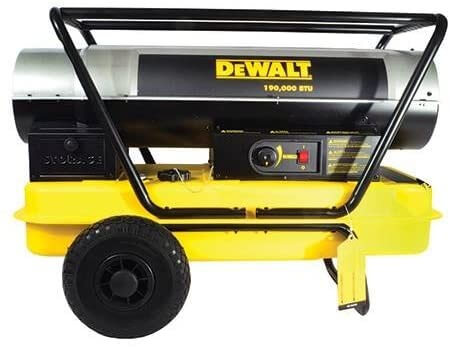 Frequently Asked Questions
Can A Kerosene Heater Emit Harmful Fumes?
Fumes from a kerosene heater are harmful to humans and animals. Although kerosene is a liquid, it can still evaporate. Some often-reported complications from inhaling kerosene fumes include respiratory problems, nausea, dizziness, and headaches.
Prolonged exposure to kerosene fumes can cause the formation of blood clots, which can lead to more serious issues over time, such as a stroke, kidney damage, and heart problems.
Although people who use kerosene heaters are not susceptible to health issues any more than people who use other fuel heaters, inhaling fumes from kerosene heaters can still be quite dangerous.
There is also a risk of carbon monoxide poisoning, as is with other heaters.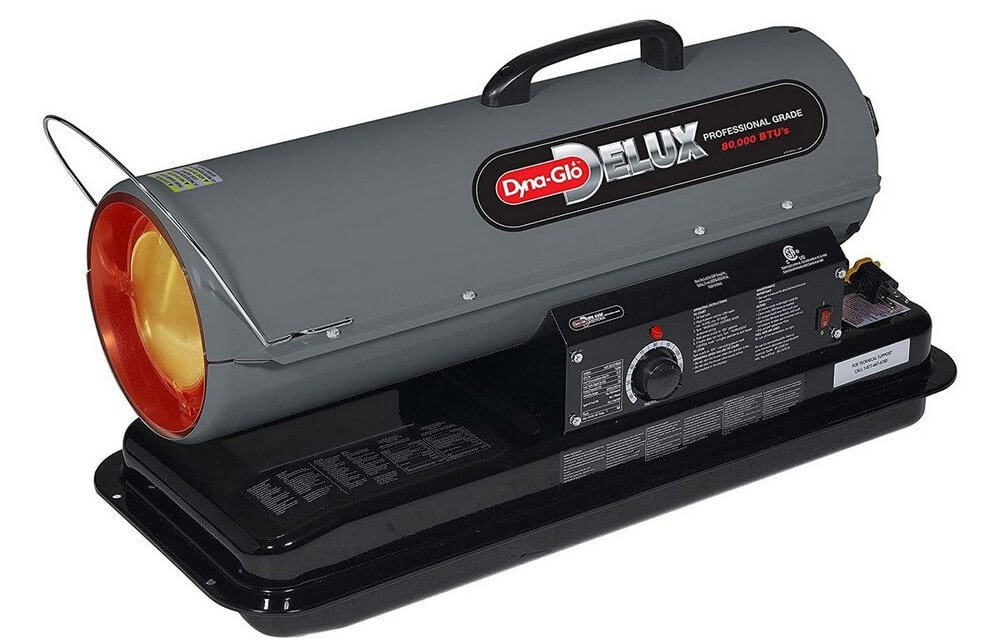 Can You Sleep With The Kerosene Heater On?
It is not recommended to sleep while a kerosene heater is operating in the room. Rather, it's not recommended to sleep with any operating fuel heater!
This is because heaters release combustible by-products overnight, leading to carbon monoxide and nitrogen dioxide poisoning. In more serious cases, it can even lead to death.
Also, leaving the heater on overnight poses a fire hazard. Do not leave the heater unattended, and certainly avoid leaving it on while you sleep. A small heater accident has the potential to be catastrophic!
How Should You Store A Kerosene Heater?
It would be best if you did not store kerosene heaters with kerosene in the tank. Before storage, empty all kerosene from the tank, and make sure to clean any spills.
Then, proceed to wrap the electric cord and secure it with a twist tie. Loose, fraying wires can be dangerous around heaters.
Lastly, ensure that the heater – along with the kerosene containers – is stored in a cool and dry place.
In Brief…
We hope this comprehensive review gave you all the information you needed to choose a heater that fits your needs!
Our recommended models offer unrivaled performance for home, garage, and outdoor use, and you would not be disappointed with either of them.
Lastly, always remember that safety should be your utmost priority when buying a heater. For added precautions, ensure proper ventilation and leave enough room around your heater for clearance and safe handling.