EDITOR'S PICK
REMINGTON REM-80T-KFA-O Kerosene Heater, 80,000 BTU
5-point safety system
Extremely fast heating time
Sturdy construction
PREMIUM PICK
Mr. Heater 175,000-BTU Forced-Air Kerosene Heater
Overheat safety shutdown
Heavy grade construction
Continuous ignition
BUDGET PICK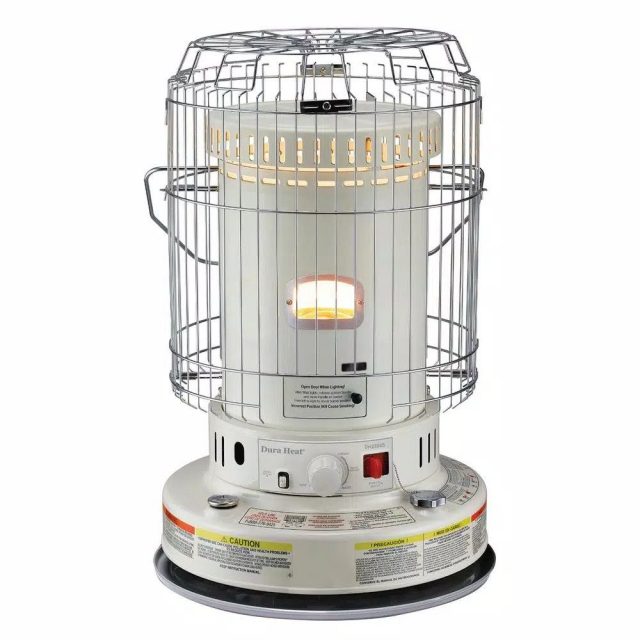 Dura Heat DH2304S 23,800 BTU Indoor Kerosene Heater
No-lift chamber eliminates startup odor
Protective grill around hot surface areas
Works for 8-12 hours on a full tank
Kerosene heaters are a useful and dependable heating option when the winter season arrives. Not only are they efficient in heating large spaces, but they can also be used only to provide heat to an individual room – allowing you to minimize your power bills.
As the name suggests, these heaters use kerosene for fuel but depend on an electrical source for ignition. While some models may require an electrical outlet, many include a battery as an independent power source. These battery-powered models are ideal in case of power outages during the colder months.
Additionally, most kerosene heaters are compact and portable, allowing you to use them in your home, garage, or office.
They operate on the same principle as a kerosene lamp; a circular wick is built on the burner unit and placed on a top filled with kerosene. Then, the lit wick draws in the kerosene and heats it until it converts to gas. The gas transmits heat using the process of convection.
When buying a kerosene heater, there are a few key features to consider.
Firstly, the BTU rating, which denotes the maximum energy it produces over an hour. Secondly, the heat coverage, since it tells you the maximum area, it can heat efficiently. Lastly, note the dimensions, weight, and tank capacity of the heater.
Best Kerosene Heaters For Garage – Review
We've compiled a list of the best kerosene heaters for you to consider buying this winter. Let's take a look:
Mr. Heater Forced Air Kerosene heaters deliver reliable service for years because they use only the highest quality components during production.
They are equipped with high-grade, fully enclosed motors and easy-to-use controls to ensure your safety.
Moreover, the controls include high-limit safety switches, a protective grill, and photo CAD cells that automatically turn the heater off in unsafe conditions. You don't have to fret over safety; the MH75KTR will do it for you!
These heating units are equipped with a no-lift heat chamber that minimizes any smell during startup. Each model can be conveniently assembled and be up and running in 5 minutes.
Mr. Heater can deliver 23,800 BTU of heat and requires a 115 VOLT AC outlet.
You do not have to worry about this unit heating up since it operates at extremely low temperatures. It is also perfect for emergencies as it provides 8-10 hours of heating time and can be used as a source of light and heat simultaneously.
The heater also works well on kerosene, as well as Jet A Fuel, filtered 1 and 2 diesel, and 1 and 2 fuel oil; it even minimizes odors, avoiding any fume-based smells.
Finally, this heater projects heat in a 360 radius, ensuring thorough room coverage.
Pros
Projects heat evenly
Minimizes startup odor
Protective grill around hot surface areas
High-quality components used
Provides heat and lighting
Cons
Overheats small rooms
Noisy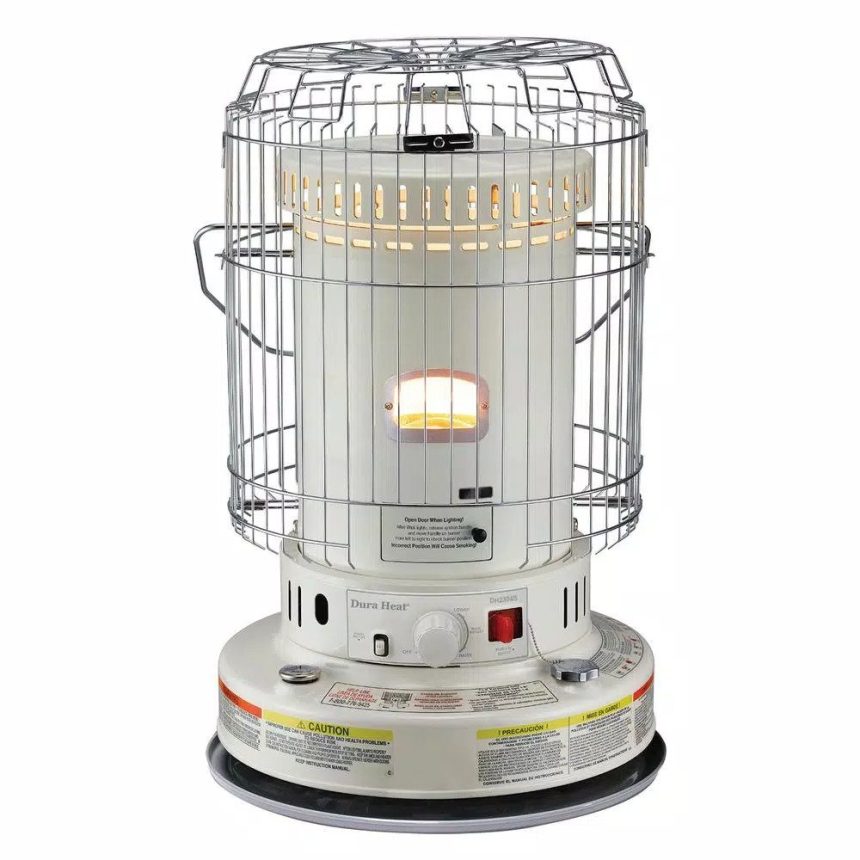 The Dura Heat model is an excellent choice for indoor heating. It's designed to warm your garage in even the chilliest of blizzards because of its impressive 23,800 BTU rating.
Furthermore, the heater provides both heat and light, allowing you to use it during power outages; in that case, it will also heat any room in relatively less time.
The heater comes with a no-life heat chamber ensures there is hardly any startup odor, while its protective grill covers high-heat areas for added safety.
Meanwhile, this heater will burn for eight to twelve hours on a full tank as it consumes kerosene cleanly, leaving behind no smell or smoke.
The Dura Heat is sturdy and well balanced, so you can leave it in one place without worrying about someone accidentally knocking it over. For added convenience, it's also equipped with an auto-igniter!
Pros
No-lift chamber eliminates startup odor
Projects heat evenly
Protective grill around hot surface areas
Works for 8-12 hours on a full tank
Cons
Hard to store
Auto-igniter might not work in extremely low temperatures
Mr. Heater units are notorious for being reliable and long-lasting, and this heater is no exception! They prioritize user safety, as their heaters feature fully-enclosed motors and glove-friendly controls.
Moreover, this model delivers 175,000 BTU of heat and is equipped with a 14-gallon fuel tank that can provide up to 14 hours of heat on a full tank.
It has a heating range of up to 4,375 square feet, which it achieves within minutes. Blast up the heat when working on your truck in the garage, and it will oblige in no time!
You do not need to fret about checking up on it every hour. It comes with a safety switch, a factory-installed thermostat, and a photo CAD cell to halt operations in unsafe conditions. It also features an overheat safety shutdown.
This Mr. Heater model is built with tubular steel handles, pneumatic rubber tires, and a split upper shell for easy maintenance.
All in all, it boasts a heavy grade construction and high quality. Also, there is a fuel gauge, a troubleshooting diagnostic with an LED indicator, and a continuous ignition to boot, making this one of the more innovative models on the market.
Pros
Overheat safety shutdown
Heavy grade construction
Continuous ignition
Cons
Heavy to move around
Occupies considerable space
Sengoku is a renowned name in the heating industry, with 60 years of experience in manufacturing heaters. Their products are extremely user friendly and optimized for convenience.
This KeroHeat model beats other competitors when it comes to total heat duration, boasting a heating time up to 14 hours on its 1.2-gallon tank and a BTU rating of 10,000.
They have also designed the heater to provide complete user safety, thanks to an automatic shutoff switch and an anti-tip over switch.
An added feature in KeroHeat models is a siphon pump to prevent any mess when transferring kerosene. It comes equipped with a fuel gauge, auto ignition, and four C batteries.
These heaters operate without electrical power, making them an excellent choice for heating during power outages or as an emergency heating solution.
Overall, it's an economical solution to all your heating woes, and its portability allows you to lug it along wherever you want!
Pros
Portable
Economical
Heats for up to 14 hours on a full tank
Cons
Not durable
Wick damages easily
This mega unit has a grand BTU rating of 80,000! It can heat up to 2000 square feet of space, providing a solution to all your home heating needs.
One of the most secure units, this heater features a 5-point safety system, including a high-temperature limit shut off, flame-out protection, a heat sensor safety label, safety guards, and a circuit breaker.
Moreover, it can bring up your garage temperatures from sub-zero to a warm, toasty room temperature in no time!
It can last up to 10 hours on a full tank, making it excellent for emergencies, blizzards, and power outages.
Some added features include a thermostat, a fuel gauge, and an air pressure gauge.
Overall, this sturdy, high-performance heater boasts a heavy-duty fan motor, rugged steel construction, and multiple useful safety features.
Pros
5-point safety system
Extremely fast heating time
Sturdy construction
Cons
Heavyweight
Energy consuming
Things to Consider When Buying a Kerosene Heater for a Garage
A quality kerosene heater is a great substitute for a central heating system if you can afford to use it for individual rooms. They can also be used in sheds, RVs, and campsites.
Most American households invest in a kerosene heater to use in the garage during wintertime, but they can very comfortably be employed in any room of the house!
If you want to find the best kerosene heater for your garage, you must consider the following factors:
Area and Type
There are two types of kerosene heaters available in the market: convection heaters and radiation heaters.
Convection heaters offer 360° heat coverage and are designed to warm several rooms at once. Find a central location in your house to station this unit and let it circulate heat outwards in every direction.
Just one large BTU convection heater is enough for most medium-sized homes.
On the other hand, radiant kerosene heaters are for smaller areas and do not offer 360° heat coverage. They provide heat in one direction and work on the same principle as infrared heaters.
These are generally considered a safer option when it comes to garage heating. Although most radiation heaters are meant for smaller spaces, larger-area units incorporate a fan to increase its heating radius.
Safety
Although most manufacturers prioritize user safety when making kerosene heaters, it doesn't hurt to do your homework and be extra-careful!
Conventional kerosene heaters usually feature an overheat protection, which allows them to shut off instantly if they detect too much heat. It's a great safeguard against fire and also prolongs the life of the heater.
Anti-tip over switches add additional security by preventing accidents if the heater is knocked over. These are particularly useful if you have small kids or pets in your house as the switch turns the heater off the moment it tips over.
It would be beneficial to do your best to ensure maximum safety. One of the things you can do is install a carbon monoxide detector in your home to prevent poisoning after excessive indoor use. If your heater has a removable fuel tank, try to store it outside the house when not in use.
Heating Capacity
It's imperative to know your preferred heating capacity before choosing a kerosene heater for yourself. The rating is expressed in British Thermal Units, abbreviated as BTU, which shows how much thermal energy can be released in an hour.
Generally, most units deliver around 25,000 BTU and work for up to 1000 square feet of space. Industrial heating units routinely exceed 75,000 BTU, allowing these heaters to heat up to 2000 square feet.
Although it may seem that choosing a larger BTU rating is a better option; keep in mind that higher BTU heaters produce more carbon monoxide!
You should consider the efficiency of the heater as well. Units with low-efficiency waste more fuel, so you will be incurring much higher fuel costs, even with a large BTU rating heater.
Propane Vs. Kerosene Heater
The first question the salesman will ask you when you enquire about heaters is whether you would want a kerosene heater or a propane one.
Neither option has a blatant advantage over the other; both work best in different conditions, and each has its advantages and disadvantages.
Generally speaking, propane is a clean-burning fuel, which is the biggest reason people choose it over kerosene. It is usually compressed in tanks and easy to find at gas stations or hardware stores.
However, propane is very combustible. It can also be dangerous if inhaled, so precautions must be maintained.
On the other hand, kerosene is a liquid – it can be clear or slightly colored. Unlike propane, there's no risk of it leaking or emitting noxious fumes. Moreover, it is more cost-efficient because it generates more heat in a lesser time.
A single gallon of kerosene is around half a dollar to a dollar cheaper than a gallon of propane. However, it is less environmentally friendly.
Frequently Asked Questions
Can A Kerosene Heater Emit Harmful Fumes?
Fumes from a kerosene heater are harmful to humans and animals. Although kerosene is a liquid, it can still evaporate. Some often-reported complications from inhaling kerosene fumes include respiratory problems, nausea, dizziness, and headaches.
Prolonged exposure to kerosene fumes can cause the formation of blood clots, which can lead to more serious issues over time, such as a stroke, kidney damage, and heart problems.
Although people who use kerosene heaters are not susceptible to health issues any more than people who use other fuel heaters, inhaling fumes from kerosene heaters can still be quite dangerous.
There is also a risk of carbon monoxide poisoning, as is with other heaters.
Can You Sleep With The Kerosene Heater On?
It is not recommended to sleep while a kerosene heater is operating in the room. Rather, it's not recommended to sleep with any operating fuel heater!
This is because heaters release combustible by-products overnight, leading to carbon monoxide and nitrogen dioxide poisoning. In more serious cases, it can even lead to death.
Also, leaving the heater on overnight poses a fire hazard. Do not leave the heater unattended, and certainly avoid leaving it on while you sleep. A small heater accident has the potential to be catastrophic!
How Should You Store A Kerosene Heater?
It would be best if you did not store kerosene heaters with kerosene in the tank. Before storage, empty all kerosene from the tank, and make sure to clean any spills.
Then, proceed to wrap the electric cord and secure it with a twist tie. Loose, fraying wires can be dangerous around heaters.
Lastly, ensure that the heater – along with the kerosene containers – is stored in a cool and dry place.
In Brief…
We hope this comprehensive review gave you all the information you needed to choose a heater that fits your needs!
Our recommended models offer unrivaled performance for home, garage, and outdoor use, and you would not be disappointed with either of them.
Lastly, always remember that safety should be your utmost priority when buying a heater. For added precautions, ensure proper ventilation and leave enough room around your heater for clearance and safe handling.