EDITOR'S PICK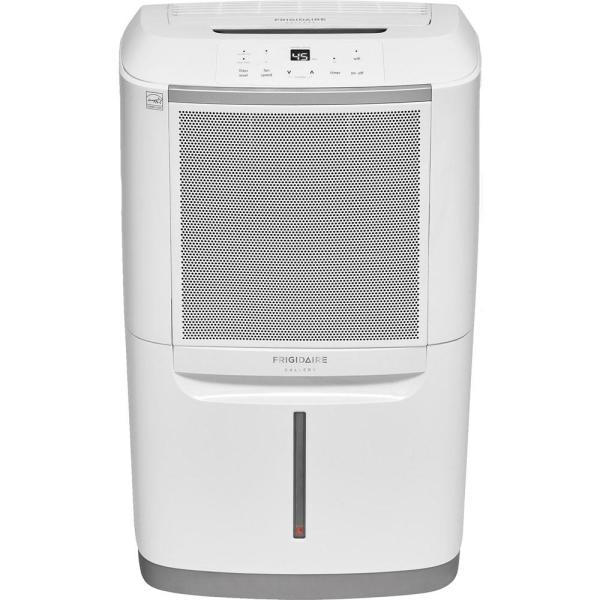 Frigidaire High Efficiency 70 Pint Dehumidifier with Wi-Fi Controls
High extraction (70 pints)
2-gallon tank capacity
Smart control via Wi-Fi
Rated for areas of 3000 to 4500 sq. ft
PREMIUM PICK
BlueDri BD-76P 150-Pint Dehumidifier
Extracts 150 pints of water per day
Specially molded housing for robustness and durability
Draws only 5.5 amps of current
BUDGET PICK
GE ADEL35LZ-GE 35 Pint Energy Star Dehumidifier
1.1-gallon tank capacity
Built-in filter prevents clogging
Humidistat adjustability
Defrost function
Garages have a special place in the heart of every petrolhead and wrench monkey. However, our special corner of the house that we call paradise can quickly turn into hell if we're not careful.
Unlike the inside of our house, one of the biggest problems we face in a garage is humidity. While excessive moisture can be a health hazard everywhere, this issue tends to be a lot more frequent in a garage than inside a house. Indeed, bringing your car in after a rainstorm or while it's covered in snow tends to build up a lot more moisture than inside your living room for instance.
And, although excessive humidity is not that much of a health hazard in a garage, given the larger door refreshing the air much more frequently and the fact that carbon monoxide is a lot more dangerous anyway, it can quickly lead to mold and rust.
Luckily, there is an easy solution—a dehumidifier. It is a device capable of regulating the humidity in the air, ensuring that you avoid rust or mold for a long time. Not to mention that bringing humidity down will also make it much more bearable to work in your garage during hot summer months (although installing an AC in your garage would be a much better option for that).
Anyway, all that to say that if you are looking to get your hands on a dehumidifier suitable for your garage, you might have seen that there's a lot of different models out there and that it's not easy to choose between home and commercial models. To help you find one that will perfectly suit your specific garage no matter its size, we've curated and reviewed some of the best humidifier we could find.
Enjoy!
Best Dehumidifier For Garage — Home Models
If you're on a tight budget but need to get a dehumidifier anyway, the GE ADEL35LZ-GE is probably your best bet.
Looking at the specs, it's clear that this is a dehumidifier best suited for very humid environments. Set at the maximum setting, this model can extract 35 pints of water per day! Not bad for a Budget Pick, right?
However, considering the lower price tag, it also comes with a slight downside—it only has a tank capacity of 1.1 gallons, which is on the small side. Given the size of the tank, you'd probably need to empty it several times a day, especially if you work in a large or quite humid garage. Luckily, there is a hose connection that enables continuous drainage to prevent that. But in that case, you'll need to set up proper drainage and probably drill a hole in a wall so water is drained directly outside (you can also arrange something neat with your garage's built-in drainage system although that might take a little more work). Nonetheless, if you decide to use the tank, the unit will sound an alarm once it's full.
Weight-wise, you are looking at almost 40 pounds, but it shouldn't be a problem. Thanks to the easy-roll wheels and practical handle, it's super easy to move around.
In terms of usability, the GE ADEL35LZ-GE dehumidifier offers plenty without any complexity. It is an easy-to-use unit with 3-speed settings for the fan, humidistat adjustability, and automatic restart and a defrost feature.
Once again, if you want a dehumidifier that does what a dehumidifier is supposed to do without breaking the bank, get this one! You won't regret it!
Highlighted Features
1.1-gallon

tank capacity
Hose for continuous drain
Built-in filter prevents clogging
Easy-roll wheels for mobility
Humidistat adjustability
Automatic restart
Defrost function
Pros
Capable of removing 35 pints of water per day
Realiable
Manufacturer proven track record
Hose connector for continuous drain
Easy to move around
3-speed settings for the fan
Super cheap
Cons
The collector tank could be bigger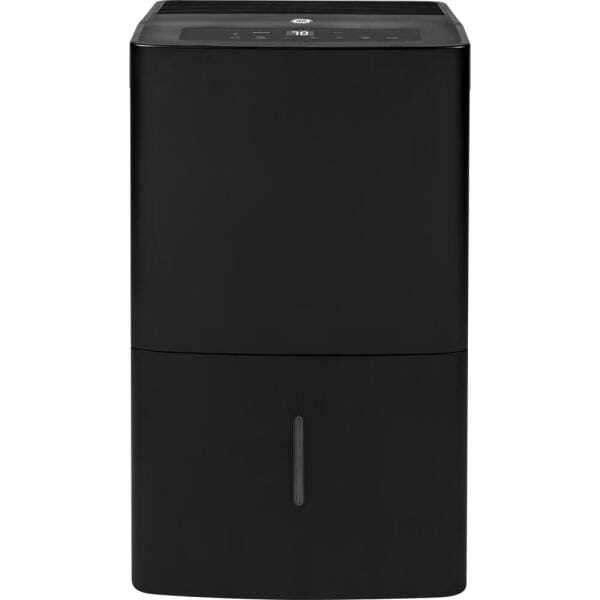 When you put the previous model side by side with this one, you may not notice a huge difference. Apart from the color and the fact that this one is a little bigger, both seem almost identical on the outside—but it's the internals that counts.
For starters, this GE model is capable of extracting 50 pints of moisture per day. It also has 3 settings for the fan and a humidistat to adjust it according to the conditions. Considering that this model can draw more moisture than the previous one, the tank is also bigger and can hold 1.8 gallons.
Like its smaller brother, this unit has a built-in pump that enables continuous drainage of the collected water. Included in the package is a 16 feet hose, so it should be plenty for most garages. Considering how much moisture it can catch, this model is obviously designed for wet areas. It would be perfect for larger garages, especially those located where it's really humid in summer or if you bring multiple cars covered in snow during winter.
However, the increase in performance comes at a price. Namely, this unit is slightly larger than the previous model and weighs almost 50 pounds. The good news is that the handle and wheels are present here as well, so moving it from one place to another won't be an issue.
Highlighted Features
1.8 gallon tank capacity
Hose for continuous drainage
Built-in filter prevents clogging
Wheels and handle for easy mobility
Humidistat adjustability
Automatic restart
Defrost function
Pros
Collects 50 pints of water daily
16 feet drain hose included in the package
Wheels and handle help move the unit
Designed for areas up to 1500 sq. ft.
Cons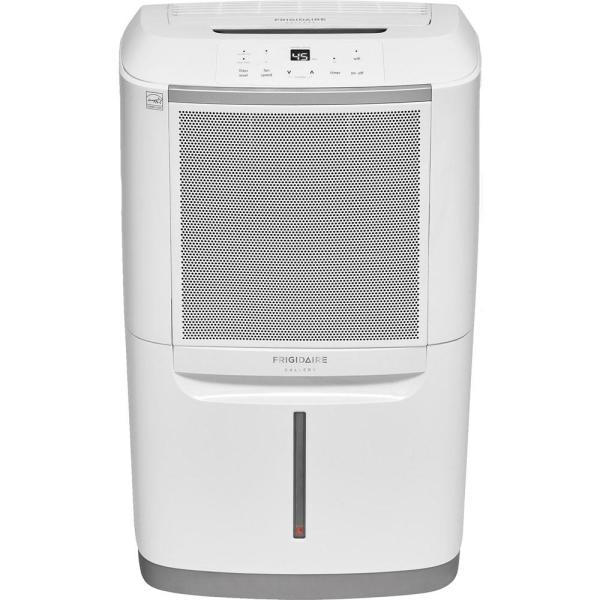 If you're looking for one of the best dehumidifiers for home use, this Frigidaire model is the perfect choice.
When you compare it to the previous model, you will see that this is a slightly more compact option. The dimensions are similar, but it's several pounds lighter, but that doesn't mean that it performs worse. The Frigidaire High-Efficiency model can extract 70 pints of water from the surrounding air, designed for wet and very wet conditions. It is rated to be used in areas from 3000 to 4500 sq. ft, meaning that it will have no problem working even in bigger garages.
However, like most home dehumidifiers on the market, this one suffers from a relatively small collection tank. With 2 gallons of capacity, you will need to empty it quite often. As a solution, the unit has a drain plug, ensuring constant water discharge without the need to do it manually.
The best feature about this dehumidifier is the option to control the dehumidifier remotely. Once you connect it to a Wi-Fi network, you can use Frigidaire's app to control the fan's speed, turn it on or off, etc. On top of that, you will also get notifications on your smartphone when the tank is full or the filter is dirty.
Of course, it's a little more expensive than the previous ones but it's all worth it!
Highlighted Features
High extraction (70 pints)
2-gallon tank capacity

Smart control via Wi-Fi

Rated for areas of 3000 to 4500 sq. ft
Pros
Well-known manufacturer
Super efficient
Compact
Can be controlled with an app
Cons
Slightly louder than others
Best Dehumidifier For Garage — Commercial Models
The first commercial model on this list is the EPD30 PRO DryFan. While on paper it may seem like a step down from the home units mentioned before, it brings a couple of crucial advantages.
In terms of performance, this model can extract 17 pints of moisture daily thanks to the 3-hole technology. Despite that, it is a very compact unit designed to operate in temperatures from -4 to 104 degrees Fahrenheit. The noise levels of 40dB are relatively low, making it a very quiet device that you will hardly notice. As for the airflow, it maxes out at 61 CFM, where 53 are for the exhaust and 8 for airflow regen.
The design is nothing fancy, as you'd expect from a commercial-grade unit. However, it is made entirely out of metal, ensuring longevity which is helpful in a shop situation. Moreover, there is a built-in handle that you can extend, aiding in carrying the 10-pound dehumidifier around. In addition, there are plastic feet that you can remove from the bottom, enabling you to mount the dehumidifier using screws.
Since there isn't a tank, you will need to rely on the outlet to extract the water to a drain. A nice feature is that you can mount a 5-inch hose to the inlet and use it to remove moisture from a remote location.
Highlighted Features
Commercial-grade dehumidifier
Extract 17 pints of water per day
Completely made from metal
Operates from -4 to 104 degrees Fahrenheit
Pros
Compact and powerful
Robust construction
A lot more reliable than home-oriented models
Relatively quiet
IP24 rated
5-inch inlet for remote locations
Cons
You'll need to purchase a humidistat separately
No built-in tank
The biggest and most powerful dehumidifier you'll find on this list is the BlueDri BD-76P. It can extract 150 pints of water from the air daily, which is more than twice the Frigidaire High-Efficiency dehumidifier. Performance-wise this unit is more than qualified for bigger areas, locations with a lot of moisture, and plenty of non-ideal sites.
Since it's advertised for commercial or industrial use, this unit comes with specially molded housing providing sturdiness and a longer lifespan than most, regardless of where you use it or the conditions it works in.
With powerful models like this, weight is undoubtedly a slight issue—the BlueDri BD-76P tips the scale at over 81 pounds. Nonetheless, the good news is that the handle and big wheels will ensure that you can take it almost anywhere without too much fuss.
One thing that this model is often praised for is efficiency. Thanks to the rotary compressor, you get all that performance while only drawing 5.5 amps of current. Worth mentioning, like with the previous commercial dehumidifier, there is no tank, so you will need to use a hose to extract the water.
Of course, it's also significantly more expensive than any previous home model. But if you need a dehumidifier for a a larger repair shop, you can't really cheap out here. Home models will simply not cut it. If you want the best of the best, just get this one—you won't regret it. The outstanding performance and longer longevity will undoubtedly make up for the higher price tag.
Highlighted Features
Extracts 150 pints of water per day
Specially molded housing for robustness and durability
Draws only 5.5 amps of current
Pros
Very high extraction capacity
Tougher than most
Powerful and efficient motor
Housing is durable and long-lasting
Easy to move around despite the weight
Cons
Not intended to work below 33 degrees Fahrenheit
No built-in tank
What to Consider When Buying A Dehumidifier for Your Garage
Performance
Naturally, the first point on the list is performance. As you can see from the products outlined above, some of them can extract more water than others. This is where your requirements come into play.
If you have a damp or lightly damp garage, going for a product like the last one is pointless. You'll pay a lot of money but never get the most out of the unit.
With that said, try not to go for the smallest unit either, of course, if you can afford not to. In a damp environment, smaller models will often have to work at full capacity, which will eventually reduce their overall lifespan.
Most products are categorized by the conditions they can work in as well as the area. Therefore, when choosing the product, make sure that the specifications meet your requirements.
Drainage
This is not always necessary, but it's a nice feature to have—especially in a garage. All home products mentioned above come with a collection tank where the water is stored. Most of them have a gallon or two of capacity, meaning you may need to empty the tank several times a day. This might not be that big of a drawback for a living room dehumidifier where you can easily see (or hear) when it's full. But since you don't spend as much time in your garage, it might get full without you knowing and stop working. Then the next time you enter your garage, the humidity level will be back up and it might take a while to bring it back down. In this case, a drainage option is quite a nice feature to have.
If your garage has a water drain, you can easily connect it to the dehumidifier outlet hose. As a result, you'll never have to empty the water tank and worry about it—just set it and forget it!
Noise
If you ask me, I won't pay too much attention to how loud a humidifier is if I only use it in the garage. But, you can use some of the home models in multiple locations, even inside your home.
If you plan to occasionally move your dehumidifier from your garage to your home, make sure to check the specifications and how loud it gets. Of course, commercial models are not intended to be used in your living room or kitchen so they usually all are kinda on the louder side.
Humidistat
The humidistat is a part of the dehumidifier that tells you how humid the air is. Without one, you won't be able to fine-tune the settings to keep the moisture level at an optimal level.
In most cases, home models have a built-in humidistat, meaning that it's not something to worry about. Regardless, always double-check if the unit you want to buy has one. If it doesn't, you will need to buy one separately.
Commercial models, on the other hand, tend to not come with a humidistat as they are usually either always on or connected to a central HVAC system.
Portability
Throughout this article, I'm mostly talking about dehumidifiers for garages. In those cases, portability will probably be the last thing on your mind because you won't need to move the unit around at all.
However, you still might be tempted to use the dehumidifier in another place. In this case, portability should be a consideration. You should be looking at the design of the handle and if it has wheels, as these are the most portable units you can use.
FAQs
How long will it take for a dehumidifier to do its job?
That depends on how powerful the dehumidifier is, how big the area is and how humid the location is. It may take an hour or two, but it may take longer, depending on the circumstances.
Will the collector tank overflow once it gets full?
No, dehumidifiers are designed to stop working as soon as the tank is full. They will remain in that state until you empty the tank. Depending on the model, some may have an auto-restart feature and continue working, while for others, you may need to turn them on manually.
How high can the discharge hose be?
Models that have a discharge pump will be able to push the excess water vertically. How high will depend on how powerful the pump is. Again, you will need to check the product's specifications.
Are the filters replaceable?
Yes, but most manufacturers include washable filters. It means that you won't need to change the filter every time it gets clogged.
What is the best dehumidifier for lower temperatures?
If you live in an area where the temperatures get quite low in the winter and your garage isn't heated, you may be better off with a commercial-grade dehumidifier. Unlike home models, you get a wider operating temperature range, meaning that you won't face any issues in freezing conditions. On the other hand, if your garage is properly heated, that shouldn't really be a concern.
Verdict
Moisture and humidity are a garage's worst enemy. They can cause plenty of problems that you will need to sort later and any mechanic knows that working in a hot, humid environment is far from ideal.
To prevent that, your best bet is to get a dehumidifier for your garage. With it, you can regulate the amount of moisture in the air and avoid problems in the future.
Make sure that you always choose a model that suits your particular setup and location. We all live in areas with different humidity levels, and garages aren't all created equal. Luckily, with the help of our buying guide, reviews, and pros and cons, you should be able to find the best dehumidifier for your garage in a jiffy. Just make sure to check each product's specifications before purchasing, and you'll be on the right path.