Short post, but I just wanted to share some cool storage straps I found recently.
I've got a boatload of cords, cables, and hoses in my garage for all kinds of different things. The longer stuff—like extension cords and garden hoses—are a pain in the neck to store.
For long-term storage of these types of things, I generally use big zip ties or just throw them in a box somewhere. When I do organize my cords, cables, and hoses, I still really like my growing assortment of Gear Ties by Nite Ize (these things are so useful!). They do, however, have their limitations when it comes to hanging heavy garden hoses or long extensions cords.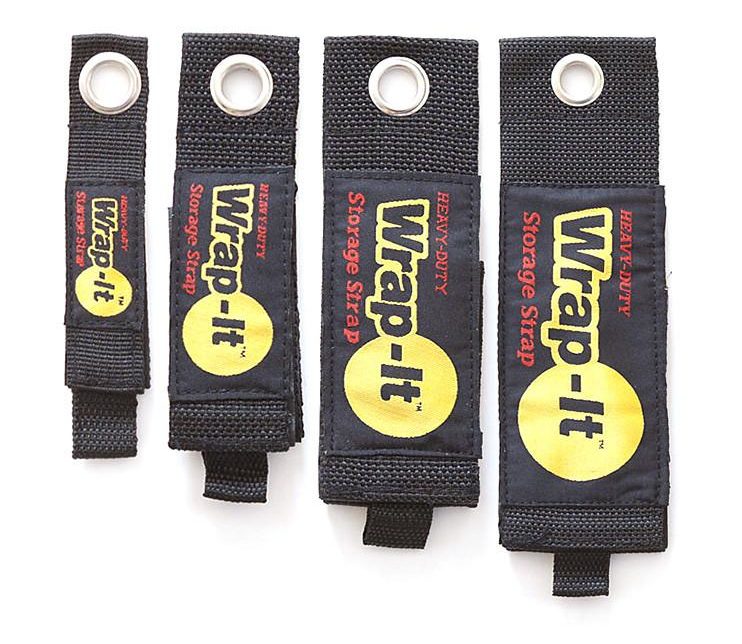 Recently, I found some nifty elastic bands called Wrap-It Storage Straps and I really like them for hanging cords, cables, and hoses neatly on the wall because they have integrated grommets. Ah ha!The Wrap-It straps are made out of weather resistant ballistic nylon and the ~7/16″ grommet out of metal. Velcro is used to secure the strap around whatever it is you're rolling up, and a handy tab at the bottom of each strap makes for easy undoing. They're available in a variety of sizes and quantities, too. The big yellow "Wrap-It" logo is a bit too prominent for some but doesn't bother me.
These things aren't revolutionary, but they are super-useful for organizing and hanging all of your cords, cables, and hoses in and around your garage or workshop. And while they're not cheap, they're reasonable. A variety pack of six will run you about $15 and a 12-pack variety about $30.
You can find Wrap-It Storage Straps on Amazon, at Lowes, Walmart or Bed Bath & Beyond, or at WrapItStorage.com.
That's a wrap! ???? (get it?)
Sale
Heavy-Duty Wrap-It Storage Straps (Assorted 12 Pack) - Hook and Loop Hanging Extension Cord...
You know you can hang with the big boys. But can they hang with you? Get your bulky...
QUALITY MATERIAL: Made with heavy-duty weatherproof polypropylene, industrial strength...
GET ORGANIZED: Climb the ladder to a cleaner home without the need for a bulky extension...
ENDLESS USES: Use these as an extension cord holder, electric equipment carrier, thick...
INCLUDES: (3) 7-inch, (3) 10-inch, (3) 13-inch and (3) 17-inch Heavy-Duty Wrap-It Storage...