When we were getting ready to sell our last house about a year ago, I replaced all of the mulch in our flower beds, but only because it looked bad after a year of baking in the hot Florida sun. I'd done the same thing a few years in a row, so the last time I had to remove more than I put in because it was just too much mulch.
If only I had known about this stuff!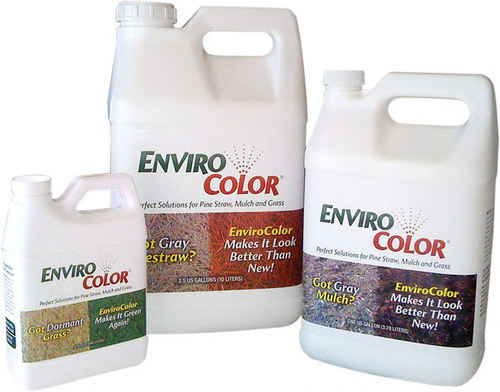 EnviroColor is a water-based paint-like substance that restores color to faded mulch, pine straw or grass for up to nine months. It's not a paint, though. EnviroColor is an all-natural proprietary blend of Carbon and Iron Oxide that's non-toxic and non-flammable. It won't harm humans, pets, birds, plants, trees, shrubs, etc.
Using a pump or backpack sprayer with a fan tip, EnviroColor is applied just like spray paint—in a sweeping, side-to-side motion—but only adheres to dry surfaces. To prevent unwanted color adhesion, simply spray driveways, downspouts, masonry, fences, and any other surfaces you want to remain free of color with water prior to applying EnviroColor.
EnviroColor is available in various colors and quantities designed to cover anywhere from 300 square feet to 48,000 square feet. As an example, a 4.8-ounce bottle mixed with one gallon of water will cover about 300 square feet. The company does recommend two passes, though, so that'll mean twice the product, in most cases.
You can buy EnviroColor direct from EnviroColor.com, at most home improvement or hardware stores, and online from Amazon.com.