Although tents were initially designed for ground use, the trend is changing toward rooftop tents. One such unit is the unique Smittybilt Overlander Tent. It rests on your car's roof and comes with a ladder to help you climb.
Smittybilt's tent is of a standard size with a capacity for two or three people. Moreover, its design gives access to the driver and the passenger. The skylights and the Overlander give this tent a good rating among buyers across different review sites.
In this article, we have done an in-depth Smittybilt Overlander Tent Review to make you understand why it's among the best options on the market.
Features of the Smittybilt Overlander Tent
Spacious
The Smittybilt Overlander Tent is available in standard size for up to three people and also in XL size for up to four. The latter is excellent for a family vacation, saving you the cost of purchasing an extra tent. If you have a small kid or even kids, the XL version should do just fine.
Easy to set up and take down
The Overlander tent from Smittybilt is easy to set up. It also comes with easy-to-follow setup instructions, although most users say that the instructions aren't necessary. Even a first-time tent user will set it correctly with minimum hassle. Taking it down is equally easy. As a result, the Overlander is an excellent tent for inexperienced campers.
Heavy-duty top
Smittybilt designed it with a strong top to protect the occupants from rain and sun. Also, thanks to the waterproof and rain-fly shape, the tent is durable and resistant to various weather conditions. Thus, it will last you for several years as long as you use it correctly. Moreover, it is stronger than most of the tents that cost within its price range, making it a cost-effective solution in the long run.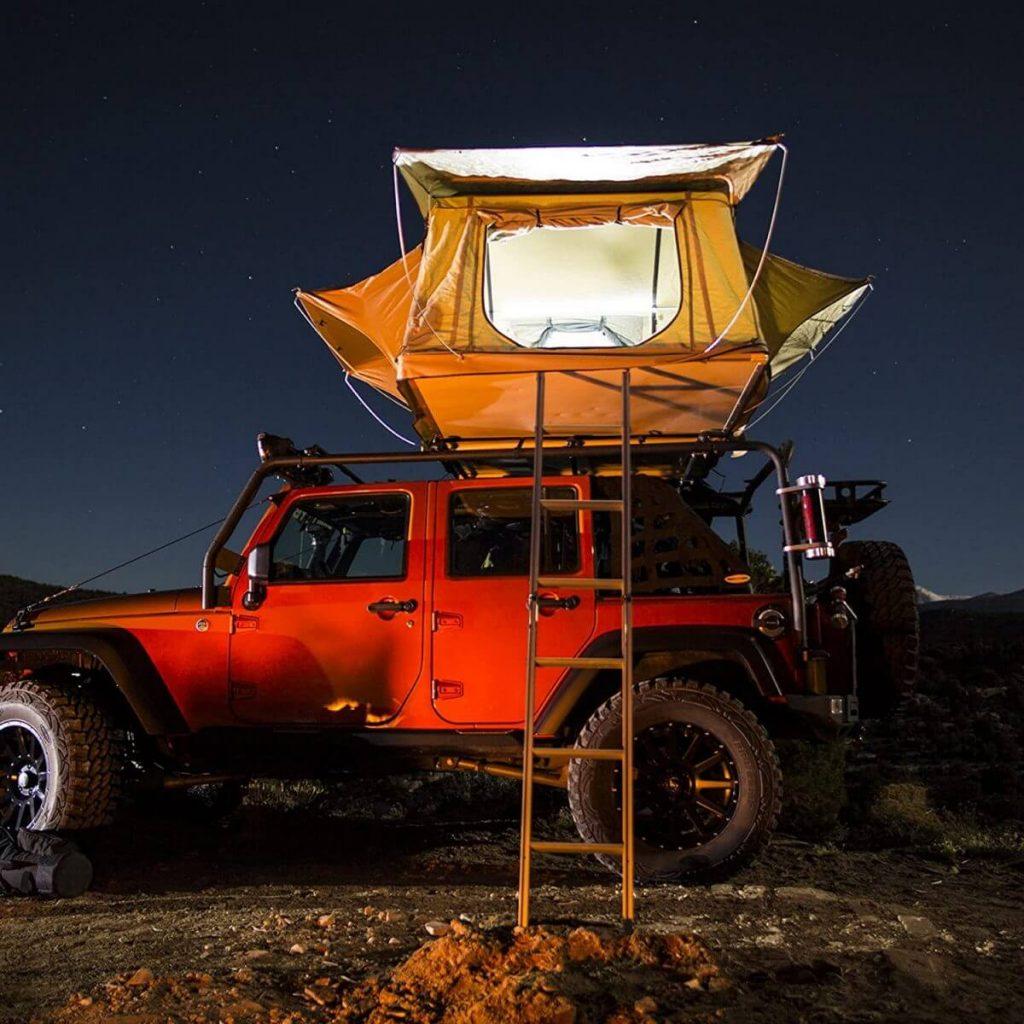 Telescoping aluminum ladder
Being a rooftop tent, you'll need to climb to access it. Hence, it comes with a lightweight aluminum ladder for convenient access. This ladder has a capacity of 265 lbs. enough for most standard size people.
The aluminum ladder has a separate extension to ensure you can use it with vehicles of varying heights. Accordingly, you can easily move the Smittybilt Overlander from your SUV to your wagon or sedan. Furthermore, users love the fact that the ladder is easy to clean, and its height is customizable.
LED lighting
Camping can be tricky without proper lighting, but you shouldn't worry about that with this one. The Overlander features an LED strip inside that connects to a USB port. Moreover, thanks to the extension cable, you can power it directly from your car. For cars without USB ports, Smittybilt conveniently offers a 12v socket in the package.
The Overlander also comes with anodized aluminum tent frame poles, a high-density foam mattress, windows with mosquito netting, heavy-duty zippers, and mounting brackets. Meanwhile, a heavy-duty PVC cover protects the tent from harsh weather conditions when not in use.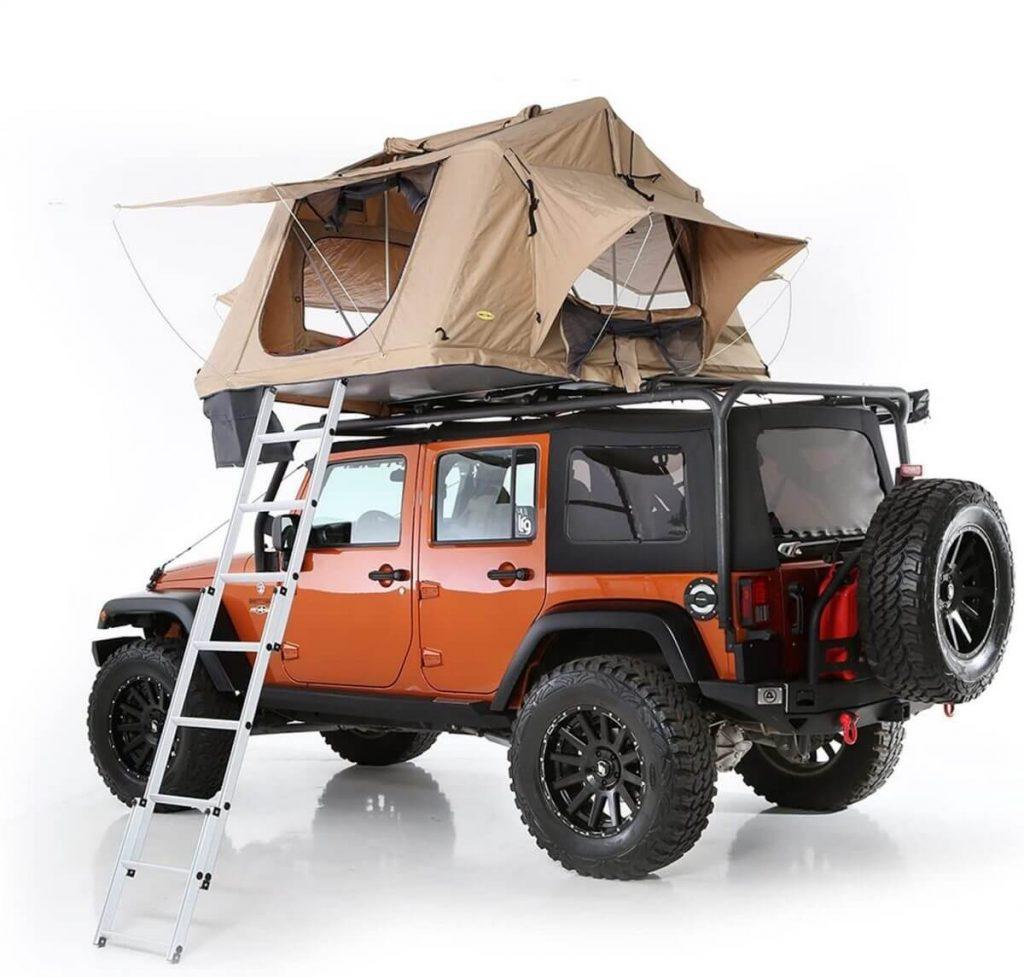 See Also: 5 Best SUV Tents
Pros
Access from driver and passenger side
Available in large size
External storage bag to keep your shoes
High capacity load
Heavy-duty zippers
Comfortable foam mattress
LED lighting strips
Strong and durable
Suitable for trucks, Jeeps, and SUVs
Cons
It has tie-downs and zippers instead of Velcro fasteners
Ladder extension is sold separately
Highlighted Features
Easy to set up and take down
LED lighting strips
Telescopic aluminum ladder
Heavy-duty 600D ripstop polyester
Extra-large size
It has an anodized aluminum frame
Netted windows
Stainless steel hinges
60mm high-density foam mattress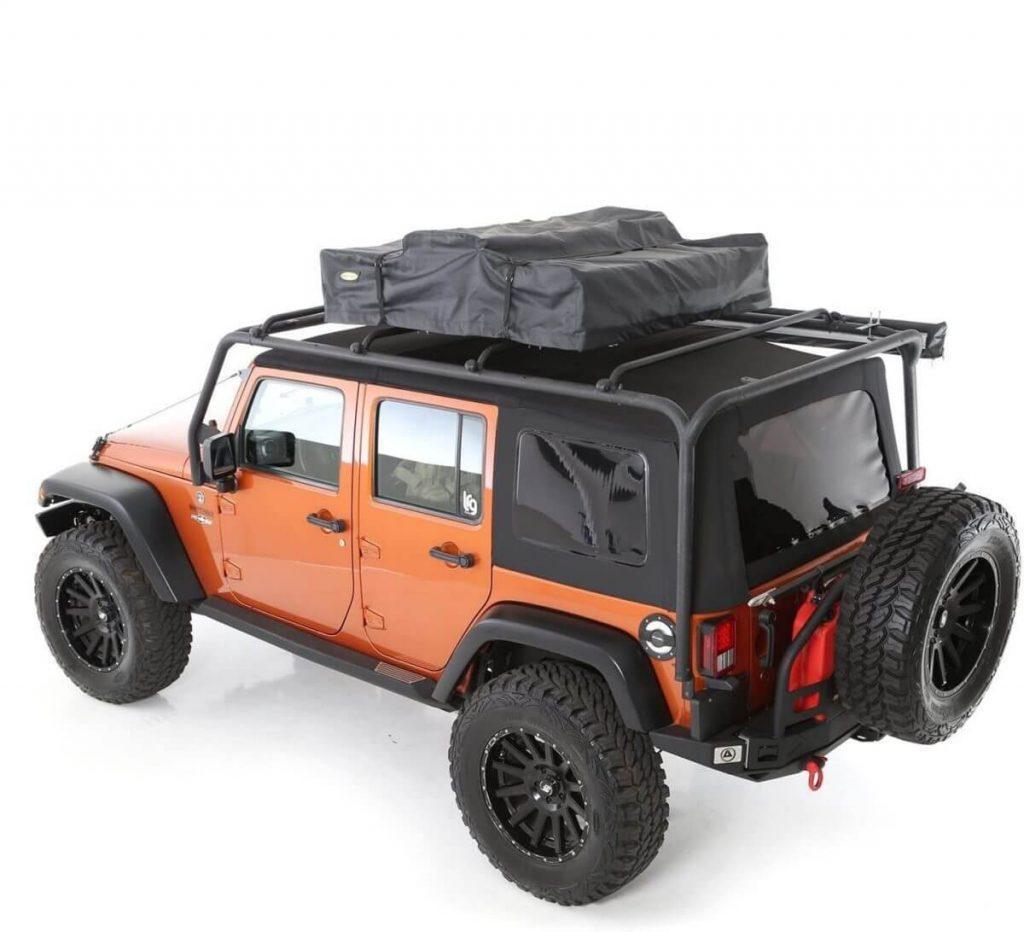 FAQs
Can this tent accommodate two adults and a baby?
Yes. However, if you need more comfort and luxury, we recommend the XL size option. It can accommodate up to four people, but it'll also be more comfortable for two adults and a baby. Even for people who have pets, you can sleep in this tent with two small dogs. A dog will, of course, curl up whenever it finds a little space. The Smittybilt Overlander Tent is suitable for small families but also works for individuals.
Can the ladder be used with a pickup truck?
The ladder is usable with vehicles of different heights since it's easily customizable. With the strong poles to support it, you can conveniently set up the Overlander tent on your pickup truck.
Can I use this tent in a rainy place that has mosquitoes?
Yes. The tent is fully waterproof and has netted windows to protect you from mosquito attacks. The design also keeps rainwater away.
Final Verdict
Going on family camping has never been easier thanks to products such as the Smittybilt Overlander tent. It is a comfortable tent with great features, strong protection from bad weather and mosquitoes, and comes in two sizes.
Looking at its unique features and the price, we think that it's a fantastic tent option for families. Even if you have bigger kids, two tents will be enough to serve six to eight people. Don't waste money on low-quality camping tents; buy the Smittybilt Overlander Tent today!
Sale
Smittybilt Overlander Roof Top Tent - 2783
Standard size tent (sleeps 2-3) with high-density 92" x 55" foam double/full mattress and...
600D heavy-duty waterproof top and rain fly; sunroof; side windows with mosquito netting;...
Easy to set up and take down; heavy duty PVC cover keeps tent dry and free from UV rays...
Smittybilt Tent Annex (sold separately #2788) with removeable floor can be attached with...
Tent also available in Size XL (sleeps 3-4 #2773). Ladder extension also available...