Since our new-to-us house sits on about two acres with lots of trees, I'm in the market for a riding lawnmower, and pretty quick. Since I'll need to tow a small trailer around the yard to clean up all of the debris that constantly falls from above, I was seriously considering one of two old-school brand gasoline mowers. Then, as I was looking around, I found this sweet-looking new ride from RYOBI—and it's electric.
Now, before we get all anti-tree-huggy and whatnot, electric and battery-powered push mowers have been around for a while and are plenty capable of cutting just about anything a gas-powered mower can. Battery tech is also far superior now and is only getting better (very quickly), with commercial-grade battery-powered lawn and even construction equipment becoming commonplace. Think of the RYOBI electric riding lawn mower as the Prius of riding mowers, except cooler… much, much cooler.
The RYOBI RM480e runs on four 75Ah 12V batteries connected in a series (so 48 volts), and charges in about eight to ten hours with its included 120V overnight charger. Fully charged, RYOBI says the mower is capable of cutting two acres in about two hours on a single charge. Pretty impressive.
It helps that the mower has a 38″ deck with two blades underneath that can be manually adjusted to one of twelve positions—the lowest being 1½" for a nice low, clean-cut, where appropriate. The blades are powered by two brushless motors, which means less wear and maintenance. Speaking of maintenance, there are no belts, spark plugs, or filters to deal with, either.
The RYOBI electric riding lawn mower also features a battery level indicator, blade brake, cruise control, cup holder, LED headlights, an hour meter, keyed start, and toolless adjustments. There's even a built-in USB port to charge your phone while you listen to tunes as you cut the lawn. Oh, and let's not forget the beefy 15″ front and 16″ rear wheels. Nice.
A 6.25-bushel capacity plastic/mesh bagger is available separately for about $300 and attaches to the back, as you'd expect. The kit comes with two bagging blades, too.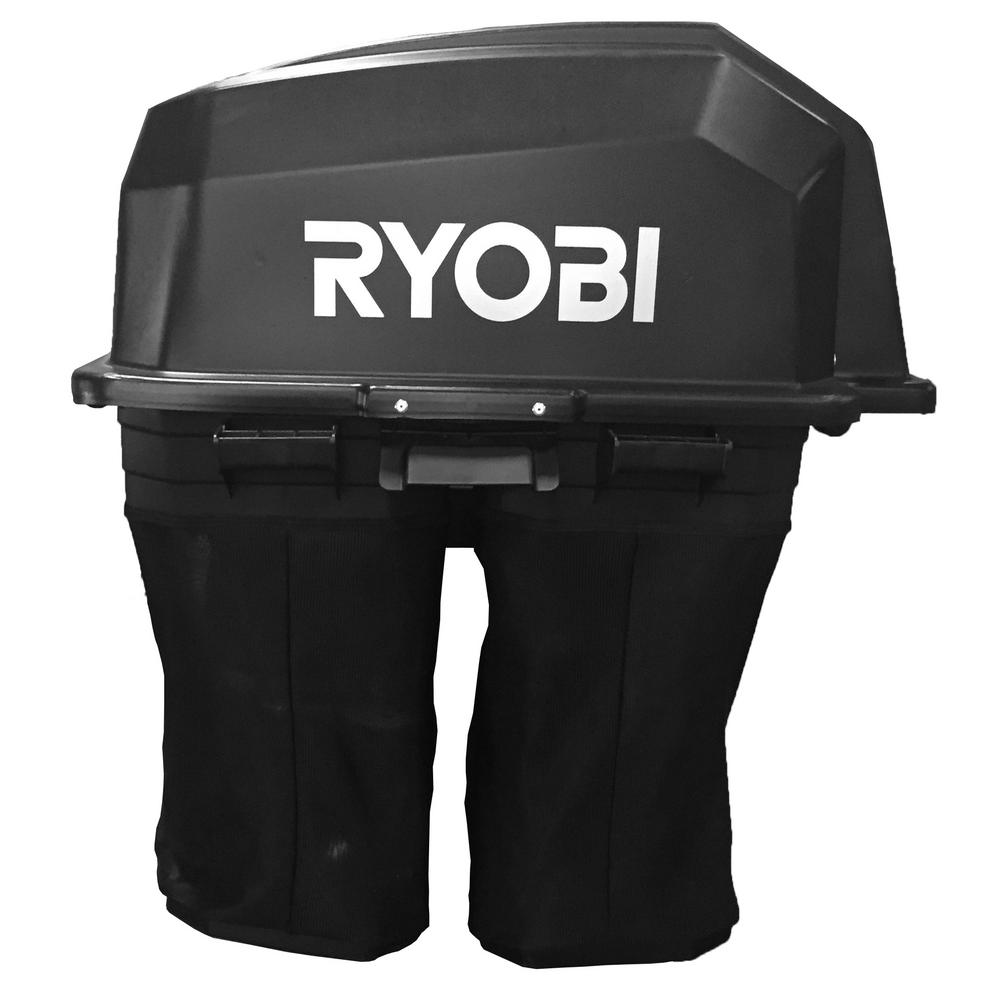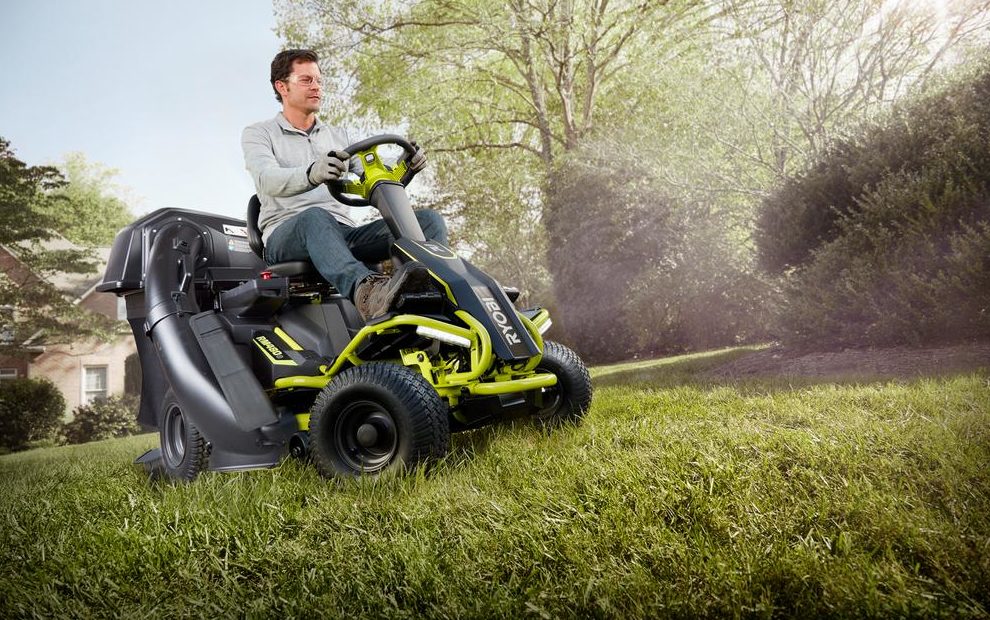 Beyond the price tag, my only reservation is that if I need to use the mower for an extended period of time, I'd have to shut it off a lot so as not to drain the batteries. For example, if I'm towing a small yard cart/trailer (and this thing does have an included hitch plate), stop to pick up tree debris, rinse and repeat, I'm gonna kill the battery before I can cut the lawn. Maybe. But it's a concern for sure.
Either way, the RYOBI RM480e is a pretty big step forward in the lawnmower space. And while I'm obviously not a big environmentalist kinda guy, I certainly do appreciate not having to smell or deal with gas, oil, fumes or noise. I think this mower is what's next. Of course, whichever riding mower I go with, you can bet it'll be a full hands-on review here on GarageSpot.
Here's a promo video from RYOBI: