A new website aims to simplify the tire shopping experience and is now available across the U.S. after piloting in Dallas/Fort Worth and Cleveland.
RightTurn.com delivers tires directly to OEM dealers from its network of 42 warehouses across the U.S. and Canada and carries thousands of different tire sizes from 18 different manufacturers. The company's all-in-one price includes free delivery to the service department of the vehicle owner's local car dealership, as well as installation—scheduled at the time of purchase.
Users of the site will be comfortable with the concept of selecting a vehicle, make, model and year, and are then asked a few more questions about their driving habits and conditions—annual mileage, weather and the type of driving. We test-drove the site using a 2013 Jeep Rubicon, a 2012 Honda Pilot and a 2016 Acura RDX.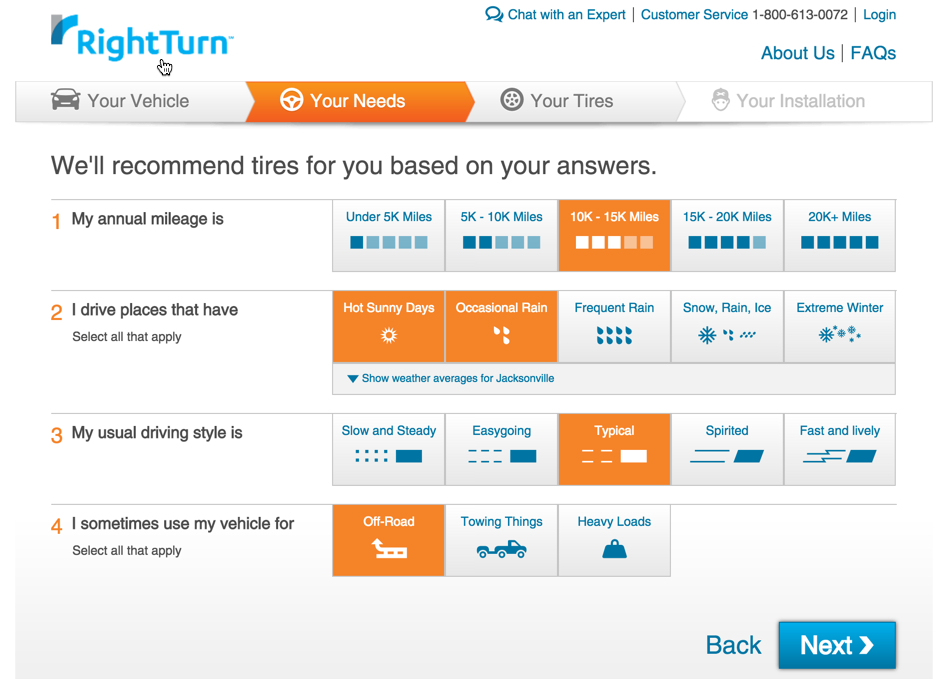 The results for the Jeep (and of course we're biased towards Jeeps) were disappointing, with only a single result. On the popular TireRack.com website, we were presented with five options—all of which were OEM replacements, not aftermarket or off-road specialty tires, which, if you're interested, requires a phone call with RightTurn's customer care.
For the Honda Pilot, however, we were presented with 32 choices from all of the popular manufacturers—Goodyear, Michelin, Continental, Pirelli and more. Once again, though, TireRack offered up over 85 options for the Pilot. Results were similar for the Acura RDX search.
Of course the downside for those of us who despise "stealerships" is that RightTurn's installers are OEM dealers. But, since they're giving you their all-in-one pricing up-front, you really can't argue that point unless you just hate dealing with them.
Sites like TireRack, on the other hand, offer install options from recognized brands like Goodyear Centers, Pep Boys, Tires Plus, Tire Kingdom and a host of others. Not that they're better in some peoples' opinions, but you do get more options and, like RightTurn, TireRack also gives you a price guarantee, including installation, and ships directly to the shop.
On the content front, RightTurn isn't anywhere near TireRack, which has lots of helpful articles, videos, etc. There is a basic guide on tire-buying and whatnot, but they've got some work to do there. That's really just our digital marketing strategy side coming out, though 🙂
All said, we like the RightTurn site, but are struggling a bit to differentiate it from sites like TireRack. Sure, there's certainly room for more than one—we get that—so perhaps it's just another option. And we're obviously not the only ones comparing the two. In fact, RightTurn issued a press notice quoting an article on ModernTireDealer.com specifically addressing this comparison. We're re-posting RightTurn's post below:
Is RightTurn.com the next Tire Rack? Not exactly. Both sell tires online. But how they do it differs in one very important way.
RightTurn.com was created by Dealer Tire LLC, the second largest independent wholesale tire distributor in the United States. Dealer Tire found its niche by selling solely to car dealerships. Now it is re-entering the retail market, which it left in 2002.
(RightTurn.com should not be confused with RightTire.com, a completely different entity.)
The purpose of the year-old online tire-buying site is to make it easy for consumers to "get the right tires installed at the right place, all for the right price." RightTurn.com has one of the largest tire inventories in the world, according to its website. That is true, given Dealer Tire's 20 distribution centers.
RightTurn.com advertises on network television in prime time. It also uses a gimmick based on its name to promote itself on the streets.
When RightTurn.com "opened" in Dallas, consumers were asked to keep their eyes open for the RightTurn.com van, a vehicle that "only made right turns." A consumer catching the van making a left turn could win a free set of tires.
Tire Rack has a national network of thousands of independent "recommended" installers. Discount Tire Direct has "qualified" installers, many of which are Discount Tire or America's Tire dealerships.
We'll let you decide. Either way, options are always a good thing. So, if you're in the market for new tires, we'd certainly recommend giving RightTurn a look.