"If you're having trouble seeing behind the wheel at night, it could very well be your headlights and not your eyes that are to blame," says David Zuby, Insurance Institute for Highway Safety (IIHS) executive vice president and chief research officer.
A new IIHS study—the first of its kind from the organization—measured the performance of headlights in 31 new 2016 model-year midsize cars, and the results were dismal. Only the Toyota Prius v received the institute's highest rating of 'Good,' while 10 cars received a 'Poor' rating.
According to IIHS, government standards for headlights, based on laboratory tests, allow huge variation in the amount of illumination that headlights provide in actual on-road driving. And with about half of traffic deaths occurring either in the dark or in dawn or dusk conditions, improved headlights have the potential to bring about substantial reductions in fatalities.
Recent advances in headlight technology make it a good time to focus on the issue. In many vehicles, high-intensity discharge (HID) or LED lamps have replaced halogen ones. Curve-adaptive headlights, which swivel according to steering input, are also becoming more widespread, and IIHS and HLDI research shows that they are improving visibility and reducing crashes.
IIHS engineers developed the new rating system so as not to favor one lighting technology over the other, though, but simply to reward systems that produce ample illumination without excessive glare for drivers of oncoming vehicles. The headlights were evaluated after dark on a track at the IIHS Vehicle Research Center. A special sensor tree device measured the light from both low beams and high beams as the vehicle was driven on five different approaches: traveling straight, a sharp left curve, a sharp right curve, a gradual left curve and a gradual right curve.
To assess visibility, VRC engineers measured how far the light projected so that it measured at least 5 lux. A lux is a unit of illuminance, or the amount of light falling on a surface. For comparison, a full moon on a cloudless night illuminates the ground below to about 1 lux. Three lux is typically enough to make out low-contrast objects, but 5 lux can be more accurately measured and, therefore, works better as a threshold for the test, according to IIHS.
The results were a bit surprising…
A vehicle's price tag is no guarantee of decent headlights, either. Among the 44 headlight systems earning a poor rating, the halogen lights on the BMW 3 series were the worst. The low beams illuminate only about 130 feet on the right side of the straightaway. A driver with those headlights would have to be going 35 mph or slower to stop in time for an obstacle in the travel lane. The system's high beams don't reach 400 feet, either. According to IIHS, a better choice for the same car would be an LED curve-adaptive system with high-beam assist, a combination that rates marginal.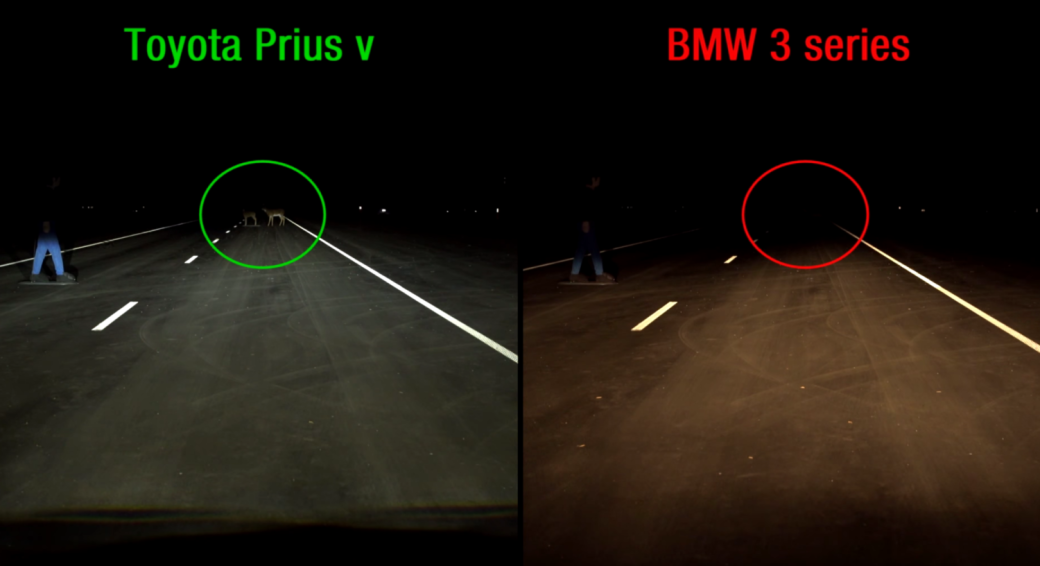 Curve-adaptive systems don't always lead to a better rating, however. The Cadillac ATS, Kia Optima and Mercedes-Benz C-Class all earn poor ratings, even when equipped with adaptive low and high beams. In the case of the Optima, a big problem is glare. Its curve-adaptive system provides better visibility than its nonadaptive lights, but produces excessive glare for oncoming vehicles on all five low-beam approaches.
One of the best headlight systems evaluated has none of the new technology. The basic halogen lights on the Honda Accord sedan earn an acceptable rating while an LED system with high-beam assist available on the Accord earns only a marginal.
Overall, we like this new rating concept and most of its methodologies. We'd like to see some weather-related tests, among other things, and to see the tests expanded to other vehicle classes.
Here's some more nerdy data from the good/worst. Notice the three headlight technologies, too.