[box type="info" align="" class="" width=""]To ensure we're giving our readers all available information, this article has been updated to include a few clarifications/responses from My Parts Club (MPC) staff, noted as such throughout.[/box]
Ok, so I'm all about online subscriptions for things I use a lot, like Dollar Shave Club and Amazon's Dash, but I gotta be honest, this one is a bit puzzling to me.
A new app/service/company called My Parts Club out of Canada was announced this month that offers a "lifetime supply" of very specific car parts, 24/7 roadside assistance, towing, and pre-paid mechanic servicing. Available parts range from brake pads, air and oil filters to fuel filters and wiper blades with more products to be added in the future.
Here's a well-done video explaining how Mary uses the service:
Very Limited Parts
Although based in Canada, My Parts Club is only available in the US (??). The company also only uses Ecobrex parts at this time, so I'm not sure if Ecobrex is behind the new app or not, but it certainly appears that way. And while the company says that other parts will be added soon, Ecobrex is a plastered all over the My Parts Club website and the brand itself only manufactures brake pads, rotors, shocks and struts, oil, and filters.
[box type="note" align="" class="" width=""]
MPC Response
: If you visit
ecobrex.com
, you'll see that the brand manufactures and offers more than 120 different auto parts (
http://www.ecobrex.com/products
). Ecobrex, as part of their US market penetration strategy, has chosen to supply the parts you correctly identified in the article, for the time being. That is not to say MPC will be limited to 10 or so different parts. On the contrary, as Ecobrex introduces more products to the market, we'll be adding them to our offer, as "packages". Maybe in the future, MPC could also provide other brands' products as well, but it's too early to talk about that right now. [/box]
Who is the Target Market Here?
I won't rehash the video because it explains the service offerings, but the reasons I'm a bit perplexed is that this service is supposed to counter high or surprise mechanic expenses. They make a very bold claim: "This APP will reduce car maintenance cost by up to 70% annually." But how often does a mechanic call to tell you that you need any of these particular parts… and you stress out? Struts… maybe. Usually, mechanics call unexpectedly about much larger issues that you were unaware of, like transmission problems or computer/electrical issues—not standard maintenance stuff.
I suppose you could argue convenience, but it's just not that big of a deal to go to a quickie lube, tire shop, or auto parts store to get these particular parts if you didn't want to use the shop's recommendations. Perhaps Mary is their target, but most people that don't know much about cars aren't going to use this in my opinion because they don't even know what a brake pad is. Plus, today's cars can go a long time between oil, wiper, brake pad or rotor changes, so the perceived value each month—as cheap as it may appear—just isn't there for me when there are so many tiny subscription services we all pay for now, which add up quickly.
[box type="note" align="" class="" width=""]
MPC Response
: That "up to 70% annually" is a combination of all the factors, including the prices of the parts themselves, the discount our members would be getting at our authorized shops, free shipping, free roadside assistance & towing, etc. Most websites offer "estimates" for a service that a mechanic provides, e.g . "$150 – $300 for front brake pads replacement". How often do you end up paying the absolute minimum of $150 in such a situation? MPC on the other hand, requires the authorized service centers to provide a fixed price, so what you see is what you pay. We also offer member discounts, and our members can sort through the mechanics in their vicinity by price, rating and location. Needless to say, the discounts are larger on some parts, and not so much on others, that varies from part to part. Everything combined, the annual maintenance cost can be reduced by up to 70%, whether you replace a single part or all of the parts that MPC offers.[/box]
Is It Really Cheaper?
For my 2013 Jeep JK (which the website creepily knew just based on my tag number), the monthly pricing is shown in the image below. Note that I could choose how many of each part I want each month: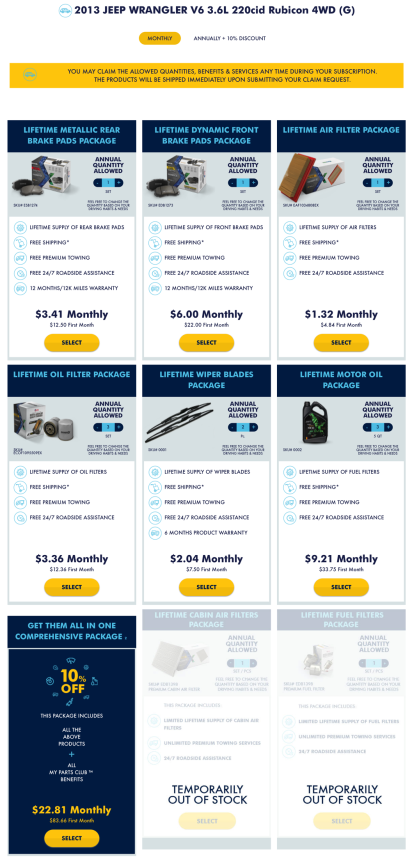 Given the My Parts Club pricing for my Jeep, if I select all options for complete coverage, my first month's payment is almost $100, with each subsequent month running about $25. That's where I mentioned monthly perceived value. As infrequently as I'd need these particular parts, $25/month or a total of $400/year just isn't a value to me personally, despite the roadside/towing package. Granted, a full set of decent brake pads would run me about the same as my first month, but I won't need them every year.
Oh, and this is NOT a "lifetime supply." It's an annual supply that you set. To simplify things: If I chose just one set of front brake pads annually, I'm basically paying $94 for those pads, not including installation, which is where those high mechanic prices really come into play. That said, the $94 does get me a year's worth of roadside assistance and towing, too.
Where Are The "Authorized" Dealers?
In the video, My Parts Clubs says they'll ship to one of their authorized mechanics. I did a search using five different zip codes around the country and while lots of shops were displayed, almost every one of them had "unauthorized" next to its listing. I'm not sure what that means and I can just imagine trying to explain to the shop manager how this all works to get them on board. I assume most would say they'll only back up their work if they use their parts. Maybe. I dunno. I get that this is new and they're growing, but I couldn't find a single authorized mechanic.
[box type="note" align="" class="" width=""]
MPC Response
: MPC has about 65,000 mechanic shops or service centers in its database. A small portion of these are "authorized", meaning they have been evaluated by the people with the required know-how and technical background back in the HQ. These authorized shops or centers are required to adhere to a few rules set by MPC, such as offering a fixed price for a service. Now, it is very likely that there are no authorized shops in your vicinity, but if you were based in California, and search with the zip code say, 90001, several authorized shops would come up. MPC is still very very young and constantly evaluating more and more mechanics with each passing day. Another thing to consider is that we went live roughly a week ago, so we will be growing and expanding as time passes, exactly as you mentioned in the article.[/box]
My $0.02 (And That's All It's Worth).
Not to be a total Debbie Downer because I absolutely love innovators and small businesses—it's in my blood. So, like the Washe' service we covered a while back where you can order a mobile detail/wash like you would an Uber car, I do believe that on-demand services driven by mobile interactions with locked-in guarantees are where we're headed. So My Parts Club could turn out to be a huge success and I'll eat crow. In fact, the company claims 1,000+ members signed-up in its first 24 hours… so I may be having crow for dinner. I just think the focus on such specific parts from a single manufacturer limits them in a really big way.