A down payment is only the first of many costs associated with car ownership—considering insurance, maintenance and other expenses. A new study from GoBankingRates.com finds it costs an average of $11,227 to buy and own a car over the course of three years, and this amount varies by thousands of dollar from state-to-state.
For example, there's a $7,216 cost difference between owning a car in Michigan and New Hampshire, according to the study, which considered the costs of six key factors affecting the expenses of owning a vehicle in all 50 U.S. states and the District of Columbia.
Here is a graphic showing the most and least expensive states to own a car: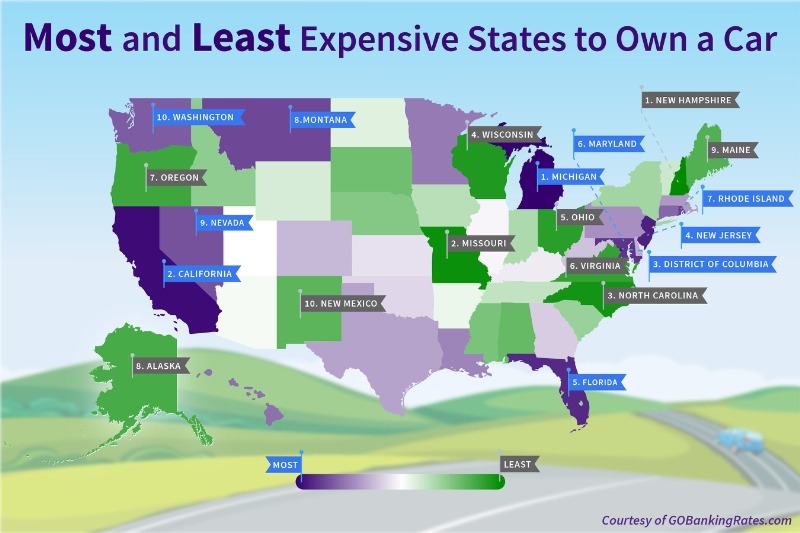 Outside of the sticker price of purchasing or financing a new set of wheels, the study evaluated the following expenses to generate its national ranking:
Car sales tax
Title fees
Registration fees
Average annual car insurance premiums
Annual gas expenses
Average car maintenance and repair costs
From most to least expensive, here is the complete state ranking:
[wpdatatable id=2]
Additional Insights:
New Hampshire, Oregon, Alaska, and Montana are the only states that don't levy sales tax on vehicle purchases.
Missouri's average gas price of $1.59 per gallon was the lowest in the nation at the time of the study.
These western states claim the highest gas prices in the country at the time of the study: Hawaii, California, Alaska, Nevada, and Washington.
8 of the 10 least expensive states to own a car are coastal states.
View full details of the study here.