A few weeks ago, the dreaded Check Engine light came on in my Jeep for the first time (it's a 2013). Nothing seemed out of the ordinary and I checked a few of the more common issues many Jeepers report seeing from time-to-time but to no avail.
Instead of letting my brother-in-law charge me an arm and a leg to diagnose the problem at his shop (I kid… I kid) and instead of taking it to the stealership or an auto parts store here in town to read the code, I leveraged the opportunity as an excuse to buy yet another gadget:
For those that don't know, an OBDII scanner is a device that can read, interpret, and clear computer codes associated with dashboard warning lights in cars and trucks. It's a required tool in any repair shop since things like the Check Engine light can literally mean one or more of a hundred things is wrong with the vehicle.
The Check Engine Light (CEL) is often referred to as a Malfunction Indicator Lamp or MIL. OBD stands for on-board diagnostics and the II represents its evolution.
The BlueDriver is a two-part system: the device itself and the free mobile app. For the shade tree mechanic (many of us here), the BlueDriver device/app combo puts the power of professional vehicle diagnostics in our hands at a fraction of the cost of older OBD scanner tech. In fact, lots of professional mechanics are now using the BlueDriver or similar products every day in their own shops.
See Also: 5 Best Bluetooth OBD2 Scanners
The Device
The device is small, weighing in at just a couple of ounces and measuring about 2×2 inches. It plugs into the ODBII port of any 1996 or newer vehicle sold in North America, foreign or domestic. The OBDII port is located in the dash and under the steering wheel of most vehicles.
Once plugged into the OBDII port and with the vehicle's ignition in the "on" position (or with the engine actually running), a blue LED light will blink on the BlueDriver device letting you know it's trying to connect with its accompanying app via Bluetooth. Your smartphone or tablet must have Bluetooth enabled for the BlueDriver to work. If the LED is blinking red, something is wrong.
The App
The free BlueDriver app is available for both IOS and Android devices. And this is where the BlueDriver system really shines. The developers of the app clearly understand auto mechanics, but also usability. The app is very easy to use with its minimalistic interface and intuitive workflow.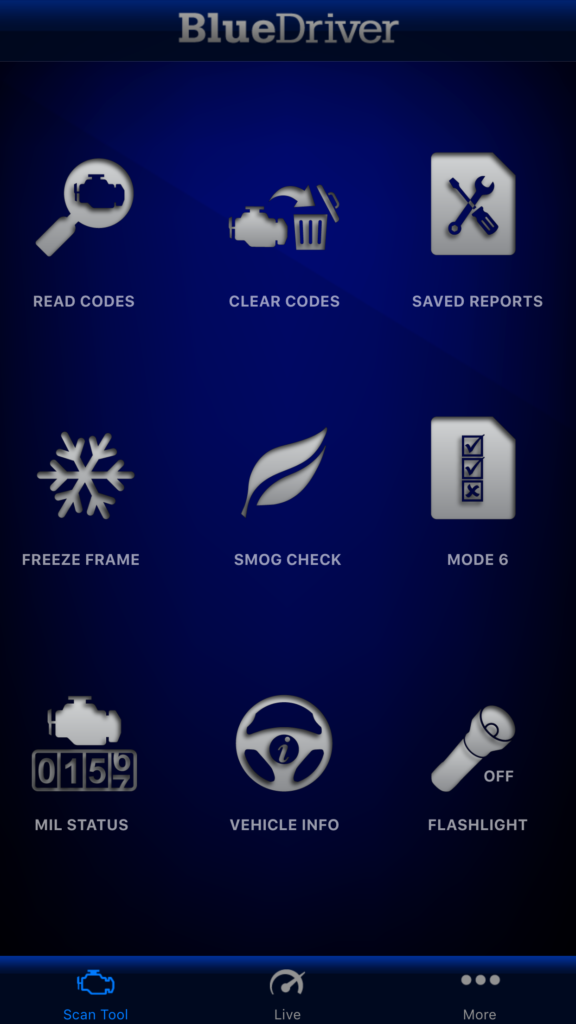 From the homepage of the app, you can read, interpret, and clear codes. You can even check to see if you'll pass an emissions inspection. The more advanced Mode 6 scan helps to [possibly] predict issues and/or verify repairs on certain continuous and non-continuous systems and sensors—things that may not generate codes yet but are running close to min/max, for example.
Oh, and there's a flashlight icon on the home screen, too. ????
Scanning & Interpreting Codes
A unique feature of the BlueDriver is that it doesn't just read CEL codes, but other vehicle system modules as well. When you initiate a scan, the app will ask you if you want to scan trouble codes related to the CEL, other common dashboard trouble lights, or all system modules to include the airbag system, anti-lock braking system, and transmission.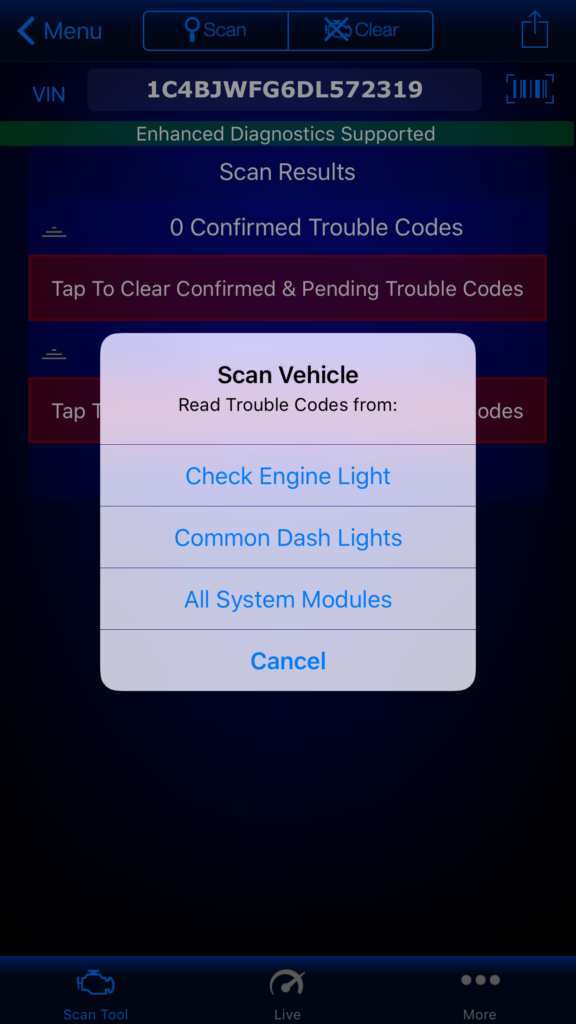 It is important to note that the "all systems" scan only works on certain makes/models, but that list does include all GM, Ford, Chrysler, and Toyota vehicles available worldwide, and BMW vehicles available in North America.
The scan itself takes about 2-3 minutes. Once complete, the app presents a list of results organized by scan type. Where there are no issues, the report will simply show a zero. Where codes were detected, the actual code itself will be listed as a link.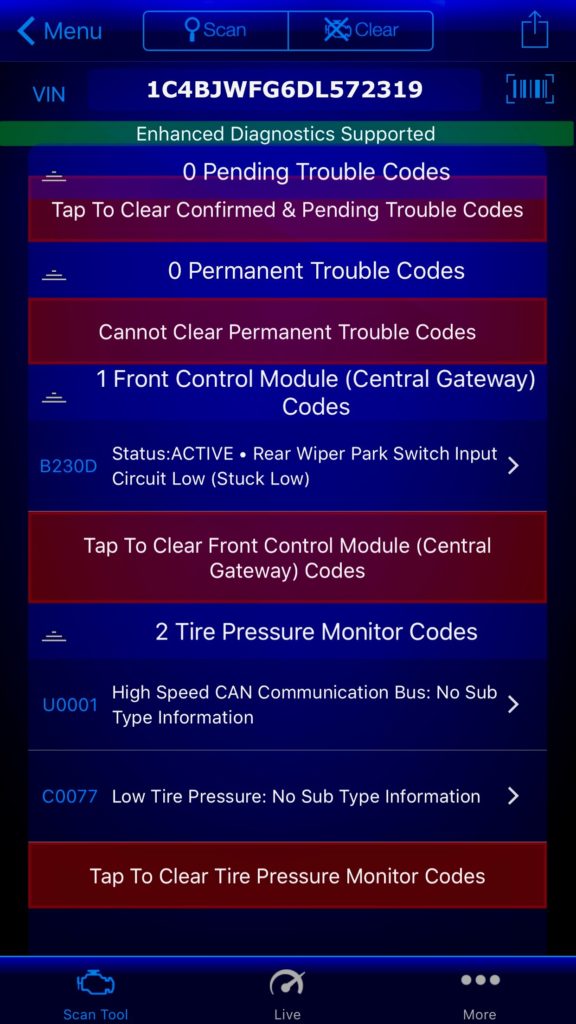 Tapping on the reported code will load another screen with more detail—code definition, possible causes, and top reported fixes. This, if there is enough relevant information in the BlueDriver database, which is based on professional mechanics' insights and real-world experiences, and updated weekly, from what I understand.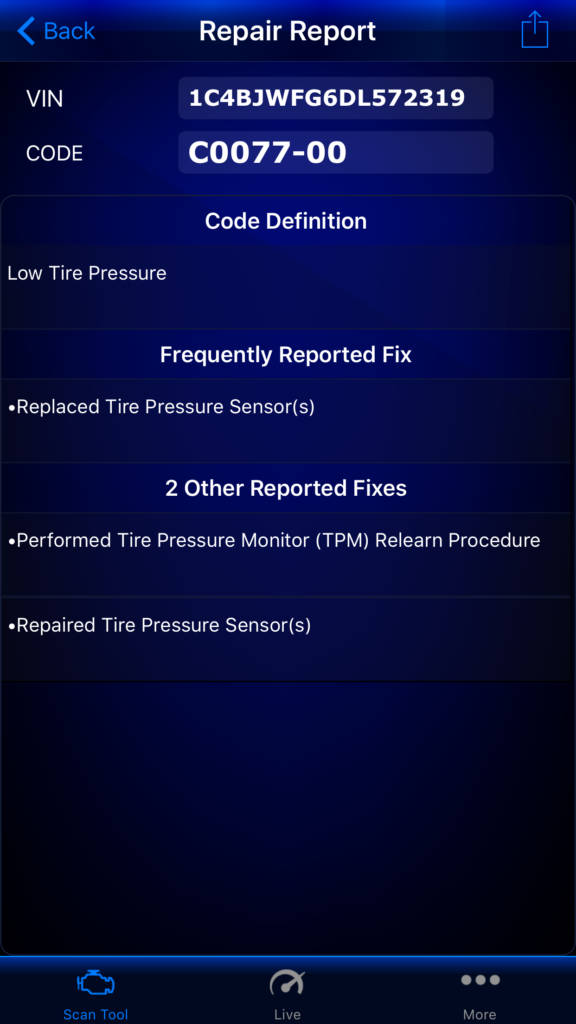 While viewing the scan results, you can opt to clear one or all codes. This will [usually] make the trouble light go off on your dash, so use this feature wisely. Some lights will re-appear if the problem persists and is serious enough, but not always.
Freeze Frame
When the CEL is triggered in a vehicle, the vehicle's onboard computer will record a snapshot of critical system statuses at the time of the event. BlueDriver's Freeze Frame feature acts as a sort of black box in that it will retrieve that data for diagnostic purposes. This is helpful to backtrack potential causes and solutions. It's also helpful when problems go away and might be difficult to reproduce.
Live Data
A very useful but also very fun feature is the live data functionality of the BlueDriver app. Part of the appeal here is certainly its cool factor, but the live data also provides useful and actionable data insights. While there are dozens of sensors and systems to monitor in real-time, the BlueDriver app allows you to monitor up to five on the same screen.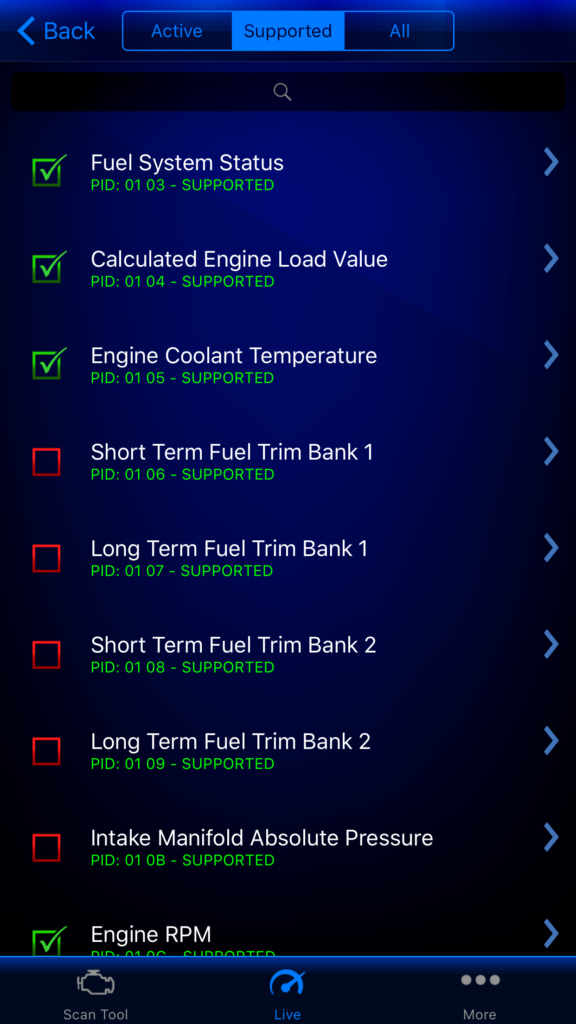 Most live data monitors can be configured to be viewed as a digital readout, a graph, or a cool graphical gauge. Essentially, you can give your car or truck a gauge it doesn't currently have in its instrument cluster—like a tachometer, for example. The stats are super-responsive, too, so everything is basically real-time.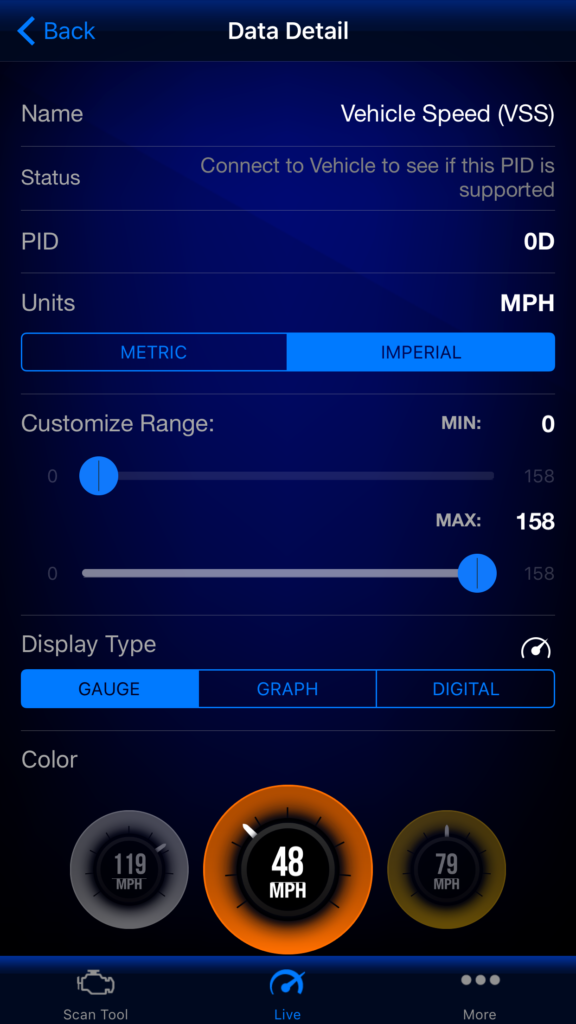 Turning your mobile device horizontal while in live mode displays a running overlay graph of the systems being monitored, which is useful when looking for dips and spikes.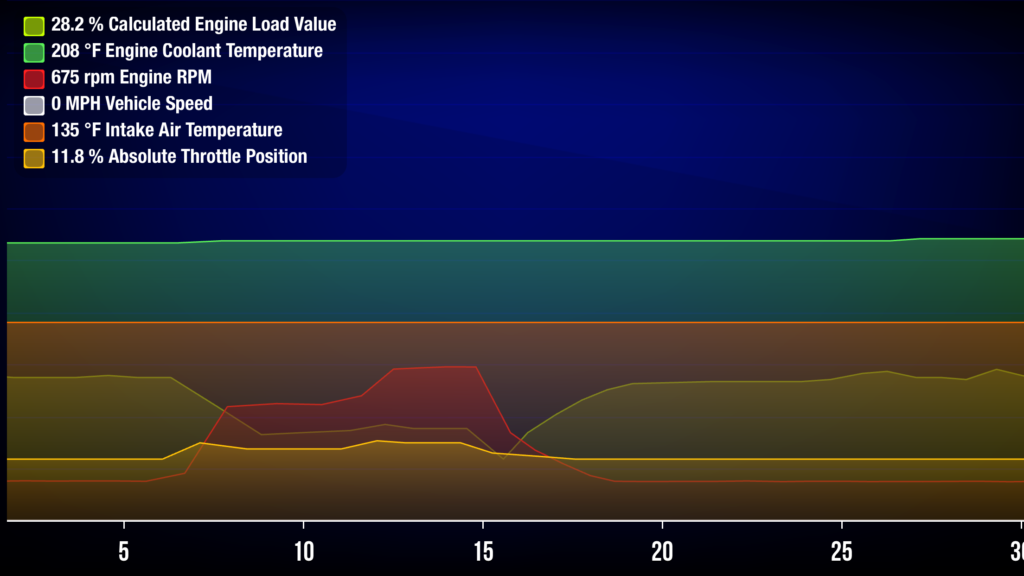 Live mode allows you to monitor anything from fuel system status and engine load to intake temps and throttle positioning. It's very cool stuff and there's certainly a subset of people who will buy a BlueDriver just to see all of that data.
And yes, you can leave the BlueDriver plugged-in all the time, if you'd like. You can also swap the device between vehicles—it doesn't pair with just one vehicle like digital tuners usually do.
Saved Reports, Insights & Sharing
The reports that the BlueDriver system generates are detailed enough for what most people need to know from an OBD scanner. Each scan is saved, along with trouble codes, possible causes, and reported fixes. In live mode, the data is captured and can be saved or shared in spreadsheet format.
Here's a sample report generated from a BlueDriver scan:
Vehicle-Specific Information
Along with the various reports and live data provided through the OBDII interface, BlueDriver also keeps you informed on important information related to a specific vehicle outside of the system itself—vehicle specifications, maintenance schedules, recalls, and service bulletins. Specifically, the service bulletins could be useful to the DIY crowd since most are not privy to that information like they are to recalls and other important manufacturer notifications.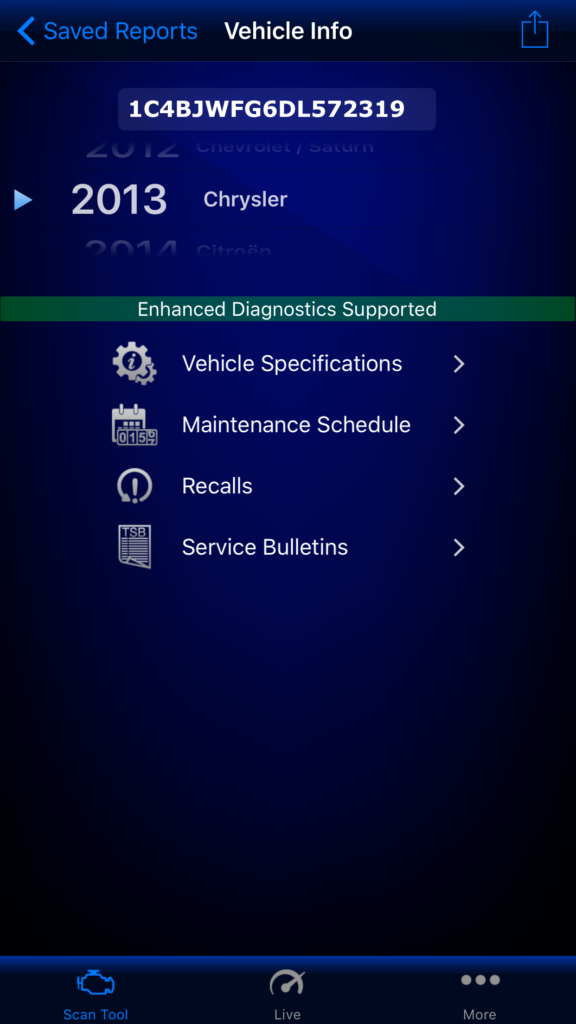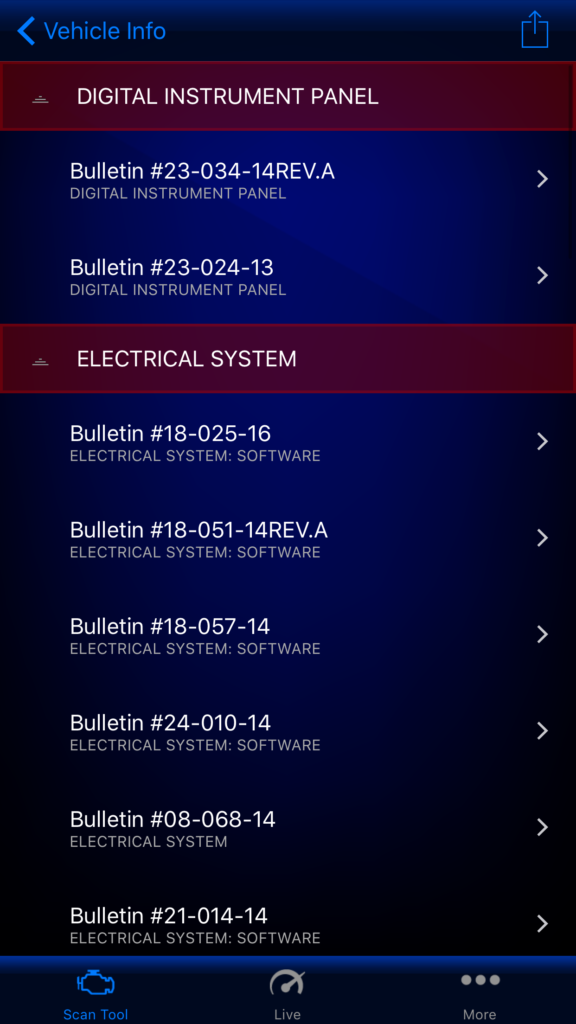 Conclusion
The BlueDriver takes complicated and cumbersome old-school OBDII scanning tech, makes it much simpler, and delivers it into the palm of your hand. Yes, there are similar products—some may be better or worse. But I love this thing and can already see that Lemur is committed to keeping it up-to-date since its release in 2014.
I will certainly be using BlueDriver quite often on my own and others' vehicles. In fact, it has already helped me diagnose and fix an evap line leak that was causing the CEL that triggered my purchase of the BlueDriver (the TPMS codes in the above app screen shots were purposefully caused for this article).
And if you're in the market for a used car or you're a flipper, you can see how using a tool like the BlueDriver during a pre-purchase test drive could potentially save you from making costly mistakes.
Sale
BlueDriver Bluetooth Pro OBDII Scan Tool for iPhone & Android
[Pro OBD2 Scanner] - BlueDriver is the easiest way to scan and understand your vehicle...
[Read & Clear All The Codes] - BlueDriver's enhanced vehicle diagnostics gives you access...
[Get The Right Fix] - Much more than a car code reader, BlueDriver is a diagnostic tool....
[Wireless & Bluetooth Enabled] - Say goodbye to wires. BlueDriver connects with Bluetooth...
[User-Friendly App and Repair Videos] - BlueDriver gives you more ways to scan and fix...