Looking for mechanic gloves to protect your hands while working? Here are the best ones out there right now!
EDITOR'S PICK
Mechanix Wear Tactical Specialty High-Dexterity Work Gloves
Reusable high-dexterity mechanic gloves
Made from AX-suede
Available in S, M, L, XL, and 2XL
Thermoplastic rubber cuff
Black and grey tactical color scheme
PREMIUM PICK
Sparco Meca 3 Mechanics Glove
Reusable racing mechanic gloves
Made from synthetic leather and scuff-resistant fabric
Available in S, M, L, and XL
Cuff with Velcro strap
Available in black, blue, and red
BUDGET PICK
GLOVEWORKS HD Black Nitrile Industrial Gloves
Black disposable mechanic gloves
Made from 6 Mil Nitrile rubber
Available in XS, S, M, L, XL, and 2XL
Sold in box of 100 and 1000 pairs
There's no way around it, mechanics have to deal with grease and a wide range of fluids on a daily basis. And I don't know about you but after a tough day's work, the last thing I want to do is spend another half hour in the bathroom trying to get my hands clean. Of course, it doesn't have to be squeaky clean (as they never are anyway) but at least clean enough so the wife allows me to sit at the kitchen table lol. Luckily, there is an easy way to make that happen. Don't worry; I won't suggest getting a manicure now and then (not that there's anything wrong with it), but there is an inexpensive way to keep your hands protected and good-as-new after a full day in the shop — mechanic gloves.
And I know when thinking about mechanics, most people will picture a pair of black or blue nitrile gloves, but any technician worth his salt knows we also use other types. Indeed, you must have the right set of mechanic gloves for each job, and this detailed article will help you do just that. I pulled an all-nighter and prepared a list of seven of the best mechanic gloves on the market, so you don't get lost among the hundreds of cheap, low-quality garbage being sold online.
Keep reading and you'll become an expert in mechanic gloves in no time!
Mechanic Gloves Reviews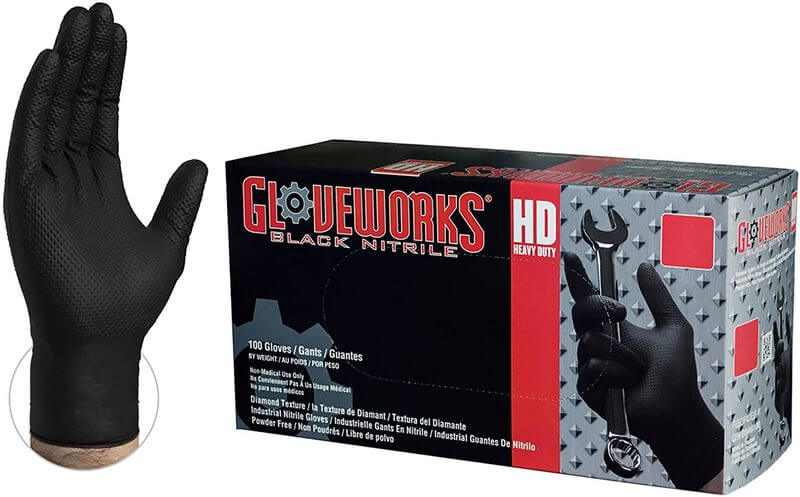 The Gloveworks Black Nitrile industrial gloves are the most commonly used disposable gloves among auto mechanics. And of course, they are that common because that's exactly what a large majority of repair shop owners supply for free to their mechanics. They are not fancy or really durable but they do the job just fine for super messy tasks like changing the engine oil or opening up a differential.
These black nitrile gloves are the perfect choice for such jobs as the thick rubber compound is resistant to oils, gasoline, hydraulic fluids, and basically whatever you might have to dip your hands into. In addition, the raised diamond texture provides a tight grip, even over smooth surfaces smeared with engine oil, so the chances of you dropping and damaging an expensive gearbox are pretty low.
My old mechanic buddy Dave still curses himself every day for not getting high-quality nitrile gloves like these just to save a couple of bucks. He once accidentally dropped his cordless ratchet (with the big battery and all) straight on the windshield of a brand-new Mustang that was in for some customization work, straight from delivery. Poor Dave's gloves must have been covered in oil from a previous job because the ratchet slid off like a racecar with slick tires on a rainy day. Thanks to Dave's unfortunate incident, I now know better than to buy cheap gloves, and you guys too.
Anyway, my favorite part about these Gloveworks models is the feeling I get when I can finally take off the gloves and fling them in the trash after a job is done. During my 15 years as a mechanic, I am yet to find a more satisfying experience in the workplace.
The Gloveworks Black nitrile disposable gloves are a must-have for every repair shop, service center, tire shop, and pretty much any mechanic working on several cars one after the other. Unless you want to have to walk to the sink and wash your hands in between every job to prevent leaving greasy fingerprints everywhere (and making your clients quite unhappy) these are by far your best bet. And even if all you do is change tires, your hands are bound to get dirty, and having a case of these gloves around will make all the difference.
However, it's important to mention that disposable nitrile gloves are not really environmentally-friendly so I would only recommend using those for the really messy stuff. For everything else, you're much better with one of the following models.
Highlighted features
Black disposable mechanic gloves
Made from 6 Mil Nitrile rubber
Available in XS, S, M, L, XL, and 2XL
Sold in box of 100 and 1000 pairs
Pros
Unique raised diamond texture for optimum grip
Easy to put on and remove
Super cheap
Plenty of sizes for all mechanics
Industrial-grade nitrile rubber can handle rough use
No need to powder hands
Cons
Run on the smaller size — order one size larger than you think you'd need
Nitrile takes decades to biodegrade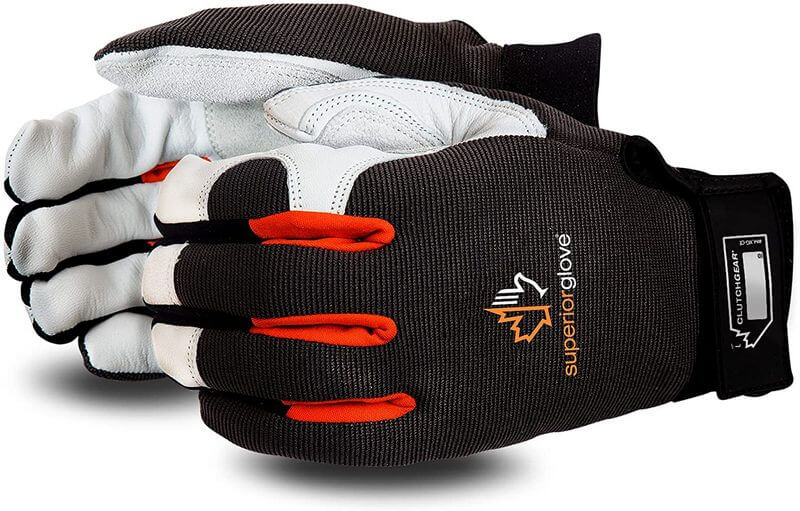 If the idea of throwing your gloves away after every job seems a bit wasteful to you, you'll like the Superior MXGCE mechanic gloves made with white goatskin leather for the palm and inner finger surfaces for exceptional wear resistance in your day-to-day tasks. Meanwhile, the laminated foam spandex on the backside will allow greater flexibility while also protecting your hands from sharp edges.
But that's not all; you also get reinforced leather patches between each finger to prevent injuries to those sensitive areas. I love this specific feature mostly because I frequently rip the skin off between my index and middle finger while working and well, it hurts for days. Disposable nitrile gloves may be convenient, but they simply won't protect your precious finger crotches as well as the MXGCE gloves will.
From 2XS to 3XL, the Superior MXGCE gloves are available in eight sizes, so even big-boned (or just big-handed?) individuals can get a pair that fits well. And once these gloves are on nice and snug, the Velcro cuff will ensure they stay that way all day.
The MXGCE gloves don't come with any insulation or specialized padding, so I would only recommend them for light, everyday work in the garage. If you are looking for something to grind, weld, and such, we've got better ones below.
Highlighted features
Reusable mechanic gloves
Made from goatskin leather and spandex with a Velcro cuff
Available in 2XS, XS, S, M, L, XL, 2XL, and 3XL
Goatskin leather for palms and stretchy spandex for backside
Black, white, and orange color scheme
Pros
Foam laminated spandex allows for greater hand movement
Special thumb patches are strong and abrasion-resistant
Finger crotch protection is a big plus
Velcro cuffs are effective
Budget option for DIY'ers and residential garage owners
Cons
Goatskin leather may not stay white for long
Color scheme may not be to everyone's taste
John Tillman may sound like one of those upscale fashion brands selling products with a considerable markup just because its name is on the label — but that couldn't be farther from the truth! The brand has been around for more than 90 years and still leads the industry in developing high-quality but affordable personal protection equipment for mechanics, welders, and other industrial workers. As such, the TrueFit full finger gloves are one of the many specimens of the brand's exceptional attention to detail and superior quality.
Like the previous model, John Tillman's mechanic gloves are also made from goatskin leather and spandex. Even the placement of each material is pretty similar — goatskin on the palms & fingers and spandex on the back for optimum dexterity. However, the TrueFit gloves provide double-layered goatskin reinforcements in critical areas where wear and tear are more frequent. You also get more padding in the palms for better comfort during those long working hours. Moreover, the unique breathable finger design will help maintain proper air circulation and even absorb sweat, so your hands don't get all wrinkled and mushy in there.
John Tillman's TrueFit mechanic gloves may offer similar characteristics to the Superior MXGCE, still, specifics like the double-reinforced palms & fingers and the use of breathable fabric make a world of difference. Thanks to such features, these gloves are suitable for light professional use, for hours on end in the shop.
Highlighted features
Reusable mechanic gloves
Made from goatskin leather and spandex
Available in 2XS, XS, S, M, L, XL, 2XL, and 3XL
Goatskin leather for palms and stretchy spandex for backside
Gold, white, and black color scheme
Pros
Double-reinforced goatskin for palms and fingers
Breathable fabric provides comfort over longer durations
Ergonomic design for optimum dexterity
All-around finger protection
Suitable for light professional use
Cons
White goatskin leather isn't easy to keep clean
No products found.
Memphis Gloves or MCR Safety has developed a unique pair of mechanic gloves made from exotic materials usually found in multi-million-dollar Formula 1 cars, aircraft, or even bullet-proof vests.
I am talking about Kevlar, a tight-woven fiber known for its exceptional strength and lightweight nature. Thanks to this material, the 9178 mechanic gloves are rated at Level 4 in cut protection according to the American National Standards Institute or ANSI. Put simply, you would need considerable force and a really sharp object to penetrate the Kevlar skin.
Of course, you can't have gloves made from just Kevlar, so Memphis has coated the 9178 with a thick layer of orange nitrile on either side. The nitrile layer will help you get a better grip and a better sense of touch while working.
If you do a lot of grinding, cutting, or handling of sharp metals, the Memphis Hi-Viz gloves are what you need, as the robust Kevlar construction will keep your hands safe from any cuts or bruises. That's not all; mobile mechanics can also use these gloves when working on stranded vehicles on the side of the road. The bright orange color scheme will alert drivers of oncoming cars and keep you safe — and when it comes to working roadside, safety is of the utmost importance.
Highlighted features
Reusable high-visibility orange mechanic gloves
Made from DuPont Kevlar and nitrile
Available in XS, S, M, L, XL, and 2XL
ANSI Cut Level 4 rated
Bright orange color scheme
Pros
Cut-resistant Kevlar layer
Must-have for high-risk operations like grinding or metal cutting
Touchscreen compatible
High-visibility orange color scheme contributes to safety awareness
Seamless stitching for a cleaner look
Cons
Cuff elastics tend to loosen up after a while
The Carhartt Men's Dex II are quite the lookers! Made from breathable spandex, synthetic leather, and polyester, these gloves are designed to keep your hands safe, sweat-free and all of that while looking like a million bucks! Moreover, the leather patches used for covering fingertips, knuckle, and palm regions serve two purposes: they provide much-needed protection to all critical areas and impart longevity by reinforcing the stitching.
If that wasn't enough, Carhartt has added some extra padding on the palm to ensure you are comfortable even after prolonged use. Now, it is easy to get carried away in the pursuit of operator comfort and end up making the gloves quite cumbersome. However, I am happy to report that isn't the case with the Dex II. The foam padding is relatively thin but more than enough to provide the desired cushioning effect without making the gloves feel bulky at all.
Carhartt's Dex II gloves are for those who care equally about how a pair of gloves look on your hand as to how well they perform. After all, a nice pair of stylish gloves will also make a lasting impression on your clients — and that's definitely not to neglect.
Highlighted features
Reusable high-dexterity mechanic gloves
Made from spandex, synthetic leather, and polyester
Available in S, M, L, XL, and 2XL
Cuff with hook and loop closure
Available in all-black and black/barley color scheme
Pros
Stylish and extremely comfortable
Breathable spandex wicks away sweat
Perfect-thickness foam padding for the palm
Synthetic leather for critical areas like your knuckles, fingertips, and palm
Secure elastic cuff with Velcro attachment
Cons
Carhartt is always a bit pricey
The Mechanix Wear Tactical Specialty mechanic gloves are my "editor's pick," mostly because they perform quite well in every way, whether it is dexterity, longevity, or even hand protection. In addition, they also look pretty decent, thanks to that black and slate grey color scheme.
Ever come across those fabric bubbles in cheap gloves as if they were made for some alien creature with a sixth finger protruding out of the palm? You won't see that kind of irritating quality issue with the Mechanix Wear Tactical Specialty gloves due to the use of three-dimensional computer witchcraft to ensure the glove fits a human hand perfectly well — thanks technology!
But there's more; these gloves are made from 0.5mm high-quality suede, so your hands face minimal restriction to movement. As a result, the material works so well for mechanics, they basically provide a similar grip as bare hands.
Still, the computer-modeled shape and the use of premium materials are all well and good, but for me, the best part about these gloves is that you can just chuck them in the washing machine after a long day in the shop, and voila; they are just as new and ready for a new day of wrenching — what's not to like?
Highlighted features
Reusable high-dexterity mechanic gloves
Made from AX-suede
Available in S, M, L, XL, and 2XL
Thermoplastic rubber cuff
Black and grey tactical color scheme
Pros
Perfect choice of material for mechanics
Suede feels good and provides the grip of bare hands
Machine washable
Specially modeled to the average human hand
Provides good agility and freedom of movement
Cons
Costs slightly more than other models
Readers familiar with the world of racing and motorsports know that Sparco needs no introduction. The Italian brand is famous for building steering wheels, racing bucket seats, sport seats, harnesses, helmets, racing suits, and more. With over four decades of experience in the field, resulting in time-tested data about materials fit for automotive applications, it's safe to say that Sparco knows a thing or two about making sturdy and reliable mechanics gloves.
For that reason, the Meca 3 mechanics gloves are a personal favorite. I have been using mine for nearly 3 years now, and thanks to a bit of maintenance from my side, they still look as good as new. It doesn't matter whether I am working in the garage or enjoying a weekend at the local rallycross event; the Meca 3 are my first choice. The leather used is simply the best, and don't get me started on the excellent fitting. They are so lightweight that I forget I even have them on most of the time. But hey, don't just take my word for it; find out for yourself!
The Sparco Meca 3 mechanic gloves are for all of you racing enthusiasts out there. After busting your ass all week, you deserve to have a great time on the weekend at your favorite racing event (still fixing cars in the pit but that's not really "work", right?), and the Meca 3 will only make the experience that much more enjoyable.
After all, no matter whether it's steering wheels, racing harnesses or mechanic gloves, you just can't go wrong with Sparco!
Highlighted features
Reusable racing mechanic gloves
Made from synthetic leather and scuff-resistant fabric
Available in S, M, L, and XL
Cuff with Velcro strap
Available in black, blue, and red
Pros
Thin yet extremely protective glove material
Provides a heightened sense of touch
Synthetic leather gives excellent grip
Can also be used as driving gloves
High-quality product
Cons
On the expensive side
The velcro can rip the fingertip fabric if you aren't careful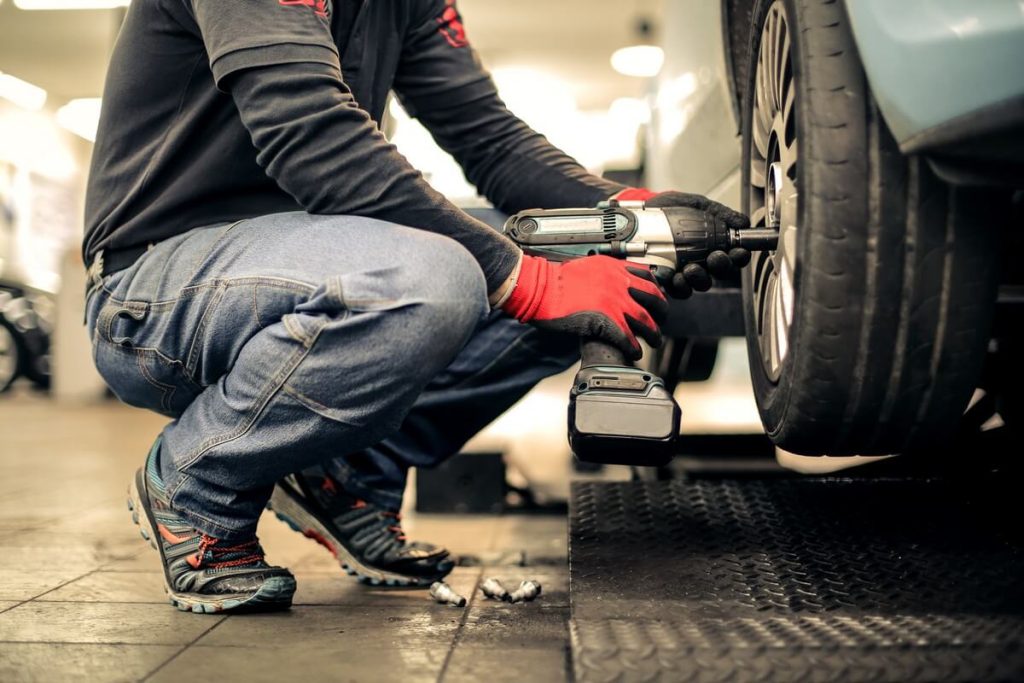 Types of Mechanic Gloves
Disposable mechanic gloves
As mentioned earlier, these are the most commonly used gloves in any repair shop. Almost every mechanic will have a box of those conventional black nitrile gloves in his tool chest. Indeed, a significant portion of any mechanic's work involves dealing with different kinds of oil, dirt, grime, and other messy substances and there really is no substitute for disposable gloves as other types would get dirty too quickly. Indeed, you really don't want to have your expensive Sparco gloves covered in differential oil when removing the cover — yes, reusable gloves are washable but there's no way you'll be able to remove that nasty differential oil stench with just a quick machine wash.
Instead, for the really dirty stuff, go for a pair of disposable gloves and toss them in the trash once they get torn or too dirty. Of course, a significant downside is the massive waste these single-use gloves create. After all, nitrile isn't the most compostable or recyclable compound out there.
As a result, yes, disposable gloves have their use when you've got no other option. Still, it's a lot more eco-friendly to use the next type of gloves whenever possible.
Reusable mechanic gloves
If you want to reduce your environmental impact, reusable mechanic gloves are a much better option. These are usually made from leather, spandex, or even suede. These gloves can last years and sometimes even decades, depending on your usage. Sure, you may end up spending more on these than disposable gloves, but the initial investment is well worth it in the long run. Plus, you won't have to live with the guilt of using products that are bad for the environment.
Of course, genuine leather gloves are not that eco-friendly either so if you really want to make a difference, go for synthetic leather instead.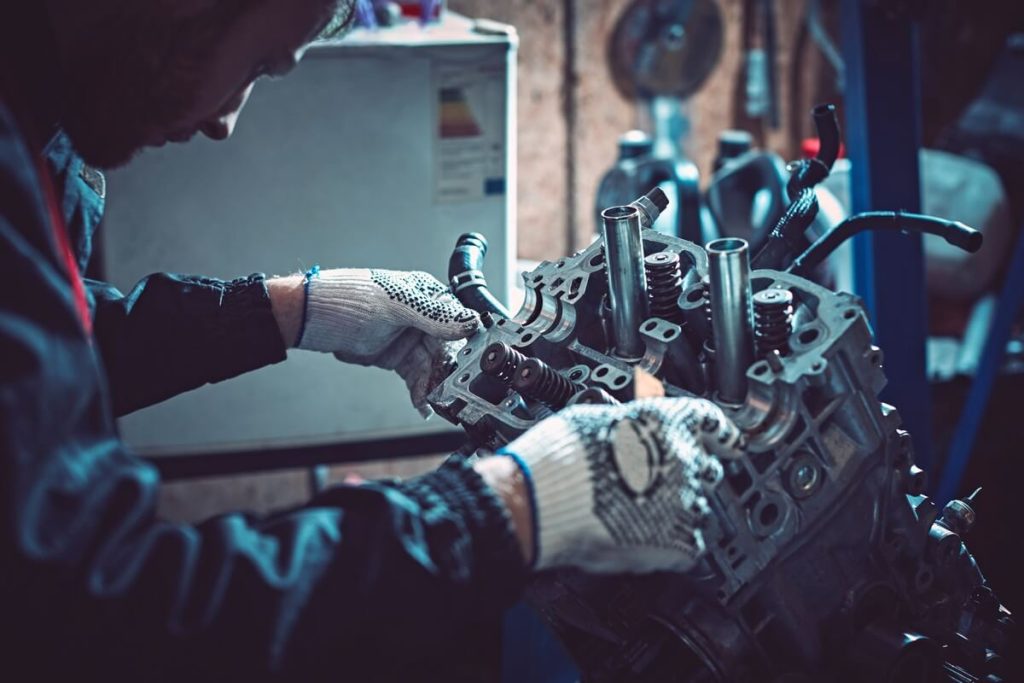 How to Choose the Right Pair of Mechanic Gloves
Choosing the right pair of mechanic gloves is extremely important no matter the kind of work you do, and the decision should be based on more than just what looks good on your hands. Here are some things you should factor in before making a purchase:
Freedom of movement
As mechanics, we have to jimmy our way into the tightest of spaces to loosen that one tiny bolt wedged between the exhaust manifold and the block. For that reason, even the most expensive mechanic gloves are pretty much useless if they don't allow you to move your hand freely. Pick a pair that offers the least resistance to movement so that you can work on every project efficiently — you really don't want something as bulky as construction gloves here.
Now, I realize it can be a little challenging to judge this parameter when buying gloves online, so here's a pro tip: avoid gloves with extra-thick padding. The manufacturer may try to sell you such products in the name of comfort, but thick padding means less room for your palm and fingers to move around. Padded gloves are mostly intended to be used when operating a jackhammer or a vibrating plate for instance and have very few uses in the automotive field. Still, if you frequently use air-powered hammers, you might want to get yourself a pair of padded gloves just in case — just keep in mind you'll still need a regular pair for the everyday stuff.
Intended use
I've tried to keep the list of best mechanics gloves as diverse as possible by including models meant to serve different purposes. For example, the average car mechanic will almost always use disposable black nitrile gloves for really messy jobs. However, gloves like the Memphis 9178NFO are meant for professionals working with sharp metal objects. Similarly, mobile mechanics will prefer something more durable like John Tillman's TrueFit gloves or even the Dex II by Carhartt.
This one is really a more personal decision based on the typical work you do. Since all mechanics are different, I can't really help you here. Still, make sure to properly evaluate the most common jobs you do on a daily basis and go from there. If you are a professional mechanic, you'll probably need a pair of each anyway.
Size
The first thing I tell any rookie mechanic is that oversized gloves are an occupational hazard. A mechanic's hand operates a wide range of dangerous machines day in and day out, and if we aren't careful, it won't take long for things to go south. Don't believe me? Let me tell an interesting (and totally real) anecdote here.
A couple of years ago, I was working at Toyota and a coworker asked me to come over to his stalls to check something out. A client had replaced his serpentine belt on his Corolla about a month ago and half of the belt was now ripped off. My friend had inspected the pulleys but couldn't find anything wrong with it. I then suggested he start the engine and place a screwdriver near the spinning alternator pulley to check if it was wobbly (seeing the space increase and decrease between the screwdriver and the pulley will show that right away). However, instead of using a screwdriver, the guy decided to hold his finger about an inch from the pulley. Unfortunately, he was wearing loose gloves and I guess the suction created by the spinning pulley kinda sucked the glove in. Before he could even react, the glove got stuck between the belt and the pulley, pulling his hand in.
Luckily, the car was equipped with an automatic belt tensioner so it kinda allowed for some room but his finger still went all around the pulley, under the drive belt, almost severing the tip of his finger. No need to say that if the car was equipped with a screw-type belt adjustment, he would be missing a finger right now.
So yeah, always make sure to pick the right size from the get-go.
Build quality and craftsmanship
Mechanic gloves may not be as expensive as some other tools in your arsenal, but that doesn't mean you should settle for substandard quality. The last thing you want is for the stitching on your brand-new gloves to give up just after a couple of days of use. Look for mechanic gloves that use high-quality materials like leather, spandex, and such.
(Of course, all the gloves mentioned above are indeed quality ones — they wouldn't have made the cut otherwise.)
Aesthetic appeal
Once you got all the important stuff covered, you can think of how the gloves look. I'm no expert on color combinations and fashion, but I always go with dark colors like black and grey since your gloves will inevitably get dirty over time — and I would be lying if I said I wash my gloves on a regular basis.
White, tan, and brown gloves might do just fine in the construction world where the dirtiest stuff they get is sawdust, but in the automotive sector, black is always better — basically like for steel-toe boots, in fact (if you ever bought yellow or orange screwdrivers and pliers, you know what I mean).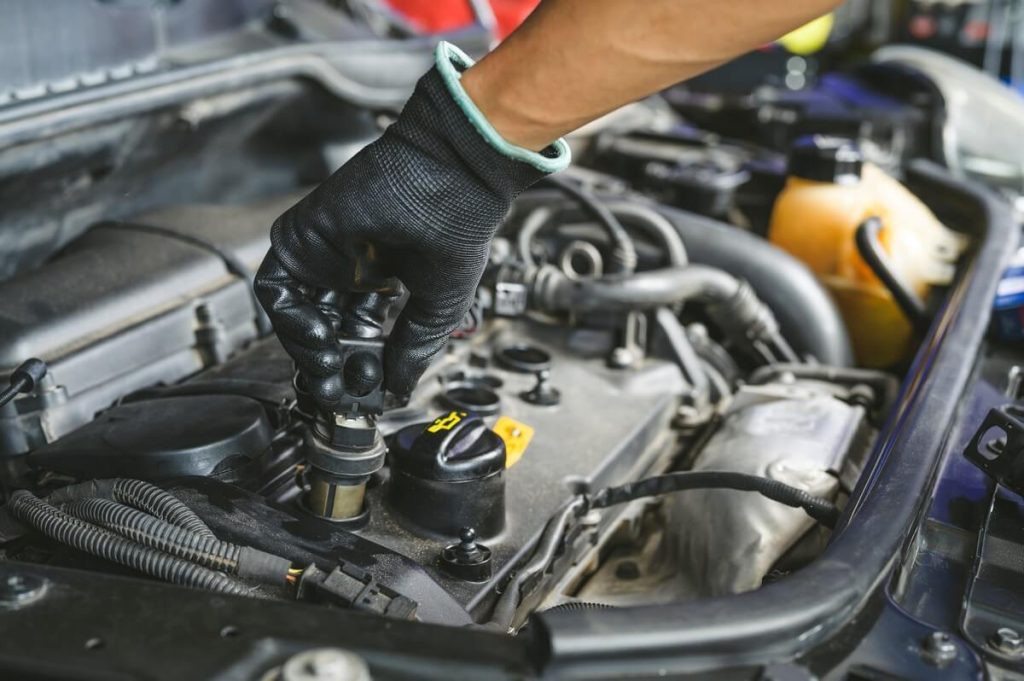 Frequently Asked Questions (FAQs)
Do mechanic gloves shrink after the first wash?
The answer entirely depends on the material of your chosen mechanic gloves. Still, since most gloves are made from synthetic leather and spandex, they probably won't show any significant shrinkage after washing. However, I have heard a handful of complaints regarding this issue so the best thing you can do is to check the comments and reviews before buying. If the gloves you like do shrink, pick one size above to compensate.
Can I develop skin problems from wearing gloves for too long?
Your dermatologist is probably the right person to answer this question, but as far as I know, skin problems are entirely possible no matter the clothing or gloves you buy. For instance, some people are allergic to leather so going synthetic might seem like a good idea but then other people are allergic to synthetic materials instead. Others are also allergic to certain inks and pigments so it's really hard to tell.
Nonetheless, I have had perfectly healthy colleagues develop skin infections by wearing cheap Chinese gloves for hours on end. To avoid this, buy high-quality mechanic gloves with breathable fabric so your sweat can find a way out. These might cost more, but you shouldn't care about the price when the stakes are that high.
Verdict
Every mechanic needs a good pair of gloves to work with (and probably more than one), but the wrong product will do more harm than good. With that said, I hope this guide has helped you decide the best mechanic gloves for your needs and budget.
In my opinion, the Mechanix Wear Tactical Work Gloves are the best all-around mechanic gloves. They are durable, comfortable, and grippy. Of course, every mechanic deals with different projects, so they may not be for everyone. For example, readers involved in motorsports may prefer Sparco Meca 3 model, while those who care about style will find the Carhartt Dex II ones especially attractive.
Take your pick — there's simply no wrong answer here! ✌