Looking to brighten up your workday in the shop? Here are the best garage speakers available online!
EDITOR'S PICK
KICKER KB6 2-Way Full-Range Indoor Outdoor Speakers
Wall/ceiling mounted indoor and outdoor speaker (two units)
Comes with a 6.5" main woofer and a 2"x5" tweeter in each unit
Suitable for indoor and outdoor use
Weight: 14.3 lbs.
Dimensions: 8.1" x 8.1" x 11" (for one unit)
Uses red and black pin connectors with spring clips
PREMIUM PICK
Klipsch AW-525 Indoor/Outdoor Speaker
Wall-mounted indoor and outdoor speaker (two units)
Comes with injection-molded 5.25" graphite woofers and titanium tweeters
Kit includes C-style mounting brackets and all necessary hardware
Available in black and white finish
Weight: 6 lbs.
Dimensions: 9" x 8" x 11.8"
Uses red and black pin connectors
BUDGET PICK
DEWALT DCR010 20V MAX Bluetooth Speaker
Portable Bluetooth speaker
Comes with two 3" speakers
100' Bluetooth range
Weight: 4 lbs.
Dimensions: 10" x 6" x 4"
Compatible with DeWalt 12V and 20V MAX batteries
Is wrenching in your garage slowly but surely losing its charm, starting to feel more like a chore than a passion? Yeah, I understand that — it happens to every mechanic at some point. Working in a shop 40 hours a week or spending all your weekends fixing that darn project car for months can take a toll even on the best of us.
The right solution to this problem is different for everyone, but for me, it's to listen to my favorite tunes while working (podcasts and audiobooks also work pretty well when working long hours and bored of having to look for a new playlist every now and then). Just by installing a decent set of garage speakers, you can turn your garage from a dull workspace into a place you look forward to going to every day.
However, all the dust, grease, and grime make the average garage far from ideal for delicate modern electronic devices (your Beats Pill speaker just won't cut it here). To save you the hassle of finding purpose-built speaker models sturdy enough to withstand years of service in your garage, we have created a comprehensive list of the 7 best garage speakers we could find.
And no matter whether you are a weekend DIYer working alone in your garage or a professional mechanic punching his card every morning in the shop, we've got something for you!
Enjoy!
Best Garage Speakers Reviews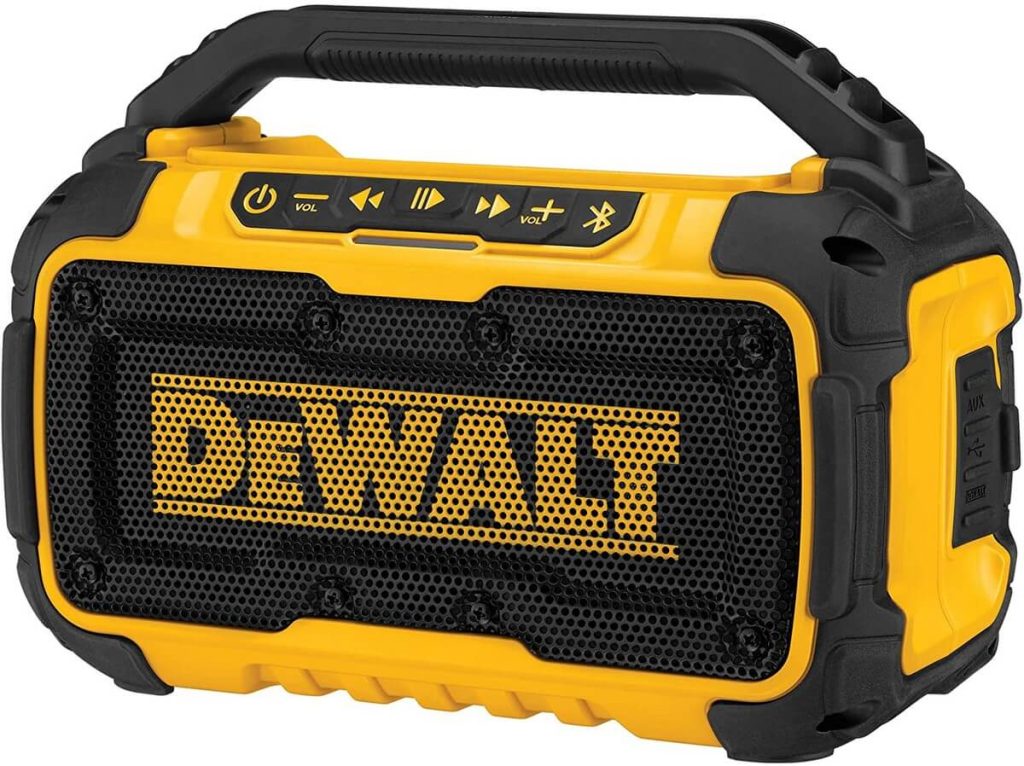 Of course, DeWalt specializes mostly in construction equipment and not necessarily automotive ones and as a result, the DeWalt DCR010 is a versatile Bluetooth speaker specially designed for job site applications. So why did we include this speaker model on our list? Well, since construction workers often move from site to site, they need a portable model, sturdy enough to survive falls and impacts, perfect for garage use and mobile mechanics.
In fact, if you plan to place your garage speakers on top of your tool chest or workbench and just leave it there, the impact-resistant housing is almost a bit overkill. Nonetheless, the high-quality design will ensure it lasts even longer in a shop than on a construction site, and just in case, the metal grille protecting the two powerful 3" speakers should be more than enough to prevent flying projectiles and grinding debris to cause any damage.
However, what sets DeWalt's garage speaker apart is how versatile it is, offering options that other entry-level models simply can't compete with. For instance, you can connect your phone wirelessly via Bluetooth and easily play music even when you are up to 100′ away — so you won't need to reconnect your phone every time you step out of the garage. On the other hand, if you are a bit old-school and would prefer to use a standalone CD player (do these things still exist?) or radio station, you can also connect that using the auxiliary port.
Still, one of the most useful features of the DeWalt DCR010 is that it is battery-powered, meaning you can take it anywhere without worrying about finding a power outlet. Besides, it runs on DeWalt's 12V or 20V MAX batteries, so there is no need to buy more batteries if you already own compatible DeWalt products (or now you have a good reason to buy more new tools without having your significant other complaining — "yeah I know I already have 3 impact wrenches but I need the batteries for my speakers!" lol).
All in all, the DeWalt DCR010 is by far one of the best garage speakers around if you are on a budget. It is compact, lightweight, portable, decently powerful, and loaded with features. Plus, the manufacturer provides a three-year manufacturer warranty, so you have complete peace of mind.
Still, you might not find it powerful enough if you own a larger garage. It should be fine for most DIYers and one-car garages, but professional workshops and anyone who intends to blast it with the garage doors open might want something a bit bigger.
Highlighted features
Portable Bluetooth speaker
Comes with two 3" speakers
100' Bluetooth range
Weight: 4 lbs.
Dimensions: 10" x 6" x 4"
Compatible with DeWalt 12V and 20V MAX batteries
Pros
Capable of wired and wireless streaming
Lightweight and portable garage speaker
Made from impact-resistant materials
Integrated carrying handle
Cost-effective model
Three years limited manufacturer warranty with one-year free service
Cons
Not loud enough for large garages
Batteries sold separately
Read more: Best Garage Radios [2022 Review]
The Makita XRM08B Jobsite speaker is quite similar to the previous one but prioritizes sound quality over sheer power. Indeed, the 101.6 mm speaker/woofer works in unison with a smaller 36 mm tweeter to produce a crispier and much clearer sound than most similar portable jobsite speakers.
The speakers sit behind a metal grill and are protected on all sides by impact-absorbing bumpers, significantly thicker than DeWalt's model. The body is also water and dust-resistant, so you can easily use it in challenging work environments without risk of any permanent damage, which comes especially handy if you do a lot of body repairs in there, or cut and sand wood or whatever.
Makita's garage speaker also offers wireless Bluetooth connectivity and an auxiliary port for wired streaming. You even get a USB port to charge your phone, which you can store in the integrated rear phone holder so you don't risk losing it (otherwise we know you will, right?). Moreover, just like DeWalt's model, it's also battery-powered using Makita's interchangeable 12V and 18V lithium-ion batteries, good enough for up to 32 hours of runtime.
If you are looking for better sound quality than the previous model, the Makita XRM08B makes an excellent alternative for a marginally higher price tag. However, it's important to keep in mind that whether you should go for this one or the DeWalt really comes down to what other power tools you. If you own other battery-powered power tools from either one of the brands, I would strongly suggest you go with the same for your speakers. Being able to interchange batteries simply weighs a lot more than sound quality if you ask me, especially on the job — not to mention that if sound quality is what you are looking for first and foremost, we've got much better models for that below.
Highlighted features
Portable Bluetooth speaker
Comes with a 101.6 mm main speaker and a 36 mm tweeter
Up to 32 hours continuous running time
Weight: 6 lbs.
Dimensions: 8.3" x 8" x 7.9"
Compatible with Makita 12V max CXT and 18V LXT batteries
Pros
Uses common batteries with other Makita products
Impressive runtime
Integrated carrying handle
Superior sound quality
Versatile connectivity options
Three years limited warranty
Cons
Batteries sold separately
Bluetooth range could be bigger
If you don't like the idea of compromising on volume or sound quality, the Kicker KB6 indoor-outdoor speakers are worth considering. You get two speakers, and each unit employs a high-performance configuration consisting of a 6.5″ woofer and a 2" x 5" compression-loaded horn tweeter. The woofer comes with purpose-built polypropylene cones with Santoprene surrounds for added durability.
The KB6 isn't like any other model we have seen so far; it utilizes an old-school connection method broadly used before Bluetooth connectivity became popular. Your music or podcast is streamed through red and black pin connectors held in place by spring clips present on the speaker's rear side. As a result, sound quality is much better than both previous models but your audio system will need to be wired — no Bluetooth here.
You can use these speakers for indoor & outdoor applications and enjoy the high-quality sound with ample volume without significant distortion. Admittedly, Kicker's garage speakers weren't particularly designed for working in industrial environments, so they don't feature impact resistance characteristics. However, that's not really a problem if you install them high enough and thanks to the unique mounting kit providing 180° of movement, you can focus the sound wherever required.
Highlighted features
Wall/ceiling mounted indoor and outdoor speaker (two units)
Comes with a 6.5" main woofer and a 2"x5" tweeter in each unit
Suitable for indoor and outdoor use
Weight: 14.3 lbs.
Dimensions: 8.1" x 8.1" x 11" (for one unit)
Uses red and black pin connectors with spring clips
Pros
Can be paired with an amplifier
Superior sound quality and sufficient volume
Comes with mounting hardware with 180° movement
UV-treated enclosure for outdoor durability
Reasonably priced
One-year customer satisfaction guarantee
Cons
No Bluetooth capability or AUX jack
Not portable
When high-end tool manufacturers try their hand at developing products belonging to another domain, the result is almost always sub-standard or adequate at best. However, Milwaukee Tools doesn't fall into that category, evidenced by the fantastic job it did on the 2891-20 wireless job site speaker. It features a premium six-speaker setup comprising two passive radiators, two high-range tweeters, and two high-definition woofers for optimum clarity even at the highest volume setting.
That's not all; being a tool manufacturer at heart, Milwaukee designed the 2891-20 speaker to work in the harshest environments. The garage speaker sports an impact-resistant roll cage complete with reinforced side caps to withstand anything you throw at it — even the main grille is beefed up to provide a certain degree of impact resistance.
In terms of connectivity, the 2891-20 is at par with several other models in this list; you can choose between a Bluetooth wireless connection or a wired connection using the AUX cable. Moreover, there is a 2.1A USB outlet to charge your phone, which is not to neglect nowadays. But the best part about this model is that it is compatible with the brand's M12 and M18 batteries, which are interchangeable with hundreds of other Milwaukee tools.
The Milwaukee 289120 is the holy trinity in the world of garage speakers. It combines superior sound quality, optimum volume, and excellent impact resistance properties in one tremendously appealing package.
And if you are like me and are a fan of Milwaukee tools, this one is a no-brainer!
Highlighted features
Portable Bluetooth speaker
Comes with two passive radiators, two tweeters, two woofers, and a 40W amplifier
100' Bluetooth range
Weight: 5.3 lbs.
Dimensions: 13.75" x 6.5" x 7.5"
Compatible with Milwaukee M12 and M18 batteries
Pros
Premium six-speaker setup
High-quality sound without significant distortion
Accessible battery options
Roll cage and reinforced side caps for impact resistance
Suitable for large areas
One-year limited manufacturer warranty
Cons
None — when it works, it works
The Acoustic Audio three-way speaker system is designed for those looking for a home theater-style music experience. The system consists of five 8″ speakers, which will sit flush within your ceiling for a much cleaner look. Each unit features poly cone woofers, butyl rubber surrounds, and 13 mm soft dome tweeters to deliver high-quality sound from all corners of your garage. However, it's important to keep in mind that the CSIC83 three-way speaker system is meant chiefly for living spaces. Still, we don't see any reason why you cannot have a premium sound experience while working on your car in the garage — not to mention that not everyone necessarily use their garage solely for work purposes and some might want something a little less "industrial".
Since it is designed as an in-ceiling speaker system, the Acoustic Audio CSIC83 doesn't need to possess any impact or dust resistance properties. Still, it comes with a unique pressure locking system to save you the hassle of complex installation procedures. You can also connect it to a new or existing audio system to make the overall experience even more pleasing to your ears. The only real drawback is the lack of Bluetooth connectivity but after all, if you want a premium sound quality, you're probably better not using your phone as the main unit (not that they don't sound good but you know… ).
The CSIC83 three-way speaker system provides the best surround sound experience you can get on a budget. And don't be fooled by the reasonable price tag; this garage speaker system's sound quality will surely surprise you. Obviously, it's not so suited for hardcore workshops with cement walls and an unfinished ceiling but if your garage is finished with drywall and you also use it as a leisure space, this is what you need.
Highlighted features
Home theater system with five ceiling-mounted 8" speakers
Suitable for indoor use only
Weight: 16 lbs.
Dimensions: 10" x 12" x 24"
Uses red and black pin connectors with spring clips
Pros
Perfect for home garages or small repair shops
Provides a premium surround sound experience
Ceiling mounted configuration means no wires or clutter to deal with
Instruction manuals, cutout templates, and removable grills included in the box
One-year manufacturer warranty
Cons
No Bluetooth connectivity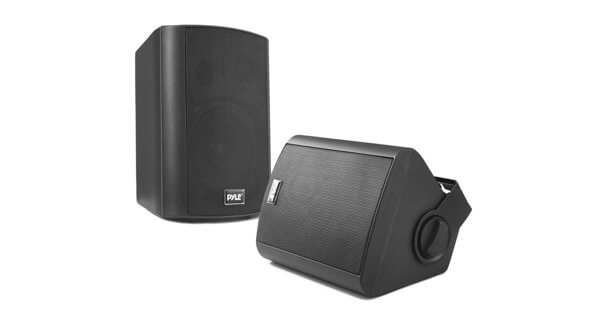 Since its inception more than 60 years ago, Pyle USA has developed quite a reputation for itself by consistently coming up with high-quality and reliable audio equipment at an affordable price. The brand's wall-mounted indoor and outdoor speaker system is an excellent testament to its superior build quality and intricate attention to detail.
Pyle's model is a two-pack speaker system with four units wherein each unit is fitted with a main 6.5″ long-throw woofer and a 1" polymer dome tweeter to ensure only clear sound reaches your ears. And thanks to the integrated digital amplifier, these four speakers can achieve a maximum power of up to 300 Watts.
Furthermore, the body is made using marine-grade materials and has an IP44 waterproof rating, so you don't have to worry about damage or malfunction if you frequently wash cars in your garage. In addition, the rust and stain-resistant grilles make it even more durable.
If you trust speakers made by a specialized audio equipment company instead of a power tool manufacturer without breaking the bank, Pyle's model is by far the best garage speaker for you. Plus, you also get wireless connectivity via Bluetooth, a feature unavailable in most fixed speaker systems.
Highlighted features
Wall-mounted indoor and outdoor speaker (four units)
Comes with a 6.5" main woofer and a 1" tweeter in each unit
Suitable for indoor and outdoor use
30' Bluetooth range
Weight: 18.98 lbs.
Dimensions: 8.4" x 7.5" x 12.1" (for one unit)
Uses red and black pin connectors with spring clips
Pros
300 Watts maximum power
Gold plated binding on post speaker plugs
Bluetooth capability for wireless streaming
Marine-grade waterproof construction
Daisy chain capability with other audio systems
One-year brand warranty
Cons
Costs more than other models
Limited Bluetooth range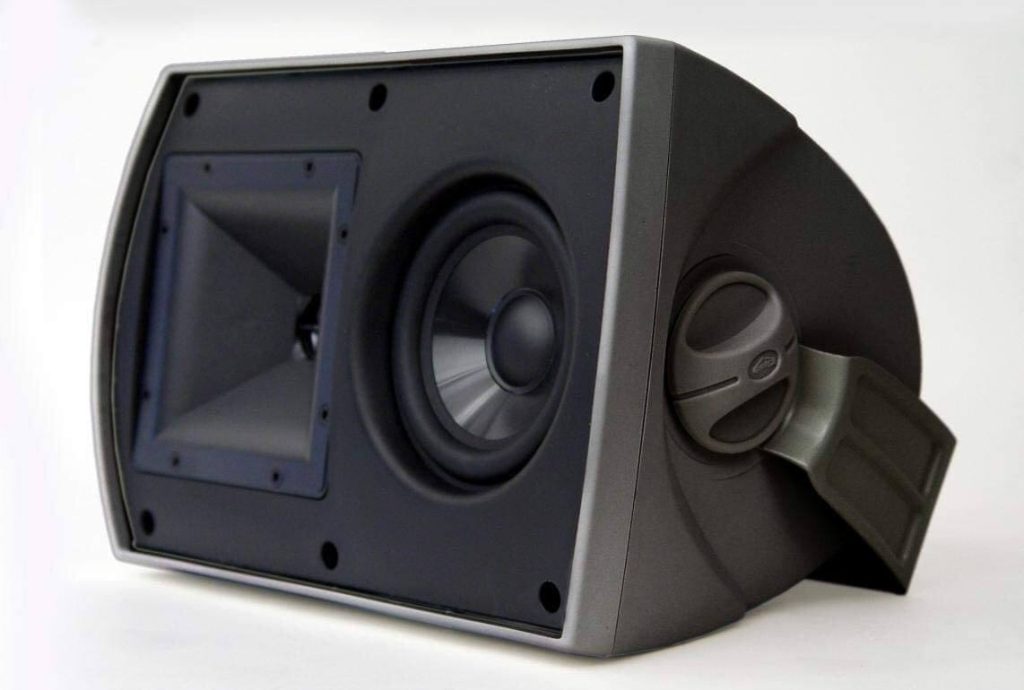 Klipsch has been dominating the premium audio equipment market for a while now, and the AW525 wall-mounted indoor/outdoor speaker tells us why. The AW525 provides sound quality that makes even the best portable Bluetooth speakers look amateurish in comparison. Klipsch employs its proprietary Tractrix horn tweeter technology for optimum speaker performance, especially noticeable on high-pitched notes. Meanwhile, low frequencies are taken care of by injection-molded graphite woofers, perfect for that thumping bass.
These precious components are kept safe inside a rugged UV-resistant enclosure made from Acrylonitrile Butadiene Styrene (ABS), a common thermoplastic polymer known for superior impact resistance properties. Klipsch claims the ABS enclosure is also paintable, so you can use your imagination and customize your garage speaker to match your garage's color palette.
We understand this garage speaker is priced on the higher end of the spectrum, and it may not be for everyone. But if you want nothing but the best, the Klipsch AW525 is by far the best garage speaker you can buy. The sound quality is unparalleled and you might even find yourself thinking of excuses to sneak into the garage only to listen to your favorite tunes.
Highlighted features
Wall-mounted indoor and outdoor speaker (two units)
Comes with injection-molded 5.25" graphite woofers and titanium tweeters
Kit includes C-style mounting brackets and all necessary hardware
Available in black and white finish
Weight: 6 lbs.
Dimensions: 9" x 8" x 11.8"
Uses red and black pin connectors
Pros
Premium sound quality with no distortion
Uses exotic materials like graphite and titanium
Comes with versatile mounting gear and stainless-steel hardware
Rust-proof aluminum grill
Suitable for all-weather operation
Five years manufacturer warranty
Cons
What to Consider When Shopping for the Best Garage Speakers
Sound quality
it's not easy to measure or rate any garage speaker's sound quality, but specific parameters are to look out for. Firstly, the Wattage denotes how powerful a speaker is, which indirectly dictates its output in decibels. Look out for the RMS power rating, which shows the continuous running power. Frequency also plays a vital role in garage speakers; the operating range should be as wide as possible to output clear highs and lows.
On the other hand, keep in mind that the noise produced by power tools will significantly interfere with the sound produced by your speakers. If you use an impact wrench or a grinder all day, the frequency range might not be that important for you.
Connectivity options
Connectivity in garage speakers can be classified into three general categories — Bluetooth, AUX, and hardwired. Bluetooth connections are the most user-friendly, resulting in less time wasted fiddling with connection and more time spent working. An auxiliary jack is a good alternative but comes with one disadvantage — you cannot take your phone away from the speaker, which can be a real bummer. Lastly, hardwired connections may not be the most convenient, but they are more reliable and cause less distortion. Put simply, if you are looking for a premium sound quality, hardwired is what you need.
Bluetooth range
The invention of Bluetooth has proved revolutionary for the audio industry, allowing users to stream music to devices wirelessly. However, wireless technology is pointless if you need to stay within 10' to maintain a connection. For that reason, look for a garage speaker with a wide Bluetooth connectivity range so that you can move around with your phone in your pocket. Most Bluetooth-capable speakers in our list offer 100' of range, which is great for most garages. You might get away with less than that if you have a smaller setup, but anything below 40' is not ideal.
Body features
If your line of work involves harsh conditions, you would need a garage speaker capable of handling such abuse. Hence, look for one with a high impact resistance rating along with protection against rust or dust. However, home garages and residential settings don't really need added protection, especially if the speakers are wall- or ceiling-mounted.
Verdict
There's no denying it; music makes everything better. And if you've been in this field for a while, you already know that there will be days where you'll need to take a little break to calm down before you end up throwing that darn control arm that just doesn't want to fit in there — I personally find that music makes a big difference in those cases.
That being said, there is no clear winner here as every mechanic has different needs and personal preferences while every garage is built differently. For example, wireless Bluetooth speakers, like the Milwaukee 289120, are best suited for mobile mechanics and anyone who wants to stream Spotify in the shop, while a bigger garage with a dedicated sound system would benefit from wall-mounted models like Pyle's.
And if you don't mind spending a little extra to get the best sound of all, the Klipsch AW525 is the way to go!