EDITOR'S PICK
Porter-Cable PCC771B Bluetooth Radio
Compact design that is suitable for the workplace and the home
Can use Porter Cable's battery packs
Comes with powerful speakers and an equalizer function
Has Bluetooth and auxiliary inputs
Easy to use
PREMIUM PICK
Bosch Bluetooth Jobsite AM/FM Radio
It is very tough and can survive falls and sudden hits very easily
Bluetooth connectivity of up to 150 feet
Has a great battery that can charge smartphones and even power tools
Is compatible with Bosch battery packs
Has an excellent sound quality
BUDGET PICK
DEWALT DCR010 Bluetooth Jobsite Speaker
Fantastic sound quality
Easy to use labeled buttons
Has Bluetooth, auxiliary, and USB connectivity
Comes with an integrated phone holder in the handle
Dustproof, water and shock-resistant
When you're working hard in your garage, a little entertainment can go a long way in improving your mood and boosting your productivity. Many people believe that listening to the radio you work might be distracting but it's actually the opposite. Focus increases when your mood is elevated; however, if you happen to be extremely bored, the chances of getting distracted increase drastically.
Now, you can't just get any radio and place it in your garage. Remember that this is a place where you do heavy-duty work. You need to buy a garage radio that can survive in that environment – an almost indestructible unit. Dust, water, and shockproof casings are definitely a must here.
To help you find the right radio to install in your garage, here's an article featuring five of the best garage radios available in the market.
Best Garage Radio Reviews
The Porter-Cable Bluetooth Radio is a great choice for a garage radio. However, what gives it an edge is that it also fits right in your living room. It doesn't have a nightmarish look that most other garage radios have, and it has the toughness necessary to be used in your garage.
It can also be used with the Porter-Cable 20V Max battery pack inside, or you can use an AC adapter. The unit works with 1Ah to 4Ah cells for an entire day of use.
Meanwhile, the two front-facing speakers produce fantastic sound quality that doesn't waver, even at high volumes. You can also use the equalizer function to adjust the tone to your liking. It also has large, labeled buttons making it easy to use, even when wearing thick gloves.
The Porter-Cable radio comes with 12 channel presets so you can save your favorite AM and FM radio stations for quick access. Besides, if the radio programming is not your thing, the auxiliary jack allows you to use an external MP3 player.
The unit lacks a USB port, though. If you don't mind this minor flaw, then the Porter-Cable model is perfect for you.
Pros
Compact design that is suitable for the workplace and the home
Can use Porter Cable's battery packs
Comes with powerful speakers and an equalizer function
Has Bluetooth and auxiliary inputs
Easy to use
Cons
Isn't compatible with USB
Although this radio doesn't have a USB port, it still has many benefits and is a great option for your work station and your home.
---
The Sangean LB-100 Radio is simple and easy-to-use radio, making it the perfect companion for your garage.
It comes with a sturdy roll cage and a rigid plastic casing wrapped in hard rubber. This radio truly belongs to a work site.
As far as music goes, 10 presets are available – 5 for FM stations and 5 for AM stations. You can save your favorite channels quickly and conveniently by pressing the number preset.
However, you can't connect it with your MP3 player or smartphone. No auxiliary jack, USB or Bluetooth here.
Bummer for Spotify subscribers.
Pros
Simple and easy to use
Features memory presets
Features a large backlit LCD
Has a tough plastic casing and a roll cage.
Cons
Does not have Bluetooth or aux inputs
If you want a radio with modern features, this one may not be the one for you. On the other hand, if you want a good old reliable unit that gets the job done, get the Sangean LB-100.
---
The Bosch garage radio will make fall in love instantly with its power tool-inspired look.
This isn't just a rugged garage radio, though; it also doubles as a Bluetooth speaker. Thus, you can connect your smartphone or any other device that works with Bluetooth. And thanks to the 150 feet range, you can move freely around your garage without losing connectivity.
The sound quality is also excellent. It features four-way speakers and a built-in subwoofer. This means it can provide 360 degrees of high-quality sound no matter where it's placed in the garage.
Moreover, the Bosch unit is encased in tough ABS plastic, and all the ports and outlets have rubber plugs to stop water from damaging them.
It is also protected by a hard metal roll cage with tough rubber bumpers to absorb shock more efficiently. The only real drawback with this radio has is that the auxiliary jack only works with iPhones, not Androids.
Pros
It is very tough and can survive falls and sudden hits very easily
Bluetooth connectivity of up to 150 feet
Has a great battery that can charge smartphones and even power tools
Is compatible with Bosch battery packs
Has an excellent sound quality
Cons
Its media compartment is not compatible with androids
This is a great radio that only has one minor flaw. Beyond that though, it is a great product, and one can hardly complain about it.
---
The DEWALT DCR010 is meant for environments like garages, workshops, and construction sites.
This radio features a tough ABS plastic enclosure, large buttons, and hardened rubber bumpers. The design is truly perfect for a harsh work environment.
Moreover, the excellent sound quality doesn't waver at high volumes, so durability is not its only strong quality. It features two front-facing speakers and has a very clear and powerful sound. It also has a bass reflex port providing extra bass.
Meanwhile, the Bluetooth connectivity has a range of more than a hundred feet. You also have the option of connecting devices through an auxiliary jack and a USB port.
This unit's only flaw is that it is strictly a Bluetooth speaker and doesn't have a radio tuner.
Pros
Fantastic sound quality
Easy to use labeled buttons
Has Bluetooth, auxiliary, and USB connectivity
Comes with an integrated phone holder in the handle
Dustproof, water and shock-resistant
Cons
Does not have a radio tuner
Even though the DEWALT DCR010 is pretty much just a Bluetooth speaker, it is durable and versatile. And let's be honest. It's 2020 after all. Who still listens to the radio?
---
DEWALT is among the top manufacturers of power tools, and their notoriety for developing top quality products clearly shows in this radio. Even at first glance, you know that it is very durable. The shell is made of hard plastic and features a roll cage that can survive hard falls and massive hits.
Perhaps its best feature, though, is the 20V MAX battery pack.
That's right, this is the type of cell used for cordless power tools. And if you run out of juice, you can always open the compartment and plug the AC cord into a nearby wall socket.
Meanwhile, the DEWALT model comes with a side compartment, featuring USB slots and an auxiliary jack for you to plug in your smartphone, MP3 player, or whatever device of your choice.
As perfect as it sounds, there is a flaw that some might not be able to overlook, and that's the sound quality. It is decent when at low volumes, but as you increase the level, it gets worse, which can be disappointing for those who value hi-fi sound.
Pros
Comes in a hard plastic casing
Has a roll cage
Water-resistant
Dustproof
It can be used to charge other small devices like mp3 players and smartphones.
Cons
The sound quality is poor at loud volumes
Apart from the sound problem, this radio is as close to perfect for your garage as it gets.
---
What to Look for When Buying a Garage Radio
Sound quality and volume
Even though your work station will likely be loud and you'll be busy, buying a garage radio with poor sound quality will only be annoying and ultimately distracting. So look for something with good sound quality.
Rugged build
Because you will be using your radio in a harsh and dangerous environment, you will want a rugged radio. A unit that isn't built for a harsh workplace will quickly be damaged, so opt for something tough and durable.
Easy to operate controls
Some radios do too much when it comes to controlling. When there are so many unlabeled buttons, learning and using the controls can be a chore. The point of owning a garage radio is to make work easier.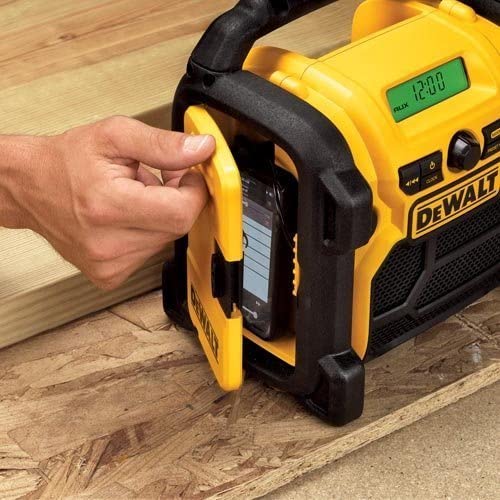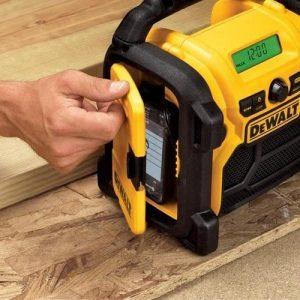 Battery size
Most garage radios run using the same battery packs as power tools. This means they can run for a very long time, especially with larger batteries.
Shockproof and waterproof/water-resistant and Dustproof
Because it is a worksite, there will be a lot of dust flying around; there will also be a high chance of your radio falling or coming into contact with water. Shockproof casings should always be high on your list, along with dust and water proofing.
Lightweight and portable
Since you will be heaving your tools and equipment to and from the job site, your radio should not be too heavy.
---
Frequently Asked Questions
How to care for and maintain garage radios?
Garage radios are rugged and tough, but they still need regular care and maintenance.
You have to keep it clean. Don't let dust pile up on the surface and try to prevent it from falling or getting into contact with water.
Although garage radios are mostly weatherproof and shockproof, you should do your best to prevent yourself from finding out how true that is.
What is the warranty?
The typical type of warranty length for garage radios ranges from one to three years. Go for products with warranties that promise to replace or completely refund your purchase if you aren't satisfied.
Can I charge my smartphone using the job site/garage radio?
Yes, most job site/garage radios come with multiple USB ports that can be used to play MP3 files. They can even charge your smartphone or other devices.
Are garage radios waterproof?
There are some waterproof garage radios, but most are just water-resistant.
---
Last Words
The PORTER-CABLE PCC771B is the best garage radio on this list. It ticks all the boxes required for a perfect work station radio. It has great sound quality. It's light and easy to carry with easy to use controls and a very powerful battery. To cap it all, this radio has a very rugged build and is extremely durable. This is the clear winner.
Even though these radios are a bit expensive, their unique features make them worth the cost, and you can be assured that you'll have a great time using them.