EDITOR'S PICK
Maxsa Innovations 37358 Park Right Parking Mat
Parking aid dimensions: 21.5" L X 11" W X 2" H
Product weight: 1.82 lbs
Thermoplastic polymer parking mat
Only one required per vehicle
PREMIUM PICK
Park-Daddy PDY-50-AA Single-Vehicle Precision Garage Parking Aid System
It works using infrared technology
It requires 4 D-size batteries
RF receiver makes a sound to alert the driver
Head units have peel-off adhesive tape on the back
BUDGET PICK
Prime-Line GD 52286 Right Stop Cord
The ball is made from Styrofoam
Extra-long string
Retractable when attached to the garage door
Let's face it; average parking spaces are getting smaller these days while new cars are drastically increasing in size. Parking is already hard as it is without these additional problems. If you are tired of scraping your pride and joy when you try to pull in or out of your tight parking space, then we have just the thing for you. No more stepping out of the vehicle every two seconds to see how much space you have left. All you need is a good garage parking aid.
As the name suggests, a garage parking aid is a cost-effective device that helps you park your vehicles in tight and complicated spaces. Furthermore, they help you park your car in the exact same spot every time, so you have more garage space for your tools and other equipment.
Garage parking aids come in different shapes and sizes, so we have come up with this comprehensive review to help you decide on the right product for your needs. We have curated a list of 7 of the best garage parking aids we could find, complete with highlighted features, pros, and cons for each model.
Enjoy!
Garage Parking Aid Reviews
The Prime-Line GD52286 is one of the cheapest garage parking aids out there. It features a simple yet highly effective design that works every time. Fundamentally, this model is nothing but a ball attached to an extra-long string, but the idea behind it is quite ingenious. All you have to do is park your car in the desired place and hang the garage stop ball so that it lightly comes in contact with the car's windshield or backglass (depending on whether you are parking forward or backward) and you are all set.
The bright yellow painted ball ensures optimum visibility even in low-light environments, and the string is extra-long to make sure it is usable even in high roof garages. The entire setup is effortless to install, and all the required parts are included with the purchase.
Get the Prime-Line GD 52286 if you are looking for an easy-to-install and inexpensive garage parking aid. Prime-Line's model will help you with depth perception and effectively utilize your garage space. You can also attach it to your garage door, so every time you close it, the ball will automatically retract.
Cheap, and simple; I like that!
Highlighted features
The ball is made from Styrofoam
Extra-long string
Retractable when attached to the garage door
Pros
High-visibility ball
Cheap and simple garage parking aid
Best suited for drive-in house garages
Easy to install and use
Lightweight model
1-year manufacturing defects warranty
Cons
It is only useful when moving forward or in reverse
The ball can be moved easily by light winds
Obstacles beside your car are not cautioned against
Only works when you move slowly
Manufactured by Innovative Products International, the Parking Target is a useful garage parking aid that works every time. It is a low-cost solution that is easy to install and inexpensive. In order to install it, park your car in the desired position and stick the Parking Target in front of a wheel. Its best feature is that you don't need to drill holes or make any other permanent changes to your garage floor. The Parking Target comes with a "peel and stick" base that tightly mounts on.
Measuring around 16" in length, the IPI100 Parking Target is suitable for a wide range of vehicles. You can even personalize your model using the 'Mom,' 'Dad,' or 'USA' decals that come with your purchase.
If you are looking for something more reliable than the previous models, then the IPI100 Parking Target is the right choice for you. Moreover, thanks to the included decals, it's a great gift for your parents or anyone else you know that would make good use of it.
Highlighted features
Dimensions: 16" L X 3.5" W X 1.3" H
Product weight: 1 lb
Only one needed per vehicle
Pros
Made in the USA
Free decals are included in the box
Easy to install and use
It works every time
Inexpensive garage parking aid
It makes a great gift
Free decals included
Suitable for several vehicles
Cons
The adhesive base may get weaker over time
It can be difficult to spot in low-lit garages
The Maxsa Innovations 37358 Parking Mat is easily one of the best garage parking aids out there. It is a cost-effective device that can save you hundreds of dollars in bodywork damage. Maxsa's model is a 21.5" long parking mat made from a strong and durable thermoplastic compound. The two raised barriers will offer resistance to your car's wheel, signaling that you have reached the correct parking position. The first hump is a subtle way to let you know you are approaching the parking position, while the second bump tells you the car is in place.
Installing this parking mat is quite simple once you decide on your installation method. You can either use the provided double-sided adhesive material present at the base or screw the mat using the provided holes. Besides, there is an integrated drip tray to keep all the water out, ensuring the mat stays in place even when it's raining.
Thanks to a clever design, the Maxsa Innovations 37358 parking mat is suitable for nearly every vehicle type. Consider buying the 37358 if you are looking for a dependable and long-lasting garage parking aid at a low price tag.
Highlighted features
Parking aid dimensions: 21.5" L X 11" W X 2" H
Product weight: 1.82 lbs
Thermoplastic polymer parking mat
Only one required per vehicle
Pros
It is available in three colors
Easy to install and use
Flexible and secure installation options
Low cost
Rugged and sturdy polypropylene construction
Park in the same place every time
Reflective strip for easy visibility
90 days manufacturer's limited warranty
Cons
Adhesive tape can get weaker with time
The Striker Concepts 00246 Parking Sensor is the first technologically advanced garage parking aid on our list. It uses ultrasonic waves to measure the distance between your car and surrounding objects. These signals are then transmitted to the indicator unit, which tells you when to stop.
As you enter the garage, the indicator light will turn green, meaning you are in range. Then, the light turns yellow once you are close to the parking position; when it turns red, it means you should stop the car. Depending on your requirements, you can set the parking distance anywhere between 6 inches and 6 feet.
The sensor and indicator unit come with a Velcro setup to make installation easy. Since it does not use any adhesive tape, there is no question of the linkage getting weaker over time.
Despite this being an electric parking aid, you don't have to worry about having a power outlet nearby. The 00246 Parking Sensor uses 4 AA batteries.
If cluttered garage that your car barely fits in, the STKR Concepts Garage Parking Sensor is the perfect choice for you. It offers pinpoint accuracy, so you are not left wondering how much space you have left while parking your vehicle.
Highlighted features
It uses ultrasonic sensors to measure the distance
Parking distance range- 6 inches to 6 feet
Velcro wall mounting
Adjustable parking sensor
LED indicator lighting
Pros
Clear and visible indicator light
High accuracy garage parking aid
Perfect for tight garages
Easy to install
It does not depend on the driver's line of sight
1-year manufacturer warranty
Cons
You need to move very slow
Batteries drain-out frequently
Parking in a two-car garage will always leave you wondering if you have left enough space for the other car. But thankfully, you will not have to worry about it anymore if you have the Fosmon Dual Laser System. It is a sophisticated garage parking aid that uses two laser pointers to guide you in the parking process. You can preset the 360° adjustable laser beams to point at a suitable reference point on your car that is visible from the driver's seat.
The system's main unit is intended to be mounted on the garage ceiling so that the laser beam can reach both parking spots. The lasers themselves are quite powerful and activated by motion sensors that can detect vehicles within 10 meters or 33 feet.
However, Fosmon's system needs to be plugged into a power outlet to function. Still, in case of a power outage, it can work using a 9V battery backup source. The battery should last quite a while since the lasers are automatically turned off after 30 seconds of no motion to save energy.
Overall, the Fosmon Laser Garage is the perfect parking aid for people with a 2-car garage. The 360° adjustable dual-laser setup allows for exceptional flexibility to accommodate different types of vehicles.
Highlighted features
Laser-guided garage parking system
Dual-laser motion detection setup
Detection range: 10 meters or 33 feet
Ceiling-mounted system
Pros
Perfect for two-car garages
Energy-efficient system
Backup power for added reliability
Easy to use and install
9V battery for backup power
Sophisticated operation
Cons
The Park Daddy PDY50AA is probably the most hi-tech garage parking aid on this list. Lasers can be harmful in certain cases, so this model uses infrared radiation and sensors to function. These are quite common radiations found in numerous day-to-day things like TV remotes, security systems, and garage door openers, among other things.
The box includes one receiver and two Infrared head units that will stick to either side of the garage doors. Make sure to install the head units exactly facing each other and clear the garage door. Meanwhile, the receiver is connected to the head units via Bluetooth, and it goes into the cigarette lighter in your car. As you pull into the garage, the infrared beam created by the head units is disturbed, and the RF receiver is alerted. As soon as the beam is established again, the receiver in your car will make a sound signaling you to stop the vehicle.
You can install the head units using the peel-off adhesive tape present on the backside. They require 4 D-size batteries that can last up to an entire year, so you don't have to worry about replacing them anytime soon.
The main of this parking aid is to help you park your car as close to the garage door as possible. That way, you get more floor space on the other side to store some equipment. So if you are looking to use your garage space efficiently, the Park Daddy PDY50AA is the parking aid for you.
Highlighted features
It works using infrared technology
It requires 4 D-size batteries
RF receiver makes a sound to alert the driver
Head units have peel-off adhesive tape on the back
Pros
Precision parking system
The batteries can last up to one year
Highly reliable system
A unique approach allowing to keep your car close to the garage door
It is expandable to work with four different vehicles with the purchase of additional receivers
Extra-long battery life
Cons
It costs slightly more than other models
Batteries not included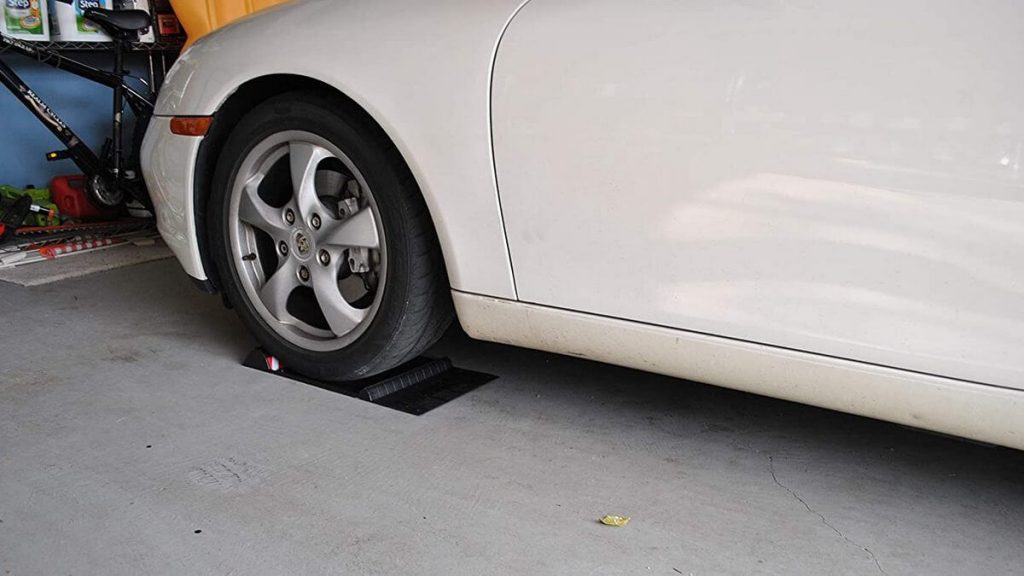 What to Look for in a Garage Parking Aid
Just like all tooling and garage equipment, deciding which model to buy depends entirely on your requirements. So it is important to thoroughly evaluate your needs beforehand. Here are some important factors you should consider before deciding.
Accuracy and reliability
These are probably the two most important parameters that can significantly affect your decision-making process. The accuracy of a parking aid is how close it can get to your desired parking position, while reliability or repeatability is how many times it can achieve a good result. Accuracy is especially important for tightly packed garages where you have barely enough space to walk around. One mistake by your parking aid, and you can potentially have major damage to your car if you hit any equipment or the garage door.
Type of feedback
The type of feedback you get from a garage aid is generally classified into three main categories- contact, visual, and sound feedback. The best example of a contact type parking aid is Prime Line's model. The contact point, in that case, is between the Styrofoam ball and your car's windshield. Parking mats and targets also fall into this category.
A visual feedback parking aid communicates with you using LED lights like the STKR Concepts Parking Sensor or laser pointers like the Fosmon Dual Garage laser aid. These parking aids demand your complete attention since you cannot look anywhere else while parking your vehicle.
Sound feedback is considered to be a lot better as they allow you to continue looking outside the car to make sure there are no obstacles in the way. The only parking aid from our list that provides vocal feedback is the Park Daddy system. The included RF receiver unit will alert the driver when the car is in position with vocal cues.
Type of garage
Deciding which parking aid to buy greatly depends on the type of garage you need it for. For example, the Fosmon dual laser system is specifically built for two-car garages. If you need a parking aid for a larger garage, the Park Daddy is the right choice for you since it can cater to four cars by purchasing additional receiver units. On the other hand, readers with a single-car garage are better off with other models like parking mats, targets, or proximity sensors.
Verdict
We hope that this comprehensive review of seven of the best garage parking aids will help you find the right option for your needs. There is no "one size fits all" when it comes to garage parking aids; rather, the best option for you depends on your needs and operating environment.
However, our favorite parking aid from the list is the Park Daddy Infrared Parking System. It follows a unique and innovative approach that makes sure your car is parked as close as possible to the garage door. The infrared head units are much safer than laser-based systems and also require less frequent battery changes.