It's wintertime, and that means the wife will be reminding me soon that the TPMS (tire pressure monitoring system) lights in her car are alive and well. See, when it gets colder outside, tire pressure can decrease by about 1 PSI (pounds per square inch) for every 8-10 degrees the temperature drops. Of course, normal tire seepage also occurs on a regular basis, with most tires losing a PSI or two each month. These two factors will usually trigger TPMS lights on the dash, letting you know that your tires need some attention.
On the Jeep, we've got an air compressor built into the winch. But the wife's car doesn't because… well, a winch on an Acura RDX would just be weird. So, it's always good to have a few tools in the car for emergencies that she can actually manage. And since her car doesn't have those fancy "run-flat" tires, a portable air compressor or more appropriate, tire inflator, makes sense.
We've seen a lot of these 12V portable air compressors over the years and most of them are junk. They don't connect to the valve stem correctly, the let more air out than they pump in, they overheat and shut-down all the time… the list goes on. So, when we got a hold of the Audew 12V 150 PSI Tire Inflator, we were skeptical, indeed.
Design, Features & Build Quality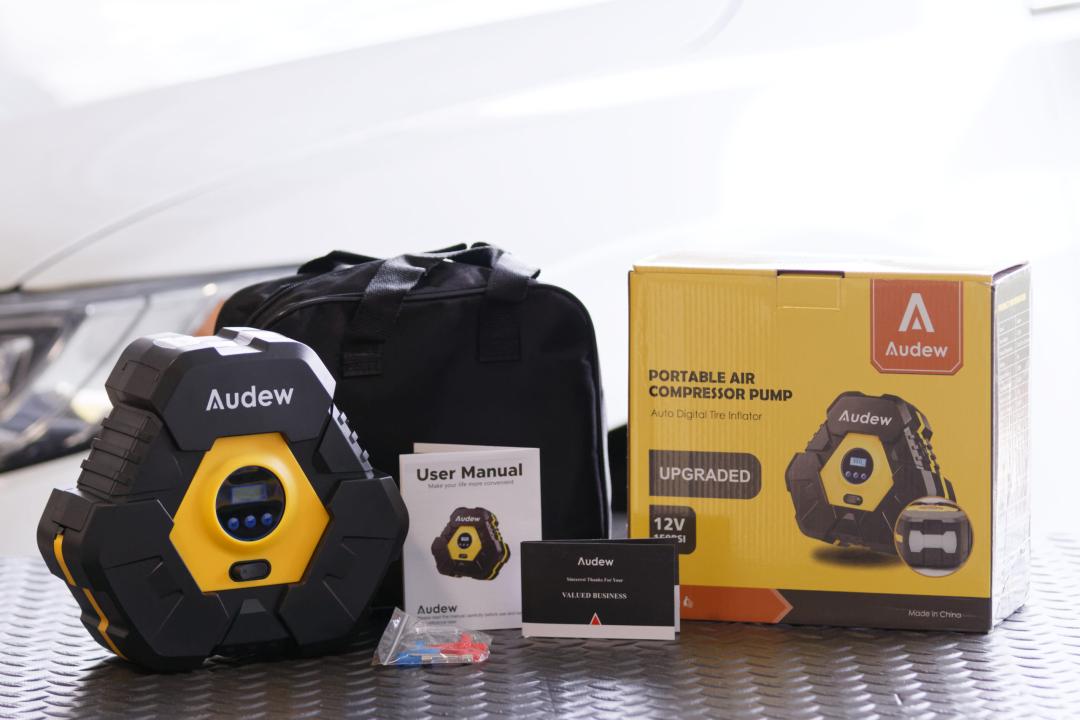 Out of the box, the Audew already feels more rugged than almost every other 12V air compressor we've tried, including another Audew from years back. The ABS (?) plastic housing is sturdy and its triangular design with a yellow center makes sense, as it mimics a warning flag that you'd set up when you're broken down on the side of the road. Rubberized corners would make this even sturdier and prevent "walking," (more on that in a sec) but that would likely add to its cost.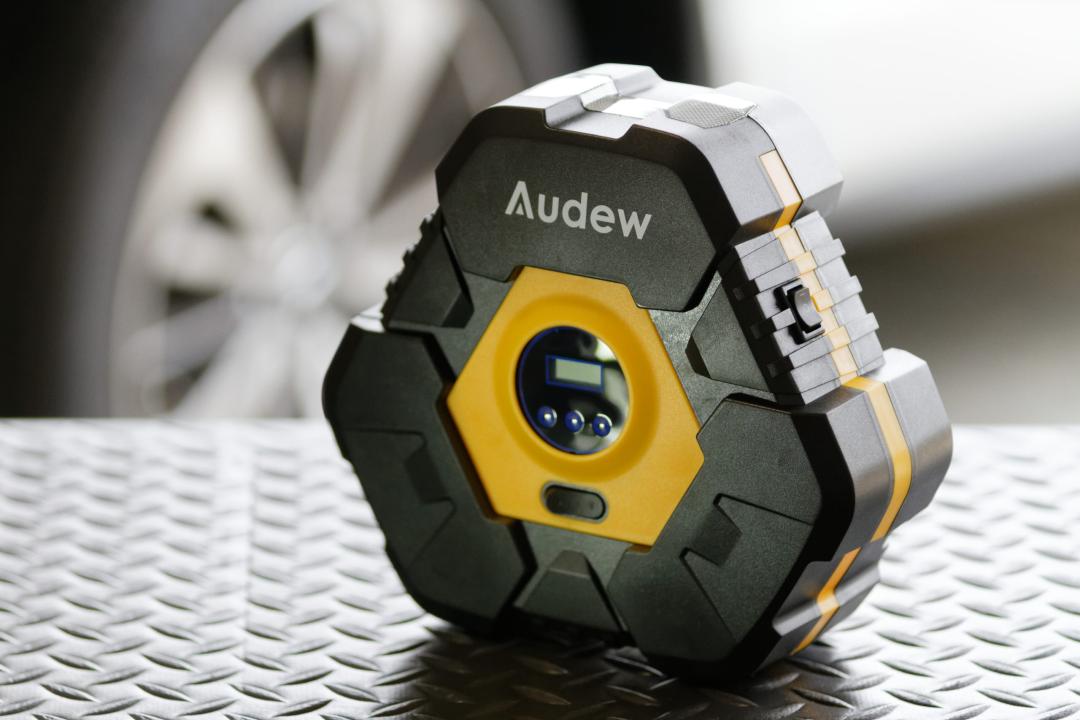 On the front of the Audew portable air compressor, there's a small multi-function digital display with nice, subtle blue backlighting, three buttons (R, + and -), and the air compressor's on/off switch. The readout is clear, even in bright sunlight, and will show the current PSI and then the target PSI. You set the target PSI using the plus or minus buttons, up to the max of 150 PSI. Once reached, the air compressor will stop but the unit itself will remain on. Using the 'R' button, you can also switch between PSI, BAR, KPA, and KGF/CM².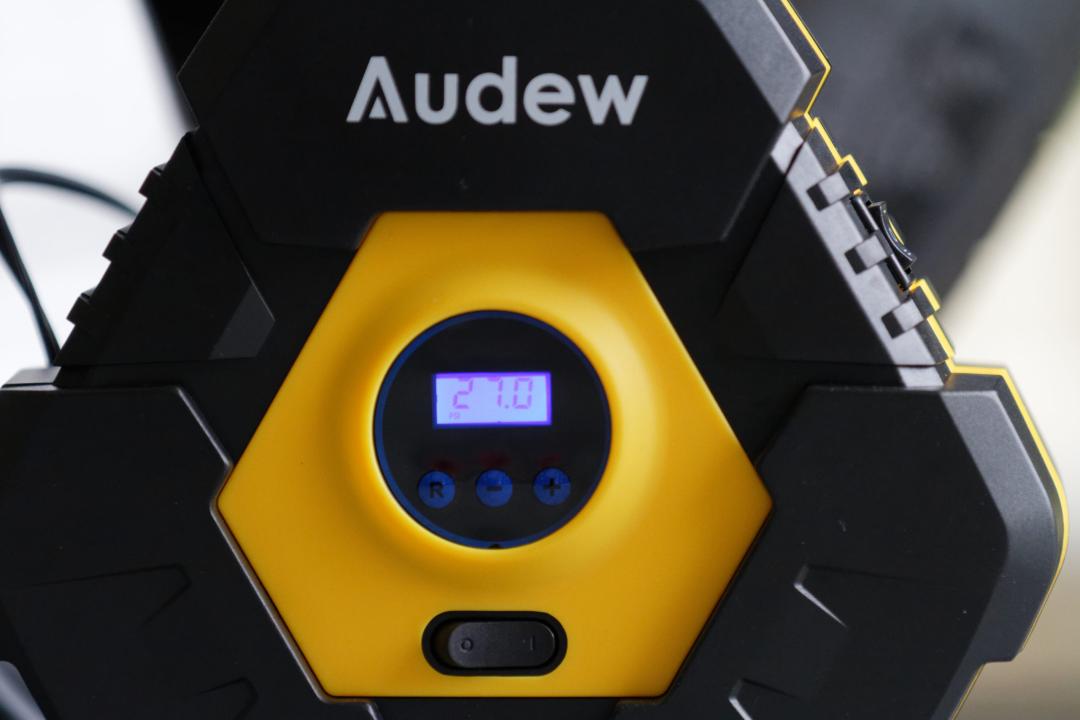 On the rear of the compressor, the four rubberized feet on the bottom (or back) of the unit allow the compressor to lay flat and prevent "walking," where vibration from the air compressor motor makes the entire device move across the floor. This is only an issue on smooth surfaces and even the rubber feet didn't fully prevent the unit from moving around on our smooth garage floor. As we mentioned earlier, rubberized corners would probably help here. At this very reasonable price-point, it's certainly acceptable as-is.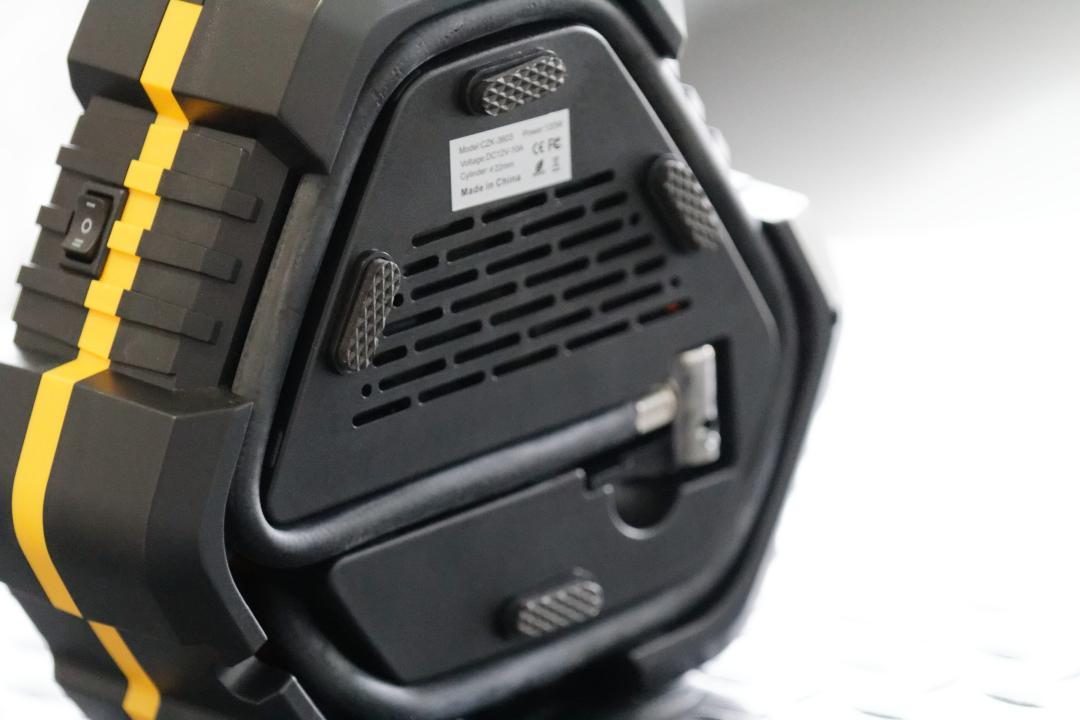 The integrated rubber air hose is also conveniently stored "around" the back of the unit when not in use, as shown in the above photo. This is a smart design and keeps everything nice-n-tidy. The air hose itself is not that long so, if you've got larger tires, you may have to roll the vehicle for each tire before you fill them so the valve stem is closer to the ground. Not a big deal and a longer hose wouldn't allow the rear storage solution to work. Give and take.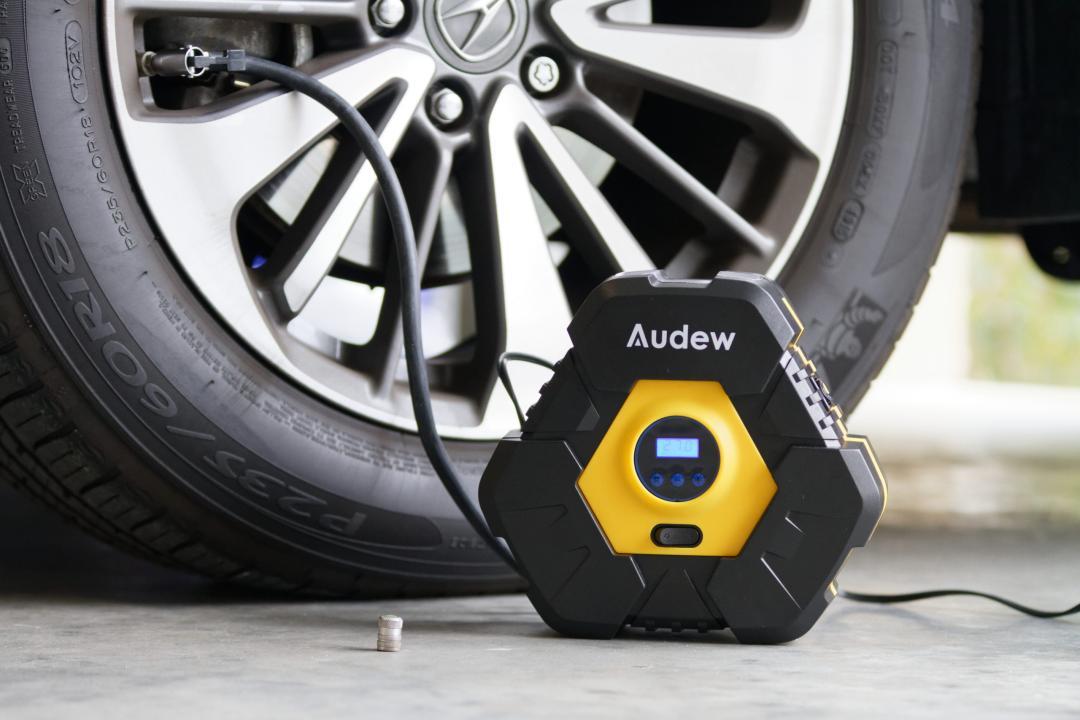 When using the air compressor to inflate tires, laying if flat provides a much more stable platform than standing it up on-end. Again, the four rubber feet will do a better job of preventing 'walking' than the plastic housing alone.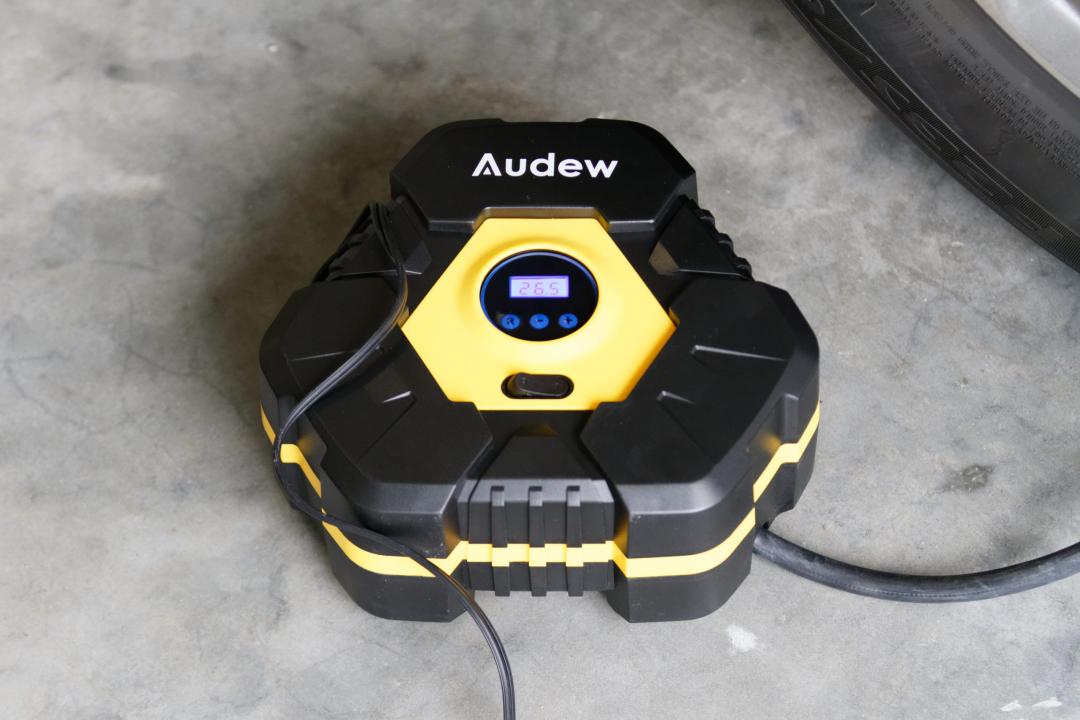 There is a small notch for the air hose to pass through, helping to keep the unit flat. It does take some tweaking to get the air hose to stay in that notch because the device itself is so lightweight, but it works. A smaller notch would've been better so the air hose sort-of snaps in rather than just loosely laying there.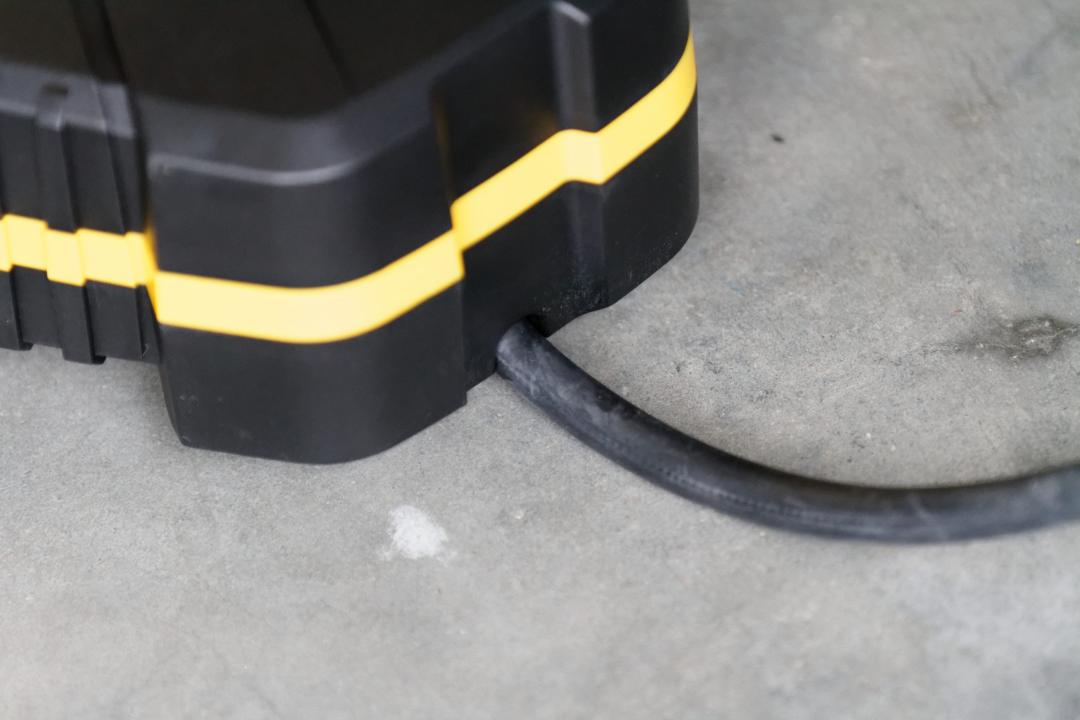 This portable air compressor also includes a few tips, or attachments, to pump things up like beachballs, basketballs, air mattresses, etc. While it is a 150 PSI max compressor, it can be set all the way down to 3 PSI. For something smaller, you can just manually monitor things but you may want to consider a manual air pump for those items.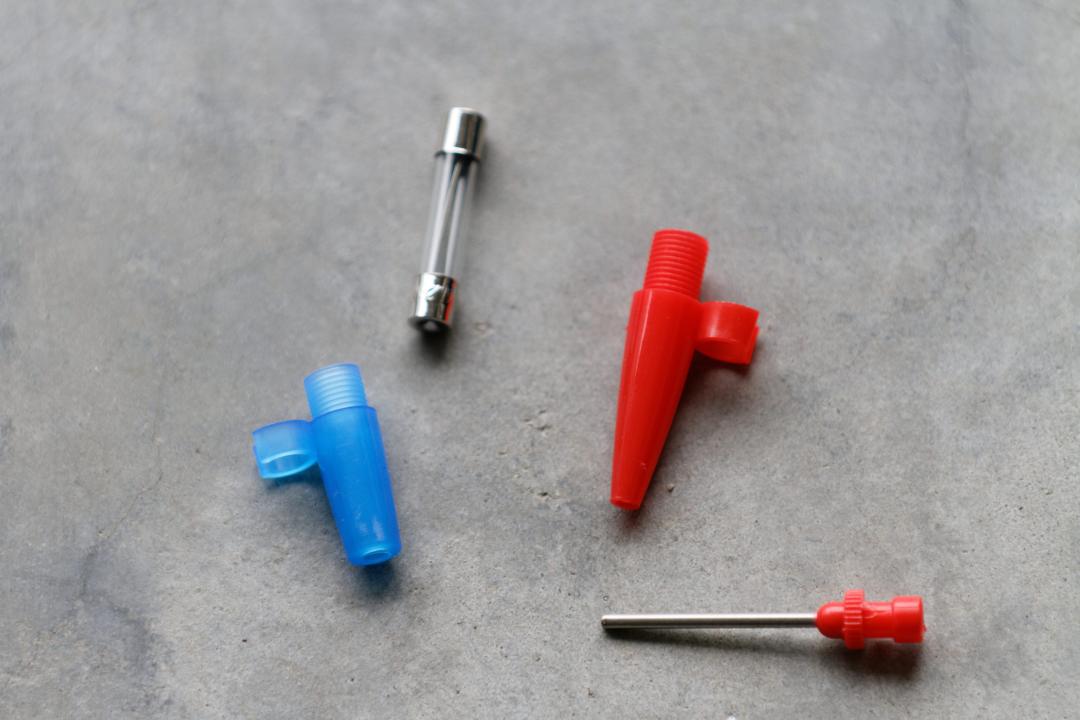 The somewhat generous integrated 10′ power cord plugs into any standard 12V accessory outlet inside the vehicle (or cigarette lighter outlet, if you're an old-timer). It's wasn't long enough to reach around our entire vehicle to air-up all four tires, but we were able to do one side and then pass the tool through the car to get the other side done. You could buy an extension but, while attached, wouldn't fit in the storage compartment.
Warning: Even if your 12V auxiliary power outlet will power devices with the vehicle off, you should probably crank the vehicle and leave it running in a safe, well-ventilated area while using a portable air compressor like this. Perfectly inflated tires won't do much good if your battery is dead.
The power cord can be stored nicely in a compartment behind a plastic flip-top door on the side of the device. This is another smart design choice so you're not always dealing with wrapping the power cord around the tool itself. Unfortunately, the small plastic tab that keeps our door closed broke off quite easily.???? Perhaps we can get a replacement door from Audew. Just go easy opening it and make sure the power cord is fully stuffed inside the compartment (e.g., don't force the door shut).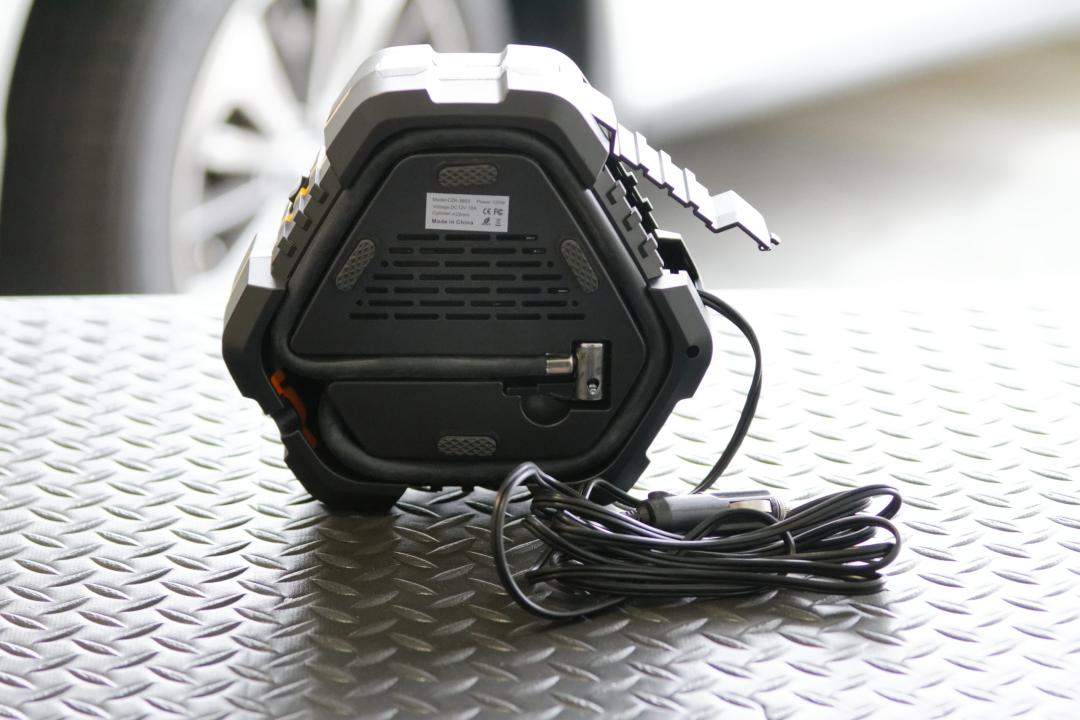 Another thoughtful little notch is located on the side, where the power cord storage compartment door latches. This cutout allows the cord to be used while the door is shut. Nice.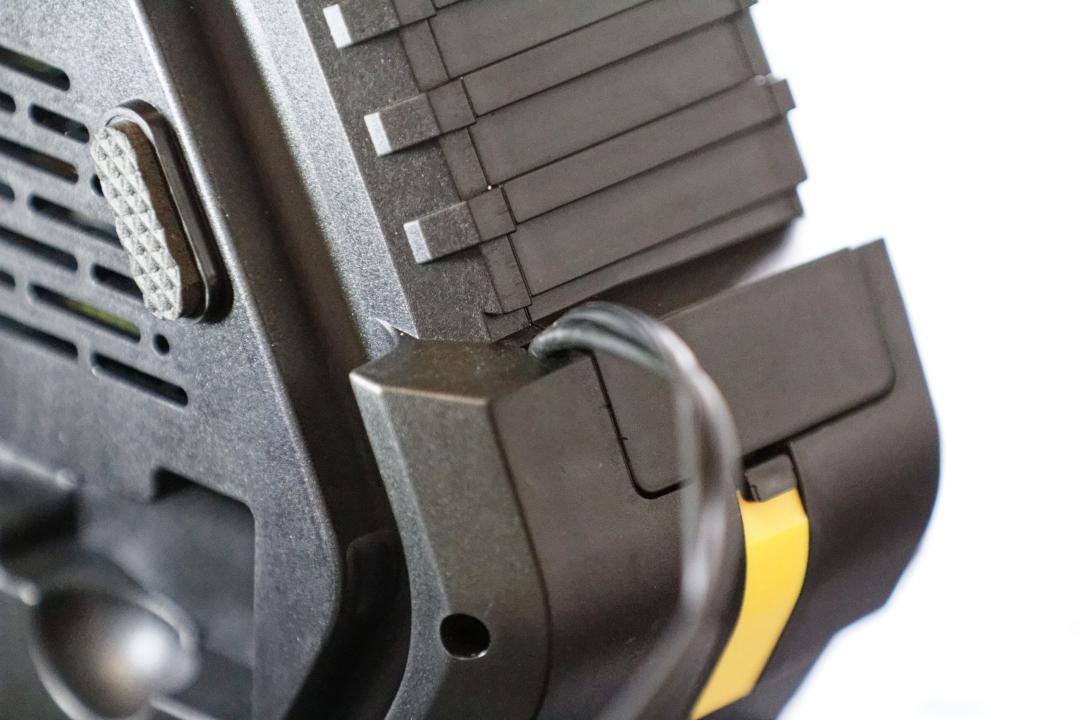 The switch on the side of the unit operates the LED lights. There are two light modes—white light (I) and flashing red (II) to be used as a warning light. We didn't test this tool at night (sorry!) but the light is plenty bright for emergency use. The light is also placed on the top (assuming the unit is standing upright), which is ideal to illuminate the tire you're airing up. It's also smart to have it on top so as not to blind oncoming traffic. Obviously, you should never lay the compressor flat so that its LED lights are facing traffic.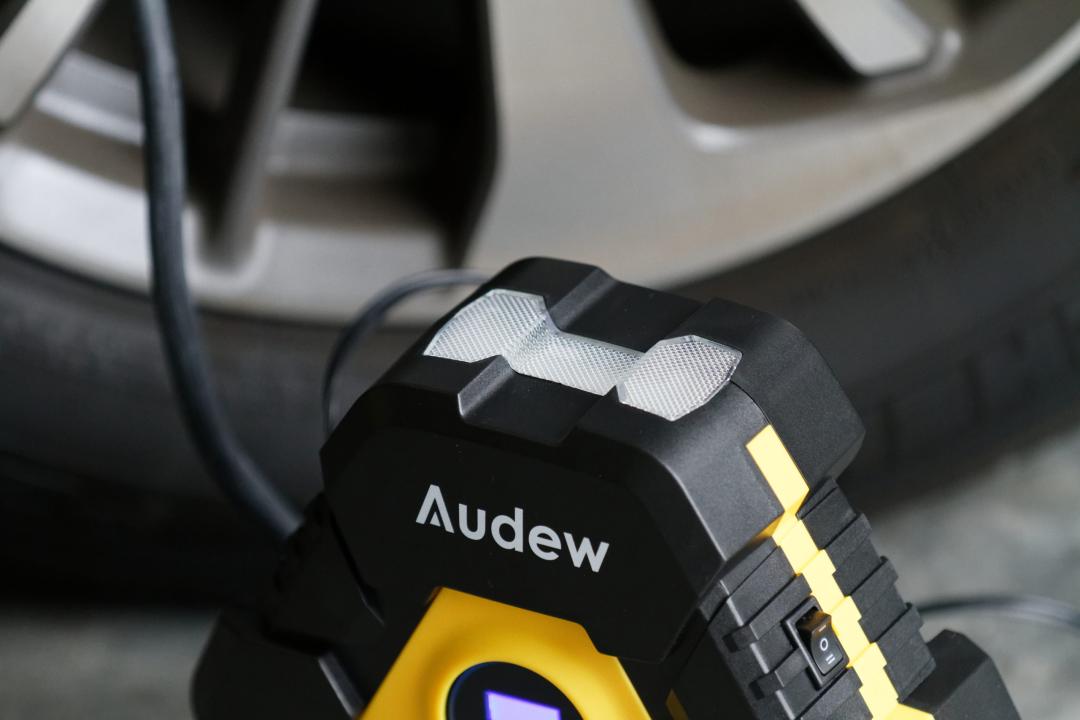 Performance
When the Audew portable tire inflator is first plugged-in to the power outlet in your vehicle, it turns on but the compressor does not come on (which is good). Assuming you know what your target PSI is going to be, you simply press the 'R' button to select 'PSI' on the display and then use the plus and minus buttons to set the target PSI anywhere between 3 PSI and 150 PSI.
Once you attach the air hose to the valve stem and lock it down, the tire's current PSI will be displayed on the screen. When you turn the compressor on, it gets to work, inflating at a decent rate of about 1.3 CFM or 30 L/min, if our math is correct. There are other, slightly larger 12V portable air compressors with a bit higher volume, but for its size, the Audew is fast enough for what it's made for.
The compressor motor itself is fairly loud but not too bad. Standing on end, it did 'walk' quite a bit. Laying the unit down on its four rubber feet, with the air hose properly in its little notched area, it only moved a little, but it did move. Granted, we were using the compressor on a smooth cement garage floor. It barely moved on our slightly rougher paved driveway.
We didn't completely air down our tires to test the compressor or try to burn it up because we want to continue using the thing. We did air up nine tires—eight on two vehicles, plus the Jeep's spare. The compressor definitely got warm, but never too hot and never did it shut-down. We were bringing each tire up by about 10-15 PSI each, a little less on the Acura. It only took about a minute to bring the Acura tires up to our target PSI.
Here's a video of the Audew 12V 150 PSI Tire Inflator in action. You can see it crawls a little, isn't too loud, and does a great job of shutting down when it reaches the target PSI.
Conclusion
Overall, this is a great little portable air compressor that is compact enough to store just about anywhere in a vehicle for emergency or maintenance use. It'll fit in the trunk, wheel well storage area or under the seat.
It's not the fastest or the quietest but, for the price, it's pretty hard to beat. Recommended!
Audew Upgraded Portable Air Compressor Tire Inflator,12V 150PSI Air Pump with Auto Shut Off,Warning...
【Faster Inflating Speed】With upgraded powerful motor, Audew air compressor tire...
【Easy to Use】Auto shut off function-Just set your desired pressure by the "+" and "-"...
【Ehanced Design】LCD digital display with unit conversion(PSI, BAR, KPA, KG/CM²),...
【Widely Useful】10ft long cord can reach front and rear tires of bike, motorcycle, car,...
【Shop with Confidence】Made of ABS material and stainless steel, the Audew electric air...
Rating Criteria
We've seen quite a few of these things in the past and this little 12V portable air compressor truly is one of the best thus far. It's not super-fast, but in a pinch or for routine maintenance, it'll do just fine. Plus, you can use it to pump up your beachballs or mattresses. Good stuff.