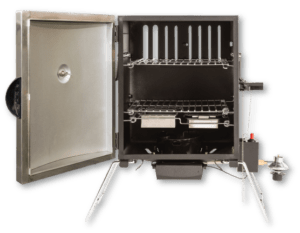 Who doesn't love a slow-smoked piece of meat?!? And as a guy who loves hitting the trails in the Jeep and tailgating with friends, it'd be really cool to go down in history as the guy who brought the best food. Look how cute you are with your chips-n-dip.
Thankfully, Masterbuilt will help make me somewhat pathetic dream a reality with its newest product, the Portable Propane Smoker. The unit operates on a 1 lb. propane tank (20 lb. tank adapter also available) and is equipped with a 5,000 BTU stainless steel burner and two chrome-coated smoking racks—this thing can smoke up to 20 pounds of food! There's also an easy-to-read temperature gauge right on the door and a removable wood chip tray and water pan… just like the big-boy smokers.
Official product video from Masterbuilt:
Here're some of the top selling Masterbuilt Propane Smokers!