As the wife and I embark on our journey back to our hometown in another part of North Florida later this year, there's a gigantic National forest with hundreds-of-miles of trails just waiting for me to explore. And while the Jeep is great for the bigger stuff, I've also been eyeing the ATV market for a sweet new rig that I just know my wife will support my buying.?
To get my soon-to-be new rig out to the forest, though, I'm gonna need a trailer for the Jeep or some decent ramps for my buddy's truck.
If you frequent GarageSpot.com, you know we love supporting the makers and doers out there. So while poking around the interwebs for a unique solution to hauling an ATV around, I found the sweet new MAD-RAMPS, which were invented by a father-son team out of Iowa. These guys actually put the concept of the playground seesaw to work in their new ramps, which have since become an officially licensed product of Polaris.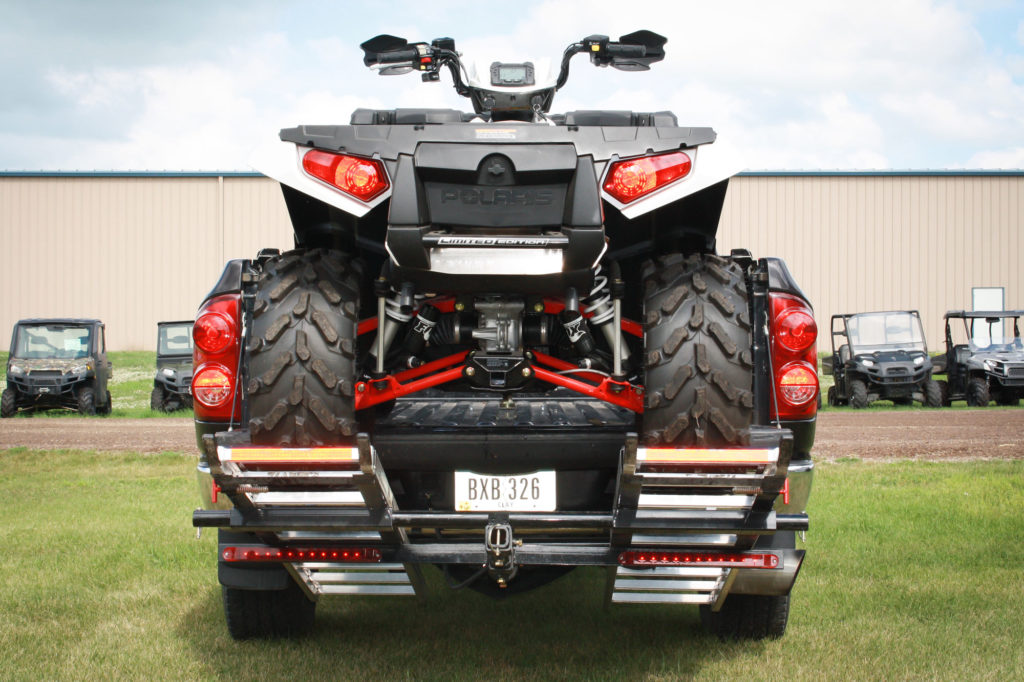 After some initial assembly, the MAD-RAMPS install on a truck's cat-4 receiver hitch in seconds. The ramps themselves extend out and set on the ground. Then, as you drive the ATV up and over a certain pivot point in the system, the ramps flip upwards to cradle the rear wheels of the ATV. Once you slide the ramps in and lock them in place with pins, you're ready to roll. It's a five-minute ordeal at best.
Here's a promo video from MAD-RAMPS showing how it's done:
The platforms of the MAD-RAMPS are made of solid steel and the ramps themselves of a strong, lightweight aluminum. They can handle up to 1,400 lbs with a transportation max of up to 800 lbs—meaning the portion of the ATV setting on the ramps while driving the truck cannot exceed 800 lbs. They're also DOT certified.
MAD-RAMPS are made in the USA and are available at MAD-RAMPS.com or an authorized Polaris dealer for $1,195. An optional wall mounting system for storing the ramps is also available for about $100.
They're not cheap and some ATV trailers (brand new) can be had for half the price. But MAD-RAMPS take the hassle out of dealing with a trailer, including the paperwork. And for quick trips down to the trailhead, that may just be a hassle worth doing away with.