Pretty much every new car today has some level of digital display built into the dash—radios, cameras, AC, navigation. The problem with so many of these systems is they're trying to do everything in one or two screens, which makes for a horrible, frustrating, and even dangerous user experience. And in an age where distracted driving is one of the leading causes of traffic accidents and fatalities, all of these "conveniences" combined actually create a cluster-f**k of options to deal with… while you are driving.
So the opportunity that exists is to pull out the most commonly-used features from these complicated systems, make them hands-free but also safe enough to use while driving since hands-free doesn't always equate to eyes-off. And that's where HUD (head-up display) comes in.
Maybe.
In layman's terms, a HUD is a display of critical information presented in a way that allows the user to consume that information without looking away and with minimal distraction. Think jet pilots and video games.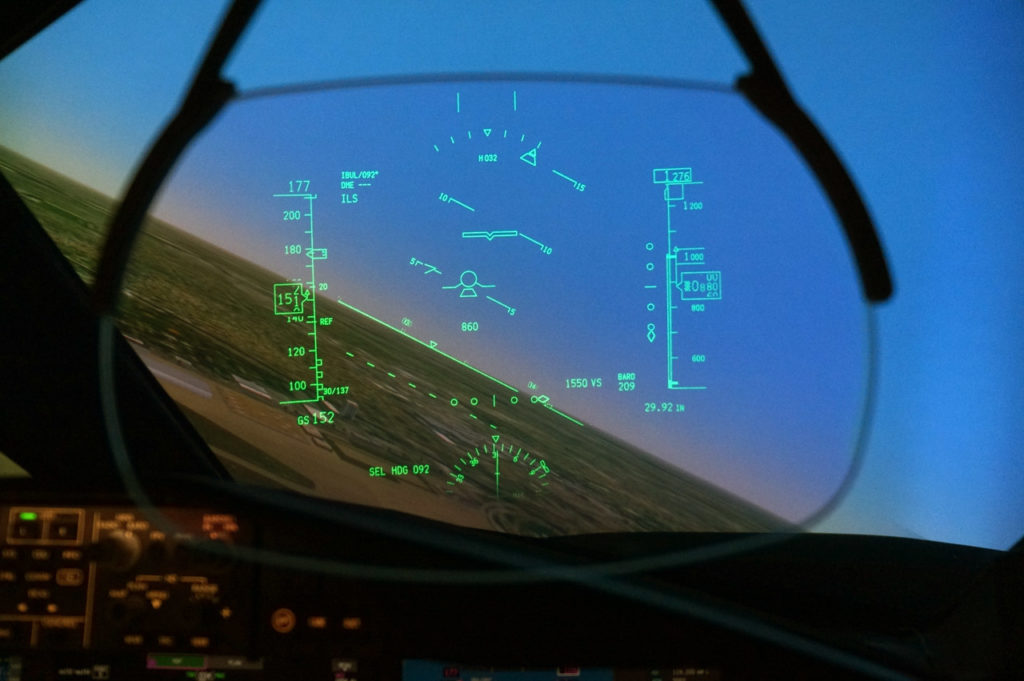 Automobile HUDs have been around for decades. General Motors, for example, has been experimenting with HUD since the 1960s. Some of the most notable HUD experiments would be when several brands in the late 80s and early 90s projected the vehicle's current speed onto the inside windshield, just above the dashboard. For various reasons, consumers hated the concept. Or, more likely, the execution of the concept.
There have been a plethora of somewhat recent startups who've entered into the HUD space, using a combination of smartphone and OBDII tech to make HUD a more productive, safe, and user-friendly option.
Again, maybe.
Here are a handful of newer HUD units we've been looking into (in no particular order), as we consider them for a few of our own vehicles.
Navdy
Navdy allows you to get directions, receive calls, send text messages (and have them read aloud to you), and control your music by connecting to your iPhone or Android device. Navdy also connects to the OBDII port, where it gets its power and certain critical vehicle information, like current speeds and fuel levels. The unit mounts to the dashboard and projects its display onto a transparent screen directly in front of the device.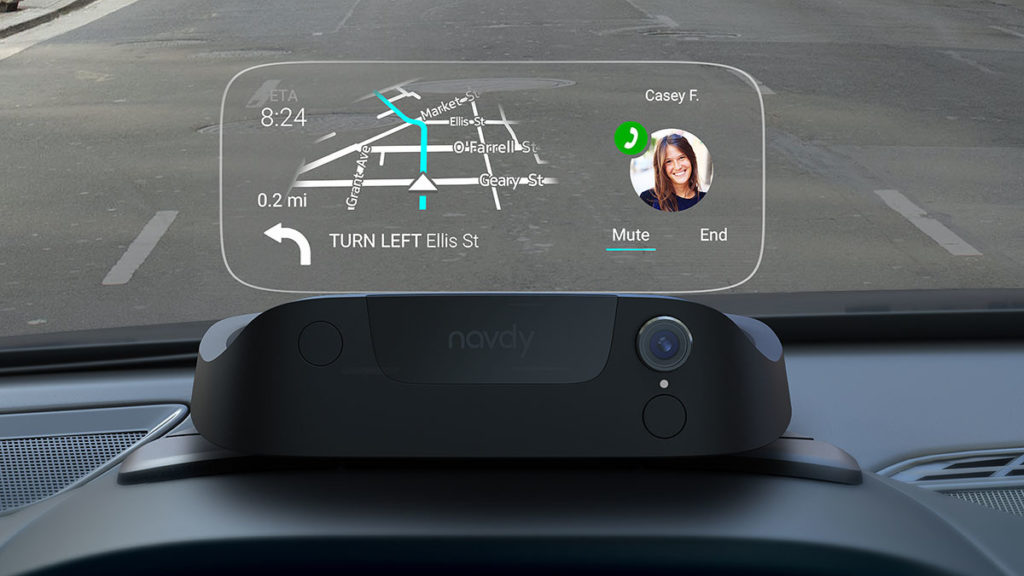 Probably one of the coolest features is the hand-gestures Navdy watches for and the fact that it knows the difference between normal steering wheel hand movements and actionable gestures. Most operations, however, are carried out via a small dial with a button in the middle, which attaches to the steering wheel using a simple strap.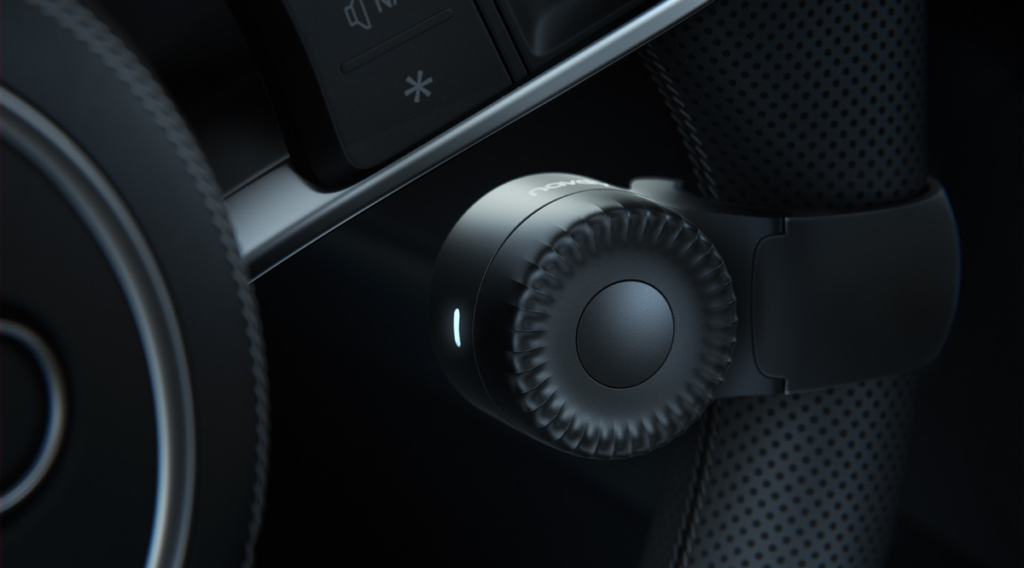 While reviews are generally good, the size of the device could be a turn-off for many, particularly those with sportier, bubble-like dashboards. Also, the system uses a combination of Google Maps data and proprietary offline maps, so asking Siri for directions won't work if you're an iPhone user.
Navdy does use its own voice commands. So, you can, in fact, ask it to do things for you within the limitations of the app. For example, if you've saved a favorite place within the app, you can ask Navdy to take you there. You can also use voice commands to text or call people, control music, and more.
Navdy Website | Buy Navdy on Amazon.com
Hudly
Hudly is a projector for the smartphone screen rather than a self-contained HUD/app combo. Like others, the device is powered by the vehicle's OBDII port and monitors stats like speed and fuel (it can also be powered by an old-school 12v cigarette lighter outlet). But the base unit is smaller than other devices and its screen can be mounted pretty much anywhere on the windshield since it's not part of the projector.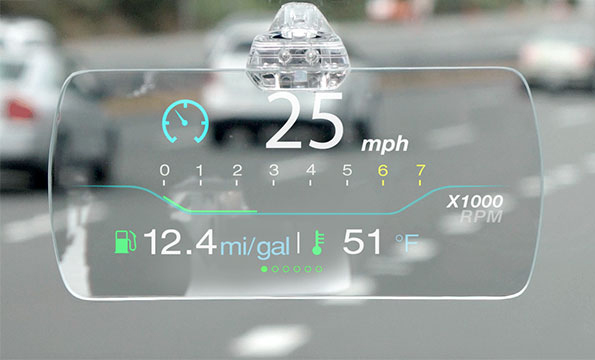 With Hudly, any app will work because it's just projecting the smartphone's screen to another transparent, curved glass screen mounted to the windshield. There are also apps built specifically for HUDs, which are cool. Most smartphones also already have some kind of gestures built-in, which means the apps can be controlled with either hand or head movements (although the iPhone head control stuff is clunky for this application, as it is really designed for disabled people).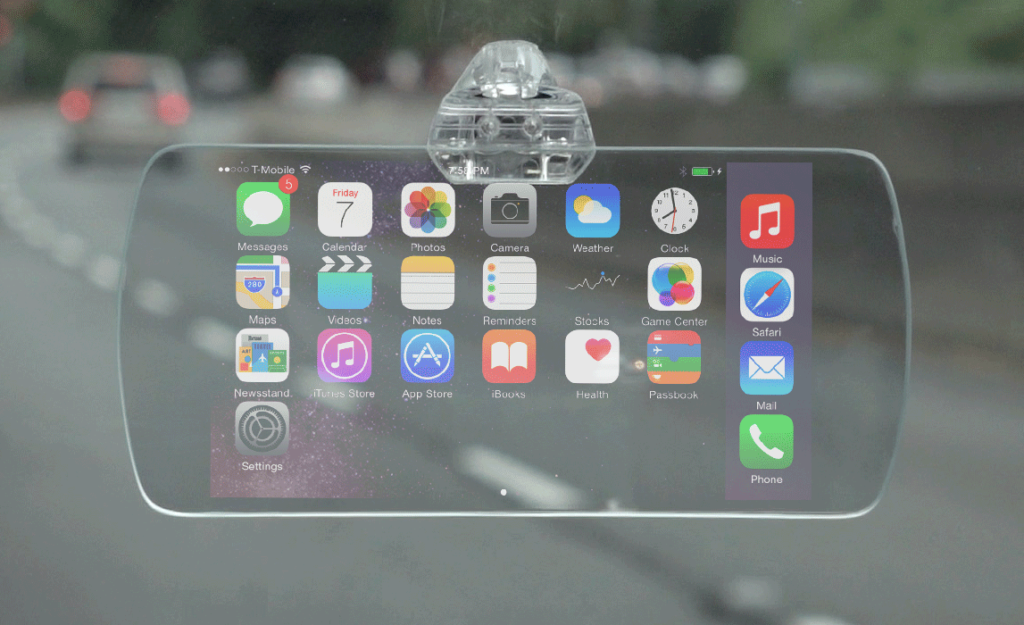 We think it's cool that any app can be displayed on the windshield, but that could also be quite dangerous for the idiots out there who might want to surf Facebook natively or watch YouTube videos while driving. We can't cure stupid but still… HUDs are supposed to present information that's easy to consume with very little distraction. And that's where apps designed specifically for HUDs are ideal.
Hudly Website | Buy Hundy On Amazon.com
Exploride
Exploride is an all-in-one HUD with built-in apps, much like those on our smart TVs. With it, you can control Spotify, Apple Music, Twitter, Facebook, email, news and stock updates, and more but with a cleaner interface for minimal distraction while driving. Hand gestures also allow the user to accept or decline calls, adjust the volume, and more.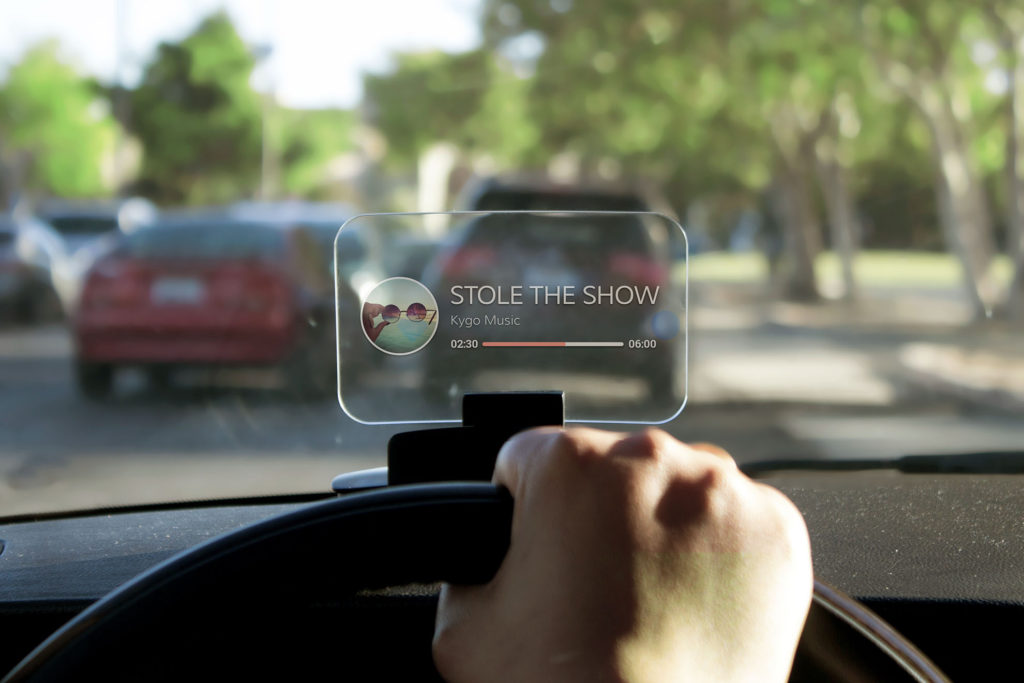 Like other units, the Exploride also delivers useful vehicle information via its OBDII connection, such as speed, fuel levels, driving habits, and more. But like the Navdy, the Exploride also seems a bit bulky but is still said to be designed to mount on the dash in front of the driver. Again, for those with raised dashboards to support sportier gauge clusters, this thing may just sit too high to be practical.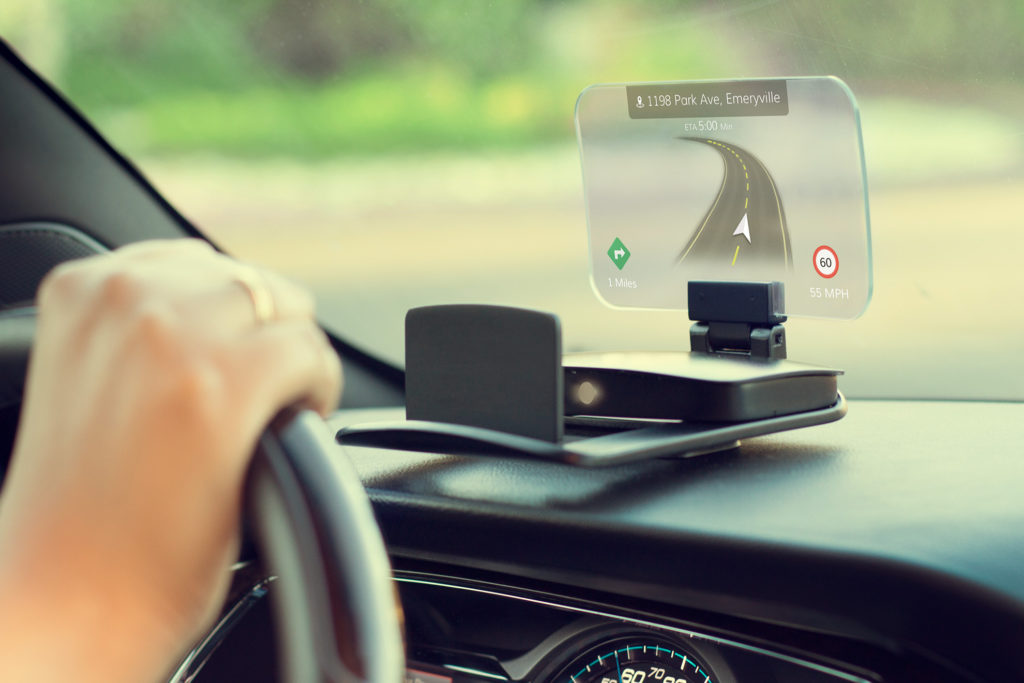 The Exploride comes with 16GB of internal storage and [we what we believe to be] 5GB of cloud storage for storing music and offline maps. Additional features include a quad-core processor, 2GB RAM, an accelerometer, ambient light sensors to auto-adjust screen brightness, dual USB chargers, and a digital compass.
Exploride Website
</rant> We dig EDM… really, we do. But what a terrible song choice for this video. Ugh. </rant>
Carloudy
The Carloudy is a no-frills navigation HUD that integrates with Google to deliver everything navigation-related, including turn-by-turn directions (without voice), traffic, parking info, gas stations, car washes, local businesses, and more.
Unlike the other HUDs, there's no separate screen to mount or position in front of the driver. The Carloudy is basically a tablet that sets on the dashboard. Its screen then reflects onto the windshield. And while we're just not fans of the "reflective" HUDs, it seems to work well in both night and day scenarios, based on the images we've seen. Some of the images we saw, however, did show the actual tablet glaring in the window, which seems like it'd be a distraction.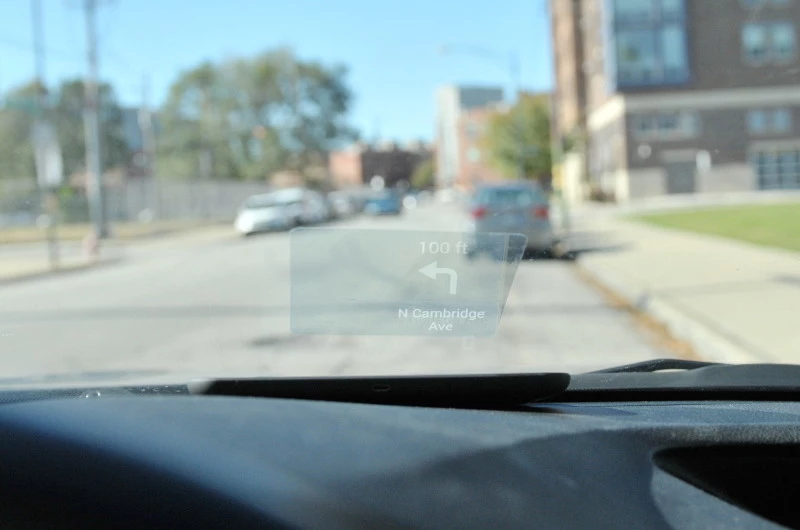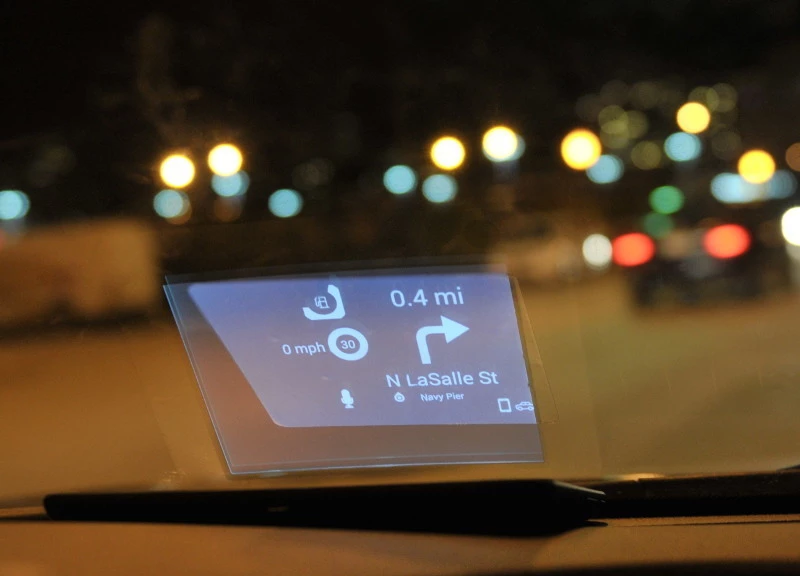 Compared to other HUD systems, the Carloudy clearly doesn't have as many bells and whistles. For some, that's actually better. For others, that'll be an issue. For us, it's a bit of both. We like simplicity, but we also dig some of the better displays (even though they may be slightly intrusive on some dashboards) and additional smartphone control.
Hudway Glass V2
We've already said we're not fans of "reflective" HUDs and the Hudway Glass is really just a smartphone cradle that reflects the phone's screen to its flip-up glass screen, enlarging it by about 20%.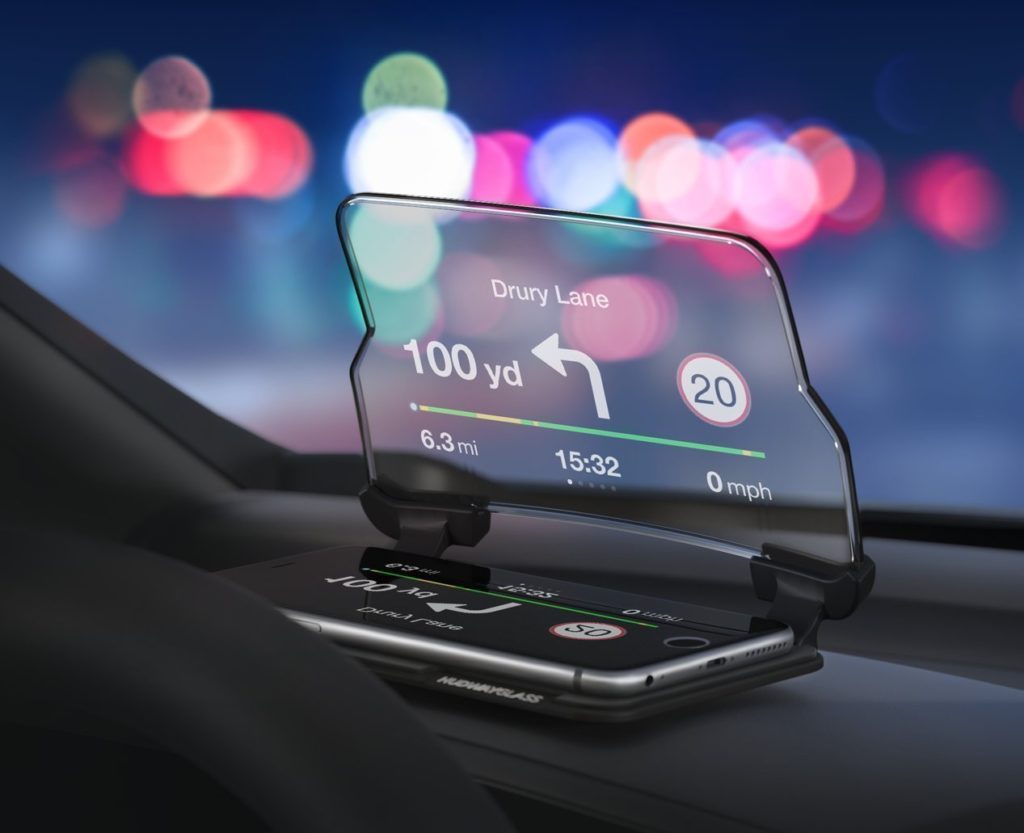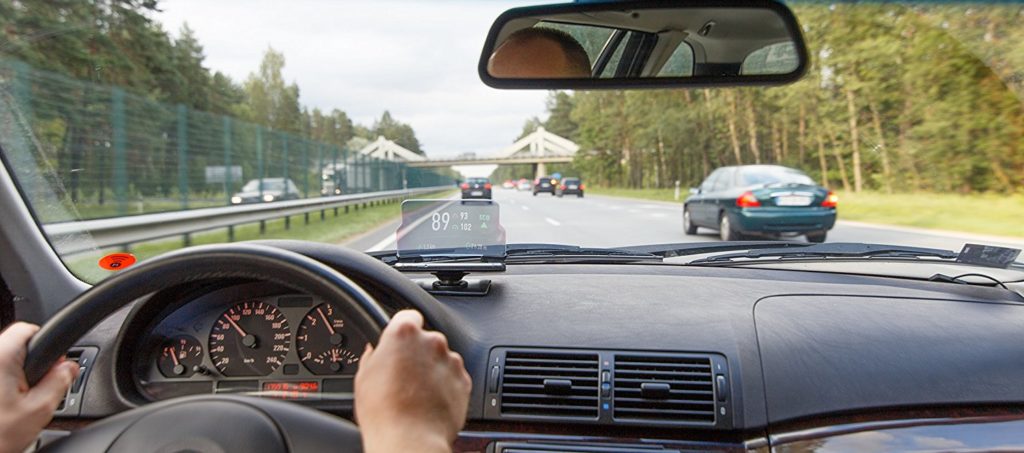 This may be perfectly fine for some and it's priced about as much as most premium cell phone cradles/mounts. But for us, having to set the phone on the dash just isn't practical. Like some of the others, the Hudway is just too big for many of today's sportier dashboards so mounting it directly in front of the driver just isn't practical or safe either. And if we have to mount it in the middle of our dashboard, why not just get a real phone mount or GPS system to mount there (or even closer to the driver)?
We don't like this one. Sorry.
Hudway Website | Buy Hudway on Amazon.com
Conclusion
There are quite a few in-car HUDs out there—some that have been around for a while, others that are integrated into some of the more luxury vehicles. Our focus here was on a handful of the newer units that have been popping up on Amazon Launchpad and various crowdfunding sites.
The one we actually *think* we like the best is the Hudly. While it's basically just a projector for our smartphones, we kinda like the idea of letting us use whatever apps we want. But we do struggle with the whole "why not just mount your phone closer to you?" thing.
Navdy also looks cool, but the bulkiness bothers us… a lot.
We're torn.????